18th Annual Symposium on Wound Care 2018 - cmetracker.net
Page content transcription
If your browser does not render page correctly, please read the page content below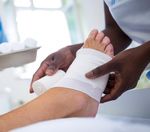 18th Annual Symposium on
                                                        Wound Care 2018
                                                        Saturday, August 11, 2018
                                                        Eilan Hotel and Spa
                                                        San Antonio, Texas
                                                Conference Overview
         The incidence of chronic wounds in the United States is approximately 5 to 7 million per year, and the annual
costs for management of these wounds is greater than $20 billion. Research indicates that older adults are more prone
to wound development and decreased healing efficiency. As baby boomers age, the United States General Accounting
Office estimates that the Medicare population will comprise 20% of the national population by year 2030, with people
age 85 and older as the fastest growing age group.
         Sound wound care management has become one of the most crucial issues facing the American health care
system because of the exorbitant costs involved and the surge in the geriatric population. If one includes the problems
of venous stasis and diabetic foot ulcers, the magnitude of the costs soars. The move to managed care, further
restrictions in health care costs, increasing litigation, and governmental regulations will require that health care
providers are knowledgeable about wound care and pressure ulcer prevention and able to intervene appropriately.
         Although, wound care has progressed rapidly during the last 20 years, if clinicians are to keep current with the
increased incidence of chronic wounds they must be updated on the sophisticated therapies currently available, as well
as those currently under development. This conference is designed to give physicians, registered nurses and other allied
health care professionals a comprehensive overview of a variety of pertinent topics in wound healing.

                                                   Target Audience
Target Audience
This conference is geared for physicians specializing in family practice, general practice, internal medicine, orthopaedics,
podiatry, plastic surgery, vascular surgery and general surgery, as well as registered nurses, and other allied health care
professionals that have an interest in current techniques of wound management.

                                                     Accreditation
CME Category 1:
        The Baptist Health System designates this live educational activity for a maximum of 7 AMA PRA Category 1
Credit(s)TM. Physicians should claim credit commensurate with the extent of their participation in the activity.
        The Baptist Health System is accredited by the Texas Medical Association to provide continuing medical
education for physicians.
Medical Ethics and Professional Responsibility
The "Opioids and Pain Management in Wound Care" presentation has been designated by the Baptist Health System for
one (1) hour of education in the area of medical ethics and/or professional responsibility for physicians.
Nurses:
Baptist Health System is an approved provider of continuing nursing education by the Texas Nurses Association –
Approver, an accredited approver by the American Nurses Credentialing Center's Commission on Accreditation.
This activity provides up to 7.16 contact hours.
Conference Objectives
Through lecture, demonstrations, case presentations, and questions/answer discussion, participants will be able to:

    1.   Outline best practice for the use of hyperbaric therapy for diabetic wounds.
    2.   Describe new techniques for improved patient outcomes in limb salvage.
    3.   Discuss challenges in avoiding upper extremity wounds in dialysis patients.
    4.   Describe best practices in wound evaluation and management
    5.   Discuss when and how to use off-loading devices for treatment of foot ulcer
    6.   Discuss best treatment options for the infected wound
    7.   Examine reimbursement, new coding and proper documentation for wound care
    8.   Assess the ethical considerations in prescribing opioids for pain management

Track A:                                                           Track B:
    9. Discuss the treatment for patients with wounds                  14. Discuss use of dressings and other therapies
        from insect and animal bites                                        that will promote wound healing
    10. Describe identification and management of                      15. Describe new developments in negative
        calciphylaxis associated with Coumadin therapy                      pressure wound therapy.
    11. Assess the role of biopsy in wound                             16. Identify venous disease and appropriate
        management                                                          management.
    12. Examine the use of advanced wound products                     17. Discuss how and when to utilize compression
        in surgical treatment of wounds                                     techniques for wound management
    13. Describe how autoimmune diseases affect                        18. Outline criteria for vascular lab testing for lower
        wound healing and management.                                       extremity ulcers

                                                   Hotel Information
ACCOMMODATIONS
The conference will be held at the Eilan Hotel and Spa, (for GPS use 17103 La Cantera Pkwy, San Antonio, TX 78256).
Located just outside 1604 off IH-10 West, the Eilan Hotel and Spa is about a mile from The Shops at La Cantera, The Bass
Pro Shop, Palladium Movie Theater and The Rim Shopping Center. This beautiful hotel is also just a 20-minute drive to
the famous San Antonio River Walk.
The Eilan Hotel is offering a room rate of $199 /night for Friday or Saturday of the conference.
Click on - Reserve Your Room Now or call 210-598-2900 and ask for the Baptist Room Block rate. Please make your
reservations early, the block is only available for a limited time. We suggest you bring a sweater or jacket, as the
meeting room temperature may be difficult to regulate.
Driving directions & parking: off IH-10 West, take the La Cantera exit and head west. Just past Six Flags entrance, turn
right (north) at the "Eilan" sign. Less than ¼ mile at the stop sign, take a left. The parking you see on your right is free
self-parking (the hotel entrance is at the top of the hill, just past the tennis court) OR you may valet for $15/day.

American Disabilities Act: In accordance with the American Disabilities Act, all reasonable efforts will be made to
accommodate persons with disabilities at this conference. Should you require special assistance, please call (210) 297-8632.
No Smoking: This conference is a "No Smoking" event.
18th Annual Symposium on Wound Care 2018
                                      SATURDAY, AUGUST 11, 2018
                                              SCHEDULE

7:00 – 7:45 a.m.      Registration and Continental Breakfast
7:45 – 8:00           Welcome and Announcements

8:00 – 8:30           HBO in the Diabetic Foot Ulcer: Based on Evidence or Experience?
                      Jayesh Shah, MD
8:30 – 9:00           Can this Foot be Saved? Limb Salvage Techniques
                      Robert Cyr, DPM
9:00 – 9:30           Upper Extremity Wound Challenges in Dialysis Patients
                      Gerardo Ortega, MD
9:30 – 10:00          Normal and Abnormal Wound Healing
                      Homer Reyes, MD
10:00 – 10:30         Break and Exhibits
10:30 – 11:00         Offloading
                      Robert Cyr, DPM
11:00 – 11:30         Options for the Infected Wound
                      Kimberly Moran, MD
11:30 – 12:00         Reimbursement, Coding and Documentation
                      Ann Cantrell
12:00 – 1:00          Lunch
1:00 – 2:00           Opioids and Pain Management in Wound Care
                      Rachel Xu, MD
2:00 – 2:20           Break / Move to Concurrent Sessions -

                Track A                                 Track B
2:20 – 2:50     Wounds from Insect and Animal Bites     Update on Dressings
                Noel Oliveira, MD                       Anne McBride, RN & Patrick Escamilla,
                                                        LVN
2:50 – 3:20     Calciphylaxis and Coumadin Skin         What's New with Wound Vacs
                Necrosis                                Dominica McLendon, RN
                Rafael Rafols, MD
3:20 – 3:40                      Break                                        Break

3:40 – 4:10     Role of Biopsy in Wound Care            Venous Disease: Diagnosis & Treatment
                Fernando Karst, MD                      Grady Alsabrook, MD
4:10 – 4:40     Advanced Wound Products in the          Benefits of Compression Bandaging
                Surgical Treatment of Chronic Wounds    Tanya Tackett, RN
                Rodney Chan, MD
4:40 – 5:10     Skin Changes and Wounds Related to      Doppler Screening and ABI
                Autoimmune Disease                      Brian Hembling, RVT
                Heather McKenzie, MD

5:10 – 5:20        Evaluation and Adjournment
Faculty

Grady Alsabrook, MD                  Anne McBride, RN, BSN, WCC           Rafael Rafols, MD, CWSP, FACCWS
Private Practice, Vascular Surgery   Case Manager                         Wound Care Physician
Peripheral Vascular Associates       Baptist Centers for Wound            DHR Wound Care Center
San Antonio, Texas                   Healing & Hyperbaric Medicine        Edinburg, Texas
                                     St. Luke's Baptist Hospital
Rodney Chan, MD                      San Antonio, Texas                   Homer C. Reyes, MD
Private Practice, Plastic Surgery                                         Wound Care Physician
STARS Plastic Surgery                Heather A. McKenzie, M.D.            Baptist Centers for Wound
San Antonio, Texas                   Medical Director                     Healing & Hyperbaric Medicine
                                     Baptist Centers for Wound            St. Luke's Baptist Hospital
Ann Cantrell                         Healing & Hyperbaric Medicine        San Antonio, Texas
Revenue Cycle Manager                Baptist Medical Center
Healogics                            San Antonio, Texas                   Jayesh B. Shah, MD, FACHM,
Jacksonville, Florida                                                     FUHM, FACCWS, FAPWCA, FACP
                                     Dominica J. McLendon, BS, BSN,       President, American College of
Robert P. Cyr, D.P.M.                RN, CWON                             Hyperbaric Medicine
Private Practice, Podiatry           Staff Nurse                          Medical Director
Lone Star Foot & Ankle Center, PA    Mission Trail Baptist Hospital       Baptist Centers for Wound
San Antonio, Texas                   San Antonio, Texas                   Healing & Hyperbaric Medicine
                                                                          Northeast Baptist Hospital
Patrick Escamilla, LVN, CHT          Kimberly A. Moran, MD                Medical Director, South Texas
Staff Nurse/Hyperbaric Tech          Infectious Disease                   Wound Associates, PA
Baptist Centers for Wound            San Antonio Infectious Disease       San Antonio, Texas
Healing & Hyperbaric Medicine        Consultants
St. Luke's Baptist Hospital          San Antonio, Texas                   Tanya N. Tackitt, RN, BSN, CWON
San Antonio, Texas                                                        Wound Ostomy Team
                                     Noel Oliveira, MD, CWSP              Baptist Medical Center
Brian P. Hembling, BS, RVT           Wound Care Physician                 San Antonio, Texas
Business Development Officer         DHR Wound Care Center
Peripheral Vascular Associates       Edinburg, Texas                      Rachel Y. Xu, MD
San Antonio, Texas                                                        Physical Medicien & Rehabilitation
                                     Gerardo Ortega, MD, FACS             Pain Medicine
Fernando E. Karst, M.D.              Private Practice, Vascular Surgery   South Texas Spinal Clinic
Medical Director                     Peripheral Vascular Associates       San Antonio, Texas
Baptist Centers for Wound            San Antonio, Texas
Healing & Hyperbaric Medicine
Mission Trail Baptist Hospital
San Antonio, Texas
Committee

Chairperson:            Heather A. McKenzie, MD
                        Medical Director
                        Baptist Centers for Wound Healing & Hyperbaric Medicine
                        Baptist Medical Center

Committee

June Cliffe                                              Gerardo Ortega, MD, FACS
Coordinator, Continuing Medical Education                Private Practice, Peripheral Vascular Surgery
Baptist Health System                                    Peripheral Vascular Associates of San Antonio

Robert P. Cyr, DPM                                       Homer C. Reyes, MD
Private Practice                                         Wound Care Physician
Lone Star Foot & Ankle Center, PA                        Baptist Centers for Wound Healing &
                                                         Hyperbaric Medicine
Lori Czekaj, MSN, RN-BC                                  St. Luke's Baptist Hospital
Director of Staff Education
Baptist Health System                                    Jayesh B. Shah, MD, CWS
                                                         Medical Director
Danielle C. DelaFuente, RN, BSN, CVRN-BC                 Baptist Centers for Wound Healing &
Cardiovascular Service Line Coordinator                  Hyperbaric Medicine
Baptist Health System                                    Northeast Baptist Hospital
                                                         President, South Texas Wound Associates, PA
Mary (Meg) E. Hudson, RN, BSN, CWON
Certified Wound & Ostomy Nurse                           Michelle Speicher, DBA, BSN, RN, FACHE,
Select Specialty Hospital                                NE-BC
                                                         Cardiovascular, Oncology & Orthopedic Service
Fernando E. Karst, MD                                    Line Administrator
Medical Director                                         Baptist Health System
Baptist Centers for Wound Healing &
Hyperbaric Medicine                                      Karen J. Weidlich, RN, CHRN
Mission Trail Baptist Hospital                           Nurse Manager
                                                         Baptist Centers for Wound Healing &
Sue Mullen, BBA                                          Hyperbaric Medicine
Director, Continuing Medical Education                   St. Luke's Baptist Hospital
Baptist Health System

                                 REGISTRATION INFORMATION

REGISTER ON-LINE: visit www.baptisthealthsystem.com/cme
Click on "Registration and More Information"
Or complete the registration form on next page and fax to (210) 468-1348 secure fax.
Early registration is advised as space is limited. Deadline for symposium registration is Friday, August
3, 2018. If you must cancel your registration, fees will be refunded in full if notice is received prior to
August 3. There will be a processing fee for cancelations received after August 3. Baptist Health System
reserves the right to cancel the course no less than one week prior to the course should circumstances
make this necessary. Should the program be canceled, persons registered will be notified by email listed
on your registration.
For more information contact the CME Department at: cme_info@baptisthealthsystem.com
Or 210-297-8632
REGISTRATION FORM

Baptist Health System – San Antonio, Texas
18th Symposium on Wound Care  Saturday, August 11, 2018
ON LINE REGISTRATION IS AVAILABLE:
www.baptisthealthsystem.com/cme

Registration Fees:                                                Employees are defined as Nurses &
Physicians                                      $ 210             Allied Health Professionals who
Nurses/Allied Health Professionals              $ 125             draw a paycheck from BHS San
Baptist Health System &                                           Antonio/Resolute NB
 Resolute Employees                             $ 95

Name:
         (PLEASE PRINT)
Address:

City/State/Zip Code:

Phone (Daytime):                                                             Fax

E-Mail

Place of Employment/Department:

Please Check:               MD           DO         PA              NP             RN           LVN

Other (Please Specify):

Specialty (if physician)

 ------------------------------------------------------------------------------------------------------------------------
 Enclosed is my check payable to Baptist Health System Conference

 for $                  or I authorize Baptist Health System to charge my:

         _____ VISA               MASTERCARD ___ DISCOVER                               _____AMERICAN EXPRESS

 Account No.

 Exp. Date                               Security Code

 Print Name as Shown on Card

 Signature
Make check or money order payable to:       On Line Registration:                     For More Information
Baptist Health System Conference            www.baptisthealthsystem.com/cme            Call the CME Dept. at
Return with registration form to:           Fax registration form to:                         (210) 297-8632
Continuing Medical Education Dept.          (210) 468-1348            Web: www.baptisthealthsystem.com/cme
Baptist Health System              There will be a processing fee for     cme_info@baptisthealthsystem.com
730 N. Main #317
                                   cancelations received after Aug 3.
San Antonio, TX 78205