Ferrari Season 2018
If your browser does not support JavaScript, please read the page content below:
Ferrari Season 2018
B R E A K Y O U R O W N R E C O R D Your car is fitted with telemetry devices so your lap times are recorded. These events are not races, but Club Challenge offers you the opportunity to improve your driving skill by analysing your own times with the goal of improving with each lap. Expert Ferrari driving coaches are available during the day for one-on-one tuition; offering driving technique workshops, in-car coaching and post-drive telemetry and driving style analysis. The coaches are internationally renowned to offer our Club Challenge members the best possible tuition, so that you can improve and meet the unique challenges that each circuits presents.
Passione Ferrari Club Challenge is the official program of events dedicated to Ferrari Challenge car owners who wish to immerse themselves in the exhilarating world of Ferrari with exclusive driving opportunities. The 2018 Club Challenge season offers it members the chance to enjoy the 6 circuits of the Ferrari European Challenge Series, living the thrill of the challenge first hand in their own car.
M E M B E R S – O N L Y Passione Ferrari Club Challenge is a members only club, thus providing you with a thoroughly exlcusive experience. The membership fee is valid for 4 seasons and includes your customised race equipment, including: race suit, boots, gloves, personalised helmet, fireproof underwear and HANS device.
Members then purchase the season package of events, which includes at each event 6 full hours of track driving time, plus a full-hospitality package including breakfast, lunch and early evening cocktail. One non-driving companion is also permitted to join you to enjoy the hospitality during the day.
C A P T U R E T H E M O M E N T The day may fly by but that does not mean it will be forgotten. Our official photographer is on-site all day to capture the event. Visit the member-only website to download photos and the commemorative video of each Club Challenge event.
P A S S I O N E F E R R A R I C L U B C H A L L E N G E O V E R V I E W The Passione Ferrari Club Challenge is a special driving programme inspired by the Ferrari Challenge series. It is dedicated to Ferrari Challenge Car owners who want to enjoy the thrill of circuit driving, or wish to develop their skills and experience to eventually become involved in racing.
The Passione Ferrari Club Challenge calendar follows the European Ferrari Challenge Series season, visiting iconic circuits and immersing you in the atmosphere of true racing competition.
These six unique and unforgetable experiences give you the chance to develop your circuit driving skills and to simulate the thrill of the race. P A S S I O N E F E R R A R I C L U B C H A L L E N G E A C T I V I T I E S Open Day Free Laps Professional Pilots Light Tutoring Telemetry Analisis MISANO 10TH June SPA-FRANCORCHAMPS 10TH May SILVERSTONE 26TH April BARCELONA 13TH September MUGELLO 22ND March BRNO 19TH July S C H E D U L E 08:30 – 09:00 Equipment collection 09.00 - 09.45 Driver briefing 10.00 - 13.00 Driving session 13.00 - 14.00 Lunch 14.00 - 17.00 Driving session
P A S S I O N E F E R R A R I C L U B C H A L L E N G E H O S P I T A L I T Y Located in the heart of the paddock the new Passione Ferrari Club Challenge hospitality allows you to relax when not driving and for your companion to enjoy in comfort the spectacle of the circuit activities.
This exclusive area is dedicated to the Passione Ferrari Club Challenge members only and offers: • Acclimatised relaxing area • Private lounge and restaurant • Exclusive Italian catering service • Wi-Fi access • Concierge Service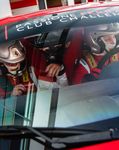 M u g e l l o Circuit March 22 ND 2018 _ _ Designed and realized according to the devices developed by the sciences of road racing, the International Mugello Circuit guarantees the maximum safety for drivers and spectators alike, thanks to its wide run-off areas in the most demanding corners of the track ant its service road for the rescue all along the 5.245 m. Track. Thanks to its positioning characterized by a total variance in altitude of 41,19 m., the Mugello circuit is an ideal place for the most rigorous test. Designed in 70's and later greatly remodeled by Ferrari, "the Mugello" is one of the most scenic, modern and safe racing facilities in the world.
Fully operational year round, the Mugello circuit is the regular test centre of Ferrari F1, the most important manufacturer of MotoGP and World Superbike, other prestigious manufacturer cars italian and international.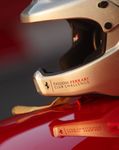 S i lv e r s t o n e Circuit April 26 TH, 2018 _ _ Silverstone declares itself the home of British racing and with a history stretching back to 1948, there is some justification to the claim. Always one of the fastest circuits, Silverstone has developed from its windswept airfield origins into one of the most recognised in world motorsport. Silverstone hosted the first round of the world championship in 1950 and has been the permanent home of the British Grand Prix since 1987.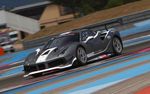 S pa- F r a n c o r c h a m p s Circuit Ma y 10 TH, 2018 _ _ Regularly voted as top circuit by the drivers of the world, the Circuit of Spa-Francorchamps is part of the legendary motorsport tracks in the same way as Le Mans, Indianapolis or Monaco.A regular theatre since 1985 of the F1 Grand Prix of Belgium, this legendary track, a little more than 7 km, the longest in the world championship, well deserves its official status of "the most beautiful circuit in the world".
This global label for the Spa loop is rarely disputed and must be due to its undulating profile, to its quick turns, with its famous and unique Raidillon, of course, but also to a natural and majestic setting, in the middle of forests of fir trees in which the noise of the engines resonate.
M I S A N O Circuit June 10 TH, 2018 _ _ The Misano motor racing circuit was designed in 1969 and at the beginning of the 1990s saw the launching of a renovation project which over successive phases guaranteed the availability of an increasingly efficient facility. Today Misano World Circuit is one of the circuits with more innovations as the clean energy and with ultra-modern technology. Misano is in Italy and one of the few in the world hosting the two most prestigious motorcycle world championships
B R N O Circuit JUl y 19 TH, 2018 _ _ The Brno Circuit, also known as the Masaryk Circuit, has a colourful history which goes back more than eighty years.
It is a history that has given, and continues to give, Brno an important place in the world of motorsports.In 2008 the track has been totally renovated and this has allowed to be selected in 2013 as one of the world class race.
B a r c e l o n a Circuit September 13 TH, 2018 _ _ Located in Montmeló, Circuit de Barcelona-Catalunya was inaugurated on 10 September 1991. It was a project driven by the Catalan Government, the Royal Automobile Club of Catalonia and the Montmeló Town Council. The Circuit hosted the first race only five days after the inauguration. It was a round of the Spanish Touring Car Championship, while the first Formula Grand Prix was staged a few weeks later, on 29 September. With the staging of the F1 Grand Prix, the MotoGP Grand Prix, the FIA Rallycross World Championship and other important motor sport competitions in its sports calendar, Circuit de Barcelona-Catalunya showcases its own name and that of Montmeló, Barcelona and Catalonia at a worldwide level.
P A C K A G E S & P R I C E S 2 0 1 8 Passione Ferrari Club Challenge Membership Offers • Membership of this exclusive Club • Access to the paddock • Freelaps for the entire day • Light tutoring session with a professional Ferrari instructor • Driving analysis session with a Ferrari instructor • An elegant and comfortable Club Challenge hospitality lounge • Open bar and lunch managed by an exclusive Italian caterer • Passione Ferrari Club Challenge branded complete race suit • Concierge service on site Club Challenge Membership (valid for 1 owner) € 5.000,00 + VAT (22%) Seasonal Package 6 Circuits (valid for 1 driver + 1 non-driving companion) € 20.000,00 + VAT (22%) Please note that personal travel , car logistics, parts and technical support are not included within the membership and season package.
Your Official Ferrari dealer can provide further information on these services
For further information please contact your Official Ferrari dealer or you can contact the Club direct at: Mail ferrariclubchallenge@canossa.it Phone number +39 0522 42 10 96