International Postgraduate Course Guide 2020 - UNIVERSITY OF TECHNOLOGY SYDNEY
Page content transcription
If your browser does not render page correctly, please read the page content below
Welcome
                               At UTS, innovation is core to our global approach to education.
                               From our state-of-the-art campus to our boundary-crossing degrees in technology,
                               innovation and creative intelligence, our signature outlook on learning ranks us among
                               the best in the world.
                               We're ranked first in Australia and tenth globally in the world's top 50 young
                               universities (QS Top 50 Under 50, 2019), 16th globally in Times Higher Education's
                               Young University Rankings (2018) and we've received a five-star rating for excellence
                               across seven categories (QS Stars 2018-2021).
                               UTS is a university for the real world. Located in the heart of Sydney within a thriving
                               business and creative industries hub, UTS students are part of a fast-growing
                               entrepreneurial community.
                               Every year we welcome over 5000 new international students to UTS. Our students
                               come from 120 different countries, which makes our campus a dynamic place to study
                               in one of the world's most beautiful cities.
                               We're committed to the success of our international students. We offer a range of
                               programs from academic support to career and leadership skills development.
                               Our courses are developed in consultation with industry so you'll learn everything
                               you'll need to advance your career and impact the future of your chosen field.
                               Our dynamic teachers combine theory with practice giving you hands-on experience
                               in the classroom, and beyond, through real-life case studies, group work, internships,
                               and networking opportunities.
                               Many of our lecturers are experienced industry professionals who've moved into
                               academia. Others are world-leading researchers who are positively contributing to the
                               challenges of tomorrow, today.
                               Discover what makes us different.

                               Iain Watt
                               Deputy Vice-Chancellor
                               and Vice-President (International)

Within the Australian                                                          UTS is a member of the Australian Technology
Technology Network                                                             Network (ATN), an influential alliance of four
(ATN) agreement, UTS                                                           distinctive and prominent Australian universities.
has committed to a 30                                                          ATN is committed to forging partnerships with
per cent reduction in                                                          industry and government to deliver practical
greenhouse gases (from                 results through focused research. The Network educates graduates who are ready
2007 levels) by 2020/21.               to enter their chosen profession, dedicated to the pursuit of knowledge and eager to
For more information, visit:           claim a stake in building sustainable societies of the future. The Network continues to
sustainability.uts.edu.au              champion the principles of access and equity that have ensured its members are the
                                       universities of first choice for more students.
Contents
 02    Experience Sydney                                     Connect with us
 06    About UTS                                                    UTSInternationalstudents
 08    UTS rankings                                                 UTSint #UTSint
                                                                    UTSchannel
 12    UTS campus
                                                                    UTSI
 14    Support services
                                                                      UTSinternational
 20    Careers                                                      UTS-Official

 22    Scholarships
 24    Housing
 26    Study areas at UTS
 144   Admission requirements
 146   How to apply
 148   Fees, finances and recognition of prior learning      Acknowledgement
 150   Course summary tables                                 of Country
 178   Glossary                                              Acknowledging country is a cultural
                                                             protocol that is a respectful public
                                                             acknowledgment of the traditional
                                                             custodians of the land.
                                                             UTS acknowledges the Gadigal
                                                             People of the Eora Nation and the
                                                             Boorooberongal People of the Dharug
                                                             Nation upon whose ancestral lands
                                                             our campuses stand. We would also
                                                             like to pay respect to the Elders both
                                                             past and present, acknowledging
                                                             them as the traditional custodians of
                                                             knowledge for these Lands.

                                                            Experience UTS
                                                            in virtual reality!
                                                            vr.uts.edu.au
                                                            Download 'UTS VR' in your app store.
                                                            Fly through our newly designed campus,
                                                            discover our innovative spaces and
                                                            get a feel for life in Sydney. You can also
                                                            explore our location, facilities, student
                                                            services, and campus life through our
                                                            student experience videos.

                                                     International Postgraduate Course Guide 2020         1
Experience Sydney
Impressive beaches, iconic buildings, year-round
festivals, and a thriving sports culture – Sydney's
got it all. With a great climate, a true mix of
cultures and world-class national parks right on
your doorstep, there's something for everyone
in this stunning harbour city. Sydney is a great
place to live and an even better place to study!

                               Apple Davalos
                               Philippines
                               Master in Digital Information Management

                              "Being in Sydney was crucial for me. Here
                               you get to enjoy the bustle of the city
                               along with the beauty of nature just a
                               bus ride away. I also love that Sydney has
                               a lot of green public spaces. When you
                               have so many things going on, being in a
                               public space and enjoying the moment is
                               really necessary."

2
Top 10 things
to do around
Sydney

1   Don't miss the international symbol of
    Sydney – the Sydney Opera House.
    Step beneath the sails of Danish
    architect Jørn Utzon's masterpiece to
    see a performance or take a tour.

2   Explore Sydney by ferry, crossing our
    sparkling harbour to learn to surf at
    Manly, for fish and chips at Watson's
    Bay or to discover our convict
    history at the World Heritage-listed
                                              7    Meet Australia's unique native
                                                   animals at the world-famous Taronga
                                                   Zoo. Hear stories of Australian wildlife
    Cockatoo Island.
                                                   and the Dreaming from an Aboriginal
                                                   guide and get up close with koalas,
3   Take a spectacular cliff top coastal
    walk from Bondi Beach to Coogee.
    Discover sweeping views, pristine
                                                   kangaroos and wallabies.

    beaches, and if you look carefully,
    ancient Aboriginal rock engravings.
                                              8    Explore the twisting inlets and
                                                   harbour islands of Sydney Harbour
                                                   National Park. Walk over the Sydney
                                                                                                          Photo: Destination NSW

    During October catch Sculpture by
                                                   Harbour Bridge (affectionately known
    the Sea: the world's largest free
                                                   as The Coat Hanger) and enjoy a
    outdoor sculpture exhibition.
                                                   picnic in Wendy Whiteley's Secret
                                                   Garden at Lavender Bay.
4   Get cultured in the great outdoors.
    Enjoy a free concert under the stars
    at Symphony in the Domain, explore a
    wonderland of light art and urban
                                              9    Barrack for your team while watching
                                                   a game of cricket, tennis, rugby
                                                   league, footy or soccer at one of our
    projections during Vivid Sydney or
                                                   popular sports grounds. Get in the
    take a seat at the open-air cinema
                                                   mood by wearing team colours and
    where a giant movie screen rises
                                                   tasting a meat pie with tomato sauce
    from Sydney Harbour.
                                                   – our classic Aussie cuisine.

5   Discover our rich history in The Rocks.
    Explore Sydney's oldest pubs,
    historic laneways and archaeological
                                              10   Catch the train to the World
                                                   Heritage-listed Blue Mountains.
                                                   Visit the iconic Three Sisters and
    remains under the shadow of the
                                                   explore the magnificent lookouts,
    Harbour Bridge. Mingle at the Rocks
                                                   waterfalls and hazy blue valleys. Get
    Markets and sample foods from
                                                   your adrenaline pumping mountain
    around the world.
                                                   biking, canyoning or rock climbing.
                                                                                                                        Photo: Destination NSW

6   Grab a meal and catch an incredible
    fireworks display every Saturday
    night at Darling Harbour. During the
    day, visit the Sea Life Sydney
    Aquarium to see magnificent                     CROWD PLEASERS
    dugongs, sharks, stingrays, and                 See Sydney shine throughout the year thanks to our lively
    thousands of tropical fish. Escape              events calendar. Whether it's the Sydney Festival – a
    the crowds in the serene Chinese                celebration of performing arts, Sydney Biennale – the
    Garden of Friendship.                           largest visual arts event in Australia or one of our many
                                                    music, film, comedy, food or sporting festivals, you'll always
                                                    find something to do, most likely outdoors and for free.

                                                                                     International Postgraduate Course Guide 2020           3
Experience Sydney

    6th    BEST CITY IN THE WORLD
           Condé Nast Traveler's Top 10
           Big Cities 2018

    9th    BEST STUDENT CITY
           QS Best Student Cities 2018

           BEST CITY FOR
    11th   QUALITY OF LIFE
           Mercer's 2019 Quality
           of Living survey

      UTS PRECINCT

                                          Bondi Beach is only 30 minutes away
                                          from UTS by public transport

4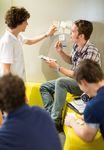 No longer a stranger to Sydney
Vanessa Truong

Before arriving in Sydney, Vanessa                "I grew up in a big city so Sydney is
had only seen UTS in photos and                    like home for me," says Vanessa.
videos. Fresh out of high school,                 "Actually, I feel more myself here
she'd never even travelled away                    than back home. Sydney people
from her home in Vietnam.                          respect your differences. I'm living
                                                   in UTS Housing and it's amazing.
"I was very nervous," says Vanessa.
                                                   I love my roommates. We go to the
"When I got here all those worries
                                                   gym together. Everything is new
 went away. I immediately fell
                                                   and exciting."
 in love with UTS. I met so many
 people. Everyone was so friendly."
The Bachelor of Business and
Bachelor of Creative Intelligence
and Innovation student found it
easy settling into Sydney despite
the fact that she had no family or
friends here.

                            Sydney enjoys a sunny climate with mild winters and warm
                            summers. During summer, (December – February) average
                            temperatures range from 19 - 26°C (65 - 78°F). During winter
                            (June – August) average temperatures drop to between 9-17°C
                            (48 - 63°F). There's an average of 243 days sunny days recorded
                            every year.

Information source: australia.com

                                           International Postgraduate Course Guide 2020       5
About UTS

Sydney's city
university
Expand your horizons in the heart of Sydney

Imagine waking up in Australia's most            A SAFE AND FRIENDLY CITY                           CONVENIENT, INSPIRING, FUN
dynamic, cosmopolitan and dazzling               Our reputation as a safe and sociable city is      No matter where you're coming from, or
city. Welcome to Sydney: our nation's            one of the reasons why 35 000 international        going to, UTS is easy to get to. We're walking
cultural centre and business capital.            students* choose to make Sydney their              distance to the CBD, Darling Harbour,
                                                 home-away-from-home. Australians                   shopping, food, sport, and nightlife. You're
A GREAT PLACE TO BUILD                           are known for their relaxed attitude to            also a few minutes' walk away from transport
YOUR FUTURE                                      life. We take pride in our friendliness,           hubs Central Station and Railway Square so
Location is everything. At UTS, you'll study     respectful nature and culture of equality.         you can safely spread your wings and explore.
in the centre of a rapidly changing urban                                                           When you need to travel interstate or overseas,
                                                 As you settle into student life, you'll become
environment with industry opportunities on                                                          you're close to Australia's biggest international
                                                 part of a caring multicultural community. With
your doorstep. We're part of an energetic                                                           and domestic airports. From breakfast in
                                                 new friends and a supportive UTS network
technology hub that hosts more than 60 per                                                          Bondi to an evening at the Opera House, you'll
                                                 around you, your transition to life in Australia
cent of regional technology operations.                                                             experience many unforgettable moments in
                                                 will be a rewarding and exciting experience.
                                                                                                    our wonderful city.
More than 90 per cent of banks base their
regional headquarters here. While more than                                                         *City of Sydney international student survey.
40 per cent of Sydney's digital and creative
industries reside in our neighbourhood. Sydney
is also the place to be an entrepreneur: we're                                                        UTS BEYOND AUSTRALIA
home to 60 per cent of Australia's start-ups,                                                         You can also study at UTS in China. Our fully
many bursting with possibilities and inspired                                                         accredited offshore courses are taught
thinking right by our campus.                                                                         at SHU-UTS Sydney Institute of Language
                                                                                                      and Commerce (SILC) Business School at
                                                                                                      Shanghai University. All courses feature
                                                                                                      the same structure, learning outcomes
                                                                                                      and award as their Sydney counterparts.
                                                                                                      uts.edu.au/future-students/
                                                                                                      international/offshore-courses

6
UTS, minutes away from
the best of Sydney

                                                                                                       SPICE ALLEY
                                                                                                       Tucked behind the narrow laneways alongside
                                                                                                       Central Park, Spice Alley is Australia's first
                                                                                                       outdoor Singaporean-style hawker centre.
                                                                                                       From behind a façade of heritage terraces, the
                                                                                                       aroma of exotic spices entices hungry locals
                                                                                                       to meet under swinging red lanterns as they
                                                                                                       tuck in to street food staples at student prices.
                                                                                                       Operated by Sydney's most popular Asian
                                                                                                       restaurants, enjoy Vietnamese market foods,
                                                                                                       Chinese-Malay fusions, Thai curries, the fast
                                                                                                       foods of China, and more.

                                                                                                                                Photo: Destination NSW

BROADWAY SYDNEY                                   CENTRAL PARK                                         CHINATOWN AND HAYMARKET
For 90 years Broadway was home to the             Central Park is a downtown oasis directly            Chinatown and Haymarket's dumpling houses,
grand old Grace Bros Building with its elegant    opposite UTS. Enter the main tower dripping          yum cha palaces and neon-lit nooks are
architecture and distinctive clock towers. This   with a living tapestry of plants and vines (the      irresistible. A short walk from UTS, you'll also
sensitively restored heritage building now        world's tallest vertical garden) to experience       explore night markets, arcades and malls
serves 21st century shoppers. A ten-minute        shopping, cinemas and surrounding parklands.         while discovering some of Sydney's best Asian
stroll from UTS, Broadway Shopping Centre         Grab a bite at one of the many outlets including     supermarkets. The iconic Paddy's Markets
features three supermarkets, a 500-seat food      Cuban, Mexican, Chinese, Indian or Brazilian or      dates back to colonial times and is also packed
court, a 12-screen cinema and major retailers     relax at the Old Clare Hotel for a lazy afternoon.   with bargains. At night, get your sing-along on
including Kmart, Target and Apple plus 100                                                             at a quirky karaoke lounge. During February,
speciality shops.                                                                                      celebrate the Lunar New Year with dazzling lion
                                                                                                       and dragon dances, giant zodiac lanterns and,
                                                                                                       of course, fabulous food.

                                                                                               International Postgraduate Course Guide 2020              7
About UTS

UTS rankings

      QS TOP 50
    UNDER 50 2019                                                        5         STAR
                                                                                   RATED
                                                                           for excellence
                                                                         across 7 categories

             1st                                                        QS Stars™ 2018-2021
                                                                         QUACQUARELLI SYMONDS (QS)

       in Australia

          10       th                     160
                                         GLOBALLY
                                               World University
          globally                             Rankings 2019
     QUACQUARELLI SYMONDS (QS)            QUACQUARELLI SYMONDS (QS)

                                                                              94%
                                                                        of UTS research has
                                                                       been benchmarked at
                                                                      world standard
                                                                        or above
                                                                         AUSTRALIAN GOVERNMENT'S
                                                                        EXCELLENCE IN RESEARCH FOR
2018 SNAPSHOT OF UTS                                                  AUSTRALIA (ERA) EVALUATION IN 2015.

                         45 930                     15 134                 1085                         256
                        students enrolled at         international       incoming study               UTS students
                          UTS onshore and              students            abroad and               studying overseas
                         outside Australia                             exchange students               on exchange

8
FACT
                                               The iconic UTS
                                            Tower Building is the
                                             tallest educational
                                            building in Australia
                                              at 28 stories high!

              TOP 400
                        OVERALL
                Academic Ranking
               of World Universities
                   (ARWU) 2018
                   SHANGHAI JIAO TONG

                                                   TOP                        YOUNG UNIVERSITY
                                                                               RANKINGS 2018
                                              250
                                              OVERALL
                                              World University
                                              Rankings 2019
                                                                                           1st
                                             TIMES HIGHER EDUCATION

                                                                                    in Australia

                                                                                        16th
                                                                                        globally
                                                                                   TIMES HIGHER EDUCATION

     383                   33 070             10 720                  2140                   3896
UTS students studying       undergraduate      postgraduate         postgraduate             full-time staff
    overseas on a             students          coursework        research students
short-term experience                            students

                                                                      International Postgraduate Course Guide 2020   9
Well connected
and entrepreneurial
We've built partnerships with some of the world's most
innovative and successful companies that share our
passion for creativity and technology – partnerships
that will play a key role in shaping your future.

                                               TEACHING EXCELLENCE AND
                                               PRACTICAL EDUCATION
                                               Practice makes perfect. Nobody knows that
                                               better than our exceptional teaching staff.
                                               Many are acclaimed professionals who
                                               bring a wealth of industry expertise to the
                                               classroom through live case studies and
                                               practice-based assessment.
                                               They're at the top of their game, but they're
                                               also committed to nurturing their students.
                                               They will push you in ways you didn't
                                               think possible so you can excel in ways
                                               that matter.
                                               Our adjunct professors and visiting
                                               practitioners also ensure your education is
 INDUSTRY CONNECTIONS                          relevant by sharing how theory is applied in
 Our courses are developed and reviewed        real-world situations.
 in consultation with leading industry
 practitioners ensuring your learning
 is relevant to the changing needs of
 your profession.
 You'll work on industry projects, create      RESEARCH THAT MATTERS
 solutions to real-world problems and          UTS is a future-focused research university
 participate in industry-run competitions.     with an emphasis on technology, creativity
 You may even undertake a workplace            and social disruption.
 internship or placement as part of
                                               We believe universities should work for
 your degree.
                                               the greater good by driving social change
 Beyond the classroom, we'll offer             beyond campus, locally and globally,
 mentorship opportunities and help             through research and practice.
 you establish valuable professional
                                               We are committed to fostering the next
 connections.
                                               generation of progressive researchers for
 Many of our degrees are industry-accredited   academia and industry.
 meaning your degree will be recognised
                                               We're collaborative too. Our Key Technology
 nationally and internationally.
                                               Partnerships Program is responding to
                                               the expectations of industry by building
                                               unique, long-lasting relationships with
                                               research partners.

10
UTS STARTUPS                                                                                        EMBRACING GLOBAL
startups.uts.edu.au                                                                                 PERSPECTIVES
Designed to inspire and connect                                                                     global-exchange.uts.edu.au
student-led startups across UTS, UTS                                                                As part of our commitment to integrating
Startups is a group of young entrepreneurs                                                          international perspectives in all aspects
who have big ideas they're making a reality.                                                        of university life, UTS boasts one of
                                                                                                    the largest student mobility programs
A founder-focused community,
                                                                                                    in Australia. More than a third of UTS
they support students who have a
                                                                                                    students spend time overseas during
compelling idea that uses technology
                                                                                                    their degree.
to address a large market and create
meaningful impact.                                                                                  You can join our Global Exchange
                                                                                                    Program and spend one or two sessions
If your idea is selected, or as part of a UTS
                                                                                                    studying overseas.
startup, you'll access free mentorship,
community-building activities, funding
opportunities, and industry resources so
you can develop your new venture.               UTS BUILD
                                                build.uts.edu.au
                                                UTS BUILD is a dynamic leadership
                                                program that propels you beyond your
                                                degree. You'll grow personally while
                                                learning the strength of collaboration
                                                and effective leadership through
                                                social enterprise, entrepreneurship,
                                                sustainability, and social justice.
                                                Enhance your employability by attending
                                                workshops, seminars, networking
                                                sessions, and hearing presentations from
                                                leading influencers.
                                                BUILD Abroad is your launching pad to
                                                explore the world through experiential
                                                learning projects, conferences and
                                                community development schemes.
                                                Recent projects include a business field
                                                trip to Shanghai and driving change
                                                through humanitarian design in developing        Student entrepreneur
                                                Indian and Cambodian communities.
                                                                                                 Carmen Aichhorn
                                                                                                 Carmen chose to study her MBA in Strategic
                                                                                                 Management at UTS because of our connections
                                                                                                 with industry.
                                                                                                "UTS was my first and only choice," says Carmen.
                                                                                                "UTS is well respected in Austria. Everyone knows
                                                                                                 the professors are experienced in their field."
UTS SHOPFRONT
                                                                                                 As part of her studies, Carmen collaborated with
shopfront.uts.edu.au                                                                             UTS Shopfront and People Like Us, a not-for-
UTS SHOPFRONT places students at the                                                             profit that advocates for refugees.
centre of the community sector so they can
                                                                                                "We developed a business plan and strategic
make a difference to local not-for-profit
                                                                                                 positioning document that will grow their
organisations.                                                                                   organisation," says Carmen. "That's unique.
Through collaborative projects and                                                               We don't get to do that in Austria. I like doing
                                                                                                 assignments that reflect the real world of
community-engaged research, you'll
                                                                                                 business I'll be working in."
gain valuable experience and help build
sustainable communities.                                                                         Carmen also participated in UTS Startups. She
                                                                                                 was encouraged to develop a business idea she
Our award-winning projects and internships                                                       had planned to implement in Austria. Her idea,
are initiated by our community partners,                                                         Prost Australia, connects students from different
supervised by experienced academics and                                                          backgrounds so they can network and socialise in
undertaken as part of your coursework.                                                           a more affordable way.
                                                                                                "Prost is German for 'Cheers'", says Carmen.
Recent projects include developing a                                                            "UTS Startups helped me with the ideation phase
strategic plan for an asylum seeker group,                                                       and user testing. I also got to talk with other
managing volunteer coordinators for a youth                                                      startup founders. They were so encouraging.
safe space program and planning tourism                                                          Because of UTS, I decided to found my company
facilities for an Aboriginal Land Council.                                                       here in Sydney."

                                                                                         International Postgraduate Course Guide 2020               11
Learn at the most
                            innovative campus
                            in Australia
                            We've invested A$1.3 billion to create an immersive new
                            university experience using sustainable design to shape
                            the way you learn.
                            Our iconic buildings, tech-driven learning spaces and
                            designated industry hubs place students at the centre of
                            the creative learning experience so they can benefit from
                            an active, connected and collaborative education.
Artist's impression: FJMT

                            UTS CENTRAL                                       UTS TECH LAB                                      DR CHAU CHAK WING BUILDING
                            Opened in 2019, UTS has its own 'heart of         UTS Tech Lab is a multidisciplinary engineering   A Sydney landmark, The Dr Chau Chak Wing
                            glass' in the form of UTS Central.                and IT facility designed to disrupt traditional   Building is home to UTS Business School.
                                                                              university approaches to research.
                            Bringing a striking transparency to the centre                                                      Inspired by a tree house as 'a growing learning
                            of campus, the futuristic 17-storey glass         Located in the Botany industry hub next           organism with many branches of thought,'
                            façade encloses a student hub, food court,        to Sydney's airport, this incubator for           it's the only building in Australia designed by
                            a range of collaborative teaching, faculty        researchers promotes collaboration with           world-renowned architect Frank Gehry.
                            and research spaces, and a 270-seat Hive          industry and government to develop innovative
                                                                                                                                Its classrooms and oval lecture theatres
                            Super Lab.                                        technologies in countless arenas.
                                                                                                                                facilitate discussion and encourage
                            The highlight of UTS Central is a new             UTS Tech Lab's specialist laboratories possess    collaboration while large student commons
                            sun-drenched library featuring a three-level      advanced capabilities and equipment unique        offer inviting places for students to study
                            reading room. Echoing the world's great           to Australia. Combined with its collaborative     and relax.
                            scholarly reading rooms, its towering             workspaces, UTS Tech Lab seamlessly blends
                            floor-to-ceiling bookshelves house an             new and traditional modes of working so that
                            impressive collection of books for student use.   people and ideas flow freely.

                            12
ENGINEERING AND IT BUILDING                        VICKI SARA BUILDING                                STUDY SPACES
Described as a 'living laboratory,' the            Home to the Faculty of Science and Graduate        Whether it's a quiet spot to study, an
Engineering and IT Building is covered in          School of Health, the Vicki Sara Building          AV-equipped pod for group work or somewhere
binary code screens that display real-time         boasts world-class laboratories, simulation        to host a social catch-up, there's plenty of
performance data internally throughout             labs and health care consulting clinics.           space for students on campus.
the building.
                                                   It features a world-first Super Resolution         Our many student commons are available to
Inside, technology-enabled teaching, research      Imaging System that enables research into the      relax between classes, meet friends or read
and social spaces are clustered around a           cell biology of living microorganisms, which       over coffee. Students without a laptop can
fissure shaped atrium.                             is crucial to understanding the behaviour of       use our free desktop computer workstations
                                                   infectious diseases. While a Super Lab, the        around campus.
Home to the most advanced data visualisation
                                                   first of its kind in Australia, accommodates up
facility in Australia, the building's immersive                                                       These purpose-built student spaces, most
                                                   to 220 students from 12 classes facilitating a
3D Data Arena creates 360-degree                                                                      offering power outlets, USB ports for charging
                                                   multidisciplinary learning environment.
representations of data enabling academics                                                            devices and free Wi-Fi, are another way to
and industry to visualise complex information,                                                        make UTS feel like home.
identify trends and solve problems.

MOORE PARK CAMPUS                                  ALUMNI GREEN
Our new Moore Park campus, next to                 Modelled after leading European town
the Sydney Cricket Ground and the                  squares, Alumni Green is a welcoming
Rugby Australia Building, is the first in          green oasis and ceremonial gathering
Australia to combine university programs           space at the centre of campus.
with a major sporting venue.
                                                   Its gardens provide a sanctuary of trees,
UTS students, sector-leading sport and             plants and shade. While a range of spaces
exercise scientists, physiotherapists, and elite   (including outdoor ping pong tables) are ideal
athletes are connected in Sydney's premier         for socialising, studying and relaxing.
sporting precinct.
This integration of science and sport offers
UTS hands-on access to elite athletes and
provides the Australian Rugby Union with
valuable performance, injury-management
and rehabilitation data.

                                                                                              International Postgraduate Course Guide 2020          13
Support services

Connect. Live. Learn
As an international student, you'll experience a
new country with fresh outlooks, foods and
customs. We're here to help you immerse
yourself in your new culture, discover interests
you wouldn't encounter back home and make
lifelong friends. The best way to start is to dive
right in!

UTS INTERNATIONAL                                  ORIENTATION                                         PEER NETWORK
international.uts.edu.au                           orientation.uts.edu.au                              uts.edu.au/current-students/opportunities/
                                                                                                       peer-network-program
Our team understands what's required to            Experience the best introduction to life at
achieve academic success and wellbeing at          UTS during orientation. Attend seminars,            You've travelled a long way from home to study
UTS. We're here to help you settle in and stay     workshops and social events to learn about          here. If you're looking for a friendly face when
happy and safe. We provide friendly advice and     our support services, make friends and gain         you arrive on campus, seek out one of our Peer
assistance to all international students. You'll   insider tips on living in Sydney.                   Networkers in their signature orange t-shirts.
find us on level 3A of the Tower Building.
                                                   On O'Day, take a campus tour so you can easily      They're UTS students who'll answer questions,
                                                   find the library, computer labs and your lecture    help you find your way around campus and
                                                   rooms. Join clubs and societies and take            make Sydney feel a little more like home.
                                                   advantage of free giveaways, food, student
                                                                                                       Our weekly Network Café also brings together
                                                   offers, and demos.
                                                                                                       overseas students. Hosted by current UTS
                                                   Make sure you attend one of the mandatory           students, you can practise your English, learn
                                                   international student sessions and your faculty     about Australian culture and ask questions
                                                   welcome to get important information about          about life at UTS.
                                                   your course, meet your lecturers, other students,
                                                   and discover exciting upcoming opportunities.

14
More than passing
                                                       U:PASS

                                                       When Simin Peng arrived from                     As a U:PASS leader, Simin worked
                                                       China to study nursing at UTS, she               closely with new nursing student
                                                       immediately signed up for U:PASS.                Thi Ngoc Minh Nguyen. "It's been
                                                                                                        amazing seeing the progress of
                                                       U:PASS sessions are run by
                                                                                                        students like Minh," says Simin.
                                                       students who've achieved high
                                                                                                       "She started out nervous about
                                                       marks in the subject they're
                                                                                                        university then finished semester
                                                       coaching. They know what current
                                                                                                        with increased confidence and
                                                       students are going through;
                                                                                                        great marks."
                                                       instead of providing answers, they
      Simin Peng (left) Thi Ngoc Minh Nguyen (right)
                                                       guide students to solve problems                "U:PASS definitely helped my marks,"
                                                       through teamwork.                                says Minh. "Simin was also involved
                                                                                                        in social activities at UTS. She
                                                       Simin found the more she attended
                                                                                                        encouraged me to get involved. The
                                                       U:PASS, the more she benefitted. So
                                                                                                        experiences I had at U:PASS really
                                                       much so, she received a Distinction.
                                                                                                        helped me feel supported at UTS."
                                                       "U:PASS not only helped me
                                                                                                        Minh is now a U:PASS leader too.
                                                        navigate university, it increased
                                                        my confidence to speak up," says               "I've been enjoying it," says Minh.
                                                        Simin. "At U:PASS I felt safe to               "I incorporate a lot of group work.
                                                        make mistakes and ask questions.                After all, discussion is where some
                                                        My U:PASS leaders also inspired                 of the best revision occurs."
                                                        me to become a leader."
                                                                                                        uts.edu.au/current-students/
                                                                                                        support/upass

SPORT AND RECREATION                                   HIGHER EDUCATION
activateuts.com.au/sport                               LANGUAGE AND PRESENTATION
Join one of our 30 sports and recreation clubs         SUPPORT (HELPS)
or sign up with ActivateFit: our on-campus             helps.uts.edu.au
gym. You can also combine your love of fitness         Sometimes we all need a bit of extra support
and travel with our ActivateUTS Recreation             with our studies. UTS HELPS is a study skills
program where you can explore Sydney and its           program that provides free English language
surrounds through sports events, day trips and         and academic support. Our team can help you
weekend getaways.                                      develop your writing, reading, speaking, and
                                                       study skills or work on specific assignments,
                                                       through workshops and one-on-one meetings.
                                                       Our Conversations@UTS sessions and HELPS
                                                       Buddy program also give you the opportunity
                                                       to improve your spoken English skills by
                                                       practising with student volunteers.

                                                                                                International Postgraduate Course Guide 2020   15
Support services

Being alone in a new city can be overwhelming at times. If you're having
trouble adjusting to life in Sydney or at university, take advantage of
our free support services including health and wellbeing services,
counselling, English language tutoring, and study skills workshops.

HEALTH AND WELLBEING                              SAFE, FAIR AND SUPPORTIVE                           SOCIAL CLUBS AND EVENTS
uts.edu.au/current-students/support               uts.edu.au/current-students/                        activateuts.com.au
We offer a range of services to ensure you stay   students-with-accessibility-                        Engaging in extra-curricular activities will
healthy and safe on and off campus.               requirements/accessibility-service                  give you a rewarding, well-rounded university
                                                  We value diversity at UTS. We're committed to       experience. There's lots of ways to get involved
Medical service                                                                                       at UTS beyond the classroom. With over 130
                                                  supporting all students to join in all university
Our UTS Health Service provides free friendly                                                         clubs and societies, you'll find the right one
                                                  activities. If you've got a disability or ongoing
and confidential medical consultations to                                                             for you. We also host a jam-packed events
                                                  health condition that could affect your studies,
students, staff, alumni, and their families.                                                          calendar that includes free weekly breakfasts,
                                                  our UTS Accessibility Service can help.
Traditional Chinese Medicine clinic                                                                   BBQs, live music, art exhibitions, and festivals.
Our Traditional Chinese Medicine clinic within
the Faculty of Science offers discounted
acupuncture, herbal medicine and remedial
massage to UTS students, staff and the
community.

Mental health services
Our confidential and free counselling service
can help you with a range of personal,
relationship, academic, and psychological
difficulties. Our group counselling workshops
can support you through the pressures of
study, work and life. Face-to-face counselling
sessions are also available in Mandarin and
Cantonese.

UTS Psychology Clinic
The UTS Psychology Clinic is a not-for-profit
research clinic and training facility for
postgraduate Clinical Psychology students
in the Graduate School of Health. It's open to
UTS students, staff and the public offering
                                                  MULTI-FAITH CHAPLAINCY
reduced-fee services.                             uts.edu.au/current-students/support
                                                  We welcome and respect beliefs of all kinds
                                                  at UTS. Our Multi-faith Chaplaincy represents
                                                  Buddhist, Christian, Jewish, and Islamic
                                                  staff and students. Our chaplains can assist
                                                  you with a variety of concerns including
                                                  homesickness, loneliness and spirituality.

16
Finding her place at UTS
Manroop Johal

When Manroop arrived from India            "I now feel so confident," says
to study a Bachelor of Science in           Manroop. "I've learnt I don't have
Information Technology at UTS,              to change. I just have to be myself.
she was nervous about starting              UTS is my place. UTS accepts every
her degree so she decided to visit          person however they are. They
UTS Counselling.                            accepted me – a girl from a Punjabi
                                            family who didn't know whether
"My first session was very
                                            she should speak up or stay silent.
 comfortable," says Manroop.
                                            I've learnt so much about Australia
"I talked about my anxieties, how I
                                            and how other people do things.
 felt like a totally different person,
                                            I've met many different students
 very shy. My counsellor told me
                                            here who are just like me. Together
 many international students have
                                            we're building an exciting future."
 the same difficultly adjusting."
Manroop's counsellor taught
her some exercises to control
her nerves, suggested activities
outside of study and connected
her with volunteer work where she
could meet like-minded people.

                                    International Postgraduate Course Guide 2020   17
Support services

A day in the life
University isn't just about attending classes. At UTS, we encourage
you to get involved in campus life so you can grow your skills, make
new friends, uncover a new passion or simply take time out to relax
and recharge. Explore how colourful life at UTS can be.

 7.30AM                                         9.15AM                                         10.15AM
 Start the day right with a group fitness       On Wednesdays during session quell those       Attend a lecture or tutorial in one of our
 class at our fully equipped gym. It's a fun    hunger pangs with a free breakfast at the      state-of-the-art theatres or purpose-built
 way to manage stress, stay motivated and       student-designed Bluebird Brekkie Bar.         collaborative spaces.
 make new friends.                              Meet your friends for free muesli, fruit,
                                                yoghurt, sourdough bread, and fair-trade
                                                tea or coffee in a relaxed pop-up space.

 12.00PM                                        1.00PM                                         1.15PM
 Meet up with your favourite club or society.   Drop in to one of our Student Centres to get   Refuel at one of the many eateries on
 Whether it's a cultural club like the UTS      your questions about fees, scholarships,       campus. You'll find our international
 Bangladeshi Society, a Business Society        subject enrolment or timetabling answered.     food zone in The Marketplace featuring
 networking event or the UTS Football                                                          Japanese, Mexican, Lebanese, and Indian
 Club, you'll socialise with a group of                                                        delights. Enjoy burgers, salads, tapas,
 like-minded students while contributing                                                       and sandwiches at Towers Café, Universal
 to our community.                                                                             Café, Penny Lane, The Art of Food or 80 Bar
                                                                                               and Café.

18
2.00PM                                        2.45PM                                                4.15PM
Play a game of table tennis or relax on       Meet your classmates at an AV enabled                 Compete with your team in a UTS Social
the grass at Alumni Green to review your      study pod. Plug in your laptop, connect               Sports competition. Gather some friends
lecture notes in preparation for your group   to free Wi-Fi and work on the big screen.             or make new ones competing in a range of
work meeting.                                 Whether you want to bounce ideas                      sports including mixed basketball, futsal
                                              around, finish a group presentation or                or netball.
                                              form a study huddle, these spaces make
                                              collaboration easy.

6.30PM                                        8.45PM                                                11.30PM
Grab a snack and head to a HELPS              Enjoy the latest films, karaoke or a game             If you need to finish an assignment, all UTS
workshop to improve your academic             of pool with friends at The Underground.              computer labs are open 24/7. Security
skills. Boost your spoken English, get        Head to The Loft for a small bar experience           can escort you between buildings,
one-on-one help structuring your              featuring live music and a leafy outdoor              residences and Central Station. A free
assignment or become a better writer or       courtyard.                                            nightly security shuttle also services the
public speaker.                                                                                     Broadway and Haymarket precincts from
                                                                                                    6.30pm to 1.30am.

                                                                                          International Postgraduate Course Guide 2020             19
Careers

Your pathway to
graduate success
careers.uts.edu.au

Your career is in your hands. Preparation for
a successful professional career starts from
your first week at university. UTS Careers
offers tools and resources to guide you on the
path to reaching your career goals.

GET TO KNOW US IN YOUR                              Take advantage of our Career Action Plan. This     ENTER THE WORKPLACE
FIRST YEAR                                          valuable collection of resources will help you     WITH CONFIDENCE
Connecting with UTS Careers at the beginning        navigate your career development process.          Our Accomplish Award is a program filled with
of your degree is a must. At Orientation, you'll    Excel in your job interviews by building your      insights and advice to prepare you for life after
be introduced to us at our U:Professional           communication skills in one of our workshops       university. You'll learn what employers look for
session where you'll be shown how to start          and signing up for a mock interview so you can     in candidates, how to improve your interview
planning for your career.                           get experience and overcome nervousness.           skills, how to dress for interview success and
                                                    Browse the 'Resources' and 'Events' tabs at        how to optimise your resume. After completing
We can help you along every step of your
                                                    CareerHub to see what's on.                        the Accomplish Award, you'll be ready to tackle
professional development journey. From
                                                                                                       the recruitment process head-on.
crafting the ultimate resume, cover letter          We also offer workshops that help you develop
and LinkedIn profile to mastering interview         your LinkedIn profile and connect with             UTS Careers hosts an annual careers fair,
techniques, finding an internship and making        professionals in your industry.                    faculty-focused career fairs and an exclusive
the most of networking opportunities – we've                                                           international student careers fair so you can
got you covered.                                    IMMERSE YOURSELF IN                                meet future employers and explore life after
                                                    YOUR INDUSTRY                                      your degree.
Recruiters are always on the look out for
                                                    Reaching out and making industry
students who are engaged in industry and                                                               Every August we run the Festival of Future You.
                                                    connections is a big part of setting yourself up
extra-curricular activities from day one so                                                            This careers festival boasts events, workshops
                                                    for success upon graduation.
don't wait until the end of your studies to build                                                      and networking opportunities designed to get
your professional skills.                           Our Professional Mentoring Program makes           you thinking about your career, developing
                                                    connecting with professionals in your              your skills and building those key professional
GAIN SPECIALISED                                    field easier. This university-wide online          relationships.
EMPLOYABILITY SKILLS                                community fosters connections and organic
DURING YOUR DEGREE                                  conversations between mentees and
As a UTS student, you'll access a free 15-minute    professional mentors.
consultation with one of our friendly Recruitment
Advisors at our drop-in service. Discuss            Another way to build your professional network       CONNECT WITH US
your future career options, ask work-related        is through an internship. To find the right          Visit us Monday - Friday for a 15 minute
questions and get advice on job applications,       internship for you, have a chat with one of our      drop-in with a Recruitment Advisor.
excelling in interviews and networking.             Recruitment Advisors or visit:                       Simply walk-in (without an appointment)
                                                    interns.uts.edu.au and click on 'Students'.          from 10am-12pm. Or you can book an
We'll help you develop a resume and cover
                                                    Taking on part-time work during your studies         appointment with us between
letter that's perfect for the job you want.
                                                    is a great way to meet people and learn more         1:30pm-4:30 pm via CareerHub.
Go online for our Rate My Resume program,
which lets you upload your resume and have          about Australian workplace culture. UTS              For more information see:
it reviewed instantly (day or night) so you can     CareerHub is your one-stop-shop for exclusive        uts.ac/IntDrop-in
receive constructive feedback.                      job opportunities. With hundreds of jobs
                                                    advertised each week, we'll help you find your       You can access all of our online
                                                    dream role with an employer who is interested        resources via our website:
                                                    in hiring UTS talent.                                careers.uts.edu.au

20
On the right track
Jayesh Nakrani

Jayesh is the first in his family           They also showed me how to create
to study engineering. When he               a LinkedIn profile that gets results.
graduated from his bachelor                 At interviews employers say,
degree in India, he decided to             'This is such a good resume.
pursue a Master of Mechanical               How did you do it?' I tell them UTS
Engineering overseas.                       Careers taught me everything."
"I was planning to study in the US,"        Jayesh successfully gained an
 says Jayesh. "But after exploring          internship at Chatoyer
 the course structure, rankings and         Environmental, a manufacturer
 industry connections, I chose UTS."        and importer of pollution
                                            control products.
When Jayesh arrived in Sydney,
his top priority was to find an            "It's so exciting. I'm learning
internship to complement his                leadership skills and responsibility
studies. UTS Careers was his                here," says Jayesh. "As soon as the
first stop.                                 owner saw I was studying at UTS
                                            he said, 'You're on the right track.'
"UTS Careers has helped me so
                                            The owner is a great motivator.
 many times," says Jayesh. "I
                                            He tells me to never give up. He's
 learned how to write an effective
                                            always pushing me, 'You can do it.
 resume and cover letter.
                                            Jay, you can do it.'"

                                    International Postgraduate Course Guide 2020   21
Scholarships
uts.edu.au/scholarships

UTS is making a big investment in high-achieving
international students. We've dedicated
A$30 million in grants and scholarship support
over a five-year period.

As part of our ongoing commitment to                achievement. To be eligible, you must meet the          –    Brazil: Program for Institutional
educating the world's future leaders,               selection criteria and have been admitted to,                Internationalisation of the Higher
we're recognising students from around              or are eligible for admission to, a course at UTS.           Education Institutions and Research
the globe who've put in the hard work and                                                                        Institutions of Brazil (PrInt)
                                                    Note: several UTS scholarships, including full
perseverance to excel in their chosen field.        tuition scholarships, also require a personal written   –    Colombia: Fundación para el Futuro
                                                    statement.                                                   de Colombia (COLFUTURO) scholarship
Through offering scholarships to deserving
students, we're sharing our passion for                                                                          program
education, equity and innovation.                   Australian Government                                   –    China: China Scholarship Council and Dr
                                                                                                                 Chau Chak Wing Scholarships and China
We want our international students to               scholarships                                                 Scholarship Council
return home equipped with specialised
                                                    dfat.gov.au/people-to-people/                           –    Ecuador: Secretaría de Educación
knowledge, technological innovation and
global perspectives so they can contribute
                                                    australia-awards/Pages/australia-                            Superior, Ciencia, Tecnología e Innovación
to their home country's future.                     awards.aspx                                                  (SENESCYT) Program
                                                    The prestigious Australia Awards International          –    Guatemala: Guatafuturo - loans and
                                                    Scholarships and Fellowships offer the next                  scholarships program for Guatemalan
UTS Insearch                                        generation of global leaders an opportunity to
                                                    undertake study, research and professional
                                                                                                                 citizens who want to study a Master, PhD
                                                                                                                 or Graduate diploma overseas.
Scholarships for                                    development in Australia.                               –    Indonesia – Direktorat Jenderal
                                                                                                                 Pendidikan Tinggi (DIKTI) and Lembaga
UTS students                                        Funded by the Australian Government's
                                                    Department of Foreign Affairs and Trade,                     Pengelola Dana Pendidikan (LPDP)
insearch.edu.au/au/how-to-apply/                    the awards help international students gain             –    Mexico: Fondo para el Desarrollo de
scholarships                                        qualifications that will allow them to contribute            Recursos Humanos (FIDERH)
UTS Insearch is the premium pathway provider        to development success back home.                       –    Peru: Programa Nacional de Becas y
to UTS. Our vision is to bring university success                                                                Crédito Educativo (PRONABEC)
within reach of more people around the world.       Endeavour scholarships                                  –    Vietnam: Vietnam International Education
As part of its relationship with UTS Business
School, UTS Insearch funds three scholarships
                                                    and fellowships                                              Development (VIED)

                                                    internationaleducation.gov.au                           Check with your home government for
for international students to complete their
                                                                                                            current information.
PhD in Business.                                    The Endeavour Scheme is designed for high-
                                                    achieving international students who've been
Faculty scholarships                                accepted to study a postgraduate course or              Alumni advantage
                                                    PhD at UTS.                                             alumni.uts.edu.au/advantage
uts.edu.au/scholarships
                                                    These scholarships are funded by the Australian         UTS graduates who are thinking of pursuing
Many UTS faculties offer international
                                                    Government's Department of Education                    further study could be eligible for a 10 per cent
scholarships to reward achievement and
                                                    and Training. Before you apply, you need to             saving on their tuition fees through the Alumni
recognise motivation to succeed.
                                                    gain admission to UTS. You'll also need to be           Advantage Program. This discount applies to
As these scholarships are always evolving visit     living in a partner country that has links to the       full-fee-paying courses and will be applied
our website for current information.                Endeavour program.                                      automatically when you enrol.

Postgraduate                                        Home country                                            Financial aid and loans
                                                                                                            If you're from Canada, Denmark, Germany,
scholarships and grants                             sponsored scholarships                                  Norway, Sweden or the USA, you may be eligible
uts.edu.au/scholarships                             A number of countries offer scholarships or             for financial aid to support your studies at UTS.
Our scholarships are for top performers.            sponsorship opportunities to citizens who wish          Check with your government for requirements.
These highly competitive scholarships and           to study in Australia:
grants are open to international students
and are awarded on the basis of academic

22
Thinking differently at UTS
Priyanka Chadha

Priyanka has travelled the world        "The academics here are incredibly
for work and study. Originally           committed," says Priyanka. "If
from India, she completed                you don't understand something
her undergraduate degree                 they sit down and explain it. They
in Melbourne then worked                 put in that extra effort to help you
in sports event management               achieve your goals."
in Dubai before choosing to
                                         Priyanka was awarded the
further her career with an MBA
                                         Postgraduate Academic Excellence
in Sports Management at UTS.
                                         Scholarship for high achieving
"I decided to come to Australia          international students, which is
 to throw myself completely out          granted on academic merit.
 of the box and do something
                                        "Hard work does pay off," says
 different," says Priyanka. "Sydney
                                         Priyanka. "This scholarship is
 is a beautiful city and UTS has
                                         recognition that UTS appreciates
 a lot to offer. It's one of the few
                                         my efforts. The MBA is very
 universities that delivers an MBA
                                         demanding. If you want to get
 in Sports Management."
                                         the most out of this degree, you
Priyanka was also attracted to           need to give it everything. The
UTS because of its reputation for        practical insights have taught
teaching excellence.                     me a lot. We're being prepared to
                                         become managers or CEOs. We're
                                         constantly reflecting on who we
                                         are and where we want to go."

                                 International Postgraduate Course Guide 2020   23
Feel at home
housing.uts.edu.au

UTS-OWNED ACCOMMODATION                             You will need to provide your own bed linen      ESTABLISHMENT COSTS
International students at UTS can choose from       and cooking equipment. Licence fees are          You should expect to pay approximately
four residences close to campus:                    different for each residence and room type.      A$5200 in establishment costs for
                                                    There are two non-refundable fees:               independent accommodation. Allow an
–    Geegal is a purpose-built group of             A$45 application fee and A$120 acceptance        additional A$1000 to A$1500 for a computer
     townhouses accommodating 57 students           fee (subject to change).                         and printer, if required.
     in studio and shared apartments
                                                    Due to the high volume of applications, UTS      These costs include items such as a rental
–    Bulga Ngurra is a modern apartment
                                                    Housing also has reserved beds for students      bond (up to four weeks' rent), rent in advance,
     building accommodating 119 students in
                                                    with off-campus providers (Iglu and Scape).      linen, furniture, kitchenware, personal items,
     studio and shared apartments
                                                                                                     and telephone, Internet, and electricity
–    Gumal Ngurang is a modern apartment            RENTING PRIVATE                                  connection.
     building accommodating 252 students in         ACCOMMODATION
     studio and shared apartments                   If you're seeking private accommodation,         For UTS Housing, you'll need to budget for the
–    Yura Mudang accommodates 720                   we recommend you arrange short-term              application fee (A$45), the acceptance fee
     students in studios and shared                 accommodation in Sydney so you can               (A$120), the bond (equivalent of four weeks'
     apartments conveniently located above          view properties on your arrival and choose       rent), two weeks rent in advance, and any
     UTS Building 6.                                something that suits your long-term needs.       personal items.

Wattle Lane, UTS's fifth residence, houses 58       Visit UTS Housing's off-campus                   RESIDENTIAL LIFE PROGRAM
students in studios located only minutes away       accommodation website to find share rooms        UTS Housing accommodates 1206 students
from the main UTS building. This residence is       in private houses and apartments around UTS:     from across Australia and around the world.
dedicated to Indigenous students at UTS.            uts.studystays.com.au
                                                                                                     Our Residential Life program provides
All UTS residences feature spacious communal        Share accommodation means you usually have       students with a dedicated support network
and BBQ areas, study rooms and games and            your own room and share a kitchen, living area   that assists with the transition of living away
computer rooms (except Wattle Lane). Gumal          and bathroom with other students or people       from home, enhances learning and organises
Ngurang and Yura Mudang also have a rooftop         who work. Alternatively, you may choose a        social activities.
garden and Yura Mudang has a music room.            studio or one-bedroom apartment to live in on
                                                    your own, but this is more expensive.
All are self-catered, secure and competitively
priced. Bedrooms are for one person (unless         All accommodation rentals should come with         ACCOMMODATION TIP
described as twin shares) with shared               a share or residential or tenancy agreement.       Don't pay any money before viewing and
kitchens, bathrooms and living areas.               If you need any help or advice, please contact     being satisfied with a non-UTS property.
Apartments are fully furnished and rent             the UTS Housing Off-Campus Officer at              Until you arrive and get a feel for the
includes gas, electricity, water, cabled Internet   housing.welfare@uts.edu.au                         area you want to live in, you won't know
in bedrooms and limited wireless Internet in        or the UTS Student Legal Service at                whether it is right for you.
communal areas.                                     studentlegalservice@uts.edu.au who are
                                                    here to help you.

24
Out of respect for the traditional owners of the land,
 we've used Aboriginal language to name our residences
 Bulga Ngurra (Mountain Camp):
 5-10 minutes' walk from UTS
 Geegal (Shelter):
 10-15 minutes' walk from UTS
 Gumal Ngurang (Friendly Place):
 5 minutes' walk from UTS
 Yura Mudang (Students Live):
 Next to main tower

                                                                                        INDEPENDENT
                                                                                                                                    UTS ACCOMMODATION
                                                                                       ACCOMMODATION
                                                                                    Weekly                    Annual                     Weekly           Annual
Rent per person in shared accommodation                                                                     A$13 000 –                                  A$12 584 –
                                                                               A$250* – A$350                                     A$242 – A$422
within a short commute to UTS                                                                                A$18 200                                    A$21 944

LIVING COSTS

               Groceries (e.g. food, drinks, toiletries)                             A$100                    A$5200                     A$100            A$5200

               Phone (mobile)                                                         A$20                    A$1040                      A$20            A$1040

                                                                                                                                   Free cabled Internet in room and
               Internet                                                               A$10                     A$520
                                                                                                                                      limited free Wi-Fi access

               Utilities – Gas/electricity                                            A$20                    A$1040                     Included         Included

               Books/supplies/printing                                                A$16#                   A$832#                      A$16#           A$832#

               Transport costs                                                       A$35^                    A$1820^                     A$10^           A$520^

                                                                                                            A$22 152 –                                  A$20 176 –
               Total costs                                                      A$426 – A$536                                     A$388 – A$568
                                                                                                             A$27 872                                   A$29 536

This table details approximate costs that you may incur while studying at UTS and living in Sydney. It should be used as a guide only.
It's a requirement of the Australian Government that prospective international students demonstrate they have access to at least A$20,290 a year to fund their living
costs and additional funds if bringing partners or family.
Note: Prices vary depending on the condition of the property, the number of people you share with and the proximity of the accommodation to the centre of Sydney.
* Any amount below this will likely be twin share.
# Costs may vary according to course.
^ Transport costs will vary depending on how close you live to campus.

                                                                                                             International Postgraduate Course Guide 2020               25
pgbusiness.uts.edu.au

UTS Business School
Accounting | Event Management | Finance |
Financial Analysis | Human Resource
Management | Management | Marketing |
MBA | Advanced MBA | MBA in
Entrepreneurship | Not-for-profit and
Social Enterprise Management |
Sport Management |
Strategic Supply Chain Management

We develop the knowledge,
skills and confidence you
need to get you ready for
complex decisions that play
a leading role in the future
of business.

     ACCREDITED AND RESPECTED
     Tick all the right boxes when your
     course is industry accredited and
     your school is one of a handful to
     reach the highest accreditation –
     the Association to Advance
     Collegiate Schools of Business.

     STUDY BUSINESS WHERE
     BUSINESS HAPPENS
     Australia's largest financial,
     innovation and creative precincts
     are right at our doorstep creating
     unrivalled opportunities for
     engagement in and out of
     the classroom.

ICONIC LEARNING ENVIRONMENT                 BUILD YOUR NETWORK                      LEARN FROM THE BEST
Immerse yourself in classes and             WHILE YOU STUDY                         Study with award-winning academics
informal learning spaces designed by        Our active Postgraduate Business        who are passionate about sharing their
world-famous architect Frank Gehry.         Society provides you with networking,   knowledge and industry experience.
                                            academic and career opportunities.

26
BUSINESS
Advanced Master of Business Administration
Course description
                                                                                                                                  Course code: C04367
The UTS Advanced MBA is a one-year program, co-developed, co-designed and co-                                                     CRICOS code: 098170E
delivered with industry partners from a range of sectors and organisations. It focuses on the                                     Course duration: 1 year
development of the future of work skills: problem solving, critical thinking, digital literacy,                                   Number of credit points: 72

                                                                                                                                                                                                     COMMUNICATION
communication, critical analysis, collaboration, and leadership.                                                                  Intake: February
                                                                                                                                  Location: City
It has an innovative and adaptable structure that combines knowledge-developing short,                                            Fees: A$20,955 per session (see page
focused subjects offered in blended mode with three project-based studios that enable                                             148 for further fees information)
learner-focused, experiential learning and intensive industry engagement, including coaching                                      Academic and additional requirements:
and mentoring. The studios feature digital labs that introduce students to the key digital tools                                  See page 144

                                                                                                                                                                                                     DESIGN, ARCHITECTURE
and methodologies needed to successfully operate in a digital environment and drive digital                                       English language requirements: See
strategies. The Advanced MBA is bookended by two leadership labs which focus on assessing                                         page 144
and developing students' leadership skills, emotional and cultural intelligence and ability to

                                                                                                                                                                                                     AND BUILDING
lead a diverse workforce in intensive coaching and mentoring sessions.

The program introduces students to tools and methodologies from a range of disciplines by working with academics and industry
experts from business, technological and social sciences backgrounds. This enables students to address creatively complex challenges
and opportunities.
Note: This course includes a compulsory summer session and non-standard sessions.
The Advanced MBA is designed for professionals wishing to upskill and advance their careers. It features:

                                                                                                                                                                                                     EDUCATION
• applied and learner-focused training in latest discipline-based and transdisciplinary tools and methodologies
• upskilling into key digital technologies and agile and user-centred delivery approaches
• applied, work-integrated problem solving in live client projects with a focus on solving complex problems and opportunities in digital contexts
• upskilling in skills and methodologies for successful implementation of concepts and solutions
• ongoing coaching and mentoring by experienced industry professionals
• self-development through immersive leadership labs

                                                                                                                                                                                                     ENGINEERING
• accelerated one-year completion, utilising a blend of online, face-to-face, weekends and block mode learning; all subjects are taught in
  intensive mode over full Fridays and Saturdays, which means students can keep working while they study, applying what they learn right
  away on their jobs; weekly sessions are only scheduled for in-class assessments and group coaching and mentoring sessions
• delivery by leading academics from UTS Business School who are joined by experts from other UTS faculties; students also engage with an
  extensive network of adjuncts and industry partners who facilitate sessions and coach and mentor students
• a cohort model fostering the development of lasting relationships with like-minded peers.

Areas of study

                                                                                                                                                                                                     HEALTH
Business administration, leadership, sustainability, management, innovation, technology management, business strategy, sustainable
enterprises, people management, opportunity discovery, opportunity design, opportunity delivery.

Course structure                                                Career opportunities

                                                                                                                                                                                                     HEALTH (GRADUATE
                                                                                                                                                                                                     ENTRY MASTERS)
Applied Financial Management                                    The course is suitable for students from business and non-business backgrounds who seek
Philosophy, Politics and Economics                              to upskill and develop the skills needed to be prepared for the changing nature of work.
                                                                Career options include a range of management roles with a focus on driving transformational
Leadership Lab 1
                                                                change in large private, public and non-profit organisations as well as in SMEs.
Challenge/Opportunity Discovery
Accounting Practices and Tools
Delivering Customer Value
Innovative Strategies
Sustainable Enterprise in Dynamic Systems
                                                                                                                                                                                                     INFORMATION
Decision Making Under Uncertainty                                                                                                                                                                    TECHNOLOGY

Managing Technological Descriptions
Leadership Lab 2
Challenge/Opportunity Design
People and the Future of Work
Transition Management
Challenge/Opportunity Delivery
                                                                                                                                                                                                     LAW
                                                                                                                                                                                                     SCIENCE

The course structures outlined in this course guide are based on a March (Autumn) intake. The structure may vary for our July (Spring) intake. Students may be required to undertake elective
subjects to complete their degree. Most subjects at UTS are valued at 6-8 credit points each.
                                                                                                                                                                                                     TRANSDISCIPLINARY

Refer to the online handbook for the most up-to-date information and for specific information on available electives and their credit-point value (handbook.uts.edu.au).
 Courses flagged with this icon include a work-based training component which must be undertaken as part of the course of study and refers to all clinical, professional and industrial or
                                                                                                                                                                                                     INNOVATION

other work placements.

                                                                                                                           International Postgraduate Course Guide 2020                         27