An american perspective on firefighter health and fitness
If your browser does not support JavaScript, please read the page content below: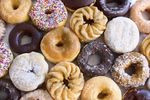 Lorem Ipsum Dolor An american perspective on firefighter health and fitness Dan Kerrigan MS, EFO, CFO, PFT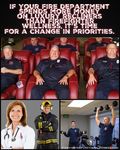 About me ❖ 32+ Year Fire Service Veteran ❖ Co-Author of Best-Selling Book Firefighter Functional Fitness ❖ At-Large Director, IAFC Safety, Health and Survival Section Board of Directors ❖ Certified Peer Fitness Trainer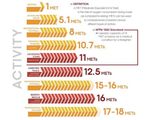 definitions ❖ Firefighter (USFA): Firefighter in an organized fire department assigned in the 50 states, DC, Virgin Islands, Guam, American Samoa, Northern Mariana Islands ❖ Also includes private, contract, industrial fire brigade members, and direct support personnel such as air tanker pilots ❖ NFFF adds seasonal and full-time federal employees, inmates, an civilian FFs serving on military bases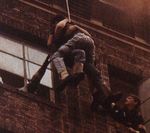 on duty ❖ USFA: Being involved in operations at the scene of an emergency, fire, or non-fire; responding to, returning from, other assigned duties, on-stand by (not at home) ❖ FFs who become ill performing duties and have a heart attack shortly after returning home may be considered "on duty"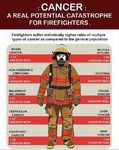 line of duty ❖ NFFF: LODD is that which occurs during an activity or action where a firefighter is obligated or authorized to perform and the action is legally recognized. Documentation must show direct link between incident and death ❖ Hometown Heroes Act of 2003: Adds presumption.
Heart attack or stroke within 24 hours of stressful or strenuous activity ❖ NFPA does not recognize Hometown Heroes for the purposes of statistics

PSOB ❖ Public Safety Officers' Benefits Act of 1976: Guarantees a one-time financial payment to eligible survivors of PSOs whose deaths are considered a direct result of traumatic injury sustained in the line of duty. A claim must be filed. ❖ As of October 1, 2018, the amount of the benefit is $359,316.00
Heart attacks by type of activity - A snapshot ❖ 1 while burning storm debris ❖ 1 while burning flood debris ❖ 1 outside abandoned structure fire ❖ 1 outside structure fire ❖ 1 during odor investigation ❖ 2 during search and rescue training ❖ 45.7% of overall on-duty deaths categorized as not on scene or not incident related due to Hometown heroes act and definitions ❖ Data assimilated by Bill Carey
Heart attacks - who's having them? ❖ 51 heart attacks in 2017 (52 overall in stress/overexertion category including strokes) ❖ Career: 27 ❖ Average age: 49 (3 under 40) ❖ Volunteer: 24 ❖ Average age: 58 (6 over 65) Data assimilated by Bill Carey
The Fire Service Cardiovascular Epidemic
Source: Dr. Denise Smith pushed to the limits
Sudden cardiac Death Obesity = 3.1 times High Cholesterol = 4.4 times Smoking Tobacco = 8.6 times Diabetes = 10.2 times Hypertension = 12 times Age > 45 Years Old = 18 times Diagnosis of CHD = 35 times
solutions? ❖ No national mandates for health and fitness in the U.S. fire service ❖ Multi-Faceted Approach ❖ Individual ❖ Company Officer Level ❖ Organizational Level
everyone's responsibility ❖ Individual Accountability ❖ You are held to a higher standard! ❖ Company Officer Level ❖ What are you going to do today to improve the health and fitness of your crew? ❖ Executive Level ❖ It's all about priorities! ❖ Chiefs are not exempt from the "shalls"
comprehensive approach ❖ Annual Medical Evaluations ❖ Functional Physical Fitness ❖ Proper Hydration ❖ Sensible Nutrition ❖ Rest and Recovery ❖ Exposure Reduction ❖ Behavioral Health Resources
Incentives ❖ Discount on health insurance premiums ❖ Gift cards to health stores ❖ Extra compensation days ❖ Health Savings Account funds ❖ Fitness items (FitBit, Apple Watch) ❖ Paid gym memberships
Fitness Challenges (company and department level) ❖ Rowing—meters per month ❖ Push-ups ❖ Steps (FitBit) or "total stories climbed" on step mill ❖ Miles ran ❖ Weight or fat loss (%) ❖ ???
Dan Kerrigan and Jim Moss "Being fit for duty is the most basic requirement for every firefighter, both career and volunteer."
references ❖ Carey, Bill.
(2103). On duty & line of duty: What is the difference? FireRescue Magazine. ❖ Federal Emergency Management Agency. Firefighter fatalities in the United States in 2017. Retrieved from: https:// www.google.com/url? sa=t&rct=j&q=&esrc=s&source=web&cd=2&cad=rja&uact=8&ved=2ahUKEwjn5fW5xc_eAh XvYt8KHZTvAEEQFjABegQIChAC &url=https%3A%2F%2Fwww.usfa.fema.gov%2Fdownloads%2Fpdf%2Fpublications%2Fff_ fat17.pdf&usg=AOvVaw2sjeefbCMuL xyFcnukLm9Z ❖ International Association of Firefighters (2013). Heart disease in the fire service. Retrieved from: http://www.iaff.org/hs/PDF/ HeartDiseaseManual_2013.pdf ❖ International Association of Firefighters (2017).
The fire service joint labor management wellness-fitness initiative. (4th ed.). Retrieved from: https://www.iafc.org/docs/default-source/1safehealthshs/wfi-manual.pdf?sfvr sn=7931df0d_5 ❖ Kales, S. et. al. (2007). Emergency duties and deaths from heart disease among firefighters in the United States. Retrieved from: https:// www.nejm.org/doi/full/10.1056/NEJMoa060357 ❖ Kerrigan, D., & Moss, Jim (2016). Firefighter functional fitness: The essential guide to optimal firefighter performance and longevity. Firefighter Toolbox.
National Fallen Firefighters Foundation. (2017). Cardiac enlargement in U.S. firefighters. Retrieved from: http:// www.everyonegoeshome.com/wp-content/uploads/sites/2/2017/07/cardiac-wp-2017 -FINAL.pdf ❖ Smith, D., Liebig, J.P., Steward, N.M., & Fehling, P.C. (2010). Sudden cardiac events in the fire service: Understanding the cause and mitigating the risks.