CATHOLIC HIGH SCHOOL GUIDE 2020 - 2021 ADMISSIONS
Page content transcription
If your browser does not render page correctly, please read the page content below
Dear Future Catholic High School Family,

                                  Within the Diocese of Dallas, we have two very important goals for
                           Catholic schools: we want to make sure that every student entrusted to our
Dr. Matthew Vereecke
                           care has the ability to reach college and heaven.
Superintendent

                                  There is no better time to assess those goals than at our high school
                           graduations each spring. It is impossible to avoid being moved by watching
                           the next generation of leaders beginning to put their faith and education
                           into action, and to hear of their awards, accolades and acceptances to top
                           colleges, seminaries and service academies.

                                  Whether it is record-setting scholarship offers at John Paul II and
                           Bishop Lynch, 37 students at Bishop Dunne being the first in their family to
                           attend college, or our first graduating class at Cristo Rey walking across
                           the stage at the Meyerson Symphony Center, the accomplishments of our
                           Catholic school graduates are evidence of all that their parents, teachers,
                           and administrators have done to set these students on the path to college.

                                   But, the most inspiring aspect of our high school graduations is
Dr. Veronica Alonzo        not metrics and test scores. The most inspiring moments are when our
Associate Superintendent   valedictorians give their remarks and addresses- they don't point to
                           double-digit acceptances to college, or ACT scores, or grades as the measure
                           of their time spent in Catholic school. They talk about friendships, teachers,
                           mentors, personal growth, encounters with God, and authentic experiences
                           of serving others. It's the moments that brought them closer to heaven that
                           they remember most.

                                  Every student in our Catholic High Schools will receive a fantastic
                           preparation for college; however, it is the preparation for life beyond college
                           that sets these four years apart. We couldn't be more excited that your
                           family is considering taking the next steps on the journey to college and
                           heaven in one of our Catholic High Schools.

                           Sincerely in Christ,

                           Matthew T. Vereecke, Ed.D.
TA B LE O F CON T E NTS
                  COEDUCATIONAL HIGH SCHOOLS

Bishop Dunne Catholic School ……………………………………..…………………….…………...…….… 2
Bishop Lynch High School ……………………………….………………………………..……….…………….… 3
Cristo Rey Dallas College Prep ……………………………………………………………………….…………. 4
John Paul II High School ………………………………………………………………………………………….….. 5
The Highlands School …………………………………………………………………………………………………... 6

                         GIRLS HIGH SCHOOL

Ursuline Academy of Dallas ………………………………….…………………………………………………… 7

                        BOYS HIGH SCHOOLS

Cistercian Preparatory …………………………………………..…………………….……………………..…..….. 8
Jesuit College Preparatory School ………………..……………………………………………………..… 9

Quick Guide to Admissions ..…………………...………………………………………………………..…….. 10
General Information …………………..…………………...…………………………………………….……….…… 11

                                - 1 -
BISHOP DUNNE CATHOLIC SCHOOL
                                                            3900 Rugged Drive Dallas, Texas 75224
                                                            T: 214-339-6561 x 4050 | F: 214-339-1438
                                                                                     www.bdcs.org

ADMISSIONS CONTACT
Brian Muth, Director of Admissions
bmuth@bdcs.org
TUITION (2019-2020)
$16,250 High School                         MISSION
$12,525 Middle School                       Founded in 1901 as Our Lady of Good Counsel,
                                            Bishop Dunne Catholic School is a sixth through
FEES
                                            twelfth grade, Catholic college preparatory school
$100 Application fee                        that serves a diverse, multicultural community in
$500 Registration fee                       the Dallas/Fort Worth metroplex.
APPLICATION (Ravenna)
Apply online at www.bdcs.org                Bishop Dunne Catholic School empowers each
Application Due: January 10, 2020           student to explore, inquire, lead, and serve through
Supplemental Docs: January 24, 2020         a college preparatory education in a joyful
                                            community of faith.
ADMISSIONS TEST (ISEE)
ISEE Testing at Bishop Dunne:
December 7, 2019                            VISIT
January 11 & 25, 2020                       Campus Tours: Most Tuesdays-Thursdays at
February 15, 2020                           9:00 a.m. or by appointment. Contact Norma
March 28, 2020                              Echavarria, 214-339-6561 x4073 to schedule a tour,
April 25, 2020                              or visit www.bdcs.org/apply/visit-bishop-dunne to
School Code: 441785                         register for a tour online.
PREREQUISITES
                                            Falcon for a Day: Most Tuesdays-Thursdays
Online Application & Short Answers
                                            beginning at 8:30 a.m. Students shadow a Bishop
Report Card (7th grade & 8th 1st sem.)      Dunne student during the school day. Register at
Online Principal or Counselor Rec           www.bdcs.org/apply/visit-bishop-dunne.
Online Math & English Teacher Recs
ISEE Admissions Test                        Open House: October 27, 2019 from 2:00–4:00 p.m.
Family Interview
INTERVIEWS
                                            FINANCIAL AID & SCHOLARSHIPS
February 1, 2020 morning
                                            Aid is available on the basis of need and merit.
February 4, 2020 afternoon
                                            Priority is given to those completing the FACTS
Families will receive an email invitation   application by February 18, 2020. Visit
to sign-up for the interview online.        www.bdcs.org/apply for more info.
DECISION LETTERS
Mailed March 13, 2020

                                             - 2 -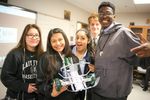 BISHOP LYNCH HIGH SCHOOL
                                                          9750 Ferguson Road, Dallas, Texas 75228
                                                           T: 214-324-3607 x4127 | F: 214-324-3600
                                                                             www.bishoplynch.org

ADMISSIONS CONTACT
Tricia Roos, Director of Admissions
Tricia.Roos@bishoplynch.org
TUITION (2019-2020)
$18,000                                  MISSION
                                         Faithful to Catholic Tradition and to our Dominican
FEES
                                         heritage of scholarship and service, Bishop Lynch
$100 Application fee
                                         High School promotes the development of the total
$500 Enrollment fee
                                         person by bringing together a diverse community
$500 Deposit
                                         in a rigorous, college preparatory environment
APPLICATION (Ravenna)                    where students are taught to strive for excellence,
Apply online at www.bishoplynch.org      seek truth, and work for justice in the world.
Application Due: January 17, 2020
Supplemental Docs: January 24, 2020
                                         VISIT
ADMISSIONS TEST (ISEE)                   Campus Tours: To schedule a tour of BL, email
ISEE Testing at Bishop Lynch:            admissions@bishoplynch.org.
December 14, 2019
January 18, 2020                         Eighth Grade Visit: 8th graders at Diocesan
January 25, 2020                         Catholic elementary schools visit BL as a class and
School code: 441718                      will be assigned individual dates.
PREREQUISITES
Online Application
                                         Shadow Days: 8th grade students are invited to
                                         spend a day attending classes and activities with a
Transcripts (7th grade & 8th 1st sem.)
                                         current BL student. Register in Ravenna.
Online Recs– Principal, Math & English
ISEE Admissions Test
                                         Coffee, Tea and Tour: November 15, 2019, 9:00 a.m.
7th & 8th standardized test results
                                         Enjoy breakfast, gain insight into the BL experience
Family Interview                         from current parents, and take a tour.
INTERVIEWS
February 10, 12, 20, 22 and 25           BL Sunday Open House: December 8, 2019 from
Sign up online through Ravenna           1:00–4:00 p.m.
DECISION LETTERS
Emailed and mailed March 13, 2020        FINANCIAL AID & SCHOLARSHIPS
                                         FACTS tuition aid application is due on February 14,
                                         2020. Financial aid is available on the basis of need
                                         and merit. Visit www.bishoplynch.org.

                                          - 3 -
CRISTO REY DALLAS COLLEGE PREP
                                                                1064 N St. Augustine Drive, Dallas, TX 75217
                                                                        T: 469-844-7956 | F: 469-327-2677
                                                                                   www.cristoreydallas.org

ADMISSIONS CONTACT
Susy Pérez, Director of Admissions          MISSION
sperez@cristoreydallas.org                  Cristo Rey Dallas is a private, independent Catholic high
                                            school to be accredited by the Texas Catholic
Ana Ponciano, Admissions Coordinator        Conference (TCCED), located in the Pleasant Grove area
alopez@cristoreydallas.org                  of Southeast Dallas. It is the 30th school in the Cristo Rey
TUITION (2019-2020)                         Network, which uses a proven, revolutionary model of
Sliding scale between $500-$2,500/year      college preparatory high school curriculum accessible to
based on family income and size             those of limited financial resources. All of our students
                                            earn an average of $8,900 of their own tuition working
FEES                                        five days a month with one of our job partners.
$40 Application Fee (incl. testing fee)
$100 Non-refundable enrollment fee
                                            VISIT
APPLICATION
                                            Coffee with Cristo Rey: Parent visit with student panel.
Apply online: www.cristoreydallas.org
                                            November 8 & 15, December 13 & 20, January 24 & 31 from
Priority deadline: January 31, 2020
                                            9:00–10:00 a.m.
ADMISSIONS TEST (MAP Test)
January 17, 2020                            Shadow Day Visits: Dates available during application
February 29, 2020                           Process.
Scheduled during application process
PREREQUISITES
                                            Open House: January 25, 2020 from 11:00 a.m.–1:00 p.m.
Online application (TADS)
Report Card (7th grade & 8th 1st quarter)   FINANCIAL AID & SCHOLARSHIPS
8th grade Math & English Teacher Rec        Financial need is the first criteria for admission and
MAP Admissions Test                         decided according to the Cristo Rey Network standard.
Admissions Interview                        "Cristo Rey schools serve only students with limited
INTERVIEWS                                  economic resources and is open to students of various
February 22, 2020
                                            faiths and cultures." Our annual income guidelines are
                                            outlined below. Please call the admissions office if you
Scheduled during application process
                                            are not sure that your family meets this criterion.
DECISION LETTERS
Emailed and mailed via UPS
March 13, 2020 at 4:00 p.m.
                                                         Household Size Annual Income
                                                               2        $    45,252.00
Cristo Rey Dallas accepts 130-135, 9th                         3         $   51,228.00
graders each year and a limited number                         4        $    68,304.00
of transfer spots for 10th grade.                              5        $    85,380.00
                                                               6        $   102,456.00
                                                 - 4 -
JOHN PAUL II HIGH SCHOOL
                                                                   900 Coit Road, Plano, Texas 75075
                                                                   T: 972-867-0005 | F: 972-867-7555
                                                                               www.johnpauliihs.org

ADMISSIONS CONTACT
Katie Schiele, Director of Admissions
admissions@jpiihs.org
                                         MISSION
TUITION (2019-2020)                      John Paul II High School is a coeducational, Catholic,
$18,550                                  college preparatory school, sponsored by the Diocese of
                                         Dallas, that opened its doors in 2005. Our community is
FEES
                                         a diverse body of students and educators that strives for
$100 Application Fee
                                         excellence, values individuality, fosters a passion for
$600 Registration Fee                    learning, encourages Christian Service, and instills a
$325 Technology Fee                      respect for others.
APPLICATION (Ravenna)
Apply online: www.johnpauliihs.org
                                         VISIT
Application Due: January 7, 2020
                                         Information Nights: 3rd Wednesdays at 6:30 p.m.
Supplemental Docs: February 22, 2020
ADMISSIONS TEST (ISEE)                   Campus Tours: Every Thursday at 9:45 a.m. or by
ISEE Testing at JPII:                    appointment.
January 18, 2020
January 25, 2020                         Shadow Days: November 5-8, February 18-21, and
School code: 447590                      March 16-19. Must have a current application on file.
PREREQUISITES
                                         To schedule, contact Alyssa Donovan at 469-229-5187 or
Online Application
                                         alyssadonovan@jpiihs.org
Transcripts (7th grade & 8th 1st sem.)
Two Teacher Recs (online)- Math or
                                         Eighth Grade Visits: Scheduled in advance with each
  Science & English or Social Studies
                                         eighth grade class. To register for an Open Eighth Grade
ISEE Admissions Test
                                         Visit Day, visit www.johnpauliihs.org or 469-229-5195.
Student Interview
Student Extended Response                Open House: November 20, 2019 from 6:00–8:30 p.m.
INTERVIEWS
February 1, 2020                         ISEE Test Prep: 6 week course October through
February 15, 2020                        December with members of JPII National Honor Society.
Parents may schedule date & time         Visit www.johnpauliihs.org to register or call
upon submission of online application    469-229-5195.
DECISION LETTERS
Mailed & in Ravenna March 6, 2020        FINANCIAL AID & SCHOLARSHIPS
                                         Complete an application and submit 2019 tax
                                         information in FACTS Grant & Aid by March 2, 2020
                                         to be considered for need-based tuition assistance.

                                             - 5 -
THE HIGHLANDS SCHOOL
                                                               1451 East Northgate, Irving, Texas 75062
                                                                       T: 214-614-2942 | F: 972-721-1691
                                                                          www.thehighlandsschool.org

ADMISSIONS CONTACT
Jennifer Denney, Director of Admissions
jdenney@thehighlandsschool.org            MISSION
                                          The mission of The Highlands School is the formation
TUITION (2019-2020)
                                          of Christian leaders who will transform society. The
$16,000 (High School)
10-month payment option
                                          Highlands has a staff of 8 full-time religious men and
                                          women whose focus is the personalized character and
FEES
$100 Application Fee
                                          spiritual development of each student. Highlighting
10% Tuition Deposit                       this is the recognition we have received being named
Athletic Fees (if applicable)             to the National Catholic Education Honor Roll (CEHR)
APPLICATION                               every year since 2004.
Apply online:
www.thehighlandsschool.org
                                          VISIT
Application Due: January 10, 2020
                                          Tours: Please contact the Admissions Office to
Supplemental Docs: January 24, 2020
                                          schedule a tour.
ADMISSIONS TEST (ISEE)
Any Metroplex location                    Shadow Days: Scheduled on an individual basis.
School code: 443556                       Must have a current application on file.
PREREQUISITES
                                          Eighth Grade Visit Day: All Current 8th graders are
School Transcript
                                          invited to visit on October 24, 2019. RSVP is required.
Online Application & Fee
Two Teacher Recs (online)- English
                                          Preview Mornings: October 2, November 6, and
   and Math or Science
                                          December 4, 2019 from 8:30–10:00 a.m.
ISEE Admissions Test
Family Interview                          Register for all events: 972-554-1980 or
INTERVIEWS                                admissions@thehighlandsschool.org.
Family Interviews scheduled
upon completion of application.
                                          FINANCIAL AID & SCHOLARSHIPS
DECISION LETTERS                          Aid is available and is determined after admission
March 1, 2020                             through FACTS. Application is due March 2, 2020.
                                          Terrae Altae Scholarship: Incoming freshmen from
                                          diocesan schools.
                                          Brendan Behan Memorial Scholarship Fund:
                                          Incoming freshmen from other parochial, public,
                                          or home schools in the Dallas/Fort Worth area.
                                             - 6 -
URSULINE ACADEMY OF DALLAS
                                                             4900 Walnut Hill Lane, Dallas, Texas 75229
                                                                    T: 469-232-1800 | F: 469-232-1836
                                                                               www.ursulinedallas.org

ADMISSIONS CONTACT
Ashley Rae Jackson, Director of Admis-
sions and Enrollment Management           MISSION
admissions@ursulinedallas.org             Founded in 1874, Ursuline Academy of Dallas is an
TUITION (2019-2020)                       independent Catholic, college preparatory school for
                                          young women sponsored by the Ursuline Sisters. The
$22,900
                                          mission of Ursuline Academy is the total development
11-month payment option
                                          of the individual student through spiritual formation,
FEES                                      intellectual growth, service to others, and building of
$100 Application Fee                      community. Ursuline Academy educates young
$1,000 Registration Fee                   women for leadership in a global society.
$2,500 est. Laptop Cost
APPLICATION (Ravenna)                     VISIT
Apply online: www.ursulinedallas.org      Open House: November 3, 2019 from 2:00–4:00 p.m.
Application Due: January 10, 2020         Register at www.ursulinedallas.org/open-house.
Supplemental Docs: January 17, 2020
ADMISSIONS TEST (ISEE)                    Eighth Grade Visits: Sign up with your Catholic school
January 11, 2020 at Ursuline              or attend an open visit day on October 17, 2019 or
School code: 441825                       November 13, 2019. Register at www.ursulinedallas.org/
                                          admissions/visit.
PREREQUISITES
Online Application through Ravenna
                                          Meet the Administrator Coffees:
Transcripts (7th grade & 8th 1st sem.)    October 7, 2019 and November 18, 2019 at 7:45 a.m.
Teacher Rec 8th Grade English & Math      Register at www.ursulinedallas.org/admissions/visit
ISEE Admissions Test
Student Interview                         UA Athletes in Action!: Volleyball DPL/Middle School
INTERVIEWS                                Night is October 3, 2019 from 5:00-7:00 p.m. Register at
January 18, 2020                          www.ursulinedallas.org/the-ursuline-experience/athletics
January 25, 2020
(9:00 a.m.–12:00 p.m.)
Schedule interview through Ravenna        FINANCIAL AID & SCHOLARSHIPS
after submission of online application.   Financial assistance is available on the basis of need.
DECISION LETTERS                          Apply for financial assistance through FACTS. FACTS
Emailed March 13, 2020                    application is due January 10, 2020.
                                          Financial Assistance letters will be mailed with
                                          acceptance packets on March 13, 2020.

                                              - 7 -
CISTERCIAN PREPARATORY SCHOOL
                                                             3660 Cistercian Road, Irving, Texas 75039
                                                                  T: 469-499-5400 | F: 469-499-5440
                                                                                  www.cistercian.org

ADMISSIONS CONTACT
Fr. Anthony Bigney, Admissions Director
fr-anthony@cistercian.org
TUITION (2019-2020)
$20,750 Upper School
                                          MISSION
$21,850 Middle School                     Cistercian Preparatory School was founded with the
FEES                                      aim of preparing talented boys for the colleges of
Registration Fee included in Tuition      their choice by challenging their minds with excellent
$125 Application Fee (testing included)   academic programs, molding their characters
$650 est. books, fees, uniforms           through the values of Catholic education, and
                                          offering them guidance with both understanding
APPLICATION (Ravenna)
                                          and discipline.
Apply online: www.cistercian.org
All Application Materials Due by
January 13, 2020                          VISIT
ADMISSIONS TEST (In House)                Tours: Please call the school to make an
Grades 5-9: Standardized Admissions       appointment to tour the campus.
  Test
                                          Open House: October 3, 2019 from 8:30a.m.–2:45p.m.
Grades 10-11: Department Tests
January 25, 2020 (5th & 6th grades)
                                          Middle School Open House: March 4, 2020 from
February 1, 2020 (7th-11th grades)
                                          8:30a.m.–11:45a.m.
PREREQUISITES
Application
School Transcript by January 25           FINANCIAL AID & SCHOLARSHIPS
Teacher Evaluations by January 25         Financial assistance is available on the basis of
End of Year Transcript by June 30
                                          demonstrated need after admission.
Cistercian Admissions Test
                                          Apply for financial assistance by completing the
Informal Interview
                                          Parents' Financial Statement (PFS) from The School
INTERVIEWS                                and Student Service for Financial Aid (SSS) by
Conducted by faculty members on the       March 30. Visit school.cistercian.org/admissions for
morning of the admissions test            more information.
DECISION LETTERS
Mailed last week in February

                                             - 8 -
JESUIT COLLEGE PREPARATORY SCHOOL
                                                             12345 Inwood Road, Dallas, Texas 75244
                                                             T: 972-387-8700 x415 | F: 972-980-6707
                                                                               www.jesuitdallas.org

ADMISSIONS CONTACT
Tim Host, Director of Admissions
thost@jesuitcp.org
TUITION (2019-2020)                    MISSION
$19,950                                Jesuit College Preparatory School of Dallas (Jesuit
                                       Dallas) was founded in 1942 as a private Catholic
FEES
                                       institution for young men under the direction of
$100 Application Fee                   the Society of Jesus. Located on a 27-acre campus in
$350 Registration Fee                  North Dallas, the school provides a rigorous student
APPLICATION (Ravenna)                  centered Jesuit education to approximately 1,100
Apply online: www.jesuitdallas.org     students in grades 9-12 with a 9:1 student-teacher ratio.
Application Due: January 10, 2020
Supplemental Docs: January 24, 2020    Jesuit College Preparatory School of Dallas offers young
                                       men an excellent, Catholic education in the classical
ADMISSIONS TEST (ISEE)
                                       Jesuit tradition with the purpose of forming a commu-
Saturday, January 25, 2020 at Jesuit
                                       nity of men with high moral principles and
Must be taken by February 2, 2020
                                       service to others.
School code: 441755
PREREQUISITES
Application
                                       VISIT
                                       Tours: Schedule an individual campus tour online at
School Transcript
                                       www.jesuitdallas.org/admissions.
Teacher Recs Math & English
ISEE Admissions Test
                                       Eighth Grade Visits: Scheduled with each parochial
Student Interview
                                       school.
Personal Recommendation
INTERVIEWS                             Open House: November 10, 2019, 1:00–3:30 p.m.
Saturday, January 11 and 18, 2020
DECISION LETTERS                       Parent Coffees: Meet administrators and program
March 13, 2020 at 7:00 p.m.
                                       directors, then take a campus tour. Find dates and sign
                                       up at www.jesuitdallas.org/admissions.

                                       FINANCIAL AID & SCHOLARSHIPS
                                       Financial assistance is available on the basis of need.
                                       Awards are issued with acceptance notification.

                                          - 9 -
QUICK GUIDE
                               2020-2021 ADMISSIONS

                                                          Admission                Apply for    Eligible for                Alternate
                Application   Documents   Financial Aid               Apply in                                 ISEE Test              Immunization
     School                                               Decisions              Financial Aid     HALO                    Admissions
                 Deadline      Deadline     Deadline                  Ravenna                                  Accepted                 Required
                                                           Shared                  in FACTS    Financial Aid                   Test

COEDUCATIONAL

BISHOP DUNNE
                 January
                    10
                               January
                                 24
                                           February
                                              18
                                                           March
                                                            13         ✓             ✓             ✓             ✓                       ✓
BISHOP LYNCH
                 January
                    17
                               January
                                 24
                                           February
                                              14
                                                           March
                                                            13         ✓             ✓             ✓             ✓                       ✓
  CRISTO REY
                 January
                    31
                               January
                                  31
                                            Part of
                                          Application
                                                           March
                                                            13                                                               ✓           ✓
 JOHN PAUL II
                 January
                    7
                              February
                                 22
                                            March
                                              2
                                                           March
                                                             6         ✓             ✓             ✓             ✓                       ✓
THE HIGHLANDS
                 January
                    10
                               January
                                 24
                                            March
                                              2
                                                           March
                                                             1                       ✓                           ✓                       ✓
ALL GIRLS

  URSULINE
                 January
                    10
                               January
                                  17
                                           January
                                              10
                                                           March
                                                            13         ✓             ✓                           ✓                       ✓
ALL BOYS

  CISTERCIAN
                 January
                    13
                               January
                                  13
                                            March
                                             30
                                                          February
                                                             28        ✓                                                     ✓           ✓
    JESUIT
                 January
                    10
                               January
                                 24
                                           January
                                              15
                                                           March
                                                            13         ✓             ✓                           ✓                       ✓

                                                              - 10 -
M OR E I N FORM AT I ON
RAVENNA ONLINE APPLICATION
Ravenna HUB is an online tool that allows families to apply for admissions to as many schools
as you choose. For any of our Catholic schools that use Ravenna, families can submit required
application materials, track application status, and view decisions all from the same account.

You can create an account at www.ravenna-hub.com, or by following the unique Inquiry
Form links found on individual schools' admissions webpages.

ISEE ADMISSIONS TEST
The ISEE (Independent School Entrance Exam) guides schools and families on admissions
decisions. It may be taken at any location in the metroplex, and students applying to multiple
schools should include school codes for all of their schools of interest so their results can be
shared. Visit www.iseetest.org for more information and to register.

FACTS GRANT & AID
The FACTS Grant & Aid system is used by many schools to determine family financial need.
Families create an account, complete an application, and upload required tax documents. For
each student, families are asked to select a "primary" school, as well as any other schools
where they would like to be considered for aid. Contact your school for more information.

THE HALO INITIATIVE
Students at diocesan schools (Bishop Dunne, Bishop Lynch, and JPII) are eligible for Financial
Aid through The HALO Initiative, which supports diocesan Catholic schools. Complete the
FACTS application for your school by April 1, 2020 to be considered for tuition assistance from
HALO. To learn more, visit www.thehaloinitative.org.

                                             - 11 -
Enrolling in a Catholic School is about more than choosing
  a better education. It's about choosing a better life.

PRESCHOOL
The journey to college begins in preschool,
where our full and half-day programs
prepare little learners for Kindergarten
and beyond!

               (Grades K-8)   ELEMENTARY SCHOOL
                                 Our Catholic elementary schools are more
                                 than just academic institutions; they are safe
                                 & nurturing communities where your child
                                 can grow into the best version of themselves.

HIGH SCHOOL                      (Grades 9-12)

The Catholic high school experience is not
only one of exemplary preparation for college
and career, but one of human and spiritual
formation that inspires students to be forces
of good in their communities and in our world.

                          www.csodallas.org/enroll
St. Cecilia                          St. Thomas Aquinas Upper School
Elementary Schools (PK-8)              M                                    Z                                          High Schools (9-12)
                                           635 Mary Cliff Drive, Dallas         3741 Abrams Rd., Dallas

     All Saints Catholic School            St. Elizabeth of Hungary             St. Thomas Aquinas Lower School               Bishop Dunne (6-12)
A                                      N                                    Z                                           9
     7777 Osage Plaza Pkwy, Dallas         4019 South Hampton, Dallas           6255 East Mockingbird Ln., Dallas             3900 Rugged Dr., Dallas

     Christ the King Catholic School       St. Joseph (K-8)                     Mount St. Michael (K-8) Private               Bishop Lynch
B                                      O                                   AA                                           10 9750 Ferguson Rd., Dallas
     4100 Colgate, Dallas                  600 S Jupiter Rd, Richardson         4500 W Davis St., Dallas

     Good Shepherd                         St. Joseph                           The Highlands School (K-12) Private           John Paul II
C                                      P                                   BB                                           11
     214 S. Garland Ave, Garland           506 E. Marvin, Waxahachie            1451 E. Northgate Dr., Irving                 900 Coit Road, Plano

     Holy Family                           St. Mark the Evangelist                                                            Cistercian Preparatory (6-12)
D                                      Q                                   Private Catholic Preschools                  12 3660 Cistercian Rd., Irving
     2323 Cheyenne, Irving                 1201 Alma, Plano

     Holy Trinity                          St. Mary (K-8)                       Angel Creek Preschool                         Cristo Rey College Prep
E                                      R                                    1                                           13 1054 B N. St. Augustine, Dallas
     3815 Oak Lawn Ave, Dallas             713 S. Travis, Sherman               180 Samuel Blvd., Coppell

     Immaculate Conception                 St. Mary of Carmel                   Ark Adventure Preschool                       Jesuit College Preparatory
F                                      S                                    2                                           14 12345 Inwood Rd., Dallas
     400 N.E. 17th St, Grand Prairie       1716 Singleton Blvd, Dallas          3100 W Spring Creek Pkwy, Plano

     James L. Collins Catholic             St. Monica                           Caring Little Friends of St. Francis          The Highlands School (K-12)
G                                      T                                    3                                          BB 1451 E. Northgate Dr., Irving
     3000 West Hwy. 22, Corsicana          4140 Walnut Hill Lane, Dallas        8000 Eldorado Pkwy, Frisco

     Mary Immaculate (K-8)                 St. Patrick                          Gabriel's Little Angels Preschool             Ursuline Academy
H    14032 Dennis Ln, Farmers Branch   U   9635 Ferndale Road, Dallas
                                                                            4   110 St. Gabriel Way, McKinney           16    4900 Walnut Hill, Dallas

 I
     Our Lady of Perpetual Help
                                       V
                                           St. Paul the Apostle
                                                                            O
                                                                                Little Disciples Early Learning        Students with Special
     7625 Cortland Ave, Dallas             720 S. Floyd, Richardson             600 S. Jupiter Road, Richardson        Needs (ages 6-21)
     Prince of Peace                       St. Philip & St. Augustine           Little Saints and Scholars                    Notre Dame School of Dallas
J                                      W                                    6                                           17
     5100 Plano Parkway West, Plano        8151 Military Pkwy, Dallas           404 N. Ballard Ave., Wylie                    2018 Allen, Dallas

     Santa Clara of Assisi                 St. Pius X                           St. Pius X Early Care and Education
K                                      X                                    7
     321 Calumet, Dallas                   3030 Gus Thomasson, Dallas           1620 Oates Drive, Dallas

     St. Bernard of Clairvaux              St. Rita                             Sunshine & Rainbows Early Learning
L                                      Y                                    8
     1420 Old Gate Lane, Dallas            12525 Inwood Rd, Dallas              1515 N. Greenville Ave., Allen
                                                                                                                             www.csodallas.org/enroll
                                                                                                                                 214-379-2830
3725 Blackburn Street
  Dallas, TX 75219
   214-379-2830
 www.csodallas.org