Christmas - Koodooweb
If your browser does not support JavaScript, please read the page content below:
Christmas - Koodooweb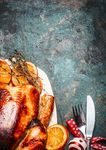 Jesse Smith & W.J Castle Butchers | www.jessesmith.co.uk & W.J Castle Christmas with Butchers of the Cotswolds Jesse Smith & W.J Castle Butchers | www.jessesmith.co.uk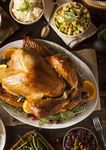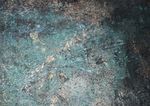 Jesse Smith & W.J Castle Butchers | www.jessesmith.co.uk Pricing, Ordering and Collection 1. Shop Choose your products. Availability is limited so order now to avoid disappointment. 2. Order Christmas & New Year order forms can be found on our counters. Please run through your order with your butcher to get an accurate price based on your sizes and weights.
3. Select a collection date On your order form please choose a collection date. Your dinner table deserves only the best this festive season. From the traditional turkey to the truly unexpected, explore and find your perfect roast and all it's festive accompaniments choosing from meat exclusive to Jesse Smith & W.J Castle plus our own Chef prepared products. Voted Butchers Shop of the Year 2017, whatever your feasting favourites don't hesitate to ask our friendly staff if you have any questions about the products in our brochure. We will be more than happy to help and give you an idea of sizes, costs or even cooking instructions! We would like to say a huge thank you for all your support throughout the year.
From all of us, Happy Christmas and a Happy New Year. Jesse Smith & W.J Castle Celebrating 210 years of Christmas with traditional quality produce.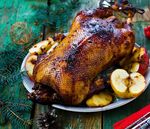 Jesse Smith & W.J Castle Butchers | www.jessesmith.co.uk Hand Selected, Dry Aged Turkey A table piece worth talking about There is a reason our poultry tastes so good. It's all down to the dedicated work of our farmers. This Year we celebrate a 27 year relationship with our turkey farmer.
Born and reared just 10 miles from Cirencester we believe that over these years we have been able to give our customers the very best turkeys the UK can offer. The full flavour, depth and juicy bite that creates a Christmas dinner to remember is achieved from our turkeys as they are reared for eight months rather than the conventional three. Our turkeys are hand plucked and dry aged to ensure that every bird has an intense, succulent flavour and are a delight to serve. Choose your bird.
Help with your order. Local Free Range Bronze Turkey Known for a slightly gamey flavour these birds enjoy wooded areas and nettles to graze on. Local fresh White Turkey A fantastically high quality bird specially reared for us locally. Traditionally plucked and dressed. Organic Free Range Copas Turkeys This year we are proud to be selling Copas Turkeys. We personally collect these from Kings Coppice Farm, Berkshire. Bronze Turkey Serves White Turkey Serves 4.5kg to 6.0kg (10lb to 13lb) 10 people 3.5kg to 5kg (7.5lb – 11lb) 6-8 people 6kg to 7.5 (13lb to 16.5lb) 12 people 5kg to 7.5 kg (11lb-16lb) 10-12 people 7.5kg to 9kg (16.5lb-20lb) 14 people 7.5kg to 9kg (16.5lb – 20lb) 14-16 people This guide allows leftovers for the all important Christmas sandwiches! We're proud that our local Bronze Turkeys are well fed and free ranging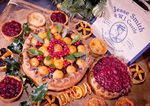 Boneless Single Breast Joint Serves 6 Other sizes available Sage & Onion Stuffed Boneless Turkey Breast Serves 13 Easy to cook. Easy to carve. Hassle free.
Jesse Smith & W.J Castle Butchers | www.jessesmith.co.uk Boneless Turkey Range A succulent alternative to a whole bird. Boneless Turkey Breast A popular choice amongst those who favour breast meat. Available as a double breast, single breast or half joints. Stuffed Boneless Turkey Breast Why not have the nation's favourite sage and onion or orange and cranberry stuffing? Please don't hesitate to bring in your own homemade stuffing if you would like us to stuff your turkey breast.
Three Bird Christmas Boneless Special Breast of turkey, duck and pheasant all in one delicious roast. Help with your order.
Turkey Breast Serves Stuffed Turkey Breast Serves Three Bird Special Serves Single breast 2.5kg (5lb) 6 people Single stuffed breast 2.7kg (6lb) 7 people Single breast of each 6-7 people Whole double Breast 5kg (10lb) 12 people Whole stuffed double breast 5.4kg (11lb) 13 people Double Breast of each 12-14 people Have your own idea? Why not come and have a chat Please note: Alll weights are approximate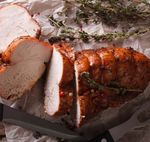 Traditionally Reared Free Range Freestones Goose Serves 5-6 Free Range Cotswold Roast Chicken Serves 5-6 Other sizes available All our birds roam free on grass and feed on natural nutrients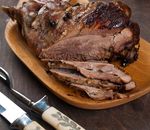 Jesse Smith & W.J Castle Butchers | www.jessesmith.co.uk Free Range Goose, Duck & Chicken A delicious alternative to traditional turkey. Help with your order. Geese Serves Cockerels & Chickens Serves Ducks Serves 5-6kg (10lb-12lb) 5-6 people 1.5kg (3.7lb)- 2kg (4lb) Chicken 4-5 people 2.5kg (5lb) 4-5 people 2.5kg (5lb) Chicken 5-6 people 4kg (8lbs)- 5.5kg (11lb) Cockerels 8-10 people Local Free Range Geese Hand selected Geese, bred and reared locally. Our Geese are able to relax in water baths and are free to roam in grassland which truly reflects on the quality of the product. They are able to pick up natural goodness from the land and natural minerals that flavour the meat.
We have been working with our geese farmer for over 24 years now and have established a fantastic relationship to give our customers the best birds possible. Local Free Range Cockerels Used primarily at Christmas, cockerels or capons are a sought after favourite at Christmas. Cockerels have the succulent taste of chicken and are able to provide a much larger bird for the family roast. Free Range Chicken Guaranteed to have the highest possible levels of animal welfare our free range chickens are slowly grown giving a wonderful flavour, texture and taste incomparable with mass production birds.
Free Range Whole Duck Our whole Devon ducks are reared slowly in small flocks and are fed on corn, vegetable protein, minerals and vitamins, which results in a full flavoured bird.
The Beef that built our name Rib of Beef On the bone 4 Rib Serves 6-10+ Other sizes available Beef Wellington sliced Serves 6
Jesse Smith & W.J Castle Butchers | www.jessesmith.co.uk Loin Chunk Ri b Sirloin Round S h a n k Flan k Plate Brisket S h a n k Our Signature Dry Aged Beef Beef bred as nature intended. Our beef is hung traditionally on the bone for a minimum of 28 days in our purpose built Himalayan salt, dry aging chamber.
These methods will bring a depth of flavour and tenderness to your Christmas feast. We use quality breeds such as, Aberdeen Angus, Hereford and Long Horn. Select Dry Aged Rib of Beef on the bone Aged for at least 30 days, the King of the Roast and a stunning centre piece. Rolled Sirloin of Beef Hung and matured on the bone, we cut and roll to your requirements. This fantastically popular joint is easy to carve and creates no waste.
Rolled Topside of Beef A true British favourite. Matured for at least 21 days our Topside is full of flavour and is ready to be roasted. Homemade Beef Wellington Local dry aged fillet of beef seared then wrapped traditionally in a mixture of sauteed mushrooms, homemade brussels pate and homemade all butter pastry. Rib of Beef Serves Rolled Sirloin Serves Topside Serves Beef Wellington Serves 2 ribs 4-6 people 2kg (4lb) 4-6 people 2kg (4lb) 4-6 people 1kg 6 people 4 ribs 6-10+ people 4kg (8lb) 8-12 people 4kg (8lb) 8-12 people Help with your order.
Add some crackle to your Christmas Leg of Pork Boned & Rolled Serves 6 Other sizes available Handmade, Free Range Pork Sausages Plain Pork Cocktail Sausages, twisted with Streaky Bacon
Jesse Smith & W.J Castle Butchers | www.jessesmith.co.uk Our Free Range Signature Pork Slowly reared outdoors, fully flavoured pork Using traditional breeding methods our pork enjoys the best welfare standards possible. The pigs are allowed to roam freely in all the natural elements, which helps the crackling to be unforgettable. We use local Gloucester Old Spot pork crossed with a Large White to give fantastic flavour and texture. Leg of Pork Boned & Rolled A butchers' masterpiece. Our free range legs of pork create an easy carve pork joint. Slightly leaner than shoulder of pork but still with a good cover of the crackling we all love.
Handmade Christmas Sausages & Sausage Meats We make all of our sausages by hand. This ensures unbeatable taste and texture. We are delighted to bring a large range of sausages to your table using fresh herbs, spices and our award winning recipes.
Our own sausage meat comes in 1lb tubes ideal for stuffing and finishing your Christmas meals. 1 tube serves 3 people. Butchers' Traditional Sausage A classic. Simply uses the finest cuts of pork, breadcrumbs and light seasoning. Cranberry & Orange Sausage Meat Our Christmas special sausage meat, using cranberries, the finest pork cuts and a hint of fresh citrus. Cotswold Stuffing The finest pork cuts mixed with fresh sage and sliced white onion. Pork Rack Serves Pork Shoulder Serves Pork Leg Serves ½ rack 4 people 2kg (4lb) 6 people 2kg (4lb) 6 people Whole rack 8 people 4kg (8lb) 10 people 4kg (8lb) 10 people Help with your order.
Traditional Cotswold Lamb Leg of Lamb on the bone Half Leg Serves 3 - 4 Half a haunch of Venison cooked pink on the bone. Using our local red deer from Tetbury Homemade Venison Wellington Serves 6
Jesse Smith & W.J Castle Butchers | www.jessesmith.co.uk Local Venison Our local Cotswold venison is sourced from Boldridge Farm in Long Newnton. Red Deer is reared on parkland and is carefully selected for us. Our 7 year relationship means we are able to give our customers the perfect product. Homemade Venison Wellington "New this Christmas" Local Venison Cannon seared then wrapped traditionally in a mixture of sauteed mushrooms, homemade brussel pate and homemade all butter pastry.
High Flying Local Game Our pheasants and partridges are sourced from Cowley Woods, Gloucestershire. We are proud to have complete exclusivity of their birds. Bred on the hills these birds are high flying and are allowed to roam over large areas of woodland, which increases their texture and flavour.
Whole birds, breast and legs available Whole Cowley Pheasant Pheasant Breast Portion A wonderfully lean cut. Wing bone in, skin on. Our Signature Cotswold Grass Fed Lamb With the fabulous rolling Cotswold hills around us, our specially selected lambs are allowed to roam and grow slowly on some of the best land in England. We allow our lamb to hang on the bone for 5 to 8 days. This produces mouth-watering lamb which is incomparable to growth enhanced production lamb. Leg of Lamb on bone Serves Stuffed Saddle Serves Half leg 3-4 people Half 3 people Whole leg 5-6 people Whole 5-6 people Help with your order.
Leg of Lamb on the Bone One of the best loved and most traditional roasts. Our leg of lamb is rich and full flavoured. One of the leaner joints which can be cooked and carved on the bone. Christmas Lamb Special - Stuffed Saddle of Lamb Boneless saddle of lamb stuffed with minced lamb and a fresh mint and parsley stuffing.
Whole signature Christmas Ham Serves 10 to 14 people Half Home Cooked Honey Roast Ham Serves 5-8 people Half Home Cooked Plain Ham Serves 5 to 8 people
Jesse Smith & W.J Castle Butchers | www.jessesmith.co.uk Cooked Hams & Gammons Hams cooked using our unique recipes and traditional techniques.
Each ham is dressed by hand and is bespoke for you. Gammons & Bacon Sandridge Farmhouse Bacon have been supplying us with artisan products for 25 years this Christmas. With this relationship we are able to source the finest bacon and gammons for our customers. Sandridge uses a cure that dates back to the 1840s and top grade Oak and Beech wood in the smoking process.
Plain Cooked Ham Our home cooked plain gammons are cooked and prepared in house. Honey Roast Our gammon is glazed with blossom honey, dark brown sugar, lemon and whole cloves. Signature Christmas Ham Our plain gammon glazed with a reduction of sherry vinegar, orange and lemon juices combined with a mixture of spices and blossom honey. Orange and Bourbon Ham A seasonal favourite, using our plain Gammon glazed with fresh orange juice and healthy covering of Jim Beam. Mustard and Maple Bacon Ham "New this Christmas" Try something a little different, our plain gammon, basted in English mustard and glazed in maple bacon Jam.
All our hams are boneless for ease of carving, unless otherwise requested.
Plain Gammons Traditional Christmas favourites, which can be cooked plain or flavoured. Smoked Gammon Oak and Beech smoke creates a rich and deep flavour taken from the finest pork legs. Cooked & Glazed Hams Serves Smoked & Plain Gammons Serves Half 2.5-3kg (5lb-6lb) 5-8 people Half 2kg-2.5kg (4lb-5lb) 4-5 people Whole 5-6kg (10lb-12lb) 10-12 people Whole 4.5kg-5kg (9lb-10lb) 8-10 people Help with your order.
Small - Medium - Large Pie sizes Small 1lb Christmas Game Pie topped with apricots and prunes
Jesse Smith & W.J Castle Butchers | www.jessesmith.co.uk Pies & Pastries Old Spot Smooth Brussels Pâté Pâté mixes our pork shoulder with old spot liver, smoked streaky bacon fresh onions, thyme, sage and garlic encased in sweet Madeira jelly.
Chicken Liver Pâté with brandy Roasted chicken livers, sauteed shallots, garlic, fresh thyme, local organic butter and Brandy. Ham Hock terrine with spiced apple and mustard 6 hour braised Ham Hock shredded and pressed with spiced apple and mustard compote.
Christmas Game Pie Cotswold mixed game layered with poached prunes and apricot, with hot water crust pastry. Boxing Day Pie Minced turkey and smoked bacon, layered with wholemeal chestnut and orange stuffing, topped with cranberry compote. Old School Pork Pie Our award winning tradtional pork pie, made with the finest cuts of pork and rich pork pie jelly. Chicken, Ham and Leek Diced chicken mixed with shredded ham and sauteed leeks. New Yorker Pie Our traditional pork pie recipe layered with home cured pastrami, dill pickles and English mustard topped with grilled mozzarella and mature English cheddar.
Black Pudding and Cider Fresh apple mixed into our traditional pork pie mix with cider, layered black pudding and covered in hot crust pastry. Ploughman's Finest cuts of pork minced with fresh apple, apple chutney and cheddar topped with Branstone's pickle. Handmade Christmas Pâtés Choose your pie size. All pies available in all sizes Size Serves 1lb Small Pie 1-2 people 4½lb Medium Pie 6-8 people 7lb Large Pie 12-14 people 15lb Extra Large Pie 30+ people
Festive cheeses cut to order Jesse Smith and W.J Castle are proud to bring a vast selection of cheeses to our customers, ranging from local to European, we are able to bring whatever cheese you need this Christmas.
Colston Basset The King of Stiltons Charles Martell Single Gloucester Smooth with a creamy texture from just down the road Cricket St Thomas Brie Somerset's lovely light brie Cerney Ash Goats Cheese Light, very creamy, local delight
Jesse Smith & W.J Castle Butchers | www.jessesmith.co.uk Deli hampers with distinction Made to order, our unique hampers come either cellophane wrapped or with a ribbon tied dark brown leather bindings wicker basket. They make a perfect gift. Artisan Food Hamper £50 + Small Wicker Hamper £17.50 • Jesse Smith homemade brown sugar brandy butter • Jesse Smith homemade all butter mince pies x 6 • Ladera Syrah Tempranillo red mulling wine • Jesse Smith homemade Christmas biscuits x 6 • Jesse Smith homemade Seville orange marmalade • Heather McCoo all butter shortbread 160g • Jar of Kirsch cherries • Peter's Yard fig & spelt crackers 100g • Cotswold Fudge tradtion packets 150g Indulgent Foodies Hamper £150 + Large Wicker Hamper £25 • Jesse Smith handmade Christmas pudding Large feeds 10-12 • Jesse Smith homemade brown sugar brandy butter • 6 x Jesse Smith homemade Christmas biscuits • Jesse Smith homemade Seville orange marmalade • Jesse Smith homemade raspberry curd • Jesse Smith homemade cherry & port jam • Homemade Baileys dark choc truffles • Ladera Syrah Tempranillo red mulling wine • Lizzie McCoo all butter shortbread 500g • Poulton Hill English sparkling Bulari 75cl • Peter's Yard large round sourdough crispbreads • Jesse Smith onion marmalade • Ponte di Rialto prosecco 75cl Festive Hamper £100 + Medium Wicker Hamper £20 • Jesse Smith handmade Christmas cake feeds 4 • Jesse Smith homemade brown sugar brandy butter • Jesse Smith homemade all butter mince pies x 6 • Ladera Syrah Tempranillo red mulling wine • 6 x Jesse Smith homemade Christmas biscuits • Homemade Baileys dark choc truffles • Jesse Smith homemade Seville orange Marmalade • Jesse Smith Raspberry curd • Jesse Smith cherry & port jam • Ponte di Rialto Prosecco 75cl • Heather McCoo all butter shortbread 160g • Peter's Yard large round sourdough crispbreads • Jesse Smith Handmade Small Christmas Pudding
Easy Carve Hamper £80 Meat Lover Hamper £100 Ideal for 4 people Single White Boneless Turkey Breast 2kg Plain Gammon rolled 6 Pigs in blankets made with our traditional sausage mix 1 tube of traditional handmade sausage meat 1 pack of our finest sage and onion stuffing balls 1.5kg old spot cross pork roasting joint Ideal for 4-6 people 6-7kg whole Fresh Turkey 2kg aged Topside Joint 1.5kg aged Beef Joint 2kg Plain Gammon rolled 6 pigs in blankets made with our traditional sausage mix 1 tube of traditional handmade sausage meat 1 pack of our finest sage and onion stuffing balls
Jesse Smith & W.J Castle Butchers | www.jessesmith.co.uk All the trimmings £150 Ideal for 6 people 6-7kg whole Fresh Turkey 2kg Aged Topside Joint 1.5kg aged Beef Joint 2.5kg plain Gammon 1 tube of traditional handmade sausage meat 6 pigs in blankets 1 pack of our finest sage and onion stuffing balls 12 rashers of smoked streaky bacon 12 traditional handmade sausages 1/2 leg of grass fed Cotswold lamb + Also includes all your Christmas condiments 1 Jar our finest goose fat 1 Jar of cranberry sauce 1 Jar of horseradish
Jesse Smith Farm Shop Unit 13A, 19 Love Lane, Cirencester, Glos. GL7 1YG Tel. 01285 653352 Jesse Smith Cirencester Blackjack Street, Cirencester, Glos. GL7 2AA Tel. 01285 653387 Jesse Smith Tetbury Long Street, Tetbury, Glos. GL8 8AA Tel. 01666 502730 W.J Castle Northleach The Green, Northleach, Cheltenham GL54 3EX Tel. 01451 860243 W.J Castle Burford High Street, Burford, Oxon. OX8 4RG Tel. 01993 822113 Visit us online at www.jessesmith.co.uk