Delhi Public School, Bawal
→
If your browser does not support JavaScript, please read the page content below:
Delhi Public School, Bawal
→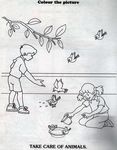 Delhi Public School, Bawal Fun Activities For Summer Vacation, 2018 General Instructions- 1. The homework for all the subjects must be compiled in one folder only. Separate the homework of each subject with a plain sheet mentioning the subject on it. 2. Use A4 coloured sheets for the homework. 3. Use your creativity and imagination to make your homework attractive and presentable. 4. Kindly encourage children to put a bowl of water for birds during summer especially to save the sparrow. 5. Revise the lessons/ concepts of all the subjects covered till now. • Practice packing your school bag according to the time table. • Encourage your child to use magic words. Thank you, pleases, sorry and excuses me. • Encourage your child to cultivate the habit of reading.
• Converse regularly in English. • Does one page English cursive writing daily, based on the cursive capsule given (in a four lined notebook) and also one page of Hindi writing twice a week. FUN THINGS TO DO THIS SUMMER! During summers, it is so easy to say, "I have nothing to do!" No more excuses…! Here is a list of fun things to do. Try at least 10 out of these……….. 1) Gather a few friends and go for a picnic. 2) Clean your room! 3) Take your dog for a walk. 4) Send an e-mail to a friend you haven't spoken to for a while. 5) Do 25 jumping jacks!
6) Look through old family scrapbooks, photo books and yearbooks. 7) Go for movies with your siblings. 8) Make a collage out of old magazines. 9) Go to a museum. 10) Invite friends over and have a tea party. 11) Learn how to define and spell 20 new words from the dictionary. 12) Make popsicles in your freezer. 13) Put on a music and dance.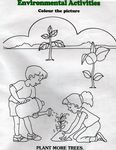 Celebrate the father's day on 17/06/2018 with your father. Celebrate the INTERNATIONAL YOGA DAY on 21/06/2018 with your friend and family members: Holidays Homework for K.G. Class: Subject Learning work Written work Activity English Fruit name, Vegetable Name, Colour Name, A to Z alphabets A to Z capital letter in cursive Writing 10 times A to Z small letter in cursive writing 10 times Vowel sound 'A' 10 words 10 times write Let's learn to tie shoe laces! Learn to wear the shoes and socks on your own and keep them back on the shoe rack after use.
ह िंदी स्वर, व्यिंजन, फलों क े नाम, सब्जजयों क े नाम, रिंगों क े नाम, दो व तीन वर्णों क े शजदों का अभ्यास करों | स्वर ओर व्यिंजन 10 बार ललखो | दो व तीन वर्णों क े जोड़ क े 10 शजद 10 बार ललखो | अपने दादा-दादी/ नाना-नानी/ माता-पपता से प्रततहदन एक क ानी सुनें | ह िंदी कार्टून फफल्म 'जिंगल बुक' देखें एविं सभी पात्रों क े नाम अपने अध्यापक को मौखखक बताए | Maths Learn 1 to 100 counting, tables of 2,3 1 to 10 Number name 1 to 100 counting 5 times. 2,3 tables 5 times. 1 to 10 number name 10 times. Try till you learn! Learn to button your shirt independently. Count the number of buttons on that shirt and try to button them all.
Note: School summer vacation will be start on . School will be reopening on 02/07/2018 at same time. Few reminders for the students: • Meditate and do simple yoga exercises. • Learn to dress yourself- button up your shirt, tie your shoe laces or wear a belt -on your own. • Water the plants and feed the birds. • Join your grandparents and parents for their morning walk. • Give away toys and clothes that you do not need. • Don't watch too much television.