Fire Management Plan
If your browser does not support JavaScript, please read the page content below:
Fire Management Plan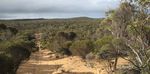 www.environment.sa.gov.au www.environment.sa.gov.au Fire Management Plan Billiatt District 2009-2019 Incorporating Billiatt Wilderness Protection Area; Billiatt, Peebinga and Karte Conservation Parks; included Crown Lands and participating Heritage Agreements Department for Environment and Heritage Department for Environment and Heritage South Australian Murray-Darling Basin Natural Resources Management Board PREPARE. ACT. SURVIVE.
This plan has been produced by the South Australian Department for Environment and Heritage with the support of the Australian Government through the Natural Heritage Trust (NHT, 2005).
For further information please contact: Department for Environment and Heritage Phone Information Line (08) 8204 1910, or see SA White Pages for your local Department for Environment and Heritage office. This Fire Management Plan is also available from: http://www.environment.sa.gov.au/parks/management/fireplanning.html Front Cover: Karte Conservation Park by Ben Kaethner Permissive Licence © State of South Australia through the Department for Environment and Heritage. Apart from fair dealings and other uses permitted by the Copyright Act 1968 (Cth), no part of this publication may be reproduced, published, communicated, transmitted, modified or commercialised without the prior written approval of the Department for Environment and Heritage.
Written requests for permission should be addressed to: Design and Production Manager Department for Environment and Heritage GPO Box 1047 Adelaide SA 5001 Disclaimer While reasonable efforts have been made to ensure the contents of this publication are factually correct, the Department of Environment and Heritage makes no representations and accepts no responsibility for the accuracy, completeness or fitness for any particular purpose of the contents, and shall not be liable for any loss or damage that may be occasioned directly or indirectly through the use of or reliance on the contents of this publication.
Reference to any company, product or service in this publication should not be taken as a Departmental endorsement of the company, product or service.
© Department fo ent and Heritage r Environm September 2009
EXECUTIVE SUMMARY Billiatt Wilderness Protection Area (WPA) is one of the largest protected areas of remnant native vegetation in settled South Australia. It was proclaimed a Wilderness Protection Area under the Wilderness Protection Act 1992 in 2008. The reserve, along with Billiatt, Karte and Peebinga Conservation Parks, adjacent unalienated Crown land and Heritage Agreements represents more than 115 000 hectares of mallee heath and shrubland habitat. The planning area contains a diverse range of flora and fauna species, including some threatened species exclusively found within the region.
The recognition that inappropriate fire regimes present a threat to biodiversity regardless of land tenure is important in such a fire-prone landscape. Consequently, the development of this plan has been funded by the Natural Heritage Trust (NHT) through the South Australian Murray- Darling Basin (SAMDB) Natural Resources Management (NRM) Board. This Fire Management Plan has been developed to provide direction for fire management activities, including bushfire suppression, in the Billiatt District. The plan emphasises the protection of life and property as well as providing direction for land managers in the protection and enhancement of the district's natural and cultural heritage.
It is important to note there will be a transitional phase while the activities and works proposed in the plan are implemented. Some degree of flexibility is needed for fire suppression in those areas where there has only been partial implementation of works.
The Billiatt District was identified as a priority area for fire management planning within the DEH Murraylands Region to address the following issues: • General protection of life, property and environmental values in the planning area. • Protection of important habitat for many species and communities including those with conservation ratings. • The protection of fire management blocks and reserves, both public and private, within a landscape context, with the aim of reducing the likelihood of a whole reserve or a large portion of a reserve burning in a single fire event. These issues were addressed by: • applying a risk assessment process to identify life, property and environmental values at risk from bushfires • applying DEH Fire Management zoning principles to manage fuel in Asset and Buffer Zones • identifying significant ecological assets and applying Ecological Fire Management Guidelines to determine appropriate burning in Conservation Zones • auditing tracks within Billiatt WPA and Billiatt, Peebinga and Karte Conservation Parks using the Government Agencies Fire Liaison Committee's (GAFLC) 'South Australian Firebreaks, Fire Access Tracks and Sign Standards Guidelines'.
Billiatt District Fire Management Plan i
EXECUTIVE SUMMARY A number of recommendations as a result of applying the above processes will be made including the following: • Prescribed burning to: ƒ reduce fuel in Asset and Buffer zones as outlined in the plan. Other methods of fuel reduction will also be used, and in some cases are specifically mentioned ƒ reduce fuel in strategic areas within Conservation zones to provide landscape and habitat protection for included lands and known threatened species populations ƒ create mosaics with a range of fire ages. • Track upgrades in accordance with GAFLC standards. • Identification of suppression considerations that may assist bushfire suppression operations to contribute to improved fire management.
The local community and South Australian Country Fire Service (CFS) volunteers have contributed extensive amounts of time, energy and resources to fire suppression in the Billiatt District and they are to be commended for this contribution. The co-operation of both stakeholders and the local community will be critical to the success of the plan. The risk that fire presents to a variety of land tenures provides a unique opportunity to manage the landscape with respect to fire through combining the resources and experience of stakeholders such as the South Australian Department for Environment and Heritage, CFS and Heritage Agreement owners.
A major review of the plan will occur after ten years of implementation, or earlier if required. Recommended works will be reviewed on an annual basis. ii Billiatt District Fire Management Plan
TABLE OF CONTENTS TABLE OF CONTENTS EXECUTIVE SUMMARY . I TABLE OF CONTENTS . III List of Figures . iv List of Tables . iv List of Attached Maps . iv 1 RATIONALE AND KEY OBJECTIVES . 1 1.1 Background . . 1 1.2 Key Objectives . . 3 2 THE PLANNING FRAMEWORK . 4 2.1 Legislation . . 4 2.2 DEH Fire Management Policy . . 4 2.3 Zoning Policy . . 5 2.4 Local and Regional Environmental Planning / Recovery Planning .
. 5 2.5 Reserve Management Planning . . 5 2.6 Fire Management in Heritage Agreements . . 6 2.7 The Role of the Local Country Fire Service . . 7 3 BUSHFIRE ENVIRONMENT . 8 3.1 Location . . 8 3.2 Terrain . . 8 3.3 Climate . . 8 3.4 Fire Behaviour in Mallee Ecosystems . . 8 3.5 Fuel . . 9 4 FIRE HISTORY AND FIRE REGIMES . 11 4.1 Fire Regimes in Mallee Communities . . 11 4.2 Prior to European Settlement . . 11 4.3 Twentieth Century Fires . . 11 4.4 Present and Future Fire Regimes . . 12 5 DAMAGE POTENTIAL TO BUILT ASSETS . 14 5.1 Land Use . . 14 5.2 Built Assets and Property Protection . . 14 5.3 Tourism .
. 14 5.4 Cultural Heritage . . 14 6 BIODIVERSITY . 16 6.1 Fire and Mallee Ecosystems . . 16 6.2 Vegetation . . 16 6.3 Fauna . . 17 6.4 Ecological Fire Management . . 19 6.5 Other Threats to Biodiversity . . 21 7 BUSHFIRE SUPPRESSION . . 23 7.1 Legislation . . 23 7.2 Policies and Procedures . . 23 7.3 Fire Emergency Procedures and Response Planning . . 23 7.4 General Objectives for Fire Suppression . . 23 7.5 Strategies and Actions to Achieve Objectives . . 23 Billiatt District Fire Management Plan iii
TABLE OF CONTENTS 7.6 Fire Access Tracks and Firebreaks . . 26 7.7 Fire Management Infrastructure . . 28 8 FIRE MANAGEMENT ZONES . 29 8.1 Zoning Background . . 29 8.2 Risk Assessment . . 29 8.3 Asset (A) Zone . . 29 8.4 Buffer (B) Zone . . 30 8.5 Conservation (C) Zone . . 32 9 FIRE MANAGEMENT BLOCKS . 37 9.1 Block Prescriptions . . 37 10 PEEBINGA BLOCK . 38 11 KARTE BLOCK . 41 12 WEST BILLIATT BLOCK . 43 13 EAST BILLIATT BLOCK . 46 14 RESEARCH AND MONITORING . 49 15 RECOMMENDATIONS . 51 15.1 Summary of Recommendations . . 51 15.2 Summary of Works . . 52 16 REFERENCES . 54 17 APPENDICES . 56 Appendix 1: Wilderness Code of Management Sections 3.6 and 3.10 .
. 56 Appendix 2: Fire Response of Rated and Significant Flora Species Recorded in the Planning Area . . 57 Appendix 3: Fire Response of Rated and Significant Avifauna Species Recorded in the Planning Area . . 58 Appendix 4: EPBC Act and South Australian (SA) Conservation Status Codes . . 60 18 GLOSSARY OF ACRONYMS AND FIRE MANAGEMENT TERMINOLOGY . 61 List of Figures Figure 1: Overall Fuel Hazard . 9 Figure 2: Process for B- and C-zone Prescribed Burn Preparation . 34 List of Tables Table 1: Ecological Fire Management Guidlelines for MVS in the Planning Area . 21 Table 2: Hundred Names and Section No's of Heritage Agreements in Peebinga Block .
38 Table 3: Hundred Names and Section No's of Heritage Agreements in West Billiatt Block.. 43 Table 3: Hundred Names and Section No's of Heritage Agreements in East Billiatt Block ... 46 Table 4: Recommended Works to Be Undertaken in Fire Management Blocks . 52 List of Attached Maps Map 1 – Terrain, Tenure and Infrastructure Map 2 – Vegetation Communities and Significant Species Map 3 – Fire History Map 4 – Fire Management and Access iv Billiatt District Fire Management Plan
RATIONALE AND KEY OBJECTIVES 1 RATIONALE AND KEY OBJECTIVES 1.1 Background The intention of this plan is to provide strategic direction and a framework for fire management activities in the Billiatt District. It defines objectives for ecological fire management, life and property protection, but more specifically, it lists recommendations and strategies and suggests works to allow those objectives to be met. The pre-suppression works and activities will increase the level of preparedness for bushfires and guide suppression during bushfire incidents.
This plan is unique as it includes adjoining conservation lands such as Heritage Agreements and unalienated Crown land in the knowledge that fire in this area is a landscape process, impacting on a variety of ecological communities regardless of land tenure.
As the lead agency for biodiversity management in South Australia, the Department for Environment and Heritage (DEH), through the support of the SAMDB NRM Board and NHT, has developed this plan with the objective of improving ecological fire management outcomes for the area. Fire prevention planning for land outside DEH reserves is the currently the responsibility of the District Bushfire Prevention Committee, in accordance with the requirements of the Fire and Emergency Services Act 2005. This may change in the future, however, with the formation of regional committees. DEH Regional Conservation is represented on this committee, along with local government and local CFS brigades, in a collaborative approach to fire prevention planning and decision-making.
Management of fire on public land in the planning area is the responsibility of DEH.
Fire has been a natural process within the Billiatt District since well before European settlement. The vegetation, predominantly Mallee heath and shrubland with a shrub understorey, has evolved with fire as a key ecological process. Despite alteration to fire regimes through fragmentation of the landscape, the contiguous nature of the remnant vegetation in the area still produces large fire events. Previously, funding and works for fire management within the planning area have been largely restricted to track and firebreak maintenance and practices have been largely reactionary rather than preventative and proactive.
"Fire prevention" is neither desirable nor achievable in this landscape; fires have and will continue to occur as a natural process, regardless of any human intervention. However, the risk that fire poses to both biodiversity and built assets can be managed proactively within an adaptive framework that seeks to implement actions and learn from results. This plan is designed to provide direction for the mitigation of this threat through both pre-suppression and suppression activities. Reducing Costs Whilst the impacts of fire in the Billiatt District are largely environmental given its low population density and lack of infrastructure, the economic and social costs of suppressing large fires can be an issue.
Often the effort expended in suppressing large bushfires has been disproportionate to the success of suppression operations. It is hoped that the pre- Billiatt District Fire Management Plan 1
RATIONALE AND KEY OBJECTIVES 2 Billiatt District Fire Management Plan suppression strategies prescribed in this document will serve to mitigate some of this cost and serve to reduce the time taken to suppress bushfires. Identifying Assets and Assessing Risks There are comparatively few built assets within or adjacent to the planning area. However, identifying the risk to these assets, along with quantifying risks to ecological assets is a priority for effective fire management in the District. The identification of rare or significant populations or communities of flora is relatively simple given their sessile nature.
Conversely, identifying corresponding fauna assets in a landscape of this size is rather more problematic given they are either rare, mobile, cryptic or a combination of all three. Along with known population or community locations and ranges, there is also the need to identify potential sites for habitation if fire management is to be holistic in its approach. Actions prescribed will source ecological information provided on a range of threatened and significant species in the planning area to meet this objective.
Managing Fire Regimes Historically, much of the focus of fire management within Billiatt District, and indeed across Australia has centred on event-based management. Ecologically, better management of fire regimes is required across this landscape to ensure the conservation of the ecological communities it supports. Large fires at frequent intervals often in combination with drought conditions will not sustain the significant ecological assets in the area. Attempts to manipulate, in the first instance, the extent and location of bushfires within the District is pivotal in the sustainable management of not only significant or threatened species in the area, but all of the communities it supports.
The scale of manipulation is dependant on its objectives. Initial strategies will seek to provide protection through prescribed burning across the landscape at a variety of scales. Whereas the major concern with fire events within the planning area centres on proportionally large fires relative to the extent of remnant native vegetation, bushfires of much smaller magnitudes can be equally destructive at a local or habitat scale. Increasing Knowledge Improving our fire management knowledge with respect to fire suppression techniques, fire behaviour and fire ecology is a key goal. Existing knowledge needs to be built on, particularly with respect to the interactions of significant species or communities and fire regimes if the prescribed use of fire is to meet the set ecological objectives.
Projects such as 'Mallee Fire and Biodiversity' being conducted by Latrobe and Deakin Universities and other partners, including DEH, are aimed at researching the ecological impact of different fire regimes on a landscape scale. It is also hoped that the knowledge gained from studies in other areas, such as Bushfire CRC's 'Project FuSE', focussing on fire behaviour in Ngarkat Conservation Park (CP), can be applied to the wider region, including the Billiatt District.
RATIONALE AND KEY OBJECTIVES Improving Response The Billiatt District is an extremely difficult environment in which to combat fire. The size of the area, lack of access and water, steep sandy terrain and often-rapid rate of fire-spread all contribute to a volatile fire environment. DEH, in collaboration with CFS and private land holders, will continue to improve fire response capacity through supporting and encouraging the exchange of ideas and the development of plant and equipment to better manage bushfires in the area.
1.2 Key Objectives The following eight key objectives provide the focus of the plan.
Specific management objectives for designated fire management zones and individual fire management blocks within the plan are described in Sections 9 -13. These are: 1. To protect life and property on all reserves and protected areas listed within the Plan. 2. To contain (where operationally feasible) all bushfires within the boundaries of the planning area. 3. To manage fires and fire regimes to meet the ecological requirements of species and communities that may be at risk from inappropriate fire regimes. 4. Minimise the risk of bushfires greater than 10,000 hectares occurring. 5. Promote patchiness using prescribed burns and bushfire suppression.
6. Improve our understanding of the role of fire in mallee-heath and shrublands with a view to improving fire management practices within the District. 7. Minimise the impacts of all fire management operations on the environment. Billiatt District Fire Management Plan 3