Foot-Trainer Course Middle East - 6th Train-the- ABU DHABI, UAE 18-22 JANUARY 2020 - D-Foot ...
Page content transcription
If your browser does not render page correctly, please read the page content below
6TH TRAIN-THE-FOOT-TRAINER COURSE MIDDLE EAST

Dear Partners,

The 6th Train-the-Foot-Trainer course in MENA region will be held 18-22
January 2020, in Abu Dhabi. This training course is an initiative of D-Foot
International (www.d-foot.org).

It has become a standard training that brings together participants and the experts
in order to enable them to start the national implementation programs and to
establish further optimal international networking. We cordially invite you to
participate in this unique event that will give you a special opportunity to
communicate with your target groups and experts-in-the field.

In this brochure you will find a description of the different sponsorship options
for our industrial partners as well as a short description of the background of the
Training Course, its aims and an overview of the program. The end result of the
course will be also collaboration in a unique data collection project under the
auspices of D-Foot International and UNFM (Université Numérique Francophone
Mondiale).

We expect more than 50 participants from at least 13 countries and observers
from other regions. We invite you to visit our website www.D-Foot.org for more
information.

Your participation in this meeting will support our continuous efforts to tackle
the threat of the diabetic foot in the MENA region and to reduce the unacceptably
high number of lower-limb amputations. If after reading this document
you have any questions please feel free to contact the Steering Committee of this
Train-the-Foot- Trainer Middle East programme.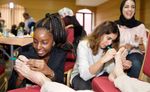 TRAIN-THE-FOOT-TRAINER COURSE
    It is a training programme which teaches course structure, teaching
    methods, evaluation skills, data collection, strategic
    organisation/development, networking structures and optimising
    available resources. Furthermore, it is a course run for experts to
    train others to become experts in clinical and education skills and
    knowledge.

    THE AIMS OF THE TRAIN-THE-FOOT-TRAINER
    MIDDLE EAST ARE:
    To train national active experts/champions in diabetic foot
    disease within a global region to deliver effective, well-structured,
    sustainable training programmes with demonstrable outcomes.

    THE OBJECTIVES OF THE TRAIN-THE-FOOT-
    TRAINER MIDDLE EAST ARE:
•       For each of the delegate teams to organise and implement a Step
        by Step(SbS) training programme for their own country
        (educational, organisational and public relations) within 3 years
        of attending a Train-the-Foot-Training course

•       To identify and find solutions for their needs and barriers to
        implementation

•       To evaluate the delivered course by collecting and disseminating
        outcomes of the programme (national/regional/ international)

•       To train trainers from their own communities to deliver SbS
        training programme

•       To encourage, support and develop an ongoing mentorship
        programme for existing and new diabetic foot champions in this
        region.

    PARTICIPANTS SELECTION CRITERIA
    In order to participate to the Train-the-Foot-Training programme a selection process exists with certain
    eligibility criteria, this is to try to ensure post course implementation. This is vital as generally on two
    delegates can attend from each representing country, however in some cases more delegates can attend
    if a country is large geographically. The selection criteria include evidence of diabetic foot clinical activity,
    organisational skills, collaboration and support from patient organisation and ministry of health,
    physician/surgeon and a healthcare professional (as a team) with a willingness to work collaboratively.

    Finally, they must be willing to sign a contract with the organising committee stating the following:

    •    That they are prepared to implement a regional/national programme to prevention amputations related
         to diabetes, starting by upgrading their own centre of reference

    •    That they will formally report to the organisers after 6, 12, 24 and 36 months to the organising
         committee

    •    That they will contribute to an anonymised data collection system in line with the international
         principles of data security and privacy.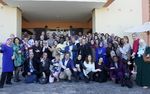 MENA PARTICIPANTS
     For this 6th course 2-4 participants from each country are accepted. This amounts to more than 50
     participants. However there is some flexibility.

     STRUCTURE OF THE COURSE

     Before the start of the course:
     Study of the E-learning package (Video's with presentations)
     The course itself:

     Section 1: Workshops focussed on teaching methods and skills
       •    Components of Step by Step
       •    Key messages
       •    Presentation skills

     Section 2: Skills necessary to implement
     SbS locally, nationally and regionally.
       •    Funding
       •    Organisation
       •    Support structures
       •    Networking
       •    PR
       •    Sustainability

     Section 3:                                                                PREVIOUS COURSES:
       •    Data collection with the DIAFI system
                                                                               Have been held in Brasilia meeting for Latin
       •    Strategic implementation planning
                                                                               America - Tobago meeting for Carabean Region-
       •    Goal setting for the next two and a half year                      Bled meeting for mainly East –European countries -
                                                                               Bangkok meeting for Western Pacific Countries
     Follow-up:                                                                and Marrakesh for French speaking countries of
       •      Reports after 6, 12, 24 and 36 months                            Maghreb and Africa.

Programme Lead: Kristien Van Acker                                                  Local host in Abu Dhabi: Gulnaz Tariq

                                               INTERNATIONAL FACULTY

                          Z.G Abbas              Neil Baker          Mollie Donohoe        José Luis Lázaro
                       (Tanzania)               (UK/Kuwait)               (UK)              Martínez (Spain)

                   William Jeffcoate           Eric Senneville      Kristien Van Acker     Arend Jan Woittiez
                            (UK)                  (France)              (Belgium)          (The Netherlands)

                                                  REGIONAL FACULTY

                      Zahid Miyan               William Akiki         Khalid Edrees         Salma Khuraibet
                          (Pakistan)             (Lebanon)            (Saudi Arabia)            (Kuwait)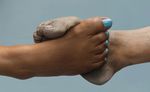 SPONSORSHIP PACKAGES

                     GENERAL SPONSOR – EURO 25,000
             Exhibition space                                12m2
    Sponsored lecture or introduction                       45 min.
                   Staff                                   2 persons
     Participating industry observers                      2 persons
      Observers registration duration                         Full
       Logo on TtFT MENA website                       Yes, on home page

Company introduction on TtFT MENA website         Yes, with link to own website
   Logo on banners and signage on site                        Yes

                             SPONSOR – EURO 15,000
             Exhibition space                                 6m2
    Sponsored lecture or introduction                       30 min.
                   Staff                                   2 persons
     Participating industry observers                      2 persons
      Observers registration duration                        Full
       Logo on TtFT MENA website                               No
Company introduction on TtFT MENA website                 Yes, with link
   Logo on banners and signage on site                        Yes

                           CONTRIBUTOR – EURO 7,500
             Exhibition space                                 4m2
    Sponsored lecture or introduction                       15 min.
                   Staff                                    1 person
     Participating industry observers                       1 person
      Observers registration duration                         Full
       Logo on TtFT MENA website                               No
Company introduction on TtFT MENA website                  Yes, no link
   Logo on banners and signage on site                        Yes

                            SUPPORTER – EURO 5,000
             Exhibition space                                 4m2
                   Staff                                    1 person
     Participating industry observers                       1 person
      Observers registration duration                     Three days
Company introduction on TtFT MENA website                      No

   Logo on banners and signage on site                         No

                                FRIEND – EURO 2,500
    Company introduction on website                           Yes
   Logo on banners and signage on site                        Yes

                                VISITOR – EURO 2,000
   Registration for observing the course                  Full course
VENUE                             TRANSPORTATION AND
  Park Arjan by Rotana              ACCOMMODATION
  Eastern Ring Road
                                    Sponsors are responsible for the flights,
  Ministeries Area Abu
                                    local transportation, and accommodation of
  Dhabi, UAE
  Website                           their staff.

LIABILITY AND INSURANCE                                                                       LANGUAGE

The TtFT Secretariat and organizers cannot accept liability for                               The official language
personal accidents or loss of or damage to private property of                                of the Symposium is
participants, either during or indirectly arising from the TtFT MENA                          English.
2020.

  DRESS CODE
                                    VISA REQUIREMENT
  Clothing is
  business casual for               Foreign participants may require visas in order

  all occasions.                    to enter the UAE.
                                    Please check with your local UAE Consulate or
                                    Embassy.

GLOSSARY

INDUSTRY OBSERVER:
Is a person registered to attend the course by the contributor/sponsor. Industry observer have permission to attend the
meeting and dinner/s as per table above, but cannot participate or have any interactive role in discussions.

SPONSORED LECTURE:

Sponsor of the levels 25.000 and 15.000 will get priority to choose the time slot with the programme coordinator.

The duration of the lecture is well described in the proposal and depends on the sponsorship level.
Organisers will provide a room with standard A/V equipment. The content and the costs related to the lecture, including
of faculty, are the sole responsibility of the Sponsor.
The draft of lecture must be submitted to the Organizing Board for review not later than 21 days before the course starts.

WEB PAGE PUBLISHING:

Logos of participating Sponsors will be published according to table above.

EXHIBITION SPACE RENTAL:
Exhibition space rental excludes the costs of booth, furniture or any other equipment, cleaning the booth, extra electricity
and set up

                      ORGANISER                                               PRIMARY CONTACT
              D-FOOT INTERNATIONAL IVZW                                         Freddy Arnauts, MSc, PhD
                 Prins Boudewijnlaan, 159                                         Partnership Consultant
                                                                                      +32 468 111 329
                        2650 Edegem
                                                                                freddy.arnauts@d-foot.org
                          BELGIUM