HANDBOOK 2020/2021 - MCCREADY FAMILY CENTRE - EDUCATION SCOTLAND
Page content transcription
If your browser does not render page correctly, please read the page content below
Welcome to McCready Family Centre

On behalf of everyone at McCready Family Centre I welcome you to our centre. I hope
you will find this handbook interesting and helpful. The purpose of this handbook is to
provide information on all aspects of the centre and the work undertaken.

Throughout this handbook we have tried to give you an impression of life in our centre
and the ways we cater for the individual needs of each child. If the answers to your
questions are not here, please do not hesitate to ask.

We are proud to put children at the heart of all we do within our centre. We respect
children and their right to be a child. The wellbeing, learning and development of each
individual child is carefully supported, nurtured and challenged in our learning spaces
indoors and outdoors.

We are part of East Renfrewshire Council's Education Department and share their
vision of "Everyone Attaining, Everyone Achieving through Excellent Experiences." We
are non-denominational and respect and welcome children and families of all religions,
faiths and beliefs. For our youngest children we follow the Pre-birth to Three national
guidance which recognises the vital and rewarding role our staff play in promoting
Responsive Care, Respect, Relationships and the Rights of the Child.

Staff in our team nurture the children in their care so that they develop a capacity for
love, empathy, respect, resilience, positive relationships and the chance to succeed.
They understand that every child has the right to a positive start in life and use the
principles within the guidance to support children as they learn about themselves,
significant people in their lives and the world in which they live.

We value working in partnership with parents and carers to ensure that children are
given the best possible learning experiences that match their interests and stage of
development. Our highly trained educators provide an exciting play-based curriculum
that supports children's curiosity, inquiry and creativity.

We look forward to getting to know you and your family and hope that you will soon feel
a welcomed and valued member of McCready Family Centre.

Donna Jeffries                     "Every child needs at least one
Head of Centre                     adult who is irrationally crazy about
                                   him or her."

                                    (Urie Bonfrenbrenner)
VISION STATEMENT

In McCready Family we believe all children should have the opportunity to play, explore
and to grow into someone who makes a difference

VALUES

In McCready Family Centre we:

   1. Provide foundations that encourage each individual to fulfill their potential,
       develop a sense of curiosity, creativity and develop a love for learning.
   2. Promote equal opportunities, respect diversity and value the special contribution
       everyone can make
   3. Believe our joint partnership with families is based on openness and honesty and
       is the key to our success
   4. Value our Family Friendly approaches which echo our beliefs that every child,
       family and member of staff matters

AIMS

We aim to:

     1. To create a challenging, engaging and responsive learning environment that
        supports individual interests, skills and stages of development
     2. To nurture happy content, independent, resilient individuals who develop the
        strength to face challenges with confidence
     3. To foster empathy and support friendships
     4. To build a staff team of nurturing, respectful and professional Child
        Development Officers who have a sound knowledge of child development
     5. To work in partnership with feeder family centres, agencies and the community
     6. To continually strive to be innovative, display best practice and to be a centre
        of excellence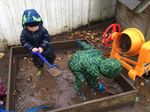 Family Centre Information

Address:                       2 Water Road
                               Barrhead
                               G78 1SQ
                               East Renfrewshire

Telephone number:              0141 570 7550

Email:                         mccreadyfamilycentre@ea.e-renfrew.sch.uk
Twitter:                       McCready FC @mccreadyfamily
Website:                       www.ea.e-renfrew.sch.uk/mccreadyfamily/info.htm

Denominational Status:         non-denominational

Nursery Roll:                  47 Full-time equivalent

Age Group:                      6 weeks – 3 years

                               "Play is the highest expression of
                             human development in childhood for
                            it alone is the free expression of what
                                       is in a child's soul"

                                     (Friedrich Froebel)

   "It's disgusting."
                                                                      "It's a robot."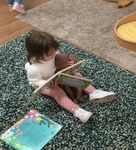 ADMISSIONS

We can accommodate up to 35 two-year-olds and 12 babies age 6weeks -2 years old per
nursery session.

Places are allocated by East Renfrewshire Council in accordance with their admissions
policy which reflects The Standards in Scotland's Schools Act 2000 and The Children
and Young People (Scotland) Act 2014, which place a duty on local authorities to provide
1140 hours of free Early Learning and Childcare for all eligible 2year olds.
Applications for eligible two-year-old children can be made as your child turns two, once
a place has been allocated they will usually start within that term. All places are
allocated in accordance with East Renfrewshire's Admission Policy by the admissions
team within the Education Department.

Hours are as follows:
Stretch A - morning session: 8am-12.45 pm
Afternoon session: 1pm-5.45pm

Stretch B – 2 X 9 hours 30 minutes and 1 x 4 hours 45 minutes per week (two and a half days)

Any child requiring an additional or alternative placement must be referred by their
health visitor, social worker or educational psychologist to the admissions panel of the
local authority, the Early Years Intervention Group, who consider each case on an
individual basis. All enquiries regarding allocations should be made to:

Education Department
Admin & Support Section
211 Main Street Barrhead
G78 1SY
Telephone: 0141 577 3288
Email:    pre.five@eastrenfrewshire.gov.uk.
Almost all children attending McCready Family Centre have been allocated a place
either through the Early Years Intervention Group (E.Y.I G.) or our Local Authority
Placement system (L.A.P). We also offer a limited number of paying places and extended
hours. For more information regarding this please speak to a member of the
management team who will be happy to assist you in respect of Family Centre
availability, cost etc.

To allow the children to benefit from their full nursery session please adhere to
these times.
If you need to collect your child before the end of the session please inform
management who will advise a member of staff that your child will be collected early
on this occasion. For health and safety purposes, when picking up or dropping off
your child we ask that only one adult enters the building. Any parent dropping
off/collecting their child between 9am-11.30am and 1.15pm – 3.30pm will be required
to use the back playroom entrances. (Front gates will be closed for safety reasons.)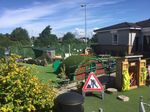 McCready Family Centre closures:

In-service                   Monday 10 August 2020
In-service                   Tuesday 11 August 2020
September Weekend            Friday 25 September 2020
September Weekend            Monday 28 September 2020
In-service                   Monday 19 October 2020
Last day of nursery          Thursday 24 December 2020
                             *Centre will close at 2pm
Re-open                      Tuesday 5 January 2021
In-service                   Friday 5 February 2021
Good Friday                  Friday 2 April 2021
Easter Monday                Monday 5 April 2021
May Day Holiday              Monday 3 May 2021                     Easter Good Friday:
In-service                   Thursday 6 May 2021                   2 April 2021 Easter
May Weekend                  Friday 28 May 2021                    Monday: 5 April
May Weekend                  Monday 31 May 2021                    2021. Last modified
                                                                   on 7th July 2020
Glasgow Fair                 Monday 19 July 2021

 Public holidays and staff in-service days will also be displayed on playroom notice
boards/website/Twitter/email and can also be found at:

https://www.eastrenfrewshire.gov.uk/media/3504/School-holidays-2020-to-
2021/pdf/School_holidays_2020_to_2021.pdf?m=637364548484700000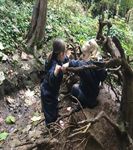 The Staff of McCready Family Centre

                                            Donna Jeffries      Wilma MacLean         Donna Allison
Michelle Liddell     Marie Shankland
                                            Head of Centre      Janitor/Cleaner       Senior C.D.O
 Depute Head         Business Support
      of                 Assistant
    Centre

Linda Glen            Lorna Weir         Samantha Courtney   Nicole Jenkins        Rebekah Hutchins
  C.D.O.                C.D.O.                C.D.O.             C.D.O.                 C.D.O.
                                              C.D.O.

                   Gillian Swindell      Grace Baxter           Rosa Kelly            Anne Little
Aileen Gibson
                         C.D.O.             C.D.O.                C.D.O.                C.D.O.
    C.D.O.

Eleanor Milloy        Evelyn McFarlane           Amy Roxburgh                Sophie Moore
    C.D.O.                 C.D.O.                 Playworker                    C.D.O.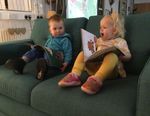 Prior to Entry

A member of the Senior Leadership Team and your child's key worker will visit you at
home. It is really important that your child makes the best possible start at nursery.
The home visit allows you and your child to get to know the staff and ensures a familiar
face on their first day at nursery.
We try to make this experience as positive as we possibly can (experience has shown
that children (and parents) are more relaxed when they are at home). The home is a
safe and secure place for your child and often we can see them as they really are.
During this visit enrolment forms, parental consent forms (tooth brushing, photographs
etc.) will be completed and practical information regarding McCready Family Centre will
be shared; you will also be given your child's start date and placement information.

      Please do not go to any special lengths in preparation for our visit. We do not expect tea or
       coffee, in fact this may interrupt us working with your child.

      We timetable the visits because we have a lot of children to see. If you need to cancel the visit,
       please telephone the nursery on 0141 570 7550 and leave a message to this effect. We will get
       back to you to rearrange.

(Parents and children are encouraged to visit the centre before your official first day)
*Due to Covid, this service has temporarily been cancelled and a member of staff will telephone you
to discuss your child's details.

On Entry

Please remember that the first few days at nursery will be a new experience for both
you and your child. On day one, while the children visit their playroom, we ask the
parents/carers to remain in the building. An individual settling-in programme will be
discussed at this time. Some children do take longer than some to settle and we will plan
to meet each child's needs. During the settling period you will be asked alongside the
keyworker to complete information regarding your child's developmental stage and "All
About Me" information. This information will enable the key worker to gauge your child's
stage of development and to plan individual learning opportunities.

*Following the Covid-19 outbreak, Health and Wellbeing and literacy and numeracy will be our
curricular priorities for the session 2020-21.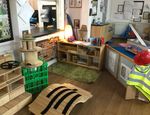 Please remember:
    To bring your child's birth certificate and your council tax invoice on first day of
      nursery
    To bring a supply of spare clothes, nappies and wipes to nursery for your child.
      You will be reminded when the nappies/wipes are running low
    To provide a change of shoes preferably with Velcro fastening as - this
      encourages your child to become independent
    To close all outside gates and doors when entering and leaving the building
    To please name all clothing and footwear as the nursery cannot be held
      responsible for loss or damage to children's belongings.
    To fold your pram if making use of the pram shed.
    Many children are brought to nursery by car and parking facilities are very
      limited in this area. Please do not park in designated areas for the disabled
      unless you are entitled to.
    To let us know if someone else will be collecting their child at the end of the
      sessions.

McCready Family Centre consists of two main playrooms. Each playroom offers a variety
of nurturing experiences to help support the development of the child, depending on
their stage of development.

           Busy Bee Room                                   Rainbow Room
         Adult/Child ratio 1:3                           Adult/Child ratio 1:5

Your child will have a key worker; this is a designated member of staff who has
responsibility for a small group of children. The key worker will keep accurate records
of your child's progress; attend reviews and liase with other agencies. Opportunities
are given to meet with key workers, both formally and informally to discuss children's
progress.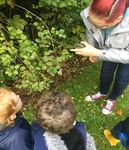 Skills for lifelong learning.

                      "I need my tools. I go to work."

 I can act out familiar                       I can show an interest in nature
routines in pretend play                         and use what I know to be
 and know how to take                                    creative.
   care of the baby.

  I enjoy looking at books and
      sharing my thoughts.                                 I can match objects 1:1
Family Centre Security/
                           Arrival and Collection of Children

      Within McCready we operate a secure entry system. Please ensure that you do
       not hold the door open for anyone coming in to the Family Centre behind you. We
       appreciate this may appear as being rude, but staff must verify who is entering
       the building, by using the video intercom system.
      It is essential that a responsible adult brings and collects your child. The person
       must be over 16 years of age. (In the interest of your child's safety you will be
       asked to complete a section on the enrolment form listing names of adults who
       are allowed to collect your child from the nursery. (To comply with General Data
       Protection Regulations please ensure that this person has given their permission
       to be added for this purpose) Anyone arriving to collect a child whose name is not
       listed on our records will be refused on entry).
      For additional security we have a sign in and out book, which requires to be
       completed on a daily basis.

            Absence Procedure
            If your child is unable to attend please contact the centre either in advance
           (if planned) or by telephone on the first day of absence. If the centre has
      not been notified by 9.30am (morning children) or 1.30pm (afternoon children)
   you will be contacted by text to confirm your child's absence.

      We care about you and your child so we monitor attendance carefully. This also
       ensures places are being used to best capacity for all families in the community.

                               Changes to Personal Details

It is crucial that you inform us immediately of changes to your personal details,
including change of mobile numbers and change of address. You will understand the
importance of being able to contact parents in the event of an emergency.

                          Emergency Closure Arrangements

Establishments may be affected by severe weather, power failures
or difficulties with heating. If this happens we will do our best to let you know the
details of the closure by telephone, on our website, in the press or on local radio. East
Renfrewshire Council's website will also provide up to date information through their
Twitter feed. You can follow us on Twitter – @mccreadyfamily
Medical Information

If your child is in need of medication during centre hours, you should discuss details
with the Head of Centre or your child's key worker. Prescribed drugs will be given at
the discretion of the Head of Centre. A medical form, which authorises staff to
administer the drugs to your child, must be completed by the parent/carer and
authorised by the Head of Centre. In the event of your child being prescribed
antibiotics it is recommended that the child must be treated for at least 48 hours prior
to returning to nursery.

                                                 Illness

Please let us know if your child is unable to attend nursery – a telephone call will do. If
your child becomes unwell, we will make the child as comfortable as possible and then
contact either yourself or one of the emergency contacts. Please let us know
immediately of any change of address or telephone number. If we were unable to
contact anyone, we would contact emergency services directly if necessary.
If your child is unwell prior to coming to nursery, it is important that you keep him/her
at home. This will ensure a speedier recovery and prevent other children or staff
becoming infected.

                                                Sickness

If your child has been sick or had diarrhoea please do not return to nursery until:
                       Sickness – 48 hours have passed
                       Diarrhoea – 48 hours have passed.

For more information regarding exclusion criteria for childhood illnesses see:
www.hps.scot.nhs.uk/haiic/ic/guidelinedet

                                                                 Accidents

                                   Minor accidents will be dealt with in the nursery by staff
                                   and/or our trained First Aider (Michelle Liddell).
                                   Accidents are recorded in our accident book and you will
                                   be asked to sign this when you collect your child.

                         If your child is going home with another adult

Please ensure that you inform us if someone unexpectedly is collecting your child. Please
also ensure that the person is on the collection list. Thank you
Health Promoting Centre

Snack Time- if we are asking children to be active learners then it is important that we
promote their energy levels accordingly. We take guidance from the Scottish
Government's Setting the Table and offer milk or water to drink and provide a variety
of healthy snacks for children to choose from such as fruit, toast or cereal, oatcakes
etc. Please inform us if your child has any allergies or if there are any foods your
child doesn't like. McCready Family Centre is a nut free zone. Please do not give
your child any nut based products.

From time to time we will have special snacks to learn about religious festivals, we also
give the children opportunities to take part in baking and cooking activities.

We endeavour to encourage children to adopt a healthy lifestyle and to see the
benefits in choosing healthy options. We encourage children to eat healthily by offering
only healthy snacks and encourage parents to provide healthy packed lunches for those
children who are required to provide a packed lunch.

We encourage fitness by offering a programme of physical development and movement
with daily opportunities to engage in energetic physical play both indoors and out. We
actively promote oral hygiene, each child has their own toothbrush and participates in
supervised brushing every day as part of the Childsmile programme. If you do not wish
for your child to be part of the Childsmile programme, can you please put it in writing?

McCready Family Centre introduced the Swedish Pre-School
model in 2014. This model embraces our nurturing approaches
and we endeavour to deliver a nurturing experience to children
in a more home like environment. Children are encouraged to
develop their independence, self-help skills, confidence and
social skills. We do this by supporting children to help set the
table for lunch, serve themselves their food and help others.
Serving themselves their lunch ensures children make healthy
choices, discuss food and develop their conversational skills with
others. The atmosphere of the lunchtime approach is very relaxed and at a pace suited
to individual needs of the children.

Due to the current restrictions, we are unable to offer hot food. If your child has a full
session, you must supply a packed lunch. Please ensure your child's name is on the box
and you have a cool pack inside, as the bag will be stored on a trolley. Please ensure you
do not have any nut-based products in the pack.
                                        Thank you
Suitable Clothing

All children will have their "special peg/box" in the cloakroom where you can leave a
change of clothes e.g. trousers/skirt, t-shirt, pants socks etc. We have a very limited
stock of spare clothes therefore it is important that your child's bag/box is replenished
after use. It is essential for every child to have a pair of soft shoes to wear within the
playroom. Apart from comfort it is more hygienic and therefore essential that your
child changes from outdoor shoes.

When dressing your child for nursery we ask that you consider the following:

      Children enjoy taking part in 'messy' activities and although every effort is made
       to see that they wear the aprons provided, accidents do happen.
      We encourage every child to become independent in self-help skills such as going
       to the toilet on their own. (belts on trousers, stiff buttons etc can make this
       difficult)
      Outdoor learning is an important part of our curriculum, and to allow this the
       children should be suitably dressed for the weather e.g. warm jacket, wellies,
       hat, gloves etc.

                    PLEASE NAME ALL CLOTHING AND SHOES.

Why not save your child's clothes from being covered in paint glue etc. by buying them a
nursery polo shirt or sweatshirt. These items can be bought from the front office and
                         are priced at:

                          Polo shirt £5.95
                                Sweatshirt £7.95
Family Centre Funds

We strive to be generous with the children's treats throughout the year and your
donation is now more important than ever. We aim to keep costs to a minimum and
request that you contribute £2.00 to the fund on a weekly basis. The fund also pays
for your child's parties, Christmas presents, trips, outings and various events
throughout the year. If all parents contribute, this will ensure all children receive the
same high standard of quality play and learning activities. Monies should be paid
directly into your Parent Pay Account.

I thank you in anticipation of your goodwill and generosity.
Accounts can be seen on request. We fundraise once a year for a named
charity and occasionally when we require additional funds for the centre.

                                      Toilet Training

At McCready Family Centre we will support you with your child's toilet training. When
you think your child is ready to be trained please speak to your child's key worker who
will explain the procedures we use to support you and your child through the training.
It is important that this experience is fun and positive for your child. Potty training is a
challenge for everyone involved but in working together we can make a difference.

      The key worker will not start this training in the nursery without
       having discussed it with you first and agreed on a start date that
       suits everyone
      Parents must ensure a supply of nappies and wipes are brought to
       nursery for children that are not yet toilet trained.

                               Your children's achievements are important and we
                               encourage you to share them with us so that we can
                               CELEBRATE your child's ACHIEVEMENTS together.
                               We also document your child's learning journey and
                               encourage all parents to make use of your child's
                               Learning Journal (feel free to take this home) – adding
                               any pictures from outings, home, parties etc and
comments regarding your child that you would like to share with us.

                 For more information speak to your child's key worker.
At McCready Family Centre we are committed to achieving and
                     maintaining 'Family Friendly Status'. We do this by providing a
                     mutually beneficial partnership between centre and parents that
strengthens the service we provide when supporting and developing the parenting
capacity of all our families.

We pride ourselves on having excellent     To help us improve our service,
relationships with our parents. If you     throughout the year we will seek your
are worried or anxious about any           views in a variety of ways, including
matter concerning your child please        questionnaires and consultations. We
speak to your child's key worker or a      value the opinions of all our
member of the management team, who         stakeholders and rely on feedback in
will do all they can to work alongside     order to maintain the high standard we
you to achieve a positive outcome.         provide.

                                           If English is not your first language we
                                           can arrange to have information
                                           explained in other formats.

It is the policy of McCready Family Centre to encourage a happy and positive
partnership between home and the centre. We recognise the importance of parents
being the child's first educator and prefer to share the learning with you. As a result,
we have an open door policy, which is extended to encourage parents/carers to
participate in the work of the centre. Parents/carers can also get involved by
supporting children's activities such as reading stories, games and arts and crafts or
short walks to the local library. If you would like to spend time within the centre please
inform your child's key worker who will arrange this.
*Due to the Covid situation, we unfortunately are not able to have parent/carers in the
building but when normal times resume, we would be delighted if you could get involved.
Please let a member of staff know if you are interested.
           Please note that all helpers must be checked by Disclosure Scotland

                               Parents Fundraising Group

The Parent's Group is a very important
part of McCready Family Centre life. We
are always keen for new parent's to come
and join us. If you are interested in
becoming part of the group please inform
your child's key worker.
Scottish Schools (Parental Involvement) Act 2007

The present system of School Boards was replaced in August 2007 by a new system of
Parent Councils. The Act makes provision for all parents to be members of the Parent
Forum at a school, and to have their views represented to the school, education
authority and others, through a representative Parent Council for the school.

The intention behind the new legislation is to support parental involvement in a much
wider sense than before. It aims to help all parents to be:

      Involved with their child's education and learning
      Welcomed as active participants in the life of the school
      Encouraged to express their views on school education generally and work in
       partnership with the school

The main changes on the 2007 Act are as follows:

      The school's parent body (the new Parent Forum) will decide the size and
       composition of their Parent Council
      The method of appointing (and co-opting) Parent Council members will be decided
       by the parents. In denominational schools a church nominee must be co-opted
      The Parent Council is now required to support school management in improving the
       quality of education the school provides, and develop to their fullest potential the
       personality, talents and mental and physical abilities of the pupils attending the
       school
      The Parent Council will develop and engage in activities which support the
       education and welfare of pupils
      The Parent Council can ascertain views of parents on any matter of interest or
       concern
      The system of approval of headteacher spend on books and teaching materials,
       subject to authority guidance and policy is discontinued.
      Now if representations made to an authority or headteacher remain unresolved, a
       Parent Council may take them to HMIE
      The headteacher has both a duty and a right to attend Parent Council meetings
      The Parent Council have a role in the appointment of head teachers and depute
       head teachers

Further information is available on www.parentzonescotland.gov.uk
Learn as a Family

At McCready Family Centre we recognise that parents are the prime educators of their
child. The centre is continuously developing a range of creative ways in which to
address the needs of children and parents. These methods will nurture, support and
enhance family well-being. There are regular opportunities to attend a range of events
in the centre including Parent Consultations, Coffee and Chat, Stay and Play Sessions,
Family Day and parent workshops.

                                        Play Visits

 McCready Family Centre offer home visits to families within our centre and the local
community. Two members of staff will visit offering a fun experience which will be
relaxed and tailored to individual family's needs and the child's stage of development.
Through the play visits we build good relationships with families and help develop their
confidence to engage with the centre and the wider community. The main benefit of
these visits is to enhance parent/guardian child relationships and give families
suggestions and ideas for them to implement at home.

        http://www.ea.e-renfrew.sch.uk/curriculinks/links/linksforParents.htm

                                   Family Participation

Family Day was introduced in October 2009 and through a carefully planned programme
of events has been a very successful addition to the life of McCready Family Centre.
Through Family day activities and by using high quality multi agency supports and
resources children and their families are nurtured, supported and encouraged to
develop their own solutions in a holistic and integrated fashion. Families within the local
community are welcome to attend our programme of events.

                      Psychology of Parenting Programme (POPP)

If your child is displaying difficulty with behaviours or regulating emotions, East
Renfrewshire Council have trained staff in Incredible Years Parenting Programme and
Triple P. Support is available throughout the year within various areas of East
Renfrewshire. If you require support, we would be able to find the right programme for
you and your child/children. Please speak to a member of staff regarding this.
*Please note that all programmes are available through zoom at the moment, due to Covid.
All parents want the best for their children – and one of the best things is play!
  Through play children are learning about the world around them, practising
  talking and listening and developing social skills that will help them in later life.
  Children benefit from creative play as it helps to enhance senses and of course
  children enjoy nothing more than 'messy play'

                                        Child's Play

                                    Do You Know?

Outdoor Play is crucial to a child's development and during their first two years,
children need to move around. This new found movement is important as they are
constantly developing their motor skills and building their core strength.

Outdoor Play is important for physical fitness and development and for developing a
child's confidence. At McCready, all children have access to the outdoor environments
on a daily basis. Activities and resources provided ensure that the children are
challenged and promote curiosity, creativity and inquiry.
Supporting Young Children to Develop and Learn at McCready Family Centre

At McCready Family Centre we value and understand that children are unique individuals and
active participants in all that happens around them, with particular needs, interests,
preferences and capabilities. Children's views and attitudes are shaped from a very early age
and being part of a family and community helps to determine individual values and beliefs. When
planning for our children's learning and development, we have high aspirations and ambitions for
them and we strive to ensure that all children are successful learners, confident individuals,
responsible citizens and effective contributors to society and at work. We take guidance from
the 'Pre-Birth to Three' document, which is a valuable tool to support the 'Rights of the Child',
'Relationships', 'Responsive Care' and 'Respect.' We also take guidance from the national
documents Building the Ambition and Realising the Ambition. This helps us to take into account
what children need from adults and environments at different stages of their learning and
development.
In order to support our children, we:
     Have a key focus on literacy, numeracy & health & well-being
     Have a nurturing approach
     Provide a curriculum that promotes a sense of curiosity, creativity and
        inquiry
     Encourage children to enhance skills for life, learning and work
     Focus on individual children's needs and interests
     Encourage child-led learning and plan "In the Moment" based on children's interests. The
        idea is to capture the interest of a child or children in the present moment
     Ensure children are offered outdoor physical activities on a daily basis
     Work in partnership with parents and share learning experiences both in nursery and at
        home
     Work alongside partner organisations in the community and beyond
Assessment and Reporting:
Assessment reflects an understanding of what is happening to children as they develop.
The purpose of assessment at McCready Family Centre is to:-
 Recognise each child's achievements
 Obtain information for possible lines of development
 Collate information for reporting to parents, colleagues and other professionals such as
    Psychologists, Speech and Language Therapists and Next Steps nursery
We report our findings by:-
 Daily informal discussions
 Parent Consultations
 Child's Learning Journals
Well-being

The best way of getting to know your child is by using information only you can give to
us.
     Information from the home visit – GIRFEC Framework and developmental tracker
      will give a starting point for planning under the headings SAFE, HEALTHY,
      ACHIEVING, NURTURED, ACTIVE, RESPECTED, RESPONSIBLE AND
      INCLUDED
     Personal Learning Goals will be decided by parents and key workers – taking into
      consideration individual needs, interests and stage of development
     Learning and development will be implemented through planned purposeful play
      and responsive play and through a mix of adult led and child-led experiences
     Children's Learning Journals will reflect both learning and events, from home,
      centre and the local community
You can find more information by accessing the links below:

http://www.educationscotland.gov.uk/parentzone/index.asp

http://www.educationscotland.gov.uk/earlyyears/prebirthtothree/parentsandcarers.asp
Community Partnerships

We use many of the assets in the local community to enhance children's learning.
Carlibar Park provides a base for our forest school approach and the children are often
seen exploring here. We also make good use of the Foundry and regularly visit for Book
bug sessions.

Our Family Centre enjoys excellent links with a number of departments within East
Renfrewshire Council including Adult Learning, Libraries, Community Health Care
Partnership, Parks & Recreation and the Education Department's Psychological Services.

These services all add value to the work of the nursery in delivering relevant and
meaningful learning experiences to our children. We work closely with other nurseries in
East Renfrewshire, sharing expertise and discussing and developing local and national
initiatives in early education. We also have a close bond with Arthurlie Family Centre in
Barrhead as we work with many of the same families.

Health visitors, Speech and Language Therapists and other colleagues in the local
health services are involved in the life of the nursery providing advice and support
ensuring quality provision for our children. We invite visitors to the nursery from the
emergency services to talk about their work and to teach children about keeping safe
and well.

We welcome students from a range of colleges and courses to our nursery to develop
the skills required to be an excellent Child Development Officer or play worker.
Students attend nursery in varying patterns depending on their course and will work
with children under supervision from their mentor, the Senior Child Development
Officers and the Senior Leadership Team. We also offer work experience placements
to students from local East Renfrewshire High Schools.
Transitions

 Children making transitions from home to nursery, room to room and centre to centre is
 a crucial stage in both their development and their learning. It is therefore necessary
 for all stakeholders to co-ordinate an approach for transition arrangements that
 maximises continuity and progression in learning for all children and to ensure that they
 are provided for socially and emotionally at this key time.

                                  Transition to 3-5 Placements

 Good liaison with receiving nurseries is essential if continuity and progression in
 children's learning and development is to be achieved. Almost all children reaching their
 third birthday will transfer to their chosen nursery if there is availability. All your
 child's achievements will be passed on prior to transfer. If your child experiences any
 problems in settling to the new environment we will make every effort to arrange
 his/her key worker to support the nursery attended. Our transition policy adheres to
 the following procedure:

 Prior to your child transitioning you will be invited to come along for an informal chat where a
 member of the management team, from the nursery your child will move onto will share
 information with you regarding parent groups, committees, etc. This opportunity allows you to
 ask any questions regarding these groups as well as getting to know other parents whose
 children will be moving to the same catchment nursery

           The Key worker from receiving family centre will visit your child at McCready Family
            Centre. The staff will use this visit to gather information regarding your child

           The key worker (from McCready) and parent will visit the new nursery with the child
            prior to starting

           All children will transfer on or as soon after their third birthday

           All children reaching their third birthday after the end of February will transition in
            August or over the summer period if felt necessary

Our main catchment nurseries are:

 Arthurlie Family Centre            Carlibar Family Centre              Madras Family Centre
Learning Support

Michelle Liddell our Depute Head of Centre is our Additional Support Needs Co-
Coordinator and is always available to discuss any areas of concern.

Where a child requires a little help with an area of development, staff will work with
parents to find ways of giving support. Occasionally, it is necessary to call on the
expertise of others to advise on children's needs. We have very close links with Health
Visitors, Speech and Language Therapists and Educational Psychologists. Contact with
outside agencies would only be made after discussion with parents. Parents can also
approach all of these services independently.

Joint Support Team Meeting         Yvonne Hutchison our Educational Psychologist works
                                   in partnership with families and other professionals,
The purpose of this multiagency    to help children and young people achieve their full
approach is to ensure that the     potential. They use their training in psychology and
intervention/support given suits   knowledge of child development to assess difficulties
the individual needs of both the   children may be having with their learning. No
child and the family. The team of
                                   discussion regarding a child would take place between
professionals would include Depute
                                   nursery staff/Psychologist without first being
Head of Centre, key workers,
Yvonne Hutchison/Educational
                                   discussed with the parent.
Psychologist, and any other
identified workers. The nursery      Children requiring specific strategies will be given a
can offer a variety of support       Wellbeing Plan. This individual plan will be specific
with the help of various agencies.   and solution focused and will be shared with parents
Please let us know if you require    and reviewed on a termly basis.
any further information about
JST support.

                     Centre Policies

 McCready Family Centre has policies in place to
ensure that staff, parents and visitors to our centre
are clear on our work practices and standards. Our
policies are written in line with local and national
guidelines including How Good is our Early Learning
and Childcare, Health and Social Care Standards, Pre Birth to 3, supporting our
youngest children, which are documents we use to plan, monitor and evaluate our work.
Our policies are reviewed regularly and can be found on our website.
The policies are available from the office and on our website. Policies are monitored and
reviewed regularly by our staff, parents, children and partners, reflecting our
commitment to continuous improvement which meets the needs of all stakeholders.

Equality

East Renfrewshire Council Education Department is committed to ensuring equality and
fairness for all. In accordance with the requirements set out by the Equalities and
Human Rights Commission, we seek to-

      Eliminate unlawful discrimination, harassment and victimisation and other conduct
       that is prohibited by the Equality Act 2012
      Advance equality of opportunity between people who share a relevant protected
       characteristic and those who do not
      Foster good relationships between people who share a protected characteristic
       and those who do not

McCready Family Centre has clear guidelines and procedures for dealing with incidents
of inequality, as advised by the Education Department. We encourage that any concerns
be raised with us. Everyone who is part of our centre should feel that they are fairly
treated and equally valued. Bias, segregation, stereotyping or discrimination are
completely unacceptable at McCready Family Centre. We have many parent/carers from
different religions and cultural backgrounds, which the children are able to learn about.

Our Equalities Coordinator is Michelle Liddell and can be contacted by emailing the
nursery or by telephoning the nursery.
CHILD PROTECTION POLICY AND PROCEDURES

      At McCready Family Centre We Work Hard to Keep Our Children Safe

At McCready Family Centre we take the care, welfare and protection of our children
very seriously. We believe all children have a right to feel safe within the school, home
and community.

Within our school we strive to provide a safe, secure and nurturing environment for our
pupils, which promote inclusion and achievement.
All staff in Education has a statutory and professional responsibility to take action if
we have reason to believe a child is suffering, or is at risk of abuse.

Our child protection policy and procedure sets out what we will do if we have reason to
believe a child is being abused or is at risk of abuse, either within the home or the
community. These policies are designed to ensure that children get the help they need
when they need it.
Every staff member undergoes a minimum of one child protection training activity every
session. Many of our staff are more extensively trained in specific areas of child
protection to support and identify potential child protection concerns.

All schools in East Renfrewshire have comprehensive Pupil Support systems in place and
we work closely with our partners in Social Work, Health and the Police. The school
operates a multi-agency Joint Support Team to ensure that the best possible supports
are available to pupils when they need them.

The Child Protection Co-ordinator for the school is our Head of Centre Donna
Jeffries. If you wish any further information or a copy of the school policy, please
contact the school office. If you wish to discuss this important matter further, please
make an appointment to see Donna Jeffries.

 If you are worried or know of a child who could be at risk of abuse or neglect please
speak to the Head of Centre/ Depute or to a member of staff at one of the following
numbers:

Barrhead Social Work Office: 0141 577 8300
Clarkston Social Work Office: 0141 577 4000
Strathclyde Police Family Protection Unit: 0141 532 4900
Standby Social Work Out of Hours 0800 811 505
Improvement Planning

We will seek your views in a number of ways, including questionnaires, consultations and
focus groups, to help us improve our service. We value the opinions of all our
stakeholders and will always ask what you think before we make any big changes. We
also include the children in our consultations as they have the right to be involved in
making decisions which affect them.

 Each year we evaluate the quality of our service using the quality indicators from How
Good is our Early Learning and Childcare and the Health and Social Care Standards, we
share this with everyone through our standards and quality report. We identify what
has gone well and what our next steps will be. The next steps are then taken forward in
our improvement plan. You can find both of these documents on our website. Our
inspection reports from the Care Inspectorate are also available
Suggestions and comments

We are always seeking to improve the service that we provide. Any suggestions or
comments from parents are always welcome. Please share your thoughts and ideas with
staff and other parents by contributing to our termly newsletter, or through discussion
with a staff member.
                                      Complaints

If you are upset by any incident, which has happened at the nursery there are several
courses of action open to you, discuss it with a member of staff or discuss it with the
Head of Centre.
If you feel that any query or concern has not been dealt with effectively by the Head
of Centre then you can contact the following agencies for further support or guidance:-

East Renfrewshire Education Department                   Care Inspectorate
211 Main Street                                          4th Floor
Barrhead G78 1SY                                         1 Smithhill Street
East Renfrewshire                                        Paisley PA1 1EB
0141 577 3000                                            Tel: 0141 843 4230

Useful Contacts

East Renfrewshire Council                                                  577 3990

Director of Education             Mark Ratter                              577 8635

Head of Service                   Janice Collins                           577 3204

Quality Improvement Officer       Rosamund Rodriguez                       577 3222

Psychological Services            Nick Smiley                              577 8510

Social Work Offices               Barrhead                                 577 8300
                                  Clarkston                                577 4000

Early Education & Childcare       Lynda Kiernan                            577 3288
Admissions

Arthurlie Family Centre           Vicky Devlin                             570 7500

Carlibar Primary School           Siobhan McColgan                         577 4100

Madras Family Centre              Gerad Curly                              570 7540

Glen Family Centre                Christine Bell                           570 7510
East Renfrewshire Council Policies and Links

A.S.L. parents       http://www.ea.e-renfrew.sch.uk/parents/asn/
website

Complaints:          http://www.eastrenfrewshire.gov.uk/index.aspx?articleid=1573

Child Protection:    http://www.eastrenfrewshire.gov.uk/index.aspx?articleid=1923

Curriculum for       http://www.scotland.gov.uk/Topics/Education/Schools/curriculum/ACE/cfeinaction
Excellence:
Curriculum           http://www.educationscotland.gov.uk/thecurriculum/
guidance:
Dressing for         http://www.ea.e-renfrew.sch.uk/curriculinks/Links/Parents/Parents%20Leaflets/
Excellence           DressingForExcellence.pdf

Dyslexia:            http;//www.addressingdyslexia.org/

Emergency            http://intranet.erc.insider/CHttpHandler.ashx?id=4193&p=0
Closure of
Schools and
Establishments –
Severe Weather
Conditions:
ENABLE – ASN         http://www.enable.org.uk
Support:
ENQUIRE - ASN        http://enquire.org.uk/
Support :
ERC Website –        http://www.eastrenfrewshire.gov.uk/index.aspx?articleid=1489
general enquiries:
Inclusion:           http://www.ea.e-renfrew.sch.uk/curriculinks/Links/Teachers/inclusion.htm

Internet Safety      http://www.ea.e-
                     renfrew.sch.uk/curriculinks/Links/Parents/Parental%20Leaflets/Internet%20leaflet.pdf
Local                http://www.eastrenfrewshire.gov.uk/CHttpHandler.ashx?id=1640&p=0
improvement plan:
Mediation:           http://www.ea.e-renfrew.sch.uk/parents/asn/mediation.htm

Photographing        http://www.ea.erenfrew.sch.uk/curriculinks/Links/Parents/Parental%20Leaflets/
pupils:              PhotographingChildrenandYoungPeople.pdf

Psychological        https://blogs.glowscotland.org.uk/er/PsychologicalService/
Services:
Safe use of ICT      http://www.ea.e-renfrew.sch.uk/curriculinks/Links/Parents%Leaflets/Internet%20
                     leaflet.pdf
Twitter – East       http://www.twitter.com/EastRenCouncil
Renfrewshire:
Privacy notice – Education

Who will process your information?
The personal information you give to us through any of our forms relating to Education
and any other pupil administrative information we hold about you in this context will be
processed by East Renfrewshire Council, Eastwood Park Giffnock, G46 6UG for the
administration of Education and any additional support you or your child may require.

Why do we process your information?
Your information is processed to help us administer education provision and related
functions within East Renfrewshire. Your information may be shared with other
departments within the council and other organisations for the same purposes and also
to check the information we have is accurate; prevent and/or detect crime; and protect
public funds. Other organisations may include bodies responsible for auditing or
administering public funds, other councils, public sector agencies, government
departments, exam bodies and other private companies or partners we use to process
information and distribution services for the issue of correspondence.

What is the legal basis for us to process your information?
The council processes your information in order to perform a task carried out in the
public interest and also to fulfil its legal obligations to ensure proper administration of
the council's financial affairs in terms of the Local Government (Scotland) Act 1973.

The law gives certain types of information special significance because of its sensitivity
e.g. health information. If we process this type of information about you in relation to
Education we do so on the basis that it is necessary for reasons of substantial public
interest.

Do you have to provide your information?
Education needs your information to allow us to carry out public tasks in the public
interest that is set out in law such as teaching in primary and secondary schools. It
allows us to organise and administer classes, lunches, exams etc.
How do we collect information about you?
Most of the information the council holds about you will come from you as an individual
and it's provided at your first encounter with education whether it is applying for a
place in an early learning and childcare establishment, support in the early years or
applying for a place in one of our schools.

Such information includes:-
Child's Forename
Child's Surname
Child's gender
School Stage
Details of child's medical condition
Any other name child is known by
Child's date of birth
Address including postcode
Mother's/Carer's Name
Father's/Carer's Name
Mother's/Carer's address including postcode
Father's/Carer's address including postcode
Mother's/Carer's telephone number
Father's/Carer's telephone number
Mother's/Carer's email address
Father's/Carer's email address
Single Parent/Carer family
Name of Brother/Sister
Date of Birth of Brother/Sister
School stage of Brother/Sister
Additional Information Support Application
School applying for
Preferred Alternative School
Early Learning and Childcare place applied for
Council Tax Evidence
Mortgage Statement
Rental Agreement
Rental Agreement End Date
Landlord Registration Number
Birth Certificate
Baptism Certificate
Date of Baptism
Name of Church venue
Child Benefit Statement
Utility Statements
Other Catchment Evidence
How long will we keep your information?
The council will hold your information from when your child first has contact with one
of our services through to five year beyond them leaving school.

Who is your information shared with?
Your information will be accessed by council staff who need to do so to administer
education and the many services that run alongside it. If such administration is provided
on the council's behalf by an external agency, that agency will also have access to your
information. The information will be shared with SEEMiS, CRB, ParentPay, the Diocese
of Paisley (in Roman Catholic schools), Scottish Government including their Analytical
Services, Education Scotland, Glow (Scotland's national education network), SQA, 2Cqr,
BAM FM (Carlibar Primary, Barrhead Mearns Castle, Williamwood, Woodfarm High
Schools), Bellrock FM (Mearns Primary and St Ninian's High), Skills Development
Scotland, Scholar (Heriot Watt University) and East Renfrewshire Culture and Leisure
Trust.

The council also needs to ensure proper administration of its funds so details will be
checked internally for fraud prevention and verification purposes. Information is also
analysed internally in order to provide management information and inform future
service delivery. Your information may also be shared with other departments within
the Council. The council also generally complies with requests for specific information
from other regulatory and law enforcement bodies where this is necessary and
appropriate.

Do we transfer your information outside the UK?
In general we do not transfer personal information outside the UK but on the rare
occasions we do we will inform you. We will only transfer information outside the UK
when we are satisfied that the party that will handle the data and the country it is
being processed in have adequate safeguards for personal privacy comparable to those
which are in place in the UK.

Profiling and automated decision-making
The Education Department does not use profiling or automated decision-making for
administration.
Your rights
You have the right to be informed of the council's use of your information. This notice
is intended to give you relevant information to meet this right.

Access personal data held about you

You have the right to access personal information the council holds about you by making
what is known as a subject access request. You can receive a copy of your personal data
held by the council, details on why it is being held, who it has been or will be shared
with, how long it will be held for , the source of the information and if the council uses
computer systems to profile or take decisions about you.
1.   Request rectification of your personal data

You have the right to request that the council corrects any personal data held about
you that is inaccurate.

2.   Request that the council restricts processing of your personal data

You have the right to request that the council restricts processing your personal data if
you think the personal data is inaccurate, the processing is unlawful, the council no
longer need the personal data but you may need it for a legal purpose or you object to
the council processing for the performance of a public interest task.

3.    To object to the processing of your data

You have the right to object to the council's use of your personal data. The council will
have to demonstrate why it is appropriate to continue to use your data.

Complaints
If you have an issue with the way the council handles your information or wish to
exercise any of the above rights in respect of your information you can contact the
council's data protection officer by post at:

The Data Protection Officer
East Renfrewshire Council
Council headquarters
Eastwood Park
Giffnock
G46 6UG

or by email at DPO@eastrenfrewshire.gov.uk

You have the right to complain directly to the Information Commissioner's office (ICO).
The address of their head office is:

Wycliffe House, Water Lane, Wilmslow, Cheshire, SK9 5EF
Telephone: 0303 123 1113

Alternatively, you can report a concern via their website at www.ico.org.uk
The ICO also have a regional office at:

45 Melville Street, Edinburgh EH3 7HI
Telephone: 0303 123 1115       e-mail: scotland@ico.org.uk

While you can go directly to the ICO, the council would welcome an opportunity to
address any issues you have in the first instance.
Please note:

Due to the current Covid-19 Pandemic, some of the content does not currently apply.
We are currently unable to invite you into our building, therefore parents will be guided
on enrolment, settling in procedures and the transitions accordingly. We will strive to
keep you informed of any Covid related updates, guidelines and procedures through our
Twitter feeds, website and email and telephone conversations.
Thank you