Investing in People Investing in the Future - Trombino
Page content transcription
If your browser does not render page correctly, please read the page content below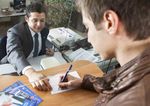 CIB's 5,181 employees bring to the
 table a balanced blend of seasoned
 insight coupled youthful vigor — a
mix that helps us efficiently serve more
      than 589,645 customers.

    Veteran Know-How,
       Youthful Vigor

                                           Contents
                                           CIB: An Introduction
                                            What We Do  .  .  .  .  .  .  .  .  .  .  .  .  .  .  .  .  .  .  .  .  .  .  .  .  .  . 2
                                            Our History  .  .  .  .  .  .  .  .  .  .  .  .  .  .  .  .  .  .  .  .  .  .  .  .  .  .  . 2
                                            Key Financial Highlights  .  .  .  .  .  .  .  .  .  .  .  .  .  .  .  .  .  .  .  . 4
                                            Key Facts  .  .  .  .  .  .  .  .  .  .  .  .  .  .  .  .  .  .  .  .  .  .  .  .  .  .  .  . 5
                                            A Strategy that Delivers   .  .  .  .  .  .  .  .  .  .  .  .  .  .  .  .  .  .  .  . 6
                                            A Word from Our Chairman   .  .  .  .  .  .  .  .  .  .  .  .  .  .  .  .  .  . 8
                                            Board of Directors' Report  .  .  .  .  .  .  .  .  .  .  .  .  .  .  .  .  . 10
                                            Key Figures from 2012  .  .  .  .  .  .  .  .  .  .  .  .  .  .  .  .  .  .  .  .  20

                                           2012 in Review
                                            Institutional Banking  .  .  .  .  .  .  .  .  .  .  .  .  .  .  .  .  .  .  .  .  .  24
                                            Global Customer Relations   .  .  .  .  .  .  .  .  .  .  .  .  .  .  .  .  .  32
                                            Consumer and Business Banking  .  .  .  .  .  .  .  .  .  .  .  .  .  .  34
                                            COO Area  .  .  .  .  .  .  .  .  .  .  .  .  .  .  .  .  .  .  .  .  .  .  .  .  .  .  .  42
                                            Risk Group   .  .  .  .  .  .  .  .  .  .  .  .  .  .  .  .  .  .  .  .  .  .  .  .  .  .  48
                                            Compliance  .  .  .  .  .  .  .  .  .  .  .  .  .  .  .  .  .  .  .  .  .  .  .  .  .  .  53

                                           Strategic Subsidiaries
                                            CI Capital Holding   .  .  .  .  .  .  .  .  .  .  .  .  .  .  .  .  .  .  .  .  .  .  56
                                            Egypt Factors .  .  .  .  .  .  .  .  .  .  .  .  .  .  .  .  .  .  .  .  .  .  .  .  .  59
                                            Commercial International Life Insurance Company  .  .  .  .  60
                                            Falcon Group  .  .  .  .  .  .  .  .  .  .  .  .  .  .  .  .  .  .  .  .  .  .  .  .  .  60
                                            Corporate Leasing Company (Egypt) SAE – CORPLEASE  . 62

                                           Corporate Governance  .  .  .  .  .  .  .  .  .  .  .  .  .  .  .  .  .  .  .  . 66
                                           Executive Management   .  .  .  .  .  .  .  .  .  .  .  .  .  .  .  .  .  .  .  .  72
                                           Community Development   .  .  .  .  .  .  .  .  .  .  .  .  .  .  .  .  .  .  .  76
                                           CIB Foundation  .  .  .  .  .  .  .  .  .  .  .  .  .  .  .  .  .  .  .  .  .  .  .  .  .  78
                                           Financial Statements . . . . . . . . . . . . . . . . . . . . . . 82
CIB: An Introduction

What We Do                                                                         A Snapshot Of Our Businesses
Commercial International Bank (CIB) is the leading private
                                                                   The leading     Corporate Banking                                 port this growing market in the coming
sector bank in Egypt, offering a broad range of financial prod-
ucts and services to its customers, which include enterprises
                                                                  private sector   Widely recognized as the preeminent cor-
                                                                                   porate bank in Egypt, CIB aspires to be-
                                                                                                                                     years.
                                                                                                                                   • Deposit Accounts: Offering a wide
of all sizes, institutions, households and high-net-worth
(HNW) individuals.
                                                                  bank in Egypt    come one of the best banks in the region,
                                                                                   serving industry-leading corporate clients.
                                                                                                                                     range of account types to serve our cli-
                                                                                                                                     ents' deposit and savings needs, includ-
  In addition to traditional asset and liability products, CIB                                                                       ing tailored accounts for minors, youth
offers wealth management, securitization, direct investment                        Business Banking                                  and senior citizens, as well as certificates
and treasury services, all delivered through client-centric                        The Business Banking Segment was for-             of deposit and care accounts. This is in
teams.                                                                             mally launched at the end of 2011 follow-         addition to our standard range of cur-
  The Bank also owns a number of subsidiaries, including CI                        ing a successful one-year pilot program,          rent, savings and time deposit accounts.
Capital (which offers asset management, investment banking,                        particularly among retail companies in the      • Residential Property Finance: Provid-
brokerage and research services), Commercial International                         Egyptian market. It mainly serves small           ing loans to finance home purchases,
Life Insurance Company, the Falcon Group, Egypt Factors,                           and midsize companies which are the               residential construction and refurbish-
and CORPLEASE.                                                                     backbone of the Egyptian economy with a           ment and finishing.
  CIB strives to provide clients with superior financial so-                       contribution of almost 80% of total GDP.        • Credit and Debit Cards: Offering a
lutions to meet all of their financial needs. This enables the                     This comes as a natural progression of the        broad range of credit, debit and prepaid
Bank to maintain its leadership position in the market, while                      Bank's mission to remain one of Egypt's           cards.
providing a stimulating work environment for staff and gen-                        biggest financial and commercial institu-
erating outstanding value for shareholders.                                        tions supporting the Egyptian economy.          Wealth Management
                                                                                                                                   CIB offers a wide array of investment
                                                                                   Mid-Cap Banking                                 products and services to the largest num-
                                                                                   This division caters to medium-sized com-       ber of affluent clients in Egypt.
                                                                                   panies, employing a dedicated team of cer-

Our History                                                                        tified officers who are highly specialized
                                                                                   in providing advice and assistance to mid-
                                                                                   sized businesses. The department's role is
                                                                                                                                   Global Transactional Services
                                                                                                                                   (GTS)
                                                                                                                                   The Global Transactional Services (GTS)
CIB was established in 1975 as Chase National Bank, a joint                        to help these businesses grow to become         Group serves as a key group within CIB
venture between Chase Manhattan Bank and National Bank                             large corporations in the future.               and oversees cash management, trade and
of Egypt (NBE). In 1987, Chase divested its ownership stake                                                                        global securities services.
due to a shift in international strategy, and the stake was ac-                    Debt Capital Markets
quired by NBE, at which point the Bank adopted the name                            CIB's global product knowledge, local           Treasury and Capital Markets
Commercial International Bank.                                                     expertise and capital resources make the        Services
   Over time, NBE decreased its participation in CIB, which                        Bank an industry leader in project finance,     CIB delivers world class service in the areas
eventually dropped to 19% in 2006, when a consortium led                           syndicated loans and structured finance         of cash and liquidity management, capital
by Ripplewood Holdings acquired NBE's remaining stake. In                          in Egypt. CIB's project finance and syndi-      markets, foreign exchange and derivatives.
July 2009, Actis, an emerging market private equity special-                       cated loans teams provide large borrowers
ist, acquired 50% of the stake held by the Ripplewood Con-                         with better market access and greater ease      Direct Investment
sortium. Five months later, in December 2009, Actis became                         and speed of execution.                         CIB actively participates in select direct
the single largest shareholder in CIB with a 9.3% stake after                                                                      investment opportunities in Egypt
Ripplewood sold its remaining share of 4.7% on the open                            Consumer Banking                                and across the region.
market. The emergence of Actis as the predominant share-                           CIB registered considerable progress in
holder marked a successful transition in the Bank's strategic                      2012 as it continued to build a full-service,   Investment Banking Services
partnership.                                                                       world-class consumer bank, as under-            Through CI Capital, CIB offers existing
                                                                                   scored by the ability to serve clients in a     and prospective clients a full suite of invest-
                                                                                   challenging environment last year. We           ment banking products and services, in-
                                                                                   offer a wide array of consumer banking          cluding investment banking, advisory and
                                                                                   products, including:                            execution, asset management, brokerage
                                                                                   • Personal Loans: Focusing on employees         and equity research. CI Capital offers both
                                                                                      of our corporate banking clients and         deep and broad market knowledge and ex-
                                                                                      offering secured overdrafts and trade        pertise; the firm is consistently ranked as a
                                                                                      products.                                    leading brokerage house serving local and
                                                                                   • Auto Loans: Positioned to actively sup-       international clients in Egypt.

           2    Annual Report 2012
CIB: An Introduction

Key Financial Highlights                                                                                                                                Key Facts
                                                   FY 12    FY 11 FY 10
                                                  Consoli- Consol- Consol-
                                                                                     FY 12      FY 11   FY 10   FY 09   FY 08   FY 07   FY 06   FY 05
                                                                                                                                                        #1 Bank in terms of:
                                                   dated idated idated
Common Share Information Per Share
Earning Per Share (EPS) *                                              3.53   2.43      3   2.63   4.89   3.73   3.64   2.77
Dividends (DPS)                                                        1.25       1     1    1.5       1     1      1      1                                 Profitability,
Book Value (BV/No of Share)                                          18.94 15.03 14.59 23.75 19.25 20.93 15.59 19.44
                                                                                                                                                               achieving
Share Price (EGP)**
                                                                                                                                                                                                 Our
                                                                                                                                                            EGP 2.2 billion in

                                                                                                                                                                                          5,181
  High                                                                39.8    47.4 79.49    59.7   93.4     95     79   63.5
  Low                                                                 21.1    18.5 33.75    29.5 27.87 53.61 42.11 39.91
  Closing                                                             34.6    18.7   47.4 54.68    37.2 91.77 57.87 58.68
                                                                                                                                                              net income.
Shares Outstanding
                                                                     597.2 593.5 590.1 292.5 292.5         195    195    130
(millions)
Market Capitalization                                                                                                                                                                  employees serve some
                                                                    20,646 11,098 27,973 15,994 10,881 17,895 11,285 7,628
(EGP millions)
Value Measures                                                                                                                                                  Revenue                 589,648 customers.
Price to Earnings Multiple (P/E)                                        9.8     7.7  15.8   20.8     7.6  24.6   15.9   21.2
Dividend Yield
                                                                                                                                                           among all Egyptian
                                                                    3.62% 5.35% 2.11% 2.74% 2.69% 1.09% 1.73% 2.60%
(based on closing share price)                                                                                                                            private sector banks
Dividend Payout Ratio                                              31.36% 33.90% 27.60% 24.60% 18.10% 15.80% 27.50% 21.30%
Market Value to Book Value Ratio                                      1.83    1.24   3.25    2.3   1.93   4.39   3.71   3.02                              with EGP 5.3 billion in

                                                                                                                                                                                            94.0 bn
Financial Results (EGP millions)                                                                                                                              total revenues.         EGP
Net Operating Income                         5,344 3,934 3,952       5,108 3,837 3,727 3,173 3,200 2,288 1,741 1,450
  Provision for Credit Losses - Specific       610     321      6      610     321      6      9    346    193    176    197
  Provision for Credit Losses - General                                                              49     57     18    167
Total Provisions                               610     321      6      610     321      6      9    395    250    193    364                                                                in total assets.
Non Interest Expense                         1,653 1,557 1,562       1,445 1,337 1,188 1,041        950    636    668    474                                   Net-worth
Net Profits                                  2,226 1,615 2,021       2,203 1,749 2,141 1,784 1,615 1,233          802    610
Financial Measures
                                                                                                                                                                among all
Cost : Income                              30.93% 39.58% 39.52% 28.29% 34.84% 31.87% 32.80% 29.69% 27.82% 38.38% 32.72%                                      Egyptian private
Return on Average Common Equity
                                           22.79% 18.69% 28.66% 21.77% 20.96% 30.47% 31.18% 36.31% 37.95% 31.58% 29.30%                                       sector banks.

                                                                                                                                                                                       119,611
(ROAE)
Net Interest Margin
                                                                    4.74% 3.71% 3.62% 3.81% 3.54% 3.12% 3.06% 3.50%
(NII/average interest earning assets)
Return on Average Assets (ROAA)             2.48% 2.01% 2.89%       2.45% 2.18% 3.08% 2.94% 3.08% 2.90% 2.37% 2.09%
Regular Workforce Headcount                  5,181 4,867 4,755       4,867 4,517 4,360 4,162 3,809 3,132 2,477 2,301
Balance Sheet and Off Balance                                                                                                                                                       internet banking subscribers.
Sheet Information (EGP millions)
Cash Resources and Securities
                                                                                                                                                                 Market
                                            16,140 18,990 16,325    16,764 19,821 16,854 16,125 14,473 21,573 13,061 10,537
(Non Governmental)                                                                                                                                        capitalization in the
Net Loans and Acceptances                   41,877 41,065 35,175    41,877 41,065 35,175 27,443 26,330 20,479 17,465 14,039
Assets                                      94,014 85,506 75,425    94,405 85,628 75,093 64,063 57,128 47,664 37,422 30,390                              Egyptian banking sector.
Deposits                                    78,729 71,468 63,364    78,835 71,574 63,480 54,843 48,938 39,515 31,600 24,870
Common Shareholders Equity                  10,822 8,712 8,567      11,311 8,921 8,609 6,946 5,631 4,081 3,040 2,527                                                                             Over

                                                                                                                                                                                            500
Average Assets                              89,760 80,480 69,840    90,017 80,361 69,578 60,595 52,396 42,543 33,906 29,183
Average Interest Earning Assets             80,063 70,913 62,007    79,834 70,549 61,624 53,431 44,602 36,603 29,277 25,619
Average Common Shareholders Equity           9,767 8,640 7,800      10,116 8,765 7,777 6,288 4,856 3,560 2,784 2,325
                                                                                                                                                                                                        of
Balance Sheet Quality Measures                                                                                                                            Loan and deposit
Equity to Risk-Weighted Assets             16.59% 15.79% 17.63% 17.33% 16.11% 17.71% 17.01% 15.19% 13.70% 14.14% 13.83%                                                             Egypt's largest corporations
                                                                                                                                                            market share
Risk-Weighted Assets (EGP billions)             65      55     49       65      55     49     41     37     30     26     22
                                                                                                                                                                                           bank with CIB.
Tier 1 Capital Ratio                       12.20% 12.53% 15.66% 12.20% 12.53% 15.66% 15.28% 13.74% 10.17% 9.59% 9.78%                                      among all Egyptian
Adjusted Capital Adequacy Ratio          13.59%*** 15.40% 16.92% 13.59%*** 15.40% 16.92% 16.53% 14.99% 14.70% 13.60% 13.10%
* Based on net profit available to distribution (after deducting staff profit share and board bonus)
                                                                                                                                                          private sector banks.
**	Unadjusted to stock dividends
*** As per Basel II regulations before profit appropriation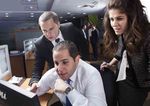 CIB: An Introduction                                                                                                           Our Vision
                                                                                                                                    To be the leading and most trusted financial institution in Egypt, admired for our people,
                                                                                                                                    strong core values and performance.

A Strategy that Delivers                                                                                                            Our Mission
                                                                                                                                    To create outstanding stakeholder value by providing best-in-class financial solutions to the in-
                                                                                                                                    dividuals and enterprises that drive Egypt's economy. Through our innovative products, focus
                                                                                                                                    on superior customer service, development of staff and commitment to our community, we will
                                                                                                                                    realize our ambitions and pave the landscape of banking in Egypt for years to come.
CIB's outstanding performance during       standing hand-in-hand with our clients       ity to offer employees an attractive work
the turbulent times since early 2011 re-   during these unstable times. Our un-         environment, myriad career opportu-         Our Objective
veals that at CIB, our customers are our   wavering commitment to our clients is        nities and comprehensive training and       To grow and help others grow.
top priority. Our continued success de-    the basis on which we will continue to       feedback, allows us to attract and retain
pends not only on our ability to satisfy   provide our shareholders with consis-        the strongest banking professionals in      Our Values
their evolving needs, but also to have     tent and high-quality returns.               Egypt. Our employees reciprocate with       A number of core values embody the way in which CIB employees work together to deliver ef-
them served in prime time. CIB prides        We believe a key component of our          dedication to our customers and the         fective results for our customers and community.
itself on its remarkable performance in    success is our skillful staff. CIB's abil-   wider CIB community.
                                                                                                                                    Integrity:
                                                                                                                                    • Exemplify the highest standards of personal and professional ethics in all aspects of our business.
An Outstanding Track Record                                                                                                         • Be honest and open at all times.
                                                                                                                                    • Stand up for one's convictions as well as accept responsibility for one's own mistakes.
                                                                                                                                    • Comply fully with the letter and spirit of the laws, rules and practices that govern CIB's business
                                                                                                                                      in Egypt and abroad.
                                                                                                                                    • Say what we do and do what we say.

                                                                                                                                    Client Focus:
                                                                                                                                    • Our clients are at the center of our activities and their satisfaction is our ultimate objective.
                                                                                                                                    • Our success is dependent upon our ability to provide the best products and services to our clients;
                                                                                                                                      we are committed to helping our clients achieve their goals and be the best at what they do.

                                                                                                                                    Innovation:
                                                                                                                                    • Since our inception as the first joint venture bank in Egypt, CIB has been a pioneer in the financial
                                                                                                                                      services industry. We believe innovation is a core competitive advantage and promote it accord-
                                                                                                                                      ingly.
                                                                                                                                    • We strive to lead the Egyptian financial services industry to a higher level of performance in serv-
                                                                                                                                      ing the millions of Egyptians who remain under-served or un-banked.

                                                                                                                                    Hard Work:
                                                                                                                                    • Discipline and perseverance govern our actions so as to achieve outstanding results for our clients
                                                                                                                                      and outstanding returns for our stakeholders.
                                                                                                                                    • Seeking service excellence guides our commitment to our clients.
                                                                                                                                    • We work with our clients to reach their current goals while anticipating and planning for their
                                                                                                                                      future objectives.

                                                                                                                                    Teamwork:
                                                                                                                                    • We collaborate, listen and share information openly within CIB and with our partners, clients
                                                                                                                                      and shareholders.
                                                                                                                                    • Each one of us consistently represents CIB's total corporate image.
                                                                                                                                    • There is only one CIB in the eyes of our clients.
                                                                                                                                    • We value and respect one another's cultural backgrounds and unique perspectives.

                                                                                                                                    Respect to the Individual:
                                                                                                                                    • We respect the individual whether an employee, a client, a shareholder or a member of the com-
                                                                                                                                      munities in which we live and operate.
                                                                                                                                    • We treat one another with dignity and respect and take time to answer questions and respond to
                                                                                                                                      concerns.
                                                                                                                                    • We firmly believe each individual must feel free to make suggestions and offer constructive criti-
                                                                                                                                      cism.
                                                                                                                                    • CIB is a meritocracy, where all employees have equal opportunity for development and advance-
                                                                                                                                      ment based only on their merits.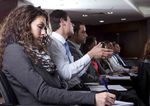 A Word from Our Chairman

                                        Systems Built and
                                        Lived by People,
                                        For People
                                        Managing an institution such as CIB through exception-              We retain our best and brightest: We don't just look                 As bankers, we have a simple business model: We take
                                        ally challenging economic and political times on a regional         to recruit the highest-quality individuals possible, we also      deposits, and give out loans. It is a simple calculus in most
                                        and even international scale is primarily an exercise in ho-        invest significantly in their professional development and        circumstances, but an utter lack of visibility during the pro-
                                        meostasis. Our goal is simple: To maintain our position as          retain them for the long term by acknowledging that their         tracted post-Revolutionary transition period made business
                                        the nation's leading private-sector financial institution, to       best interests are almost always the best interests of our in-    judgment not a science, but a dark art.
                                        maintain our credit quality, our risk profile and our abil-         stitution.                                                           I was privileged, against this backdrop, to have worked in
                                        ity to respond creatively to new opportunities and threats                                                                            2012 with Mr. Hisham Ramez as an equal partner. Hisham
                                        alike.                                                              We defy conventional wisdom: The global tendency in               joined us from the Central Bank of Egypt, and having some-
                                           We have succeeded in doing so since 25 January 2011,             our industry is to cut wages, slash bonuses and reduce head       one with whom to share the burden of leadership was among
                                        which is a testament not just to the dedication and skills of       count in times of crisis. That's the obvious, mechanical mod-     the highlights of my year. Hisham made a substantial differ-
                                        our 5,181 employees, but to the soundness of the systems            el: Hammer headcount and fixed costs. Not at CIB. We dig-         ence in his time with the bank, and his departure to assume
                                        these same people have built in the decades preceding. It is        in and persevere. Take 2011, when we clearly acknowledged         his duties as the Governor of the CBE is both our nation's
                                        for this reason that a spotlight on our investment in human         that short-term savings on the backs of middle management         gain and this institution's loss. He did great work here and we
                In the wake of the      talent is at the heart of this year's annual report.                and the rank and file is not the way to sustain — let alone       will definitely miss him. As we pray for his success, our mis-
             revolution we protected       Over a period of years, our staff have built an institution      enhance — our competitive edge in a 38-bank environment.          sion continues: "To create outstanding value for shareholders
                                        that rewards creativity, minimizes risk and maximizes pro-          In the wake of the Revolution, we protected middle manage-        by being the best bank in Egypt, full stop."
              middle management         ductivity by recruiting, empowering and retaining profes-           ment and junior ranks from salary cuts. It was not an ob-            Based on our Board Charter, in the absence of one of the
                 and junior ranks       sionals capable of building the responsive systems that have        vious solution in our industry, but our rationale was clear:      managing directors, the other assumes his responsibilities.
                                        made us what we are today: Egypt's largest private-sector           Rank and file and mid-level management are the engine of          Accordingly, I will temporarily assume Hisham's responsi-
              from salary cuts. Our     bank by assets, revenues and profitability.                         this institution. They repaid our 2011 investment with inter-     bilities as per the mandated authorities by the board.
               rationale was clear:        This has been possible because of a can-do culture that          est with their outstanding performance in 2012.                      As I write these words, it is clear that the challenges of 2012
                                        has been part of the fabric of CIB since our earliest days. The                                                                       did not come to an end with the change of the calendar year.
                Rank and file and       blueprint for success is as deceptively simple as it is difficult   We are nimble: Adaptation and change have become part             Our goal for 2013 is thus to maintain continuity in people
             mid-level management       to implement:                                                       of our culture, and we have stamped out both institutional        and systems to allow us to mitigate risk at every turn. We
               are the engine of this                                                                       stagnation and the cancer that is mental rust. Where other        will maintain a homeostatic position while we hope that
                                        We seek business partners: There's a reason why top-                institutions would have taken half a year to study and debate     early seeds of willingness on the part of the opposition and
                    institution.        level management welcome middle management to our                   responses to the challenges of 2011 and 2012, we pivoted our      government alike to talk across factional lines blossoms. We
                                        weekly meetings, allowing them to learn from and inter-             business plans in a matter of weeks.                              look forward to bedrock political stability returning and to
                                        nalize our debates and discussions. There's a reason why                                                                              wise guidance by the new governor of the Central Bank of
                                        we encourage this practice at all levels of the organization:       We show no fear: We are an institution of human beings,           Egypt — two factors that we are confident will ultimately see
                                        Business partners build for the future and feel sufficiently in-    not machines. From the freshest recruit to senior manage-         the return of business confidence.
                                        vested in to deliver results come hell or high water.               ment, we are impacted at work by the outside forces that             As local businesses begin investing once more, pent-up
                                                                                                            shape our private lives: by the way we live and go home, by se-   foreign interest in Egypt to translate into fresh investment,
                                        We specialize: We instill, manage and measure productiv-            curity and the recurrent nightmare of night-time talk shows.      attracted by enduring macro fundamentals, a sound finan-
                                        ity by creating area specialists. We are not jacks of all trades    We cope with difficult times such as these just as we did in      cial system and attractive asset prices. As this comes to frui-
                                        and masters of none. Every young fast-mover in our orga-            the best of times: By learning how to operate with confidence     tion, we will be ready to deliver, calling on the same people
                                        nization is, first and foremost, someone who has the same           outside our comfort zone. That's what managing change is          who created the systems and processes that have allowed us
                                        entrepreneurial spirit and systems-backed approach that we          all about. Across the bank, our managers have shown a level-      to flourish as others have foundered on the rocks.
                                        look for in mid-career and senior-level recruits. Our staff are     headed approach to business that has instilled confidence in         Any organization can write policies and slogans, but con-
                                        cross-trained, but they focus on specific areas and become          staff throughout this institution.                                sistent implementation is the key. Implementation and en-
                                        industry-recognized experts.                                                                                                          forcement on the ground year after year is what makes it part
                                                                                                            2012 Performance as an Institution                                of your DNA.
                                        We are efficient: From planning to execution, we work at            If you have read more than a single day's front-page head-
                                        all costs to minimize wasted time. Our staff are our greatest       lines in any newspaper or website — or watched a single
                                        asset, and the number of hours available to them in each day        night of television — you know that it is an understatement       Hisham Ezz El-Arab
                                        is finite.                                                          to say 2012 presented a 'challenging working environment.'        Chairman and Managing Director

  8   Annual Report 2012                                                                                                                                                                                    Annual Report 2012    9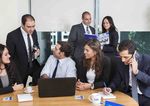 Board of Directors' Report

Board of Directors' Report
2012 Macroeconomic                          to (4.4%) in 2012 from (4.1%) in 2011         2012 Financial Position
Overview                                    and 1.5% in 2010.                             The year 2012 was a record one for CIB
Egypt has been undergoing a period of       Egypt recorded a significant drop of          on many levels. CIB recorded consoli-
profound socio-political change as it as-   58% in the Central Bank of Egypt's net        dated net income for FY 2012 of EGP
pires to improve its economic, political    international reserves, from USD 36 bil-      2,227 million, growing 38% from FY
and social conditions post-revolution.      lion in 2010 to USD 15 billion in 2012, as    2011. Standalone net income grew 26%
Challenging conditions in both the do-      the CBE defended the Egyptian pound           over 2011 and 2.9% over 2010 figures
mestic and global arenas have resulted      against devaluation pressures. As a re-       to EGP 2,203 million. Total standalone
in macroeconomic disruptions and            sult, the USD / EGP exchange rate deval-      revenues grew 36% over 2011 and 44%
kept growth and investment levels from      ued from 6.03 at the end of 2011 to 6.31      over 2010 to reach EGP 5,422 million,
reaching their full potential. The major    by December 2012. Due to continued            achieving their highest level of growth
challenge currently facing the Egyptian     weakness in domestic demand as well as        since 2008.
economy is a combination of reduced         lower global commodity prices, inflation         Management's proactive actions in
security and political instability, which   (consumer price index in urban areas)         Q4 2011 and Q1 2012 to reposition the
raise investor concerns and negatively      declined from 11% in 2011 to 8.6% as of       Bank against looming headwinds were
impact tourism, investment, employ-         November 2012.                                instrumental in boosting product reve-
ment and production.                           Despite the unfavorable economic           nues, which traditionally have not been
   Egypt's real GDP growth showed           backdrop, the Egyptian banking system         major contributors to top and bottom
a relative improvement of 2.2% in                                                         lines. In 2012, CIB also witnessed great
FY 2011/2012 from 1.8% during FY                                                          adaptability and responsiveness in pric-
2010/2011 but remained significantly                                                      ing decisions, which led to a restructur-
below average historical levels. The
                                              Management's proactive                      ing of the liabilities mix along with mar-
main sectors contributing to this              actions in Q4 2011 and                     ket share growth, while simultaneously
growth were agriculture, construction,          Q1 2012 to reposition                     securing profitability from a long-dated
telecommunications and real estate.                                                       sovereign position as the Bank ventures
Manufacturing and tourism, Egypt's                the Bank against                        into a more challenging 2013.
traditional economic growth drivers,          looming headwinds were                         In the core business, CIB recorded net
showed only modest increases. Tourism                                                     interest income (NII) of EGP 4,084 mil-
grew by 2.3% (0.1% of real GDP growth)        instrumental in boosting                    lion in FY 2012 constituting approxi-
while manufacturing grew by only 0.7%             product revenues.                       mately 75% of its total revenues. Of this
(0.1% of real GDP growth). Tourism's                                                      figure, approximately 22% came from
contribution to current account receipts                                                  the sovereign bond portfolio, which
has witnessed steady decline from 20%       has remained relatively resilient, liquid     grew by nearly 87% during the year. Net
in 2010 to 17% in 2011 and to only 14%      and well-capitalized. The sector's loan-      income from banking fees and commis-
in 2012.                                    to-deposit ratio declined to 47.8% (as of     sions grew by 9% during 2012 to reach
   Low investor confidence caused do-       November 2012) from 49.5% in Decem-           EGP 943 million as a result of solid
mestic investments to contract from         ber 2011. The local currency loan-to-de-      business growth.
19.5% of GDP in 2010 to 17.1% in 2011       posit ratio declined from 45.7% to 45.3%         Driven by strong NII growth, conser-
and 16.7% in 2012, while FDI came in        while the foreign currency loan-to-de-        vative asset growth and tight expense-
at just a quarter of 2010 levels (0.8% of   posit ratio declined from 61.7% to 56.2%.     control, 2012 saw improvements in all of
GDP vs. 3.1%). The lack of investor ap-     Total market deposits grew by 8.1% from       the Bank's key performance indicators.
petite contributed to lower levels of job   EGP 989 billion in 2011 to EGP 1.07 tril-     CIB recorded ROAE of 22.68% up from
creation and caused unemployment to         lion in November 2012 on increases of         22.04% in 2011 despite the impact of the
reach 12.5% in 2012 (the highest level      8.2% and 7.5% in LCY and FCY depos-           higher equity base that resulted from
since 2002), from 11.9% in 2011 and         its respectively. Total market loans grew     the marking to market of the available
8.9% in 2010. Domestic savings declined     by 4.5% from EGP 490 billion in 2011 to       for sale (AFS) bond portfolio. Driven by
from 14.3% of GDP in 2010 to 13% in         EGP 512 billion as of November 2012, on       concern over the macroeconomic situ-
2011 and 9.1% in 2012 (lower than levels    a 7.2% increase in LCY loans and a 2.0%       ation and further delays in a return to
seen during the global financial crisis     decline in FCY loans. The sharp increase      growth, CIB maintained its cautious
of 2008/2009). The budget deficit in-       in sovereign debt rates encouraged local      capital base, reflected in a comfortable
creased to 10.7% of GDP in 2012 from        banks to allocate a larger portion of their   capital adequacy level and CBE liquid-
9.8% in 2011 and BOP to GDP declined        portfolio to sovereign assets.                ity ratios.

          10    Annual Report 2012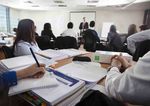 Board of Directors' Report

   In 2012, CIB achieved its lowest cost-    peer banks. CIB's deposit growth of           EGP 10.4 billion to serve as a stable       20 places from 2011 to 2012, capturing        • The Remittances Department was                 views the size and overall composition
to-income ratio since 2008, which was        8.9% outpaced the overall deposit mar-        funding base.                               a market share of 3% in managing and            awarded the "Quality Recognition               of the Board and ensures it respects its
primarily driven by NII growth, con-         ket growth of 8.1%, thus reaching a              As part of the Bank's overall strat-     marketing syndicated loans, vs. 0.4% in         Award for Outstanding Achievement              independence criteria.
servative asset growth and controlled        market share of 7.29% as of November          egy to concentrate on alternative chan-     2011, and rose 35 places among syndi-           – Best-in-Class Book Transfer Rate" by       • Through its Governance and Compen-
expense growth. CIB had ROAA of              2012.                                         nels in order to allow branches to focus    cated loan arrangers to capture a mar-          JP Morgan.                                     sation Committee, the Board ensures
2.45% up from 2.18% in 2011. Net inter-                                                    more on retail customers and sales ac-      ket share of 1.6%, vs. 0.5% in 2011.          • Global Trade Review acknowledged               that an appropriate review and selec-
est margin (NIM) also continued its up-      Prudent Risk Management                       tivities, CIB succeeded in offloading a                                                     CIB as the "Best Trade Finance Bank in         tion process for new nominees to the
ward trend to reach 4.74% up 103 basis       CIB is well-known for its conservative        greater portion of customer activities      Subsidiaries                                    Egypt" for the fourth consecutive year.        Board is in place.
points (bps) from 2011. NIM was also         risk management strategy, aiming to           from branches to ATMs. In the drive to      CI Capital experienced its strongest          • In addition, CIB earned the "STP             • Establishes the strategic objectives and
positively impacted by management's          take proactive steps at the earliest signs    lower cash handling costs, tough deci-      performance in recent years and main-           awards for 2012 in USD and EUR."               ethical standards that will direct the
push to raise minimum lending rates          of weakening in accounts before actual        sions were taken regarding corporate's      tained its third place overall ranking                                                         on-going activities of the Bank, taking
and re-pricing floating rate loans to bet-   downgrades in credit rating become a          top teller users that resulted in the re-   among the top 10 brokerage companies          Corporate Governance                             into account the interests of all stake-
ter reflect risk and enhance margins.        reality. Building on this track record,       duction of excess cash.                     during 2012. CIBC achieved transac-           We believe that good governance is a             holders.
   Reflecting the prevailing economic        CIB took provisions of EGP 610 million           Bancassurance was a key initiative       tion volumes of around EGP 20.7 bil-          cornerstone of our success at CIB and          • Establishes an internal control envi-
conditions, CIB's loan portfolio grew        for the full year. The Bank's world-class     for Consumer Banking in 2012, with          lion on 503 million transactions cover-       we are proud of CIB's leadership posi-           ronment, which comprises systems,
3.3% from 2011 to reach EGP 44,351           risk management framework is reflect-         revenues of EGP 38 million, an increase     ing 2,895 million shares, to capture a        tion in board governance. The Board              policies, procedures and processes that
million, with all growth coming from         ed in its best-in-sector asset quality and    of 142% over 2011. Business Banking         market share of 7.1% in 2012. If a single     remains committed to continuous im-              are in compliance with regulatory re-
local currency loans. On the back of         a high-class corporate loan book.             was another strategic focus for the year,   outsized transaction is excluded, CIBC        provement where we regularly review              quirements. These control measures
management's actions to enhance ef-                                                        adding EGP 1.8 billion of incremental       would actually be the brokerage market        and update our practices.                        safeguard Bank assets and limit risks
ficiency and improve portfolio quality,      Preservation of Asset Quality                 net sales.                                  leader for listed companies. Expense             The overall corporate governance
CIB's loan market share declined from        Despite the prevailing economic cir-                                                      control and a turnaround in broker-           framework of CIB is directed by the
8.77% in 2011 to 8.45% as of November        cumstances, CIB maintained its asset          Income Appropriation                        age were the key profit drivers for the       Board and its sub-committees: Audit
                                                                                                                                                                                                                                       In 2012 CIB was ranked
2012. One of management's key goals          quality and avoided significant deterio-      CIB's primary objective is to enhance       Group. During 2012, the entire research       Committee, Corporate Governance and
for 2012 was to significantly restruc-       ration, thanks to its effective credit cul-   value for both customers and share-         team was restructured with the hiring         Compensation Committee, Risk Com-                   13th on Bloomberg's
ture the loan portfolio's currency mix       ture and stringent risk assessment mea-       holders. The Board of Directors pro-        of key talent. Additionally, a second         mittee, Management Committee, High                  list of top 20 MENA
in favour of higher yielding local cur-      sures. CIB reported a 3.63% NPL ratio         posed the distribution of a dividend        managing director and vice president          Lending and Investment Committee.
rency loans, which increased by 6.5%         in 2012, which is amongst the lowest in       per share of EGP 1.25. CIB is increasing    joined Investment Banking in Decem-              The Board and its committees are               banks in managing and
from December 2011 to represent 57%          the sector with an ample coverage ratio       its Legal Reserve balance by 64% (EGP       ber 2012. It is expected that this new        governed by well-defined charters and              marketing syndicated
of the total loan portfolio, up from 55%     of 120%, further cementing a growth           149 million) from EGP 231 million in        investment in human capital will have a       are tasked with assisting directors in
in 2011.                                     strategy underpinned by an emphasis           2011 to EGP 380 million in 2012 and its     strong impact on 2013 revenues.               fulfilling their responsibilities and ob-          loans and 18th on the
   CIB increased deposits to reach EGP       on maintaining quality standards.             General Reserve balance by 65% (EGP                                                       ligations with respect to their decision-          list of mandated loan
78,835 million, up 10.1% from 2011.                                                        803 million) from EGP 1,234 million to      Awards and Recognitions                       making roles.
Several pricing decisions were made          Institutional Banking                         EGP 2,037 million. This reinforces CIB's    An award-winning 2012 added another              Such task is further facilitated by the                arrangers.
throughout the year to manage the pace       CIB is widely considered the traditional      solid financial position as reflected in    chapter to CIB's success story. CIB has       wide array of established internal poli-
of deposit gathering and the Bank's cost     institutional banking leader in Egypt.        its Basel II Capital Adequacy Ratio of      continued to receive global acknowl-          cies and manuals covering all business           as the Board, management and other
of funds. The bulk of 2012's incremental     Despite the impact of domestic politi-        13.6% (before net profit appropriation).    edgment awards for the Bank's excep-          aspects such as credit and investment,           employees work to achieve the Bank's
deposits came in the form of certificates    cal and economic disruptions in 2012,                                                     tional performance and reputation, ac-        operational procedures, staff hiring and         objectives.
of deposit, with the remainder coming        net income for Institutional Banking          2012 Achievements                           quiring a total of 12 awards in 2012.         promotion.                                     • Ensures that senior management im-
from saving accounts. Again, CIB was         increased 18% from EGP 1.2 billion in         In 2012, CIB for the first time joined      • Global Finance magazine acknowl-               CIB's Board consists of nine members,         plements policies to identify, prevent,
successful in reweighting its balance        2011 to EGP 1.5 billion in 2012 repre-        the list of top 20 MENA region banks           edged CIB with four awards; "Best          seven of which are non-executive mem-            manage and disclose potential conflicts
sheet towards local currency deposits,       senting 61% of CIB's total profitabil-        in managing and marketing syndicated           Bank in Egypt" for the 16th time, "Best    bers with a wide range of industry exper-        of interest. The Board also oversees the
which reached 61% of the total portfo-       ity. Management instituted minimum            loans (ranked 13th) and was among              Sub-Custodian Bank in Egypt" for the       tise. CIB's Board met six times over the         performance of the Bank, its managing
lio (up from 58% in 2011). This achieve-     lending rate hikes to increase the prof-      the leading mandated loan arrangers            fourth consecutive year, "Best Foreign     course of 2012. In the event of a vacant         director, chief executive officers and se-
ment is even more impressive when            itability and quality of the Bank's loan      (ranked 18th) according to Bloomberg.          Exchange Provider Bank in Egypt" for       Board seat, the Compensation and Gov-            nior management to ensure that Bank
taking into account that the foreign         portfolio.                                    This came as CIB arranged for three            the ninth year and "Best Trade Finance     ernance Committee is responsible for             affairs are conducted in an ethical and
currency portion of the balance sheet                                                      syndicated loans of USD 645 million            Bank in Egypt" for the sixth year.         nominating a new member. Among its               moral manner and in alignment with
was boosted by a 5% devaluation dur-         Consumer Banking                              and managed two syndicated loans of         • EMEA Finance recognized CIB as              defined set of responsibilities, CIB's Board     Board policies.
ing 2012.                                    Following the January 25th Revolu-            USD 575 million in addition to partici-        "Best Local Bank" for the fifth consec-    constantly monitors the Bank's adherence       • Reviews and approves material related
   On the competitive landscape, CIB         tion, CIB management adopted a more           pating in syndicated loans of USD 5.15         utive year and "Best Asset Manager in      to well-defined, stringently enforced and        to disclosure and transparency docu-
benefitted from the retrenchment of          customer-focused strategy. Consumer           billion.                                       Egypt" for the second consecutive year.    fully transparent corporate governance           ments as may be required to conform
foreign competitors and achieved the         Banking net income increased by 31%             In addition to ranking first in market    • CIB was Global Investor ISF's "Best         standards. The Board fulfils its commit-         with regulatory requirements or as
fastest year-on-year revenue growth          from 2011 to reach EGP 870 million in         share among Egyptian private-sector            Asset Manager in Egypt" for the third      ment in the following manner:                    may be determined by the Board from
among its closest competitors as of the      2012, accounting for 39% of CIB's total       banks, CIB was also the only Egyptian          consecutive year as well as the "Best FX   • Ensures that Board Members have a              time to time.
third quarter of 2012. CIB grew rev-         profitability. This growth was largely        bank to succeed in improving its rank-         Provider in the Middle East" for the          clear understanding of their roles in       • Oversees a code of conduct to govern
enues by 34% from 2011 higher than           driven by acquiring LCY deposits of           ing in the MENA region. CIB climbed            second time.                                  corporate governance. Annually re-            the behavior of directors, officers and

           12   Annual Report 2012                                                                                                                                                                                                          Annual Report 2012    13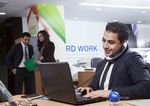 Innovative
           Financial
           Solutions

     In 2012, CIB increased the
efficiency and availability of ATM's
   and conducted a soft-launch of
 new online banking applications
to support the evolving needs of its
             customers.

     119,611
    internet banking subscribers.

                5
   Easy Branches, CIB's new teller-
   less branch concept in high-end
     areas using alternative cash
              channels.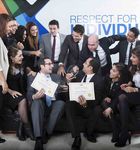 Board of Directors' Report

  employees through an independent           the network. In addition, the COO Area      was the "Easy Branch" concept, a teller-     interest in joining CIB. The department       our Credit Course was revamped by ex-        part of our business culture. Contribut-
  Compliance function reporting direct-      focused on aspects of Human Capi-           less branch model located in high-end        also played a significant role in selecting   ternal consultants and upgraded with         ing to our country's prosperity and wel-
  ly to the Audit Committee.                 tal Management, staff-development           premises mainly focusing on sales and        the 60 interns who joined our new Sum-        new case studies and updated course          fare has always been among CIB's top
• The Code of Conduct sets CIB's core        through effective training, enhancing       using alternative cash channels. Five        mer Internship Program, which aims to         material. Some of the new programs           priorities. CIB always works on trans-
  values as integrity, client focus, inno-   performance management and apply-           Easy Branches were opened in up-mar-         attract the best candidates from the best     that were introduced this year includ-       lating its social responsibility commit-
  vation, hard work, and respect for the     ing employee engagement initiatives.        ket residential areas by December 2012.      universities to join the CIB team.            ed: Wealth Management, Supervisory           ments into actions. We are immensely
  individual. These values encompass                                                     CIB also expanded its distribution net-         On the corporate side, CIB ran its         Skills and a number of middle manage-        proud of supporting Egypt during these
  CIB's commitment to create a culture       Innovative Financial Solutions              work, establishing 12 new branches, as       second Employee Engagement Sur-               ment programs.                               turbulent times and are proud of the
  that adopts ethical business practices,    During 2012, CIB Operations Group           well as enhancing its image and cus-         vey through Hay Group. About 80% of             Some of the activities also includ-        broad impact that our time, effort and
  good corporate citizenship, and an         managed not only to sustain its high        tomer experience through the renova-         staff responded and provided feedback         ed providing specialized training for        resources have had on our community.
  equal and fair working environment.        level of productivity and efficiency, but   tion of more than 10 branches and 40         with their impressions of the work en-        Wealth Managers, Road to Manage-
  At the same time, it promotes a culture    also took further steps towards being       wealth lounges with the new 'wealth'         vironment. Survey findings showed a           ment for first time supervisors, Middle      CIB Foundation
  of transparency, encourages a whistle-     a proactive business partner. Multiple      image.                                       remarkably positive improvement over          Management training, Finance for Line        Now in its third year of operations, the
  blowing environment and provides           initiatives were undertaken to improve                                                   2011 results. Presentations of the new        Managers, Advanced Consumer Risk,            CIB Foundation has successfully expe-
  protection to the whistle-blower.          customer experience. These included         Focus on People                              findings have taken place with high-          Advanced Sales Management, Product           rienced exponential growth in its activ-
                                             launching non-negotiable standards,         CIB's HR strategy for 2012 was to re-        lights on areas of opportunity.               Knowledge, and specialized programs          ities. Following the success of the CIB
   The Central Bank of Egypt's audi-         CIB Way and key service indicators, as      main focused on the Bank's employees,                                                      in Operations. These programs, as well       Foundation in 2011, CIB shareholders
tors and controllers conduct regular         well as standardizing multiple opera-       working to increase both productiv-          Training                                      as training programs on soft skills like     generously agreed to increase the per-
audit assignments and review reports         tion procedures and customer forms to       ity and motivation. With this in mind,       In terms of training, 2012 moved in           communication skills, presentation           centage of CIB's net annual profit to
submitted to them periodically. During       provide a consistent, smooth experi-        a number of initiatives and projects         a more strategic direction in provid-         skills and advanced negotiation skills,      the Foundation from 1% to 1.5%. This
CBE audit missions, CIB's management         ence for our customers. Standard pro-       were put in place. Through the "Focus        ing training to staff. Our Management         provided a vast array of training oppor-     translated into more than EGP 26 mil-
ensures that the auditors are provided       cessing times were also set in place for    on People" framework, CIB has dem-           Training Programs were once again a           tunities to select from.                     lion being allocated to the CIB Foun-
with all necessary documents to fully                                                    onstrated leadership and expertise in        great success. Training became more             These efforts were recognized by staff     dation in 2012. It is with this funding
perform their audits. CIB's internal                                                     attracting top talent while promoting        targeted by concentrating on key areas.       and management and evident in the            that the CIB Foundation is making
audit team closely follows up with the         Our commitment to the                     a highly engaged and motivating work         New programs were introduced. Some            Employee Engagement Survey which             valuable contributions in the areas of
Bank's management to take all correc-                                                    environment.                                 of the programs were conducted by             showed a marked improvement as               child health and nutrition through vari-
tive measures with regards to CBE's au-        country in which we live                                                               external vendors while others were de-        compared to 2011. We look forward to         ous multi-faceted initiatives, includ-
dit comments.                                 and operate is an integral                 Recruitment                                  veloped in-house and conducted by our         a more exciting 2013 as we introduce         ing renovating and upgrading hospital
   Moreover, given the utmost atten-                                                     During 2012, CIB continued to hire           own trainers.                                 more programs such as the Basic Bank-        infrastructure, purchasing medical
tion to maintaining the highest levels           part of our business                    different levels of staff in various areas      In 2012, the Training Department's         ing Program for new hires, Job-Family-       equipment for hospitals and providing
of corporate governance, CIB's inves-                  culture.                          of the Bank, despite the country's po-       focus was to identify gaps in the knowl-      based series of training programs, and       surgical and medicinal treatment to un-
tor relations team is committed to con-                                                  litical and economic situation. In total,    edge and skills of staff and to deliver       targeted technical training programs.        derprivileged children.
sistently sharing high quality informa-                                                  559 new employees were hired in 2012,        the appropriate educational courses to                                                        Additionally, the CIB Foundation ac-
tion with all stakeholders regarding         productivity enhancement. To support        compared with 295 new hires in 2011.         bridge these gaps. To achieve this objec-     Organizational Development                   tively supports its initiatives with con-
the Bank's activities with emphasis on       GTS customer transactions, an addi-         Seventy per cent of all new hires in         tive, the Training Department worked          In order to increase employee interac-       tributions made to its dedicated fund
transparency.                                tional 12 service hubs were added to our    2012 headed to Consumer Banking and          on a plan to provide educational pro-         tion and ensure their voices are heard,      raising account. Fully 100% of the do-
                                             branch network along with a dedicated       branches. Moreover, the Recruitment          grams related to technical, management        HR administered several initiatives to       nations made to the account go towards
Operations Platform with                     GTS operations unit. Improving the ef-      Department participated in several ca-       and business skills. Our highlight for        maintain communication with employ-          the implementation of development
International Standards                      ficiency of alternate channels was also     reer fairs and campus visits, aiming to      the year was the number of programs           ees, including the Employee Engagement       projects for children. Through the coor-
The year 2012 was extremely exciting         a key development during this year. In      attract the country's best talent from its   that were developed and delivered by          Survey, the Salary Surveys and various       dinated efforts of both CIB Foundation
for the COO Area, which continued            2012, CIB increased the efficiency and      top universities.                            senior staff to enhance overall banking       Town Hall meetings. Salary Surveys           staff and dedicated CIB volunteers, the
with its efforts to implement its agenda     availability of ATM's and conducted a          We have continued to seek the right       knowledge across all levels. A total of       were conducted to assess compensation        Foundation ensures its resources are
for improvement and standardization.         soft-launch of a new online banking ap-     prospects and to attract talent from top     4,500 staff members attended the differ-      and benefits across the market, with         spent efficiently and reach the greatest
All departments worked on a number           plication to support customers' evolv-      schools. CIB participated in the Har-        ent programs.                                 more emphasis on critical / executive po-    number of beneficiaries.
of activities during the year. Substan-      ing needs.                                  vard Business School MENA conference            A total of 49 participants from vari-      sitions to ensure that the Bank is aligned      In January 2012 the Foundation ful-
tial progress was made in Finance, HR,          The new Bank-wide "Cross Selling"        and annual Employment Fair for the           ous areas in Consumer Banking and             with current market levels.                  filled its annual commitment to the
Premises, Operations, Marketing and          initiative was off to a solid start, with   second year in a row. This participation     Operations enrolled in the Leadership            The Standardization of Job Families       Children's Cancer Hospital 57357. This
Corporate Services. The progress pro-        Consumer Banking staff making 650           has been with a view towards brand-          and Development Program for Con-              initiative was also launched to ensure       donation is part of a five-year partner-
vides a framework for our strategy in        referrals to Institutional Banking and      ing CIB as an employer of choice for         sumer Banking (LDP). The Leadership           employees have a clear understanding         ship that began in 2009 in which the
2013 and beyond.                             IB staff referring 547 transactions to CB   Egyptian students studying at top-tier       and Management Program for Senior             of their roles in achieving the Bank's       hospital receives EGP 2 million in fund-
   The COO Area continued to focus on        as of December 2012.                        universities. CIB is sought as an attrac-    Officers — which aims to create a sense       strategy and mission.                        ing per year to be used for general op-
the enhancement of customer experi-             CIB Premises Projects Department         tive employer in Egypt for its valuable      of synergy and a unified vision for all                                                    erational purposes.
ence as one of the Bank's key objectives     also undertook a number of key strate-      learning experience, modern culture,         senior management within CIB — con-           Corporate Social                                Numerous CIB volunteers also par-
in multiple areas including the brand-       gic initiatives that positively impacted    sustainability and leadership. Eleven        tinued this year as well, with fifty par-     Responsibility                               ticipated in two events sponsored by
ing of branches and providing service        the Bank's external and internal cus-       Egyptian candidates have been identi-        ticipants attending and successfully          Our commitment to the country in             the Children's Cancer Hospital 57357,
and quality measurement tools across         tomers in 2012. One of these initiatives    fied during the event and showed an          completing the program. Also in 2012,         which we live and operate is an integral     including the hospital's five-year an-

           16   Annual Report 2012                                                                                                                                                                                                      Annual Report 2012   17
Board of Directors' Report

niversary where volunteers distributed      roughly 700-square-meter Blood Clinic        opportunities to volunteers from the
gifts to visiting cancer survivors and      by restructuring it to streamline move-      CIB family to engage with the local
current hospital patients, as well as the   ment, prevent overcrowding, provide          community and spend quality time
third annual Terry Fox Run in Egypt,        adequate space for beds and chairs for       with the less privileged. Volunteers
supporting children's cancer research at    blood transfusions as well as providing      from head offices, regional offices and
the hospital.                               a waiting area for family members. The       branches across the three governorates
   The Magdi Yacoub Heart Founda-           donation also covered the costs of ad-       actively participated in the program.
tion (MYHF) has been a long-standing        ditional computers to develop an elec-          In December 2012, the CIB Founda-
partner of both CIB and the CIB Foun-       tronic patient database and supporting       tion donated EGP 1 million to the Ya-
dation. In January 2011, a protocol of      blood donation campaigns to offset the       hiya Arafa Foundation for the upkeep
cooperation was signed between the          current supply deficit across Egypt. The     of the three Pediatric Units at the Ain
two foundations for the development         renovated Blood Clinic opened its doors      Shams University Hospital. The Yahiya
and outfitting of a Pediatric Intensive     in January 2013.                             Arafa Foundation has been instrumen-
Care Unit (PICU) in Building 2 of the          Through the Rotary Kasr El Nile orga-     tal in purchasing high-end equipment,
Aswan Heart Centre. The new EGP 13          nization, the CIB Foundation commit-         as well as training the nurses and doc-
million PICU will provide state-of-the-     ted EGP 1.5 million to fund 1,000 eye        tors working in these units. The CIB
art postoperative care to neonates, in-     surgeries for children through the Chil-     Foundation strongly believes in ensur-
fants and children ranging in age from      dren's Right to Sight (CRTS) program.        ing the sustainability of its projects,
new-born to 16 years free of charge. The    Operational for the past six years, CRTS     and believes that supporting the Yahiya
CIB Foundation's donation covered the       is dedicated to eradicating blindness by     Arafa Foundation in its operations will
costs associated with the Unit's medi-      supporting children and infants requir-      ensure the smooth running of the pre-
cal and non-medical equipment. The          ing immediate eye surgery. Through           viously supported units. The donation
PICU had a soft opening in November         partnerships with the El Nour Eye Hos-       will be used to cover human resources,
2012, and is expected to celebrate its      pital in Mohandiseen and the Eye Care        equipment maintenance, operating
grand opening in the first half of 2013.    Hospital in Maadi, the CRTS team will        costs and academic research.
In August 2012, the CIB Foundation al-      oversee 1,000 cataract and glaucoma             In line with CIB and the CIB Foun-
located EGP 2 million to MYHF for the       operations for underprivileged chil-         dation's commitment to community
full sponsorship of the children's play-    dren. The CIB Foundation and CIB staff       development and fostering quality
room in Building 2 of the Aswan Heart       are proud to partner and volunteer with      in educational opportunities in post-
Centre. In the same month, EGP 6 mil-       Rotary Kasr El Nile on this project. Pay-    revolution Egypt the CIB Foundation
lion was allocated to MYHF to cover         ment for the first round of surgeries was    established the 'CIB Foundation Fel-
the costs associated with 100 children's    completed in November 2012.                  lowship for Science and Technology' at
open-heart surgeries. The donation is          In 2012, the CIB Foundation reaf-         Zewail University. In the first phase of
being disbursed in two equal tranches,      firmed its partnership with the Gozour       this partnership with the Zewail City
with the first tranche of EGP 3 million     Foundation for Development, the non-         of Science and Technology, the CIB
distributed in September 2012.              governmental arm of the Centre for           Foundation Fellowship will support
   Moreover, in August 2012, an EGP         Development Services (CDS). In Au-           50 Egyptian public school graduates
2 million Cooperation Agreement was         gust 2012, the Foundation donated EGP        pursuing degrees in the sciences and
signed with the Friends of Abou El          478,170 to fund 10 eye exam caravans         engineering, at a total cost of roughly
Reesh Children's Hospitals Organi-          for public elementary schools in Cairo,      EGP 5 million.
zation to cover the annual operating        Alexandria and Minya through the 6/6            Going forward, the CIB Foundation
expenses of the new ICU. The annual         Eye Exam Caravan Program. Through            seeks to continue its commitment to en-
donation will be used to support staff      a partnership with the Alnoor Magrabi        hancing health services for underprivi-
salaries and incentives, medical and ad-    Foundation, the caravans are designed to     leged children in Egypt, supporting
ministrative supplies, infection control    provide public school students with eye      mega projects in the health sector and
and for the provision of computers and      exams, eyeglass frames and lenses, eye       providing world-class educational op-
other ICU equipment.                        medication and in-depth eye exams at         portunities. The Foundation also seeks
   This was not the only donation to the    private hospitals for complex cases. Each    to expand its volunteer activities and
Friends of Abou El Reesh Children's
Hospitals Organization: In 2011, the
                                            caravan is fully equipped with eye exam
                                            machines; 15-20 doctors, nurses and co-
                                                                                         more actively involve CIB employees in
                                                                                         its community development projects.
                                                                                                                                    CIB's highly engaging
Friends of Abou El Reesh Children's
Hospitals Organization turned to the
                                            ordinators; a fully equipped pharmacy;
                                            and an eyeglasses shop. Each one-day         Social Development
                                                                                                                                       and motivational
CIB Foundation for support in renovat-
ing El Mounira Hospital's Blood Clinic.
                                            caravan targeted 450 children, with a
                                            total of 4,500 children receiving free eye
                                                                                         Throughout its history, CIB has been
                                                                                         committed to engaging all its stake-
                                                                                                                                    environment continues
The CIB Foundation's EGP 800,000
donation was used to upgrade the
                                            exams and care by the end of the project.
                                               The project also presented valuable
                                                                                         holders in a sustainable and responsible
                                                                                         manner. CIB is one of the most active
                                                                                                                                     to attract top talent

          18    Annual Report 2012