J.P. Morgan Healthcare Conference - January 2023
Page content transcription
If your browser does not render page correctly, please read the page content below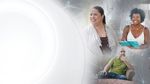 Forward Looking Statements
This presentation has been prepared by argenx se ("argenx" or the "company") for informational purposes only and not for any other purpose. Nothing contained in this
presentation is, or should be construed as, a recommendation, promise or representation by the presenter or the company or any director, employee, agent, or adviser of the
company. This presentation does not purport to be all-inclusive or to contain all of the information you may desire. Certain information contained in this presentation relates to or
is based on studies, publications, surveys and other data obtained from third-party sources and our own internal estimates and research. While we believe these third-party
studies, publications, surveys and other data to be reliable as of the date of this presentation, we have not independently verified, and make no representation as to the
adequacy, fairness, accuracy or completeness of, any information obtained from third-party sources. In addition, no independent source has evaluated the reasonableness or
accuracy of our internal estimates or research and no reliance should be made on any information or statements made in this presentation relating to or based on such internal
estimates and research.

Certain statements contained in this presentation, other than present and historical facts and conditions independently verifiable at the date hereof, may constitute forward-
looking statements. Examples of such forward-looking statements include those regarding preliminary financial results for the full year 2022; expectations of future profitability;
plans for geographic expansion; the anticipated launch of argenx's subcutaneous ("SC") product in the U.S.; the initiation, timing, progress and results of our anticipated clinical
development, data readouts and regulatory milestones and plans; strategic priorities, including the timing and outcome of regulatory filings and regulatory approvals, and
anticipated expansion in generalized myasthenia gravis (gMG) and IgG-mediated autoimmune diseases; the potential of argenx's innovative clinical programs; and the nomination
of new development candidates. A further list and description of these risks, uncertainties and other risks can be found in argenx's U.S. Securities and Exchange Commission
("SEC") filings and reports, including in argenx's most recent annual report on Form 20-F filed with the SEC as well as subsequent filings and reports filed by argenx with the SEC.
Given these uncertainties, the reader is advised not to place any undue reliance on such forward-looking statements. These forward-looking statements speak only as of the date
of publication of this presentation. argenx undertakes no obligation to publicly update or revise the information in this press release, including any forward-looking statements,
except as may be required by law.

This presentation contains trademarks, trade names and service marks of other companies, which are the property of their respective owners.

                                                                                                                                                                                        2
We are on a
bold mission

Transforming the lives of patients with
severe autoimmune disease through
immunology innovation
Redefining Autoimmune Diseases With Precision Medicine Approach

                                        A pipeline of precision tools

                                        Redefine our pipeline of autoimmune diseases as
       Autoimmunity                     IgG-mediated or complement-driven
        is Prime for
      REVOLUTION                        Offer new targeted treatment modality in diseases
                                        where innovation is most needed
Redefining What 'Well-Controlled' Means for the Patient

We want to transform gMG
treatment for patients

  Achieve minimal symptom expression

  Reduce reliance on broad
  immunosuppressants

  Minimize treatment burden

  Regain control of their lives, including
  professionally and socially
Lead with
              Pioneer with        Compassion for
              Our Science          our Patients

…and gMG
is just the   argenx 2025: A Leading, Sustainable
                    Immunology Company
beginning                            Build the
               Drive Impact        Company We
                 Through           Want to Work
                Innovation             For
2022: Transformed into an Integrated Immunology Company

   VYVGART launched in
      U.S., Japan &                                                            Rapid HCP adoption
        Germany

     SUBMISSIONS IN                                                           90% of KEY TARGETS
   10+ COUNTRIES                    global product revenues
                                    in Year 1
                                                                                 REACHED in 2022

                                                                      $175M
                                                              $131M            Enabled appropriate
       Built scalable
                                              $75M                            access through value-
    global supply chain
                              $21M                                              based agreements
                               1Q                2Q             3Q     4Q
   LARGE SCALE CAPACITY TO                                                      90% US POLICIES
    HANDLE DEMAND                                                                 FAVORABLE
                             More than 3,000 patients on VYVGART®
2022: Strengthened Efgartigimod Data Story
                                        SC Noninferiority to IV                                                                                                        Clear Clinical Benefit in ITP
                              IgG reduction (%) in all ADAPT-SC and ADAPT participants

                                                                                                    LS-Mean Platelet Count Change From Baseline
                         0

                                                                                                                                                             40
Mean IgG reduction %

                       -30
                                                                                                                                                             20

                                                                                                                                                  (x109/L)
                       -60                                                                                                                                    0

                                                                                                                                                             -20
                                                                                                                                                                   0                    12              24
                             Baseline   1    2      3     4      5     6      7      8   10                                                                                            Week
                                                                                                                                                                                  VYVGART     PLACEBO

                                                                           Disease-Modifying Potential of FcRn Blockade
2022: Broadened Scope of Efgartigimod Safety Database

            Scope of Safety Database

     >1,300 clinical                        Cumulative                            Different dosing              TEAEs consistent across     Low discontinuation
     study subjects                         exposure of                           regimens (up to 19            >4 indications; typically   rates due to side
                                            >1,000 patient                        cycles of 4 weekly            mild to moderate            effects in clinical
                                            years                                 doses; up to 2 years of                                   studies to date
                                                                                  weekly dosing)

  Molecular design yields unique interaction                                                                1                 2             3
  with FcRn and differentiated safety profile

  No reduction in albumin levels; no
  increase in lipid levels

    Post-marketing data confirm positive benefit/risk profile as established in clinical trials
1. Ulrichts P, et al. J Clin Invest. 2018;128(10):4372-4386. doi: 10.1172/JCI97911.
2023:                                commercial
Key Drivers of our                   Reach more
                                     patients with
Path to Profitability                 VYVGART
                                       globally

                         clinical                          clinical
                          Broaden
                                                     Pioneer FcRn class of
                        immunology
                                                          medicines
                          pipeline

                                     discovery
                                       Build out
                                      innovation
                                      ecosystem
Reach More Patients with VYVGART Globally

                          DRIVE MULTI-DIMENSIONAL EXPANSION IN gMG

                                                 Launch SC                  Drive usage
                     Geographic
                                                  product                    in earlier
                     expansion
   commercial                                     offering                 line patients

   Reach more
   patients with
    VYVGART
     globally                                                  Ongoing
                                  File for ITP                studies in
                                   in Japan                      new
                                                             indications

                           DRIVE GROWTH IN NEW PATIENT SEGMENTS
IgG Autoantibodies Serve as Unifying Biology
Rationale for POC Indications

                                           Contactin1

                                            Ro/SSA
                                  DSG-1                   Mi-2
                                            THSd7A
                                  La/SSB                MPO-ANCA
          clinical                PLA2R
                                             ANA
                                                         NF155
                                           GPIIb/IIIa
      Pioneer FcRn class          DSG-3                  HMGCR
                                              DSA
         of medicines             BP230                  NELL1
                                           PR3-ANCA
                                  AChR                    GPCR
                                             BP180
                                  MuSK                    LRP4
                                             JO-1
                                  TSHR                    SRP
                                            Immune
                                           complexes
Pipeline-in-a-Product Indicates Significant Market Opportunity
                                                                                                                                      clinical

                                                                     AMR
                                                                                    8K

                                     Pemphigus                       CIDP                  Lupus Nephritis
                                                            19K                 16K                           40K

                   BP                                   gMG                   ITP                            Myositis
                                          52K                           65K                     57K                      63K

                                       ANCA                            TED                     Sjogren's                Membranous
 PC-POTS
                        >500K                                 105K                  100K                       330K     Nephropathy
                                                                                                                                            80K

Patient numbers are U.S. prevalence from argenx market research
Steady Cadence of Data Readouts Over Next Several Years
                                                                                                                               clinical
                                                              ITP
                                                                          57K

                                                             Pemphigus             Myositis*
                                                                          19K                       63K
 Late Stage

                    gMG                                      CIDP                   BP*                    TED
                                     65K                                 16K                        52K                       100K

                                                                   2023 DATA             2024 DATA
                    APPROVED/IN
                        APPROVEDREVIEW                        2023 DATA READOUTS    2024 DATA READOUTS     2025+  DATA
                                                                                                              2025+      READOUTS
                                                                                                                    DATA READOUTS
                                                                   READOUTS              READOUTS
 Proof-of-Concept

                                                           PC-POTS                   Sjogren's              Lupus Nephritis
                                                                         >500K                      330K                      40K

                                                                                      Membranous           AMR
                                                                                      Nephropathy
                                                                                                    80K                        8K

                                                                                                           ANCA
                                                                                                                              105K
*GO/NO GO Decisions.
Patient numbers are U.S. prevalence from argenx market research
ARGX-117: Targets C2 at Junction of                                                                                     clinical
Classical and Lectin Pathways                                                                                           Broaden
                                                                                                                      immunology
                        2024 DATA                                                        2024 DATA
 ARGX-117: READOUTS
           Sweeping Antibody                                 Three Indications Selected Based on Biology Rationale
                                                                                         READOUTS
                                                                                                                        pipeline

                                                        Indication selection starts with autoimmune diseases driven by
                                                        classical and/or lectin pathway
   pH and Ca2+ switch

                                                        Phase 2 proof-of-concept trial underway in multifocal motor
                                                        neuropathy (MMN) with interim data expected in mid-2023
                                    Optimal recycling
  No effector
    function

                                                        Phase 2 trials to start in delayed graft function and
                                                        dermatomyositis
ARGX-117: Strong Translational Biology Rationale for
 C2 Blockade in MMN                                                                                                                           clinical

                            Anti-GM1 Antibody
                                                                                     Naïve     Anti GM1-      C2       Naïve     Anti
                                                                                                                                  AntiGM1-
                                                                                                                                       GM1-      C2
                                                A-GM1     antibody    mediated       Control   Antibody    Inhibitor   Control   Antibody
                                                                                                                                  Antibody    Inhibitor
                                                complement attack on the
                                                Schwann cell membrane

                                                Significant disruption to the axo-
                                                glial junction and cytoplasmic
                                                paranodal loops resulting in
                                                conduction block – hall mark of
                                                MMN

Significant reduction of injury to paranodal proteins at the Nodes of Ranvier improves respiratory function in vivo

Campbell et al, 2022
ARGX-119: MuSK Agonist with Broad Potential in                                                      clinical
Neuromuscular Disease                                                                               Broaden
                                                                                                  immunology
                                                                                                    pipeline

                                First-in-Human Phase 1 Healthy Volunteer Study

                                                                                                   First-in-
                                                                                                   Patient
                                 Single Ascending Dose       Multiple Ascending Dose
                                (0.005mg/kg – 15mg/kg)       (0.3mg/kg – 2.5mg/kg)
                                                                                                Congenital
                                                                                                Myasthenic
                                     10 dose cohorts                                        Syndrome (CMS) and
                                                                                                 MuSK MG
                                                            3 dose cohorts/4 weekly doses

              First-in-patient trial in CMS and MuSK MG to serve as proof of biology
                   Translational work ongoing in amyotrophic lateral sclerosis
Positioned for Long-term Franchise Growth

                              Hematology and                                   Nephrology
    Neuromuscular
      Neurology               Neuromuscular              Neuromuscular
                                                          Dermatology         Neuromuscular
                               Rheumatology

       gMG, CIDP,          ITP, Sjogren's, POTS, Anca   Pemphigus, Bullous      Membranous
Myositis, TED, MMN, CMS,            Vasculitis             Pemphigoid,       Nephropathy, Lupus
     Musk MG, ALS                                        Dermatomyositis     Nephritis, AMR, DGF
Innovation Ecosystem    discovery
                        Build out
                       innovation
                       ecosystem
Positioned for a Catalyst-Rich 2023
  Commercial
 VYVGART gMG Approval in China                                                                   YE 2023
 VYVGART gMG Approval in Canada                                                                  3Q 2023
 VYVGART gMG Launch in France, UK, Italy                                                         YE 2023
 SC efgartigimod gMG Approval in US                                                           March 20, 2023
 SC efgartigimod gMG Approval in EU                                                              4Q 2023
 SC efgartigimod gMG Submission in Japan                                                         1Q 2023
 VYVGART ITP Submission in Japan                                                                Mid-2023

     Clinical
    Efgartigimod                                       Additional pipeline
    • ADHERE data in CIDP                    2Q 2023   • ARGX-117: ARDA MMN interim results            Mid-2023
    • ADDRESS data in Pemphigus              2H 2023   • ARGX-117: Initiate DGF POC study               2H 2023
    • ADVANCE (SC) data in ITP               2H 2023   • ARGX-119: Initiate Phase 1 study               1Q 2023
    • POC data in Post-COVID POTS            4Q 2023
    • Initiate registrational trial in TED   4Q 2023
    • Initiate POC studies in AAV and        4Q 2023
       AMR
Our mission
                      Co-Creation              Empowerment

continues…
              Innovation                               Excellence

                                    Humility
Breadth and Depth Within Autoimmune Pipeline
 Program                                     Indication                Preclinical       Phase 1   Proof of Concept   Registrational   Commercial
 VYVGARTT       gMG (IV)
               gMG (SC)
               CIDP
               Myositis
               Thyroid Eye Disease
               ITP (IV)
Efgartigimod   ITP (SC)
               COVID-19 Mediated POTS
               Sjogren's Syndrome
               Anca Vasculitis
               Pemphigus
               Bullous Pemphigoid
               Membranous Nephropathy
               Lupus Nephritis
               Antibody Mediated Rejection
               Multifocal Motor Neuropathy
 ARGX-117      Dermatomyositis
               Delayed Graft Function After Kidney Transplant
 ARGX-119      Neuromuscular Indications

  Key:         NEUROLOGY         HEMATOLOGY AND RHEUMATOLOGY    DERMATOLOGY          NEPHROLOGY