NOVEMBER 28-29, 2018 CONGRESS CENTRUM BREMEN
If your browser does not support JavaScript, please read the page content below:
NOVEMBER 28-29, 2018 CONGRESS CENTRUM BREMEN
11. Laser Applications Forum NOVEMBER 28-29, 2018 CONGRESS CENTRUM BREMEN LASER BEAM JOINING ADDITIVE MANUFACTURING DIGITIZATION WWW.BIAS.DE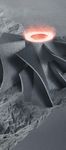 SPONSORS Gold Sponsor: Silver Sponsor: Bronze Sponsors: weil technology A brand of weil engineering gmbh WWW.BIAS.DE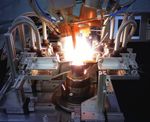 WELCOME The 11th Laser Application Forum LAF 2018 presents an attractive program: Experiences and innovations on the trend topic digitization, reports from additive manufactu- ring and laser beam joining. We welcome our internatio- nal guests and therefore offer simultaneous interpretation German / English.
For the first time, the biannual LAF is set in the Bremen Congress Center. Here, laser users meet experts from sci- ence and industry and use the forum for an intensive ex- change. The accompanying exhibition has grown as well: Get in touch with users and suppliers of innovative solu- tions in the fields of beam sources, system technology, ad- ditive manufacturing and measurement technology and use the exhibitor's evening to make new contacts and re- fresh existing partnerships.
BIAS opens its laboratories for the Open House and lets you take a look behind the scenes of current research. Special thanks go to the LaserApplicationGroup and the companies presenting at the exhibition and to the Han- sePhotonik e.V. for promoting and supporting the prepara- tion and implementation of the Laser Applications Forum 2018. We look forward to meeting you in Bremen! Prof. Dr.-Ing. Frank Vollertsen Managing Director BIAS - Bremer Institut für angewandte Strahltechnik GmbH WWW.BIAS.DE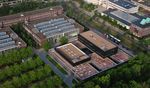 Prof. Frank Vollertsen | BIAS – Bremer Institut für angewandte Strahltechnik GmbH Welcome Dr.
Reiner Ramsayer | Robert Bosch GmbH, Renningen Challenges and chances for lasers in the context of "digitalization, I 4.0 and e-mobility" Dr. Markus Kogel-Hollacher | Precitec GmbH & Co. KG, Gaggenau Sensor technologies and digitization for additive manufacturing processes Adrian Raidt | Laserhub GmbH, Stuttgart Laserhub.de - intelligent connection of customers and manufacturers of sheet metal parts 09:00 09:15 09:45 10:15 08:30 WELCOME COFFEE 10:45 COFFEE BREAK / EXHIBITION Thibault Bautze | Blackbird Roboter- systeme GmbH, Garching Experiences gained from five years of laser welding with OCT 11:30 Matthias J.
Kühnel | II-VI HIGHYAG Laser- technologie GmbH, Kleinmachnow Breaking new ground in remote laser welding 12:00 Daniel Schwab | ARGES GmbH, Wackersdorf 3D scanning system for remote welding using fiber lasers 12:30 13:00 LUNCH BREAK / EXHIBITION PROGRAM 28.11.2018 WWW.BIAS.DE

PROGRAM 28.11.2018 Thorge Hammer | Volkswagen AG, Wolfsburg Laser brazing - an innovative technology for photonic lightweight construction 14:15 Peter Leipe | SITEC Industrietechnologie GmbH, Chemnitz Goodbye weld spatter – clean welding by SITEC 15:15 Dr. Dmitrij Walter | Manz AG, Reutlingen Manz solutions for laser welding in battery production 14:45 Dr. Herbert Staufer | Fronius International GmbH, Wels-Thalheim / Österreich Laser-MAG Tandem Hybrid welding for automotive components 15:45 16:15 COFFEE BREAK / EXHIBITION Villads Schultz Visual seam quality in laser deep pene- tration welding Christoph Mittelstädt Utilizing a weld depth meter for position control in laser welding Aleksandar Simic Digital holography within production- related environment 17:30 BIAS FLASHTALKS Prof.
Frank Vollertsen | BIAS – Bremer Institut für angewandte Strahltechnik GmbH Laser production techniques 'made in BIAS' 17:00 WWW.BIAS.DE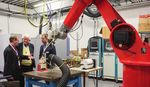 PROGRAM 28.11.2018 Dr. Andreas Stephen Monitoring the laser drilling of perforated suction surfaces in the aviation industry Nena Blanke Laser re-melting of additive manufactured parts Tobias Czotscher Process observation of laser-induced proces- ses by schlieren method 17:30 Konstantin Vetter Homogenous alloy variations by laser Hannes Freiße Producing tool surfaces for dry metal forming Christoph Halisch 3D printing of titanium parts for aerospace applications Dieter Tyralla Hot wire laser cladding by closed loop control Prime Time for networking with speakers, exhibi- tors and participants.
18:00 EXHIBITOR'S AND SPONSOR'S EVENING BIAS FLASHTALKS WWW.BIAS.DE
EXHIBITION (AS OF 25.05.2018) BOOTH EXHIBITOR SITEC Industrietechnologie GmbH TRUMPF Laser- und Systemtechnik GmbH innojoin GmbH - Innovative Fügetechnik weil technology BIAS – Bremer Institut für angewandte Strahltechnik GmbH HansePhotonik e.V Coherent-Rofin DVS Bremen PROTECT-Laserschutz GmbH GVB GmbH - Solutions in Glass LASERLINE Gesellschaft für Entwicklung und Vertrieb von Diodenlasern mbH Nutech Gesellschaft für Lasertechnik und Materialprüfung mbH Precitec GmbH & Co. KG II-VI HIGHYAG ARGES GmbH DINSE G.m.b.H.
MKS Ophir ERLAS Erlanger Lasertechnik GmbH Sensortherm GmbH Infrarot Mess- und Regeltechnik Laservision GmbH & Co. KG Jutec GmbH PRIMES GmbH 1.
2. 3. 4. 5. 5. 6. 9. 10. 11. 12. 13. 14. 15. 16. 17. 19. 20. 21. 22. 23. 24. weil technology A brand of weil engineering gmbh WWW.BIAS.DE
PROGRAM 29.11.2018 08:30 Dr. Takashi Ishide | Mitsubishi Heavy Indust- ries Ltd., Kobe, Japan Latest additive manufacturing technology toward practical utilization 09:00 Dr. Otto Märten | PRIMES GmbH, Pfungstadt Beam diagnostics in the process chamber of laser additive manufacturing systems with one or more laser beams 09:30 Christian Dini | Ophir Spiricon Europe GmbH, Darmstadt Non-contact beam profile measurements optimize the properties of additive manu- facturing systems 10:00 Dr.
RainerBeccard | LUNOVU GmbH, Herzogenrath Intelligent process chain for laser metal deposition 10:30 COFFEE BREAK / EXHIBITION 13:00 LUNCH BREAK 12:30 Neil Wilson | Romar Engineering pty. ltd., Sefton NSW, Australien 3D Metal Printing with the Lasertech 65 11:30 Prof. Peter Hoffmann | ERLAS Erlanger Lasertechnik GmbH, Erlangen Novel system technology for additive manu- facturing 12:00 Christian Walz | innojoin GmbH, Bremen Additive manufacturing with very high deposition rates by laser powder build-up welding WWW.BIAS.DE
PROGRAM 29.11.2018 13:45 Bus transfer CCB -> BIAS 14:00 15:45 Bus transfer BIAS -> CCB 14:00 14:00 BIAS OPEN HOUSE BIAS opens its laboratories. Young scientists show their current research in the field of joining, micro production, optical metrology as well as surface technology and additive manufacturing. WWW.BIAS.DE
Visit us at booth 2 and find out about TRUMPF solutions for the profitable additive manufacturing of metal build parts. Industrial Additive Technologies TRUMPF offers both key technologies for metal additive manufacturing: Laser Metal Fusion (LMF) and Laser Metal Deposition (LMD).
Both processes meet the characteristics and quality required in various applications. Industrial solutions for the entire process by TRUMPF, based on the following keys to success: robust machines, intelligent digitalization and clever services.
www.trumpf.com/s/additivemanufacturing
CHAIRMAN Prof. Dr.-Ing. Frank Vollertsen ORGANIZER in cooperation with: REGISTRATION www.bias.de/veranstaltungen/laf/ CONFERENCE FEE Early bird fee (until 31.08.2018) 600,-€ Regular fee 700,-€ STAY TUNED Up-to-date information on your smartphone: https://lineupr.com/laf/english BIAS-BremerInstitutfürangewandteStrahltechnikGmbH Klagenfurter Str. 5 28359 Bremen Telefon: +49 421 218 – 58000 E-Mail: laf@bias.de www.bias.de WWW.BIAS.DE
VENUES Congress Centrum Bremen Hollerallee, 28215 Bremen BIAS – Bremer Institut für angewandte Strahltechnik GmbH Klagenfurter Str.
5, 28359 Bremen ACCOMODATION Hotel Maritim Bremen Hollerallee 99, 28215 Bremen Take advantage of special rates when booking directly at the hotel: 123 € single room incl. breakfast, Keyword "BIAS". Tel: 0421-3789610 E-Mail: reservierung.bre@maritim.de Maritim Hotel Bremen Concress Centrum Bremen Parkplatz Bürgerweide Bremen Hauptbahnhof Richtung BIAS WWW.BIAS.DE