New Volunteer Training
→
If your browser does not support JavaScript, please read the page content below:
New Volunteer Training
→
Marine Mammals of Maine ◼ 501(c) 3 nonprofit ◼ To provide response, assistance and care for stranded marine animals and to work collaboratively with similar organizations to aid in the protection and support of marine animals as defined by the Marine Mammal Protection Act. To provide public education and research about marine animals and the environment.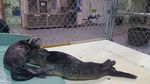 ◼ Non-profit with 2 staff and a board of directors ◼ ~80 dedicated, passionate volunteers ◼ Cover Kittery to Rockland Maine ◼ ~2,500 miles of coastline! ◼ Respond to ~300 marine mammals and sea turtles annually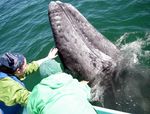 Organization Programs ◼ Marine Mammal Response ◼ Triage/Rehab ◼ Volunteer ◼ Outreach ◼ Fundraising ◼ Research
Legal Authorization ◼ Authorization from NMFS is required to approach marine mammals for any reason ◼ Volunteers must have permission from MMOME prior to responding to each stranding Marine Mammals of Maine Volunteers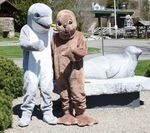 Marine Mammal Protection Act ◼ All Marine Mammals are protected under the Marine Mammal Protection Act of 1972 ◼ The MMPA makes it illegal to feed, harass, capture, or kill marine mammals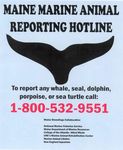 Threats to Marine Mammals ◼ Are largely from human impacts, including accidental capture in fishing gear, habitat destruction, poaching, pollution-marine debris, harassment, and ship strikes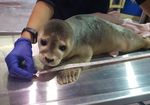 Statewide Reporting Hotline Maine Strandings Collaborative ◼ Maine Marine Animal Reporting Hotline ◼ 1-800-532-9551 ◼ To report any whale, seal, dolphin, porpoise, or sea turtle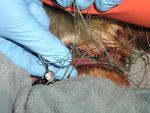 Current Maine Groups ◼ College of the Atlantic (Allied Whale), Bar Harbor Responds to live and dead marine mammal and sea turtle strandings from Rockland to the Canadian border ◼ Marine Mammals of Maine Responds to live and dead marine mammal from Kittery to Rockland, temporarily stabilizes seals
Northeast Regional Stranding Network (Maine to Virginia)
What is a Stranding? ◼ Dead: ◼ on a beach or shore of the US ◼ in waters under the jurisdiction of the US (out to 3 miles) ◼ Alive: ◼ unable to return to the water ◼ in apparent need of medical attention; or ◼ in the water, but unable to return to its natural habitat under its own power or without assistance
Stranded Animals of Maine ◼ Cetaceans ~ ◼ dolphins ◼ whales ◼ porpoises ◼ Pinnipeds - 4 species ◼ true/earless seals
Northeast Pinnipeds Harbor Seal Gray Seal Harp Seal Hooded Seal
Harbor Seals Phoca vitulina -Males and Females look the same -Pups and adults have similar coat patterns -Up to 5' in length & 250lbs -Mottled spotting, small head with eyes equidistant between ear and nose. -Nostrils appear to form a "V" -Pups born in May off the coast of Maine
Harp Seals (Pagophilus groenlandicus) Pups- Born with linugo coat 3 feet/24 lbs White/yellow coat Beater- 25 days-1 year
Juvenile harp seals vs harbor seals- tricky to differentiate at times! Which 2 photos are harp seals? Which photo is a harbor seal?
Hooded Seal (Cystophora cristata) Adults -Characteristic nasal flap/ "hood" -Males up to 8.5 ft, 700 lbs -Females up to 7 ft, 600 lbs -Largest, and most aggressive species we deal with -Can go catatonic Pups Blue Back ~3 feet at birth/50 lbs Shed this coat at 14 months -Shortest nursing period of any mammal species, 3-5 days
Grey Seals (Halichoerus grypus) -Year round residents in the GoM -Their pupping season is what puts them in our ice-seal category -Range extends from eastern Canada and the northeastern United States -Social species that will haul out and sometimes hunt in groups -Can be aggressive, particularly adults
Seal Natural History get familiar with these, and prepare to repeat them over and over on the beaches! ◼ Seals are semi-aquatic ◼ Naturally come on shore to rest, mate, give birth, and thermoregulate ◼ Seals do not need to be wet, they can be dry indefinitely ◼ Harbor seal mothers leave their pups on beaches to rest while she hunts, and returns to collect them when done
Pinniped Do's and Don'ts Do: ◼ Minimize stress ◼ Keep the area quiet ◼ Minimize contact ◼ If possible, keep out of sight of the animal ◼ Keep dogs and people a safe distance away ◼ Contact MMOME Don't: ◼ Pour water on the animal ◼ Offer food to the animal ◼ Cover with blankets ◼ Handle the animal ◼ Return it to the water ◼ Remove it from the water
MMoME's New Triage Center! ◼ First and only triage center on the east coast ◼ Center stabilizes sick/injured seals before transport to long-term care centers ◼ Can hold 10 seals up to 96 hours ◼ 10 housing units, 1 small pool unit, diagnostics lab, kitchen for food prep
And Now Rehab! ◼ Provisional federal authorization to rehabilitate 2 seals at a time ◼ Waiting on permitting for up to 4 seal rehab patients at a time ◼ Working on our full rehab permit, and increasing capacity as funding allows ◼ Rehabbed our first 2 patients in 2017, both weanling harbor seals that would have been euthanized due to lack of rehab space ◼ One seal costs ~ $10,000 to rehabilitate ◼ Will still rely heavily on out of state facilities and triaging most of our rescues
Stranding Response Volunteer Requirements and Responsibilities ◼ Fill out a volunteer application (send application back to MMOME) ◼ Minimum 18 years of age ◼ Ability to lift 50 pounds. ◼ Must have reliable transportation and a valid driver's license ◼ Minimum commitment of 1 year ◼ Must live within the immediate coast ◼ Provide Marine Mammals of Maine with your weekly availability ◼ Must sign a liability waiver ◼ Must attend 1 training/year, if 3 consecutive trainings are missed, response volunteers will become "inactive" and not called upon for response until a training is attended
Stranding Response Volunteer Requirements and Responsibilities ◼ Respond to live AND deceased animals ◼ Respond to strandings outside your home town ◼ Educate the public by interacting with beachgoers ◼ Not required but recommended: help at outreach and fundraising events
Communication ◼ Reporting hotline: 1-800-532-9551 (public use) ◼ On call number 207-233-3199 (volunteer use, not for public) ◼ Email about our organization ldoughty@mmome.org ◼ Email in regards to volunteering dwalk@mmome.org for photos mainestrandings@gmail.com
Volunteer Stranding Response Data Collection and Deceased Animal Response
What Are Level A data? ◼ Level A data are vitally important information volunteers collect from each stranding case to document the event in order to better understand the circumstances of each stranding, the population as a whole, and overall ocean health ◼ MMoME is required to report Level A data from each stranding to the National Marine Fisheries Service no less than once per month. ◼ The collection and entry of these data are part of MMoME's stranding agreement with NMFS
• Location: note the location (beach, street address) and town • Lat/long: if you have a GPS, note the latitude and longitude in decimal degress • Photos and video: mainestrandings@gmail.com •Notes: basic assessment review (thin, in a busy spot, relocated, etc.) •Field #: this is the MMOME number, if we do not provide you with this number, leave it blank • Species • Weight: estimate •Length: actual length in cm •Condition: code 1, 2, 3, 4, 5 Level A Data Collection
Gender Determination Female Male
Condition Codes Code 1: Any Live animal
Code 2 • Fresh dead (usually within 24 hours) • Little to no scavenger damage • Little to no odor • No bloating - rigor mortis
Code 3 • Moderately decomposed • Organs still recognizable • Beginning to smell bad • Usually has minor scavenger damage
Cetacean Pinniped • Extremely decomposed • Organs unrecognizable • Strong foul odor • Often has extensive scavenger damage Code 4
Cetacean Pinniped • Mummified or skeletal remains • Skin may be draped over bones • Very desiccated Code 5
www.mmome.org/data Password: sealdata All Level A data must be entered in the online database no more than 24 hours after responding MMoME dispatch will give priority to volunteers who consistently fill out Level A data
Animal Sampling ◼ Necropsy on all fresh dead animals ◼ Tissue samples are collected for histopathology, contaminants, parasites, serology , and virology.
Sampling in the Northeast ◼ Contaminate (neurotoxin,saxtiotoxin, PCBS etc) ◼ Viral (influenza, morbilliviruse etc.) ◼ Bacteria (Leptospirosis, Brucella etc.) ◼ Parasites (many…..) ◼ Human Interaction
Data Collection Do's and Don'ts ◼ Fill in as much requested information as possible. Don't leave any spaces blank. ◼ Be sure to fill in the date, location, species, and your name as the observer/data recorder. ◼ Take LOTS of pictures. A picture REALLY is worth a thousand words! ◼ Do not try to interpret what you see. Just objectively report your observations. ◼ If you have any questions or problems, and whenever you suspect human interaction. Don't hesitate to ask for help.
Personal Safety Always your priority-we can't help stranded/injured animals if we're stranded/injured ourselves! Hazards ◼ Transit to the scene – drive responsibly ◼ Human Safety comes first – assess the site carefully ◼ Ocean hazards, tides ◼ Walking on rocks, mud and seaweed ◼ Lifting - Know your limits! ◼ Zoonoses (diseases that can be transmitted to humans), bacteria, viruses ◼ Do not bring pets to a stranding – your focus is on the animal ◼ Consider leaving small children at home REPORT ALL INCIDENTS TO MMOME STAFF AS SOON AS POSSIBLE !
Zoonoses ◼ Marine mammals can carry bacteria, viruses and fungi that can cause illness in humans. These microbes can be carried by marine mammals that appear healthy and normal. ◼ Pathogens can be transmitted from marine mammals to people and pets through bite wounds, inhalation and cuts.
Media Policy-Please Keep This in Mind at ALL Times! Stranding Response: No posting photos and video taken while on a response for MMoME. All photos taken while responding to a stranded marine mammal or sea turtle are done so under a federal permit, and belong to the permit-holder. Therefore photos and video taken while responding for MMoME may not be posted on any social media sites (Facebook, Instagram, websites, etc.). Triage Center photos and video: Photos/videos may not be taken in the animal room of the triage center. MMoME's permit also covers activities in the center, and are thus heavily regulated and enforced by NOAA.
If Approached by the Media: Volunteers may discuss their experience as a volunteer, but everything else must be passed on to the hotline. This includes any details about an animal's condition, actions taken for an animal, or any decisions made regarding an animal's condition. Everything else must be directed to the hotline. **Violating these protocols jeopardizes MMoME's permit to work with marine mammals**