OAKLAND RAIDERS 2018 DRAFT PICK BIO - Kolton Miller Tackle UCLA 310 pounds First Round, Pick No. 15 - NFL.com
Page content transcription
If your browser does not render page correctly, please read the page content below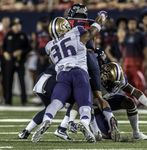 OAKLAND RAIDERS
2018 DRAFT PICK BIO
      Kolton Miller
                Tackle
                UCLA
               6-foot-8
             310 pounds
      First Round, Pick No. 15
             15th Overall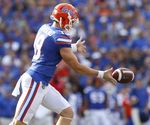 KOLTON
                                  MILLER
                                  6-8 / 310 / Redshirt Junior
                                  Offensive Line
                                  Roseville, Calif.
77                                Roseville HS
2017
Starter in all 13 games at left tackle ... Named second-team All-Pac-12 Conference by the
league coaches ... The offensive line group helped to improve the team's rushing output
by almost a full yard per carry from 2016 ... Rushing yardage, rushing touchdowns and
rushing first downs all went up for the Bruins ... UCLA ranked third in the conference in
total offense in 2017.
2016
Starter at right tackle in the first five games of the season … Missed the balance of the
season due to an injury suffered in the week five Arizona game.
2015
Starter at offensive tackle in five games (Cal, Colorado, Oregon State, Washington State,
Nebraska) … Also saw action on special teams … Team surrendered just 14 quarterback
sacks, the second-lowest total in school history … Helped pave the way on the ground
for running back Paul Perkins, the third-leading rusher in school history who posted a
second straight 1,000-yard season.
2014
Did not see game action in his first season in the program.
High School
Four-star recruit according to Rivals.com … Rivals' No. 31 offensive tackle in the nation and
the No. 35 prospect in the state of California … Four-stars from 247Sports … Three-stars
according to Scout.com, the No. 28-rated offensive tackle in the nation, No. 44 prospect
in the state of California and No. 63 recruit in the West … PrepStar All-West Region …
Named first-team Sierra Football League and first-team All-Metro by the Sacramento Bee
… Cal-Hi Sports All-Northern California first-team and all-state selection … Named a
team captain for the Sacramento Optimist All-Star game.
Personal
Full Name: Kolton Daniel Miller … Born in Redwood City, Calif. … Parents: Dan and Karrie
Miller… Has one younger brother, Chad … Lists his biggest thrill in sports as winning his
high school league title despite losing a number of players to injuries during the year …
Lists former NFL standout Tedy Bruschi, now with ESPN and another Roseville High alum,
as the athlete he admires the most … Hobbies include fishing and watching movies …
Earned a spot on the UCLA Athletic Director's Honor Roll in Fall 2014 … Political Science
major.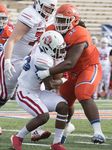 OAKLAND RAIDERS
2018 DRAFT PICK BIO
           P.J. Hall
          Defensive Tackle
         Sam Houston State
              6-foot-1
            310 pounds
      Second Round, Pick No. 25
            57th Overall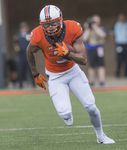 P.J. Hall
Height: 6-foot-1

Weight: 310

Position: Defensive Lineman

Hometown: Seguin, Texas

High School: Seguin High School

2016 Season
Southland Conference Defensive Player of the Year … 2016-17 First Team All-Southland Conference …
finalist for the Buck Buchanan Award (nation's top defensive player), finishing second in the voting …
two-time Southland Conference Player of the Week (9/19, 11/7) … first won it after picking up nine
tackles, including 4.5 tackles for loss and two pass breakups in win at Lamar (9/17) … that effort also
earned him STATS FCS National Player of the Week honors … also was named the SLC Defensive Player
of the Week after picking up seven tackles, including four sacks and five tackles for loss, in win over
McNeese (11/5) … the four sacks against the Cowboys tied the Sam Houston single-game record, making
him just the fourth player in program history with four sacks in a single games … led Southland with 13.0
sacks … led Southland with 24.5 tackles for loss … was fifth in the league with three forced fumbles …
played in and started all 13 games for the Kats , finishing with 56 total tackles … had three sacks, four
tackles for a loss and a forced fumble in win over Houston Baptist (9/24) … had a pair of sacks and a
forced fumble in win at Nicholls (10/22) … racked up eight tackles and a pair of sacks in FCS Playoffs
quarterfinals at James Madison (12/9)

2015 Season
STATS FSC All-America second team and Associated Press and CollegeSportsMadness third team All-
America selection … All-Southland Conference first team defensive end … 15th in voting for STATS FCS
"Defensive Player of Year" … Bearkats' all-time leader in tackles for loss (52 career stops for 205 yards) …
No. 2 all-time at SHSU in QB sacks (23) and kick blocks (10) … led team with 75 tackles (50 solo), 22
tackles for 87 yards in losses and 11 sacks … posted season best 11 stops in regular season game at
McNeese State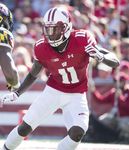 2014 Season
First team All-Southland Conference defensive end … third-team Sports Network and Associated Press
All-America … Southland "Freshman of the Year" … College Football Performance Awards FCS "Defensive
End of the Year" … finished third in voting for the Jerry Rice Award presented by Sports Network to FCS
"Freshman of Year" … top defensive player in the Rice award final standings … totaled 30 tackles for loss,
one short of the SHSU season record and No. 4 highest total in FCS … tied school mark and ranked No. 1
in FCS in blocked kicks with five … field goal block in fourth quarter versus Southeastern Louisiana set up
winning TD drive in opening round FCS playoff game … three-time Southland Conference "Defensive
Player of the Week" … two-time FCS national "Defensive Player of the Week" … single game bests
included 11 tackles in McNeese win and eight solo stops in playoffs quarter-final victory at Villanova

2013 Season
Redshirted

Seguin High School
First team all-district defensive end and running back for coach Wayne Walker

Personal
Criminal Justice major ... Born April 5, 1995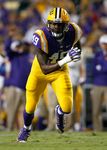 OAKLAND RAIDERS
2018 DRAFT PICK BIO
     Brandon Parker
               Tackle
        North Carolina A&T
              6-foot-7
            310 pounds
      Third Round, Pick No. 1
            65th Overall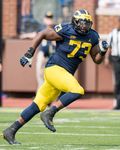 Brandon Parker
College: North Carolina A&T

Height: 6-foot-7

Weight: 309

Position: Offensive Lineman

Hometown: Kannapolis, N.C.

High School: A.L. Brown

A top of NFL prospect, the 2017 preseason accolades poured in … Earned STATS first-team All-American
honors after the 2016 season … Earned his second straight MEAC Offensive Lineman of the Year award … Also
earned his second straight Black College Football All-American honor from the American Urban Radio
Networks … He is a three-time All-MEAC selection, twice being named first-team all-conference … Behind
Parker the Aggies have the MEAC's No. 1 rushing offense for three straight seasons … In 2017, the Aggies
ranked No. 1 in the conference in 3rd down conversion, total first downs, rushing offense, scoring offense,
fewest tackles for loss allowed, fewest sacks allowed and total offense … Has never surrendered a sack in his
career … Enters his fourth straight season as the Aggies starting left tackle … Has only been called for four
penalties in his career … Has played in 35 straight games with 35 straight starts … Was the first Aggie to win
MEAC Offensive Lineman of the Year since Qasim Mitchell did it in 2001 … He and Mitchell are the only two
linemen in program history to win the honor from the MEAC … Has good speed, good length and plays hard on
each down … Has the longest reach on the team at 107 ½ inches … Has gotten stronger and increased his
weight during his time at N.C. A&T … Can bench press 225 pounds 20 times in one set … Improved his bench
press max from 340 to 360 pounds … Also has a squat max of 510 pounds … Came to N.C. A&T with a talented
class that also included record-breaking players such as Tarik Cohen, Denzel Keyes and Cody Jones … His sister
Jasmine played for the Aggies women's basketball team ... Has started all 36 games played.

2016 Season: Started all 12 games … Earned offensive lineman of the week five times from the MEAC … Was in
on 779 gradable plays with 48 total knockdowns and an average grade of 87 percent. He graded out at higher
than 90 percent five times … Offensively, the Aggies had the No. 1 total offense, rushing offense and third
rated passing offense in the conference … A&T also allowed the fewest sacks, had running back Tarik Cohen
break the school's single-season rushing record (1,583) and quarterback Lamar Raynard break the school's
single-season completion percentage record (64.6) while leading the conference in completion percentage and
passing efficiency (140.8).

2015 Season: Started all 12 games… Earned first-team All-MEAC honors along with being named MEAC
Offensive Lineman of the Year … Also earned All-American honors from American Urban Radio Networks and
Boxtorow … Led the Aggies in pancake blocks and graded out well throughout the season… Graded out well at
Florida A&M (Oct. 31) and against Alcorn State (Dec. 19).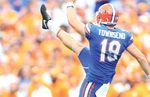 2014 Season: Played in 12 games in 12 starts…Earned third-team All-MEAC honors as an offensive
lineman…Graded out well against Florida A&M on Oct. 25 and Morgan State on Nov. 8…Helped quarterback
Kwashaun Quick have his best passing season of his career by keeping him from being sacked.

High School: Led his team to an 8-4 record as a senior…Played three varsity seasons under Mike Newsome and
Ron Massey at A.L. Brown, where he was a starter for two years...Ranked 46th in the state by Max Preps…His
team averaged 287 yards rushing per game, and completed 62.4 percent of its passes...Graduated Cum Laude
from A.L. Brown.

Personal: Full name is Brandon Malik Parker...He is the son of Curtis and Regina Parker...Was born on Oct. 21,
1995 ... Majors in electrical engineering.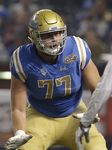 OAKLAND RAIDERS
2018 DRAFT PICK BIO
       Arden Key
           Defensive End
                LSU
              6-foot-6
             265 pounds
      Third Round, Pick No. 23
            87th Overall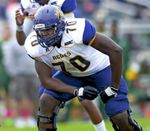 49   ARDEN KEY

Linebacker • 6-6 • 265 • Jr. • 3L
Atlanta, Ga. | Hapeville Charter Academy

2017 First Team All-SEC (AP)
2016 First Team All-SEC (AP)
2016 Second Team All-SEC (Coaches)
2015 Freshman All-America (ESPN.com, 247Sports)
2015 SEC All-Freshman Team (Coaches)

CAREER
Played 31 games with 28 starts in three years at LSU … Opted to forgo his senior season at LSU and
entered his name into the 2018 NFL Draft … Finished career with 130 tackles, 26.5 tackles for loss, 21
sacks and 28 quarterback hurries … The 21 sacks tie with Gabe Northern for third place in LSU history …
Set the LSU single-season sack record in 2016 with 12 sacks … Two-time first team All-SEC selection as
well as being a Freshman All-American in 2015.

JUNIOR SEASON (2017)
Played and started eight games, finishing with 33 tackles, 5.5 tackles for loss and 4.0 sacks … Added eight
quarterback hurries and a forced fumble … Sat out Citrus Bowl with an injury … Started season on
injured list after undergoing offseason shoulder surgery … Missed the BYU and Chattanooga games but
returned to action in week 3 against Mississippi State … Finished regular season on injured list as he
missed wins over Tennessee and Texas A&M … Best string of games came during three-game stretch
against Auburn, Ole Miss and Alabama … Had six tackles and a sack vs. Auburn followed by six tackles
and a pair of sacks against Ole Miss … Added season-high eight tackles and a half-sack against Alabama
…. Had three tackles in what turned out to be his final game as a Tigers in a November win over
Arkansas.

SOPHOMORE SEASON (2016)
School record holder with 12 single-season sacks... Led the squad with 14.5 tackles for loss … Finished
sixth on the team with 56 total tackles … Also tied for fifth on the team in solo tackles with 24 …
Recorded two sacks for 16 yards in the Citrus Bowl to take the record … Also logged six tackles against
the Cardinals … Captured LSU's first safety since 2012 in the Citrus Bowl after sacking Heisman Trophy
winner Lamar Jackson, the first in a bowl for the Tigers since the 1974 Orange Bowl against Penn State …
Named first team All-SEC by the media and second team All-SEC by the coaches ... Logged a sack in nine
of the 11 contests that he played ... Matched his career high in both tackles and tackles for loss against
Florida where he compiled eight tackles and two tackles for loss ... Logged one sack at Arkansas ...
Recovered his first fumble of the season, which was forced by Frank Herron, for his second career
recovery and also compiled five tackles against Alabama ... Moved into the top-10 in single season sacks
after dropping Ole Miss' Chad Kelly for a loss of four yards ... Registered five tackles, two quarterback
hits and his first pass breakup of the season against Southern Miss ... Earned a sack against Missouri and
also recorded three tackles ... Had a monster of a game at Auburn where he finished the evening with six
tackles, three quarterback hurries, 1.5 sacks and forced his second fumble of the season, which was
picked up by Davon Godchaux ... Picked up a huge sack and forced a fumble that was recovered by
Godchaux on 4th and 8 with 1:41 left in the fourth quarter against Mississippi State as the Tigers were
clinging to the 23-20 lead ... Totaled his third-consecutive game with a sack and tied his career high with
two sacks against Mississippi State .... Recorded a sack against Jacksonville State ... Tallied six tackles and
registered a career-high two sacks against Wisconsin.

FRESHMAN SEASON (2015)
Played in all 12 games and started the final nine contests at defensive end … Named a Freshman All-
America by ESPN.com and 247Sports as well as an SEC All-Freshman Team member following an
outstanding rookie campaign … Collected 41 tackles, 6.5 tackles for loss, 5.0 sacks, a team-high nine
quarterback hurries, one pass breakup and one fumble recovery … Had a monster game against Texas
A&M where he posted a career-high eight tackles, 1.5 sacks and three QB hurries ... Earned a sack vs.
Arkansas ... Recorded a sack, recovered a fumble and finished with a career-high six tackles at Alabama ...
Tallied half a sack vs. Florida ... Hurried the QB on the pass that led to Deion Jones' 26-yard pick six in
Key's first start versus Eastern Michigan ... Tipped a pass that Deion Jones picked off at Syracuse ...
Played extensively in the opener at Mississippi State and recorded LSU's first sack of the season along
with two QB hurries and one PBU.

HIGH SCHOOL
Rangy, explosive athlete at the defensive end position ... Unanimously rated as a four-star prospect by
Rivals, 247Sports, Scout and ESPN ... Ranked as high as the No. 3 weak side defensive end nationally by
247Sports and the No. 24 overall prospect nationally by ESPN ... Touted as the No. 4 overall prospect
coming out of Georgia ... Racked up 15.5 sacks as a senior ... Accounted for more than 100 tackles and
eight sacks as a junior ... Registered a dozen sacks as a sophomore ... Member of the Rivals 250, Scout 300,
247Sports Top 247 and ESPN 300 ... Garnered an invitation to play in the Under Armour All-American
Game ... Class 2A first team All-State selection ... Coached by Winston Gordon.

PERSONAL
Parents are Nicole Spencer and Arden Key Sr. ... Born May 3, 1996 … Majoring in interdisciplinary
studies.

ARDEN KEY'S CAREER HIGHS
Total tackles: 8, three times (Last: at Alabama, 2017; First: vs. Texas A&M, 2015)
Tackles for loss: 2.5 vs. Mississippi State, 2016
Sacks: 2.0, three times (Last: at Ole Miss, 2017; First: vs. Mississippi State, 2016)

           G-GS    UT AT      TT     TFL       Sacks     PBU         QBH      INT       FF    FR
2015       12-9    20 21      41     6.5-36    5.0-33    1           9        0         0     1-0
2016       11-11   24 32      56     14.5-97   12.0-85   3           11       0         3     1-0
2017       8-8     15 18      33     5.5-26    4.0-21    0           8        0         1     0
Total      31-28   59 71      130    26.5-159 21-139     4           28       0         4     2-0
OAKLAND RAIDERS
2018 DRAFT PICK BIO
      Nick Nelson
             Cornerback
              Wisconsin
              5-foot-11
             208 pounds
      Fourth Round, Pick No. 10
            110th Overall
NELSON CAREER DEFENSIVE STATISTICS
                                                               Year G/S UT AT Tot TFL-Yd Sk-Yd FF FR INT PD
NICK NELSON                                                    2016              Redshirt season
 CB  Junior  5-11  208                                     201714/14 26  9 35 1.0-3      0.0-0 0 0 0 21
                                                               Tot. 14/14 26 9 35 1.0-3 0.0-0 0 0 0 21
   Glenarden, Md. (Suitland/Hawai'i)
Honors and Awards                                              NELSON CAREER PUNT RETURN STATISTICS
                                                               Year GP/GS    Ret     Yds      TD  Avg               Lg
2017: Second-team All-America (CBS), first-team All-Big
                                                               2016             Redshirt season
Ten (consensus), Big Ten Special Teams Player of the           2017 14/14     24     206        1  8.6              50
Week (Nov. 20)                                                 Totals 14/14   24     206        1 8.6               50

Notable: Transferred to Wisconsin prior to 2016 season         NELSON CAREER GAME҃BY҃GAME DEFENSE
and redshirted per NCAA transfer rules ... invited to          2017          UT AT Tot TFL-Y Sk-Y FF FR           INT PD
2018 NFL Scouting Combine                                      Utah State     1 1 2 0.0-0 0.0-0 0 0-0              0-0 0
                                                               Fla. Atlantic  2 1 3 0.0-0 0.0-0 0 0-0              0-0 1
                                                               BYU  U            0 1 0.0-0 0.0-0 0 0-0             0-0 1
2017 Season: Earned first letter, starting all 14 games
                                                               N'western
                                                                     est         1 3 0.0-0 0.0-0 0 0-0             0-0 2
at cornerback ... set single-season school record with         Nebraska
                                                                      ask        2 4 0.0-0 0.0-0 0 0-0             0-0 3
nation-leading 21 pass breakups ... logged 35 total            Purduedue         1 5 0.0-0 0.0-0 0 0-0             0-0 2
tackles, including 26 solo stops and 1.0 TFL ... returned      Maryland
                                                                   ary           0 0 0.0-0 0.0-0 0 0-0             0-0 1
24 punts for 206 yards (8.6 average), including 1 touch-       Illinois
                                                                 li              0 1 0.0-0 0.0-0 0 0-0             0-0 4
down ... contributed to unit that ranked No. 2 nationally      Indiana
                                                                ndi              0 5 1.0-3 0.0-0 0 0-0             0-0 4
in total defense (262.1 yards per game), No. 3 in scoring      Iowa           3 0 3 0.0-0 0.0-0 0 0-0              0-0 0
defense (13.9 points per game), No. 3 in rushing defense       Michigan
                                                                   ich           0 2 0.0-0 0.0-0 0 0-0             0-0 2
                                                               Minnesota  ta     1 1 0.0-0 0.0-0 0 0-0             0-0 0
(98.4 ypg) and No. 1 in pass efficiency defense (96.4) ...
                                                               Ohio State     2 2 4 0.0-0 0.0-0 0 0-0              0-0 0
scored touchdown on 50-yard punt return vs. Michigan           Miamiam           0 1 0.0-0 0.0-0 0 0-0             0-0 1
on Nov. 18, adding 2 pass breakups and 2 tackles ...
logged 4 pass breakups and recorded 5 tackles at Indiana       NELSON CAREER GAME-BY-GAME PUNT RETURNS
on Nov. 4 ... had 4 pass breakups and 1 tackle at Illinois     2017          Ret   Yds   TD   Avg   Lg
on Oct. 28 ... notched 5 tackles and 2 pass breakups           Utah State      2     17   0    8.5  17
vs. Purdue on Oct. 14 ... logged 3 pass breakups and 4         Fla. Atlantic   3      8   0    3.8  8
tackles at Nebraska on Oct. 7 ... recorded 3 tackles and       BYU             2      3   0    1.5  2
                                                               N'western       3     30   0   10.0  17
2 pass breakups in first Big Ten game vs Northwestern
                                                               Nebraska        1     20   0   20.0  20
on Sept. 30 ... made 3 solo tackles vs. Iowa on Nov. 11        Purdue          0      0   0    0.0  0
... made 4 tackles vs. Ohio State in Big Ten Champion-         Maryland        0      0   0    0.0  0
ship Game on Dec. 2 ... notched 1 tackle and 1 pass            Illinois        1      0   0    0.0  0
breakup vs. Miami in the Orange Bowl on Dec. 30 ...            Indiana         2      1   0    0.5  8
made Badgers debut vs. Utah State on Sept. 1, finishing        Iowa            3     22   0    7.3  20
with 2 tackles                                                 Michigan        2     68   1   34.0  50
                                                               Minnesota       1     13   0   13.0  13
                                                               Ohio State      1    (-3)  0 (-3.0)  (-3)
2016 Season: Redshirt season
                                                               Miami           2     20   0   10.0  10

2015 Season (at Hawai'i): Started all 13 games at              NELSON CAREER HIGHS
cornerback ... finished with 53 total tackles, including       Tackles:           5 (2x) MR at Indiana, Nov. 4, 2017
1.5 TFLs and 1.0 sack ... recorded 15 pass breakups and        Tackles for Loss:  1.0 at Indiana, Nov. 4, 2017
a forced fumble ... logged a career-high 11 total tackles,     Sacks:
                                                                  ck
including 10 solo stops, and broke up three passes in          Interceptions:
                                                                        tio
season-opener vs. Colorado on Sept. 3 ... made nine            Passes Defended: 4 (2x) MR at Indiana, Nov. 4, 2017
                                                               Punt Returns:      3 (3x) MR vs. vs. Iowa, Nov. 11, 2017
tackles, including 0.5 TFL, and broke up a pass at Wis-
                                                               Punt Return Yards: 68 vs. Michigan, Nov. 18, 2017
consin on Sept. 26 ... recorded seven tackles, including       Long Punt Return: 50 vs. Michigan, Nov. 18, 2017
1.0 sack, and had two pass breakups vs. San Jose State         Punt Return TDs: 1 vs. Michigan, Nov. 18, 2017
on Nov. 21 ... had three tackles and three pass breakups
at Nevada on Oct. 24 ... broke up three passes and made
one tackle at Ohio State on Sept. 12 ... made six tackles
at UNLV on Nov. 7

2014 Season (at Hawai'i): Played in 10 games with
eight starts at cornerback ... recorded 36 total tackles,
including 31 solo stops ... logged six pass breakups and
a forced fumble ... made six tackles and broke up three
passes vs. Wyoming on Oct. 11 ... had four tackles, broke
up a pass and forced a fumble at Colorado State on Nov.
8 ... recorded seven tackles vs. Nevada on Oct. 25 ... had
six tackles at San Jose State on Nov. 15 ... made four
tackles, including 1.0 TFL, vs. Utah State on Nov. 1 ... had
four tackles at San Diego State on Oct. 18

High School: Three-star recruit by ESPN ... played wide
receiver and defensive back ... finished senior season
with 20 catches for 503 yards and five touchdowns
... helped Suitland to county and regional champion-
ships and a Class 4A state runner-up finish ... honorable
mention all-state and first-team all-county at receiver
as a senior ... team MVP as a senior ... selected for 2014
Offense-Defense All-American Bowl

Personal: Parents are Mack and Nicole Nelson ... born in
Florence, S.C. ... major is life sciences communication
OAKLAND RAIDERS
2018 DRAFT PICK BIO
     Maurice Hurst
          Defensive Tackle
             Michigan
              6-foot-2
            282 pounds
      Fifth Round, Pick No. 3
           140th Overall
and two stops against Colorado (Sept. 17) ... recorded seven
                                                                       tackles, three TFLs and one sack against Penn State (Sept. 24)
                     MAURICE                                           to be named Defensive Lineman of the Game ... contributed

                     HURST ****
                     Defensive Tackle
                     6-2, 282
                                                                       two stops vs. Wisconsin (Oct. 1) ... posted four tackles and 1.5
                                                                       TFLs at Rutgers (Oct. 8) ... made one tackle for loss for 13 yards
                                                                       against Illinois (Oct. 22) ... made a stop vs. Michigan State (Oct.
                                                                       29) ... made three solo stops, including two TFL with three

              73     Westwood, Massachusetts
                     Xaverian Brothers High School
                                                                       quarterback hurries against Maryland (Nov. 5) ... made three
                                                                       tackles and one TFL against Indiana (Nov. 19) ... assisted on a
                                                                       sack and batted down one pass attempt at Ohio State (Nov.
                                                                       26) ... recorded three tackles, two TFLs, one sack and first
At Michigan ... four-year letterman ... appeared in 46 games           career forced fumble vs. Florida State in the Orange Bowl (Dec.
along the defensive line with 17 starts at defensive tackle ...        30).
contributed 134 tackles, 34.5 tackles for loss, 13.0 sacks, two
forced fumbles, one fumble recovery, three pass breakups               Junior (2015) ... earned second varsity letter ... Academic
and one blocked field goal ... 2017 consensus All-American ...         All-Big Ten ... earned U-M Athletic Academic Achievement ...
2017 Bo Schembechler Most Valuable Player of U-M team ...              Chuck Bednarik Award (watch list) ... appeared in all 13 games,
four-time Academic All-Big Ten Conference (2014, '15, '16, '17)        making four starts at defensive tackle ... posted his first career
... earned U-M Athletic Academic Achievement ... named to the          sack against UNLV (Sept. 19) ... tallied another sack against
watch list for the 2015 and 2017 Chuck Bednarik Awards.                BYU (Sept. 26) and added his third in three weeks against
                                                                       Maryland (Oct. 3) ... had three stops against Minnesota (Oct.
Fifth-year Senior (2017) ... earned fourth varsity letter ...          31) ... totaled a career-best seven stops at Indiana (Nov. 14) ...
Academic All-Big Ten ... NCAA consensus All-American ... Bo            posted four tackles and an assisted TFL at Penn State (Nov. 21)
Schembechler Award winner as the team's Most Valuable                  ... made three stops vs. Florida in the Citrus Bowl (Jan. 1).
Player ... Defensive Player of the Year as selected by the
coaching staff ... Associated Press All-America first team ...         Sophomore (2014) ... Academic All-Big Ten ... earned first
Sporting News All-America first team ... Walter Camp Football          varsity letter ... appeared in seven games ... recorded three
Foundation All-America second team ... AFCA All-America first          tackles and one tackle for loss ... made collegiate debut
team ... Football Writers Association All-America second All-          against Appalachian State (Aug. 30) ... recorded first career TFL
Big Ten first team (coaches and media) ... semifinalist for the        at Notre Dame (Sept. 6) ... posted one tackle vs. Minnesota
Bednarik Award ... named to watch list for the Nagurski Trophy         (Sept. 27) ... blocked extra point attempt at Rutgers (Oct. 4).
and Outland Trophy ... started all 13 games at defensive
tackle ... contributed a career-best 61 tackles, 14.5 tackles for      Freshman (2013) ... did not see game action.
loss, five sacks, two pass breakups and one forced fumble ...
made his second career start in the Advocare Classic against           Prep ... attended Xaverian Brothers High School (2013)
Florida (Sept. 2), making four tackles and one tackle for loss ...     coached by Charles Stevenson ... Key Statistics ... tallied 61
registered three assisted tackles against Cincinnati (Sept. 9) ...     tackles, 13.5 TFLs, with nine sacks and four forced fumbles as a
named Defensive Lineman of the Game for his performance                junior ... Honors and Rankings ... selected to the Massachusetts
against Cincinnati (Sept. 9) ... made four tackles against Air         High School Football Coaches Association All-State Team twice
Force (Sept. 16) ... registered four tackles, including one for        (2011-12).
loss, and forced a fumble against Purdue (Sept. 23) ... set career
highs in tackles (10), solo tackles (six) and tackles for loss (3.5)   Personal ... Maurice Roy Hurst Jr. was born May 9, 1995 ... son
against Michigan State (Oct. 7) ... contributed five stops, 1.5        of former New England Patriot Maurice Hurst ... graduated
tackles for loss and half a sack at Indiana (Oct. 14) ... blocked      from the School of Kinesiology with a sport management
a field goal in the first half, the first of his career, against the   degree ... enrolled in the School of Social Work graduate
Hoosiers ... made one solo stop, a sack, at Penn State (Oct.           program.
21) ... contributed eight tackles including two tackles for loss
and one sack against Rutgers (Oct. 28) ... made one sack and           Hurst's Career Defensive Statistics
one tackle for loss against Minnesota (Nov. 4) ... recorded nine       Year      GP/GS S-A-TT        TFL      Sacks     Int.   FR    PBU
tackles at Maryland (Nov. 11), including 1.5 tackles for loss and      2014      8/0     3-0-3       1-5      0-0       0-0    0-0   0
a sack ... credited with six assisted tackles at Wisconsin (Nov.       2015      13/4    17-18-35 6.5-27      3-18      0-0    0-0   0
18), with half a sack and one tackle for loss ... totaled three        2016      12/0    19-15-34 11.5-59     4.5-33    0-0    1-0   1
tackles against Ohio State (Nov. 25) ... contributed two tackles,      2017      13/13 25-36-61 14.5-48       5.0-31    0-0    0-0   2
one tackle for loss, and one pass breakup against South                Career 46/17 64-69-133 33.5-139        12.5-82   0-0    1-0   3
Carolina vs. Outback Bowl (Jan. 1).

Senior (2016) ... earned third varsity letter ... Academic All-Big
Ten Conference ... played in 12 contests ... posted 34 tackles,
11.5 tackles for loss, 4.5 sacks, one pass breakup, one fumble
recovery and forced one fumble ... missed the opener against
Hawaii (Sept. 3) due to injury ... recorded three tackles and
had a fumble recovery against UCF (Sept. 10) ... tallied a sack
OAKLAND RAIDERS
2018 DRAFT PICK BIO
    Johnny Townsend
               Punter
               Florida
              6-foot-1
             202 pounds
      Fifth Round, Pick No. 36
            173th Overall
Position   P

     Height    6-1

     Weight    202

      Class    RS-Senior

   Hometown Orlando, Fla.

   High School Boone

                                                                               Johnny
                                                               19 Townsend
Became Florida's all-time leading punter in program history with 11,090 yards and 240 total punts as he passed Eric Wilbur (9,900 yards & 231 punts) who
held each record since 2006... Moved into SEC history as he finished his career fifth all-time in punting yards and tied for ninth in punts... Set a new career
punting average of 46.2 yards, which ranks first in SEC lore… Recorded 11 punts of over 60 yards throughout his career, which is the most by a Gator in records
dating back to 1996… His average as a senior in 2017 (47.5) ranked second all-time in UF history behind his own average of 47.9 yards, which he set in 2016…
Led the nation and the SEC in punting yardage during his junior and senior seasons… 2017: Finished the season averaging 47.5 yards as he totaled 3,043 yards
on 64 punts... Booted a career-long punt of 70 yards against Georgia and recorded 27 punts of over 50 yards throughout the season, including six over 60
yards... Notched 27 punts inside the 20-yard line during the season… His average of 54.4 yards per punt (7-for-381) against Georgia set a UF program for the
highest average in a game (min. 7 punts)… Earned Ray Guy Punter of the Week honors after he tallied five punts for 246 yards (49.2 average) against LSU
game… Named a Second Team All-American by CBS Sports, AP, Sporting News and SB Nation… Picked up Fourth Team All-American honors by Phil Steele…
Picked as a Sports Illustrated All-American… Garnered First Team All-SEC honors by the AP and second team accolades by the league's coaches and Phil
Steele… Chosen as an SEC Community Service Team member and Campbell Trophy Semifinalist… Garnered Second Team accolades from the SENIOR CLASS
Award… Named a Midseason All-American by Sporting News, CBS Sports and Sports Illustrated… Named to the SEC Academic Honor Roll… 2016: Garnered
First and Second Team… All-America accolades by CBS Sports and Fox Sports, respectively… Tabbed as a First Team All-SEC performer by ESPN and Gridiron
Now… Selected as a Second Team All-SEC punter by the leagues' Coaches, AP and Athlon Sports… One of 10 Ray Guy Award Semifinalists… Ranked first in
the nation with a 47.9 yard average on 64 punts for the season… Had 29 punts of 50+ yards and 27 punts inside the 20 yard line… Named the Ray Guy Punter
of the Week after his performance at Vanderbilt, which included a 51.9 yard average on seven punts with five inside the 20 yard line and a long of 62 yards…
Named to the SEC Academic Honor Roll… 2015: Appeared in all 14 games...Named First Team All-SEC by ESPN.com and Gridiron Now... Named Second team
All-SEC by Coaches, AP and Athlon... One of 10 Ray Guy Award semifinalists... Tallied 83 punts for an average of 45.4 yards, which ranked third in the country
and first in the conference in net punting... Named to SEC Academic Honor Roll... 2014: Did not see any game action and redshirted... Named to the SEC
Academic Honor Roll... 2013: Selected to the SEC All-Freshmen team by the league's coaches... Played in the final six games of the season... He averaged 42.0
yards per punt on the season, with 8 fair caught, 6 inside of the 20, 5 touchbacks and totaled 5 over 50 yards... Took over the punting duties beginning with
the game at Missouri, where he averaged 45.6 yards over 8 punts in his collegiate debut... Named to the SEC First-Year Academic Honor Roll.

PRIOR TO FLORIDA:
Named a U.S. Army All-American… Won the 2013 Felix "Doc" Blanchard Award, given annually to the top player at the U.S. Army All-America game who
best exemplifies the U.S. Army's high standard of excellence in community service, education and athletic distinction… Named to the 2012 Florida Class 8A
All-State team and played in the Central Florida All-Star Game… Averaged 44.6 yards per punt as a senior… Named 2012 First Team Punter Florida Athletic
Coaches Association District 11 (Orange and Osceola County Schools), All-District and to the Orlando Sentinel Super 60… Won the 2012 Nick Saban Punting
Competition and 2012 Chas Henry All-American Kicking Camp Punting Competition… Also played free safety and quarterback in high school… Plays on the
baseball team at Boone and was an All-Metro performer… Is an Eagle Scout… Member of the National Honor Society and Spanish Honor Society… Named
Boone's Homecoming King in 2012… Both parents, Clay and Susan Townsend, both attended Florida… Brother, Clay, Jr., also attends UF… Chose Florida over
Ohio State, Alabama and Cincinnati.

PUNTING              G         No         Yds       Long       Avg
2013                 6         29         1217      61         42.0
2014                 0         0          0         0          0.0
2015                 14        83         3765      61         45.4
2016                 13        64         3065      62         47.9
2017                 11        64         3043      70         47.5
TOTAL                44        240        11090     70         46.2
OAKLAND RAIDERS
2018 DRAFT PICK BIO
     Azeem Victor
             Linebacker
             Washington
              6-foot-3
             230 pounds
      Sixth Round, Pick No. 42
            216th Overall
36 AZEEM VICTOR
POSITION Linebacker
HEIGHT 6‐3
WEIGHT 231
CLASS Senior
HOMETOWN Compton, Calif.
HIGH SCHOOL Pomona

2016 First‐Team All‐Pac‐12

2017: Played in nine games, starting five of them ... started in the Huskies' win over
Montana, finishing with four solo tackles ... two tackles in a start in the victory over
Fresno State ... had a UW‐high 10 tackles, including one sack, in the Huskies' Pac‐12
opener at Colorado ... two tackles and a pass breakup at Oregon State ... made one tackle
in the Cal game ... had six tackles in a start at Arizona State ... two stops in the win
over UCLA ... one tackle in the win over Oregon ... two tackles, including a sack, at
Stanford ... did not play vs. Utah, WSU or in the Fiesta Bowl.

2016: Played in, and started, 10 games before a season‐ending injury ... despite missing
four games, still finished third on the team with 67 total tackles ... recorded 11 total
tackles in the Huskies' season‐opening win over Rutgers ... shared the team lead with six
tackles in the win over Idaho, when he also had a tackle for loss and a fumble recovery
in the UW endzone ... four tackles in the win over Portland State ... notched 10 tackles,
all of them solo, and also forced a fumble in the win at Arizona ... led all players with
11 total tackles in the win over No. 7 Stanford ... made four tackles, including one for
a loss, in Washington's 70‐21 win at Oregon ... two tackles in the win over Oregon State
... named the Walter Camp Foundation National Player of the Week and Pac‐12 Player of the
Week on defense after his performance in the 31‐24 win at No. 17 Utah ... finished that
game with 16 total tackles, most by a Husky since the 2012 Fight Hunger Bowl ... four
tackles in the Husky win at California ... was injured early in the USC game and will
miss the remainder of the 2016 season.

2015: Played in all 13 games, starting 11 (all except vs. Oregon and at Oregon State) ...
named honorable mention All‐Pac‐12 ... 10th in the Pac‐12 in total tackles ... started at
linebacker in the season opener at Boise State, where he had a terrific game ... totaled
14 tackles (11 solo) and one tackle for loss vs. the Broncos ... also started against
Sacramento State ... game‐high 12 tackles, including one for a loss, in a start against
Utah State ... 12 total tackles, including one and a half for loss, vs. California ...
had a team‐high 10 tackles, including two for a loss and half of a sack, in Washington's
win over USC ... five tackles, one for a loss, vs. Oregon ... eight tackles at Stanford
... three tackles and a pass break‐up in the win over Arizona ... eight total tackles vs.
Utah ... made nine tackles, all of them solo and including one TFL, and also batted down
a pass, at Arizona State ... made three tackles and forced a fumble in the win at Oregon
State ... made four tackles, recovered a fumble and took his first career interception
back 27 yards for a touchdown in the Apple Cup win over Washington State ... made seven
tackles, one sack, one and a half TFLs, a forced fumble and two pass break‐ups in the
Heart of Dallas Bowl win over Southern Miss ... named the winner of the Earle T. Glant
Tough Husky Award at the team's postseason awards banquet.

                                         Page 1
2014: Played in 10 of 14 games ... played vs. Hawai'i and Eastern Washington, but then
missed three games ... returned at California, where he made one tackle ... also played
at Oregon, vs. ASU and at Arizona ... had a tackle in the UCLA game and against Oregon
State ... had two big special teams tackles in the Apple Cup win at Washington State.

2013: Did not see any game action as a true freshman, preserving a year of eligibility
... won the Huskies' Brian Stapp Special Teams Scout Squad MVP award.

HIGH SCHOOL: Named to the All‐Valle Vista League first team as a senior linebacker ...
also earned second‐team all‐area from the San Gabriel Valley Tribune in 2012 ... attended
Lynwood (Calif.) High as a sophomore and junior, playing defensive end and tight end ...
rated the No. 62 outside linebacker prospect in the country and No. 86 overall player in
California by rivals.com ... ranked the country's No. 106 outside linebacker recruit by
scout.com ... played for coach Aaron Jamieson at Pomona.

                                         Page 2
OAKLAND RAIDERS
2018 DRAFT PICK BIO
     Marcell Ateman
           Wide Receiver
          Oklahoma State
              6-foot-4
            220 pounds
     Seventh Round, Pick No. 10
           228th Overall
... Among Power Five conference players with a minimum
                                                                   of 50 receptions, Ateman ranked second in the country
                                                                   (behind only Biletnikoff Award-winning teammate James
                                                                   Washington) by averaging 19.59 yards per reception ...
                                                                   Was the Cowboys' top target in crucial situations, such as
                                                                   third and fourth down ... Targeted 25 times on third down
                                                                   and recorded 15 catches, 13 of which went for first downs
                                                                   and four that resulted in touchdowns ... 11 of his 15 third-
                                                                   down receptions came in 3rd-and-long situations ... Also
                                                                   caught three of his team-high four targets on fourth down,
                                                                   securing two first downs and scoring one touchdown for
                                                                   the Pokes ... Recorded a catch in every game, and hauled
                                                                   in at least four passes in every game except for the Cow-
                                       OKLAHOMA STATE              boys' trip to West Virginia ... Surpassed the 100-yard mark
                                                                   seven times, which included a four-game stretch during the
                                       COWBOYS                     heart of the season ... His 10 career 100-yard perfor-
                                                                   mances are the fifth most in program history ... One of five
                                                                   Cowboys to surpass 100 yards receiving in a single game,
                                                                   and one of four to do so multiple times ... Had a season-
                                                                   high 119 receiving yards against Baylor ... Recorded a
        3 MARCELL ATEMAN                                           season-long 69-yard touchdown catch on a 3rd and 11 that
             RECEIVER | 6-4 | 220 | R-SENIOR
                DALLAS, TEXAS/WYLIE EAST                           gave the Cowboys a 21-0 lead over Pittsburgh ... Hauled in
                                                                   a 30-yard touchdown with less than six minutes remaining
                      Pronounced EIGHT-man                         in the fourth quarter at Iowa State to tie the game at 42-42
                                                                   ... Also snagged a 38-yard touchdown against Baylor ...
          2017 Second-Team All-Big 12 (Coaches)                    Hauled in five passes for 107 yards against Virginia Tech in
           2017 Second-Team Academic All-Big 12                    the Camping World Bowl ... Had 20 receptions of at least
    2017 Barry Sanders Award (Most Contribution with the           20 yards, 13 of which went for at least 30 yards and three
                    Least Recognition)                             that were at least 60 yards in length ... Ranks sixth in OSU
                                                                   history with 2,466 career receiving yards and fourth with a
                                                                   16.89 yards-per-catch average ... Named to the Biletnikoff
    Career Highs
                                                                   Award Watch List halfway through the season ... Gradu-
    Receptions
                                        8 at Iowa State, 2015      ated in December 2017 with a double degree in university
    Receiving Yards
                                      132 at Iowa State, 2015      studies (agriculture) and agricultural leadership.
                                            82 vs. TCU, 2015
                                                                   2016: Redshirt.
    A big-bodied receiver who developed into a mainstay of the
    offense in 2015 after he spent his first two seasons finding
    his way. Emerged as one of the nation's most dangerous         2015 (Junior): Played in every game and started all but
    receivers in 2017 after missing the 2016 season due to an      one ... Became one of the Cowboys' most explosive big-
    injury sustained during summer workouts.                       play threats, logging 33 catches of at least 10 yards and
                                                                   11 catches of at least 20 yards, including OSU's longest
    2017 (Senior): Earned second-team All-Big 12 recogni-          play of the year on an 82-yard touchdown catch vs. TCU,
    tion from the league's coaches ... An Academic All-Big 12      which ranks as the seventh longest receiving play in school
    second-team selection as well ... Ranked second on the         history ... OSU's third-leading receiver in both yards (766)
    team with 59 receptions, 1,156 receiving yards and eight       and catches (45) ... Second on the team with five receiving
    receiving touchdowns ... Played a vital role on the Cowboy     touchdowns ... His five-catch, 70-yard performance against
    offense in all 13 games and started 10 times ... A key cog     Ole Miss in the Sugar Bowl was the best among Cowboy
    for the first offense in Big 12 history to have a 4,000-yard   receivers ... Logged career highs in catches (8) and receiv-
    passer (Mason Rudolph), a 1,000-yard rusher (Justice Hill)     ing yards (132) at Iowa State ... Named OSU's offensive
    and two 1,000-yard receivers (Ateman and James Wash-           player of the game against Iowa State and against Central
    ington) ... Formed the nation's most prolific pass-catching    Michigan ... Made six catches for 101 yards vs. Kansas
    duo with James Washington, as their combined 6,938             State, including a key grab on 4th and 8 to keep the
    career receiving yards is 756 yards better than second         Cowboy offense on the field for a game-winning field goal
    place (Washington and Jalen McCleskey - 6,182) and             in OSU's 36-34 win.
    1,238 yards more than the first non-OSU duo (Memphis'
    Anthony Miller and Phil Mayhue - 5,700) ... Ranked third in    2014 (Sophomore): Played in every game except the
    the Big 12 and 13th in the nation with 1,156 receiving yards   regular season finale at Oklahoma and started seven times
                                                                   ... Finished fifth on the team in receptions (20) and sixth in
                                                                   receiving yards (268) ... His best day came against Texas
                                                                   Tech, when he set career highs with six catches for 130
                                                                   yards ... His next-best performances came against UTSA
                                                                   the week before (four catches for 70 yards) and against
                                                                   Iowa State the week after (three catches for 33 yards) ...
                                                                   Caught at least one pass in eight regular season games.

2
2013 (Freshman): Played in every game as a freshman ...           Oct. 31   at Texas Tech     3         31       0      13
                                                                  Nov. 7    TCU               1         82       1      82
Finished fifth on the team in receptions (22) and receiving
                                                                  Nov. 14   at Iowa State     8        132       1      32
yards (276) ... Grabbed a career-high four catches both at        Nov. 21   Baylor            5         83       2      39
UTSA and in the Cotton Bowl against Missouri ... Tallied          Nov. 28   Oklahoma          2         23       0      13
more than 40 receiving yards in four games, including a           Jan. 1    vs. Ole Miss      5         70       0      27
career-best 53 in a win over Kansas ... His 51-yard catch
against Baylor was the longest of his career and anchored         Ateman's 2016 Game-by-Game Receiving Stats
                                                                  Date     Opponent           No.    Yds.        TD    Long
a 99-yard touchdown drive to put the Cowboys up 7-0
                                                                  Sept. 3 SE Louisiana		             DNP
in their upset of the No. 3 Bears ... Also tallied 46 yards       Sept. 10 Central Michigan		        DNP
against Lamar and 40 at UTSA.                                     Sept. 17 Pittsburgh		              DNP
                                                                  Sept. 24 at Baylor		               DNP
High School: Coached by Joe Lepsis ... Made 84 catches            Oct. 1 Texas		                     DNP
for 1,584 yards and 27 touchdowns as a senior ... Partici-        Oct. 8 Iowa State		                DNP
                                                                  Oct. 22 at Kansas		                DNP
pated in the 2012 Offense-Defense All-America Bowl ...
                                                                  Oct. 29 West Virginia		            DNP
A four-star recruit by both Rivals.com and Scout.com ...          Nov. 5 at Kansas State		           DNP
Ranked by Scout.com as the nation's No. 25 receiver ... A         Nov. 12 Texas Tech		               DNP
first-team all-area selection by the Dallas Morning News          Nov. 19 at TCU		                   DNP
... Made 67 catches for 1,047 yards with 10 touchdowns            Dec. 3 at Oklahoma		               DNP
as a junior ... Made 32 catches for 479 yards and six
                                                                  Ateman's 2017 Game-by-Game Receiving Stats
touchdowns as a sophomore ... Also played basketball,             Date     Opponent          No.     Yds.        TD    Long
where he earned all-district recognition ... Assisted with his    Aug. 31 Tulsa               4       75          0     49
school's Peer Assistance Leadership Program ... Carried           Sept. 8 at South Alabama    5       51          2     20
scholarship offers from Arkansas, Michigan, Tennessee,            Sept. 16 at Pittsburgh      4      109          1     69
Ole Miss, Missouri and Texas Tech, among numerous                 Sept. 23 TCU                6      100          0     29
others.                                                           Sept. 30 at Texas Tech      6      114          0     30
                                                                  Oct. 14 Baylor              4      119          1     40
                                                                  Oct. 21 at Texas            4       87          0     66
Personal: Marcell Ligon Ateman was born Sept. 16, 1994,           Oct. 28 at West Virginia    1       13          0     13
in Dallas ... Son of Ronald and Arlene Ateman ... Father          Nov. 4 Oklahoma             6       64          2     20
played basketball at Western Illinois ... Majoring in universi-   Nov. 11 at Iowa State       4       97          2     30
ty studies/agricultural sciences and natural resources.           Nov. 18 Kansas State        6      113          0     63
                                                                  Nov. 25 Kansas              4      107          0     54
                                                                  Dec. 28 vs. Virginia Tech   5      107          0     50
Ateman's 2013 Game-by-Game Receiving Stats
Date     Opponent             No.  Yds.          TD      Long
                                                                  Ateman's Career Receiving Stats
Aug. 31 vs. Mississippi State  1     6            0        6
                                                                  Year    G     Rec. Yds.       Avg.   TD      Long   Avg./G
Sept. 7 at UTSA                4    40            0       22
                                                                  2013    13     22     276     12.5    0       51     21.2
Sept. 14 Lamar                 3    46            0       29
                                                                  2014    12     20     268     13.4    0       43     22.3
Sept. 28 at West Virginia      1     6            0        6
                                                                  2015    13     45     766     17.0    5       82     58.9
Oct. 5 Kansas State            2    10            0        5      2016				DNP-Injured
Oct. 19 TCU                    0     0            0        0      2017    13     59    1156     19.6   8        69     88.9
Oct. 26 at Iowa State          0     0            0        0      Career 51     146 2466        16.9   13       82     48.4
Nov. 2 at Texas Tech           2    25            0       13
Nov. 9 Kansas                  3    53            0       34
Nov. 16 at Texas               1     3            0        3
Nov. 23 Baylor                 1    51            0       51
Dec. 7 Oklahoma                0     0            0        0
Jan. 3 vs. Missouri            4    36            0       23

Ateman's 2014 Game-by-Game Receiving Stats
Date     Opponent          No.     Yds.          TD      Long
Aug. 30 vs. Florida State   0        0            0        0
Sept. 6 Missouri State      1        4            0        4
Sept. 13 UTSA               4       70            0       43
Sept. 25 Texas Tech         6      130            0       41
Oct. 4 Iowa State           3       33            0       16
Oct. 11 at Kansas           1        7            0        7
Oct. 18 at TCU              2       -3            0        3
Oct. 25 West Virginia       0        0            0        0
Nov. 1 at Kansas State      2       17            0        9
Nov. 15 Texas               1       10            0       10
Nov. 22 at Baylor           0        0            0        0
Dec. 6 at Oklahoma 		              DNP
Jan. 2 vs. Washington       0        0            0        0

Ateman's 2015 Game-by-Game Receiving Stats
Date     Opponent           No.    Yds.          TD      Long
Sept. 3 at Central Michigan  4      75            1       49
Sept. 12 Central Arkansas    4      46            0       21
Sept. 19 UTSA                1      13            1       13
Sept. 26 at Texas            4      69            0       29
Oct. 3 Kansas State          6     101            1       27
Oct. 10 at West Virginia     2      41            0       22
Oct. 24 Kansas               0       0            0        0