Sacred Heart College - Primary Handbook 2021
Page content transcription
If your browser does not render page correctly, please read the page content below
Sacred Heart College

                                          Our Vision
                With open hearts we model the all-embracing love of Jesus Christ.
           With caring hearts we are faithful to the tradition of the Sisters of St Joseph.
                With aspiring hearts we instil a love of learning and an enthusiasm
                        to embrace the challenges the future may hold.

                                         Our Mission
Guided by the Spirit:
       We acknowledge the sacredness of creation and our responsibility to care for our earthly
       home;
       We celebrate as a prayerful Eucharistic community;
       We encourage each other to give witness to the values of the Gospel;
       We reach out to all; but especially the broken, the lonely, the rejected, the stranger;
       We challenge each other to grow in academic, sporting, cultural and service
       endeavours;
       We strive to develop responsible self-management;
       We build respectful and supportive relationships between parents, students and staff;
       We respect the differing beliefs of others.

As a united community we strive to:
               'Act justly, love tenderly and walk humbly with our God.' (Micah6:8)

                                          Our Motto

                                         Sursum Corda

                                       Lift up your Hearts
Welcome

Welcome to Sacred Heart College. Our school has been a proud part of the Tasmanian Catholic
Church since our foundation in 1888 and, as one of Hobart's oldest colleges, a leading member
of the Tasmanian education community for 130 years. Founded by the Sisters of St. Joseph, Sacred
Heart College has a direct link to the Order's founders, Saint Mary MacKillop and Father Julian
Tenison Woods. Our mission is to live out the educational vision of those two great heroes of
Catholic education. We strive to make our motto Sursum Corda 'Lift up your Hearts!' the defining
message of hope for our students and staff.

Sacred Heart is a co-educational Catholic College, with an enrolment of approximately 940
students from Kindergarten to Year 10. We work to provide our students with a well-rounded
Catholic education, encouraging a life-long love of learning. There are countless opportunities at
Sacred Heart to be involved, not only in the everyday curriculum but also in a wide range of
sporting, cultural and service activities. Underpinning all that we do is our Josephite ethos, a rich
tradition of service and commitment to social justice, which prepares our students to be proactive
and generous citizens of their world, long after they exit our gates for the last time. We live by the
words of our founders, "Never see a need without doing something about it."
This handbook has been created as a resource for the families. I encourage you to have a look
through the handbook and to refer to it as a source of information and perhaps as a starting point
for any questions you may have about our College.

Mrs Elizabeth McDougall
Principal
A Brief History of Sacred Heart College
The story of Sacred Heart College began on the 16th of October 1887 when the foundation stone
of the two original classrooms was laid. Our College was blessed and opened in 1888 and was
conducted by dedicated Catholic lay teachers until 1908 and the arrival of the Sisters of St Joseph
of the Sacred Heart of Jesus.
The Sisters of St Joseph were founded in Penola, South Australia in 1866 with their work and values
based on the ideals of the Order's founders, Julian Tenison Woods and Mary MacKillop, who shared
a call to help and educate children. Whilst focusing on Catholic teaching, schools established by
the Sisters of St Joseph were open to any child who wished to learn.
A responsibility to help those in need, to recognise that there is God in everyone and in everything,
and to appreciate and cherish the people and the world around us, continue to be central to the
Values and the Mission of our College.
From humble beginnings in 1888, Sacred Heart College has expanded to become a co-
educational College for boys and girls extending from Kindergarten through to Year 10 and
welcoming students and families from many different backgrounds and faiths.
The focal point of our College is the Church of the Sacred Heart, hosting members of the local
community for regular worship and special services. The Church was built in 1884 and the College
has developed around it to include a Primary and a Secondary Campus, purpose-built expansive
teaching spaces and specialist facilities to cater for a wide range of student endeavours:
academic, sporting, design and technology, vocational training and the arts.

                                Our Vision and Values
At Sacred Heart College we work to provide our students with a well-rounded Catholic education,
encouraging a life-long love of learning. Students are encouraged to be involved in the everyday
curriculum and in a wide range of sporting, cultural and service activities.
Underpinning all that we do is our Josephite ethos, a rich tradition of service and commitment to
social justice, which prepares our students to be proactive and generous citizens of their world,
long after they exit our gates for the last time. We live by the words of our founders, "Never see a
need without doing something about it."
We believe that all members of our community are created in the image of God and have an
innate dignity that needs to be respected and nurtured. We strive to create an environment for
our students, staff and all in our College community which is founded on core values of respect,
integrity, hospitality, inclusiveness, forgiveness and justice and to pass on these values and
the teaching and spirituality of the Catholic Church through our learning programmes, through
opportunities for prayer and celebration and through outreach.
We recognise the individuality of each student and actively work to promote their needs through
quality teaching and learning, firm, fair and consistent expectations and the establishment of an
effective care network for every student.
Students are encouraged to develop a personal ethical framework that focuses on our College
Charisms and Expectations: C.A.R.E – Co-operation, Achievement, Respect, Empathy.
Students are encouraged to:
 Work co-operatively with their peers and College staff
 To value opportunities, set goals and do their best to achieve
 To demonstrate self-respect and self-management
 To demonstrate respect and empathy for others both within the College and the wider
    community
 To respect their surroundings, including College property and also the world around them

                                  Campus & Facilities
Our campus blends historical buildings with modern specialist facilities, encircling Sacred Heart
Church at its core. These surroundings serve to remind us of our purpose, our history and
traditions, whilst also ensuring the curriculum is delivered within a contemporary learning
environment.
Over our 130 year history our campus has expanded and developed, growing from the original
two classrooms and Novitiate building to include expansive teaching spaces, an award winning
playground, specialist teaching and sport facilities and dedicated spaces for Intensive English and
Learning Support.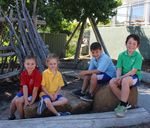 College Houses
Students joining Sacred Heart College are welcomed into one of the four College Houses; Julian,
Quinlan, Delany or Xavier. Our House System is much more than the sports carnivals and other fun
activities that enrich College life. Each House focuses on an inspirational figure who has made a
significant contribution to the development of our College, a specific charism value and C.A.R.E.
expectation, and an agency that students work to support throughout each year.

The Houses have a vital role in service and outreach within our Catholic community and every
member of each House learns and lives that service. Indeed the prime purpose of our House
system is to give voice and action to outreach.

                      Delany
                      Archbishop Patrick Delany (1853-1926)
                      Patrick Delany was born in County Galway, Ireland. He was ordained as a
                      priest in 1879. In December 1893 he was consecrated as Coadjutor of
                      Hobart and in December 1907 became the third Archbishop of Hobart.
                      Agency:                Society of St Vincent de Paul
                      Charism Value:         Service
                      Expectation:           Co-operation

                      Julian
                      Father Julian Tenison Woods (1832-1889)
                      Julian was born in Southwark, England. He was ordained a priest in Adelaide
                      in 1857 and with Mary MacKillop was the co-founder of the Sisters of St
                      Joseph          in Penola, South Australia in 1866. Fr Julian worked in
                      Tasmania from 1874-1876.       He was a missioner, a founder, a scientist, a
                      poet, a musician, an artist, a journalist, an explorer but before all of these
                      he was a Priest of God.
                      Agency:                Caritas
                      Charism Value:         Environment
                      Expectation:           Respect

                      Quinlan
                      Sister M Hyacinth Quinlan (1852-1933)
                      Bridget Mary Quinlan was born near Clare in South Australia. In 1868 she
                      entered the Sisters of St Joseph in Adelaide. After founding the Diocesan
                      New Zealand Josephites at Wanganui in 1880 Sr Hyacinth transferred to the
                      Tasmanian group in 1891.
                      Agency:                Sisters of St Joseph's East Timor Mission
                      Charism Value:         Learning
                      Expectation:           Achievement

                      Xavier
                      Sister M Xavier Canty (1871-1934)
                      Mary Ellen Canty was born in Cootamundra, NSW. She entered the sisters of
                      St Joseph in 1890 and was one of the original community at Sacred Heart in
                      1908 taking on the role as Principal of the College from 1921-1933.

                      Agency:                Catholic Mission
                      Charism Value:         Compassion
                      Expectation:           Empathy
Community
In Partnership with the Church
Sacred Heart College is unique in many ways and as part of the St Mary's Cathedral Parish we
celebrate the strong and constant presence of the sacred in our life. Our students are able to join
with the Parish to regularly celebrate the Eucharist as part of the Parish community. The enduring
and beautiful presence of the Church of the Sacred Heart, built in 1884, reminds us of our long and
proud tradition as a place where the Word of God is given voice.

In Partnership with Families
At Sacred Heart College we aim to build strong relationships with our students and their families.
Parents and family members are very welcome to actively participate at the College in the
classroom, through sport, on excursions and camps, as speakers at our careers week, as volunteers,
and through membership of the Board and our Parents and Friends Association. The strong
involvement of parents in the College is the lifeblood of our school. The P&F in particular provides
opportunities for parents to be involved in policy review, social activities, fund raising and the
overall future direction of the College.

We recognise the demands of combining family life and work, and through the Discovery Early
Learning Centre can offer both before and after school care and holiday care on site.

The College also offers the B4@SHC Programme which welcomes children from birth to four years
and their families to wonder, play and socialise in a friendly, nurturing environment. Weekly sessions
are held during term time.

                               Charism of Our College
Charisms are traditions which are linked to significant people whom the Catholic Church has
deemed remarkable in their contributions to the society they lived in by living out most fully the
Gospel values of Jesus Christ. Each Charism has its own history and figures, and the extended
present day network of professionals strive to keep the work alive today.

The Josephite Charism: Saint Mary of the Cross MacKillop
The Josephite Sisters were started by Saint Mary MacKillop, who lived from 1842 to 1909.
Mary MacKillop's dream of providing Catholic education to rural Australian children
began in Penola, South Australia. She was the first woman to begin a religious order
which addressed the specific needs of rural Catholics in colonial Australia. Fr Julian
Tenison Woods and Mary MacKillop shared a dream to educate children who lived in
isolated rural communities in Australia. Her dream to educate children was further
realised with the establishment of a Catholic order of Sisters, which was named the Sisters of Saint
Joseph, whose patron saint is Saint Joseph The Worker, father of Jesus. These Sisters began their
ministry by setting up schools in South Australia, and quickly expanded to Queensland, Victoria,
Tasmania and New Zealand. The Josephite Mission and History Centre, on site has a museum
detailing the history of our College, and the work of the Josephites in Tasmania.

How are these Charisms alive and celebrated in the day-to-day life of Sacred Heart College?
Throughout the Church and College year, there are a number of whole school events which help
students to learn about the Sacred Heart of Jesus, St Mary of the Cross MacKillop, Fr Julian Woods
and the Josephite sisters and which commemorate their significant work.

We pray with students leading prayer each morning and Community Prayer every Friday mornings
in Sacred Heart Church.
We celebrate Mass on feast days, celebrating the Feast of the Sacred Heart and St Mary of the
Cross MacKillop's Feast Day on 8th August.
We work to help others as each House focuses on a particular charism and supports a specific
charity, with one term designated to each of the focus charities.

HOUSE                  EXPECTATION            OUTREACH FOCUS
JULIAN                 RESPECT                Caritas                                Term One
QUINLAN                ACHIEVEMENT            Mary MacKillop International           Term Two
DELANY                 CO-OPERATION           St Vincent De Paul Society             Term Three
XAVIER                 EMPATHY                Catholic Mission                       Term Four
The School Day

                  8.45am                                  Start of the day

          8.45am – 11.00am                Classroom Programmes (fruit break 9.55am)

          11.00am – 11.30am                                    Recess

          11.30am – 1.00pm                           Classroom Programmes

          1.00 pm – 1.50pm                                     Lunch
                                             1.00pm - 1.10pm     Eating time in the classroom
                                             1.10pm - 1.50pm     Outside play
           1.50pm – 3.00pm                           Classroom Programmes

                  3.00pm                                  End of the day

Staff are available to provide supervision of students in the quadrangle from 8.20am until the start
of the school day, and after the 3.00pm bell until 3.15pm.

                              Contacting the College
Absentees (before 9.00am if possible)         Phone:           6279-4090
                                              SMS:             0467 302 470
                                              Email:           absence@shc.tas.edu.au
                                              App:             use the SHC app to advise absence

College Office:                               Phone:           6279-4090
                                              Email:           admin@shc.tas.edu.au

College Website:                              www.shc.tas.edu.au

Josie:                                        https://josie.shc.tas.edu.au

To email any staff member:                    firstname.lastname@shc.tas.edu.au

The school office is open from 8.00am to 4.00pm Monday to Friday during term time and 9.00am
to 3.00pm during the majority of the school holidays.

UNIFORM SHOP OPENING HOURS:
During term time the Uniform Shop is open:             Tuesdays         8.00am – 11.00am
                                                       Thursdays        1.00pm – 4.00pm
Communication: School and Home
A wide variety of information is available through the College Newsletter, Website, Phone App and
Josie and through regular updates on the College Facebook page.
A large percentage of the correspondence sent home is issued via email. Current email addresses
and parent contact information are essential to ensure families receive all relevant information
throughout the school year.
Josie is the College Learning Management System accessible by both students and parents.
Students can submit work to teachers, both students and parents can use Josie to view teacher
comments and review marks on work completed, can access the class page, can receive
notifications of work required and access class news.

The SHC App can be downloaded to access continuous online
reporting, class news, the College calendar, advise of student
absence and more, all on your phone. (use your phone camera to
scan the preferred QR code).
                                                                    QR Code for App Store   QR Code for Google Play
Assessment & Reporting
Student assessment is ongoing throughout the year with online feedback on student tasks
completed regularly and available to view through Josie.
Communication with Teachers
The relationship between school and home forms a vital part of our supportive school environment
and our Student Wellbeing Programme. Parents are encouraged to communicate any information
which may be relevant to how your child may be feeling e.g. illness, bereavement, or change in
family circumstances so that we can work in partnership with you and your child. If you have an
issue of importance to discuss, and to ensure any concerns can be given our full attention, it is best
to make an appointment at a mutually convenient time rather than try to catch staff during the
busy moments at the start of the school day.
All our teachers are members of highly collaborative, year-based teams who work together closely
to plan for and deliver the highest possible standard of pastoral care and curriculum engagement
for every student in their care. In this best practice structure, our flexible and open learning hubs
enable students to experience not only wonderfully positive opportunities to work within mixed
groupings of their peers, but also with every teacher in the team. Teachers are not responsible for
individual "classes", but share the responsibility for the entire year group.
These collaborative teaching and learning philosophies ensure assessment, progress feedback
and reporting, day to day issues and concerns, and any other communication with parents is
completed and delivered as a team by our teachers. Each teaching team has a group email
address to ensure all members of the Teaching Team are involved in communication. Parents are
encouraged to communicate with the teaching team either in person or by phone or email during
normal business hours.

                                      Student Learning
                                  Student Care & Wellbeing

                                       Teaching Team

                                       Deputy Principal

                                           Principal

Information Events
Goal Setting and Parent/Teacher Learning Conferences are held in March and July respectively,
providing individual opportunities for discussions about student goals and progress. Additional
opportunities are advertised throughout the year welcoming current and future families to attend
orientation and transition events prior to Kinder, Prep and Year 7, in addition to College Open Days,
Taster Days and a series of pre-kinder sessions throughout Terms 3 and 4.
Campus Assemblies
Primary Campus assemblies are held once a month on Wednesday afternoons in the SSJ beginning
at 2pm. We welcome and encourage parents to attend these assemblies celebrating student
effort and achievement.
Curriculum
Sacred Heart College Primary Campus is a place for children, families and educators to come
together to celebrate the development of the whole child as they weave their own individual
learning story. Staff are committed to creating an environment where children feel respected,
loved and valued. It is a place where childhood is celebrated and children are nurtured. We value
kindness, cooperation, tolerance, and respect.
Catholic education by its very nature challenges us to be a community and to build an
atmosphere where children can be gradually made aware of God's love for them and to
understand their own unique place in the world. Children are immersed in a rich learning
environment, which supports their individual learning, where they are listened to and encouraged
to express their ideas and where relationships are nurtured.
In Kindergarten we provide an integrated programme which offers each child the opportunity and
time to play, to discover and explore, to question and wonder. We value play as a powerful tool
for learning which enables children to develop at an appropriate pace through meaningful
interactions with adults and with the world around them. We value the role of the natural
environment in the lives of children and the development of an environmental identity.
As students progress through the Primary years they are provided with comprehensive learning
opportunities within the Australian Curriculum subjects of English, Maths, Religious Education,
History and Social Sciences (HASS), Science, Physical Education, Health and Well Being,
Languages–Indonesian, Music, Visual Arts, Drama, Digital and Design Technologies integrated
across all curriculum areas.

Literacy and Numeracy
Literacy and numeracy are key priorities for the College across all Grades. A number of initiatives
have been put in place to assist student to build solid foundations in Literacy and Numeracy
skills. These programmes include:
 Strategic testing for Early Years to target phonemic awareness and numeracy skills.
 Whole College Literacy Programme
 Junior Literacy Programme – including Letters and Sounds
 STEM/reSolve (Maths) inquiry programme

Information Technology
Information and Communications Technology (ICT) facilities are available in each classroom with
iPads, interactive whiteboards, ELMO digital visualisers and plasma screens in use throughout the
Primary Campus. Student are encouraged to be sensible and respectful in their use of technology
with more detail provided later in the Handbook on Use of Mobile Phones, Internet Policy and
Cybersafety.
Students in Year 5 and 6 participate in the Bring Your Own Laptop programme (BYOL), which
continues throughout the Secondary Campus. Student laptops need to be brought to school
between Monday 18 and Friday 29 January 2021 for connection with the College system. Please
refer to the Bring Your Own Laptop Programme attachment for all details.
Excursions
Students have opportunities to participate in excursions and off campus activities during the school
year that provide an extension to the curriculum, first-hand experience of a particular area of study
and/or opportunities for social development. We will provide families with detailed information
prior to each excursion via email. Specific permission will be sought from parents/guardians prior
to any excursions that include aquatic activities, outdoor education or any high-risk activities or
overnight camps.
Inclusive Education
Sacred Heart College is committed to promoting the inclusion of students with additional needs in
the mainstream education system. Students are provided with support both in class and through
group sessions held in Primary Learning Support.
English as an Additional Language (EAL)
Our College welcomes students from diverse cultural backgrounds. The EAL programme provides
specific support for students who have language backgrounds other than English and who are
learning English as an additional language.

Co-Curricular
In addition to the curriculum, students have the opportunity to participate in a wide range of co-
curricular activities designed to suit the talents and interests of all. A mix of sporting, extension, and
service activities are on offer before and after school and during lunch breaks (e.g. code club,
makers club, robotics club, choir).
Sport
Learning continues outside the classroom with students encouraged to face challenges, set goals,
develop stamina, learn about competition, commitment and teamwork, and build friendships
through their involvement in school sport. Students have numerous opportunities to:
- Participate in Daily PE and timetabled physical education lessons
- Participate in the Sporting Schools After-School Activity (a new activity is offered each term)
- Represent the College in Athletics, Swimming and Cross Country carnivals
- Join College teams across a wide range of sports under the SATIS banner.
Sacred Heart College fields over 150 sporting teams each year in sports such as basketball, netball,
cricket, football, soccer, touch football, tennis and hockey.

Year Level Camps
Even further afield, students experience short-term residential camps in Years 4 and 5 and visit
Canberra in Year 6 learning about Australian History and Democracy. Camps provide valuable
opportunities for students to bond as a class, to develop new friendships, learn about leadership,
build on existing strengths, have fun in a supportive and challenging environment, and discover
more about the world around them. Activities on camp vary but are often designed to challenge
the students physically and mentally as they work together to work through problems and
challenges, make decisions and develop resilience.

Better Buddies Programme
The Buddies Programme is run by students in Years 5 and 6. Under the guidance of the Buddies
Co-ordinator, students lead small group sessions throughout the term, with the focus on the four
pillars of our CARE Expectations philosophy, Co-operation, Achievement, Respect and Empathy.

Making Jesus Real / Wellbeing Programme
Students from Prep through to Year 6 participate in a pastoral care programme and a version of
the Making Jesus Real Programme.

Canteen
The canteen is available for students at both recess and lunch each day. Orders may be placed
and paid for via the QKR app (see below) or there is a canteen box in each classroom for written
orders and cash payments.

Qkr – order and pay online
Qkr is a smart phone app parents can use to order and pay for items from the Canteen or Uniform
Shop, for sporting registrations, tuition fee accounts and other school accounts (e.g. Year 6
Canberra Trip). The Qkr app can be accessed through the SHC website - www.shc.tas.edu.au then
select Qkr Smartphone App from the menu.

                                   Student Wellbeing
Student Wellbeing, or Pastoral Care, at Sacred Heart involves looking after the physical, emotional,
spiritual and social well-being of students and staff. Since the Sisters of St. Joseph founded the
College in 1888, pastoral care, or the sacred duty to respond to the needs of each and every
person in our community, has been a central feature of life at the College. Pastoral care is also a
shared responsibility. It is about building relationships, enhancing a sense of community, meeting
challenges and helping our students to feel that they belong.

Pastoral care is embedded in every facet of College life and is an integral part of all educational
activities. Our pastoral care programmes are catered to suit the needs of each age group and
are implicit as part of everyday life at the College. All staff, teaching and non-teaching, are
involved in pastoral care at Sacred Heart. Our major goal is to work in partnership with parents to
educate resilient, independent and confident men and women who can make a difference in
the world.

Teaching Teams
Across the Primary campus staff combine into teaching teams to plan collaborative learning,
teaching and reporting opportunities which allow year groups to work together as a whole on
most learning tasks. Learning hubs have been designed to create a collaborative atmosphere
which is based upon group and team work and learning.
College Staff
Principal                           Mrs Elizabeth McDougall
Deputy Principal - Primary          Mr Justin Veitch
Deputy Principal - Secondary        Mr Nicholas Lahey
Director of Teaching & Learning     Mrs Kandy Parker
Director of Ministry                Ms Nicole De Gouveia
Director of Learning Support        Mrs Andrea Gadon
Business Manager                    Mrs Anita Smith

                                 Primary Teaching Teams
Kindergarten Teaching Team                 Mrs Tennielle Armstrong (Sursum – Mon to Wed)
                                           Mrs Emma Wisby (Corda – Wed to Fri)
Prep Teaching Team                         Miss Brontie Froud
                                           Ms Connie Abate
Learning Stage Leader Kindergarten/Prep    Mrs Emma Wisby

Year 1 Teaching Team                       Mrs Kelly Webster
                                           Miss Jess Graham
Year 2 Teaching Team                       Mrs Jacqui Luttrell
                                           Miss Laura Collins
Learning Stage Leader Year 1/2             Mrs Kelly Webster
Teaching Support Year 1/2                  Mrs Bernadette Rossington

Year 3 Teaching Team                       Miss Kate Ryan
                                           Miss Emma Price
                                           Mrs Sally Cassidy
Year 4 Teaching Team                       Ms Suzi Pritchard
                                           Ms Sarah Stephen
                                           Mrs Sally Cassidy
Learning Stage Leader Year 3/4             Ms Suzi Pritchard
Teaching Support Year 3/4                  Mrs Anna Greenhill

Year 5 Teaching Team                       Mrs Fiona Oliver
                                           Mrs Melissa Bower
                                           Mr Paul Crennan

Year 6 Teaching Team                       Ms Cathy Back
                                           Mr Paul Guinane
                                           Mrs Joanne Pamplin
                                           Miss Melissa Carlton

Learning Stage Leader Year 5/6             Mrs Jo Pamplin
Teaching Support Year 5/6                  Mr Paul Crennan

                                     Specialist Staff
Religious Education Co-ordinator           Mr Paul Crennan
Kinder – Year 2 Co-ordinator               Mrs Sue Burrows
Health & Physical Education (HPE)          Mr Paul Guinane (3-6), Mr Andrew Wirtz (K-6)
Music                                      Ms Carmelita Coen (5-6), Mrs Leigh Lazarus (K-4)
Visual Art                                 Mrs Vicki Morris
Drama                                      Ms Kristy Brake
Language/Indonesian (3-6)                  Mrs Li Li Lim
Digital Technologies Coordinator           Mrs Kelly Warburton
Learning Support                           Mrs Sue Burrows, Mrs Andrea Gadon
EAL Teacher (Primary)                      Ms Swechha Shrestha
Literacy/Enrichment Coordinator            Ms Cathy Back
Library Technician                         Mrs Reagan Tait
School Counsellors                         Mrs Kristy Forrest, Mr Sam Parker
Primary Office Administrators              Mrs Anne Thuringer, Mrs Liz de Groot, Mrs Tracey Apted
Teacher Assistants                         Donna Bone, Natasha Cormie, Liz de Groot, Natalie French,
                                           Amy Johnstone, Ella Moore, Fiona Moore, Andrina Rackett,
                                           Seena Sejan, Belinda Vinen, Vanessa Westwood.
Assessment and Reporting
• Assessment
Assessment of student learning is an on-going process and takes place at different levels and for
different purposes, including:
   ongoing formative assessment within classrooms for the purposes of monitoring learning and
    providing feedback, for teachers to inform their teaching, and for students to inform their
    learning.
   summative assessment for the purposes of reporting by schools to parents and carers on the
    progress and achievement of students. (ACARA)
We monitor students' progress by assessing their knowledge, skills and understanding against the
Achievement Standards.

• Reporting
An important part of the assessment process is reporting results and giving feedback on tasks and
assessments for the purpose of:
   communicating progress
   providing meaningful feedback
   allowing students to reflect on what they have done well, where and how they can improve
    and how they can extend themselves.

Results/feedback can take various forms: written comments; rubrics; annotated student work;
percentages; letter grades.

Josie, provides continuous on-line feedback/results and is up-dated regularly.      Students and
parents are able to access:
   assigned tasks/assessments
   assessment criteria for specific tasks, assignments and assessments
   completed student work with results and feedback

• Effort and Work Practices
Josie also provides valuable feedback on a student's effort and work practices in each subject
area in the form of a rubric and includes feedback on:
   Engagement with learning
   Respectful Practices
   Self-management

Feedback is an important part of the assessment process. It has a significant effect on student
learning and has been described as 'the most powerful single moderator that enhances
achievement' (Hattie, 1999).

Detailed reports are issued at mid-year and at the end of the school year. Formal opportunities to
meet subject teachers are available at the end of Term 2. Parents are welcome to contact
teachers at any time should they wish to discuss student progress.

Reporting Timetable Ongoing          Continuous online reporting regularly updated on Josie
                    Term 1           Goal Setting Conferences
                    Term 2           Mid-year Reports & Learning Conferences
                    Term 4           End of Year Reports
Attendance
All schools are required to maintain a register of daily attendance for each student.

Attendance is taken each morning with any student absences noted and forwarded to the
office. Parents are required to contact the College before 9.00am to advise that their
son/daughter will be absent from school. At 9.30 each morning, if no advice has been received
from a parent, a SMS notice will be issued to the mobile number nominated in the student's
record advising a student has an unexplained absence.

Parents are asked to contact the College by phone, email, app or SMS to advise of any student
absence.

In the event of extended absence due to illness, a doctor's certificate should be provided upon
return.

Requests for an extended absence for other reasons i.e. sporting team commitment or family
holiday, should be submitted to the Principal in writing.

If a student needs to leave the College during the school day parent permission is required
(written is preferred). Students must sign out at the Primary Office before leaving.

Students who arrive late (after 8.45am) must sign in at the Primary Office and receive a late pass
to present to the classroom teacher.

In July 2014 Tasmanian State Government legislation for 'Working with Vulnerable People' was
enacted and dictates that all adults on College grounds during working school hours, must have
signed in and received a visitor's pass, and have a current Working with Vulnerable People
Registration. The only exception to these guidelines are for the normal morning drop off and
afternoon collection periods and for parental/guardian attendance at special events such as
Assembly, Sport Carnivals or where an invitation has been forwarded. The purpose of the
legislation is to significantly improve safeguards and child protection processes to help keep
children safe from harm.

   Outside of the normal "drop off" and "pick up" periods in the morning and afternoon, adults
    should not visit classrooms areas unless appropriately signed in.

   All students arriving at school prior to 8:30 am are reminded that they must wait in the
    quadrangle area outside of the Primary office, unless they are accompanied by their own
    parent or guardian. A supervising Teacher is on duty from 8:20am. Students will be allowed
    to go to their classrooms at the sounding of the 8:30am bell. Please note: that students and
    parents will not be able to enter their classroom prior to 8:30am unless under express invitation
    of the classroom teacher for the purposes of a meeting/interview with them.

   Similarly, this applies to those students who are waiting for buses, secondary siblings or parent
    collection after 3pm. All waiting students must do so in the quadrangle / amphitheatre or
    courts area. The safety of our students is of the highest priority and the busy streets around
    the school at the end of the day is our primary concern. We ask parents not to encourage
    their children to wait in Pedder or Clare Streets. Teachers will ask students waiting in these
    areas to move to the quadrangle/courts. A Duty Teacher will collect those waiting for buses
    and will wait with them at the bus stop.

   The lower grassed and playground areas and footpaths are out of bounds after school to
    those students not individually supervised by their parents or nominated guardian adult or
    who are attending After School Care.

   If students are still in the quadrangle area by 3:15pm, they will be asked to continue waiting
    for their parents/guardians in the main Administration Office.
Student Health
Move Well Eat Well
Sacred Heart Primary is an accredited "Move Well Eat Well" School and our community works
hard to promote this programme within the school. Students participate in Daily PE and have a
fruit-break each morning routine. As a part of this initiative, we encourage families to provide
fresh, wrapper free food for school lunches wherever possible.

We ask that families support us in our endeavours by ensuring that students bring fruit or
vegetables only to have during mid-morning fruit break, and wrapper free food for other breaks.
We also encourage tap water as the drink of choice at school. Water bottles can be refilled at
school with water bubblers recently installed on both the Primary and Secondary campuses.

Sacred Heart College is Nut-Aware
Please note that Sacred Heart College has a Nut-Aware Policy. We do have a number of
students who experience the serious effects of anaphylaxis if exposed to nuts. With this in mind,
families are asked to please not include any food containing nuts, or trace elements of nuts, in
lunch boxes.

This is also something to be considered when sending along food for special events. Whilst we
enjoy celebrating special occasions such as birthdays with students, we ask that parents check
with their classroom teachers before sending in birthday cakes, muffins or other treats for classes
to share. For similar reasons, students are regularly reminded not to share lunches or food items.

Sun Smart
Sacred Heart College Primary is a registered Sun Smart School, consequently all students are
required to wear sunhats whilst outside during Term 1 and Term 4.

In line with our Uniform Policy, College bucket hats are to be worn and can be purchased from
the Uniform Shop. The only exception to this is for Year 6 students who are able to wear their
Aussie Sport Leader caps.

Medications
If a student requires medication during school hours, written advice is required from parents
providing details of the medication, dosage etc. Please contact the College Office for details.

Student Illness
When a student becomes ill at school and appears to require medication, rest, or treatment by
qualified medical personnel, the school will take all necessary action to contact the parents or
guardians and/or a doctor (where possible, the GP nominated by the parents), as required. Until
such time as the students can be taken home into appropriate care, or given required treatment
(either at school or at a medical facility), he/she will be cared for by the College.
Uniform Information

Girls - Summer               Boys - Summer   Girls – Winter         Boys – Winter

                                                  Formal black lace-up dress shoes

            Sports Uniform
Uniform Requirements
The College uniform is the face of the College to the general public with all students required to
wear the correct uniform. The wearing of the College uniform aims to engender a sense of
belonging, to promote a spirit of community and to reflect commitment and pride in our College.

Students in Kindergarten to Year 2 wear SHC Sports Uniform every day.

Students in Year 3 to Year 6 wear formal uniform on all days except the day of timetabled HPE
lessons, or if they are representing a College Team during after school activities.

                                          Sports Uniform

                       Rugby Top                     Trackpants
                       Polo Top                      College shorts
                       White socks                   Sports shoes
                       House t-shirt                 Jacket (optional)

                                         Formal Uniform

       GIRLS' SUMMER UNIFORM                                 BOYS' SUMMER UNIFORM
       College Blazer                                        College Blazer
       College Jumper                                        College Jumper
       Summer dress or skort and summer blouse               College white overshirt
       Navy socks/stockings                                  College grey shorts/ trousers
       Black lace up shoes                                   College grey striped socks
       Bucket hat                                            Black lace up shoes
       Year 6 only - skirt & shirt (optional)                Bucket hat

       GIRLS' WINTER UNIFORM                                 BOYS' WINTER UNIFORM
       College Blazer                                        College Blazer
       College Jumper                                        College Jumper
       Shirt long/short sleeve (2piece collar)               Shirt long/short sleeve (2piece collar)

       Tunic (compulsory up to Year 4)                       Grey trousers/shorts
       College bow tie/tie                                   College tie
       Navy tights/socks                                     College grey striped socks
       Black lace up shoes                                   Black lace up shoes
       Skirt - Year 5 and 6 (optional)
       Tartan Trousers (optional)

We ask families to please be especially vigilant about blazers and remind everyone that the
College blazer is to be worn to and from school on days when formal uniform is worn. The College
soft-shell jacket is not to be worn as an alternative to the College blazer.

All items of clothing should be clearly named with the student's full name. If an item is lost
students are encouraged to look through Lost Property in the Primary or College Office.
Uniform Expectations
Blazers                Must be worn to and from school unless excused on hot days (students will
                       be notified via PA or Tutor/Class Teacher)

College Jacket         The College soft-shell jacket is part of the HPE uniform and may also be
                       worn with the formal uniform during the school day but PLEASE NOTE the
                       College blazer must be worn to and from school on days when formal
                       uniform is worn (the soft-shell jacket is not an alternative to the College
                       blazer).

Shoes                  Black leather or polish-able lace up shoes (not boots) must be worn with
                       the uniform. Only durable leather school shoes are to be worn in the
                       kitchens and workshops. For safety reasons, shoes, including sports shoes
                       must be lace-up and robust (not canvas or soft material).

Hats/caps/beanies      Must be worn the correct way around, free from graffiti and not bent or
                       altered in shape. There must be no non-uniform items worn with the
                       uniform. These include overcoats, baseball caps, etc. and no visible non-
                       uniform items worn under the uniform e.g. long t-shirt worn under sport
                       tops.

Hair/nails/makeup      Hair must be neatly groomed in keeping with our conservative, formal
                       environment for learning. If shoulder length or longer, hair must be tied
                       back. No extreme hairstyles like undercuts, razored patterns, mullets,
                       mohawks, dreadlocks or styles deemed unsuitable by the direction of the
                       Principal. No extreme bleaching, multi tones or hair fixing agents like gel,
                       hair extensions, hair jewellery, beads or art.
                       No noticeable makeup, nail polish, fake tan, fake nails, fake eyelashes or
                       eyebrows. Boys must be clean shaven.

Jewellery              Earrings: students may wear plain sleepers or studs only, maximum of 2 in
                       each ear, worn in the ear lobe only. No dangly earrings, No spacers, rods
                       or bars. No other facial jewellery is permitted (e.g. not in brow, tongue,
                       nose, tragus). Only one plain ring, bangle, wristband watch or religious
                       icon necklace. No other jewellery is permitted.

Trousers/track pants   Must be worn appropriately with waistband on hips. There must be no
                       visible underwear.

Shirts                 The winter shirt is to be worn tucked in.

Skirt length           5cm above the knee.

Sport shoes            Sport shoes must be supportive (runners, cross trainers etc.). No suede or
                       skateboard shoes, Dunlop volleys, basketball boots etc. are to be worn.

Belts                  No 'brand' or webbing belts. Belts must be plain grey or black. Plain,
                       discreet sized buckles only.

Body art (tattoos)     No visible body art is permitted.

School Bag             Students are to use the SHC monogrammed bag only. School bags are
                       to be kept clean and free of stickers and graffiti.

                        SAFETY AND RESPECT WHEN IN UNIFORM AFTER HOURS
For the safety of all students, students are to travel to and from school via the most direct route.
Students are not permitted to gather in public spaces like shops, arcades, parks, malls, cafes etc.
We ask all students not to disrespect themselves or the College after hours, especially when in
uniform. If concerns are brought to our attention, contact will be made with parents.
C.A.R.E. Expectations
In partnership with families, the College strives to provide a safe, caring and supportive school
environment which assists students towards the achievement of appropriate behaviours,
fostering a sense of personal responsibility and self-discipline.

The major focus are our C.A.R.E Expectations as outlined for each of the College Houses. C.A.R.E.
represents the guiding elements of Co-operation, Achievement, Respect and Empathy, which
our school community refers to in an effort to build positive behaviours.

The CARE Expectations, Charisms and Positive Behaviour Support Flow Chart are clearly on
display within every classroom and are incorporated in many aspects of the school day
encouraging respect for self, for each other and for our environment. Students receive
recognition for consistent effort and positive behaviour through the presentation of CARE tickets,
JMJ Awards, Principal's Awards and the St Joseph Certificate.
General Information

LOST PROPERTY
• All clothing, books and personal items brought to school should be labelled with student
   name.
• Students should report lost articles to their Tutor/Class Teacher and check the lost property
   collection at the College Office.
• Unnamed and unclaimed items are stored for one term. After that time items are donated
   to the second-hand uniform stores or St Vincent de Paul.

CANTEEN / FOOD
• The College Canteen is available for students at both recess and lunch each day. The
  Canteen Menu is available on the College Website. Orders can be made at recess for
  lunchtime or can be placed and paid for via the Qkr app ( access through the SHC website, or
    the app store)
•   Eftpos is available for secondary students.
•   Students should please line up in designated sections, and wait patiently to be served.
•   Manners such as "Please" and "thank you" are to be used when speaking to canteen staff.
•   Chewing gum and caffeinated energy drinks are banned items at SHC.

LITTER
• We have numerous bins for rubbish, for recycling and for composting organic materials.
• Students are asked to show respect for their surroundings, and for the environment in general,
    and to dispose of items in the appropriately marked bins.

DESTRUCTION OF PROPERTY
Students are responsible for the proper care and respect of all property – their own, others and
that of the College. The destruction of property (including mis-use, graffiti, breakages etc.) is
meaningless, disrespectful and expensive. Deliberately damaging school property can result in
a student being suspended from school for a period of time. In collaboration with parents,
students may also be asked to contribute towards the cost of repair and asked to participate in
the repair process.

ON THE COURTS
• The courts are for basketball and netball games only.
• Due to the confined space games must be played with safety in mind no kicking of balls (no
   soccer or football).
• The courts are not an area for eating, food should be consumed outside of the fenced
   perimeter prior to entry.
• Students should behave with respect at all times, displaying good sportsmanship.

IN THE YARD
At recess and lunch there are many students and staff enjoying a break in the yard area. For
everyone's safety:
• There are designated spaces marked for handball games. Tennis balls only should be used
    and should be kept below hip height. Any other ball games can be played on the courts or
    on the oval.
• Students are asked to be respectful of the College gardens, not to trample on plants or to
    remove or throw any items from the gardens beds - rocks, pine cones etc.
• Rough play is not tolerated. The 'hands off' rule applies at all times and in all areas of the
    College, showing respect for other's space.

USING THE OVAL
• The Oval is Council property and may not always be available.
• Students are to cross safely at the designated crossing on Clare Street.
• The play equipment is for families with small children and is not for use by SHC students.

DUDE IT'S RUDE… WATCH YOUR LANGUAGE
Swearing or any type of abusive or offensive language is not permitted at SHC. Everyone has a
right to work and socialise in a respectful space. Students are encouraged not to be a bystander
and let the gutter talk occur but rather have the courage to call people out for swearing by
saying… DUDE IT'S RUDE… WATCH YOUR LANGUAGE!
EMERGENCY PROCEDURES – Evacuation
The onset of an emergency that requires the evacuation of the school buildings will be signalled
by the ringing of sets of three (3) short beeps.

Teachers will escort all students under their care at that moment to the closest safe exit and then
to the netball courts. Students are to move promptly but in an orderly fashion.

Students are to remain in their groups until further instructions are received from the Chief
Warden.

EMERGENCY PROCEDURES – Lockdown

The need for a lockdown is signaled by the playing of the Men at Work song Down Under over
the PA system.

When you hear this song played at any time, all students, staff and visitors are to stay indoors.

If outside of buildings, move to the closest room, preferably with a supervising teacher.

All windows are to be shut and locked if possible as are all internal doors and external doors from
the room. Blinds/curtains where possible are to be drawn shut. All people are to move away from
windows and doors.

If a Lockdown is called during a break time, students are to move to the closest, large room,
preferably: Media Centre, Library, Office/Staff Room

If students are on the oval they may seek refuge in Tenison (if it is safe to do so), which is the
closest SHC building.

If danger is coming towards students, it may be deemed safer to scatter and run away from the
threat and then to follow a safe pathway to eventually seek refuge in an SHC room.

The all clear will be indicated by the Lockdown song being silenced and a PA announcement
saying "all clear, all clear, all clear".

BULLYING OR VIOLENCE IS NOT ACCEPTABLE AT SHC
The College promotes the development of caring relationships that foster respect, confidence
and dignity. Bullying is defined as deliberately hurting, injuring, embarrassing, upsetting or
threatening someone else through uninvited physical, verbal or psychological behaviour which
makes another person or group feel uncomfortable, intimidated, hurt or anxious. Bullying in all its
forms (verbal, written, violence, harassment, discrimination and cyberbullying) will not be
tolerated at Sacred Heart College. This applies to staff, students and parents of the College.
Students are expected:
• To keep "hands off" at all times. No rough play or 'just mucking around' is tolerated.
• To be thoughtful and respectful of others, and to think before posting or sending on social
    media.
• To report instances of bullying to their Tutor teacher or their House Head.
• To take ownership of poor choices or behaviour by being honest in working towards repairing
    the harm.
• To participate in a restorative conference.
• To learn from mistakes made and not repeat the behaviour.
• The College reserves the right to report serious harassment to the appropriate authorities.

CHEWING GUM IS NOT WELCOME AT SHC
Chewing gum in a school environment can be destructive and distractive. Thoughtless disposal
causes damage to carpets, uniforms and furniture and school equipment all of which are costly
to replace, repair or clean. Chewing gum in class can cause students to be distracted rather
than concentrating on the task at hand. Though gum chewing is an activity enjoyed by many,
there is a time and a place for it. The time lost in learning and the costs brought about by
irresponsible disposal have resulted in our decision to say NO to chewing gum at our school and
whilst students are in uniform.
BANNED SUBSTANCES/ITEMS
Sacred Heart College encourages students to have respect for themselves, for others and for
College facilities. With this in mind, the following items are not permitted on campus: chewing
gum, caffeinated energy drinks, correction fluid, permanent markers, aerosol deodorants,
wireless speaker devices, cigarettes, alcohol, drugs or any alcohol or drug paraphernalia, knives
or weapons of any nature, pornographic material or any other offensive items.

DRUG POLICY
In accordance with the Sacred Heart Drug Policy, students are encouraged to live healthy lives.
Smoking and the use of other illicit drugs is not permitted and appropriate consequences are
imposed if students carry out these activities whilst at the College, representing the College or
attending a College event or camp.

USE OF MOBILE PHONES/SMART DEVICES (WATCHES)
- Includes all phones/smart watches/music devices/accessories)
The smart phone/watch (device) is an effective and quick means of communication. Where
unforeseen events occur, smart devices provide students and their families with a ready means
of communication. Smart devices can also be tools for teaching and learning purposes. There
is a need, however, to set clear guidelines and limit their use during the school day, in particular,
to avoid unnecessary interference or distraction from teaching and learning, and to discourage
anti-social behaviour especially at break times.
• All mobile phones should be off and away, and smart watches should be in time display
     mode only, between first bell and last bell.
• If parents need to contact children during the school day, please contact the school office
     and the message will be passed on to student.
• If students need to make contact with family, employers, coaches and so forth then they
     should present to the office or to a teacher where they will be permitted under supervision,
     to make that communication on their device or by using a school phone.
• Teachers will give explicit instructions if and when the smart phone/watch can be used as a
     tool for teaching and learning purposes.
• Failure to comply with these guidelines will result in the smart phone/watch being
     confiscated, retained and secured in the Office.
• In the first instance confiscated smart phones/watches may be collected from the Office by
     students at 3pm.
• For repeat instances, where students continue to ignore the mobile phone/watch policy,
     parents will be alerted and consulted. If required, the student may be asked to log the
     phone/watch in to the Office each morning for an extended period.
• Ultimately, we aim to encourage young people to be responsible users of technology.

TEXTING AND EMAILING - STUDENTS/PARENTS
• If parents need to contact children during the school day, the current procedure of phoning
   the College Office applies and the message will then be passed on to students.
•   If students need to make contact with family they should present to the Office or a teacher
    where they will be permitted to make that communication using a school phone.
•   Emailing outside of school context from personal or school devices is inappropriate.
Sacred Heart College supports and nurtures students, helping them to develop a personal ethical
framework. In partnership with parents our goal is to educate resilient, independent and
confident men and women who make a difference in the world. We are seeking your help to
support these goals beyond the school gates.

INTERNET ACCESS
Sacred Heart College applies the following principles as a guide for Internet website access and
site filtering. The College aims:
•   To provide access to materials that will enrich and support the curriculum and education
    needs of users, taking into consideration the varied interests, abilities, learning styles, maturity
    levels, socioeconomic and ethnic backgrounds of students.
•   To provide access to materials that will stimulate growth in factual knowledge and ethical
    standards and that will develop literary, cultural and aesthetic appreciation.
•   To provide a background of information that enables students to make intelligent
    judgements in their daily lives.
•   To provide access to materials on opposing sides of controversial issues so that the users may
    develop, under guidance, the practice of critical analysis.
•   To provide access to materials which realistically represent our pluralistic society and reflect
    the contributions made by all groups and individuals to our community, national and global
    heritage.
•   The College endeavours to restrict access to inappropriate material available via the Internet
    but does not accept responsibility for any illegal, offensive, indecent or otherwise harmful
    material accessed on the Internet, nor for any loss however arising from use of, or reliance
    on, information obtained through its internet service or in relation to the reliability or quality
    of that service. The College has taken all reasonable steps to ensure its Duty of Care policy
    extends to Internet access.

CYBERSAFETY
Technology is a very powerful and positive tool when used responsibly. Just like in real life, it is
important to exercise good decision-making when online, and to treat others with respect.
Cyber safety guidelines should be followed at all times. Remembering these key tips will help you
keep control online, both now and into the future.

•   Remember to keep your personal details private. Don't post information about yourself that
    strangers might read and don't share your password with anyone at all. Be careful who you
    trust online and don't accept friend requests if the person is not a real life friend.

•   Remember to think twice about what you say and post. Don't post anything you don't want
    others to see or know about or anything that you wouldn't be prepared to say face to face
    or in front of other people (the potential online audience is huge).

•   Remember – it's forever. Be aware of your 'digital footprint'. Posts on the internet can remain
    there for a long time and might be read by future employers, parents and in time even your
    own children.

•   Remember to respect other people. Treat others as you would like to be treated. Never post
    pictures or images of others that may cause them harm or embarrassment. Once they are
    uploaded, it's almost impossible to remove them completely. Due to the Privacy Act you
    may well be in copyright breach or breaking the law by sharing property (namely an image)
    that is not yours.

•   Remember if someone writes something rude or offensive, do not respond. Block this person
    immediately and speak to a trusted adult about the situation.

The opportunities provided by technology are endless. Our aim is to encourage students to use
technology sensibly and safely through self-imposed boundaries and self-regulation, together
with formal regulations at school and with guidance at home. Sacred Heart College has policies
in place to protect students. Students are reminded of these policies throughout the year and
guest speakers are regularly invited to speak to students to remind them about being safe online.
We are however unable to monitor events that happen after school hours. Often incidents of
misuse of social media sites happen at home, after school hours when students have access to
web sites that are blocked at school. This is where we need help from parents.
Collaboration between School and Home: Through lessons provided at school, assemblies, guest
speakers and consistent messages we do our best to provide students with the awareness and
knowledge they need in order to recognise and avoid dangerous, or unlawful behaviour and to
respond appropriately. To support these efforts, we encourage conversations at home about
safe and appropriate online behaviour, about not sharing personal information and the long
term impact of messaging inappropriate messages or photos.