2019 Junior School Sport Handbook - St Hilda's
If your browser does not support JavaScript, please read the page content below: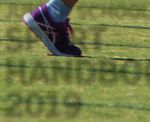 CONTENTS Welcome ___ 4
Codes of Behaviour ___ 4
2019 Sports Calendar ___ 6
Key Dates ___ 6
Sport Summaries . . 7
St Hilda's Anglican School for Girls Junior School Sport Handbook WELCOME OUR APPROACH In the Junior School we endeavour to develop the children's fitness, strength, coordination, flexibility, speed, agility, resilience, body awareness and orientation, game skills and knowledge, ability to work independently and with others. Students are exposed to different games, sports, activities and environments across their schooling years.
We believe that there needs to be a partnership with parents, community sport and school to develop children into able, strong and robust sports people. If your child expresses an interest in a sport and you are keen for them to pursue this, we encourage further development at home and by introducing them to the sport at club level. We also encourage the idea that sport and activity are not confined to school alone. It is important for their development to be active at home and within their community.
We provide homework books for students in Years 1, 2 and 3 as we know there is a need for guidance in learning ball skills, skipping and other activities. We encourage parents and siblings to get involved with this to motivate learning and development. Within this handbook we have detailed our cocurricular program which is the activities/sports offered outside of the curriculum. These are optional programs that expose students from Pre Primary to Year 6 to opportunities to be active and develop their skills. We have also detailed the Junior Independent Girls' Schools Sport Association (JIGSSA) events for 2016 that Years 4-6 take part in.
Note: JIGSSA Cross Country is also open to Year 3 students. Our goal is to develop active, self-reliant and positive students. We know that participation in physical activity pays dividends beyond our Physical Education curriculum. We look forward to students developing a love and appreciation of sport at St Hilda's Junior School.
CODES OF BEHAVIOUR At St Hilda's, staff encourage life-long participation in sport and provide nurturing environments in which your children participate. It is important that all players and spectators respect each other and behave in an appropriate manner according to a code of behaviour. Players and spectators who fail to adhere to the codes of behaviour outlined below may be reprimanded. The Junior School Physical Education Department and the Head of Junior School will be informed and appropriate action taken.
CODE OF BEHAVIOUR FOR PLAYERS
Be a good sport. Applaud all good plays whether they are made by your team or the opposition.
All participants will conform to the standards of dress as required by St Hilda's.
There should be no interaction with the umpire about decisions – an umpire's decision is final.
Treat all participants in your sport as you like to be treated.
Players should concentrate on play rather than focusing on the score and participate for their own enjoyment.
Cooperate with your coach, team mates and opponents. Without them there would be no competition.
Participation should be challenging and enjoyable.
If a student is unable to play in a match due to illness, injury or another commitment she must inform the person in charge of the team as soon as reasonably possible.
Students are required to attend all training sessions, games and carnivals.
Non attendance at training may impact the amount of game play at matches.
If a student signs up for a sport she is required to play for the duration of the season. CODE OF BEHAVIOUR FOR SPECTATORS (FRIENDS AND PARENTS) Spectators should:
Encourage good sporting spirit.
Show enthusiasm and encouragement for all players.
Reward the efforts of the players rather than the outcome of the game.
Show respect for the rules and those in authority by word and example.
Refrain from any verbal and physical abuse.
Encourage the players to adopt a healthy attitude towards winning and losing by demonstrating a controlled, disciplined approach towards competition.
Applaud good performance and efforts from all individuals and teams. Congratulate all participants on their performance regardless of the game's outcome. All efforts should be made to resolve team issues internally by the Coach. If a resolution cannot be made Coaches will contact Physical Education staff. REPRIMAND Reprimands will be at the discretion of the Physical Education staff and the Head of the Junior School and may be in the form of:
Verbal or written warning
Suspension from games for a short period of time
Removal from the competition for the season
St Hilda's Anglican School for Girls Junior School Sport Handbook 2019 SPORTS CALENDAR Term 1 Term 2 Term 3 Term 4 Fitness Swimming Running Club Running Club Fitness Swimming Netball Netball Netball Water Polo Hockey Hockey Hockey Basketball Water Polo Fitness Club Athletics Club Year 1 and 2 Try Sport Basketball KEY DATES Please regularly check our website calendar and St Hilda's APP for all key 2019 dates. Please contact Reception for details of the following sports available through external providers:
Dancing
Front Runner
Taekwondo
Tennis
7 SPORT SUMMARIES ATHLETICS CLUB Term: 3 Year Groups: 1 - 6 Training: TBA Requirements School sports shirt, school sports shorts, blue sports socks, school sports hat, running spikes (optional) and water bottle Competitions
Interhouse Athletics Fun Day (K-2)
Interhouse Field Day (Compulsory for Year 3-6)
Interhouse Athletics Carnival (Compulsory for Year 3-6)
JIGSSA Years 4 - 6 Athletics Carnival (Compulsory for all students) Find your local club WA Little Athletics Association www.walittleathletics.com.au BASKETBALL Term: 4 Year Groups: 3 - 6 Training: TBA Matches: All Teams – Thursday at Bendat Stadium Team Selections: The teacher-in-charge will select teams Coaches: External coaches Requirements Mouthguards (advised), school sports shirt, school sports shorts, blue sports socks, school sports hat and water bottle Find your local club Basketball WA www.basketballwa.asn.au
St Hilda's Anglican School for Girls Junior School Sport Handbook CROSS COUNTRY TRAINING Terms: 2 and 3 Year Groups: 3 - 6 Training: TBA Requirements School sports shirt, school sports shorts, blue socks, school sports hat and water bottle Team Selection: The team is selected according to attendance and performance at training, time trials and Interhouse Cross Country Competition Competitions
Interhouse Cross Country (Compulsory for all students from Years PP to 6)
JIGSSA Cross Country Competition (Selected students from Years 3 to 6)
SSWA Champion Schools Cross Country Competition (Selected students from Years 3 to 6) SWIMMING FITNESS Terms: 1 and 4 Year Groups: 2 - 6 Training: TBA Requirements Interschool bathers, interschool cap, school swimming cap, towel and goggles Team Selection: The selection is based on performance and attendance at time trials, Interhouse Carnival, and training Competitions
Interhouse Aqua Fun Day (K-2)
Interhouse Swimming Carnivals Years 3-6 (compulsory for all students)
JIGSSA Years 4-6 Interschool Carnivals (compulsory for all students)
JIGSSA Twilight swim meet (selected students)
School Time Trials Competition
Twilight Swim Meet (selected students)
9 NETBALL Netball is offered through the St Hilda's Netball Club. All information is available on our website – www.sthildas.wa.edu.au under the Community tab. Please note that this is a graded competition in accordance with the Matthews Netball Centre Saturday Morning Competition. Terms: 1 - 3 Year Groups: 3 – 6 Club Coordinator: TBA Enquiries: netball@sthildas.wa.edu.au HOCKEY - MINKEY/CUBS Please note that this is a non-graded, participation based competition and Physical Education staff will attend some game days.
Terms: 1 - 3 Year Groups: PP - 4 Training: TBA Requirements Hockey stick, mouthguard (compulsory), shin pads, school sports shirt, school sports shorts, school hockey socks, school sports hat, and water bottle Matches: Saturday morning matches at Melvista Oval, Nedlands Coaches: External coaches HOCKEY – GAME SKILLS Term: 2 Year Groups: 5 and 6 Training: TBA Requirements Hockey stick, mouthguard (compulsory), shin pads, school sports shirt, school sports shorts, school hockey socks, school sports hat, and water bottle Find your local club WA Hockey Association www.hockeywa.org.au
St Hilda's Anglican School for Girls Junior School Sport Handbook WATER POLO Please note that this is a non-graded, participation based competition in accordance with UWA City Beach Water Polo Club and Physical Education staff will attend some game days. Terms: 1 and 4 Year Groups: 3 - 6 Training: TBA Requirements Mouthguards (advised), school bathers and swimming cap Matches: All Teams – Friday evening at HBF Stadium Team Selections: The teacher-in-charge will select teams Find your local club West Australian Water Polo Association www.waterpolowa.asn.au
Bay View Campus Bay View Terrace Mosman Park Chidley Campus McCabe Street Mosman Park Postal PO Box 34 Mosman Park WA 6912 Telephone 08 9285 4100 www.sthildas.wa.edu.au St Hilda's CRICOS Provider Code 00452E