Swift & Sleek! - iMotorhomem
If your browser does not support JavaScript, please read the page content below:
Swift & Sleek! - iMotorhomem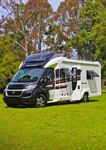 Travel! My Town – RV Friendly Portland Project Polly Open All Hours – Polly's been busy... Mobile Tech... PrinterOn lets you print from anywhere! iMotorhome magazine Win! $50 for the best letter! Issue 105: Oct 15 2016 Swift & Sleek! Swift'ssleekBolero hasplentytooffer...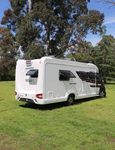 Facebook "f" Logo RGB / .ai Facebook "f" Logo RGB / .ai 2 | About iMotorhome iMotorhome eMagazine is published twice monthly and available by free subscription from www.imotorhome.com.au. Your letters and contributions are always welcome! Follow us on Facebook and Twitter Published by iMotorhome PO Box 1738, Bowral.
NSW 2776. Australia. ABN: 34 142 547 719 T: +614 14 604 368 E: info@imotorhome.com.au W: www.imotorhome.com.au Editorial Publisher/Managing Editor Richard Robertson T: 0414 604 368 E: richard@imotorhome.com.au Roadtest Editor Malcolm Street E: malcolm@imotorhome.com.au Contributors Emily Barker, Sharon Hollamby and Allan Whiting Design and Production Design & Production Manager Agnes Nielsen E: agnes@imotorhome.com.au Legal All content of iMotorhome eMagazine and website is copyright and cannot be reproduced in any form without the written permission of the publisher. Every effort is made to ensure the accuracy of content, however no responsibility is accepted for any inconvenience and/or loss arising from reading and/or acting upon information contained within iMotorhome eMagazine or the iMotorhome website.
They say if you want something done you should ask a busy person. If that's true then this month I'm capable of anything. Just ask! Visiting the CMCA's 31st National Rally in Canberra was great, but timing-wise a bit of a tough gig (see the Rally story and Project Polly). We've also had our usual two iMotorhome Magazine issues this month, plus we're back on track to launch iMotorhome New Zealand on the same day as the next issue – 5 November. That's just three weeks away. Before then Mrs iM and I have nine days in NZ, leaving the morning after publishing this issue and returning the Monday evening before our four-day iMotorhome reader get-together in Dalgety.
New Zealand will be interesting because while travelling there I'll be working on the first NZ issue, plus 'the big secret" to be announced at Dalgety (nothing like a bit of gratuitous drama!). After a night catching up with friends in Auckland we're doing a real, live, paid-for eight day rental from Auckland to Christchurch with Wilderness, which is part of SmartRV, importers of Burstner and Carado motorhomes. Wilderness is introducing a new four-berth entry-level model – the Fiat Ducato-based Carado T449 – and we're taking one on its maiden voyage. It will be an interesting experience because it will be our first time trying a roof bed, which in this vehicle is secondary to the island bed at the rear.
Dimensionally it's longer than the main bed and sits east-west across the full width of the body. The bed pulls down above the lounge/dinette and it will also be interesting to see if any of the space below is still useable. To keep costs down this new model comes with a 2.3-litre engine producing 96 kW/320 Nm and driving through a 6-speed manual gearbox. Despite being a fully coachbuilt B-class motorhome the Carado T449 has a gross weight 65 kg less than Polly's, and that's despite being nearly a metre longer. I'm certainly looking forward to seeing how it compares, performance wise, and from (distant) memory manual shift Ducatos are quite pleasant to drive – just like Polly.
Features aside, this will be our first time living in a European motorhome and we're excited. While the idea of the trip started as a holiday – dream on – it quickly morphed into work, although I'm not complaining. The New Zealand Motor Caravan Association (NZMCA), which is the Kiwi equivalent of the CMCA, also runs an RV Friendly Town program, but called Motorhome Friendly Towns. Operating in 41 towns, we'll be visiting and staying in them where possible and reporting back on the whole experience in the December issue of iMotorhome New Zealand, along with a Carado road test.
We'll also be reporting daily via Facebook and Twitter, so if you follow us keep an eye out for updates. And if you're near please let us know. Maybe we can catch up for a coffee or sensational Pinot or Sav Blanc? That will be in the five minutes between driving, taking photos and notes, and working on the iM NZ first edition. Anyway, see you when/wherever and look busy – it always impresses... Keeping busy... Richard 4 | Editorial
6 | Contents 2 About Us Who we are, where and other legal stuff 68 Next Issue What's coming up and which shows are on soon! 67 Advertisers' Index An A to Z of who's in this issue! 9 Resources Find back issues and more on our website 26 Marketplace The latest Marketplace offers 4 On my Mind Keeping Busy! 18 News What's happening in the wider RV world - and beyond 11 On your Mind Share your thoughts for the chance to win $50! 54 Mobile Tech PrinterOn – For printing on the go 50 Travel: My Town RV Friendly Portland, Vic.
30 Day Test: Swift Bolero 714SB Swift & Sleek – Malcolm finds the stylish Bolero has plenty to offer ___ 6
Feature: CMCA 31st National Rally Capital Idea – A peek at the Rally goings-on in Canberra 42 Project Polly Open All Hours – Polly's been keeping busy! 58 What's On?
What's on around Australia over the next three months...
iMotorhome resources Ask a Question Road Tests Subscription Marketplace Reader Survey Magazine Resources Just click any of the links below! Travel... A quick dash to Melbourne and back Project Polly Webasto heater installation! Malcolm samples Bürstner's stylish Ixeo Time IT 726G... TechTalk! Keeping your gas cooker in top condition... iMotorhome magazine Win! $50 for the best letter! TimeT raveller! Issue 90: Mar 05 2016 Resources | 9 Back Issues Reader Review User Guide
Paradise are passionate about producing Australia's best motorhomes From the moment you step into our spacious interiors, open one of our smooth automatic locking drawers and take in the aroma of the genuine high quality leather seating it will become clear that touring in a Paradise will give you the unrivalled freedom and comfort you deserve. Look beneath the surface to find the unique engineering and safety features that will put your mind at ease while travelling. Features such as the rollover bar, high strength alloy frame, composite body, pull-tested cabinetry, appliances and locks will become your priority once you realise they are missing from other mainstream construction methods.
From only $170,000* you can step into luxury and style without compromising safety. Take Luxury with you Take Luxury with you /paradise.m.homes (07) 5597 4400 www.paradisemotorhomes.com.au Paradise Motor Homes - 245 Brisbane Road, Biggera Waters, Queensland 4216 Paradise Motor Homes products are protected by registered designs, patents and copyrights ™ © 2016. *Oasis Platinum Integrity SL.
I saw your Facebook pic at the rally of toast and Vegemite and was reminded of a trick the wife and I learned by accident a few years ago. We were out of margarine and too lazy to go get some, and then too forgetful to buy it when we were in town. The first morning the Vegemite straight onto the toast was really dry but the second morning I must have knocked the dial or something because the toast wasn't as toasty. That made it a lot softer and easier to eat! My wife likes cheese on her Vegemite toast and toasted it the same light way, then put the cheese on and popped it in the microwave for 20 seconds.
It was amazing! The melted cheese softened the toast like marg does and since then we haven't bothered going back. It's not only healthier I think, it saves us money as we usually only have margarine at breakfast time.
Cheers, Reg Thanks Reg, I've tried it – in the name of research of course – and you're right. Not sure I'll ditch butter completely, but it certainly makes a real difference and it great for anyone camping. I guess an alternative way if you don't have power might be to lightly toast bread on a gas cooker or open fire, then melt the cheese on top under a grill or in a frypan. That might brown the bread at the same time and avoid the initial need for toasting. Best I get back to the kitchen to try it and thanks for the inspiration. In the mean time please accept this issue's $50 for your gastronomic insights!
It's only fitting that since Ed has his say in On My Mind, you should be able to have yours too. If you have anything to say – or ask – just drop a line to letters@imotorhome.com.au and we'll share it with our readers. We'll also reward the most interesting, useful or thoughtful letter each issue with $50 to help you on your way. Win$50forthe bestletter! Toast of the Town! R ichard, I'm just catching up on some reading after being away for a few week in the USA. I noticed a letter in iMotorhome Issue 103 in regards to a GVM Upgrade. Although like many regulations it can change from State to State, which makes you wonder why we have a Federal System sometimes (or more correctly should I say State-by-State system!)? A GVM change is only allowed by a confirming letter by the first stage full volume manufacturer.
GVM may be revised providing the vehicle's manufacturer issues a letter confirming the Weighty Concerns... On Your Mind | 11 ...continued.
continued. revised GVM applies to that specific vehicle. The letter must be on the full volume manufacturer's letterhead, identifying the vehicle by its unique vehicle identification number (VIN), and be signed by the manufacturer's certifying or homologation engineer" This applies to both new and used vehicles. In the case of a used vehicle the Signature Engineer would need to arrange the letter via the first stage manufacturer (so in the case of the letter, from Mercedes-Benz via the compliance Engineer in Australia).
In the case of Mercedes-Benz I would suggest that they would not do such for used vehicles.
Mercedes-Benz Sprinters can be ordered with a 3880 kg GVM, which includes changes to spring rates and shock absorbers, but also includes chassis/body reinforcement. I hope this lends some assistance to the inquiry. Regards, Michael Lord Development Manager Trakka G'day Michael. Thanks for that, very interesting (and I share your dismay regarding our 'State-byState' system). Hopefully it brings some clarity to this sometimes-murky and confusing topic. 12 | On your mind NORTHCOACH EQUIPMENT PTY LTD
NEW & USED SALES | RENTALS | SERVICE CENTRE 1A Watson St, Wodonga VIC 3690 Ph: 02 6024 4222 E: info@awrvworld.com.au awrvworld.com.au View All Units Online 24/7 NEW SUNLINER NAVIAN 541 The Navian 541 just radiates class and sophistication. Luxuriously equipped with a high standard of features and accessories, the Navian is sure to impress. On a robust Iveco chassis with a slide out bed, popup TV, wall mounted washing machine, large living, diesel heater and sleeps 4. Let the Navian be your complete home away from home. CALL TODAY and be inspired by luxury.
Best value on the market | $199,990 +ORC $206,200 Drive Away VIC LMCT 11572
Seeing the Lights! I n the last couple of issues there have been comment about the difficulty in seeing the speedo on the latest X295-model Fiat Ducato. As you are aware there are two major reasons: The binnacle over the speedo is too deep and there is no light in the speedo except when the headlights are in the on position. Fiat has a free software upgrade (not a recall) that they seem to want to keep secret. The upgrade resets the dash lights so that they are on when the ignition is on and off when the ignition is off. The end result is that you are able to read the speedo in any light. The fix has been available in UK since January, however Fiat Head Office in Melbourne up until a few weeks ago claimed to not know about it.
My preferred service team at RVGO in Terry Hills have been appointed as a Fiat Professional warranty & service workshop and Michael, the co-owner, was on the case as soon as he saw the cc of my email to Fiat in Melbourne. This business is worth a plug as they are trying hard to lift the service level in this industry that in my honest opinion needs it badly.
Cheers, Gary Thanks Gary that's very interesting indeed. I'm sure Ducato owners will love it and thanks for getting the message through to Fiat Australia. Good to hear your feedback on RVGO too. I've spoken to Michael on several occasions and keep meaning to get out there and profile the business. Now it's an official Fiat Professional service and warranty centre I'd better get my act together! 14 | On your mind CUSTOM TOWBARS & TRAILERS
Levelling Jacks up to 12T. We have a range of self levelling and manual systems.
Towbars for most makes and models, custom towbars, special towbars up to 2.8t fitted
Towbars available up to 4.5T LEVELLING JACKS TOWING A-FRAMES TOW BARS Sourcing cars for customers for A-Frame Towing CAR SOURCING PRICES START FROM $900 PRICES START FROM $7,200 FITTED
We supply and fit the DEMCO Dominator, Ready Brute, and Blue ox Towing A Frames.
All our towing A frames come with an Engineering Certificate and meet Australian Standards WE PROVIDE QUALITY SERVICE AND PRODUCTS AT AFFORDABLE PRICES Ph 07 3209 7669 Mob 0408 758 362 motorhomeandtrucktowbars.com.au admin@kebar.com.au 10 Chetwynd Street, Loganholme, Qld 4129
motorhomedoctor.com.au Hitting the great outdoors this summer? Get remote-ready with the Motorhome Doctor
Hanging Out for Help H i, I need to ask a question that has probably been answered previously. I would love to mount printed photos of people and places in my Leisure Seeker motorhome.
I have 3 wall spaces of about 70 cm square each. My question is: What have people used to display photos securely without permanent damage to fixtures or fittings? I thought of some type of plastic pocket that photos can be slipped into and changed out of at times, but I don't know if these exist or if there may be better ideas. Any and all assistance will be greatly appreciated. Keep up the great work with this publication, 10/10.
Cheers, Ian. Thanks Ian, over to our readers for help! 16 | On your mind Contacts I 'll let you be the judge as to whether this is of interest, but it is one thing that has bugged me for quite a while: the apparent inability to create a group (for a group email) in your contacts on the iPad. With a bit of help from the Internet and a bit of fiddling around I have managed to figure it out. This is how to go about it.
Go to your contacts and create a new contact called 'Friends or what ever you like
If you call it 'Afriends, then it appears at the top of your contacts, but for this example I'll use "Friends".
In the email address field add the email addresses of all the people that you want to send the group email to. These have to be in the format of a long string as per the following example , and so on
Note that each email address must start with "" and have"," between it and the next one
The last entry has ">" at the end. Once you have created the Friends contact, to send an email to this group – and this step is important – start by going to your contacts, finding Friends, and then copy the string of email addresses by holding your finger on the string until the 'Copy' menu pops up. Select copy and then go mail, then open a new email and paste this string into the 'To' field. You should then see the whole string of email address of your friends that you are sending the email to. And that's it! You can edit the friends contacts at any time.
Cheers, Robert. Thanks for the explanation Robert, very thorough. Just a thought: When that email arrives all your friends will see who's on the list. If you don't want that, address it to yourself (yes, you can email yourself) in the 'To" line and then paste the list of friends into the 'BCC' (blind carbon copy) line. That way, when it arrives your friends will only see your name at the top (and all other recipients are hidden).
Hackles Up H i Richard and Team. Really enjoy every issue of the magazine and I read it from cover to cover. I hope we are not going to lose anything with the "news" that you are about to tell us at the end of the month? My hackles rose when I read the article about the CEO of Avida being unable to lure some people to join his workforce, despite his significant efforts to do so.
What kind of a country have we turned into? There must be thousands of welfare recipients in the Western Sydney area who are sitting on their backsides week after week who could easily fulfil some of the Avida roles, and yet they choose not to. Surely, the Government has got to rein this system in?
We recently completed an RV drive from Perth to Darwin and back. In every roadhouse, restaurant and fuel stop in the 4000-plus kilometres of that trip there is hardly an Aussie to be seen anywhere. These businesses are held together by flocks of French, German, Irish or Italian backpackers – great, friendly young people who are happy to work where no Aussie would make the effort to go. What has happened to our society?? Regards, Peter. Thanks Peter and good to hear you enjoy the magazine. No, you're not going to lose anything, but you will just have to wait and see! Yes, I was also amazed when I read that story about the lack of workers. I actually double checked with Avida to ensure it was true. It does reflect a sad state of affairs, especially given their location in Sydney's Western Suburbs. And you're right about the international backpackers working everywhere else. Perhaps it also just means all our young people are working in pubs in England (still) and European cafes? Interesting times, whichever way you look at things... On your mind | 17 Webasto Thermo & Comfort Australia Pty Ltd 423-427 The Boulevarde, Kirrawee NSW 2232 Freecall 1800 244 494 info@webasto.com.au www.webasto.com.au Webasto – your gas free solution for independent travelling Thermo Top – Water Heaters Diesel Cook Top Air Top – Air Heaters Dual Top – Combination Heaters
Quiet powerful operation
Low power & fuel consumption
Use whilst parked & on the move
Compact and efficient
Fast heat up times
Can be combined with fan radiators to provide cabin heat
Heat & hot water from one unit
Easy to use multifunction controller
Low power & fuel consumption
High cooking power up to 1800 W
No naked flame and no fumes
Robust high quality Ceran® cooking surface RV Compressor Fridges
Extensive range of Uprights and Drawers
Available as DC Only or AC/DC
Robust high quality with Danfoss Compressors
18 | News HORIZON'S TOP GONGS AVIDA AMONGST OTHER AWARD WINNERS A t this weeks 2016 Caravan Camping Industry Association NSW (CCIA NSW) Awards of Excellence, Ballina-based Horizon Motorhomes collected the award for Best Manufacturer. Last year the company won Best Trade Business in the same awards, making the last 12 months a highly successful time for the specialist builder of van-conversion motorhomes. Founder and CEO Clayton Kearney said he is very happy with the award and that is really goes to the whole Horizon team, Horizon Motorhomes has also been shortlisted as a finalist in the Manufacturing Business of the Year category at the Optus My Business Awards 2016, hosted by My Business, Australia's longest-running publication tailored to the small business community.
A vida's Jon McGuiggan won Employee of the Year at the 2016 Caravan CCIA NSW Awards of Excellence, while Madelyn Wadley from Jayco Sydney won Outstanding Contribution of a Young Achiever. Other winners included RVGO at Terry Hills for Best Industry Service Provider, while Sydney RV and Jayco Newcastle picked up the awards for Best Dealer/Retailer/Wholsaler – Sydney and Regional, respectively.
As Australia's only built-in campervan and motorhome specialist, we at BCMC have the knowledge and experience you can trust. We are the exclusive retailer of Horizon Motorhomes and Frontline Campervans* - which are built-in, not built-on, far a smoother and more enjoyable touring experience. Our Motorhomes and Campervans are fuel efficient, easy to manoeuvre and built in Australia by hand, using only the finest high quality materials. Alongside our New & Pre-Loved vehicles, the BCMC Service Centre offers a full range of accessories and maintenance far your RV - making sure your travels are safe and in comfort. Click below to find out why we're the built-in specialists. MOTORHOMES I CAMPERVANS I IN STOCK I SERVICE I NEWS I CONTACT Exclusive retailer of:
North of Newcastle beme.com.au 299 River Street, Ballina NSW 2478 02 6681 1555 BALLINA CAMPERVAN & MOTORHOME CENTRE built-in specialists
20 | News APOLLO TO FLOAT TASSIE WHALE TRAIL A ccording to an article in the Financial Review dated 28 September, Apollo Motorhomes is seeking to list on the Australian Stock Exchange on November 4th. It says marketing material distributed to fund managers show the company wants to issue 50 million shares at $1 apiece. The proceeds will be used for purposes including the reduction of existing debt and growth capital. Gross offer proceeds of $50 million will deliver the company a market capitalisation of almost $145 million. Post the float, the company's founding shareholder will hold a 65.5 per cent stake in Apollo and new investors the remainder.
Shares held by the founders are subject to escrow for two years, the document said.
The company has big aspirations after increasing revenue from $109 million in fiscal 2014 to almost $156 million in its 2016 year. Investors are being told Apollo expects revenue to jump to $183 million in fiscal 2017, while EBITDA is forecast at $48.7 million. Risks for Apollo as a listed entity include dependence on suppliers and commercial partners including Winnebago and Adria and increased input costs such as fuel or employment expenses. The company was founded by Gus and Carolyn Trouchet in 1985 and is now owned by sons Luke Trouchet and Karl Trouchet, who are chief executive and finance chief, respectively.
A ccording to the Tasmanian Parks & Wildlife Service, the East Coast Whale Trail has been opened to increase whale sightings and promote conservation. Importantly, six new East Coast Whale Trail sites on Tasmania's North East Coast were recently opened by Break O'Day Council and the Parks and Wildlife Service.
The new signs are located at The Gardens, Binalong Bay, St Helens and Shelly Points and Four Mile Creek. These provide information and stories about the whales commonly sighted along the coast, including the humpback and southern right whales and orcas, whaling history, migration and how to view whales safely on the water. To help people scan the Tasman Sea for whales the East Coast Whale Trail also includes outdoor binoculars installed at Shelly Point north of Scamander and at Cape Tourville east of Coles Bay, in the Freycinet National Park.
If you see a whale anywhere along the coast of Tasmania you are asked to call the Whale Hotline on 0427 – WHALES (0427 942 537).
Also use it to report whale or dolphin strandings, injured whales, dolphins or seals, strange or unusual marine mammals and turtles.
We have a fully qualified team of service repairers that specialise in the service and repair of all brands of motorhomes and caravans We offer the following services:
Service & Repairs for your RV & Caravan Drivetrain
Accessories & Spare Parts
Insurance Repairs
New and Used Sales
Consignment Sales
Trade-Ins. Conveniently located on the Gold Coast PARADISE RV SALES & SERVICE PTY LTD - QUEENSLAND MOTOR DEALER 3463284 245 Brisbane Road, Biggera Waters, Queensland 4216 www.paradisemotorhomes.com.au - info@paradisemotorhomes.com.au (07) 5597 4400 PARADISE RV YOUR MOTORHOME & CARAVAN SALES & SERVICE SPECIALIST PARADISE RV YOUR MOTORHOME & CARAVAN SALES & SERVICE SPECIALIST PARADISE RV YOUR MOTORHOME & CARAVAN SALES & SERVICE SPECIALIST
22 | News MOTORHOME ROADSIDE ASSISTANCE 4X4 MOTORHOME RENTALS NZMCA TRAVEL APP IMPROVEMENTS R V insurance specialist Ken Tame & Associates has just launched a roadside assistance program for campervans and motorhomes, in conjunction with Allianz Global Assistance. At the time of producing this issue details were unavailable but we'll bring you further information as soon as it's available. Alternatively, call Ken Tame's office on (03) 9853-5555. E scape Rentals is a small family-owned business located in Penrith in Sydney's west, founded because owners Richard and Cheryl Harris were unable to find a suitable 4WD motorhome when they wanted to rent one.
They ended up buying a 4X4 Toyota HiLux-based Suncamper Sherwood and have since added a second vehicle, with plans for more due to strong demand. Rental rates aren't published or available online, so for further details visit their website here or call 1300 417 150.
T he New Zealand Motor Caravan Association's Board has approved a series of new features to the NZMCA's Travel App, which it reports has already been a runaway success with more than 11,000 downloads by members in its first 9 months of availability. Generally initiated in response to member demand, CEO Bruce Lochore said the key updates will include:
Changing the search functionality to allow users to search by facilities – i.e. 'show me all POPs where pets are allowed'
Displaying GPS co-ordinates on the site profile page – a useful add-on for the many members who prefer to use a standalone GPS device
Displaying an 'all campgrounds' option on the menu – which enables members to view all sites available in a given area
Adding a function which provides the Association with the ability to 'push' notifications to members.
This will allow us to send messages directly to members in an area," explained Bruce. "The benefits of this are improved safety of members – i.e. weather warnings or notices of road closures – plus it enables us to highlight a rally or event in an area they may be travelling through."
The Sunliner Navian series offers the ultimate in mid-sized Recreational Vehicles available in the Australian and New Zealand market. The Navian is fully equipped with a vast array of equipment and accessories; all as standard. Crafted to highest quality, the Navaian series of motorhomes are tailored to the unique needs of their owners.
We invite you to explore the Navain series and meet your perfect travelling partner. Meet Your Perfect Travelling Partner www.sunliner.com.au VIDA RIALTA RANGER SWITCH PINTO NAVIAN MONTE CARLO OUR 2016 E
24 | News YOUNG DRIVING RV HOLIDAY GROWTH GERMAN REIMO FOR NSW? Y oung families are driving the growth in Australia's booming caravanning and camping holidays, according to the latest Government figures. Tourism Research Australia (TRA) revealed that the largest growth in the history of its data collection was in domestic caravanning and camping trips. "And it's the younger demographic groups that are driving the growth in what can only be called a booming tourism sector," TRA said. A total of 11.6 million caravanning and camping trips were taken by Australians for the year ending June 2016, representing a 13 per cent increase on the previous year and the highest recorded annual growth to date.
Total caravan and camping nights for the domestic market also jumped 13 percent to 49.2 million – another record for this period.
Demographically, it's the 30 to 54-year-old segment which is driving the growth in trips, representing 46 per cent of the market and showing strong growth at 11 per cent on the previous year. The 55-plus demographic retains the largest market share in caravan and camping when it comes to nights, at 41 per cent, but only just, TRA said. The 30 to 54 segment is right behind grey nomads in domestic nights, at 40 per cent. Right on the heels of both groups is the younger 20 to 29 segment, which accounted for 18 per cent of caravanning and camping trips. This represented a huge 19 percent of growth on the previous year.
TRA suggests the increases in domestic tourism are driven in part by a demand for outdoor experiences and healthy, active living. Domestic travel also accounts for 90 per cent of all tourism spend in regional area, increasing by 6 percent this period to reach a record $45.1 billion. O ne of Europe's largest camping, caravanning and campervan companies – Reimo Germany – plans to set up a subsidiary in NSW. The company was founded more than 30 years ago and is well known for its expertise in conversions and technical work. It also offers a wide range of leisure time and camping products. Reimo's online shop has more than 12,000 products for "mobile leisure" but only delivers within Germany.
At present Southern Spirit Campervans in Brisbane is a major Reimo outlet and offers a wide range of products both in-house and online.
News | 25 The Wirraway 260 SL With it's Full Length Slideout Room & Apartment Styled Layout ! From WIRRAWAY, "Australia's Most Innovative Motorhomes" Wirraway is a dedicated family owned business striving for Motorhome excellence. Our Motorhomes are our passion! Every Wirraway Motorhome is handbuilt and designed by experienced motorhomers who know the importance of making life easier on the road. New to our Range is the brilliant 'live like a movie star' Wirraway 260 SL, the latest in our 260 series; our EuroStyle 260 with it's European styled interior and "The Motorhome of the Year", the Wirraway 260.
Wirraway Motorhomes feature opulence, style and all the legendary design, electrical and construction innovations that are unique to all Wirraways. Each Wirraway Model is unique! - All are a Must See! View Our New Website to view All Models, Download Brochures &Virtual RealityTours For details contact: Rob Tonkin - Wirraway Motorhomes, 6 Hynes Court, Mildura Vic 3500 Phone / Fax: (03) 50 230 230 - New Email: info@wirraway.com.au & New Website: www.wirraway.com.au On The Road Wirraway 260SL Slideout Motorhome - 2012 © Rex Willmer NSW SHOW SHAKEUP C aravan and camping shows in NSW are set for a shake-up.
The Caravan and Camping Industry Association NSW has decided to take a closer look at the events, which attract tens of thousands of people every year. This follows a 10 per cent rise in visitor numbers at the recent Penrith Caravan, Camping and Holiday Expo.
CCIA chief executive Lyndel Gray said close to 20,000 people attended the show. "Next year we will make some changes to the format and length of our events. We will introduce an additional show day to our Newcastle and Penrith expos and reduce the length of the Rosehill Supershow to six days, Ms Gray said. The schedule of next year's events is:
Newcastle Expo - February 9 to February 12.
Rosehill Supershow - April 25 to April 30.
Penrith Expo - September 7 to September 10. CCIA's next regional show is in Batemans Bay, with the South Coast Caravan, Camping and Holiday Expo at Mackay Park from November 4 to November 6, 2016.
26 | iMotorhome Marketplace TO FIND OUT WHAT's ON IN YOUR STATE GO TO PAGE 58! An Authorised Repco Service Centre just off the Hume Highway at Mittagong. Auto electrical and mechanical service specialists happy to look after your motorhome or campervan! Call Mark or Sharon and tell them iMotorhome sent you!
More Versatile Than Any Other RV
Camp Anywhere - It's Self Contained
Large Bathroom With Shower & Toilet
Easy To Operate With Electric Jacks
Models For Single, Extra & Dual Cabs
Plus! Famous Ozcape Quality & Support Tax return due date is 31 October. Lodge later with a registered agent.
For tax advice and assistance at competitive rates by a registered tax agent, send me an email. Grey Nomad Tax Advisers Our office - 4 wheels and a Luton peak. Eric Taylor, FIPA, CTA, Reg. Tax Agent ABN 76 114 458 058 Email: eric@greynomadtax.com.au www.greynomadtax.com.au Southern Highlands Service Centre T: (02) 4872 2822 E: mwauto@hinet.net.au Collyn Rivers' books Caravan & Motorhome Electrics covers every aspect of all RV electrical systems. It combines exceptional technical accuracy with plain English writing. Solar That Really Works shows how to build systems that work first time and every time, and how to fix those that don't.
Whether installing solar for the first time, or trying to make an existing RV solar system work as you had hoped - this is the book for you. The all-new Caravan & Motorhome Book covers every aspect of buying, building, modifying and enjoying camper trailers, caravans, fifth wheelers, slide-ons, motor homes, coach conversions and off-road vehicles. Collyn Rivers the complete guide Caravan & Motorhome Book The Camper The Trailer Book Collyn Rivers The Camper Trailer Book covers, in detail, every aspect of camper trailers and their use. As with all of Collyn Rivers' books it describes (in plain English) approaches that will work, not just that may work.
The author is an ex motor industry research engineer, who also practices what he describes. He and his wife has crossed Australia and back again, mainly via tracks across its centre over twelve times. In early times, the author also crossed Africa twice (including the Sahara).
The Camper Trailer Book Collyn Rivers The Camper Trailer Book covers buying, building and using camper trailers of every kind. Individual books are $42.50 each. Postage per book Australia $5.50, New Zealand A$7.50, all other countries A$12.50 Special Discount Offer = 10% of all books for two or more! To order (and full details) see: caravanandmotorhomebooks.com Caravan & Motorhome Books, PO Box 356, Church Point NSW 2015
iMotorhome Marketplace | 27 This great Aussie festival in the bush is on again, featuring the legendary Murphy's Pigs! Many other great artists, a Bush Poets breakfast, billy tea, damper, great tucker – don't miss it! The Duvalay Memory Foam Sleeping System – No lifting, no tucking, no fighting over the doona and bedding that stays put.
Find out why it's Europes bedding of choice for caravans & motorhomes. The premium grade memory foam ensures total comfort and the award winning design cover means your bed is made in seconds.
duvalay.com.au | (02) 6653 4640 bonymountainfolkfestival.com Bony Mountain Folk Festival
28 | iMotorhome Marketplace We design and manufacture air suspension kits for all types of vehicles including motorhomes. Easy to install they let you 'level up' for stability and safety. Visit our world famous 300 ha open range sanctuary, home to some of the most exotic and endangered animals on earth. Explore by foot, bike, electric cart or in your motorhome! T: 1800 AIRBAG W: airbagman.com.au T: (02) 6881 1400 W: taronga.org.au Airbag Man Batteries, solar panels, inverters, alternators and all electrical parts including cables and switches for your motorhome! We can find and fix all electrical faults and are 12 V power specialists.
T: (07) 3209 3144 W: batterytraders.com.au Battery Traders Super Store Taronga Western Plains Zoo Australia's leading solar power and satellite TV manufacturers! We stock the revolutionary In Flex and Mini Flex panels, Plus our Complete Traveler Satellite TV package is perfect for motorhomes. In the heart of Victoria's Gippsland region. Come and enjoy our natural beauty, famous lakes, High Country and expansive beaches. Find 'Experience 40 Great Things to Do' on our website too! T: 1300 483 249 W: itechworld.com.au T: (03) 5144 1108 W: tourismwellington.com.au iTech World Wellington Shire Connect at home!
Connect anywhere! www.ampfibian.com.au POWER CHOICE TM 15Amp to 10Amp Adaptor with RCD and overload protection Parkland RV is the official dealer for Avida Motorhomes, Crossroads RV and Opal Caravans in WA.We stock quality used RVs and our modern service department can look after everything. An official Avida motorhome dealer, with more than 50 new motorhomes in the largest undercover RV showroom in the Southern Hemisphere. Our service department is here for all your needs too. Australia's leading fifth wheelers, designed here in Australia and built to suit our demanding conditions. Fifth wheelers from 24' to 36' available.
Call 02 4953 7141 for information! T: (08) 9493 7933 W: parklandrv.com.au T: 1800 273 136 W: robertsrv.com.au T: (02) 4953 7141 W: summerliferv.com.au Parkland RV Centre Roberts RV World RV Specialists
iMotorhome Marketplace | 29 5th wheeler specialist hitches fully ADR compliant no swaying increased towing safety easy reversing offroad vans available Nomadic Solutions - the original, quality constructed 'lifestyletable™' that is easily attached to the side of your motorhome. Now available in 'mill finish' for custom painting. America's favourite motorhome is now available in Australia! Tiffin Motorhomes Australia is proud to offer the Allegro Breeze 32 to the Australian market. Click through to find out why they're fast becoming Australia's favourite too! T: (02) 9011 8144 W: nomadicsolutions.com.au T: 0411 616 617 W: tiffinmotorhomes.com.au Nomadic Solutions Tiffin Motorhomes S So ou ut th he er rn n C Ca am mp pe er rv va an ns s S Sp pi ir ri it t Full & part fitouts Hitop, Poptop and Reimo roofs True custom­made conversions Repairs & improvements BYO van from Hiace to Sprinter Over 11 years cover manufacturing experience Australia wide.Free Measure & Quote Call in Factory 1:354 Mons Road Forest Glen : Sunshine Coast Queensland PH-­‐1300 304 332/0754564818 www.caravancovers.com.au info@caravancovers.com.au Qld Stockist of Duvalay.
FLEXIBLE STORAGE SYSTEMS FORYOUR CAMPERVAN OR MOTORHOME Store those additional items up and out of the way using our adjustable, transportable and modular storage system!
www.skytracks.com.au The E-Twow Electric scooter for adults LATEST TECHNOLOGY FOR RV OWNERS The alternative to a bike!! 25km/h with a range of 40km in ideal conditions! Super light too at 10.8kg Folds away quite compact for small storage To find out more call Mark on 0412027330 or email mje240@adam.com.au www.e-twow.com 1 Our vehicle-specific insulation screens are Australian made from specially designed and tested material to keep you cool in summer and warm in winter. As featured in iMotorhome's Project Polly! T: (07) 3398 5500 W: solarscreen.com.au The dawn of a new era in solar. New state-of-the-art solar blankets from REDARC.
Click here.
30 | Day Test: Swift Bolero 714SB Swift'ssleekBolerohas plentytooffer... by Malcolm Street Swift & Sleek
Day Test | 31 Despite the Swift brand having a slowish start in the Australian market, momentum is building and with motorhomes like the Bolero it's easy to see why. Stylish both outside and in, and well equipped for the price they offer an attractive alternative to locally produced vehicles. O ver the last few years Swift Australia has slowly been increasing its range of motorhomes available in this country. It's not quite like what's available in Britain, but still a very interesting alternative to locally built motorhomes.
Until recently locally available Swift motorhomes have had a slightly plain Jane image about them – undeserved in many cases I'd like to point out – but there's no doubt some of the latest arrivals are changing that perception. Take the Swift Bolero 714SB for example. For a start it's a B-class model, or LowLine in Swift speak, which gives it a very streamlined look. Add in a driver's cab that is predominantly Anthracite in colour and has a very large sky view hatch on top, plus some matching body decals and things are starting to look very flash.
In part the rakish look is helped by the low riding AL-KO chassis bolted to the Fiat Ducato cab, but it's not all looks.
The AL-KO chassis is the new wide-track model, which helps general handling. However, the really good news is that someone at the Fiat UK factory has finally realised just about all Fiat Ducato-powered motorhomes in Australia come with the 3.0-litre 132 kW/400 Nm turbo-diesel engine, and that those smaller 2.3-litre engines the Europeans seem to really love aren't going to cut the mustard here. So the Bolero comes with the big engine as standard and consequently there's a smile on the face of the Swift importers – not to mention potential buyers.
Motorhome weights are always interesting, especially tare (unladen) weight, and it's always helpful to understand the way manufacturers measure them. Some go for a dry weight, i.e. with all tanks empty, except
for 10% in the diesel tank. Others use a wet weight with all tanks (except the grey) full. Swift has opted for something in between. Their measurement of 3312 kg includes 75 kg for the driver, a 90% full fuel tank and 1 full gas cylinder. With a 4250 kg gross vehicle mass (GVM) that gives a respectable payload capacity of 938 kg. From there it's reasonably easy to calculate what filling the fresh water tank (note there's an option for a second tank) and adding extra people will detract from the load capacity.
In the power department, 2 x 100 AH batteries (1 dealer fitted) supply the 12 V load and they are charged by both a 25 A mains charger and a 100 W solar panel. An LCD panel above the entry door has all the necessary system controls, including load 32 | Day Test Whichever way you look at it the Bolero is a good looking motorhome...
limiters and solar panel regulating, plus Bluetooth so that many of the functions can be checked/controlled from a remote connection, like you iPad! Body Beautiful G lass Reinforced Plastic (GRP) – also know as fibreglass to you and me – is the material of choice for the frameless body; it's the inner and outer covering for the polyurethane composite walls and also the outer skin for the 45 mm styrofoam-sandwich floor.
Fibreglass is of course the main component for the moulded components as well. Up top the 31 mm sandwich-construction roof also has a hail resistant exterior and high density polystyrene core, designed for effective insulation. Included in the roof structure are load carrying cross bars. Although Day Test | 33 Above: The lounge is a very British layout (used also in Auto Trails), with swivelling cab seats, a pair of inwardsfacing lounges and lots of windows and hatches. Right: The entry step is moulded into the body, while the Eurostyle door has a built-in rubbish bin. A non-security concertina fly screen is fitted in the doorway frame.
the insulation is designed more for a cool European climate it's certainly going to be just as effective in a hot Australia one as well! The manufacturer's name on all the windows and door is a familiar one: Seitz. The windows are awning-style tinted acrylic while the door is the typical Euro design, with a separate concertina-style non-security insect screen. The door does have one other feature of note – it's tied in with the driver's cab central locking – yay! That means there are just two keys for everything: one for the people doors and one for all the service doors, i.e. the external doors for the gas cylinder, toilet cassette, nearside under bed storage and a slightly unusual compartment midway along the driver's side.
I say unusual because it's fairly narrow but shelved, making it good for small but easily losable items. All the real service items, like the water tank cap, gas bayonet and the 240 V inlet socket have hinged covers that just clip shut.
As on many a motorhome that comes out of Britain and Europe, the awning – a Thule Omnistor – has been designed to fit into the bodywork rather than look like an add-on item. It might not sound much but it does make a big difference to the look of the motorhome. I don't know if it's a location issue, but there are no awning-leg mounting points on the motorhome body. Models and Layouts T he Bolero, at least in Australia, is available in four layouts: double-bed twoseater; double-bed four-seater; singlebeds two-seater or single-beds four-seater. Additionally, in all models the dinette converts to an extra bed.
In this review I'm looking at the 714SB, which means single beds and two seats.
How it works is with a lounge/dining area upfront, with two long inwards-facing lounges that mesh with the swivelled cab seats. 34 | Day Test The awning blends well with the body, but there are no body-mounted leg brackets, which seems odd. Note the huge roof hatches!
Although the insulation is designed more for a cool European climate it's certainly going to be just as effective in a hot Australia one as well!" Day Test | 35
36 | Day Test Around the entry door area are the kitchen facilities on both sides, leaving the rear for single beds on either side and a full-width bathroom across the rear.
The bedroom is totally separate from both the bathroom and living area, being partitioned with doors at both ends. That to me was something of a double-edged sword. If a totally separate bedroom is desired then it's a winner. However, if open space is more of a priority then it's a problem. It might sound a bit vandalistic on a new motorhome, but if I happened to own this motorhome I'd probably unscrew the hinges on the front bedroom door and not have it there at all! Up front in the lounge there are windows all 'round and the large sky view hatch certainly adds to a feeling of spaciousness.
The big hatch opens and comes with an insect screen and blind, which are very useful on sunny days.
Like the Swift Rio we reviewed in Issue 72 (May 2015), instead of a fixed table a freestanding one is supplied. It's stored in the bathroom cupboard when not being used. The table is also used for making up the dinette bed – the side cushions filling in the mid section. It's a small point, but in their normal position the side cushions are strapped into position, not like some rigs I have been in where there are not fixed and end up on the floor when travelling. Cooking Up... T he kitchen is a typically Euro-style: small and L-shaped. It comes with a full cooktop, grill and oven against the driver's-side wall and a round sink with detachable plastic drainer in the right angle cabinet.
General storage is a bit limited – there is but one overhead locker (the adjoining space is occupied by the microwave) – and one cupboard below; the latter being relatively Like most Euro kitchens this one is tiny, but a flip-up extension over the lounge is very handy (and big enough for a double decker bus!). The full cooker will be appreciated by on-road chefs, although the lack of meal preparation space wont be.
large with multiple shelves and an inbuilt cutlery drawer. Benchtop area isn't great but there is a handy hinged flap that uses the space above the driver's-side lounge, and thus is not really in the way. Across the aisle is the 190-litre Dometic fridge, butted up to the entry door. Above the fridge is a half-width cupboard and also one of the two flat screen TV mounting points and connections can be found (the other is in the bedroom). This is definitely one layout where a common TV position isn't going to work! After Hours In the bedroom, in addition to half-height corner wardrobes by the front partition (cleverly suspended above the foot of each bed) there are overhead lockers on both sides.
Also as mentioned, the storage under the kerbside bed is accessible from the outside. Both beds measure 1.9 m 0.7 m (6' 3" x 2' 4") and have a reading light, window and anti-condensation panel along the wall by the mattress.
Day Test | 37 Top: The dining table is free-standing and stores in a bathroom cabinet. When removed it provides a spacious lounge area. Above: Kitchen storage space is as limited as bench space.
Going to next pages ...
Cancel