TEC Investment Plan 2020-2022 - University of Otago
Page content transcription
If your browser does not render page correctly, please read the page content below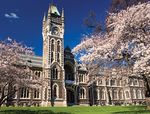 University of Otago
Te Whare Wānanga o Otāgo
A research-led university with an international reputation for excellence

TEC Investment Plan
2020-2022
Approved by the University Council (August 2019)
Contents
Introduction		                                         1       		 3.1.4 Boosting Achievement of Pacific
1.0 Mission and Role                                   2       			 Peoples                                            22
  1.1 The University of Otago: Special Character,              		 3.1.5 Improving Adult Literacy and
		 Mission and Role in the Sector                      2       			 Numeracy                                           26
    1.2 Embracing our Distinctiveness                  3       		 3.1.6 Strengthening Research-based
                                                               			 Institutions                                       26
    1.3 Strategic Direction                           4
                                                               		      3.1.7   Growing International Linkages         31
		      1.3.1   The Current Situation                 4
                                                                   3.2 Investment in Quality Teaching                 34
		      1.3.2 Otago's Strategic Future: Vision 2040    5
                                                               		      3.2.1 Quality Assurance Reviews                35
  1.4 Governance, Management and Academic
		 Leadership Capability                   6                   4.0 Summary of Activity                                36
		      1.4.1 Governance Capability                   6            4.1 Key Forecasting Assumptions                    36
		      1.4.2 Governance and the Treaty of Waitangi 6          		      4.1.1   Overview of Key Forecasting Factors    36
		 1.4.3 Management and Academic                               		      4.1.2 Long-Term Expectations                   37
			 Leadership                                         7       		 4.1.3 Overview of Key Forecasting Factors
		      1.4.4 National and Global Trends              8        			      for 2020-2022                                 37
		      1.4.5 Other Matters                           8            4.2 Enrolment Forecast Summary                     38
    1.5 Past Performance                              9        		      4.2.1 The Overall Enrolment Forecast           38
2.0 Key Stakeholders and their Expectations           10       		      4.2.2 Mix of Provision for 2020                38
    2.1 Stakeholder Overview                          10       		      4.2.3 Mix of Provision for 2021 and 2022       39
    2.2 Stakeholder Expectations                      10       		      4.2.4 Planned Programme Changes                40
    2.3 General Approaches to Engagement              11       5.0 Outcomes and Measures                              42
3.0 General Alignment with Government Priorities      12           5.1 TEC Performance Commitments                    42
 3.1 Contribution to Government Tertiary                           5.2 Forecast Statement of Service Performance 42
		Priorities                                          13       6.0 Major Initiatives, Changes and Challenges          43
		      3.1.1   Delivering Skills for Industry        13           6.1 Capital and Infrastructure Developments        43
		 3.1.2 Getting At-Risk Young People into                         6.2 Adjusting Capacity and Capability              46
			      a Career                                     17       Attachments		                                          47
		      3.1.3 Boosting Achievement of Māori           18

Institutional Contact Details
University of Otago
EDUMIS number: 7007
Lead contact for Plan discussions
David Thomson | Director of Strategy, Analytics and Reporting | Office of the Vice-Chancellor | University of Otago
Work phone: 03 479 7716 | Mobile: 027 686 3711 | Email: david.thomson@otago.ac.nz
PAGE 1

Introduction
This Investment Plan has been prepared pursuant of sections 159R, 159Y and 159YO of the
Education Act 1989, in accordance with the requirements of the relevant Gazette Notice
(2019-au1353) and the Tertiary Education Commission's Plan Guidance for 2019. It takes
account of the legislative and regulatory requirements and the planning and accountability
framework under which New Zealand universities operate, and is structured as far as
possible in accordance with the TEC's Investment Plan Template.
TEC INVESTMENT PLAN 2020-2022 • PAGE 2

1.0 Mission and Role

1.1 The University of Otago: Special Character, Mission and Role
    in the Sector
The University of Otago, founded in 1869 and New Zealand's first university, is defined by a tradition of innovation and
excellence in research and research-led teaching across a range of traditional, professional and applied programmes.
Celebrating its 150th anniversary in 2019, Otago judges itself in an international context, and embraces a national role and
regional responsibilities that build on the following dimensions:
•    A research-led culture which underpins excellence in teaching, professional training and service;
•    A broad curriculum that encompasses traditional scholarship and new knowledge;
•    A concentration of special professional schools, with particular strength relative to other New Zealand universities in
     the sciences, health sciences and the humanities, and a growing research-led capability in business;1
•    A principal treaty partnership with Ngāi Tahu as mana whenua within their takiwā of Te Waipounamu, relationships
     with mana whenua in other locations where the University has a physical presence, and with other iwi and iwi groups;
•    An outstanding and nationally unique residential campus learning environment in Dunedin, along with health sciences
     campuses in Wellington and Christchurch, and specialist facilities in Auckland and Invercargill;
•    A very high proportion of students who come from outside the University's home region of Otago and Southland;
•    The transformative effect that living and studying at a residential university has on Otago's students as they progress
     through study and emerge as well-rounded, confident and independent work-ready graduates;
•    A focus on strong external linkages that enable us to provide high-quality graduates for a range of professions, and to
     apply research to deliver public good and economic benefit.
Otago's standing as a leading research university is confirmed by our ongoing success in competitive research funding
rounds2 and by independent assessments including PBRF and international rankings. We demonstrate an ongoing
commitment to increasing our focus on the application of knowledge, with the value and extent of our activities in this
area gaining international as well as national recognition.3
The Tertiary Education Commission's annual Educational Performance Indicators (EPIs) confirm the quality of Otago's
teaching outcomes, and for each of the past three years Otago has been the top-ranked university across these EPIs.4

1   Otago has a greater proportion of its activity concentrated in the natural and physical sciences than any other New Zealand university, and also greater concentration
    in the health sciences. The latest QS subject rankings placed Otago in the international top 100 for the following subjects: Archaeology, Anatomy and Physiology,
    Anthropology, Dentistry, Earth and Marine Sciences, Development Studies, Education, Geography, Life Sciences & Medicine, Nursing, Pharmacy, Performing Arts,
    Philosophy, Theology and Religious Studies. Sports and Sports-Related Subjects (Physical Education) at Otago was the highest-ranked subject internationally at any New
    Zealand university at 20th in the world, and Dentistry at Otago ranked 34th in the world.
2   Otago has ranked first or second in the annual Health Research Council and Marsden funding rounds for each of the past ten years. Otago is a host of one of the 10
    national Centres of Research Excellence (CoREs), a co-host of one, and a partner in the other eight. We are also hosts of two of the country's National Science Challenges
    and partners in the others.
3   Refer to section 3.1.6 below for specific examples.
4   Refer to section 3.0 below for further details.
PAGE 3

Similarly high levels of Māori student performance are a particular source of pride for Otago as we seek to contribute ever
more effectively to national imperatives in this area.
Internationally, Otago is consistently rated in the top one percent of the world's universities in the major independent
rankings. Within those rankings it is clearly established as one of New Zealand's two best universities overall5 and is one of
only ten universities worldwide to hold the maximum possible 'Five Stars Plus' QS quality rating.
Nationally and locally we place a high priority on working in partnership with other relevant groups including local
authorities, other tertiary providers, research and health organisations, and iwi and iwi groups.6 Our leadership in securing
excellent education outcomes for Māori is acknowledged nationally, and – in the wider context of educational success for
all indigenous peoples – internationally as well.
The vision, mission and core values of the University are outlined in Attachment A, and the scope and breadth of its
activities are highlighted in Attachment B.

1.2 Embracing our Distinctiveness
The characteristics that will continue to set Otago apart from other universities are as follows:
•    Our status as a residential, destination university based in a true university town. As well as being unique in
     Australasia, this status is rare internationally, but it is a hallmark of many of the world's great universities;7
•    Our standing as one of only two New Zealand universities ranking in the top echelon of the world's leading
     universities;8
•    Our specific discipline expertise, encompassing a particular concentration in the sciences and health sciences,
     within the wider context of Otago as a fully comprehensive university9 with internationally recognised excellence
     in the humanities;
•    Our demonstrated ability to achieve consistent excellence in our research alongside consistent excellence in
     our teaching;10
•    Our focused, partnership approach to achieving improved outcomes for Māori and Pacific peoples;
•    Our ability to produce graduates who are both work-ready and equipped more broadly as confident, articulate,
     thoughtful and well-connected young people who will make a lasting contribution as national and international
     citizens;
•    Our increasing capacity to apply our research in ways that deliver social, environmental, commercial and economic
     benefit, both nationally and internationally.

5  Otago consistently places as one of only two New Zealand universities inside the top 200 in the annual QS international rankings and inside the top 300 in the Times
   Higher Education rankings.
6 Including collaboration and partnership with compatible research, education, health and commercial organisations, relevant Government agencies and local bodies, and
   the community more generally. In particular, we maintain key relationships with Ngāi Tahu (our cornerstone Treaty Partner), the Dunedin City Council, Otago Polytechnic,
   and the Southern, Canterbury and Capital and Coast District Health Boards.
7 All of the top ten universities in the annual Shanghai world university rankings are residential universities, and many are located in urban areas with populations of less
   than 250,000. These include Stanford (in Palo Alto, population 65,000), Princeton (in Princeton, population 30,000), Cambridge (Cambridge, UK, population 123,000)
   and Oxford (Oxford, UK, population 165,000).
8 As measured by international rankings, student choice, teaching performance and research performance.
9 This fully comprehensive nature is the norm for leading universities worldwide.
10 Otago has been the top-performing university in the national tertiary teaching awards since their inception in 2002, securing 33 awards, and winning the Prime Minister's
   Supreme Award eight times (no other university has won this award more than twice).
TEC INVESTMENT PLAN 2020-2022 • PAGE 4

1.3 Strategic Direction
1.3.1        The Current Situation
Otago's strategic focus for the past 15 years has stemmed from its vision as a research-led university with an
international reputation for excellence, and a mission which is anchored in its core institutional values.
Otago's current lead strategic document, Strategic Direction to 2020, has been in effect since August 2013, and is itself an
evolution of the approach taken in the University's two previous lead strategic documents.
The seven imperatives contained within Strategic Direction to 2020 appear as Attachment C, together with a summary of
how the University responds to each of these.
Key points of focus embedded within our current approach include:
•    Maintaining the high academic calibre and performance of our student cohort;
•    Developing innovative and effective transition pathways for Māori and Pacific students into tertiary study, and
     supporting ongoing improvements in the academic performance of these students;
•    Enhancing our Dunedin campus, which has been judged amongst the most beautiful worldwide, as a key point of
     difference;
•    Focusing our endeavours in areas where we have clear academic (including research) strength and, where necessary,
     reducing our involvement in or exiting from areas where we do not have this strength;
•    Maintaining our status as New Zealand's most research intensive university (as measured by independent international
     rankings);
•    Maintaining our status as a national university;11
•    Applying our research and academic expertise for social and environmental well-being and for commercial and
     economic benefit to New Zealand and the world;12
•    Supporting not only the academic but the social and cultural development of our students so that they become
     outstanding citizens as well as the scholars of the future;
•    Responding to Government's goal of more international students, while maintaining an approach to
     internationalisation that is distinctive, and which brings benefits to all students of the University;
•    Working closely with professional bodies and industry/employer groups to ensure that our provision – especially in
     respect of professional programmes – meets their needs;
•    Enhancing our emphasis on sustainability, encompassing both what we do as a university, and using our expertise to
     help solve national and international challenges.
There has been strong alignment between Otago's strategy and priorities and the tertiary education priorities of
Government. Elements of Otago's strategy also complement other areas of strategic priority for Government.13

11 Otago plays an important part in meeting the education needs of all of the country's major metropolitan centres; we are, for example, the third most popular study
   destination for school leavers from Auckland, and the second most popular for students from Wellington and Christchurch. We also operate a number of professional
   programmes for which we are the sole national provider (e.g. Dentistry and Surveying) or one of only two providers (e.g. Medicine and Pharmacy).
12 Included within this is a focus on research that supports the needs and aspirations of our treaty partners, and which advances Pacific communities both within
   New Zealand and overseas.
13 For example, supporting priorities in relation to science in society, social development, health, and evidence-based policy development.
PAGE 5

Strategic Direction to 2020 provides a focus and structure for other key strategic documents, including key whole-of-
University documents such as the Māori Strategic Framework (the current version of which runs to 2022), the Pacific
Strategic Framework 2013-2020, and the Teaching and Learning Plan 2013-2020.
As well as providing a foundation for decisive central decision making, our strategic imperatives are an effective framework
for planning and decision making within our constituent departments, schools and divisions. This approach, focusing
on strategic leadership rather than highly detailed and prescriptive planning, gives different areas of the organisation
considerable freedom in determining how to respond to the challenges posed by the imperatives. This, in turn, supports
dynamic change while respecting the University's core values of intellectual and academic freedom.
At the same time, the implementation of Strategic Direction to 2020 requires a number of specific pan-University
initiatives to be vigorously pursued.

1.3.2 Otago's Strategic Future: Vision 2040
In preparing the successor to Strategic Direction to 2020, Otago is extending the time horizon for its lead strategic document
well beyond the usual five to seven years. As its name – Vision 2040 – signals, this new approach will look two decades ahead.
While innovative within the New Zealand tertiary sector, this longer-term strategic approach is one that is now being
adopted by a number of leading universities internationally.
Extending our future focus in this way has a number of advantages: it provides a more realistic timeframe for
comprehensively addressing a number of major issues that universities worldwide are grappling with right now;14 it also
protects against being diverted by short-term priorities.
The Vision 2040 approach also aligns with the reality that our major investments – ranging from a newly-minted PhD
graduate we might hire as an academic to a building we construct – are investments for a much longer period than five to
seven years. Similarly, genuinely transformational research is a long-term enterprise, and the fundamental skills we seek
to instil in our graduates are designed to last a lifetime.
With this being Otago's 150th year, we are taking as inspiration for Vision 2040 the audacity of the University's founding
fathers, who established the University in what was an unlikely location, at a time of massive change and uncertainty, but
with an unerring eye on the future.
Developing Vision 2040 is an 18 month project that has already commenced with strategic sessions involving the
University Council, the University's senior leadership team, and a number of other leaders within our community.
The initial thinking that has emerged from these sessions includes a desire to re-orient Otago from being a university of
strongly Scottish heritage, to one that more boldly embraces our location in the Pacific region, and is fully reflective of the
increasing diversity of New Zealand society.
Following the development of this Investment Plan, a discussion paper will be developed to support widespread
consultation later in the year. Through that consultation we will be asking our major partners and stakeholders for their
views on the sort of university Otago should seek to become over the next 20 years, and how we should respond to the
global and national challenges and opportunities we may face. A comprehensive review of our core values has also been
scheduled as an adjunct to the strategic review.
The timing of the Vision 2040 process is such that we will be able to take full account of the Government's new Tertiary
Education Strategy before finalising our new lead strategic document in the first half of 2020.

14    These include: representation by gender, ethnicity and socio-economic background in our student and staff cohorts; student resilience, mental health and well-being;
     sexual harm prevention; political and societal threats to free speech and open debate; societies narrowly focused on the employment outcomes of degrees and the
     immediate utility of research; new ways of teaching and learning; and the rise of Asia as a force in higher education.
TEC INVESTMENT PLAN 2020-2022 • PAGE 6

1.4 Governance, Management and Academic Leadership Capability
1.4.1 Governance Capability
The University's Governance body – the Council – is constituted and operates in accordance with the relevant statutory
requirements.
Three of the 12 members are elected – two by staff, and one by students – the Vice-Chancellor is an ex officio member,
and the balance of membership comprises four Council and four Ministerial appointees. Care is taken in the appointment
of members to ensure diversity and the requisite mix of skills and experience.
Specific committees report directly to the Council on key areas of responsibility,15 with the Council itself meeting ten times
a year.

1.4.2 Governance and the Treaty of Waitangi
Otago's cornerstone Treaty partnership with Ngāi Tahu has been governed by a Memorandum of Understanding (MoU)
in place since 2001, and formally re-affirmed most recently in 2013. A further review of the MoU is currently scheduled to
take place during the period of this Investment Plan.
The purpose and principles contained in the MoU appear as Attachment D, and these commit the University to
acknowledge and act in accordance with the principles of the Treaty.
The MoU places a strong emphasis on the relationship between the University Council and Ngāi Tahu, with a particular
focus on the relationship with the three Otago Ngāi Tahu rūnanga (kā rūnaka o Ōtākou, Puketeraki and Moeraki).
In keeping with its Treaty commitments, the University maintains specific Ngāi Tahu representation on Council,16 and
operates a Treaty of Waitangi Committee. The Treaty of Waitangi Committee comprises equal representation from the
University and local rūnanga, and meets regularly with broad terms of reference that include:
•    To advise the University Council on matters of kawa and tikanga;
•    To facilitate the working relationship between Ngāi Tahu and the University;
•    To monitor, and make recommendations for any revision of the MoU between Ngāi Tahu and the University.
The Treaty of Waitangi Committee is also a valuable conduit for guidance on other relevant matters, including the
numerous agreements and relationships that exist between the University and other iwi and iwi groups.

15 The committees of Council include: Appeals Board; Audit and Risk Committee; Capital Development Committee; Finance and Budget Committee; Honorary Degrees
   Committee; Health & Safety and Ethics Compliance Committee; Treaty of Waitangi Committee. Additionally, Council is advised on academic matters by the Senate, the
   University's academic board, established pursuant to Section 182 of the Education Act 1989.
16 Securing the appointment of that representative based on a local rūnanga recommendation.
PAGE 7

1.4.3 Management and Academic Leadership
The Vice-Chancellor is both the academic and administrative head of the University.
The Vice-Chancellor's senior advisory group, which meets fortnightly, comprises the University's key academic and
administrative leaders. The Vice-Chancellor also chairs the Senate (the academic board of the University).
Academically, the University comprises four divisions: Commerce, Health Sciences, Humanities, and Sciences. Each
division is headed by a Pro-Vice-Chancellor, and further disaggregated into a number of schools (each led by a Dean).17
The schools typically comprise a number of departments and units. Associate Deans provide pan-divisional leadership for
specific areas of activity, while there are number of Centres (most often focused on research endeavour) that are typically
multidisciplinary, and thus may span more than one school, or even more than one division.
Otago's academic leaders at all levels are required to be active in research, teaching and service in their area of discipline
expertise. They will typically be senior members of the academic community, having attained the rank of Professor or
Associate Professor, and hold their leadership role for a fixed period of time (generally three to five years).
The constitution of Senate and its general duties are detailed on the University's website at https://www.otago.ac.nz/
council/committees/committees/senate.html. The majority of its members are academic leaders and other senior
academic staff, but there is also significant student and professional staff representation.
Professional staff support the core academic endeavour of the University, both through general administration services,
and through specialist support in areas including Human Resources, Finance, Facilities Management, Information
Technology, and Student Support. The main service units are headed by Directors who, like their staff, are appointed on
the basis of having the experience and expertise appropriate to their particular position.
The University runs an Academic Leadership Development Programme to equip its academic leaders with the specialist
skills and knowledge required for their roles, along with more general leadership development programmes for newly
appointed professional staff leaders, and for emerging leaders in both the academic and professional staff ranks.
Financial accountability is cascaded down to the level of cost centres,18 both for budgeting purposes, and for monitoring
financial performance via a comprehensive system of monthly financial reporting. There are equivalent systems in place
for managing staff appointments, performance and progression/promotion. Administrative and specialist non-academic
support is provided using a shared services model.

17 Aside from the Division of Commerce which is, in its entirety, the School of Business, led by a Pro-Vice-Chancellor who also holds the title of Dean.
18 In academic areas these are either schools or, more typically, the departments and other units that constitute these schools.
TEC INVESTMENT PLAN 2020-2022 • PAGE 8

1.4.4 National and Global Trends
Otago's senior leaders are expected to stay abreast of national and global trends in higher education as a matter of course,
as are academic staff in respect of pedagogical and research developments in their particular disciplines.
The University has significant embedded expertise to ensure that it remains at the forefront of research and analysis of key
trends. For example:
•    The University's Higher Education Development Centre, which has a particular focus on teaching and learning, and
     includes staff who are acknowledged international experts in these areas;
•    The Office of Strategy, Analytics and Reporting, whose senior members are recognised experts in their area, and
     are well connected with their counterparts at leading universities in New Zealand and overseas, and with key
     Government agencies.
Other areas of engagement that support currency of knowledge around developing trends include:
•    Extensive national and international benchmarking;19
•    External (and often international) membership on University review panels;
•    Accreditation requirements, both national and international, for a wide range of professional programmes;
•    Representation and leadership on the key committees of Universities New Zealand.
A range of mechanisms are in place to ensure that expert knowledge of and insights into national and global trends are
shared within the University (for example, through the Academic Leadership Development Programme and other staff
training programmes).

1.4.5 Other Matters
Consistent with best-practice in the state sector, the University follows the Better Business Case approach for all major
capital projects. A specialist Project Management Office facilitates the successful delivery of these projects.20 All projects
and new academic initiatives must include a justification on the basis of alignment with the University's strategic direction
(and, as part of this, alignment with Otago's mission and role). This justification is either provided by, or prepared in
consultation with, the University's Office of Strategy, Analytics and Reporting.21

19 Including: deep benchmarking with Otago's partners in the Matariki Network of Universities; involvement as a leading member of the Collegiate Way International
   association of collegiate universities; Uniforum benchmarking with leading Australian and United Kingdom universities around the provision of professional and support
   services; Tribal Benchmarking (as mandated by the TEC for all New Zealand universities).
20 The Project Management Office follows the P3M3 (project, programme, and portfolio) methodology, and links both individual projects and the overall portfolio of projects
   to the University's vision and strategic goals. It works directly with project managers and other units to ensure best practice is upheld, and assists with the writing of
   project business cases.
21 This office also reviews all enrolment forecasts that form part of a capital or academic proposal.
PAGE 9

1.5 Past Performance
The University has a strong record of past performance, spanning its core teaching, research and service activities
as well as overall financial performance.
By way of example, in each of the past five years, Otago has:
•   Posted an annual financial surplus that meets the TEC minimum guideline of 3% of revenue;
•   Secured SAC-eligible enrolments within the TEC's current tolerance band of 99-102% of funded places;
•   Been the top performing institution across the vast majority – and sometimes all – of the TEC's key annual Educational
    Performance Indicators;
•   Achieved annual increases in Māori and Pacific student enrolments, and an overall lift over the period in both Māori
    and Pacific student academic performance;
•   Achieved significant annual increases in external research income (at an average rate of 11.1% per annum over
    the period).
The University has been consistently rated as 'low risk' by the TEC's Crown Monitoring team.
Full details of past performance are provided in the University's annual reports, recent editions of which are available
online at https://www.otago.ac.nz/about/official-documents/index.html.
TEC INVESTMENT PLAN 2020-2022 • PAGE 10

2.0 Key Stakeholders and
    their Expectations

2.1 Stakeholder Overview
The University's stakeholders and partners span regional, national and international boundaries. Their diversity reflects
the breadth of teaching, research and service undertaken by the University.
The University's key stakeholder groups (listed in alphabetical order) are:
•    Alumni
•    Business, Industry and Commercial Enterprises
•    Central Government and its Agencies
•    Employer and Professional Groups
•    Higher Education and Research Organisations
•    Local Government and Community
•    Ngāi Tahu and Other Iwi Partners
•    Pacific Peoples
•    Staff
•    Students
•    Other Strategic and Collaborative Partners

2.2 Stakeholder Expectations
Attachment E provides an overview of the expectations of each of the key stakeholder groups listed above.
PAGE 11

2.3 General Approaches to Engagement
Our engagement with stakeholders is necessarily customised to the particular groups (and constituent sub-groups)
involved, but is always directed at establishing expectations, how best to meet those expectations, and ongoing
communication about how those expectations are being met.
General approaches include stakeholder representation on various committees and boards,22 high-level joint steering
groups,23 consultation,24 and communication through a wide range of channels. Stakeholder input is sought, and in some
cases mandated, for specific academic and support activity either as part of the University's regular review programme,25
or as part of external accreditation reviews.26
Further information on stakeholder engagement with Ngāi Tahu and other iwi partners, with Pacific peoples, with
business, industry and commercial enterprises, and with employer and professional groups is included elsewhere in this
Investment Plan.
Engagement with students is covered in Attachment F (the student charter) and Attachment G (an overview of student
engagement). Attachment H provides an overview of engagement with alumni (many of whom are also members of other
stakeholder groups).

22 Including at the governance (University Council) level for students, staff, local iwi, and alumni.
23 For example, the Dunedin Tertiary Sector Steering Group (TSSG), which meets quarterly, comprises the University's Chancellor and Vice-Chancellor, the Chair and Chief
   Executive of Otago Polytechnic, and the Mayor and Chief Executive of the Dunedin City Council. A number of subsidiary groups such as the Tertiary Precinct Planning
   Group report to the TSSG.
24 Ranging from surveys and focus groups covering all stakeholder groups for major projects such as Vision 2040 through to regular and comprehensive surveys covering
   such matters as student (and recent graduate) satisfaction with both academic and non-academic aspects of their Otago experience.
25 All major areas of academic and supporting activity are subject to mandatory internal review on a 7-10 year rolling cycle. The panels that undertake these reviews include
   external expert membership and – where the review is of an academic or student-facing area – a current student or recent graduate.
26 Otago maintains 38 international and 26 national external professional accreditations across 51 different programmes. In addition, the University's School of Business holds
   the internationally regarded EQUIS accreditation and AACSB accreditation, confirming it as one of the top Business Schools in the world.
TEC INVESTMENT PLAN 2020-2022 • PAGE 12

3.0 General Alignment with
    Government Priorities

In recent years there has been a strong synergy between Government priorities for universities and the institution-specific
priorities of Otago. This has been apparent throughout the current regime of Investment Plans which, coincidentally,
commenced at the same time Otago was formulating its Strategic Direction to 2012 plan. It has continued with Strategic
Direction to 2020.
This synergy has enabled Otago to respond to the Tertiary Education Commission's goals, objectives and priorities for the
sector in a manner which anchors that response in the University's own strategy. This, in turn, has ensured a response that
is both distinctive and strong in terms of the results it delivers and the foundation it establishes for going forward.
Evidence that this approach delivers excellent results can be seen in the University's performance against the specific
commitments it made in the previous Investment Plan.
This performance against plan commitments is consistent with Otago's strong performance as measured by the TEC's
Educational Performance Indicators (EPIs). In each of the past three years Otago has been the top-ranked university
across these EPIs, ranking first for qualification completion and progression to higher study in all three years, and first for
course completion and retention in two of the three years (and second in each of the other years).
The TEC should also gain confidence from the solid financial performance that has been a notable feature of the University
over many years. This performance has seen the University consistently rated as low risk against the TEC's Financial
Monitoring Framework, and provides a core underpinning for the ambitious capital development programme – and
associated application to extend our current borrowing consent – that the University has now commenced, and which will
be a feature of our activity for the next decade.
These observations are relevant to the future, both because a past record of responsiveness and responsible operation is
an important indicator of what to expect from Otago in the future, and because the priorities outlined for this plan period
represent an evolution of those from previous plan periods.
PAGE 13

3.1 Contribution to Government Tertiary Priorities
The Tertiary Education Strategy 2014-2019 identifies six priorities for the tertiary sector. These are re-framed slightly in the
Gazette Notice as matters to be addressed in this Investment Plan.
Otago's intentions in respect of these priorities are outlined in this section of the Plan.

3.1.1        Delivering Skills for Industry
Government's Position
Tertiary institutions are expected to be engaged with industry and employers to ensure their needs are being met, and
to provide prospective and current students with information (especially employment-related) that allows them to make
informed study choices. Evidence is sought that we have a strong focus on ensuring that graduates gain both transferable
skills and specific qualifications that are matched to labour market demand, and that we are paying close attention to the
employment outcomes of our graduates.
Otago's Current Position
Otago prides itself on a deep and ongoing engagement with industry, employers and students, and on producing
graduates who are fully equipped for a post-study life in which transferable skills will be at least as important as
discipline-specific knowledge; indeed, the feedback we often get from employers is that a transferable skillset is one of the
distinguishing characteristics of Otago graduates.
Industry, employer and student engagement at Otago takes place in the context of a well-established understanding
of the place of these groups within our wider network of key stakeholders and, related to this, our knowledge of the
expectations they have of us. These expectations are summarised in Attachment E.
Regular interaction with employers and industry ensures that we maintain an up-to-date understanding of what is
required in workplaces, and that employers and industry understand what is changing within the University. This
engagement includes both high-level, strategically-focused engagement, and more specific engagement focused on
particular qualifications, disciplines or operational areas.
The means by which we engage with employers and industry include:
•    Input at the highest level of institutional governance;27
•    Permanent advisory boards that support particular (usually vocationally-focused) schools, departments and programmes;28
•    Interaction with and, where appropriate, representation on the professional bodies for various professions;
•    External accreditation reviews for these same schools, departments and programmes;
•    Employer or industry representation on panels for our own internal reviews;
•    Visits by employers for recruitment purposes;29
•    Involvement in student internships;30
•    Our academic staff sharing their expertise with industry;
•    Periodic surveys of employers.31

27 For example, the University Council includes a majority of members who are prominent in business or industry.
28 For example, at Otago, the advisory boards for our School of Business, and for our Applied Science programmes.
29 Otago will typically have 150 or more businesses – local, national and international – present on campus in any given year.
30 While often thought of purely in respect of business student internships, Otago also operates internships for its humanities, business and applied science students.
   Internships and/or practicums are also well-established in our health sciences professional programmes and, of course, are integral to teacher education.
31 Undertaken in 2015, our most recent employer survey elicited feedback from 149 major New Zealand employers on a range of matters, including the attributes, qualities
   and competencies employers looked for in graduates, and about graduates' preparation and expectations more generally.
TEC INVESTMENT PLAN 2020-2022 • PAGE 14

Otago is also unique amongst New Zealand universities in being a formal partner in the economic development strategy
for the main city in which it is based. This partnership – which includes the Otago Chamber of Commerce, the Otago/
Southland Employers Association, the Dunedin City Council, Otago Polytechnic and local rūnanga – allows us to engage
around employment and economic outcomes at both a strategic and project level.32
The extent and importance of informal interactions should not be discounted either. There are tens of thousands of
Otago graduates in the workforce (including some who are major employers and/or business owners), and a reasonable
number maintain contact with their alma mater. Similarly, the parents of our students include many who are successful
in business, industry or their chosen professions. Utilising these networks is a way of overcoming two obvious barriers to
effective employer/business engagement: firstly, the large number of small-medium enterprises in this country; secondly,
the absence of an obvious single industry to engage with in respect of our general degree graduates.
Another point easily overlooked is that Otago is itself a significant enterprise, employing hundreds of graduates in general
and specialist non-academic roles.33 We therefore have first-hand experience of changing employer needs, and of
responding to many of the key forces of change affecting other employers.
In respect of graduate attributes, Otago takes a deliberate approach to identifying the skills and attributes it seeks
to develop in its students. While some of the skills and attributes will vary, or receive a greater or lesser emphasis in
particular qualifications,34 there is an overarching set of attributes we seek to inculcate in all of our students.
These attributes, which are presented in Attachment I, link directly to what employers tell us they are seeking from
graduates, and to the key attributes that are widely regarded as important for graduates to possess in the future.
Otago takes a somewhat unusual approach to assessing the development and application of attributes by asking our
graduates – 18 months after graduation – to reflect on the extent to which they feel they developed these attributes while
at Otago, and the extent to which they have since applied them.
This, in conjunction with an annual performance target for at least 90% of graduates to report the development of each
attribute35 and periodic employer feedback, enables us to monitor how well graduates develop each attribute, and the
relevance (or need) of each attribute following graduation.
Having gathered feedback in this way for more than two decades, we can map development and application over long
periods, and identify and respond to increases in need.36 The results of the graduate surveys are fed back to our academic
departments to enable those at the teaching coalface to identify gaps and changes in attribute development and
application, and to address these in course and programme design and delivery.

32 Specific projects under this partnership include: the operation of a StartUp Space for early stage entrepreneurs (operated by the University's School of Business, in
   conjunction with the Polytechnic and Dunedin City Council); a joint food product development project with the NZ Food Innovation Network and local food firms; and a
   well-established summer business internship programme (placing 48 students in 27 different local businesses in 2018/2019). Our relationship with Otago Polytechnic also
   encompasses the provision of shared services (including the UNIPOL student recreation centre and the Robertson Library, both of which are operated by the University but
   are used by both institutions), and collaborative academic endeavours in fields such as sports sciences and ICT.
33 Otago, for example, is easily the largest employer in our home city of Dunedin, and one of the largest employers in the South Island.
34 For example, a dentistry graduate requires specific professional skills that a law graduate does not.
35 In recent years we have reached or exceeded the 90% target for 12 of the 16 core attributes, and exceeded a 75% development rate in the remaining four.
36 The following trends are illustrative of what we have observed over the shorter timeframe of the past twelve years: the ability to be creative attribute has seen the biggest
   increase in need over this period, followed by academic rigour, written communication skills and the ability to solve problems. In each case, this has been matched by an
   increase in the extent to which graduates report they have been supported to develop these attributes while students at Otago; The same is true of teamwork skills, where
   Otago has put considerable effort into increasing development opportunities for teamwork over the same period (not an easy thing to achieve in some disciplines).
PAGE 15

Otago – as far as we know – is the only New Zealand university to set and report a performance target for the employment
of its graduates.37 The wider context in which we take this approach is an often-ignored reality in which:
•    The employment outcomes for graduates of New Zealand universities are amongst the best in the world;
•    Almost without exception, university degrees – including general arts, science and commerce degrees – deliver a
     positive return on investment quite quickly;
•    The short-term employment outcomes for degrees are far superior overall to those for lower level qualifications,
     and the attributes possessed by degree-level graduates leave them far better equipped for employment in the long
     term too.
Given these points, while we support Government's desire to optimise employment outcomes for graduates, we have
found a number of past steps taken by agencies in this area to be simplistic and poorly conceived.38 However, the TEC's
recently developed Post-Study Outcomes application tool is a step in the right direction, although care will be required in
the interpretation of the data this provides.39
Based on our experience, a key to optimising employment outcomes is individually tailored academic and careers
advice involving:
•    Supporting students to make study choices that are well-aligned to their area of academic strength and interest;
•    Including experiences within that study – and university life more generally – that add value in respect of employability;
•    Adding value with a careers guidance service that undertakes to meet the needs of employers as well as students.40
An independent international perspective on the employability of Otago graduates is provided within the QS Stars
assessment that led to our securing the maximum Five Stars Plus overall quality rating in 2016, and having that rating
renewed in 2019. Within this, Otago secured the maximum possible rating for employability, with perfect scores for
employer reputation41 and our graduate employment rate.42
In 2016 Otago took up an invitation to join a highly relevant new initiative that prepares senior secondary school students
for tertiary study and subsequent careers in agribusiness. This initiative, the Centre of Excellence for Agricultural Science
and Business, is a national project involving a number of secondary schools and universities working together to:
•    Deliver an innovative senior secondary school agribusiness programme (at NCEA levels 2 and 3);
•    Develop linkages and transition pathways between this programme, universities and agribusiness firms.
The intent of this programme is to produce engaged, well-qualified and capable young people who are enthusiastic about career
opportunities in primary industry and the agribusiness sector, through teaching NCEA standards that incorporate agriscience
and agribusiness concepts and knowledge. Otago's involvement is primarily linked to two local schools (John McGlashan
College and Columba College), though we are also formally linked to schools in Southland and elsewhere in New Zealand.
We have also expanded internship and practicum opportunities for general degree students, introducing a credit-bearing
internship option for undergraduate business students in 2015, and the equivalent for undergraduate humanities students in
2016. The humanities internships have proved increasingly popular, with numbers set to exceed 50 for the first time in 2019.

37 Our target is 90% progression to employment or further study following completion of a qualification, with at least 85% in full-time work, full-time study or a combination
   thereof. The target is one of Otago's KPIs within its Statement of Service Performance, and has been exceeded in each of the past six years.
38 Including both the Ministry of Education-led Employment Outcomes of Tertiary Education (EOTE) and the TEC's Information for Learners projects.
39 We do remain concerned that the TEC has identified a number of subjects as having poor post-study outcomes on the basis of analysis that lacks statistical rigour.
40 Consistent with this, as well as providing traditional student and industry-linked careers services, Otago's careers guidance service facilitates initiatives such as summer
   work programmes and internships for undergraduate students, and further initiatives to support postgraduate students.
41 As measured by the number of employers who have endorsed Otago in the QS Global Employer Survey, and the number of companies present at careers and other events
   on campus.
42 As measured by the proportion of graduates employed 12 months after graduation.
TEC INVESTMENT PLAN 2020-2022 • PAGE 16

Otago's Focus for this Investment Plan Period
Otago will continue to test the relevance of what it delivers with employers and industry, and to make changes that
enhance this relevance. We will also take further steps to develop our students' understanding of the attributes we seek to
develop in them, the relevance of those attributes to future employment, and employment outcomes more generally.
Particular areas of focus will be as follows:
•    Using feedback from recent graduates and employers to test the ongoing relevance of our graduate attributes and the
     extent to which we are successful in developing these;
•    Making the development of graduate attributes a more obvious part of what we do, including greater and more direct
     promulgation of these attributes and their importance to both students and employers;
•    Further developing the citizenship component of the Otago experience to produce well-rounded graduates who are
     ready and willing to contribute broadly to their workplace, community and wider society;
•    Enhancing internship opportunities including, where appropriate, internships for academic credit;
•    Developing and offering Otago's first micro-credential courses;
•    Supporting Government in producing increased numbers of graduates in specific areas where there are identified skill
     shortages or a need to increase capacity for other reasons;43
•    From 2020, offering a new major in Agricultural Innovation for the Bachelor of Applied Science degree, which will bring
     together our science and business expertise in agriculture and rural economies, and will respond to the TEC's goal of
     increasing degree provision with direct relevance to the primary sector;
•    Further developing agribusiness options within our existing outreach programmes, and extending our provision of
     agribusiness-relevant degree-level programmes;
•    Further developing the use of advisory boards and other consultative groups to provide meaningful engagement with
     stakeholders;
•    Working with local partners to secure a viable future for the industry-facing programmes of the Dunedin arm of the
     SIGNAL ICT Graduate School following the end of special Government funding for the ICT Graduate School initiative;
•    Extending career guidance and transferable skills development opportunities for postgraduate research students;
•    Providing students with qualification outcome information;
•    Reflecting on employment outcomes information from a variety of sources, and acting on this as appropriate.
Due to our standing as the country's leading health sciences university, Otago acknowledges a particular responsibility
to continue to work with other institutions and health agencies to assess and respond to changes in the demand for
graduates in the various health professions.
Last, but not least, we note that because Otago is often viewed in the context of its main campus location – Dunedin – its
national significance as a producer of graduates is sometimes overlooked by Government. By way of example, over half of
our domestic first year students come from the North Island, and the vast majority of our graduates disperse to live and
work either in the North Island, or elsewhere beyond the Otago/Southland region.

43 Including areas such as teacher education, clinical psychology, and other mental health professions.
PAGE 17

3.1.2        Getting At-Risk Young People into a Career
Government's Priorities
A reduction in the number of young people not in employment, education or training is sought. As part of this, the
tertiary education sector will develop better pathways from unemployment and inactivity to tertiary education. Improved
employment outcomes are expected to flow from this. An increase in the percentage of 25-34 year olds having a qualification
at level 4 or above will be a key measure of success in respect of the tertiary education contribution to this priority.
Otago's Current Position
This priority is not strongly applicable to Otago, as much of the focus is on initial transitions to sub-degree study, in which
we have minimal involvement.
That said, Otago does have a long-standing small-scale involvement in providing foundation programmes, the domestic
component of which has been particularly (though not exclusively) focused on providing transition pathways for Māori and
Pacific students. These have delivered excellent results for Māori and Pacific students in particular, but also more generally
with progression to higher levels of study for those who have not achieved to their potential at school.
Additionally, we operate special admission pathways into degree-level study for students who have not obtained
University Entrance at school, with students entering through these pathways comprising well under five percent of our
commencing intake in recent years.
Our key observations in respect of what we do in this area are as follows:
•    Students who have performed poorly at school generally struggle with degree-level study if they attempt it before 25
     years of age, unless they have transitioned through a foundation-style programme;
•    Those who are over 25 years of age often do appreciably better at degree level, though some study experience below
     degree level is still an advantage;
•    Regardless of age, students who have struggled at school benefit from quite intensive learning support;
•    For those at the younger end of the age spectrum, engagement with and support from families and communities is a
     key to achieving adequate academic outcomes.44
Otago's Focus for this Investment Plan Period
Our foundation studies programme will continue to play an important role in providing transition pathways for Māori and
Pacific students in particular, and more generally for those who have not achieved to their potential in school. We will also
extend a number of other programmes, some of which are currently being piloted, that facilitate successful transition for
such students.
Specific opportunities we may give further consideration to are:
•    Developing foundation transition pathways for Māori and Pacific students in a wider range of subject areas;
•    Extending the pilot of our 2019 Kickstart residential transition programme for Pacific students into 2020, and piloting
     an equivalent programme for Māori;45
•    Leveraging a future presence in South Auckland (via our new dental facility) to motivate and support students with
     underlying academic potential who have not succeeded in the school system to transition to university study.

44 This is especially important when students are the first in their immediate family to attend university, and includes engagement with iwi and rūnanga in respect of Māori
   students, and church-based community groups in respect of Pacific students.
45 For further details on Kickstart, see section 3.1.4 below.
TEC INVESTMENT PLAN 2020-2022 • PAGE 18

Otago also has a more general stream of work underway that focuses on the first year student experience and – within
this – aims to better identify those students whose backgrounds mean they are likely to struggle to reach their potential
without special support. Students who have achieved poorly at school and/or who have had poor employment outcomes
after leaving school are within the scope of this work.

3.1.3        Boosting Achievement of Māori
Government's Position
Greatly improved outcomes are being sought in this area. Otago notes that the following are seen as key indicators of
success:
•    An increase in rates of progression for Māori from study at levels 1 to 3 to higher levels;
•    Increased rates of Māori enrolling in and completing qualifications at levels 4 and above;
•    Better employment outcomes for Māori graduates;
•    Appropriate performance targets within institutions for Māori students;
•    Appropriate targets within institutions around increasing the numbers of Māori teaching staff;
•    Opportunities within institutions for Māori to undertake and participate in study and research that will engage them as
     Māori within tertiary education;
•    Partnership with iwi in supporting Māori student recruitment and achievement.
Otago's Current Position
Increasing Māori student participation and achievement has been a key focus for Otago in recent years.
In respect of Māori, Otago commenced 2019 reflecting with pride on:
•    Having Māori enrolments exceed 2,000 individual students for the first time, and having Māori constitute a record
     percentage of both our overall student roll and our postgraduate roll;
•    Producing, for the eighth year in succession, over 350 Māori graduates, including a record 141 with postgraduate
     qualifications;
•    Seeing a dramatic increase since 2011 in the number of Māori gaining entry to our highly competitive health
     professional programmes46 (this year we admitted a record 89 Māori students to these programmes, including a
     commencing cohort for our most competitive degree – Medicine – that was a record 20.3% Māori);
•    Securing a similarly strong increase in the number of Māori studying in science and ICT subjects at Otago (a 38.4%
     increase since 2011);47
•    A qualification completion rate and first year retention rate for Māori which (according to the TEC's most recent data)
     are the best of any university in the country by some distance;
•    Providing a record number of entrance scholarships for commencing Māori students;
•    A number of our initiatives in respect of Māori in health sciences gaining further international recognition as world-
     leading in both their approach and impact;

46 From a previous average of 30-35 students per annum to 80+ per annum.
47 Includes enrolments in courses with an NZSCED classification of Natural and Physical Sciences, Information Technology, or Engineering and Related Technologies.