THE ALL NEW BMW X3. SPECIFICATION GUIDE - BMW Australia
Page content transcription
If your browser does not render page correctly, please read the page content below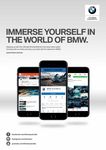 MODEL OVERVIEW.

    X3 sDrive20i xLine
                                                    Model Code: TR12                             Fuel Type: Petrol
                                                    8-Speed Automatic                            Consumption: 7.4 l / 100km1
                                                    1,995 cc, 4-Cylinder                         CO2: 169 g / km1
                                                    135 kW / 290Nm                               0-100kmh: 8.2 sec

    X3 xDrive20d xLine
                                                    Model Code: TX32                             Fuel Type: Diesel
                                                    8-Speed Automatic                            Consumption: 5.7 l / 100km1
                                                    1,995 cc, 4-Cylinder                         CO2: 149 g / km1
                                                    140 kW / 400Nm                               0-100kmh: 8.0 sec

    X3 xDrive30i xLine
                                                    Model Code: TR92
                                                                                                 Fuel Type: Petrol
                                                    8-Speed Sport
                                                                                                 Consumption: 7.6 / 100km1
                                                    Automatic
                                                                                                 CO2: 174 / km1
                                                    1,998 cc, 4-Cylinder
                                                                                                 0-100kmh: 6.3 sec
                                                    185 kW / 350Nm

    X3 xDrive30d xLine
                                                    Model Code: TX72                             Fuel Type: Diesel
                                                    8-Speed Sport Automatic Consumption: 6.0 l / 100km1
                                                    2,993 cc, 6-Cylinder                         CO2: 159 / km1
                                                    195 kW / 620Nm                               0-100kmh: 5.8 sec

    X3 M40i
                                                    Model Code: TS32
                                                                                                 Fuel Type: Petrol
                                                    8-Speed Sport
                                                                                                 Consumption: 8.9 l / 100km1
                                                    Automatic
                                                                                                 CO2: 204 / km1
                                                    2,998 cc, 6-Cylinder
                                                                                                 0-100kmh: 4.8 sec
                                                    265 kW / 500Nm

1
 Fuel consumption, CO2 emissions data, electrical consumption and range is based upon Combined Driving Test Cycle in accordance with ADR 81/02 on purpose built
test vehicles. Actual figures will depend on many factors including traffic conditions, driving habits, prevailing conditions and your vehicle's equipment, condition and use.
These figures should not be expected to be achieved in real world driving conditions and should only be used for comparing one vehicle with another.
Please contact your preferred authorised BMW dealer or BMW Group Australia for information on vehicles that are available for sale, and the various specifications and
options of vehicles that are available.
While BMW Group Australia has endeavoured to ensure that all information, representations, illustrations and specifications contained in these materials are accurate at the time of publication (7 February 2018), the information is general
in nature only. Product features, specifications, models and prices are subject to change without notice. The general information in these materials should always be read in conjunction with information from authorised BMW dealers. To
the extent permitted by law, BMW Group Australia excludes all express and implied warranties or guarantees and all liability, whether direct, indirect, special or consequential, arising from negligence or otherwise relating to the use of
these materials, any inaccuracies and for any noncompliance by any vehicle with any representation, illustration, specification, description, product feature, colour, or other information contained in these materials.
                                                                                                                                                                                                                                        2

STANDARD EQUIPMENT.
X3 sDrive20i xLine
                                                  Model Code: TR12                            Fuel Type: Petrol
                                                  8-Speed Automatic                           Consumption: 7.4 l / 100km1
                                                  1,995 cc, 4-Cylinder                        CO2: 169 g / km1
                                                  135 kW / 290Nm                              0-100kmh: 8.2 sec

X3 xDrive20d xLine
                                                  Model Code: TX32                            Fuel Type: Diesel
                                                  8-Speed Automatic                           Consumption: 5.7 l / 100km1
                                                  1,995 cc, 4-Cylinder                        CO2: 149 g / km1
                                                  140 kW / 400Nm                              0-100kmh: 8.0 sec

Powertrain and technology                                                                                                Exterior design and equipment
      BMW TwinPower Turbo 4-cylinder petrol engine with twin-scroll                                                            19" light alloy wheels Y-spoke style 694
       turbocharger with Valvetronic (X3 xDrive20i)                                                                             BMW Individual Exterior Line Aluminium satinated
      BMW TwinPower Turbo 4-cylinder diesel engine with twin-scroll                                                            Roof-rails in satinated aluminium
       turbocharger with Valvetronic (X3 xDrive20d)                                                                             Exhaust pipe, round, dual system left and right with chrome finisher
      8-speed automatic transmission, Steptronic                                                                               Ornamental kidney grille frame in chrome with kidney strut front surfaces in
      Auto Start/Stop function                                                                                                  matte aluminium
      Brake Energy Regeneration
      Brake-pad wear indicator                                                                                          Interior design, comfort and equipment
      Diesel particulate filter                                                                                                Upholstery, Cloth/leather combination 'Vivus' Anthracite
      Driving Experience Control incl. ECO PRO                                                                                 Automatic tailgate operation
      Electric power steering with Servotronic and Variable Sport Steering                                                     Automatic air conditioning, 3-zone with digital display front and rear, Microfilter
      Hill Descent Control (HDC) with electromechanical parking brake                                                           and active carbon filter
      Performance control, optimal torque is distributed to the individual wheels                                              Door sill finishers with 'xLine' designation, front
       depending on the driving situation                                                                                       Electric seat adjustment front with memory function for driver
      Start/Stop button                                                                                                        Floor mats in velour
      xDrive, permanent all-wheel drive system with fully variable torque split (X3                                            Interior trim, Black high-gloss with highlight trim finishers Pearl Chrome
       xDrive20d)                                                                                                               Sport leather steering wheel with multifunction buttons
                                                                                                                                Sport seats for driver and front passenger with side bolster adjustment
Safety                                                                                                                          Storage compartment package incl. nets on the back of the front seats, floor
      Active Protection                                                                                                         rails with fastening points and tensioning straps in the luggage compartment
      Airbags for driver and front passenger, head and side airbags with seat                                                   and power socket in the rear centre console (12 volts)
       occupancy detection for driver's and passenger side                                                                      Through loading system with 40:20:40 backrest split
      Inner-vented front and rear disc brakes
      Central locking with electronic immobiliser                                                                       BMW ConnectedDrive
      Dynamic braking lights                                                                                                   BMW Connected+ **
      Dynamic Stability Control (DSC), Anti-lock Braking System (ABS) and                                                      ConnectedDrive Services incl. BMW Online as a mobile internet portal and
       Dynamic Traction Control (DTC)                                                                                            BMW Apps for integration of 3rd party Apps incl. Spotify for smartphones *
      Run-flat safety tyres incl. run-flat indicator                                                                           Intelligent Emergency Call
      Warning triangle and first aid kit                                                                                       Real Time Traffic Information (RTTI) *
                                                                                                                                Remote Services incl. sending addresses to car, pre-conditioning and
Driver assistance                                                                                                                locking/unlocking vehicle using a smartphone App
      BMW Head-Up Display                                                                                                      TeleServices
      Cruise Control with braking function                                                                              * 3 year subscription
      Driving Assistant incl. Approach Control Warning, Lane Departure Warning                                          ** 1 year subscription
       and Lane Change Warning
                                                                                                                         Entertainment, communication and information
      Parking Assistant incl. Rear View Camera, Park Distance Control (PDC) and
       Parking Assistant with Active Park Distance Control, rear                                                                Navigation system Business with 6.5" display with 800 x 480 pixels resolution,
                                                                                                                                 iDrive Controller and natural voice control *
      Speed Limiter
                                                                                                                                USB connection
      Speed Limit Info
                                                                                                                                DAB+ digital radio tuner
Light and sight                                                                                                                 Personal Profile, personalisation of important controls
                                                                                                                                Stereo speaker system, 100W with 6 loudspeakers
      Electric fold-in side mirrors
                                                                                                                                Enhanced telephony with extended smartphone connectivity, incl. Bluetooth
      Exterior side mirrors, heated and electrically adjustable with anti-dazzle
                                                                                                                                 connectivity for up to 2 smartphones
       function for driver side and auto-dipping function on passenger side
                                                                                                                         * 3 year subscription for map updates
      Fog lights, rear
      Interior rear-view mirror with automatic anti-dazzle function
      LED headlights with extended contents incl. cornering lights and daytime
       driving lights with LED technology
      Lights package, incl. lights in footwell, door exits, reading lights and vanity
       mirrors
      Rain sensor incl. automatic headlight activation
      Rear LED taillights

1
 Fuel consumption, CO2 emissions data, electrical consumption and range is based upon Combined Driving Test Cycle in accordance with ADR 81/02 on purpose built
test vehicles. Actual figures will depend on many factors including traffic conditions, driving habits, prevailing conditions and your vehicle's equipment, condition and use.
These figures should not be expected to be achieved in real world driving conditions and should only be used for comparing one vehicle with another.
Please contact your preferred authorised BMW dealer or BMW Group Australia for information on vehicles that are available for sale, and the various specifications and
options of vehicles that are available.
While BMW Group Australia has endeavoured to ensure that all information, representations, illustrations and specifications contained in these materials are accurate at the time of publication (7 February 2018), the information is general
in nature only. Product features, specifications, models and prices are subject to change without notice. The general information in these materials should always be read in conjunction with information from authorised BMW dealers. To
the extent permitted by law, BMW Group Australia excludes all express and implied warranties or guarantees and all liability, whether direct, indirect, special or consequential, arising from negligence or otherwise relating to the use of
these materials, any inaccuracies and for any noncompliance by any vehicle with any representation, illustration, specification, description, product feature, colour, or other information contained in these materials.
                                                                                                                                                                                                                                        3
STANDARD EQUIPMENT.
    X3 xDrive30i xLine
                                                     Model Code: TR92                               Fuel Type: Petrol
                                                     8-Speed Sport Automatic                        Consumption: 7.6 / 100km1
                                                     1,998 cc, 4-Cylinder                           CO2: 174 / km1
                                                     185 kW / 350Nm                                 0-100kmh: 6.3 sec

    X3 xDrive30d xLine
                                                     Model Code: TX72                               Fuel Type: Diesel
                                                     8-Speed Sport Automatic                        Consumption: 6.0 l / 100km1
                                                     2,993 cc, 6-Cylinder                           CO2: 159 / km1
                                                     195 kW / 620Nm                                 0-100kmh: 5.8 sec

    X3 xDrive30i/30d additional features to X3 xDrive20i/20d
    Powertrain and technology                                                                                            Light and sight
         BMW TwinPower Turbo 4-cylinder petrol engine with twin-scroll                                                         Adaptive LED headlights with High-beam Assistant and BMW Selective
          turbocharger with Valvetronic (xDrive30i)                                                                              Beam
         BMW TwinPower Turbo inline 6-cylinder diesel engine with two-stage
          turbocharging (xDrive30d)                                                                                      Exterior design and equipment
         8-speed sport automatic transmission with gearshift paddles                                                           20" light alloy wheels Y-spoke style 695

    Interior design, comfort and equipment                                                                               Entertainment, communication and information
         Upholstery, leather 'Vernasca'                                                                                        Navigation system Professional with 10.25" touch display with 1440 x 540
         Comfort Access System, keyless access and contactless operation of                                                     pixels resolution, split-screen, iDrive Touch Controller, 3D view, satellite
          tailgate                                                                                                               images, trip planner and 20GB hard drive for storage of audio files *
         Galvanic embellishers for controls                                                                             *3 year subscription for map updates
         Multifunctional instrument display, 12.3" high-resolution colour display
          with black-panel technology

    Driver assistance
         Driving Assistant Plus, incl. Active Cruise Control with Stop&Go function,
          Cross traffic warning on the front, Steering & Lane Control Assistant and
          Lane keeping assistant with Side Collision Warning
         Parking Assistant Plus, incl. Parking Assistant with Active Park Distance
          Control (PDC) rear, Surround View, Panorama View and 3D View

    X3 M40i
                                                     Model Code: TS32                               Fuel Type: Petrol
                                                     8-Speed Sport Automatic                        Consumption: TBC l / 100km1
                                                     2,998 cc, 6-Cylinder                           CO2: TBC / km1
                                                     265 kW / 500Nm                                 0-100kmh: 4.8 sec

    X3 M40i additional features to X3 xDrive30i/30d
    Powertrain and technology                                                                                            Interior design, comfort and equipment
         BMW TwinPower Turbo inline 6-cylinder petrol engine with twin-scroll                                                  Ambient light, 6 pre-defined selectable light designs in various colours with
          turbocharger                                                                                                           contour and mood lighting
         Adaptive M Suspension                                                                                                 BMW Individual headliner anthracite
         M Sport differential                                                                                                  Door sill finishers with 'M40i' designation, front
                                                                                                                                Instrument panel in Sensatec
    Safety                                                                                                                      Interior trim, Aluminium Rhombicle with highlight finishers Pearl Chrome (4K7)
         M Sport brakes, blue painted brake callipers with 'M' designation                                                     Lumbar support for driver and front passenger
    Light and sight                                                                                                             M Leather steering wheel
         LED fog lights, front                                                                                                 Seat heating for driver and front passenger
                                                                                                                         BMW ConnectedDrive
    Exterior design and equipment                                                                                               ConnectedDrive Freedom*, incl. Concierge Services: 24/7 assistance via
         21" M light alloy wheels Double-spoke style 718 M (22Z)                                                                ConnectedDrive Call Centre
         BMW Individual high-gloss Shadow Line                                                                          *3 year subscription
         BMW Individual roof rails high-gloss Shadow Line
         M Aerodynamics package
                                                                                                                         Entertainment, communication and information
         Exterior design elements in Cerium Grey                                                                               harman/kardon Surround Sound system, 16 loudspeakers, 600W digital
                                                                                                                                 amplifier

1
 Fuel consumption, CO2 emissions data, electrical consumption and range is based upon Combined Driving Test Cycle in accordance with ADR 81/02 on purpose built
test vehicles. Actual figures will depend on many factors including traffic conditions, driving habits, prevailing conditions and your vehicle's equipment, condition and use.
These figures should not be expected to be achieved in real world driving conditions and should only be used for comparing one vehicle with another.
Please contact your preferred authorised BMW dealer or BMW Group Australia for information on vehicles that are available for sale, and the various specifications and
options of vehicles that are available.
While BMW Group Australia has endeavoured to ensure that all information, representations, illustrations and specifications contained in these materials are accurate at the time of publication (7 February 2018), the information is general
in nature only. Product features, specifications, models and prices are subject to change without notice. The general information in these materials should always be read in conjunction with information from authorised BMW dealers. To
the extent permitted by law, BMW Group Australia excludes all express and implied warranties or guarantees and all liability, whether direct, indirect, special or consequential, arising from negligence or otherwise relating to the use of
these materials, any inaccuracies and for any noncompliance by any vehicle with any representation, illustration, specification, description, product feature, colour, or other information contained in these materials.
                                                                                                                                                                                                                                        4
LINES.

                                                                                                                                                             xDrive20d

                                                                                                                                                                                     xDrive30d
                                                                                                                                                                         xDrive30i
                                                                                                                                                 sDrive20i

                                                                                                                                                                                                 M40i
   337                                         M Sport Package
                                          M Sport Package features:
                                             BMW Individual headliner anthracite (775)
                                             Door sill finishers with 'M' designation, front
                                             BMW Individual high-gloss Shadow Line (760)
                                             BMW Individual roof rails high-gloss Shadow Line (3MC)
                                             Adaptive Suspension (223)
                                             Interior trim, Aluminium Rhombicle with highlight trim finishers
                                              Pearl Chrome (4K7)
                                             LED fog lights (5A1)
                                             M Aerodynamics package (715)
                                             M Leather steering wheel (710)

                                          Additional features:                                                                                                                      

                                          xDrive20i/20d only:
                                              19" M light alloy wheels Double-spoke style 698 M with run-
                                               flat properties (22S)
                                              Steptronic transmission with gearshift paddles (2TE)
                                              Upholstery Cloth/leather combination 'Vernasca' with
                                               Black/contrast stitching in Blue (BWNL)

                                          xDrive30i and xDrive30d only:
                                              20" M light alloy wheels Double-spoke style 699 M with mixed
                                               tyres and run-flat properties (22W)
                                              M Sport Brake
                                              Upholstery leather 'Vernasca' (MAxx)

    OPTION PACKAGES.
   Z1A                Innovations Package
   Innovations Package features:
          Comfort access system (322)
          Parking Assistant Plus, incl. Surround View, Panorama View and 3D View (5DN)
                                                                                                                                                                                              
          Adaptive LED headlights with High-beam Assistant and BMW Selective Beam (552)
          Multifunctional instrument display, 12.3" high-resolution colour display (6WB)

   Only available in combination with Navigation System Professional (609)

   Z1H                Comfort Package
   Comfort Package features:
      Ambient light (4UR)
      Woodgrain trim (4Lx)
      Lumbar support for driver and front passenger (488)                                                                                                                                    
      Seat heating for driver and front passenger (494)
      HiFi loudspeaker system, with 12 speakers and 205 W digital amplifier (676)

   Z1R                Rear Comfort Package
   Rear Comfort Package features:
          Roller sunblind, rear side windows (417)
          Seat backrest adjustment, rear seats (461)
          Seat heating front and rear (4HA)                                                                                                                                                  

    Only available in combination with the following leather 'Vernasca' upholstery (MA**) or BMW Individual
    leather trim (VA**)

■ Standard     □ Optional     NCO No Cost Option

 While BMW Group Australia has endeavoured to ensure that all information, representations, illustrations and specifications contained in these materials are accurate at the time of publication (7 February 2018), the information is
 general in nature only. Product features, specifications, models and prices are subject to change without notice. The general information in these materials should always be read in conjunction with information from authorised BMW
 dealers. To the extent permitted by law, BMW Group Australia excludes all express and implied warranties or guarantees and all liability, whether direct, indirect, special or consequential, arising from negligence or otherwise relating to
 the use of these materials, any inaccuracies and for any noncompliance by any vehicle with any representation, illustration, specification, description, product feature, colour, or other information contained in these materials.
                                                                                                                                                                                                                                             5
PAINTWORK.

                                                                                                                                                             xDrive20d

                                                                                                                                                                                     xDrive30d
                                                                                                                                                                         xDrive30i
                                                                                                                                                 sDrive20i

                                                                                                                                                                                                 M40i
   Non-metallic
                                300        Alpine White
                                                                                                                                                 NCO         NCO         NCO         NCO         NCO
                                           Black
                                668
                                           Not available in combination with M Sport Package (337) and M40i

   Metallic
                                           Carbon Black
                                416
                                           Only available in combination with M Sport Package (337) and M40i

                                475        Black Sapphire

                                A83        Glacier Silver

                                A90        Sophisto Grey Brilliant Effect
                                                                                                                                                                                             
                                A96        Mineral White
                                           Not available in combination with M Sport Package (337) and M40i

                                           Sparkling Storm brilliant effect
                                C07
                                           Not available in combination with M Sport Package (337) and M40i

                                           Terra Brown
                                C1L
                                           Not available in combination with M Sport Package (337) and M40i

                                C1M        Phytonic Blue

   BMW Individual Paintwork
                                           Sunstone metallic
                                C1N       When ordered in combination with xLine (7HW), Door sill finishers with 'BMW                                                                        
                                          Individual' designation (778) is included

    WHEELS.
   Wheels
                                   19" light alloy wheels Y-spoke style 694, Ferric Grey
                      28G          7.5 J × 19 / tyres 245/50 R 19, run-flat tyres                                                                                      NCO         NCO
                                   Not available in combination with M Sport Package (337)

                                   20" light alloy wheels Y-spoke style 695, Bi-colour Orbit Grey
                       28L         F: 8 J × 20 / tyres 245/45 R 20 R: 9.5 J × 20 / tyres 275/40 R 20, run-flat tyres                                                                 
                                   Not available in combination with M Sport Package (337)

                                   19" M light alloy wheels Double-spoke style 698 M, Bi-colour
                                   Ferric Grey                                                                                                    Std         Std
                       22S         7.5 J × 19 / tyres 245/50 R 19, run-flat tyres
                                                                                                                                                   w           w         NCO         NCO
                                                                                                                                                  337         337
                                   Only available in combination with M Sport Package (337)
                                   20" M light alloy wheels Double-spoke style 699 M, Bi-colour
                                   Orbit Grey                                                                                                                             Std         Std
                       22W         F: 8 J × 20 / tyres 245/45 R 20 R: 9.5 J × 20 / tyres 275/40 R 20, mixed and run-flat                                                 w           w
                                   tyres                                                                                                                                  337         337

                                   Only available in combination with M Sport Package (337)

                                   21" M light alloy wheels Double-spoke style 718 M, Bi-colour
                       22Z         Cerium Grey matte                                                                                                                                              
                                   F: 8.5 J × 21 / tyres 245/40 R 21 R: 9.5 J × 21 / tyres 275/35 R 21. mixed and run-flat
                                   tyres

   BMW Individual Wheel
                                   21" BMW Individual light alloy wheels V-spoke 726, Bi-colour
                       2NQ         Orbit Grey                                                                                                                                                NCO
                                   F: 8.5 J × 21 / tyres 245/40 R 21 R: 9.5 J × 21 / tyres 275/35 R 21, mixed and run-flat
                                   tyres

■ Standard     □ Optional     NCO No Cost Option

 While BMW Group Australia has endeavoured to ensure that all information, representations, illustrations and specifications contained in these materials are accurate at the time of publication (7 February 2018), the information is
 general in nature only. Product features, specifications, models and prices are subject to change without notice. The general information in these materials should always be read in conjunction with information from authorised BMW
 dealers. To the extent permitted by law, BMW Group Australia excludes all express and implied warranties or guarantees and all liability, whether direct, indirect, special or consequential, arising from negligence or otherwise relating to
 the use of these materials, any inaccuracies and for any noncompliance by any vehicle with any representation, illustration, specification, description, product feature, colour, or other information contained in these materials.
                                                                                                                                                                                                                                             6
INTERIOR TRIM.

                                                                                                                                                             xDrive20d

                                                                                                                                                                                     xDrive30d
                                                                                                                                                                         xDrive30i
                                                                                                                                                 sDrive20i

                                                                                                                                                                                                 M40i
   Interior trims

         4LU             Black high-gloss with highlight trim finishers Pearl Chrome                                                                                                
                         Not available in combination with M Sport Package (337)

                         Fine-wood trim Poplar Grain Grey with highlight trim finisher Pearl Chrome                                                                                 
        4LQ                                                                                                                                                                                      NCO
                                                                                  Alternative pricing with M Sport Package (337)                                                    
                                                                                                                                                  Std         Std        Std         Std
         4K7             Aluminium Rhombicle with highlight trim finishers Pearl Chrome                                                            w           w          w           w           
                         Only available in combination with M Sport Package (337)                                                                 337         337        337         337
                         Aluminium Fine Cutting with highlight trim finisher Pearl Chrome                                                                                           
         4K9                                                                                                                                                                                     NCO
                                                                                  Alternative pricing with M Sport Package (337)                NCO          NCO         NCO         NCO

                         Fine-wood trim 'Fineline' Cove with highlight trim finisher Pearl Chrome                                                                                   
         4LH                                                                                                                                                                                     NCO
                                                                                  Alternative pricing with M Sport Package (337)                                                    
                         Fine-wood trim Oak Dark high-gloss with highlight trim finisher Pearl                                                                                      
         4K1             Chrome                                                                                                                                                                  NCO
                                                                                  Alternative pricing with M Sport Package (337)                                                    

   BMW Individual Interior trims
                         BMW Individual interior trim finishers piano finish Black includes Ambient                                                                                          
                         Light (4UR)
                                                                                  Alternative pricing with M Sport Package (337)                                                             
        4ML
                         Alternative pricing in combination with Comfort Package (Z1H)                                                                                                       
                                                                                  Alternative pricing with M Sport Package (337)                                                             

    UPHOLSTERY.
   Upholstery, Cloth/leather combination
       BVAT              Cloth/leather combination 'Vivus' Anthracite with Black interior colour                                                              
                         Not available in combination with M Sport Package (337)
                         Cloth/leather combination 'Vernasca' Black with Blue contrast stitching and                                             Std         Std
      BWNL               Black interior colour                                                                                                    w           w
                         Only available in combination with M Sport Package (337)                                                                337         337

   Upholstery, Leather 'Vernasca'
                         Black with Blue contrast stitching and Black interior colour includes
      MANL               Instrument Panel in Sensatec (4AW) with Blue contrast stitching                                                                                                      
                         Only available in combination with M Sport Package (337)

      MAFO               Canberra Beige with decorative stitching and Black interior colour

      MAH7               Black with decorative stitching and Black interior colour

      MAMU               Mocha with decorative stitching and Black interior colour                                                                                                            

      MAOQ               Oyster with decorative stitching, extended contents and Black interior colour

      MAPQ               Cognac with decorative stitching and Black interior colour

   BMW Individual Extended Leather Trim
       VAHZ              Fiona Red | Black with Black interior colour

      VAEW               Ivory White | Black with Black interior colour

       VATQ              Tartufo | Black with Black interior colour                                                                                                                           

   When ordered in combination with xLine (7HW), Door sill finishers with 'BMW Individual' designation (778) is
   included.
   Includes BMW Individual roofliner Anthracite (775).
   Not available in combination with Active seat ventilation (4FH).

■ Standard     □ Optional     NCO No Cost Option

 While BMW Group Australia has endeavoured to ensure that all information, representations, illustrations and specifications contained in these materials are accurate at the time of publication (7 February 2018), the information is
 general in nature only. Product features, specifications, models and prices are subject to change without notice. The general information in these materials should always be read in conjunction with information from authorised BMW
 dealers. To the extent permitted by law, BMW Group Australia excludes all express and implied warranties or guarantees and all liability, whether direct, indirect, special or consequential, arising from negligence or otherwise relating to
 the use of these materials, any inaccuracies and for any noncompliance by any vehicle with any representation, illustration, specification, description, product feature, colour, or other information contained in these materials.
                                                                                                                                                                                                                                             7
OPTIONAL EQUIPMENT.

                                                                                                                                                             xDrive20d

                                                                                                                                                                                     xDrive30d
                                                                                                                                                                         xDrive30i
                                                                                                                                                 sDrive20i

                                                                                                                                                                                                 M40i
   Options
                  Adaptive Suspension
     223                                                                                                                                                                            
                  Included in M Sport Package (337)

     248          Steering wheel heating                                                                                                                                                     

     302          Alarm system                                                                                                                                                               

     320          Model designation deletion                                                                                                     NCO         NCO         NCO         NCO         NCO

                  BMW display key
     3DS                                                                                                                                                                                     
                  Note: replaces one standard key

     402          Panorama glass sunroof, electric                                                                                                                                           

     413          Luggage-compartment separating net                                                                                                                                         

     417          Mechanical sunblind for rear side windows, manual                                                                                                                          

     420          Sun protection glazing, darker tinted glass for rear and rear side windows                                                                                                 

     461          Seat backrest adjustment, rear seats                                                                                                                                       

     494          Seat heating for driver and front passenger                                                                                                                                 

                  Active seat ventilation
                  Only available in conjunction with seat heating for driver and front passenger (494) or seat heating
     4FH          front and rear (4HA), or Exclusive Package (Z1N) or Rear Comfort Package (Z1R).                                                                                            
                  Only available in conjunction with the following leather 'Vernasca' upholstery's (MAFO, MAH7,
                  MAMU)

                  Seat heating, front and rear                                                                                                                                     
                  Only available in combination with the following leather 'Vernasca' upholstery (MA**) or BMW
     4HA
                  Individual leather trim (VA**)
                                                                                                                                                                                             
                                                         Alternative pricing with Comfort Package (Z1H) and M40i

                  LED fog lights, front
     5A1                                                                                                                                                                                      
                  Included in M Sport Package (337)

                  Driving Assistant Plus, incl. Active Cruise Control with Stop&Go function, Cross
                  traffic warning on the front, Steering & Lane Control Assistant and Lane keeping
     5AT          assistant with Side Collision Warning
                                                                                                                                                                                              
                  Galvanic embellisher for controls (4U0) must be specified when ordering.

                  TV function
     601                                                                                                                                                                                     
                  Only available in combination with Navigation System Professional (609)
                  Navigation system Professional with 10.25" touch display with 1440 x 540 pixels
                  resolution, split-screen, iDrive Touch Controller, 20GB hard drive for storage of audio
     609          files, 3D view and satellite images, trip planner *                                                                            NCO         NCO                                

                  *3 year subscription for map updates
                  harman/kardon Surround Sound system, 16 loudspeakers, 600W digital                                                                                               
                  amplifier
     688                                                                                                                                                                                          
                  Only available in combination with Navigation System Professional (609)
                                                                       Alternative pricing with Comfort Package (Z1H)                                                              

                  Apple CarPlay, wireless integration of Apple iPhone in the BMW iDrive system via
                  smartphone mirroring. Apps include Phone, Messages, Apple Maps, Music,
     6CP          Audiobooks, Podcasts and selected 3rd party apps.                                                                                                                          
                  Note: 3 year subscription. All data usage from Apple CarPlay is drawn from the customer's iPhone SIM card. Apple
                  iPhone 5 with iOS version 9.3.4 or later

■ Standard     □ Optional     NCO No Cost Option

 While BMW Group Australia has endeavoured to ensure that all information, representations, illustrations and specifications contained in these materials are accurate at the time of publication (7 February 2018), the information is
 general in nature only. Product features, specifications, models and prices are subject to change without notice. The general information in these materials should always be read in conjunction with information from authorised BMW
 dealers. To the extent permitted by law, BMW Group Australia excludes all express and implied warranties or guarantees and all liability, whether direct, indirect, special or consequential, arising from negligence or otherwise relating to
 the use of these materials, any inaccuracies and for any noncompliance by any vehicle with any representation, illustration, specification, description, product feature, colour, or other information contained in these materials.
                                                                                                                                                                                                                                             8
OPTIONAL EQUIPMENT.

                                                                                                                                                             xDrive20d

                                                                                                                                                                                     xDrive30d
                                                                                                                                                                         xDrive30i
                                                                                                                                                 sDrive20i

                                                                                                                                                                                                 M40i
   Options (cont.)
                  Telephony with Wireless Charging for smartphone, smartphone holder at the
                  front, in front of the cupholders, with inductive charging for suitable mobile phones
                  (including LED charge level indicator and mobile phone reminder alert). For selected
                  smartphones without an inductive charging function, special charging cases are
                  available via Genuine BMW Accessories.
     6NV          Other functions include:                                                                                                                                                   
                  -        Improved hands-free capability for front passenger by provision of a second microphone.
                  -        2 x USB connections with 2.1A charging current for shorter charging times of smartphones
                           and tablets.
                  -        At any given time, 2 mobile phones and one audio player can be paired via Bluetooth.
                  Check the compatibility of your mobile phone at bmw.com/Bluetooth

                  BMW Gesture Control, Complementary to the iDrive Touch Controller, BMW
     6U8          Gesture Control allows for specified functions to be controlled with gestures.                                                                                             
                  Only available in combination with Navigation System Professional (609)

                  BMW Individual roofliner Anthracite
     775                                                                                                                                                                                      
                  Included in M Sport Package (337) and BMW Individual Extended Leather Trim (VA**)
                  ConnectedDrive Freedom
     7S9                                                                                                                                                                                      
                  Includes Concierge Services: 24/7 assistance via ConnectedDrive Call Centre, 3 year subscription

                  Language version, simplified Chinese in the BMW iDrive interface, with
     866                                                                                                                                         NCO         NCO         NCO         NCO         NCO
                  English language available as an alternative language.

■ Standard     □ Optional     NCO No Cost Option

 While BMW Group Australia has endeavoured to ensure that all information, representations, illustrations and specifications contained in these materials are accurate at the time of publication (7 February 2018), the information is
 general in nature only. Product features, specifications, models and prices are subject to change without notice. The general information in these materials should always be read in conjunction with information from authorised BMW
 dealers. To the extent permitted by law, BMW Group Australia excludes all express and implied warranties or guarantees and all liability, whether direct, indirect, special or consequential, arising from negligence or otherwise relating to
 the use of these materials, any inaccuracies and for any noncompliance by any vehicle with any representation, illustration, specification, description, product feature, colour, or other information contained in these materials.
                                                                                                                                                                                                                                             9
GENUINE BMW SERVICE.
When you buy a BMW, you can look forward to superb service and comprehensive customer care, with a network of
dealerships Australia-wide ready to assist you at any time.
The intelligent BMW Condition Based Servicing (CBS) system monitors the individual components of your vehicle's
service requirements and notifies you in advance when a service is due. In combination with BMW Teleservices, your
vehicle then sends all relevant servicing data captured by CBS directly to your preferred BMW dealer.
Using the latest sophisticated BMW diagnostic tools, you can rest assured that your BMW will receive the highest level
of attention from specialist BMW-trained technicians using only Genuine BMW Parts.

BMW SERVICE INCLUSIVE PACKAGES.
Your BMW service experience can also extend to a BMW Service Inclusive package, which covers your scheduled
servicing costs for a specified duration or distance (whichever comes first) in a single, once-off advance payment.

With BMW Service Inclusive, you can enjoy every second of driving pleasure knowing that your BMW is always getting
the service it deserves. BMW Service Inclusive extensions and upgrades from Basic to Plus are also available, and all
packages are fully transferable to future owners.
BMW Service Inclusive Terms & Conditions apply and can be viewed online at bmw.com.au/serviceinclusive. *Package term expiry is based on the time from date of first registration or mileage travelled, whichever occurs
first. Packages applicable to vehicles under 12 months from date of first registration and prior to first service. Scheduled servicing based on the vehicle's Condition Based Service monitoring system and normal wear and
tear and other exclusions apply. Scheduled servicing must be conducted by an authorised BMW Dealer. ^Service items only applicable to petrol model vehicles. †Wear and tear items only eligible for Service Inclusive Plus
packages if worn by normal use. Pricing applicable to current generation models only and pricing for BMW 6 Series Coupé / Convertible / Gran Coupé, BMW 7 Series, BMW M Models and BMW i8 available separately.
~Upgrade pricing from 5 years/80,000km Basic package to 5 years/80,000km Plus package.

For more information, speak to your BMW Sales Consultant or Service Advisor or visit bmw.com.au/serviceinclusive today.
                                                                                                                                                                                                                      7
BMW FINANCIAL SERVICES.
Finance, Lease & Insurance.
BMW Group Financial Services is your one stop shop for all
your Finance, Leasing and Insurance needs. Each BMW
dealership has a dedicated Business Manager who can put
together a tailored finance and insurance package, to make
getting into your next BMW even easier.

FINANCE & LEASE.
BMW Group Financial Services offers both loan and lease
options to suit your requirements. Whether it is for a
company vehicle or a car for your personal use, there are a
range of products available to meet your needs.

BMW Financial Services offers competitive rates, flexible terms, and no early termination or monthly account
keeping fees*.

INSURANCE.
BMW Insurance has you covered with an outstanding range of products to protect both your BMW and your BMW
finance contract. With BMW Insurance you can not only ensure your BMW stays a BMW, but also enjoy peace of
mind while you are on the road and off.

Speak to your Business Manager today about our extensive range of Finance and Insurance products.

BMW DRIVING EXPERIENCE.
If you've ever wondered why a BMW is the Ultimate Driving Machine, a BMW Driving Experience course is for you.
If you've ever wondered what an Ultimate Driving Machine is capable of, this is the Ultimate test-drive.
                                                                                                 BMW Driving Experience was introduced in
                                                                                                 1977, the first of its kind initiated by an
                                                                                                 automotive manufacturer to improve the skills,
                                                                                                 reactions and awareness of drivers.
                                                                                                 Today more than ever, the program offers drivers
                                                                                                 a positive, exhilarating experience, along with an
                                                                                                 excellent education and an enthralling
                                                                                                 opportunity to accelerate their driving abilities.
                                                                                                 This is all conducted behind the wheel of a
                                                                                                 dynamic range of Ultimate Driving Machines.

The aim of the program is to enhance each participant's                                     1.     BMW Compact Driving Experience
driving ability by developing attitudes and skills through a
structured sequence of courses. Each course takes                                           A half day taster of the BMW Driving Experience courses.
participants through an increasingly challenging mix of low
                                                                                            2.     BMW Intensive Driving Experience
and high speed driving exercises, that help them respond
effectively in emergency situations and become                                              An exciting introduction into performance driving, designed
progressively more confident, safe and enthusiastic drivers.                                for confident drivers.

BMW Driving Experience offers a range of courses which                                      3.     BMW M Dynamic Driving Experience
are conducted at Australia's leading facilities, including the
world renowned Phillip Island Grand Prix Circuit. All BMW                                   After completing our Intensive Training course, drivers can
                                                                                            take their skills to another level with this high-performance
Driving Experience courses are supervised by highly-                                        course designed to test their ability to the fullest.
trained instructors.
To find out more about BMW Driving Experience courses and dates, please call 1800 000 269 or visit bmw-
drivingexperience.com

This insurance is issued by Allianz Australia Insurance Limited AFSL 234708 ABN 15 000 122 850. Please visit bmwfinance.com.au and rear a Products Disclosure
statement to decide if these products are right for you.
*BMW Financial Services is a division of BMW Australia Finance Limited. Australian credit licence 392387. Fees, charges, terms, conditions and approval criteria apply to
BMW Financial Services finance products.
                                                                                                                                                                      11
While BMW Group Australia has endeavoured to ensure that all information, representations, illustrations, specifications and prices contained in these materials are accurate at the time of
publication (6 January 2017) and applicable for vehicles manufactured from December 2016, the information is general in nature only. Product features, specifications, models and prices are
subject to change without notice. The general information in these materials should always be read in combination with other specific materials and information available from BMW Group
Australia.
* Prices shown are manufacturer's recommended list prices (MRLP) only and exclude dealer charges, stamp duty, statutory charges and on-road charges. There is no obligation to comply
with the manufacturer's recommended list prices. Optional equipment prices are based on factory fitment. Prices may be subject to rounding. Luxury Car Tax (LCT) applies where the total
sales prices (excluding stamp duty, statutory charges and on-road charges only) is above the LCT threshold. The LCT threshold is $64,132 for all models except those which are fuel efficient
vehicles achieving a fuel consumption not exceeding 7 litres per 100 kilometres (based upon a combined rating under ADR 81/02) which qualify for an LCT threshold of $75,526.

This specification guide is for business use only and must not be distributed to customers.

© BMW Australia Ltd (ABN 11 004 675 129) ("BMW Group Australia") and BMW AG, Munich/Germany. All rights reserved.