THE GLOBAL SHOW FOR GENERAL AVIATION - April 10 - 13, 2019 Friedrichshafen | Germany - AERO Friedrichshafen
Page content transcription
If your browser does not render page correctly, please read the page content below
April 10 – 13, 2019
                    Friedrichshafen | Germany

 THE GLOBAL SHOW
 FOR GENERAL AVIATION

EDNY: N 47 40.3   E 009 30.7                    www.aero-expo.com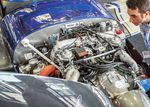 #aerofriedrichshafen

Be smart, use                        Gold SPONSORS:                                            SILVER sponsor:
the Aero App!
The interactive mobile guide.
With all exhibitors, events,         Supported by:
shuttle buses, etc.

                                     Deutscher        AOPA GERMANY                             General Aviation
                                     Aero Club e.V.   Verband der Allgemeinen Luftfahrt e.V.   Manufacturers Association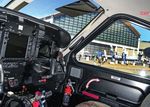 27 th Edition of AERO Friedrichshafen
Setting the Course for the New Decade

As the world's leading trade show for general aviation, the 27th edition of AERO
Friedrichshafen will, once again, help set the course for general aviation.
AERO is a showcase of innovation and a place where opinion leaders and stakeholders
of the industry meet. For us from the AERO organizing team, this is an obligation and
a strong incentive to put even more effort into strengthening general aviation at social
and political levels.

Every year, 35,000 visitors from 60 countries (60 percent of whom hold a pilot's license)
are making AERO Friedrichshafen a global hot spot for the GA community. The trade
show on the shores of Lake Constance is also a must-attend event for more than
600 journalists who come to Friedrichshafen to find out about the latest trends and
developments in general aviation. The products and services presented by more than
700 exhibitors from 40 countries include over 320 aircraft and cover the entire range
from gliders, ultralight and light aircraft to helicopters and even midsize business jets.
The latest avionics trends, innovative propulsion technologies and pilot training options
are also covered by the trade show.

Not only is AERO Friedrichshafen the most important marketing and sales platform for
manufacturers, it has also developed into an indispensable meeting place for OEMs from
the supply chain and engineering sectors.

If general aviation is your business, the show is a must-attend event!
We look forward to welcoming you as an exhibitor to AERO Friedrichshafen in 2019.
AERO Conferences
Experts' Network
With more than 300 workshops, symposia and presentations,
the AERO Conferences are one of the key pillars of AERO
Friedrichshafen and a perfect event for expanding the general
aviation network. The AERO Conferences are the meeting
place for the world's most important representatives from
aviation authorities, associations and manufacturers who
make decisions on future developments and new industry
standards.

The AERO Conferences program
will be available from March 2019 at
www.aero-expo.com
(Supporting Program / AERO Conferences)
Avionics Avenue
High-tech Cockpit
Equipment
A quick and comprehensive overview of current trends in
cockpit technology will be given in the Avionics Avenue
special area, where leading avionics manufacturers will be
presenting their latest products. The Headset Test Area and
the Garmin Seminar Room are places which every aircraft
owner must visit at AERO 2019. Advanced flight control, radar,
flight management and communication systems are also on
show in the Avionics Avenue special exhibition in Hall A6.

Sponsored by
Engine Area
Propulsion Technology –
The Latest Developments
State-of-the-art propulsion technology will be on display in
the Engine Area, thus demonstrating a change in the trend as
far as conventional propulsion systems are concerned. There
is a clear trend toward the development of highly efficient
engines in terms of cost and fuel consumption. Whether it be
piston, turbine, electric engines or maintenance of such
systems, the Engine Area is attracting great interest among
visitors. The topic of sustainable fuels is also becom­ing
increasingly important. This is where general aviation also
has its part to play, for example by continuing its involvement
in power-to-liquid development.

Sponsored by
Be a pilot / AEROCareer
Jobs with Excellent
Prospects
Jobs in aviation are rewarding. As the leading trade show for
general aviation, AERO Friedrichshafen will, once again, provide
universities and flight schools with an appropriate platform,
thus making a valuable contribution to the promotion of young
talent. AEROCareer will be offering top jobs for future pilots.
However, not only those wanting to start a career as a pilot, but
also potential engineers can find out more about jobs and career
opportunities in aviation at AERO 2019. Whether it be screening
of prospective airline pilots or attractive job opportunities in the
engineering sector: careers begin at the AERO!

Sponsored by
FLIGHT SIMULATOR AREA
Simulator first
Newcomers learned what it felt like to pilot a plane for the
very first time, professional pilots were given the opportunity
to improve their skills and to fly new aircraft models.
The first edition of the Flight Simulator Area (FSA) was a
great success right from the start. At AERO 2019, the FSA
will be featuring even more flight simulators that are certified
for training. Especially professional pilots will appreciate
the expanded range of flight simulators for professional use.
The professional segment will also be a key focus at the
second Flight Simulator Conference.

Sponsored by
E-Flight-Expo / evtol
Electric Aircraft ready
for Vertical Takeoff
Electric flight, unlike any other topic, is a subject of con­
troversial discussion in the aviation community. Connected
mobility linked with air taxis is also a highly topical issue.
The next e-flight-expo will see an increasing mix of fixed-
wing and vertical takeoff and landing aircraft. eVTOL
will elevate the new mobility on ground to the third dimen-
sion. Many renowned aircraft manufacturers as well as
system providers such as Siemens are dealing intensively
with the topic of electric flight. For the first time, there will
be flying displays of eVTOL aircraft at the e-flight-expo
at AERO 2019.

Sponsored by
Helicopter Hangar
The Fascination of
Helicopter Flight
Helicopters, the aviation work horses, were heavily represented at AERO
2018. In the Helicopter Hangar in Hall B5, Deutscher Hubschrauber Verband
(DHV) presented an impressive number of helicopters with a large variety
of mission profiles ranging from air rescue, aerial work, passenger transport
and law enforcement missions to fun flying in an ultralight helicopter.
The number of helicopters displayed at the AERO is growing every year.
The Lake Constance region and the nearby Alps provide many opportunities
for commercial and private operations.

Once again, Hall B5 will be the center of all helicopter activities at AERO
2019. Exhibitors appreciate the opportunity to use the helipad next to
the exhibition hall. The Helicopter Forum offers an attractive conference
program that covers all aspects of helicopter flight.

Supported by
AERO
                     DRONES

AERODrones / UAS Expo
Drones of the Future
The Unmanned Aerial Systems (UAS) segment at AERO Fried-
richshafen continues to grow. The AERODrones special exhi­
bition does not only present the current state of technical
development, but also application-specific topics which in­creas­
ingly stimulate this growing market. The AERO is the perfect
platform to promote the exchange of views and cooperation
between the unmanned and manned aviation communities.
Supported by UAV DACH and "Drohnenmagazin", AERODrones
will have an even stronger focus on application issues in 2019.

The FPV drone races are particularly intended to attract a
younger target audience. It is not by chance that the "Be a Pilot"
information booths are to be found next to the indoor FPV racing
circuit. Many young people start their career as a pilot by flying
drones or model planes.

Supported by
Business Jets
Time is Money.
Take your Business Jet.
Time is a significant factor in many business activities. If you want to travel
long distances quickly and at the same time relax in comfort, business jets
are the best choice for your needs. AERO has become an important event for
manufacturers of small and midsize business jets and their customers.
The trade show is highly valued by aircraft owners who love to fly their jets by
themselves. AERO Friedrichshafen perfectly combines everyday business with
a passion for flight.

Ideally located between Friedrichshafen Airport and Messe Friedrichshafen's
exhibition halls, the Static Display area is an established meeting place for the
business aviation community. The trade show's central location at the heart
of Europe and short distances between the airport and the exhibition site are
making the AERO a perfect event for a day trip by plane.

Business Aviation will also be a strong focus at the AERO Conferences in 2019.
Schedule and contents of the AERO Conferences will be available from March
2019 at www.aero-expo.com
Your AERO Ground Staff

              Roland Bosch
              Head of AERO                       Stephanie Beiswenger
              Member of the Board of Directors   Project Coordinator
              Tel.   +49 7541 708-358            Tel.   +49 7541 708-414
              Fax. +49 7541 708-110              Fax. +49 7541 708-110
              roland.bosch@messe-fn.de           stephanie.beiswenger@messe-fn.de

              Tobias Bretzel                     Tamara Blaschke
              Show Director                      Project Coordinator
              Tel.   +49 7541 708-365            Tel.   +49 7541 708-367
              Fax. +49 7541 708-110              Fax. +49 7541 708-110
              tobias.bretzel@messe-fn.de         tamara.blaschke@messe-fn.de

the global shows for general aviation

             2019                      2019      2020
Entrance East
                                                                                                                                          Foyer East
AERO 2019                                                                                    Ha
                                                                                                                 Ha
                                                                                                                      ll
                                                                                                                           B5             Conference Center East
Hall Overview                                                       Ha
                                                                         ll
                                                                                                  ll
                                                                                                       B4

                                                Ha                            B3
                                                                                                                                                Ha
                                                     ll                                                                                              ll
                                                          B2                                                                                              A7
Entrance West                                                                                                                   Ha
                                                                                                                                     ll

                              Ha
                                                                                                                                          A6
Foyer West

                                ll
                                                                                                  Ha

                                 B1
                                                                                                       ll
Conference Center West                                                                                      A5
                                                                              Ha
                                                                                   ll
                                                                                        A4
                                                     Ha
                                                          ll
                                                               A3

                                   Ha
            Ha

                                     ll                                                                          Static Display Area
             ll

                                      A2
              A1

                                                                                             Hall A1                                           Halls A3 – A5
                                                                                             Gliders                                           Business Aviation
                                                                                                                                               Aircraft MTOW > 600 kg
                                                                                             Hall A2
                                                                                                                                               Engine Area, Maintenance,
                                                                                             AERODrones / UAS Expo
                                                                                                                                               Suppliers
                         Pilot's Entrance                                                    Foyer West
                                                                                                                                               Hall A6
                                                                                             AERO South Africa
                                                                                                                                               Avionics Avenue,
                                                                                             AERO Asia
                                                                                                                                               Flight Simulator Area
                                                                                             Be a pilot, BodenseeAIRea

                                                an   gar                                     Halls B1 – B4
                                                                                                                                               Static Display Area

                                          lin H
                                                                                                                                               Business Aviation
                                      e                                                      UL, VLA, LSA, Gyrocopter
                               Zepp                                                          Hall B5
                                                                                                                                               Hall A7
                                                                                                                                               e-flight-expo, eVTOL
                                                                                             Helicopter Hangar
                                                                                                                                               Foyer East
                                                                                                                                               AERO Conferences
EXHIBITOR SERVICE             RESERVATION & TRAVEL SERVICE          VISITOR SERVICE
Tel.: +49 7541 708 -367/414   Tourist Information Friedrichshafen   Tel.: +49 7541 708-5887
Fax: +49 7541 708 -110        Tel.: +49 7541 30010                  Fax: +49 7541 708-2404
aero@messe-fn.de              messe@ti.friedrichshafen.de           visitors@messe-fn.de      www.aero-expo.com