THE INTERNATIONAL ORGANISATION OF PHYSICAL THERAPY IN MENTAL HEALTH - ioptmh
Page content transcription
If your browser does not render page correctly, please read the page content below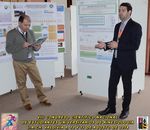 THE INTERNATIONAL
                            ORGANISATION OF
                            PHYSICAL THERAPY IN
                            MENTAL HEALTH
Volume 7 / Issue 2

                            MESSAGE FROM THE PRESIDENT
  Newsletter
                            Dear Colleagues,
  November 2018
                            2018 is gradually coming to an end. 2018 was for the IOPTMH an
                            exceptional year. In April, the IOPTMH had her seventh
  CONTENTS
                            successful Conference in Reykjavik with 180 participants. During
                            the General Meeting and for the first time a non-European
  Message from the          colleague (Jo Connaughton) become member of the Executive
  President                 committee. The IOPTMH stimulated the Mexican physiotherapy
                            subgroup in mental health to organise a special conference in
  Conferences               Mexico. They realised the idea in a short term and the conference
                            in Mexico was a success. Colleagues from Ecuador, Guatemala,
                            Costa Rica, Colombia, Chile and the United States, France and
  News from Member          Switzerland attended the conference. The IOPTMH did a big step
  Countries
                            forwards to realize one of her objectives mentioned in the
  News from the Executive   constitution "to foster the cooperation between physical therapy
  Committee                 practising in mental health throughout the world". And on a top
                            of that the WCPT choose this year for the World Physical Therapy
  News from all over the
                            Day the 8 of September "Physical therapy and mental health" as
  world
                            theme, demonstrating the role that physical therapy and physical
                            activity have in mental health. The EC looks forward to the future
                            with hope and confidence. The IOPTMH will be present at the
                            WCPT conference in Geneva and our Finnish colleagues already
                            started the organisation of the 8th conference in Helsinki in 2020.
                            The EC wish you and your family and colleagues a fruitful 2019.

                            In behalf of the Executive Committee

                            Prof. Dr. Michel Probst, President of the IOPTMH

Editor: Jo Connaughton

  r

  R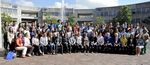 WCPT CONFERENCE IN GENEVA 2019

                                                                   The IOPTMH will be represented
                                                                   at the General Meeting of the
                                                                   World Confederation of Physical
                                                                   Therapy (WCPT) in Geneva.

                                                                   During the WCPT congress in
                                                                   Geneva the 7th open General
                                                                   Meeting of the IOPTMH will be
                                                                   held. Additionally, a networking
                                                                   meeting will be organized.

                                                                 A focus symposium with Prof.
Michel Probst (Belgium), Prof Jo Connaughton (Australia), Dr. Brendon Stubbs (UK), Dr. Lene Nyboe
(Denmark) and Dr. Emanuel Brunner (Switzerland) was accepted. Only 26 of 103 applications for a
focus symposium made the final selection. Emma Stokes, President of the WCPT, congratulated us
with the selection and thanks the IOPTMH so much for their support of and commitment to WCPT
and #globalpt (mail 14/05/2018).

Program: see https://www.wcpt.org/wcpt2019/programme/preliminary
Friday 10th May: Open General meeting IOPTMH at the HQ hotel
Friday 10th May: Opening Ceremony 18.00-19.15
Sunday 12th May (NWS-14): Networking session: Mental Health; 8.30-9.45
Monday 13th May (FS-25): Focused symposium: Physical therapy in mental health with Lene Nyboe,
Brendon Stubbs, Jo Connaughton, Emanuel Brunner and Michel Probst; 15.45-17.15.
At the closing ceremony, The IOPTMH will present an outstanding poster award at WCPT Congress
2019 in the field of mental health.

WCPT CONGRESS 2021 IN DUBAI, HOSTED BY THE EMIRATES PHYSIOTHERAPY
SOCIETY

Dubai offers the chance for the global physical therapy community to meet in a destination that
links Europe, Asia and Africa," says Emma Stokes, president of the WCPT

Dubai is the largest and most populous city in the United Arab Emirates, located on the southeast
coast of the Persian Gulf. The WCPT Congress will welcome more than 2,000 physical therapists to a
city known for its striking skyline and cutting-edge architecture, delivering a world-class scientific
programme featuring the latest research, innovations and debate.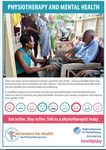 SAVE THE DATE! 8TH INTERNATIONAL CONFERENCE OF PHYSIOTHERAPY IN PSYCHIATRY
AND MENTAL HEALTH.

Finland will host the 8th International Conference of Physiotherapy in Psychiatry and Mental Health.
The theme for the conference is Linking Body And Mind: The Key To Effective
Physiotherapy. The conference will be held 12-14 May 2020 at Marina Congress Center, Helsinki.

The conference website: https://www.icppmh2020.com/

We hope to see you in Helsinki!

NEWS FROM THE UK
Raising profile of Physiotherapy and Mental Health
Brendon Stubbs has an article in Frontline – The Physiotherapy Magazine for
Chartered Society of Physiotherapists entitled Mental Health is Everyone's
Business where he talks about the close link between physical and mental health.
You can access Frontline www.csp.org.uk

Sandra Philip-Rafferty, Highly Specialist Physiotherapist, Eating
Disorder Service, Fulton Clinic, Royal Cornhill Hospital, Aberdeen,
helps people with eating disorders in the Aberdeen area to fine a
route back to health.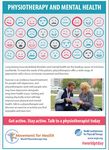 NEWS FROM AUSTRALIA

Letting go of the stigma was the title of the latest opinion piece by Dr Joanne Connaughton to be
published in the Australian Physiotherapy Association (APA) Monthly Magazine InMotion in
recognition of World Mental Health Day. The Australian Mental Health Group has been successful in
having 3 articles in the magazine each year in an attempt to raise the profile of physiotherapy and
mental health.

In addition the APA release regular ecommunications and a feature in the next one is a case study by
Vaishalli Budige; Nadi Shodhana pranayanama (yogic alternate nostril breathing technique), for
treatment of chronic neck condition and anxiety.

Australia is a vast country and members of the APA Mental Health Special Interest group in Brisbane
are more than 4,000kms away from members in Perth se we have established a Facebook page to
help keep us connected and share experiences.

NEWS FROM ESTONIA

                     Physiotherapy education system in Estonia only began in 1990 and thanks to
                     Marin Radnur, Tartu Medical College is leading the way in teaching Physiotherapy
                     in Mental Health. Marin found Physiotherapy in Mental Health and Psychiatry by
                     M. Probst and L. H. Skjaerven was a great resource to build the structure for the
                     course. Students are asked to promote mental health physiotherapy within general
                     public and says "It is truly amazing how creative and hardworking students can
                     get. They have made useful posters and flyers for different subgroups using the
newest literature in the field. I see how this great learning experience in many levels can also improve
PT visibility in public domain. The process has been inspiring for me and I hope to keep developing
together with my students."

NEWS FROM FINLAND

Kirsti Niskala, IOPTMH member and vice chairman of The Finish Association
of Psychophysical Physiotherapy is awarded physiotherapist of the year 2018.
Kirsti has been working as a physiotherapist in occupational health, in
rehabilitation centers and as a private professional; as a BBAT teacher and
NLP Trainer. She started BBAT education in Finland 2010.

The Finnish Association of Psychophysical Physiotherapy turns 25
The Finnish Association of Psychophysical Physiotherapy (PSYFY) was a founding member of the
IOPTMH. Finnish physiotherapists have been participating in conferences with broad representation,
they have been active in scientific research and developing national models in accordance with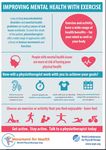 international studies and recommendations. PSYFY and Finnish physiotherapist have networks with
associations and professionals from different countries.

NEWS FROM SPAIN

The Spanish celebrated World Physiotherapy Day with a Mental Health workshop.
Physiotherapists, other health professionals and the general public attended. Workshop topics
included "Know what Physiotherapy can do for your Mental Health", "Living with chronic pain" and
"Know your body. Basic Body Awareness Therapy". The final presentation was by the author of the

book "Couple Physiotherapy", the physiotherapist and poet Mr. José Antonio Cortés, who captivated
everyone with the precious story of the project and realization of this successful book.

Physiotherapist Maite Cenoz present Mental Health during the World PT Day in Bilbao,

                            Maite Cenoz from The Official School of Physical Therapists of The
                            Vasque Country, Bilbao (North of Spain) celebrated World Physical
                            Therapy Day with a presentation which introduced physical therapy in
                            mental health field and briefly showed clinical intervention. It created
                            interest amongst in the audience to learn more.

Master of Mental Health Physiotherapy in Basic Body Awareness Methodology

 The University of Almeria (Spain) is now offering a Mental
Health Physiotherapy Master program. This clinical master
program provides tools for physiotherapists to face the
challenges of our society such as long-lasting musculoskeletal
disorders and mental health problems. It was developed from
the clinical hypothesis of the three-fold contact problem, the
person's lack of contact with the physical body, inner
life, external environment and in the relation to other persons'.
The one year program combines online courses with on-campus intensive practical teaching. The first
group of students started in January 2018 with attendees coming from 11 countries. The next intake
will be January 2020. Applications will be opened from February 2019. More information at:
http://fisioterapiasm.es/masterbbam.htm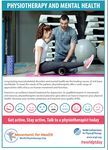 NEWS FROM
SWITZERLAND

Symposium in Winterthur,
Switzerland, 29 June, 2018

The Kantonsspital Winterthur (KSW) and the Swiss Association for Physiotherapists in
Psychosomatics and Psychiatry (SAG PPP) organized a 1-day International Symposium with the title
Integration of psychological aspects in physiotherapy. The program of the symposium included
presentations and workshops on current clinical topics including sleep disorders, body image, chronic
pain and therapeutic relationship.

NEWS FROM DENMARK

Physical Therapist and Ph.D. Lene Nyboe recently published an article
demonstrating how systemized massage with ballstick balls helped manic
patients to calm down and fall asleep resulting in almost 50% fewer restraints.
The results of the project were published in the National Danish Physical
Therapists Organisation Magazine (in Danish): "Fysioterapeuten", issue 5,
2018. https://www.fysio.dk/fysioterapeuten/arkiv/nr.-5-2018/kan-jeg-fa-noget-af-det-der-ole-
lukoje-stov
Recognition of Physical Therapists who are specialists in Mental Health
A new education and qualifying system has been introduced in Denmark and currently there are 5
Physical Therapists who are recognized as specialists in Mental Health, among those is Lene Nyboe
and Susanne Sternberg, Susanne is a current board member of the Danish Organization of Physical
Therapists in Mental Health.

NEWS FROM GREECE

Recognition for the role of physiotherapists in mental health takes a leap forward
In 2018 the Minister of Health announced:
    Physiotherapists can be appointed to the position of Scientific Coordinator in Psychiatric Units
      in the Private Profit and Non-Profit Sector and
    In order to be licensed the boarding houses for end-stage dementia patients should provide
      mandatory services of "Palliative Physiotherapy"

Physiotherapists have been busy raising the profile of physiotherapists working in mental health with
presentations at 14th PanHellenic Conference of the Hellenic Gerontological and Geriatric
Society, 1st PanHellenic Multithematic Congress in Primary Health Care and 28th Annual
PanHellenic Scientific Conference on Physiotherapy as well as providing consultancy services
for the suitability exercise and active participation of our members in 1st European Sport Event in
Mental Health.

A press conference on physiotherapy in mental health
                                                     was held for World Physiotherapy Day and on
                                                     World Mental Health Day there was representation
                                                     of the scientific section "Physiotherapy in Mental
                                                     Health" at the official meeting of the Hellenic
                                                     Psychiatric Society at the University of Athens Academy

NEWS FROM BELGIUM

Visiting Experts
Turkish colleague, Eylem KÜÇÜK from Istanbul Aydin University
visited KU Leuven Department of Rehabilitation Sciences, rehabilitation
in mental health from 9/6/2018- 16/6/2018 with a Erasmus & training
mobility program.

               Rodrigo Juarez, professor of physiotherapy at the University of Rosario (Argentina)
               received a grant to visit the KU Leuven, Department Rehabilitation Sciences, Major
               Mental Health from 8 to 31 October 2018. He visited different mental health centres in
               Belgium, participated to courses and discussion groups related to physiotherapy in
               mental health.

Simon Rosenbaum, (Ph.D , Australia) visited Departement of Rehabilitation Sciences at give the
6th November 2018 a presentation "From evidence to practice using exercise in the treatment of PTDS
disorders"

Charbel Najem, (MSc Antonine University, Beirout), was invited at the
Departement of Rehabilitation Sciences to give the 7th November 2018 a presentation
"Inclusion of cognitive behavior therapy (CBT) models in physiotherapy" &
Physiotherapy in a multicultural world"

An English Master in Science in Rehabilitation Sciences and
Physiotherapy, Major Mental Health, at the KU Leuven, Belgium.

The Departement of Rehabilitation Sciences offers bachelor students in physiotherapy the possibility to follow a
Master in Science in Rehabilitation Sciences and Physiotherapy with a Major in Mental health (120 ECTS). For
admission and program see website.
In this Major program, students of Rehabilitation in Mental Health will become more competent to treat - within a
bio-psycho-social model - children, adolescents, adults and elderly with common and severe, acute and chronic
mental health problems, in primary and community care, inpatients and outpatients. The courses of physiotherapy
in mental health are based on the existing evidence based literature and consist of promoting physical activity and
fitness, exercise, sensory, body and movement awareness and functional movement. Additional attention is given to

health promotion, communication and the integration of principles of psychology to optimize physiotherapy
outcomes.
KU Leuven (University Leuven): https://www.kuleuven.be/english/;
Department of Rehabilitation: https://gbiomed.kuleuven.be/english/research/50000743/index.html
English program: https://faber.kuleuven.be/eng/education/NEWMscRehaScPhy/

NEWS FROM LATVIA

The Lativian physiotherapy association organized a conference
related to physiotherapy and mental health for World
Physiotherapy Day. About 300 Latvian physiotherapist
attended the conference.
The president of the IOPTMH was invited to present a key-note lecture: Mental health an important
topic in physiotherapy. Dr. Agita Luse presented a lecture about Stigma and Dr. L Voogt (Nl)
presented a presentation about Applying modern pain neuroscience in clinical practice. Workshops
were organized for the afternoon.

NEWS FROM MEXICO

The first physiotherapy conference in psychiatry and mental health of the American
continent took place, in Mexico City, from September 25th to 28th
Representatives from Brazil, Costa Rica, Colombia, Chile, Ecuador, the United States, Guatemala,
Belgium, Norway, Netherlands, Switzerland, France, Spain, Australia and Mexico attended this
conference to hear lectures from mental health experts from Europe as well as hearing about local
experiences.
A document signed by representatives of the countries of America that attended the congress was
announced, as well as the President of the IOPTMH, Michel Probst, and the representatives of the
associations of Spain, Norway, Colombia and Mexico included "we proclaim the commitment of
starting a mutual collaboration, aimed to structure a work plan about education, research and social
disclosure of the existing knowledge which could allow to get a better position for the Mental Health
field in the American continent through the endeavor of our network."
The 2nd Congress is planned for Colombia.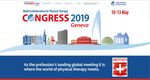 The link to the conference in Mexico: www.fisioterapiasm.org

Witness from the Netherlands written by Linda Slootweg:
On the 25th of September 2018 the first international Congress on Physical Therapy in Mental health took place. The
practice of BBAM, Norwegian Psychomotor therapy, psychosomatic physical therapy, psychomotor therapy in elderly,
mindfulness and the huge importance of physical exercise was show. It was good to see the effort, interest and work that is
already performed executed in physical therapy in mental health in America. It shows just how important it is to support
and cooperate with our American colleagues.

Witness from Costa Rica written by Teófilo Borbón Arce, National Psychiatric Hospital
This is a short writing about my experience in the International conference of Physiotherapy in Mental Health, which took
place in Mexico, for the first time in our American Continent. I had the opportunity to assist to the International
conference in Mexico, which I was able to represent my country with a small speech about the programs that we have in
physical therapy here in my work, and also the opportunity to share my experience with my colleagues from around the
world. Is kind of interesting, that most of our colleagues that works in the public hospital they had the same points of view
and the same challenge to change the vision of the physical therapy in psychiatry and mental health. The opportunity to
assist at this conference had make a mark in our lives, as a person and as a professional, great speakers with a lot of
experience in their own fields, great organization, great place in the UNAM, the hospitality of Mexico it make me come
back again, not only as a tourist, but as a better person that made lots of friends. In this conference, we had the chance to
make a declaration of commitment in order to improve our programs in mental health as a physical therapist, to promote
the field of physical therapy in mental health as a need in our health system, to educate the scientific community in order
to recognize our work as professional as there is a lot of scientific evidence, and finally, to create a brotherhood of all the
physical therapist in America in mental health. I would like to end this writing, with this thought: " there is not progress in
the collective without ethics in the professional."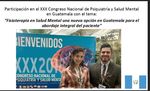 NEWS FROM COLOMBIA
Physiotherapy in Mental Health "Corporal-Mind"
                                   The objectives of Corporal Mind has three main objectives focused
                                   on building and strengthening networks, research and training the
                                   health field metal in our profession.
                                   These are
                                   1. To promote research in this area using public, social and scientific
                                   evidence
                                    2. To encourage the training of physiotherapists in this area practice
                                   3. Strengthen academic and knowledge networks in this area to
increase the visibility of the group and physiotherapists working in this field.

NEWS FROM GUATEMALA

                                             Licda. Maria Eurgenia de Leon, PT, presented at the 30th
                                             National Congress of Psychiatry and Mental Health in
                                             2018 with a paper about "Physiotherapy and Mental
                                             health, a new option in Guatemala for the comprehensive
                                             approach of the patient"

NEWS FROM LITHUANIA

The Lithuanian Minister of Education and Science and the Siauliai State
College invited Prof. Dr .Michel Probst to provide a 40 academic hours
of lectures about Mental health and Physiotherapy for the students for
physiotherapy study programme from 15/10/2018 till 26/10/2018.

NEWS FROM LEBANON

                                                                                    Prof. Dr. Michel
                                                                                    Probst was invited
                                                                                    by the University
                                                                                    Antonine, Beirut,
                                                                                    Lebanon to give a
                                                                                    lecture and
workshop about weight and eating related disorders. He used the opportunity to discuss opportunities
to build a subgroup related to physiotherapy in mental health.

PHD'S IN PHYSIOTHERAPY RELATED TO MENTAL HEALTH

Eduardo Alfaro PhD (Chile)

On September 11, 2018 Eduardo was awarded a PhD in
kinesiology in Chile with his dissertation
"Validity of content and reliability of the central
sensitization instrument in patients of the Program of
Reparation and Comprehensive Care in Health and
Human Rights of Concepción". The thesis consists of the
validation of the instrument (content and reliability) of
central sensitization (persistent pain) amongst victims of
human rights violation including people who were
tortured or relatives of disappeared detainees during the
period of 1973-1990 in Chile.

      Eduardo presented his research and obtained second place for his poster at the VIII National
       Scientific Congress of University Students of Kinesiology 2018 "Science and movement, an
       Austral vision" of the University of Austral of Chile.
      In October 2018 he participated in the CONLEKIF Latin American Student Congress of
       Kinesiology and Physiotherapy.
      Together with a multidisciplinary team (psychologists, psychiatrist, kinesiologists focused on
       persistent pain) undertook the project entitled: "Prevalence of chronic musculoskeletal pain
       with and without central awareness in victims of human rights violations in Chile between 1973
      In 1990 attended in the Program of Repair and Integral Health Care postulated in the XV
       national contest of projects of investigation and development in health FONIS 2018.

NEW BOOKS

Psychosocial Elements of physical therapy: the connection of Body
to Mind
Hannah Johnson, PT
Slack Books, 288 pages; ISBN 10 1 63091-553 X or 13 978 1 63091 553 7
Publication date: 2019
Physical therapists know that their patients are more than just a list of
symptoms. They are people first, often with a complex mix of medical and
psychiatric circumstances, who may receive a wide range of care from a team of professionals.
Keeping this in mind, Psychosocial Elements of Physical Therapy: The Connection of Body to Mind is
both a textbook and a clinical resource for physical therapist students and clinicians practicing in any
patient population with psychological concerns or disorders.
Dr. Hannah Johnson provides an essential introduction of psychosocial concepts, general treatment
approaches for culturally sensitive care, and selected classes of mental illness as defined by the
Diagnostic and Statistical Manual of Mental Disorders, 5th Edition (DSM-5). A complete review of
the current research and evidence base provides students a strong foundation to build their careers
on, but can also act as a crash-course in the most recent literature for the busy clinician.

Hannah Johnson, PT, DPT, GCS is a practicing physical therapist in a skilled nursing facility setting in Wisconsin. Along
with patient care focused on geriatric clients and persons with psychological conditions, she enjoys teaching and writing to
help the next generation of physical therapy students. She earned her BS in biology and her DPT from Concordia
University Wisconsin (Mequon, Wisconsin). Additionally, she has clinical board specialist certification in geriatric physical
therapy. Currently, she is working on her PhD in Interdisciplinary Health Sciences, with a focus on carryover of exercise
programs for long-term residents of skilled nursing facilities.

THE EXECUTIVE COMMITTEE 2018-2019

Michel Probst                     Belgium             President           Michel.probst@kuleuven.be

Liv Helvik Skjaerven              Norway              Vice President Liv.Helvik.Skjerven@hib.no
Joanna Connaughton                Australia           Secretary           Joanne.connaughton@nd.edu.au

Emanuel Brunner                   Switzerland         Treasurer           Emanuel.brunner@ksw.ch

Merja Sallinen                    Finland             Member              Merja.sallinen@samk.fi

Updates from the Executive Committee (EC)
The EC annual meeting was held 10-12 September 2018 in Copenhagen. Among discussions were
    Conference 2022 - Member and non-members can apply to host the 2020 ICPPMH. The
      application needs to be send before the first of September 2019 to the president.
    General Meeting - During the WCPT conference, the IOPTMH will hold an "open general
      meeting". The goal of the general meeting is to inform the members and the interested colleagues
      about the work of the IOPTMH. The agenda will be sent before the end of the year 2018.
    Elections 2020 - In 2020, an election will be hold for two places in the Executive committee.
    The EC has worked to change the official website from www.icppmh.org to www.ioptmh.org
      Infomration can also be found through the WCPT website info@ioptmh.org.

Website: http://www.wcpt.org/ioptmh & www.ioptmh.org
Please, send all information for the next newsletter to Joanne Connaughton

                                       before 10 may 2019

Flyers and infographics related to Physiotherapy and mental health: see also https://www.wcpt.org/wptday