They Shoot Prada, Don't They? Fashion 'Shoot' with Cynthia Vaiden Guest
If your browser does not support JavaScript, please read the page content below: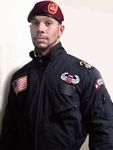 Catwalk: The Journal of Fashion, Beauty and Style, volume 3, no. 2, pp. 71-96 (2014) Inter-Disciplinary Press ISSN: 2045-2349 They Shoot Prada, Don't They? Fashion 'Shoot' with Cynthia Vaiden Guest Jacque Lynn Foltyn Abstract The photographer Cynthia Vaiden Guest is the founder of SHOOTMYSHIT, an art and business project where weapons experts blast away at clients' designer clothes and handbags, customising them with bullet holes and powder burns, and where 'pre-done' T-shirts are also available for purchase. As Guest modifies or outright destroys shirts and bags to make her own tongue-in-cheek 'brand' of 'shot fashion,' and photographs the process, her design work can be situated under the deconstruction (la mode destroy) movement that restructures and resemantifies conventional aesthetics.
Describing herself as a 'political contrarian,' Guest opposes consumerism, logos, and 'sheep-like following of brands,' and uses firearms as 'art tools' to refashion fashion. Here she discusses her mentors, including Andy Warhol and his companion Jed Johnson, and their influence on her art practice. She also provides candid insight into her understanding of gun culture and how this is an important conceptual underpinning to her work. In particular, her articulation regarding the 'gun as art tool' and the role this plays in her attempt to redress consumerism, corrupted values, and the conventional aesthetics of modern society through the SHOOTMYSHIT project provides a critical awareness of deconstructionist fashion techniques.
Paradoxically, Guest operates within the same framework of the luxe fashion brands she shoots by replacing them with an anti-brand or 'cooler' brand, a fact of which she is humorously aware. The interview and follow-ups for this article occurred during the period 2011-2014, by telephone, emails, and in person in New York City. Key Words Cynthia Vaiden Guest, fashion, luxury, brand, anti-brand, authenticity, consumerism, deconstruction, culture jamming, guns, SHOOTMYSHIT, Andy Warhol, Jed Johnson, Zelig. ***** 1. Introduction Describing herself as having a 'naughty sense of rebelliousness,' the photographer Cynthia Vaiden Guest is the founder of SHOOTMYSHIT, an art and business project where weapons experts blast away at clients' designer clothes and handbags, customising them with bullet holes and powder burns.
Pre-done' T-shirts are also available for purchase at her website (shootmyshit.com). Guest's first career was as an accessories designer in the early 1970s in Paris and she also worked for Menagerie boutique, an upscale boutique in San Francisco, Santa Barbara, and Beverly Hills, California, and did accessories design for American Durable Products, and then started her own line and freelance accessories work in Paris, where she also worked as a stylist. To finance her travels, she took arts-related jobs that came her way. At various times Guest did makeup and wardrobe for independent film companies, was a gallery assistant, photographer's stylist, newspaper columnist, letterpress printer, and worked at a Paris couture house.
1 In the 1980s and early 1990s, she worked for Jed Johnson (1948-1996), the interior decorator/film director companion of Andy Warhol (1928-1986).2 'My background is really peripatetic. I just "shot out" in the world and did everything I thought I might want to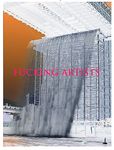 72 | They Shoot Prada, Don't They? do,' she tells me (Image 1). 'Through each career choice I made I had great training and great mentors so I was made better and better through each thing.' Today, Guest is a fine arts photographer and is represented by Saatchi Art. Known for creating imagery that encourages the viewer to reassess the ordinary and for her semi-abstract aesthetic, Guest is currently 'concentrating on boxing and commissioned portraits but essentially making things that catch my eye more abstracted and painterly.' Her scope is wide, with subjects ranging from men locked in mixed martial arts 'combat,' to atmospheric images of animals, buildings, the Brooklyn Bridge, and activist pieces such as Fucking Artists (2010, Image 2), which was part of a juried exhibition focused on controversy.
3 She is currently training with a former pro heavyweight boxer and planning to do a photographic series on him. 'I'm doing it because I love the art of boxing, love the men, love feeling strong and love landing a punch.' Guest has won numerous awards for her photography, most recently from the National Arts Club in New York City.4 Witty, intelligent, energetic, unconventional, and the mother of one child (daughter Pinky), her 'cool' personal style, an extension of her art and personality, has been featured in the 'Fashion & Style' section of The New York Times in a feature about mothers and daughters.5 Image 1: Self with Purple Hair, 2013, © courtesy of Cynthia Vaiden Guest Joan Kron, Contributing Editor at Large for Allure magazine and a member of the Catwalk Advisory Board, brought 'SHOOTMYSHIT' to my attention.
I was intrigued by what I heard about Guest because she literally (with a rifle) and figuratively (with a camera) shoots fashion objects, redesigning, repurposing or blasting them to smithereens with bullet holes and powder burns (Image 3). Highlighting her wry humour, the Shootmyshit.com mission statement proclaims: About us: If you've ever wanted to pop a cap (not your collar) in the ponyriding joker on your shirt, or felt like your plain white tee was just missing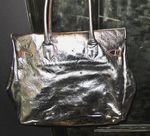 Jacque Lynn Foltyn | 73 something, you've come to the right place. Every item is hand-blasted in the U.S. of A. by a crack team of weapons experts, including Special Forces agents, prize fighters, and an all-around badass bunch. We think everything looks a little more badass with a bullet hole. Choose from a wide selection of pre-shot shit or let our team of expert sharpshooters customise the item of your choice. With every custom order, we'll throw in the casing, with a photo of the hired guns showing your shit who's boss.6 Image 2: Fucking Artists, 2010. © courtesy Cynthia Vaiden Guest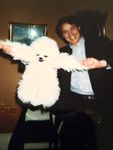 74 | They Shoot Prada, Don't They? Since 2011, Guest and I have had an ongoing conversation, by telephone, emails, and in person.
An article about Guest and SHOOTMYSHIT was originally planned for 2013, but that date was pushed back after a series of mass shootings in the USA.7 The resulting horror made publishing the article, which has its moments of levity, not feel right just then. Sadly, there apparently is no right time to publish the article, so we have moved ahead with it. Of course Guest and I talked about gun violence in the United States, and Guest made it clear that while a gun enthusiast, she has a number of thoughts about 'troubled people' who have no 'business being able to acquire guns.' Guest grew up with a respect for guns, is not a hunter, and has 'never killed anything.' In May 2014 Guest and I met twice on the Upper East Side of Manhattan, where she lives across from The Metropolitan Museum of Art.
At our last meeting, she prepared lunch for us as we spoke about fashion, style, luxury brands, consumerism, art, fear, death, war, masculinity, faux fur road kill, hunting down big 'game' luxe items to shoot, military fashion, hanging out with Andy Warhol and Jed Johnson, her punk period, and a 'dirty weekend with The Clash,' among other topics. 'I have always had a festive life, probably because I'll talk to anybody, lol,' she explains. 'I am eternally curious,' she observes, noting that curiosity drives her life. 'If I am intrigued by something I study it until I can learn no more about it, and then go on to the next thing.' Throughout our talks she maintained her humour and a sense of the ridiculous.
Image 3: Smiley Face, 2011. © courtesy of Cynthia Vaiden Guest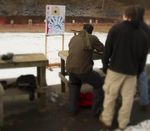 Jacque Lynn Foltyn | 75 2. Early Influences: 'I'm Zelig' Guest is an only child, and her father used to be the number one sharpshooter in the US Marines. She grew up with guns, but was a shooter, not a hunter. CVG: I'm from California originally. And I grew up with someone saying, 'let's go ride horses' and there would be a rifle and we would shoot cans off a fence. And nobody got in to any particular uproar about it. It was just part of Western life. JLF: The Wild West.
CVG: Yes, the Wild West! Nobody was gesturing to 'kill' somebody.
You just did it to show you were a good marksman. JLF: American cowboy culture. CVG: Which originates with Indians, who are the original character of the cowboy, the quiet, strong person. I think that is where the cowboys got all of their material. Her comfort with guns clearly contributed to the genesis of SHOOTMYSHIT, but to comprehend fully the drivers behind Guest's photography and fashion design one must understand that in the 1980s she was friends with Andy Warhol and Jed Johnson, the film director/editor, interior decorator, and then companion of the famous artist. Johnson employed her as a decorator's assistant and his design firm Johnson, Wanzenberg & Associates was located on the third floor of Warhol's Upper East Side Manhattan townhouse.
Johnson and Guest became close personal friends, and she gave Catwalk a photo she took of him in London in 1990, when he brought a plush toy gift for her daughter (Image 4). Image 4: Jed Johnson, Plush Toy for Pinky in London, ©1990. Courtesy of Cynthia Vaiden Guest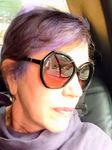 76 | They Shoot Prada, Don't They? Working for Johnson introduced Guest into the most exalted worlds of art and fashion of the time. Among Jed Johnson's clients were Mick Jagger, lead singer of The Rolling Stones; the actor Richard Gere; Pierre Bergé, the fashion mogul and co-founder of the Yves Saint Laurent fashion empire; Peter Brandt, the art collector billionaire; Marina Schiano, the style icon and Creative Style Director for Vanity Fair; Thomas E. Ammann, the Swiss art dealer; Henryk Richard de Kwiatkowski, owner of Calumet Farm, one of the most prestigious thoroughbred horse breeding and racing farms in the United States; and the billionaire investor Carl Icahn.
When she answered the phone on the third floor of Warhol's house, she could be talking to Jacqueline Onassis (a friend of Jed's), the architect Phillip Johnson, or celebrity photographer Fran Leibovitz.
JLF: Quite a resume. CVG: Yes. I oversaw a lot of the construction on Jagger's townhouse. Jed and I got mentioned in the graffiti from Jagger's stalker which was sprayed on the outside wall one morning. I [had] a police escort to and from work. As a daily visitor in Warhol's home for two years while Johnson was still his companion, Guest noted that his traditional personal aesthetic was at odds with the Pop art for which Warhol was known. She observed his ironic stance toward consumerism first hand, but noticed that he was an avid and knowledgeable shopper, who searched New York stores on a daily basis for antiques and other items Johnson could use in his decorating work.
8 JLF: Would Andy Warhol have approved of SHOOTMYSHIT?
CVG: He would have loved it! JLF: What was it like to hang out with Johnson and Warhol? CVG: I came in at the end of the Warhol scene. Jed was starting out as a decorator, and I was his first assistant along with his twin brother Jay. He moved away from Andy's to live with his partner, the architect Alan Wanzenberg. I believe that was devastating for Andy. I was one of very few people who got to be inside their amazing and beautiful house on East 66th . They gave me a birthday party at Regine's [famous NYC supper club] and their gift to me (I'd been hoping for a signed print) was the chef's hat I used to be amused by when I walked to work down Lexington.
On the display in the corner of the uniform store stood a chef's toque with the name stitched onto it in red sans serif letters 'SHIT HEAD.' The Warhol shtick at that time was a little passé. His untimely death [1987] brought back his caché. I really am not old enough to have known the heyday, but got to be friends with Fred Hughes [Warhol's business manager of twenty-five years] and Pat Hackett [Warhol's secretary and editor of The Andy Warhol Diaries (1989)], 9 René Ricard [poet, art critic and painter]. Weirdly, when I was a naive teen in Santa Barbara, I knew Jonathan Sedgwick, Edie's brother [Edie Sedgwick: Warhol's famous 'It Girl,' one of Warhol's 'Superstars'].
I've been so lucky! I've crossed paths with the most amazing people and tried to learn from them all. Andy was a cypher, possibly because of the shooting [Warhol was shot by Valerie Solanas in 1967 10 ].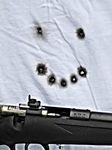 Jacque Lynn Foltyn | 77 He had a Midas touch with antiques and was a hoarder. Stacked important paintings in the pantry, shelves of Germantown Navajo rugs near our office space, Émile-Jacques Ruhlmann [furniture designer associated with Art Deco], Puiforcat tea services, cookie jars, a cupboard of Joy perfume for hostess gifts. His and Jed's exquisite taste informed and elevated my style to such a degree that I am forever trying to edit and analyse my visual field. I am grateful every day. And like any great artist (I'm thinking of Tony Duquette too), it isn't about the price, just the beauty and the rarity and the inventiveness.
As a fortunate young woman interacting with Warhol, and working with Johnson and his celebrity client base of members of the fashion and art set, Guest found her creativity influenced. I understood why she described herself as 'Zelig,' the Woody Allen character in the 1983 'mockumentary' of the same name, a human chameleon who finds himself moving among prestigious intellectual and art circles and transforms himself, accordingly.11 As her Saatchi website biography states: My photographs are influenced by painting and my paintings reflect my grounding in photography. My eye has been educated by friends and teachers: Andy Warhol, Jed Johnson, Caleb Nelson Carter, and by masters I love; Degas (landscapes and later work with camera), Rainer Fetting, and photographic atmospherists like Julia Margaret Cameron, Eugene Meatyard, Edward Steichen.
And I admire the passion for abstraction in the works of William Eggleston.12 Explaining why she became a fine arts photographer later rather than sooner, Guest says, 'I think because I was so young, I was self-conscious about picking it up around the guys that were so good.' From Warhol she learned a number of important lessons such as 'always flatter people in their portraits,' remarking that while she was once 'stubborn about keeping my style "pure,"' she realises now 'that's a little immature. In general they [Warhol and Johnson] taught me to up my game. You discover so many worlds if you are taught how to see them.' 3.
Gun as Art Tool As we spoke about the origins of SHOOTMYSHIT, Guest emphasised that the project is a political statement as well as an art project. Describing herself as 'a political contrarian,' she feels strongly about the intersection of fashion, advertising, and consumerism, and says she first spotted the coming together of this triumvirate in the early 1980s. What particularly irked her was the arrival of 'branded' clothing and accessories, festooned with logos, which also offended her sense of personal style.
CVG: Style was something you just had – we made outfits out of toilet paper and threw together amazing ensembles with stuff from the ten-cent bin. All of a sudden, you couldn't walk down the street without being bombarded by branding! Suddenly everyone had to have a little alligator on their chest or huge double Gs [Gucci] on their luggage. It was ridiculous! In reaction to what she perceived as a 'visual onslaught' of various iterations of the Lacoste logo, Guest began to envision what she calls the 'ultimate anti-brand. Instead of a
78 | They Shoot Prada, Don't They? 'cutesy animal, twee sportsman' or artfully arranged initials exhibited on one's clothing, 'why not sport the ultimate badge of cool: the bullet hole?' To the enthusiastic response of her cool, art oriented friends in the 1980s, she whipped up a small batch of T-shirts riddled with bullet holes.
They agreed that 'Your shit looks cooler when it's been shot.' Her favourite design? Smiley Face (Image 3). Her favourite fashion items to shoot? Iconic brands, fakes of iconic brands, and clothing and accessories with logos, which she loathes and is all too happy to 'hunt' and 'kill.' Guest only shoots on gun ranges and styles the 'shoots' for her shooters (Image 5). Image 5: Faux Birkin Shot Up. © 2011. Courtesy of Cynthia Vaiden Guest CVG: My intention with this project is to re-purpose the gun into an artist's tool. Chris Burden, Andy Warhol, William Burroughs have all used guns in support of their art.
JLF: Gun as art tool? Can you speak more about that? CVG: That for me is everything. I love getting a new camera. I love new paper. I love new ink. I love brushes and I love paint and I love fabric. I love everything that goes into the creation of the piece. That is what drives me as much as my concept. JLF: Please say more about the gun as an art tool. CVG: The gun is definitely part of the conceptual process. I don't know if this is precisely on the money, but one of the things always missing from art history classes is the artist's love of the tools. The gun is great because it's the perfect tool to make a hole in fabric or thicker things like leather.
It's [art] not always about a message; sometimes it's about
Jacque Lynn Foltyn | 79 the luscious paint, the new brush, the texture of the paper. You can see it in Lucien Freud's work. You want to taste the paint. When I asked her about her own gun art tool of choice, the answer was surprising, but also quintessential Cynthia. JLF: What do you shoot with? CVG: I participate with my .22 rifle. We call it a Barbie rifle but it's the best weapon for the Smiley Face. Noting that her rifle is actually called 'Cricket, My First Rifle,' Guest says she could have bought it 'in hot pink but that wouldn't have been tasteful or ironic. It only shoots .22s.' While enthusiastic about the 1980s project, Guest says that 'life quickly got in the way,' as she married, became a mother, and lived in the art and fashion capital cities of New York City, London, and Paris.
She shelved her shoot-it-up fashion project until the first decade of the twenty-first century when she noticed that 'logos had once again taken the fashion world by storm, but this time in even grander proportions.' To her dismay, 'WASPS, rappers, and investment bankers alike had taken to the streets' and were assailing her aesthetic sensibilities 'in a dizzying flurry of Burberry nova check, head-to-toe LV,' and 'interlocking Cs [Chanel],' and the general searching of identity and status through brands. She objected for aesthetic reasons but also because she disapproves of the growing gap between the rich and the poor, and of what the sociologist Thorstein Veblen famously called 'conspicuous consumption,' the hegemony of what the sociologist Jean Baudrillard aptly termed 'consumer society' where cynical business processes have made 'luxe' a multibillion dollar global enterprise that preys upon consumers.
13 In 2010, Guest decided to 'shoot' her own 'brand' of fashion. Arming herself with a box of .22 calibre short bullets and a stack of T-shirts, she joined forces with a crew of sharpshooters, including ex-Special Forces agents and professional fighters, and launched SHOOTMYSHIT (http://www/shootmyshit.com).
JLF: Where did you get the name SHOOTMYSHIT? CVG: I started with 'Shoot my Shirt' but realised it was better. JLF: Much better! In the popular language right now there are things, like 'don't touch my junk' and 'shoot my shit' has resonance, doesn't it? CVG: It's perfect. JLF: What you are doing has a combination of drama and humour. CVG: Exactly. It's not meant to be serious. It is mean to be funny. JLF: Yes, but it does have this undertone of larger cultural issues. You have the cowboy thing going on, the military, and the hunting...the faux hunting.
CVG: That's right. And the 'road kill.' JLF: The people pay $25, $50 & $75.
75 is to get a pre-done T-shirt. Do they get a photo of the shooter? Any information about the shooter? CVG: It depends upon whether it is a custom order; if you send me something, you get the photo of the shooter and the spent cartridge. You get a photo of your stuff getting shot.
80 | They Shoot Prada, Don't They? $25 is for a big bloom shot from a 12 gauge shotgun. You can't do more than three of those on a shot, without totally shredding it. $50 for a Smiley Face. JLF: The Beatles song: 'Happiness is a Warm Gun,' on the White Album [1968]. CVG: There you go. I had not thought of that; that's great. I felt very naughty doing the Smiley Face. Image 6: Edgy Williamsburg, Brooklyn Fashion, customised by Cynthia Vaiden Guest, © photo courtesy of Kevin Brady Guest offers her original shot T-shirt design, which has secured a fan base and become a cult favourite 'with everyone from hipsters to tough-as-nails boxers' (Image 6).
One can custom order 'your own shot up shit,' designate the weapon, 'hire' the sharpshooter of your choice from her stable of shooters, and custom order a signed photo of your own 'hired gun' shooting your item (Image 7). She views herself as a stylist and art decorator, when it comes to both meanings of 'the shoot.' SHOOTMYSHIT products definitely require a special eye for what should be shot and gives new credence to the fashion slang of 'killing a look.' Her favourite custom shoot-it-up commission so far? A Louis Vuitton briefcase, for which the owner wanted 'full treatment.' Needless to say, Guest was happy to comply.
Jacque Lynn Foltyn | 81 Image 7: Wilton Shooting Range, Guys with Vintage Machine Gun, Shredding a T-shirt. © 2011. Courtesy of Cynthia Vaiden Guest JLF: Do you have examples of someone wanting a particular brand shot? CVG: The most recent quirky shoot out was a pair of Calvin Klein underpants for Cesar Padilla of the vintage store Cherry. Also some fake and real Louis Vuitton stuff. Guest's connection to Cesar Padilla is worth elaborating on, for not only is he owner of one of the most highly rated vintage boutiques in the world that also supplies vintage clothing and accessories to films, music videos, and television shows, he and Guest share a fascination with T-shirts.
Indeed, Padilla is author of Ripped: T-Shirts from the Underground (2012), a visual history of over 200 T-shirts that were distressed and destroyed by Punk bands such as Sex Pistols and Sonic Youth.14 CVG: I have a friend who has a Goyard [bag] and he keeps getting close to having me shoot that up, but I think he's afraid I will miss and will wreck his Goyard bag.
JLF: He wants an aesthetically placed gun hole. CVG: He's waffling. He doesn't want the brand to be so obvious. It's a surprise to me how the branding thing has become so [popular]. I don't want to wear anything with a label on it. JLF: Wearing something with a gunshot also becomes a conversation piece.
82 | They Shoot Prada, Don't They? CVG: Certainly. It makes it different from anyone else's. JLF: It does customise it. Part of fashion these days is conformity and part of it is customising your look. And you can customise your look with a gunshot. I would like to talk more with you about the intersection among fashion, advertising, and branding.
You mentioned the visual onslaught of these brands. Is your project an anti-brand reaction? Are there particular brands that people want shot more than others? Like the alligator being shot out of the Izod?
CVG: That was so good! One wants those things off one's shirt if you are at all edgy. JLF: Yes, but you are still 'wearing' it. You are still wearing the brand but the logo is gone. What about the ubiquitous Louis Vuitton brown bag? CVG: That is the perfect thing to shoot up, in my opinion. I could not want that more. It's particularly worth shooting because there are so many rip-offs, counterfeit stuff. That has a certain irony for a while. 'I'm going to march around with my faux Louis Vuitton bag and nobody will know the difference. The fact that that is on the back of some very bad money issues [makes it worth being shot.] JLF: Are you more interested in shooting a fake or a real LV? CVG: Oh, no, much better to shoot a real.
JLF: The brand right now is rethinking itself because it has been bastardised by the faux bags but also because those bags have become kind of downmarket. CVG: Overexposed. JLF: People who really can't afford them, saving up their pennies to buy the real thing and walking around with their tiny wristlet or whatever, partaking of the dream, but the people who can afford the expensive ones don't really want to be associated with that. I have noticed that those bags [brown] are not in the windows anymore at local LV stores at luxury fashion centres [in San Diego, California, where I live]. The logo is all in one colour on a patent bag.
The LV becomes part of the design pattern.
CVG: Interesting. They try to have fun [Marc Jacobs was creative director of Louis Vuitton, 1997-2013]. They try to do different stuff and certainly having that Japanese guy [Takashi Murakami] do all that work was really fun. That was a great attitude. That was an expensive piece of 'labelled-ness.' JLF: Sending it up. You are sending it up further. You should offer your services. CVG: I was thinking I would offer my services to Martin Margiela or one of those types, to shoot their sale stuff to make it 'come back alive.' Because it is really worth it [as] a way to get your sale things out of the store...It's on my wish list.
I'm friends with the NYC city store manager and he's got one of my shot T-shirts, so maybe this [interview] will open his eyes.
JLF: A new way to repurpose? CVG: Exactly! I want to find a store that will give me their unsellable clothes so I can make them fabulous.
Jacque Lynn Foltyn | 83 Decades before the photographer Tyler Shields photographed then girlfriend Francesca Eastwood, the daughter of the actors Clint Eastwood and Francis Fisher, as she bit, torched, and chain-sawed a $100,000 red crocodile Hermes Birkin bag (2012), 15 the ultimate luxe accessory, Guest was riddling designer bags with bullets. Of course, such anti-luxe statements by the privileged are counterbalanced by those made by the desperately poor.
A colleague of mine Michael Ivy, Senior Lecturer in Fashion, Film, Costume Design and Make-up at the South African School of Motion Picture Medium and Live Performance (AFDA), wrote me about a trend he was witnessing in South Africa.
Oh goodness! Craziness! You will never guess [the] new thing here. Amongst very poor people (those way under breadline) they save up for expensive name brands only to get a group of onlookers together and then burn the clothing or shoe item. It is new ritual. Buying fashion to burn for entertainment. They even buy expensive cakes and drinks to burn.16 In terms of design, I would situate SHOOTMYSHIT fashion as a tongue-in-cheek example within the larger movement of deconstruction or la mode destroy. As she customises, modifies, repurposes, or outright destroys designer clothing and handbags, and T-shirts, Guest restructures, re-semantifies, and reconstructs the conventional aesthetics of fashion in a postfashion world.17 As with other deconstructionist oriented designers and artists, her work is political, redressing consumerism, corrupted values, and the conventional aesthetics of modern society.18 In the 1980s, the designers Rei Kawakubo, Yohji Yamamoto, Issey Miyake and Martin Margiela pioneered a revolution in fashion by exposing hemlines, frayed seams, and turning garments inside out.
More dramatically and for the purposes of this article, deconstructionists changed the very materials of fashion, through processes one associates with dereliction.19 For example, in 1993, Hussein Chalayan buried fabric with iron filings, dug it up after six weeks, and then made clothing with the fabric, which had taken on a rich goldenbrown patina.20 In the 1997 exhibition of his designs at the Museum Boijmans Van Beuningen in Rotterdam, the Netherlands, the fashion designer Martin Margiela saturated assorted white clothing with growing medium agar and sprayed it 'with green mould, pink yeast or fuchsia or yellow bacteria, and housed in specially constructed greenhouses' for four days while 'moulds and bacteria grew on the clothes.'21 Guest uses the gun as an art tool and the resulting bullet holes and powder burns in her designs.
Paradoxically, she operates within the same framework of the luxe fashion brands she shoots by replacing them with an anti-brand or 'cooler' brand, creating new authenticity, uniqueness, and provenance for the shot item, a fact of which she is humorously aware. Her own brand of deconstructive fashion thus recommodifies the fashion object as anti-fashion but remains fashion by defining itself in relation to what it is not. Guest's shoot-it-up fashion has resonance with the theatrical 1970s Punk music, dance, and fashion and ideological subculture/counterculture but she makes clear that she 'would never follow a movement, just borrow from it.' Punks famously destroyed the clothing they wore, ripping, shredding, tearing, painting, and safety-pinning it as part of their aesthetic, which cultural critics have interpreted as symbols of anarchy, anger and urban decay.
Fashion designers like Zandra Rhodes later made Punk-influenced fashion mainstream, providing it with economic value for non-Punk fashion industrialists.22 Guest's shot fashion designs reference the original intentions of the Punks. Her aesthetically placed bullet hole becomes a perfect metaphor for her symbolic militant activism as she hacks, culture jams, and refigures the logos she despises, ridiculing the consumerism, conformity, and class biases behind them, replacing what is 'cool' with a new cool.23
84 | They Shoot Prada, Don't They? Destroyed fashion probably has earlier origins with subcultures who were making their own political statements, for example the 'outlaw' bikers who wore their leather and jeans conspicuously distressed like Marlon Brando in The Wild One (1953).24 And then there are the patched jeans that came out of the Haight-Ashbury hippie San Francisco scene, which was also biker territory then. These subculture and counterculture groups existed well before Punk style, destroyed fashion, and culture jamming were on the radar.25 As with the co-optation of the Punk style by the fashion-industrial complex, the biker and hippie aesthetics have gone luxe.
In July 2014, dozens of designers were offering jeans with strategically placed tears, holes, and paint splotches for $200 or more. At the Shopbob website, I found the following distressed denim prices: True Religion ($358), Stella McCartney ($375), R13 ($595), and DSQUARED2 ($690).26 At Bergdorf Goodman, the prices climbed higher with Saint Laurent offering a pair of 'Distressed Skinny 5-Pocked Jeans' for $890. 27 These were paired with a $19,990 fox fur vest resembling road kill that I imagine Guest would like to take to the shooting range. 28 In the course of our talks, I asked Guest what she makes of such 'destroyed' designer fashions becoming luxe.
CVG: Make it luxe by ripping it up might be a different class interpretation of the upper class way of dressing – soleless topsiders, jackets and shirts with holes, nothing matching. I think my personal version is more of a FU to that class thing, as well as the sheep-like following for branded items. And definitely makes it unique - too much selfconsciousness out there. JLF: Designers like Margiela and Chalayan work on the conceptual level, and aren't 'slumming.' Your work could be appealing to them. Making statements too about things like gun violence and war. It does not have to hit you over the head.
CVG: I would hope so. People need to be a little more open-minded. It's a part of life. People are upset about shooting the deer and eating it. But they don't mind going to the market and buying the dead chicken. I feel like it is one of those issues. It is a fact of life; things must die for you to live. JLF: So how does wearing a T-shirt with gunshots evoke that for you? CVG: You are not afraid of it. You are not afraid of the topic. You are not afraid of the connection. You don't have fear. You are not willing to trivialise it because you know what it is.
JLF: So these thoughts are informing your creative process.
Others might not get that. Are there other ways you can destroy? You could put a knife through something. What is it about a gun? CVG: The beauty of the gun is that it is completely its own machine. People ask me if I ...will take 'this' to China [to mass manufacture faux 'shot' fashions]. And no, I wouldn't, because why would I? The gun is perfect. It 'manufactures' exactly what you want to do it and if I suddenly had a process that 'faked' the gunshot then it would lose everything. The whole thing must be as it is [authentic]. I have thought about the next thing. Somebody said, 'why don't you do paintball,' but that's not sexy or fun.
I was thinking that maybe I would blow stuff up.
JLF: It would be harder to wear it. The powder burn seems critical in your designs.
Jacque Lynn Foltyn | 85 CVG: There are a lot of people who say, can you shoot my ex-husband's stuff and don't need to send it back but I just want a video [Laugh]. JLF: I was looking at the photo you took of Derrick Utopic, lead guitarist for the heavy metal, punk group UTOPIC. I write about art and death imagery and wearing a T-shirt that is bullet ridden does bring up thoughts about death, as if the person himself has been shot and the shirt is forensic evidence (Image 8).
CVG: I think it makes the shirt edgier, and Derrick looks tougher and more mysterious. The SHOOTMYSHIT merchandise is never supposed to represent death, that's why there's no blood and gore. The shots are ornamentation in a bad ass way.
Image 8: Derrick from UTOPIC Wearing Shot Up Punisher Shirt. © 2012. Courtesy of Cynthia Vaiden Guest29 Guest and I talk at length about the process by which her clients find her website and make arrangements to commission or purchase shot fashion items. She mentions the website image of 'the road kill vest on the target and the guy shooting it' as an advertising pitch. 'Because I know what I am doing photographically, I make it a strong image, not just a snapshot.' I then ask her what would be an unacceptable commission and who exactly her clients are.
86 | They Shoot Prada, Don't They? CVG: I have never killed anything.
I would not accept someone sending me something to kill. That would not be okay. JLF: Thank you. Would you shoot a real fur coat? CVG: Happily! I'll do anything! JLF: Who are the people who tend to buy your shot products? Why do they? CVG: That was another big surprise to me. They could do exactly what I am doing in a much more efficient way. They can shoot their own shit, as it were, but they like my little brand, they like me, they like the spirit of it, they like the website so they are willing to pay for that. It's very flattering.
JLF: Are your customers generally people who don't use guns? CVG: Yes, it's exotic for them. I had a middle-aged woman from Hartford Connecticut send me three shirts to shoot. I tend to think that the people who are attracted to it are not worried about it. JLF: They are not thinking they are glorifying gun violence? CVG: No, and that is an issue. Obviously one thinks about that. It makes such a great fashion statement that you have to just pass along. JLF: Fashion is also about novelty and takes different elements of our culture and puts them together in an interesting way. There is an empire of fashion that drives consumer culture.
There's a fascination with fashion, brands, guns and violence and you are combining these. CVG: It is very attractive.
JLF: The aesthetically placed bullet hole and power burn. Cigarette burns can have that almost gunshot look. CVG: Less attractive. JLF: Definitely less attractive. CVG: Part of my fascination with this is the self-containment of the gun. Create a machine to do it. You don't have to hire a machine to do it or the gun already exists as a perfect machine for this. JLF: Not mass produced product. You are customising fashion with this perfect machine. Guns have their individual imprints...forensics. CVG: With one of the cartridges I use with a 12 gauge, you can see a four leaf clover shape. The load can go through and do a bit of that but because it is a big load it tends to make a big hole.
It's not so distinct. That's part of my experimentation. To see what is around and how it does it. In order to get the powder burn you have to get fairly close. JLF: What are your favourite guns?
CVG: So far the Luger [German automatic pistol] is great for the .22. JLF: The Luger—that is another cultural icon! CVG: Exactly! It's pretty darn exciting. I have not yet used a Glock. JLF: I know these names and I don't even know what they look like! CVG: I love the 12 gauge. That is great. It really fires big blasts if you want it to. JLF: Any particular gun manufacturer? CVG: I'm too ignorant to know that. I'll have to ask one of my weapons experts. The AK-47. It's classic.
Jacque Lynn Foltyn | 87 4. The Shooters and a Fashion for the Military As Guest and I talked, the subject of the actual shooters, many of whom are veterans of war, who customise and repurpose the items Guest is entrusted to have shot, was a prominent theme.
JLF: You note that your designs are 'shot by weapons experts.' How did you come up with that idea of having weapons experts shoot the shit? CVG: I know some. It's better because then I can expand my world of weapons to you. Smiley Face is [from] a .22 short, out of a little rifle. The ones at the bottom of the [web] page, that are big, are from a 12 gauge [shotgun], with a very big cartridge (Image 9, atmospheric portrait). You have to be careful because some of them will just shred it into nothing. It's an experiment, anyway, just start to see which weapons and objects intersect.
Image 9: Carlos in Shirt Shot with 12 Gauge Rifle. ©2011. Courtesy of Cynthia Vaiden Guest
88 | They Shoot Prada, Don't They? JLF: Who does most of the shooting? CVG: I can do it with my little rifle but I've found all sorts of entertaining guys at gun ranges willing to shoot a T-shirt. It may be the best way to meet men from all walks of life. In the 1980s I got a friend with a Luger to shoot them. You need the small calibre [.22] in order to control the size of the hole and get a smidge of powder. And enable an accurate close range shot. I have two special ops guys I can ask.
Would love to team up with a SEAL [US Navy's Sea, Air, Land teams].
JLF: Do they do it for free? Just for the joy of it? CVG: Yes, lol, more for the joke of it. All of them think I'm crazy. Guest also talked in detail about how she recruits her shooters and their diversity. Businessmen, college kids, hunters, hipsters, Boy Scout leaders, ex-Marines and FBI agents have all shot for her. One of the most enjoyable places for her to recruit is the counter of Cabela's, the specialty retailer of hunting, fishing, camping, shooting, and related outdoor recreation merchandise. 'There is also some great fashion there,' Guest explains as we take an aside into ghillie suits, camouflage that makes a hunter or warrior look like a moving haystack or pile of weeds.
CVG: I find from my end that it is fun and I love the people I am meeting. One of the things I found very interesting about it is that when I recruit somebody spontaneously at the shooting range, the people under thirty, they don't care if I pay them. They enjoy doing it and what they really are excited about is that they get to be mentioned. JLF: The fame factors...the Warhol proverbial 15 minutes! Their pictures might go up on the website. CVG: Exactly. That is thrilling to them. Somehow that particular personality, which is very much under thirty, combined with their love of brands, and [anti] brand reaction.
JLF: Love of brands, love of consumption, and love of fame. They all go together. And celebrity. CVG: They all go together. JLF: It's like a mini-reality show. A subsection of shooters is particularly attractive to Guest and her clients, the weapon's expert, men like Carlos, a former Army Ranger, Special Operations, 7th Group, Fort Bragg North Carolina (Images 9 & 10). We spoke about her recruitment of warriors for her project. JLF: That goes along with the glorification of violence, the warrior. Just the fact that it is not an ordinary person shooting. It's an expert doing the shooting. Can you talk about that?
CVG: They are heroes in a way. One of them is ex-Special Forces. He's done really remarkable stuff that he can't talk about much. My father was a sharpshooter in the Marines and in the war in Japan, so I did grow up with a sense of fear and a sense of respect about this that I think is very important. JLF: Can you talk more about fear and its relation to guns?
Jacque Lynn Foltyn | 89 CVG: This is really important to me: In my life if I have fear, I want to understand it so I can make the fear proportional. With guns, if you know about them and how to use them, and know how powerful they are, you respect them.
Your fear is different from just a general fear that is created by movies. It was something I thought was very scary when I saw it on TV but when I went in person and learned about it I discovered that it was much more complicated, much more interesting and less dangerous than it appeared to be. The people who do it know what they are doing. There's a training. It's kind of like being a cowboy in a rodeo.
In May 2014 in New York City, Guest informed me that her father was not only a lauded sharpshooter in the Marines during World War II but a POW. This fascinating piece of her personal story led to more discussion about the gun as an art tool, violence, masculinity, and further insights regarding the origins of the SHOOTMYSHIT project. Image 10: Carlos in Uniform. ©2012. Courtesy of Cynthia Vaiden Guest
90 | They Shoot Prada, Don't They? JLF: Can you elaborate on your father's military record during World War II and how that may have influenced your relationship with guns? CVG: He was captured in the Philippines, spent a year in prison camp there; then [he] was sent on a death ship to work in the Mitsubishi mines in Northern Japan for two years.
He came home weighing ninety pounds. My father's war record is part of my attraction to violence. It's a way of aestheticizing violence by turning it into something else.' JLF: Looking at your photographs of men, I see their muscular arms, etc. I'm not making any conclusions about it but I think it is interesting, the look of your shooters. How did you select them? Do you have any people with big bellies? Are they volunteers?
CVG: I ask them and they do it. On the website there is a trio of three guys. I met them at the shooting range and they had a machine gun so I asked them if they wanted to shoot, and they said, 'absolutely.' They strafed [attack repeatedly] my faux fur vest. It was great because it looks like road kill. Actually, this is one of the most fun moments because I was outdoors at the shooting range with that vest on a target form. There were probably fifty people there. It was a good cold winter afternoon with sunlight and people were enthusiastic about being out there doing their shooting and when they saw the horribly ugly road kill vest go up on the target I assure you they all stopped and stared at it and spent five minutes making fun of it.
They were saying things like 'you have to kill it again, because it's pretty dead already.' JLF: It was literally dead 'dead' because it was faux fur. CVG: It was hilarious, watching these guys be completely amused by the fact that we were shooting this vest up.
We speak of the cult of masculinity, the bestselling 1984 memoir by the poet and feminist Rosemary Daniell, Sleeping with Soldiers: In Search of the Macho Man, an exploration of the sexual attraction some independent women feel to men 'who live dangerously, who are frankly and naturally masculine.'30 We also speak of the vogue for the military and military fashion, and how these relate to her project. CVG: Shooting is a world of high testosterone and I just kind of like the gun thing. What I found is that it is filled with a lot of very kind people, which is what you don't expect. It's intriguing and that's what is interesting about working with people at shooting ranges.
It's completely a cross section. When you go to the gun counter at Cabela's giant sporting goods store, it is probably fifty feet long and there are guys in hunting outfits, there are guys in suits, and there's a couple of women, and there will be hipsters and then there will be some 'ghetto-y' looking people. It is so diverse. That was a big surprise. The press tries to make you think that it is this weird group of people but every time I go out, it is just everybody. It's like going golfing.
JLF: On your website, some prize fighters are doing the shooting, too. You have a double whammy there.
Jacque Lynn Foltyn | 91 CVG: Well [laughing], they tend to come out of the military, these guys, so they have learned that stuff. I started knowing my Special Forces guy through the boxing. JLF: Do you have any thoughts about being a woman in charge of a bunch of men who are shooting for you? CVG: The image that jumped into my mind was Barbara Stanwyck in The Big Valley (1965-1969 television Western series]. But I love being around guys doing basic things – I love the skill, the knowledge of the equipment, the finesse.
And I feel all womanly yet capable (Slim Keith?).31 The reason I love NYC is that everyone here is the best at what they do or are seeking to be the best. So I get to hang out with some pretty swell guys.
We speak of the current respect for the military in the United States, so unlike the Vietnam War era when returning veterans from this unpopular, hugely opposed war, which the USA 'lost,' were often treated with disrespect, and the military and hunting fashion looks, associated with firearms.32 JLF: Right now and every number of years there is a military look in fashion, and your work coordinates with that in some ways, as an ironic statement that you can wear something that has not only been shot but shot by military people. I'm wondering what your thoughts are about hunting and military fashion and about the way you have created a military fashion, literally.
CVG: Didn't Yves Saint Laurent do a safari look? That evokes guns. JLF: Ralph Lauren always does a safari look. Military fashion is in vogue right now and you are having former military personnel create a new kind of military fashion. And we are also involved in several wars in the world right now. What you are doing is timely. CVG: One of the reasons it captures the imagination is there is no draft. The people who have gone to the war have volunteered to be there and therefore they don't make up that strand that would go through every family in the US [if there were a draft]. It's a very specific group of people.
They are highly trained and want to be doing what they are doing. You might not know a single person like that; that is part of the fascination, particularly here in the Northeast [where she lives and does the shooting]. There are so many intellectuals and high creativity going on that is mind-oriented, not necessarily body-oriented. You can ask people and they won't know anybody who is serving. They don't have a clue. This plays on that desire to know, to be connected to it, even if it is in an ironic fashion.
JLF: The photographs you show have very particular images of manhood. CVG: I did some of myself but I'm worried about my own particular glamour factor [laughing]. JLF: Somehow we associate guns more with men. CVG: It wasn't that. I actually have two women who want to be part of it but I haven't been able to take them out to shoot. There are women shooters but there are fewer of them. I did not want to quiet it down