Watches & Jewelry 2pm, Sunday, October 14, 2018
Page content transcription ( If your browser does not render page correctly, please read the page content below )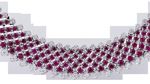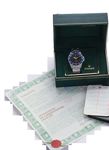 WATCHES & JEWELRY




             PREVIEW

   10 AM - 7 PM, OCTOBER 5 - 12

    10 AM - 2 PM, OCTOBER 13



             AUCTION

           2 PM, SUNDAY

        OCTOBER 14, 2018




                 VENUE
              Finale Art File
 Warehouse 17, La Fuerza Compound
2241 Chino Roces Avenue, Makati City
           t. (632) 813.2310
     e. info@finaleauctions.com
        www.finaleartfile.com


                                       3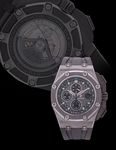 1                                             2                                             3                                          4                                             5                                             6

ROLEX                                         ROLEX                                         ROLEX                                      CARTIER                                       CARTIER                                       JAEGER LeCOULTRE
AIR KING "DOMINO'S PIZZA",                    OYSTER PERPETUAL, REF. 116000,                LADIES CELLINI REF. 61109,                 PASHA CHRONOGRAPH, REF. 2412                  ROADSTER XL CHRONOGRAPH,                      REVERSO GRAN SPORT, REF. 290.8.60,
REF. 14000M SERIAL NO K148XXX,                SERIAL NO. V274XXX, CIRCA 2012                SERIAL NO. A995XXX, CIRCA 1999                                                           REF. 2618                                     CIRCA 2000
CIRCA 2001                                                                                                                             Movement: Automatic, self-winding
                                              Movement: Automatic, self-winding             Movement: Quartz                           chronograph                                   Movement: Automatic, self-winding             Movement: Automatic, self-winding
Movement: Automatic, self-winding             Dial: Black and orange dial with Arabic       Dial: White dial with applied white gold   Dial: White dial with applied luminous        chronograph                                   Dial: Black dial with luminous applied
Dial: Silver dial with applied steel hour-    numeral hour markers and luminous             Arabic numeral hour markers, baton         blue hands and round hour markers, 3          Dial: Black dial with applied luminous        index and Arabic numeral hour markers,
markers and luminous hands, sweep             hands, central sweep seconds                  hands                                      sub-dials indicating seconds, minutes, 1/10   Roman numeral hour-markers and baton          applied luminous hands, aperture
center seconds                                Case: Stainless steel, 36mm                   Case: 18K white gold, 24 mm                second, aperture indicating date, central     hands, three sub-dials indicating seconds,    indicating date, central sweep seconds
Case: Stainless steel, 34mm                   Bracelet: Stainless steel Rolex Oyster with   Bracelet: Leather strap with pin buckle    chronograph hand                              minutes, hours, magnified d te, central       Case: Stainless steel, reversible dial,
Bracelet: Stainless steel Rolex Oyster with   folding clasp                                                                            Case: Stainless steel, 36mm                   chronograph hand                              25 x 43mm
folding clasp                                                                               Accompanied by papers.                     Bracelet: Stainless steel with hidden clasp   Case: Stainless steel, 40mm                   Bracelet: Stainless steel, folding clasp
                                              Accompanied by presentation box and                                                                                                    Bracelet: Stainless steel with hidden clasp
Accompanied by papers. This example is        papers.                                       PHP 140,000 – 160,000                      PHP 100,000 – 130,000                                                                       Accompanied by presentation box and
in mint condition.                                                                                                                                                                   PHP 160,000 – 200,000                         papers.
                                              PHP 180,000 – 200,000
PHP 120,000 – 200,000                                                                                                                                                                                                              PHP 150,000 – 200,000




4                                                                                                                                                                                                                                                                             5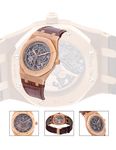 7

                                               ROLEX
                                               COSMOGRAPH DAYTONA, REF. 16523,
                                               SERIAL NO. W784XXX, CIRCA 1995

                                               Movement: Automatic, self-winding
                                               chronograph by Zenith
                                               Dial: Stainless steel and yellow gold
                                               two-tone dial with applied yellow gold
                                               luminous index hour-markers and hands,
                                               3 sub-dials indicating seconds, minutes,
                                               hours, central chronograph hand
                                               Case: Stainless steel and 18K yellow gold
                                               tachymeter, 40mm
                                               Bracelet: Stainless steel and 18K yellow
                                               gold Rolex Oyster with Oysterlock clasp

                                               PHP 600,000 – 700,000




    8                                                                                      9                                           10                                       11

    ROLEX                                                                                  ROLEX                                       ROLEX                                    ROLEX
    COSMOGRAPH DAYTONA, REF. 16518,                                                        SUBMARINER, REF. 16618, SERIAL NO.          YACHT-MASTER, REF. 16628,                GMT-MASTER II REF. 116718,
    SERIAL NO. X289XXX , CIRCA 1991                                                        N436XXX, CIRCA 1991                         SERIAL NO. S566XXX, CIRCA 1993           SERIAL NO. Z294XXX

    Movement: Automatic, self-winding                                                      Movement: Automatic, self-winding           Movement: Automatic, self-winding        Movement: Automatic, self-winding
    chronograph by Zenith                                                                  Dial: Blue sunburst dial with applied       Dial: White dial with black triangle,    Dial: Black dial with applied luminous
    Dial: White two-tone dial with applied                                                 luminous triangle, dot, baton markers,      dot, baton markers, luminous Mercedes    triangle, dot, baton markers, luminous
    yellow gold Arabic numeral hour-markers                                                luminous Mercedes hands, sweep center       hands, sweep center seconds, magnified   Mercedes hands, sweep center seconds,
    and luminous yellow gold hands, three                                                  seconds, magnified d te                     date                                     green 24-hour GMT hand, magnified d te
    sub-dials indicating seconds, hours,                                                   Case: 18K yellow gold, blue and gold uni-   Case: 18K yellow gold, bi-directional    Case: 18K yellow gold, bi-directional
    minutes, central chronograph hand                                                      directional rotating bezel, 40mm            rotating time lapse bezel, 40 mm         rotating ceramic bezel, 40 mm
    Case: 18K yellow gold with tachymeter                                                  Bracelet: 18K yellow gold Oyster Rolex      Bracelet: 18K yellow gold Oyster Rolex   Bracelet: 18K yellow gold Rolex Oyster
    bezel, 40mm                                                                            bracelet                                    bracelet                                 bracelet
    Bracelet: Matte black leather strap with
    18K yellow gold deployant buckle                                                       PHP 750,000 – 900,000                       PHP 600,000 – 700,000                    PHP 800,000 – 1,000,000

    This example is in mint condition.

    PHP 700,000 – 900,000




6                                                                                                                                                                                                                        7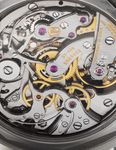 12

    ROLEX
    A COLLECTIBLE AND VERY RARE COSMOGRAPH
    DAYTONA, REF. 16520, A-SERIES SERIAL NO. A852XXX ,
    CIRCA 2000

    Movement: Automatic, self-winding chronograph by
    Zenith
    Dial: White dial with applied luminous index hour-markers
    and luminous hands, three sub-dials indicating seconds,
    hours, minutes, central chronograph hand
    Case: Stainless steel, tachymeter bezel, 40mm
    Bracelet: Stainless steel Rolex Oyster with folding clasp

    Accompanied by presentation box, papers, calendar and
    tags.

    This New Old Stock (NOS) Daytona Ref. 16520 is a coveted
    A-series variant with solid end links and grained lugs with
    a white dial. This was produced in 2000 as the last full
    series before transitioning to the Ref. 116520 which housed
    an in-house movement of Rolex. This example is in superb
    condition and is a must have for any collector.

    PHP 1,500,000 – 1,800,000




                                                                  13

                                                                  PATEK PHILIPPE
                                                                  A VERY DESIRABLE AND ATTRACTIVE NAUTILUS,
                                                                  REF. 5712/1A-001, CIRCA 2009

                                                                  Movement: Automatic, self-winding. Movement No.
                                                                  5513460/4489620
                                                                  Dial: Black-blue dial with applied gold luminous hands
                                                                  and baton hour markers, power reserve indicator, 2
                                                                  sub-dials indicating moon phases, calendar, seconds
                                                                  Case: Stainless steel, display case back, 40mm
                                                                  Bracelet: Stainless steel with folding clasp

                                                                  Accompanied by presentation box and certific te.

                                                                  The Gerald Genta-designed Patek Philippe Nautilus
                                                                  continues to be one of Patek Philippe's most iconic
                                                                  and identifiable designs

                                                                  PHP 2,500,000 – 2,800,000


8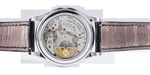 15

                                                                                                              ROLEX

                                                                                                              A RARE VINTAGE GMT-MASTER
                                                                                                              TROPICAL DIAL AND BEZEL REF. 1675,
                                                                                                              SERIAL NO. 1303XXX, CIRCA 1966


                                                                                                              Movement: Automatic, self-winding
                                                                                                              Dial: Gilt tropical dial with applied
                                                                                                              luminous triangle, dot, baton markers,
                                                                                                              luminous Mercedes hands, sweep center
                                                                                                              seconds, 24-hour red narrow GMT hand,
                                                                                                              magnified date
                                                                                                              Case: Stainless steel, bi-directional rotating
                                                                                                              tropical bezel, acrylic crystal, 40mm
                                                                                                              Bracelet: Stainless steel riveted
                                                                                                              expandable Rolex Oyster bracelet and
                                                                                                              folding clasp

                                                                                                              A beautifully aged tropical gilt dial and
                                                                                                              tropical bezel combine to form this
                                                                                                              incredibly collectible example.

                                                                                                              PHP 800,000 – 1,000,000




                                                            16

                                                            ROLEX

                                                            A RARE AND COLLECTIBLE EARLY VINTAGE
                                                            GMT-MASTER "PEPSI" GILT TROPICAL DIAL
                                                            REF. 1675, SERIAL NO. 696XXX, CIRCA 1961

     14                                                     Movement: Automatic, self-winding
                                                            Dial: Tropical Gilt dial with applied luminous
                                                            triangle, dot, baton markers, luminous
     PATEK PHILIPPE                                         Mercedes hands, sweep center
                                                            seconds, 24-hour GMT hand, magnified date
                                                            Case: Stainless steel, bi-directional rotating
     AN ELEGANT AND FINE PERPETUAL CALENDAR,                "Pepsi" bezel, acrylic crystal, 40mm
     REF. 5140G-001, CIRCA 2007                             Bracelet: Aftermarket leather strap

     Movement: Automatic, self-winding.                     This GMT-Master features beautifully aged
     movement No. 3129518/4354846                           gilt details on a coveted faded tropical dial.
     Dial: Silver opaline dial with applied white gold      Its serial number indicates one of the earliest
     baton hour markers and dauphine hands, three           releases in this model range.
     sub-dials indicating month, day, date, leap year,
     moon phases                                            PHP 1,200,000 – 1,500,000
     Case: 18K white gold, display case back, 37mm
     Bracelet: Shiny black crocodile leather with classic
     deployant buckle

     Accompanied by presentation box and papers.
     Certificate without name.

     PHP 2,200,000 – 2,600,000


10                                                                                                                                                             11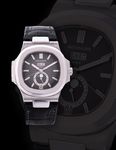 The Rolex GMT-Master Ref. 1675 is consid ered to be
                                                                    an extremely important part of Rolex's history, with
                                                                    numerous    valuable   variations   making   themselves
                                                                    known to this day. One of the most mythical, and highly-
                                                                    prized GMT-Master Ref. 1675 variations is nicknamed
                                                                    "Blueberry", an exceptionally rare variant with only
                                                                    about 500 examples known to exist. Its origins continue
                                                                    to be shroud ed in mystery, with experts speculating
                                                                    that these watches were a special ord er by a retailer
All-red GMT hand                     Matching patina on hands and
                                     lumes                          or the French or UAE military in the 1970s. Adding to
                                                                    the rarity of this example is the inclusion of an all-red
                                                                    GMT hand, with perfectly-aged patina on the dial and
                                                                    luminescent hand s, and     an exceptionally-preserved
                                                                    bezel insert. Further cementing its value to collectors
                                                                    is the inclusion of its complete set, accompanied by its
                                                                    presentation box and original papers, together with the
                                                                    original wallet and calendar.




Perfectly preserved bezel




17

ROLEX
VINTAGE GMT-MASTER "BLUEBERRY" REF. 1675, CIRCA 1978

Movement: Automatic, self-winding
Dial: Black with applied luminous triangle, dot,
baton markers, luminous Mercedes hands, sweep center
seconds, red 24-hour hand, magnified d te
Case: Stainless steel, bi-directional rotating blue bezel, 40 mm
Bracelet: Stainless Rolex Oyster bracelet

Accompanied by presentation box and papers, original wallet
and calendar.

PHP 1,800,000 – 2,200,000




12                                                                                                                              13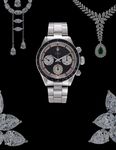 PATEK PHILIPPE
                                                                                                                                       PERPETUAL CALENDAR CHRONOGRAPH
                                                                                                                                                           REF. 5271P-001




18                                           19                                           20

ROLEX                                        ROLEX                                        ROLEX
DAY DATE, ROSE GOLD REF. 118235,             VINTAGE OYSTER DATE REF. 1503,               A COLLECTIBLE VINTAGE DAY-DATE
SERIAL NO. K385XXX. CIRCA 2000               SERIAL NO. 2411XXX, CIRCA 1970               REF. 1803

Movement: Automatic, self-winding            Movement: Automatic, self-winding            Movement: Automatic, self-winding
Dial: Pink sunburst dial with applied rose   Dial: Champagne dial with applied gold       Dial: Black with applied 18K yellow
gold Roman numeral hour-markers and          baton hour-markers and luminescent           gold luminous index hour-markers and
hands, aperture for day, magnified d te,     hands, magnified d te, sweep center          luminous hands, aperture for day in
sweep center seconds                         seconds                                      Spanish, magnified d te, sweep center
Case: Rose gold, flu ed bezel, 36mm          Case: 14K yellow gold with yellow gold       seconds
Bracelet: Rose gold Rolex President          flu ed bezel, acrylic crystal, 36mm          Case: 18K yellow gold with flu ed bezel,
bracelet                                     Bracelet: 14K yellow gold jubilee bracelet   acrylic crystal, 36mm
                                             with clasp                                   Bracelet: 18K yellow gold President
PHP 780,000 – 880,000                                                                     bracelet
                                             The bracelet is marked "14 KT U.S.A".
                                                                                          This example is in excellent condition and
                                             PHP 420,000 – 520,000                        is period correct.

                                                                                          PHP 800,000 – 1,000,000




14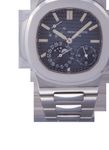 The watch comes with an alligator strap with square scales, hand-      At its core lies the CH 29-535 PS Q caliber, a manual wind ing
                                                                                                                                              stitched and polished black to match the rest of the aesthetic.        chronograph with a center hand and instantaneous 30-minute
                                                                                                                                              The watch also includ es a fold -over platinum d eployant clasp        counter in ad d ition to its perpetual calend ar and moonphase
21
                                                                                                                                              with its own set of 22 baguette diamonds, each measuring ~0.97         functions. It's Patek Philippe's fir t in-house perpetual calend ar
                                                                                                                                              carats each.                                                           chronograph movement, with 456 parts and 33 jewels sitting
PATEK PHILIPPE                                                                                                                                                                                                       alongside a Gyromax balance and Breguet balance spring. Patek
                                                                                                                                              Made for Movement                                                      Philippe's patented gear tooth profile also makes an appearance
AN ATRACTIVE AND VERY RARE GRAND                                                                                                                                                                                     within the CH29-535 movement, slightly inclined in one direction
COMPLICATION PERPETUAL CALENDAR                                                                                                               Since this is a Patek Philippe Perpetual Calend ar timepiece, it       to remove the common hand jump when engaging or disengaging
AND CHRONOGRAPH SET WITH
DIAMONDS, REF. 5271P-001                                                                                                                      comes with the design hallmarks of the mechanism. This includes        the chronograph. These gorgeous d etails and more can be
                                                                                                                                              twin aperture wind ows at the 12 o'clock position that d isplay        viewed through the rear sapphire window. With the chronograph
Movement: Mechanical, hand-winding                                                                                                            d ay and month, and , in a fir t for perpetual chronographs with       disengaged, the 5271P has a top limit of 65 hours.
chronograph                                                                                                                                   colored dials, feature black backgrounds to match the rest of the
Dial: Black lacquered dial with applied gold
baton hour markers, baguette diamond                                                                                                          dial. This dial itself is a deep, lacquered black, with applied gold   A Future Collectible
at 12 o'clock, 3 sub-dials indicating hours,                                                                                                  hour markers and a baguette diamond at the 12 o'clock marker.
minutes, moon phases, calendar, apertures                                                                                                                                                                            Like most storied Patek Philippe references, the 5271P-001
indicating day, month, leap year, day and                                                                                                     A 2-level tachymeter scale is inscribed into the outer edge of the     command s a stable value that is expected to only increase in
night, central chronograph hand
Case: Platinum, bezel and lugs set with 58                                                                                                    5271P's dial and includes a few nice touches. First is the removal     the future. The ad d ition of exclusive d etails like the matching
baguette diamonds (~3.63 ct), display case                                                                                                    of the "d ouble-chin" caused by the moonphase sub-d ial's d ip         aperture backgrounds, lauded in-house chronograph movement,
back, 41mm                                                                                                                                    into the scale at 6 o'clock that mad e an appearance on earlier        and sizable complement of baguette diamonds further add to its
Bracelet: Shiny black hand-stitched                                                                                                           reference 5270 d ials; instead the overlap is cleanly d elineated      striking appeal. The 5271P-001 will be right at home as the shining
alligator strap, Calatrava folding clasp set
with 22 baguette diamonds (~0.97ct)                                                                                                           with no warping of the design. Next is the addition of an inner ring   spotlight of any Patek Philippe enthusiast's ensemble.
                                                                                                                                              with 0-60 markers, recalling touches from classic chronograph
Accompanied by presentation box and                                                                                                           designs found in references such as the 5970 and 2499.
Archive Papers (on process).

PHP 8,000,000 – 10,000,000




One look at the Patek Philippe Perpetual Calendar Chronograph Ref. 5271P-001 is all it takes to know that this is a serious timepiece for
serious collectors. Both its features and facade showcase the exceptional craftsmanship and desirabilty of the house's watches, with the
5271P upping the ante even more for Patek Philippe connoisseurs. From its unique in-house perpetual calendar chronograph complication
to its exceptionally bold design statements in black, platinum, and diamond, the 5271P-001 is clearly not just for show. It's an impressive
piece fit o be the centerpiece of any collection.


Details That Demand Attention


Undoubtedly the fir t thing to catch one's eye with the 5271P is its glimmering collection of 58 baguette diamonds (~3.63 carats each), 38
of which are spaced evenly into the bezel with the rest accenting each of the 4 lugs. They grab your attention and draw your eye to the
contrasting platinum case and black dial, the latter of which positions a number of timekeeping details within its 41 mm diameter without
compromising its efficient legibili .




16                                                                                                                                                                                                                                                                                    17
22

PATEK PHILIPPE
A VERY FINE ANNUAL CALENDAR
MOONPHASE, REF. 5146J-001, CIRCA 2009

Movement: Automatic, self-winding,
Movement No. 3803035/4404622
Dial: Cream lacquered dial with applied
gold baton hour markers and numerals,
luminous hands, power reserve indicator,
3 sub-dials indicating month, day, moon
phases, aperture indicating date, central
sweep seconds
Case: 18K yellow gold, display case back,
39mm
Bracelet: Matte brown crocodile leather,
classic 18K yellow gold pin buckle

Accompanied by presentation box and
papers.

PHP 1,300,000 – 1,500,000




                                            23

                                            PATEK PHILIPPE
                                            A DESIRABLE NAUTILUS ANNUAL
                                            CALENDAR, REF. 5726A-001

                                            Movement: Automatic, self-winding
                                            Dial: Black dial with applied luminous
                                            hands and baton hour markers, day, date,
                                            month in apertures, sub-dial indicating
                                            moon phases, 24-hour indication, sweep
                                            center seconds
                                            Case: Stainless steel, display case back,
                                            40.5mm
                                            Bracelet: Matte black, hand-stitched
                                            alligator strap leather with folding clasp

                                            The importance of Gerald Genta's iconic
                                            design combined with Patek Philippe's
                                            renowned Annual Calendar complication
                                            is reflec ed in this collectible timepiece.
                                            This example is in brand new condition and
                                            appears to be hardly worn.

                                            PHP 1,750,000 – 2,000,000
24                                             25                                          26                                            27                                          28                                          29

GRAND SEIKO                                    GRAND SEIKO                                 JAEGER LeCOULTRE                              CARTIER                                     HUBLOT                                      HUBLOT
SPORT CHRONOGRAPH, REF. SBGC003,               SPORT DIVER'S WATCH, REF. SBGA031G,         MASTER COMPRESSOR DIVING                      A LARGE SANTOS 100, REF. 2792               A LARGE LIMITED EDITION KING                A LARGE BIG BANG UNICO CARBON
CIRCA 2014                                     CIRCA 2016                                  CHRONOGRAPH & GMT, REF. 186T770,                                                          POWER UNICO CHRONOGRAPH,                    REF. 411.QX.1170.RX
                                                                                           CIRCA 2011                                    Movement: Automatic, self-winding           REF. 701.0X.0180.RX, CIRCA 2011,
Movement: Automatic, Spring Drive              Movement: Automatic, Spring Drive                                                         Dial: Black dial with applied rose gold     WATCH 150 OF 500                            Movement: Automatic, self-winding
chronograph                                    Dial: Black dial with applied luminous      Movement: Automatic, self-winding             Roman numeral hour-markers, applied                                                     chronograph
Dial: Black dial with applied baton hour-      round hour-markers and luminous hands,      chronograph                                   rose gold hands, central sweep seconds      Movement: Automatic, self-winding           Dial: Grey skeleton dial with applied
markers and dauphine hands, 3 sub-dials        power reserve indicator, date in aperture   Dial: Black dial with applied luminous        Case: 18K rose gold, 38mm                   chronograph                                 luminous index and Arabic numeral hour
indicating hours, minutes, seconds, central    window, sweep center seconds                hour-markers and hands, 2 sub-dials           Bracelet: Rubber strap with 18K rose gold   Dial: Black and gray skeleton dial with     markers, luminous hands, 2 sub-dials
chronograph hand, 24-hour GMT hand,            Case: Titanium, 44.2mm                      indicating hours, minutes, seconds, central   pin buckle                                  applied rose gold index hour markers and    indicating minutes, small seconds, central
power reserve indicator, date in aperture      Bracelet: Titanium with folding clasp       chronograph hand, power reserve indicator,                                                hands, 2 sub-dials indicating minutes and   chronograph hand
window                                                                                     date in aperture window                       PHP 450,000 – 550,000                       small seconds, aperture indicating date,    Case: Carbon fibe , anodized black
Case: Stainless steel, display case back,      Accompanied by presentation box and         Case: Titanium, rotating titanium bezel,                                                  central chronograph hand                    aluminum lower bezel, 45mm
43.5mm                                         papers                                      44mm                                                                                      Case: Rose gold and titanium, display       Bracelet: Black rubber strap with deployant
Bracelet: Stainless steel with folding clasp                                               Bracelet: Rubber bracelet with folding                                                    case back, 48mm                             and black PVD titanium clasp
                                               Php 230,000 – 260,000                       clasp                                                                                     Bracelet: Rubber strap with deployant
Accompanied by presentation box and                                                                                                                                                  buckle                                      Accompanied by presentation box and
papers, and original invoice.                                                              Accompanied by presentation box, papers                                                                                               papers.
                                                                                           and original invoice.                                                                     Accompanied by presentation box and
Php 230,000 -260,000                                                                                                                                                                 papers.                                     PHP 750,000 – 800,000
                                                                                           PHP 330,000 – 380,000
                                                                                                                                                                                     PHP 700,000 – 900,000

20                                                                                                                                                                                                                                                                       21
30

                                                   IWC
                                                   A LARGE TOP GUN PILOT'S
                                                   CHRONOGRAPH, REF. IW389001, CIRCA
                                                   2012

                                                   Movement: Automatic, self-winding
                                                   chronograph
                                                   Dial: Black dial with applied luminous
                                                   indices and hands, 2 sub-dials indicating
                                                   hours, minutes, small seconds, aperture
                                                   indicating date, central chronograph hand
                                                   Case: Black ceramic, 44mm
                                                   Bracelet: Black leather with stainless steel
                                                   deployant buckle

                                                   Accompanied by presentation box and
                                                   papers.

                                                   PHP 280,000 – 320,000




     31

     IWC
     DOPPELCHRONOGRAPH, REF. IW371338,
     CIRCA 2005

     Movement: Automatic, self-winding
     chronograph
     Dial: Black dial with applied silver Arabic                                                  32                                           33                                         34
     numeral hour-markers, luminous steel
     hands, three sub-dials indicating small
     seconds, hours, minutes, apertures                                                           OMEGA                                        OMEGA                                      OMEGA
     indicating day, date, central chronograph
     hand                                                                                         VINTAGE AUTOMATIC MEN'S WATCH                VINTAGE SEAMASTER COSMIC DAY-              VINTAGE DE VILLE
     Case: Stainless steel, 42mm                                                                                                               DATE
     Bracelet: Matte black strap with stainless                                                   Movement: Automatic, self-winding                                                       Movement: Mechanical, hand-winding
     steel deployant buckle                                                                       Dial: White with applied yellow gold index   Movement: Automatic, self-winding          Dial: Champagne dial with applied baton
                                                                                                  hour markers and sword hands, subsidiary     Dial: Champagne dial with applied yellow   markers and hands
     Accompanied by presentation box and                                                          seconds                                      gold index hour markers and baton hands,   Case: Gold, 23mm
     papers.                                                                                      Case: Yellow gold, 32mm                      aperture indicating day, date, central     Bracelet: Yellow gold integrated woven
                                                                                                  Bracelet: Aftermarket brown leather strap    sweep seconds                              bracelet
                                                                                                  with pin buckle                              Case: Yellow gold, 35mm
     PHP 200,000 – 250,000
                                                                                                                                               Bracelet: Aftermarket black crocodile      PHP 60,000 – 80,000
                                                                                                  PHP 80,000 – 100,000                         leather with pin buckle

                                                                                                                                               PHP 90,000 – 120,000




22                                                                                                                                                                                                                              23
35                                       36                                          37                                      38                                         39

OMEGA                                    CARTIER                                     CHOPARD                                 CARTIER                                    ROLEX
VINTAGE LADIES WATCH                     AN ELEGANT LADIES LANIERE                   A FINE LADIES COCKTAIL WATCH            A FINE LADIES COUGAR                       A COLLECTIBLE LADIES DATEJUST
                                         REF. 2545, CIRCA 2001                                                                                                          TRIDOR REF. 69179, SERIAL NO.
Movement: Mechanical, hand-winding                                                   Movement: Quartz                        Movement: Quartz                           8585XXX, CIRCA 1987
Dial: Gold dial with applied gold hour   Movement: Quartz                            Dial: Champagne dial with yellow gold   Dial: White dial, applied Roman numerals
markers and hands                        Dial: 18K white gold and diamond-set dial   hands                                   hour markers, blued hands                  Movement: Automatic, self-winding
Case: Gold, 16mm                         Case: 18K white gold, diamond-set crown,    Case: 18K yellow gold, with diamond-    Case: 18K yellow gold, cabochon sapphire   Dial: Champagne dial with diamond hour
Bracelet: Gold mesh with pin buckle      16mm                                        studded bezel, 18mm                     crown, 20mm                                markers and baton hands, magnified d te,
                                         Bracelet: 18K white gold, link-type         Bracelet: 18K yellow gold chain with    Bracelet: 18K yellow gold, hidden clasp    sweep center seconds
PHP 60,000 – 80,000                      bracelet                                    diamond-set bracelet                                                               Case: 18K white gold with 18K yellow gold
                                                                                                                             PHP 160,000 – 200,000                      flu ed bezel, 25mm
                                         Accompanied by presentation box and         PHP 120,000 -150,000                                                               Bracelet: 18K white, yellow, and pink gold
                                         papers.                                                                                                                        Tridor President bracelet with hidden
                                                                                                                                                                        clasp
                                         PHP 300,000 – 360,000
                                                                                                                                                                        Accompanied by papers.

                                                                                                                                                                        PHP 420,000 – 520,000

24                                                                                                                                                                                                                   25
43
       40
                                                                                                                                                                         45




                                                                                                                                                                                                                                         47




                                                                              42

                                                                                                                                                                    46




                            41




                                                                                                                                                                                                                              48


                                                                                              44




40                                            41                                                                                             45
MANFREDI                                      BUCCELATTI                                                                                     TIFFANY & CO.
Yellow gold rings                             Leaf motif earrings                                                                            Heart-shaped diamond stud
                                                                                                                                             earrings
A set of two 18K yellow gold rings of         Reminiscent of autumn leaves, this pair of
unusual design. One matte, the other shiny.   earrings is set in 18K yellow gold.                                                            This pair of round brilliant pavé diamond-
                                                                                                                                             set hearts are crafted in 18K white gold.
PHP 55,000 - 60,000                           PHP 75,000 - 80,000                                                                            With pinch-back backing.

                                                                                                                                             PHP 100,000 - 120,000


42                                            43                                                   44                                        46                                             47                                            48
BVLGARI                                       Coral cabochon ring                                  Carnelian ear clips                       Sapphire and diamond dangling                  Diamond drop earrings                         Diamond dangling earrings
18K yellow gold ring                                                                                                                         earrings
                                              An attractive 10-carat angel skin color coral        The round carnelian gemstones measure                                                    Pavé diamonds set into a concentric circle    Thirty-two diamonds arranged in a
This stylish 18K yellow gold ring features    sits amidst a halo of diamonds with four             approx. 14mm, set on an 18K yellow gold   Two oval-cut sapphires totaling 1.38           design are hinged from a pavè diamond         geometric design adorn each of these
three diagonal accents molded on a            diamond-set prongs adding elegance to its            ear clip.                                 carats flo t amidst a halo of brilliant pavé   studded hoop. Set in 18K white gold.          striking dangling earrings. Set in platinum
tapered band.                                 design. Set on a split shoulder 14K yellow                                                     diamonds suspended from a single row of                                                      950.
                                              gold band.                                           PHP 25,000 - 30,000                       diamonds set on 18K white gold latch-back      PHP 80,000 - 100,000
PHP 45,000 - 50,000                                                                                                                          earrings.                                                                                    PHP 120,000 - 140,000
                                              PHP 45,000 - 50,000
                                                                                                                                             With certific te.

                                                                                                                                             PHP 60,000 - 80,000

26                                                                                                                                                                                                                                                                                  27
56


                                                                                              50
     49


                                                                                                                                                                       53




                                                                                                                                                 54




                                                              51

                                                                                                                                                                                                                55




49                                                                                                                                         53
Diamond hoop earrings                                                                                                                      Ruby and diamond tennis bracelet

Three rows of pavé diamonds line this pair                                                        52                                       Twenty-seven oval-cut rubies totaling
of diamond hoop creole style earrings                                                                                                      approx. 5.40 carats give color to this
on the outer and inner forward-facing                                                                                                      classic 18K yellow gold tennis bracelet.
surfaces giving the illusion of a continuous                                                                                               Each ruby is followed by a pair of
diamond hoop. The diamonds G-color,                                                                                                        diamonds and set in 18K yellow gold.
VVS-VS1 clarity, totaling 3.96 carats. Set in
18K white gold.                                                                                                                            PHP 90,000 - 120,000

PHP 260,000 - 300,000


50                                              51                                           52                                            54                                             55                                          56
Diamond illusion earrings                       Diamond cross pendant necklace               Diamond bombè ring                            F-color diamond creole earrings                Pear-shaped yellow diamond ring             Diamond illusion stud earrings
Two round brilliant cut diamonds of             This simple elegant cross is composed of     A total of 108 pavé diamonds with a           The F-color diamonds totaling 4.81 carats,     A fanciful ring featuring a 0.72-carat      Four marquise diamonds form the center
approx. 0.75-carats, H color, SI1 clarity       thirty-six round brilliant diamonds set in   combined weight of approx. 1.84 carats are    VVS-VS1 clarity, are set in rows in a          pear-shaped yellow diamond surrounded       of each illusion earring surrounded by a
surrounded by carefully placed pavè             18K white gold. With an 18K white gold       set into nine rows in this bold yet elegant   rounded creole style. Set in 18K white gold.   by clusters of white multi cut diamonds     detachable halo of pavè diamonds. Set in
brilliants sit at the center of these           chain neccklace.                             18K white gold ring.                                                                         totaling 2.57 carats. Set on an 18K white   18K white gold.
attractive earrings. Centered between four                                                                                                 PHP 340,000 - 380,000                          gold band with pavè diamonds.
diamond-lined vertical rows in a half hoop      PHP 80,000 - 100,000                         PHP 100,000 - 140,000                                                                                                                    PHP 180,000 - 200,000
shape. Set in 14K white gold.                                                                                                                                                             Ring size: 5.5

PHP 200,000 - 240,000                                                                                                                                                                     PHP 320,000 - 360,000

28                                                                                                                                                                                                                                                                               29
57                                                                                                                              60




                                                                                                                                                                                                                           62

                                                                 59




        58
                                                                                                                                                        Actual size




                                                                                                                                                                                            61




57                                               58                                            59                                            60                                            61                                           62
Diamond tennis necklace                          A 2.80-carat ruby and diamond                 Diamond chandelier earrings with              2-carat round brilliant cut                   An 8-carat brilliant-cut diamond             Diamond dangling earrings,
                                                 flo al ring                                   detachable drop                               diamond stud earrings                         ring                                         D-F color
The round G-color diamonds prong set in
this simple design lend an easy elegance.        Distinctive in its multi-petal design, this   This pair of creole-style earrings features   This classic pair of simple round brilliant   The imposing brilliant-cut diamond,          These playful yet sophisticated earrings
The diamonds totaling 9.84 carats, VVS-          ring's centerpiece is a 2.80 carat oval-cut   detachable diamond dangles suspended          cut diamond studs, both approx. 2 carats      approx. 8 carats, M color center stone is    combine pear, marquise, and oval cut
VS1 clarity and set in 18K white gold.           ruby with a halo of sixteen diamonds.         from a single hoop in a chandelier style.     each, L-K color, are secured by a 6-prong     guaranteed to arrest attention. Set into a   diamonds to create a unique design. Mixed
                                                 Twelve pear-shaped diamond petals             The diamonds G-color, VVS-VS1 clarity and     setting. Set in 14K white gold.               distinctive 14k white gold split shoulder    cut diamonds form a circle from which
PHP 750,000 - 800,000                            totaling 1.36 carats surround the stone       set in 18K white gold.                                                                      band featuring baguette-cut diamond          oval and pear-shaped diamonds emerge,
                                                 resembling a fl wer in bloom. Set in 18K                                                    PHP 750,000 - 850,000                         accents bordered by an intricate diamond     while marquise and pear-shaped diamonds
                                                 white gold.                                   PHP 380,000 - 480,000                                                                       design.                                      swing below from delicate chains of white
                                                                                                                                                                                                                                        gold. The diamonds D-F color, VVS1-VS2
                                                 PHP 580,000 - 680,000                                                                                                                     PHP 3,600,000 - 4,000,000                    clarity, totaling 12.02 carats. Set in 18K
                                                                                                                                                                                                                                        white gold.

                                                                                                                                                                                                                                        With GIA reports for the pear-shaped
                                                                                                                                                                                                                                        diamonds.

                                                                                                                                                                                                                                        PHP 2,000,000 - 2,400,000

30                                                                                                                                                                                                                                                                              31
63




                                                                                                                                                                                                66
                                                                                  65




                              64


                                                                                                                                                      67




                                                                                                                                                                                                                                                            68




63                                         64                                            65                                          66                                           67                                            68
Cuff b acelet with pearls, rubies,         Emerald and diamond drop                      Diamond chandelier earrings                 Marquise-cut diamond ring                    Ruby and diamond choker                       Concentric diamond hoop
emeralds, and diamonds                     earrings with mother of pearl inlay                                                                                                    necklace in white gold                        earrings
                                                                                         These chandelier earrings feature diamond   This eye-catching ring features an approx.
This bold cuff eatures a combination       Emeralds serve as the centerpiece for         rositas studs from which more diamonds      1.42-carat center stone with a halo of       This woven gemstone necklace is               Two tightly fi ed rows of diamonds totaling
of gemstones. Two large pearls serve as    this elegant and versatile pair of dangling   are suspended in a delicate three-tier      twelve brilliant diamonds. Its 18K yellow    composed of an intricate series of rows       5 carats in a concentric shape adorn this
focal points against a diamond filig ee    earrings. The emeralds, approx. 2 carats      design. The diamonds G-color, VVS-VS1       gold band is embedded with baguette-cut      of rubies totaling 35.68 carats to create     set of 18K white gold hoop earrings.
design with ruby and emerald beads and     each, are framed by pavè diamonds set         clarity, totaling 4.48 carats. Set in 18K   diamonds bordered by rows of brilliants.     its circular shape. Bordered by diamond
pavé diamonds set on the 18K yellow gold   in 18K rose gold against mother of pearly     white gold.                                                                              accents totaling 4.27 carats and set in 18K   PHP 220,000 - 240,000
bracelet.                                  inlay. The detachable pendants hang from                                                  PHP 380,000 - 420,000                        white gold.
                                           creole style earring set with diamonds in     PHP 250,000 - 300,000
PHP 110,000 - 130,000                      18K rose gold.                                                                                                                         PHP 540,000 - 600,000

                                           PHP 540,000 - 640,000


32                                                                                                                                                                                                                                                                       33
71

                                                                                                                                                                                               73




                    69




                                                                                       70




                                                                                                                                                                                                                           75


                                                                                                                                                                   74


69
Diamond drop earrings, F-G color
This elegant set of drop earrings
showcases diamonds of different cuts
                                                                        72
in a simple column design. GIA-certified
emerald cut diamond studs weighing 1.21
and 1.25 carats each, F-color VVS1 clarity                                                                                                                                                                                                                   Actual size
and G-color VVS2 clarity respectively,
are followed by detachable marquise and
round brilliant-cut diamond drops. The
marquise cuts totaling approx. 0.40 carats,
and the GIA-certified brilliants 1 01 carats
each, G-color, VVS2 clarity.

With GIA reports.

PHP 1,300,000 - 1,600,000




70                                             71                                             72                                             73                                           74                                            75
Sapphire and diamond bracelet                  Ruby and diamond pendant                       Art deco sapphire and diamond                  Diamond fan-shaped pendant                   Diamond drop earrings                         CARTIER
                                               earrings                                       earrings                                       earrings                                                                                   3.5-carat emerald-cut diamond
Nine sapphires of varying cuts are the                                                                                                                                                    This stunning pair of drop earrings feature
highlight of this attractive bracelet.                                                                                                                                                    a combination of marquise, pear-shaped,       ring set in platinum
                                               Four rubies totaling 3.37 carats are           Baguette cut sapphires and diamonds            This unique and elegant pair of earrings
Emerald-cut, oval, and pear-shaped                                                            are channel-set into delicate swirls. The                                                   and round brilliant-cut diamonds arranged
                                               showcased in this set of drop earrings.                                                       opens from a rectangular emerald cut
sapphires totaling 9.94 carats are placed in                                                  sapphires are accented by prong-set                                                         like fl wers in various stages of bloom.      A stunning F-color, VVS1 clarity, emer-
                                               Each ruby with a halo of F-G colored VVS-                                                     diamond stud framed by pavè diamonds
an alternating pattern and framed by white                                                    brilliant diamonds placed on the inner side.                                                Descending as though from a vine are          ald-cut diamond solitaire sits atop a classic
                                               VS1 clarity diamonds. Set in 18K white gold.                                                  into a pagoda-like fan shape. Round
baguette-cut diamonds. Set in 18K white                                                       Set in 18K white gold.                                                                      1-carat pear-shaped diamonds approx. G-I      platinum 950 band. Approx. 3.50 carats,
                                                                                                                                             diamonds hang in an openwork design
gold.                                                                                                                                                                                     color. The diamonds totaling approx. 6.80     the stone is secured in a simple prong
                                               PHP 200,000 - 250,000                                                                         with a framed emerald cut diamond
                                                                                                                                                                                          carats. Set in 18K white gold.
                                                                                              PHP 60,000 - 70,000                            adding balance to the triangular pendants.                                                 setting showcasing its natural beauty and
PHP 540,000 - 600,000                                                                                                                        The diamonds G-H color, VVS-VS1 clarity                                                    brilliance.
                                                                                                                                             totaling approx. 8.30 carats. Set in 18K     PHP 580,00 - 680,000
                                                                                                                                             white gold.
                                                                                                                                                                                                                                        PHP 3,500,000 - 4,000,000
                                                                                                                                             PHP 700,000 - 900,000
34                                                                                                                                                                                                                                                                                 35
Actual size




                                                                                                                                                                                                                                80

                             76

                                                                                    77                                                                                               79




                                                                                                                                                                                81


                                                       78




76                                           77                                            78                                            79                                               80                                           81
A 3.02-carat heart-shaped                    Emerald and diamond cocktail                  Ruby and diamond ring                         6-carat radiant-cut diamond stud                 Ruby and diamond chandelier                  Diamond drop earrings set in
diamond ring                                 ring                                                                                        earrings                                         earrings                                     platinum
                                                                                           A stunning 2.40-carat ruby sits at
The 3.02-carat diamond center is as lovely   Three stunning pear-shaped emeralds           the center of this ring surrounded by         This pair of striking radiant-cut diamonds       Vibrant rubies set in a fi e-petal fl wer    These alluring D-F color diamond drop
as it is romantic. The stone M-color, VS1    with a total weight of 5.73 carats form       alternating rows of diamonds and rubies.      are approx. 6 carats each, K-M color, VS         pattern drop into a three-pronged            earrings show marquise diamonds
clarity haloed by diamonds and set into a    the foundation of this eye-catching ring      The fourteen pear-shaped rubies totaling      clarity in a simple four-prong setting. Set in   glistening chandelier of rubies and          arranged in a soft V-like design gently
diamond-encrusted 14K white gold band.       design. Accented by three diamonds and        4.93 carats and twenty-eight diamonds         14K white gold.                                  diamonds. Each earring opens to three        curving inwards behind the ear, while pear
                                             whimsical curves of 18K white gold set with   totaling 1.56 carats, set onto an 18K white                                                    rubies suspended as though flo ting in the   and marquise shaped diamonds dangle
                                             four dozen pavè diamonds.                     gold band.                                    PHP 4,000,000 - 5,000,000                        middle of diamond halos. Set in 18K white    below. The diamonds VVS1-VS2 clarity,
PHP 1,000,000 - 1,200,000
                                                                                                                                                                                          gold.                                        11.75 total carat weight. Set in platinum.
                                             PHP 340,000 - 380,000                         PHP 550,000 - 650,000
                                                                                                                                                                                          PHP 1,200,000 - 1,400,000                    With GIA reports for the pear-shaped
                                                                                                                                                                                                                                       diamonds.

                                                                                                                                                                                                                                       PHP 1,700,000 - 1,900,000

36                                                                                                                                                                                                                                                                              37
83

                                          BREGUET
                                          VINTAGE WHITE GOLD DRESS WATCH,
 82                                       CIRCA 1980s

                                          Movement: Mechanical, hand-winding
 BREGUET                                  Dial: White guilloche dial with Breguet
                                          hands and Roman numeral hour markers
 VINTAGE LADIES DIAMOND-STUDDED           Case: 18K white gold flu ed case,
 DRESS CIRCA 1980s                        engraved case back, cabochon sapphire
                                          crown, 29mm
 Movement: Mechanical, hand-winding       Bracelet: 18K white gold woven bracelet
 Dial: Silver guilloche dial with pavè
 diamonds, Breguet hands and Roman        PHP 300,000 – 400,000
 numeral hour markers
 Case: 18K yellow gold flu ed case,
 cabochon sapphire crown, 24mm
 Bracelet: Shiny black leather with 18K
 yellow gold pin buckle                                                             83

 PHP 280,000 – 380,000




                                                                                    84

                                                                                    PATEK PHILIPPE
                                                                                    A FINE AND RARE LADIES CALATRAVA
                                                                                    MOON PHASE, REF. 4856J-010, CIRCA
                                                                                                                               85                                       86                                         87
                                                        84                          1999

                                                                                    Movement: Mechanical, hand-winding.
                                                                                                                               PATEK PHILIPPE                           GERALD GENTA                               BVLGARI
                                                                                    Movement No. 3114329/4037106
      82                                                                                                                       A FINE AND RARE LADIES CALATRAVA,        GEFICA TRIPLE CALENDAR MOON                LADIES TUBOGAS
                                                                                    Dial: White dial with applied rose gold
                                                                                                                               REF. 4809J-001, CIRCA 2004               PHASE, REF. G.3149.7, CIRCA 1997
                                                                                    hands and Roman numeral hour markers,
                                                                                                                                                                                                                   Movement: Quartz
                                                                                    two sub-dials indicating small seconds,
                                                                                                                               Movement: Mechanical, hand-winding.      Movement: Automatic, self-winding          Dial: Black dial with applied yellow gold
                                                                                    moon phases
                                                                                                                               Movement No. 3074723/4254437             Dial: Gray dial with applied luminous      baton and Arabic numeral hour-markers
                                                                                    Case: 18K yellow gold, sapphire cabochon
                                                                                                                               Dial: Porcelain white dial with Roman    circular hour markers, luminous gold-      and hands
                                                                                    winding crown, 26mm
                                                                                                                               numeral hour markers, blue hands         toned hands, 4 sub-dials indicating        Case: 18K yellow gold and stainless steel,
                                                                                    Bracelet: Shiny blue leather 18K yellow
                                                                                                                               Case: 18K yellow gold hobnail bezel,     day, date, hours, moon phases, 24-hour     25mm
                                                                                    gold pin buckle
                                                                                                                               25mm                                     indication                                 Bracelet: Stainless steel, Bvlgari tubogas
                                                                                                                               Bracelet: Matte black leather with 18K   Case: 18K yellow gold, 33mm
                                                                                    Accompanied by presentation box and
                                                                                                                               yellow gold pin buckle                   Bracelet: Matte black leather strap with   PHP 120,000 – 140,000
                                                                                    papers.
                                                                                                                                                                        deployant buckle
                                                                                                                               Accompanied by presentation box and
                                                                                    PHP 400,000 – 600,000                      papers.                                  Legendary watch designer Gerald
                                                                                                                                                                        Genta created some of the most iconic
                                                                                                                               PHP 300,000 – 500,0000                   timepieces in the world, including the
                                                                                                                                                                        Patek Philippe Nautilus and Audemars
                                                                                                                                                                        Piguet Royal Oak to name a few.

                                                                                                                                                                        PHP 500,000 – 550,000


38                                                                                                                                                                                                                                                              39
92

                                                                                                                                                                           VACHERON CONSTANTIN
                                                                                                                                                                           A LARGE AND FINE PATRIMONY
                                                                                                                                                                           DOUBLE RETROGRADE DAY-DATE
                                                                                                                                                                           REF. 86020, CIRCA 2017

                                                                                                                                                                           Movement: Automatic, self-winding
                                                                                                                                                                           Dial: Black with applied 18K pink gold
                                                                                                                                                                           hour-markers and baton hands, hours,
                                                                                                                                                                           minutes, date, day indications with
                                                                                                                                                                           flyback hand
                                                                                                                                                                           Case: 18K pink gold, display case back,
                                                                                                                                                                           42.5mm
                                                                                                                                                                           Bracelet: Matte black hand-stitched
                                                                                                                                                                           alligator leather with 18K pink gold pin
                                                                                                                                                                           buckle

                                                                                                                                                                           Accompanied by presentation box and
                                                                                                                                                                           papers.

                                                                                                                                                                           PHP 1,800,000 – 2,100,000

                                                                                                                                                    91




                                                                                                                                                                                      92




                                                                                                                                   91

                                                                                                                                   JAEGER LeCOULTRE
88                                        89                                           90
                                                                                                                                   REVERSO TRIBUTE DUOFACE,
                                                                                                                                   REF. 3902420, PURCHASED IN MAY 2018
PIAGET                                    GRAND SEIKO                                  UNIVERSAL GENEVE
                                                                                                                                   Movement: Mechanical, hand-winding
A FINE AND INTERESTING TWENTY             AN ELEGANT LIMITED EDITION                   A VINTAGE TRI-COMPAX TRIPLE                 Dial: Front: Silver grained dial with
DOLLAR COIN WATCH, CIRCA 1990s            REF. SBGW253, CIRCA 2017                     CALENDAR CHRONOGRAPH, REF. 12253            applied pink gold hour-markers and
                                                                                                                                   dauphine hands, 1 sub-dial indicating
Movement: Mechanical, hand-winding        Movement: Automatic, Self-winding            Movement: Mechanical, hand-winding          small seconds. Back: Slate dial with
Dial: Champagne dial with black baton     Dial: White dial with applied baton hour-    chronograph                                 applied pink gold hour-markers and
hour-markers and hands                    markers and sword hands, central sweep       Dial: Silver dial with applied gold index   dauphine hands, 1 sub-dial indicating
Case: Outer: 18K yellow gold American     seconds                                      hour-markers and leaf hands, 4 sub-dials    second time zone, 24-hour display
twenty-dollar coin. Inner: hinged 18K     Case: Stainless steel, 18K gold medallion    indicating seconds, minutes, hours, date,   Case: 18K pink gold, reversible dial,
yellow gold dial, 35mm                    at case back, 38mm                           moonphases, two apertures indicating        25.5 x 42.9mm
Bracelet: Shiny black crocodile leather   Bracelet: Matte black alligator leather      month and day, central chronograph hand     Bracelet: Matte brown leather and 18K
with 18K yellow gold pin buckle           with stainless steel pin buckle              Case: 18K yellow gold, 34mm                 pink gold deployant buckle
                                                                                       Bracelet: After-market shiny black calf
PHP 180,000 – 220,000                     This timepiece is an homage to the fir t     leather with 18K yellow gold pin buckle     Accompanied by presentation box and
                                          Grand Seiko reference 3180 from 1960,                                                    papers. This example is brand new and
                                          and is accompanied by presentation box,      PHP 160,000 – 180,000                       has never been worn.
                                          papers, and original invoice. This example
                                          is in mint condition.
                                                                                                                                   PHP 1,000,000 – 1,100,000
                                          PHP 300,000 – 350,000


40                                                                                                                                                                                                                    41
93                                            95

                                                      AUDEMARS PIGUET                               AUDEMARS PIGUET

                                                      LIMITED EDITION ROYAL OAK                     A VERY FINE AND RARE ROYAL
                                                      OFFSHORE ALINGHI POLARIS                      OAK OPENWORKED, REF. 15305OR.
                                                      CHRONOGRAPH, REF. 26040ST.                    OO.D088CR.01, CIRCA 2012
                                                      D002CA.01, NUMBER 1345 OF 2000
                                                                                                    Movement: Automatic, self-winding
                                                                                                    Dial: Slate gray skeleton dial with pink
                                                      Movement: Automatic, self-winding             gold applied luminous hour-markers and
                                                      chronograph                                   luminous Royal Oak hands, sweep center
                                                      Dial: Black Mega Tapisserie dial with         seconds
                                                      applied luminous Arabic numeral hour-         Case: 18K pink gold, display case back,
                                                      markers and luminous Royal Oak hands,         39mm
                                                      three sub-dials indicating minutes, hours,    Bracelet: Hand-stitched, matte brown
                                                      small seconds, regatta timer hand, central    alligator leather strap with 18K pink gold
                                                      chronograph hand                              folding clasp
                                                      Case: Stainless steel, engraved case back,
                                                      39mm                                          Accompanied by presentation box and
                                                      Bracelet: Black rubber with stainless steel   papers.
                                                      deployant buckle
                                                                                                    PHP 2,600,000 – 2,800,000
                                                      PHP 600,000 – 750,000




94

AUDEMARS PIGUET
A FINE AND RARE LIMITED EDITION ROYAL
OAK CHRONOGRAPH SACHIN TENDULKAR,
REF. 26161OR.OO.D088CR.01,
NUMBER 109 OF 150

Movement: Automatic, self-winding chronograph
Dial: Brown two-tone Tapisserie dial with applied
pink gold luminous hour-markers and luminous
Royal Oak hands, three sub-dials indicating hours,
minutes, seconds, central chronograph hand
Case: 18K pink gold, engraved case back, 39mm
Bracelet: Rubber strap with 18K pink gold
deployant buckle

Sachin Tendulkar is a former Indian international
cricketer and is the highest run scorer of all time
in International Cricket. This example is in brand
new condition.

PHP 1,300,000 – 1,500,000


42                                                                                                                                               43
98
                                                 96
                                                                                                                                            ROLEX
                                                 A. LANGE & SÖHNE
                                                                                                                                            DAY-DATE II REF. 218235,
                                                 A FINE LANGE 1, REF. 101.032,                                                              SERIAL NO. 52F22XXX, CIRCA 2013
                                                 CIRCA 2000
                                                                                                                                            Movement: Automatic, self-winding
                                                 Movement: Mechanical, hand-winding                                                         Dial: Chocolate brown dial with applied
                                                 Dial: Silver metallic dial with power                                                      gold Roman numerals and hands,
                                                 reserve indicator, larger offset dial with                                                 aperture for day, magnified date, central
                                                 applied index and Roman numeral hour                                                       sweep seconds
                                                 markers, polished rose gold hands,                                                         Case: 18K Everose, 41mm
                                                 smaller offset sub-dial indicating small                                                   Bracelet: 18K Everose President with
                                                 seconds with polished rose gold hands,                                                     hidden crown clasp
                                                 large apertures indicating date
                                                 Case: 18K rose gold, display case back,
                                                                                                                                            PHP 1,350,000 – 1,500,000
                                                 38mm
                                                 Bracelet: Matte brown crocodile leather
                                                 with 18K pin buckle

                                                 Accompanied by presentation box and
                                                 papers.


                                                 PHP 800,000 – 1,000,000




                                                                                              99
     97
                                                                                              AUDEMARS PIGUET
     A. LANGE & SÖHNE
                                                                                              A DESIRABLE ROYAL OAK
     LANGEMATIK BIG DATE REF. 308.027,                                                        SELF-WINDING, REF. 15400ST.
     CIRCA 2001                                                                               OO.1220ST.01, CIRCA 2015

     Movement: Automatic, self-winding                                                        Movement: Automatic, self-winding
     Dial: Black dial with applied white gold                                                 Dial: Black Tapisserie dial with white
     index hour markers and hands, 1 sub-dial                                                 gold applied luminous hour-markers
     indicating small seconds, large apertures                                                and luminous Royal Oak hands, aperture
     indicating date                                                                          indicating date, sweep center seconds
     Case: 18K white gold, display case back,                                                 Case: Stainless steel, 41mm
     37mm                                                                                     Bracelet: Stainless steel with hidden clasp
     Bracelet: Matte black leather, with 18K
     white gold pin buckle                                                                    Accompanied by presentation box and
                                                                                              papers. This example is in mint condition.
     Accompanied by presentation box and
     papers.                                                                                  PHP 850,000 – 1,000,000

     PHP 1,050,000 – 1,150,000


44                                                                                                                                                                                      45
101

                                                PATEK PHILIPPE
                                                AN ELEGANT AND FINE ANNUAL
                                                CALENDAR MOONPHASE,
                                                REF. 5396G-001, CIRCA 2010

                                                Movement: Automatic, self-winding,
                                                Movement No. 3901715/4466306
                                                Dial: Two-toned silver dial with blue
                                                painted baton hour markers and hands,
                                                sub-dial indicating moonphases, apertures
                                                indicating month, day, date, central sweep
                                                seconds
                                                Case: 18K white gold, display case back,
                                                38mm
                                                Bracelet: Matte black alligator leather with
                                                classic 18K deployant buckle

                                                Accompanied by presentation box and
                                                papers. This example has never been worn
                                                and is in New Old Stock condition.

                                                PHP 1,500,000 – 1,700,000




100

AUDEMARS PIGUET
A LARGE LIMITED EDITION ROYAL OAK
OFFSHORE MICHAEL SCHUMACHER,
REF. 26568IM.OO.A004CA.01,
WATCH 953 OF 1000

Movement: Automatic, self-winding
chronograph
Dial: Anthracite Tapisserie dial with applied
white gold luminous hour-markers and
luminous Royal Oak hands, three sub-dials
indicating minutes, hours, small seconds,
central chronograph hand, aperture
indicating date.
Case: Titanium, Cermet bezel, display case
back, 44mm
Bracelet: Grey rubber with titanium pin
buckle

Accompanied by presentation box and
papers. This watch was recently serviced.

PHP 2,500,000 – 2,800,000



                                                                                               47
PATEK PHILIPPE
                                                   PERPETUAL CALENDAR
                                                              REF. 3448




     102

     PATEK PHILIPPE
     A VERY FINE ANNUAL CALENDAR
     MOONPHASE, REF. 5396G-011, CIRCA 2011

     Movement: Automatic, self-winding,
     Movement No. 5583255/4485660
     Dial: Silver opaline dial with applied gold
     baton hour markers, sub-dial indicating
     moonphases, apertures indicating month,
     day, date, central sweep seconds
     Case: White gold, display case back,
     38.5mm
     Bracelet: Shiny black crocodile leather
     with folding clasp

     Paying tribute to the 20th anniversary
     of one of Patek Philippe's revered
     complications, the Annual Calendar, the
     reference 5396G is a refined xample
     of Patek Philippe's careful execution of
     a much-loved design. Accompanied by
     presentation box and papers.

     PHP 1,500,000 – 1,700,000




48
Rare is the watch that carries with it both a bold , timeless d esign and a pioneering heritage. In
a family of watches each with their own exquisite luxury, the Patek Philippe Reference 3448 is a
statement all its own. While the 3448 reference enjoys the rarity of a limited production, particularly    103
for certain materials, it is fir t and foremost lauded for its position as the fir t automatic perpetual
calend ar watch, from any manufacturer. While Patek Philippe itself d id not invent the perpetual
calend ar, it was one of the fir t to put the the mechanism into prod uction in early pocket and           PATEK PHILIPPE
wristwatches in the late 1800s and early 1900s. This all culminated in the reference 3448 seen here
today. But as with all landmark Patek Philippe watches, the 3448 has many stories to tell, which           A HISTORICALLY IMPORTANT, EXTREMELY
we'll learn more as we delve into both its appearance and history.                                         RARE AND VERY FINE PERPETUAL
                                                                                                           CALENDAR REF. 3448, CIRCA 1978

A Sharp Departure of Design                          A History of Movement                                 Movement: Automatic, self-winding
The fir t and most important detail one notices      The Patek Philippe Reference 3448 is                  Dial: White dial, 18K applied yellow gold hour
about the 3448 are its lugs. Four clean, sharp       powered by the caliber 27-460 Q, with the             markers and hands, sub-dial indicating moon
                                                                                                           phases, apertures indicating day, date
points angle out from the round case, a stark        "Q" d esignating the perpetual calend ar              Case: 18K yellow gold, 37.5mm
change from previous complication references         ("Quantieme Perpetuel") ad d ition to the 27-         Bracelet: Shiny burgundy leather with 18K
from the house that classically mad e use of         460 automatic movement that came without.             yellow gold pin-buckle.
straight or curved lugs. The 3448's lugs mad e       Within its four ruby wheels and solid -gold
                                                                                                           Accompanied by presentation box,
a bold statement both in hand and on the             rotor lies a 38-power reserve, acclaimed for          certific te, extract from archives.
wrist, making them an instant, iconic classic,       its impressive and     refined   efficie y. This
accentuating the rest of the reference's             execution carries over into its moonphase             Estimate upon request
futuristic design.                                   display which not only automatically adjusts for
                                                     February and leap years, but should it remain
This d esign, nicknamed "Disco Volante" or           wound also requires no correction until the year
"Flying Saucer" by Italian collectors was the        2100. This only underscores how impressive the
purview of Geneva-based casemaker Antoine            3448 was, considering it was the fir t of its kind
Gerlach, himself responsible for many Patek          as a serially-prod uced , self-wind ing perpetual
Philippe d esigns. The weighty 37.5mm case           calendar wristwatch.
featured a snap-on caseback, and manufactured
in limited quantities in yellow gold, white gold,
and especially limited in rose gold (with one
known example) and platinum (with only two
known examples).


The 3448's d ial itself executes the symmetric,
futuristic d esign fl wlessly. Twin aperture
windows at the 12 o'clock position display day
and month, while the d ate and moonphase
sub-d ial makes its home at 6 o'clock. The d ial
design had slight changes across its four series
between its production years of 1962 and 1981,
and this example, mad e in 1978, features the
fourth series' small baton minute divisions.


From its crisp d ial features to its statement
lugs, it would be an understatement to call the
reference 3448 a beautiful timepiece.




                                                                                                               With both a groundbreaking design and heritage, the 3448's value looks to only climb in the foreseeable future. This
                                                                                                               is even before you factor in the rarity of specific pieces, like the Unique Patek Philippe 3448 that sold at Sotheby's
                                                                                                               in 2008 that featured a special sub-d ial d esigned specifically for Alan Banbery, a Patek Philippe employee for
                                                                                                               almost 50 years. And then there's the legendary story of the rose gold 3448 that sold at Christie's Geneva for over
                                                                                                               2 million CHF after residing in its owner's vault for over 40 years. Nearly every appearance of a 3448 has done well
                                                                                                               at auction, and the value of a well-maintained example will only grow over time.


                                                                                                               The item featured here was originally bought in Paris in a boutique at Place Vendôme by an important local collector,
                                                                                                               and comes with a complete box set of papers and archive extracts. The example was recently serviced in its home
                                                                                                               of Patek Philippe Geneva.


50                                                                                                                                                                                                                                      51
104

                                                   ROLEX
                                                   A RARE AND COLLECTIBLE GMT-MASTER "FUCHSIA"
                                                   REF. 1675, SERIAL NO. 696XXX, CIRCA 1961

                                                   Movement: Automatic, self-winding
                                                   Dial: Black dial with applied luminous triangle, dot,
                                                   baton markers, luminous Mercedes hands, sweep center
                                                   seconds, 24-hour GMT hand, magnified d te
                                                   Case: Stainless steel, bi-directional rotating fuchsia and
                                                   blue bezel, acrylic crystal, 40mm
                                                   Bracelet: Stainless steel riveted Rolex Oyster bracelet

                                                   PHP 750,000 – 900,000




     105

     ROLEX
     SUBMARINER, REF. 16800,
     SERIAL NO. 8807XXX, CIRCA 1985

     Movement: Automatic, self-winding
     Dial: Matte black dial with applied
     luminous triangle, dot, baton markers,
     luminous Mercedes hands, magnified
     date, sweep center seconds


                                                                                                                    ROLEX
     Case: Stainless steel, black bi-directional
     rotating bezel, 39.5mm
     Bracelet: Stainless steel Rolex Oyster
     bracelet with folding clasp

     PHP 350,000 – 450,000
                                                                                                                     DAYTONA
                                                                                                                PAUL NEWMAN
                                                                                                                     REF. 6240
52
DAYTONA HISTORY
                                                                After Rolex fir t served as officia timekeeper for     Rolex debuted prototype screw down pushers with
                                                                the Daytona International Speed way in Florid a in     the Ref. 6240 in 1965.
                                                                1962, Rolex nicknamed their Cosmograph Reference
                                                                6239 "Daytona" to emphasize their affil tion with      The Ref. 6262 and Ref. 6264 returned to the use of
                                                                the prestigious auto race. Paul Newman's personal      push-buttons with a metal bezel (Ref. 6262) and

ROLEX DAYTONA                                                   Daytona mad e world -famous was a Ref. 6239 with
                                                                an exotic d ial, and his influen e led to collectors
                                                                                                                       acrylic bezel (Ref. 6264), manufactured from 1970
                                                                                                                       to 1972. References 6263 and 6265 returned to final

"PAUL NEWMAN"                                                   nicknaming this style of Daytona as the "Paul
                                                                Newman". Rolex then went on to apply various
                                                                                                                       versions of the screw d own pushers improving the
                                                                                                                       Daytona's water resistance, and were manufactured

REFERENCE 6240                                                  changes to the Daytona mod el through the years.       from 1971 to 1987.


Made famous by actor, racecar driver, and philanthropist
Paul Newman, the Paul Newman Daytona references have
risen to become one of the most valued and sought-after
timepieces in recent history. Its legend is well-known
among even the most novice of watch collectors and
enthusiasts and continues to break record s at auction
houses all over the world.


The characteristic that sets a Paul Newman Daytona apart
from the rest of the Daytona range lies in its "exotic" dial,
which features an art deco style font for the numerals on
the sub d ials, and a small step in the d ial between the
outer minute tracker and the center of the dial.
ROLEX
                                                                                                                                             DAYTONA REF. 6240 PAUL NEWMAN

                                                              The Paul Newman Daytona Reference 6240 is so considerably rare, that
     106                                                      some experts wond er if it ever existed at all, claiming that Ref. 6240
                                                              Paul Newmans are actually just the more common Ref. 6241 dial placed
                                                              on a Ref. 6240 case. We now know for a fact that the mythical Ref. 6240
     ROLEX                                                    Paul Newman does exist, represented by the piece we are showcasing
     DAYTONA "PAUL NEWMAN" REF. 6240,                         here. This Rolex Daytona Paul Newman Ref. 6240 was purchased in
     CIRCA 1967                                               1968 and has remained with its original owner to this day. The T Swiss
                                                              T markers on the dial shows the "Long" signature with "T's" outside the
     Movement: Automatic, self-winding
     Dial: Black tri-color dial with applied                  5-minute markers indicative of a Ref. 6240 dial.
     luminescent hour markers and steel hands,
     red minute track, three white sub-dials                  There were three runs of the prototype Ref. 6240 in production: the 1.2M
     indicating seconds, minutes, hours, central              serial range in 1965 with the "solo" Rolex marking or small "Daytona" logo;
     chronograph hand
     Case: Stainless steel, acrylic tachymeter                the 1.4M serial range in 1966 with the "solo" marking and large "Daytona"
     bezel, 37.5mm                                            logo; and the 1.6M serial range in 1967 with the Paul Newman dial, together
     Bracelet: Original stainless steel Rolex                 with "solo" and large "Daytona" marking. This piece also retains the
     bracelet with folding clasp                              extremely valuable, original mk0 brass prototype pushers. Two years after
                                                              the release of the Ref. 6240, Rolex produced the Ref. 6263 with upgraded
     PHP 12,000,000 - 20,000,000
                                                              Valjoux 727 movements and a similar 3-color black d ial taken from the
                                                              then available Ref. 6262, with the "Oyster" marking on the third line. These
                                                              would be known as Oyster "Soto" dials. This indicates that the Ref. 6263
                                                              Oyster Soto and Ref. 6240 Long Signature are the only two black-dial Paul
                                                              Newman Daytonas with screw-down pusher cases in existence.


                                                              This incred ible timepiece has been assessed by experts both locally
                                                              and abroad . It remains in remarkable cond ition after 50 years, with
                                                              luminous details intact and original, period-correct N71 end links, and
                                                              the original 7835 bracelet. By our research, the Daytona Paul Newman
                                                              Ref. 6240 has been offered in auction houses around the world no more
                                                              than fi e times in recent years, and cements itself as a true collectible
                                                              worthy of celebration.




The importance of the Daytona Reference 6240
cannot be und erstated . As the fir t Daytona reference
to implement screw d own pushers in a Daytona, its
historical significan e is alread y well known. Ad d to the
fact that what we have here is a Paul Newman variant, the
significan e of this timepiece skyrockets.




56                                                                                                                                                                       57
110

                                                                                                                                                                                            IWC
                                                                                                 109
                                                                                                                                                                                            A LARGE PORTUGUESE 7-DAY
                                                                                                                                                                                            PERPETUAL CALENDAR
                                                                                                 ROLEX
                                                                                                                                                                                            Movement: Automatic, self-winding
                                                                                                 SUBMARINER, REF. 16610T,                                                                   Dial: Slate gray dial with applied red gold
                                                                                                 SERIAL NO. F762XXX, CIRCA 2003                                                             Arabic numeral hour-markers and hands,
                                                                                                                                                                                            4 sub-dials indicating date, day, month,
                                                                                                 Movement: Automatic, self-winding                                                          power reserve, moon phases, aperture
                                                                                                 Dial: Black dial with applied luminous                                                     indicating year, small seconds
                                                                                                 triangle, dot, baton markers, luminous                                                     Case: 18K red gold, display case back,
                                 107                                                             Mercedes hands, sweep center seconds,                                                      44.2mm
                                                                                                 magnified date                                                                             Bracelet: Matte black alligator leather
                                                                                                 Case: Stainless steel, bi-directional                                                      with 18K red gold deployant buckle
                                                                                                 rotating bezel, 40mm
                                                                                                 Bracelet: Stainless steel Rolex Oyster with                                                The IWC Perpetual Calendar's high-
                                                                                                 Oysterlock clasp                                                                           precision moon phase display only needs
 107                                                                                                                                                                                        a one-day adjustment once every 577.5
                                                                                                 Accompanied by service papers.                                                             years.

 ROLEX                                                                                           PHP 250,000 – 280,000                                                                      PHP 900,000 – 1,000,000
 A RARE AND COLLECTABLE VINTAGE
 SUBMARINER, REF. 5512,
 SERIAL NO. 4754XXX, CIRCA 1976

 Movement: Automatic, self-winding
 Dial: Matte black dial with applied
 luminous triangle, dot, baton markers,
 luminous Mercedes hands, sweep center
 seconds
                                                                                     109
 Case: Stainless steel, black bi-directional
 rotating bezel, acrylic crystal, 39.5mm
 Bracelet: Stainless steel Rolex Oyster
 Rivet Bracelet with folding clasp

 Rolex introduced the Submariner                                                                                                               111
 reference 5512 in 1959 to replace the
 previous reference 5510 and is the first
 reference to introduce a crown guard to       108                                                                                             IWC
 the model.
                                                                                                                                               A LARGE, LIMITED EDITION BIG PILOT LE
 PHP 750,000 – 900,000                         ROLEX                                                                                           PETIT PRINCE PERPETUAL CALENDAR,
                                                                                                                                               REF. 50128, CIRCA 2014, WATCH 1 OF 270
                                               A VERY RARE VINTAGE SUBMARINER TROPICAL
                                               GILT UNDERLINE DIAL, REF. 5513, SERIAL NO.                                                      Movement: Automatic, self-winding
                                               1061XXX, CIRCA 1964                                                                             Dial: Midnight blue dial with applied gold
                                                                                                                                               luminous indices, numerals and hands,
                                               Movement: Automatic, self-winding                                                               4 sub-dials indicating date, day, month,
                                               Dial: Gilt underline tropical dial with applied luminous                                        power reserve, moon phases, aperture
                                               triangle, dot, baton markers, luminous hands, sweep                                             indicating year, small seconds
                                               center seconds                                                                                  Case: 18K red gold, display case back,
                                               Case: Stainless steel, faded bi-directional rotating bezel,                                     46mm
                                               acrylic crystal, 38mm                                                                           Bracelet: Brown calfskin leather with 18K
                                               Bracelet: Stainless steel Rolex Oyster with folding clasp                                       red gold folding clasp
                                               This Rolex Submariner ref. 5513 features an incredibly                           108
                                                                                                                                               The IWC Perpetual Calendar's high-
                                               sought-after gilt underline dial which significantly                                            precision moon phase display only needs
                                               increases its rarity. The dial's tropical coloring shows a                                      a one-day adjustment once every 577.5
                                               wonderfully even fade. The inside of the case back is                                           years. Accompanied by presentation box
                                               stamped 5513 and marked showing it was made in 1964.                                            and papers with factory stickers.

                                               PHP 800,000 – 1,000,000
                                                                                                                                               PHP 2,100,000 – 2,300,000


58                                                                                                                                                                                                                                    59
112                                         113                                         114                                      115                                          116                                         117

PANERAI                                     PANERAI                                     PANERAI                                  THOMAS ENGEL                                 IWC                                         OMEGA
LUMINOR MARINA TITANIUM,                    LUMINOR 1950 10 DAYS GMT,                   A LARGE LUMINOR MARINA LOGO,             A FINE AND RARE OPEN FACE "NO. 3"            VINTAGE STEEL POCKET WATCH                  OPEN FACE POCKET WATCH
REF. PAM00333, WATCH 133 OF 300             REF. PAM00270, WATCH 186 OF 300,            REF. PAM00005, WATCH 593 OF 1200         POCKET WATCH MADE FOR ZENITH
                                            CIRCA 2015                                  CIRCA 2009                                                                            Movement: Mechanical, hand-winding          Movement: Mechanical, hand-winding
Movement: Automatic, self-winding                                                                                                Movement: Mechanical, hand-winding           Dial: White dial with Arabic numeral hour   Dial: White dial with Arabic numerals
Dial: Black dial with applied luminous      Movement: Automatic, self-winding           Movement: Automatic, self-winding        Dial: Silver engine turned dial with Roman   markers and blued spade hands, sub-dial     and red Breguet hands, sub-dial for small
baton and Arabic numeral hour markers,      Dial: Black dial with applied luminous      Dial: Black dial with applied luminous   numerals, further dial with day of the       for small seconds                           seconds
luminous hands, sub-dial indicating small   baton and Arabic numeral hour markers,      baton and Arabic numeral hour markers,   week, thermometer hands at 9 o'clock         Case: Stainless steel, 50mm                 Case: Stainless steel, 50mm
seconds, magnified d te                     luminous hands, power reserve indicator,    luminous hands, sub-dial with small      with phases of the moon, and subsidiary
Case: Titanium, stainless steel bezel,      date in aperture, sub-dial with 24-hour     seconds, Panerai logo at 6 o'clock       seconds indicator                            PHP 30,000 – 40,000                         PHP 30,000 – 40,000
40mm                                        indication, central GMT hand                Case: Stainless steel, 44mm              Case: 18K yellow gold, keyless, winding
Bracelet: Titanium/stainless steel with     Case: Stainless steel, display case back,   Bracelet: Matte brown leather with       and setting mechanism operated by
folding clasp                               44mm                                        stainless steel pin buckle               twisting the bow
                                            Bracelet: Matte brown leather with
This example is fully serviced and is       stainless steel pin buckle                  Accompanied by presentation box and      Engraved on inner case back.
pristine condition.                                                                     papers.
                                            Accompanied by presentation box and                                                  PHP 280,000 – 380,000
PHP 300,000 – 350,000                       papers.                                     PHP 190,000 – 230,000

                                            PHP 400,000 – 500,000



60                                                                                                                                                                                                                                                                61