LIFE IS BEAUTIFUL ANNOUNCES 2021 COMEDY LINEUP
Page content transcription
If your browser does not render page correctly, please read the page content below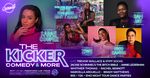 FOR IMMEDIATE RELEASE
August 12, 2021

       LIFE IS BEAUTIFUL ANNOUNCES 2021 COMEDY LINEUP
 The stellar lineup features headlining acts from Sarah Cooper, Sibling Rivalry podcast hosts Bob the Drag Queen
                                       and Monét X Change, Ziwe and more

LAS VEGAS - Life is Beautiful, Las Vegas' premier three-day music, art, culinary and comedy festival has
announced its full comedy line up for "The Kicker" featuring comedian and best-selling author Sarah
Cooper, the hit "Sibling Rivalry" podcast featuring Bob the Drag Queen and Monét X Change, as well as
performances from Ziwe, iconic star and executive producer of her self-titled Showtime variety series,
Emmy-nominated writer and comedian Sam Jay and "Crazy Rich Asians" actor Nico Santos.

The laugh-packed lineup of top and upcoming standup comedians, dazzling drag queens, acclaimed
podcast shows and more adds an additional layer to the festival's already impressive collection of
musical acts and experiences. Open to all festival goers, The Kicker stage is located at Venue Vegas and
will feature stand-up, variety shows, and podcasts from the top actors and comedians in the industry.
Fans can also catch a live episode of hit comedy podcasts, "Stiff Socks" with Trevor Wallace and "The
Bitch Bible" with Jackie Schimmel. Each evening, Venue Vegas will transform into every millennial's
dream party with nostalgia-filled themed nights including 90's, Y2K, and Emo Night dance parties
presented by the Emo Night Tour.
The Kicker's full lineup includes:

Sarah Cooper
In April 2020, Sarah went viral with her brilliant satirical lip-sync impressions of the former president.
These videos have been seen by tens of millions of people including her "How to Medical" video which
has been viewed over 25 million times. Sarah's first variety special "Sarah Cooper: Everything's Fine"
premiered on Netflix to rave reviews. She is currently writing a new show for CBS adapted from her
best-selling book "How To Be Successful Without Hurting Men's Feelings." Sarah was named one of
Variety Magazine's "10 Comics To Watch For 2020" and Vulture Magazine's "The Comedians You Should
and Will Know in 2020", and guest hosted "Jimmy Kimmel Live"! in August 2020. Prior to her online
success, Sarah also wrote the best-selling book "100 Tricks to Appear Smart in Meetings". Sarah is next
set to pen an auto-biographical take of Dale Carnegie's "How to Win Friends and Influence People" for
Audible. Her social platform is in the millions and continues rising daily.

Sibling Rivalry: Bob the Drag Queen and Monét X Change
Monét X Change, Miss Congeniality of RuPaul's Drag Race Season 10 and winner of AS4 and Bob The
Drag Queen, winner of Season 8 (she won the first time) are not actually siblings but they are the
intensely hilarious comedy duo with infectious chemistry behind the hit podcast Sibling Rivalry. In
addition to their touring, television and music careers, you've seen Bob in his comedy specials,
"Suspiciously Large Woman" and "Crazy Black Lady" and Monét on her hit BUILDSeries talk show "The X
Change Rate."

Ziwe
Ziwe is a talented comedian, writer, and actress, who has taken the Internet by storm with her signature
candor, wit, and salient commentary on race and politics in America. Named to Forbes 30 Under 30
2021 and critically acclaimed by The New York Times, TIME, and Variety, she garnered attention with
her provocative and hilarious interviews on her Instagram Live and YouTube talk series, "Baited." Ziwe
was previously a Story Editor on Apple TV+'s "Dickinson" and voiced roles on CBS All Access' "Tooning
Out the News" and Showtime's "Our Cartoon President." She wrote for Showtime's "Desus & Mero,"
Comedy Central's "The Colbert Report," "The Onion," and BET's "The Rundown with Robin Thede." Ziwe
has built a fanbase in the podcast space as a co-host of Crooked Media's "Hysteria." She is currently
writing a much-anticipated book of essays, "The Book of Ziwe," slated for release this winter. Her A24
produced late-night variety sketch show, "Ziwe," premiered on Showtime in May 2021. As one of TIME's
100 Next Gen Leaders, her refreshing approach to broadcast journalism represents the renaissance of
late-night.

Sam Jay
Stand-up comic and Emmy-nominated writer ("Saturday Night Live") Sam Jay can currently be seen on
HBO's "Pause with Sam Jay," a weekly late-night series on which she serves as host and executive
producer. Last summer, she debuted her first one-hour stand up special "Sam Jay: 3 in the Morning" on
Netflix. In 2019, Sam made her Netflix debut on "The Comedy Lineup" and released her album "Donna's
Daughter" through Comedy Central Records. In 2018, Sam wrote for the 70th Primetime Emmy Awards
and the MTV Movie & TV Awards. Sam's 2018 TV credits include a recurring role on TV Land's
"Nobodies" and a guest star in season 5 of Comedy Central's "Broad City."
Nico Santos
Actor and comedian Nico Santos is best known for portraying Oliver T'sien in the film "Crazy Rich
Asians," as well as Mateo in "Superstore," on NBC. The latter garnered him two Critic's Choice Awards
nominations for Best Supporting Actor in a Comedy Series. Born and raised in the Philippines, Santos
began performing stand-up in San Francisco, becoming a popular fixture in the Bay Area comedy scene.
He has also appeared Off-Broadway opposite Susan Sarandon in "Happy Talk," a new play by Jesse
Eisenberg. Other credits include "Chelsea Lately," "2 Broke Girls" and "Paul Blart: Mall Cop 2."

Trevor Wallace
Trevor Wallace is a stand-up comedian and actor based in Los Angeles. Wallace can be seen just about
everywhere on the internet and has collectively built a digital thumbprint of over 300 million views since
2018. Wallace is also an original cast member of the popular YouTube channel, All Def Digital, and has
been featured on Comedy Central, Buzzfeed, Unilad, Funny or Die, Super Deluxe, Fusion TV, IFC,
Worldstar Hip Hop, 9GAG, Reddit & MTV2. Wallace performs at comedy clubs and colleges all over the
country with some of the biggest names, although his biggest accomplishment is being told he has
"beautiful hair" by Todd Glass.
Whitmer Thomas
Whitmer Thomas has most recently appeared in "The Good Place" (NBC), "The Walking Dead" (AMC),
"GLOW" (Netflix), "You're the Worst" (FX) and voiced and created the ADHD animated series "Stone
Quackers" on FXX. Whit can be seen in the film, "Sword of Trust," opposite Marc Maron, Jillian Bell and
Michaela Watkins. Whit has toured with Bo Burnham and appeared in colleges, clubs and festivals. He's
been featured as a New Face at Just For Laughs in Montreal and has headlined at Melbourne
International Comedy Festival. Whit's hour special/documentary film, "The Golden One," with Bo
Burnham and produced by A24 debuted in 2020.

Annie Lederman
Annie Lederman is a stand-up comedian, podcaster, and writer/actress. She is a regular panelist on
Comedy Central's "Lights Out with David Spade," the voice of Cheryl in "Grand Theft Auto V" and
recently wrote and produced on Sacha Baron Cohen's Showtime series "Who Is America?" She has been
heard regularly on some of the biggest comedy podcasts in the world and hosts her own hit podcasts
"Meanspiration" as well as "Bloodbath" with Khalyla Kuhn and Esther Povistky. She gained popularity as
one of the stars of MTV's "Girl Code" and as a recurring guest on E!'s "Chelsea Lately." She acted
alongside Ron Livingston in "The Long Dumb Road" and starred and wrote, "Stand Ups," a scripted
Comedy Central pilot. She also wrote for "Impractical Jokers." She has been featured on Comedy
Central's "This Is Not Happening," "@midnight," truTV's "Comedy Knockout," "The Soup
Investigates" and "Adam Devine's House Party."

The Bitch Bible
Jackie Schimmel is a podcast host, producer, writer, good time gal and professional asshole. In 2012,
disgruntled by her day job, Schimmel started blog "The Bitch Bible" that acted as an aggressive public
diary cataloging her grievances with the world. The blog was discovered by executives at "Watch What
Happens Live." Jackie was offered a podcast development deal with Embassy Row Productions. Primarily
a solo podcaster, past guests include everyone from Cardi B to Michael Rappaport. Schimmel has
propelled her podcast "The Bitch Bible" from an experimental hobby to a top comedy podcast. In early
2020, "The Bitch Bible" hit the road with a sold-out live podcast tour. Jackie Schimmel has had television
production deals with Sony Television, CBS Studios and NBC Universal. Just remember, you will always
roll a gimmel when you bet on Jackie Schimmel.

Rachel Sennott
Rachel Sennott is a writer/performer who is upcoming in the highly anticipated A24 slasher film "Bodies
Bodies Bodies." She stars in the critically acclaimed indie feature "Shiva Baby" inspired by the short film;
her performance was praised by The New York Times as "a revelation." She is set to star in and co-write
the feature "Bottoms." Rachel has been profiled by W Magazine, Forbes, Nylon and Paper Magazine
among many others for her comedy stylings, described as "Gloria Steinem reporting undercover from
the Playboy Club." She was chosen as a Comic to Watch by Time Out NY and has performed on "Taking
the Stage," a collaboration between Comedy Central and Refinery29.

Marcella Arguello
Marcella is the host and booker of "Women Crush Wednesdays," the hottest and most diverse show in
Los Angeles. Her debut album, "The Woke Bully," which debuted at number three on the Billboard
Comedy Charts and was named One of The Best Comedy Albums of 2019 by NPR program "Bullseye," is
a combination of Marcella's unique perspective and honesty. She has worked at The Improv Comedy
Clubs all over the country and has performed all over the world. Comedian Sean Keane referred to her
as the "finest export from Modesto since George Lucas."

Brady Matthews
Brady Matthews is a nationally touring comedian, recently testing for "Saturday Night Live" doing
impressions and characters in his act. Aside from being a comedian, he's a new father and an
accomplished artist, which brings new material to his comedy from dealing with fatherhood to his
observational daily life. With his charm and calm demeanor on stage you never know where he's going
next but will always have your stomach in stitches.

Although tickets for Life is Beautiful 2021 are currently sold out, fans looking to purchase tickets are
encouraged to join the Life is Beautiful waitlist and verified ticket exchange. Every ticket bought or sold
on the exchange is verified, making it the safest and most secure resale platform. For more information
on Life is Beautiful, please visit www.lifeisbeautiful.com or follow along on social media on Facebook,
Instagram and Twitter

                                                    ###

About Life is Beautiful
Life is Beautiful was born in 2013 as part of the major transformation of Downtown Las Vegas as a
cultural hub and has since contributed over $350M of economic impact and cultural capital to the area.
During the three-day festival, premier musical acts, experiential artists, comedians, thinkers and culinary
talent flow into the urban streets of DTLV, in addition to the festival's 170,000 attendees. What started
as an event has become something more: a symbol of connection, joy and creativity. Life is Beautiful
continues to be driven by its core mission to create a holistic experience which aids in positive
community transformation and individual empowerment by collectivizing and inspiring through shared
experiences driven by art and culture.
Media Contacts:
Alexandra Leach | Tara LeVangie
Kirvin Doak Communications
LIB@kirvindoak.com