ZENITH COLLECTIONS 2017-2018
If your browser does not support JavaScript, please read the page content below:
ZENITH COLLECTIONS 2017-2018
> 5 enith's thirst for improvement and innovation dates back to the very beginning – 1865 to be exact. In Le Locle, in the mountains of Neuchâtel, 22-year-old trailblazer Georges Favre-Jacot founded a unique watch workshop. His aim was to produce a watch in its entirety. Yet in the 19th century, movement components were manufactured by a number of decentralised watchmakers. For the first time, he brought all of the watch professions together under a single roof, working in vast workshops bathed with light.
In doing so, the visionary entrepreneur created the first industrial watch manufacture in the modern sense of the word. Now, 150 years later, this team spirit is more relevant than ever. As a genuine watch innovation platform, the Zenith Manufacture now draws on the LVMH group's best experts and researchers to develop and design the mechanical movements of tomorrow.
A p i o n e e r i n g s p i r i t Z For over 150 years, Zenith's history has been made with the stuff of modernity. Its watchmaking expertise, full of innovation and daring, and its forward-looking spirit form the Swiss Manufacture's identity. Just like its founder Georges Favre-Jacot in 1865, the Zenith brand is living the 21st century ahead of time. Bolstered by the iconic El Primero, Zenith's vision of mechanical watchmaking is entering a ground-breaking new era: that of ultra-precision. Blending advanced technology and traditional watchmaking art, its elegant and timeless watches are the product of unique manufacture expertise.
They serve as palpable proof that tradition has a bright future at the Manufacture.
INTRODUCTION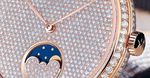 > 7 S t r i v i n g f o r a c c u r a c y orever at the forefront of chronometric performance – as attested by its new 100th of a second El Primero 21 chronograph movement certified by TIME LAB –, Zenith has made accuracy an uncompromising quality requirement since the beginning. In the 19th century, the joining of expertise and production techniques instigated by its founder Georges Favre-Jacot enabled it to make considerable advances in terms of reliability and accuracy. So much so that between 1903 and the end of the 1960s – the golden age of chronometry competitions – Zenith won 2333 awards, filed over 300 patents and designed many movements created in some 600 versions.
This never-ending quest for performance was enhanced by remarkable technical innovations, such as the "Gravity Control" gyroscopic module or the fusee-chain transmission, both of which ensure peerless accuracy.
F INTRODUCTION
> 9 T h e f u t u r e o f t r a d i t i o n A O n 10 January 1969, Zenith made its stellar contribution to the history of contemporary watchmaking. The Manufacture premièred its now legendary El Primero calibre ("the first" in Esperanto), an integrated automatic column-wheel chronograph beating to the high-frequency of 36,000 vibrations/hour (5 Hz) accurate to the nearest tenth of a second. El Primero remains the world's most accurate series-made chronograph to date. This gold standard would be continually perfected and enhanced with new functions to take Zenith into the era of ultra-precision, with the new Defy El Primero 21 derived from this original model.
Oscillating at 50 Hz, this superior high-frequency piece boosts the performance of the legendary line tenfold, displaying the hundredths of a second with a central hand. The first fruits of a star-studded renewal. s a major player in the Swiss watch industry, Zenith draws on genuine manufacture expertise and superlative craftsmanship. Today and yesterday, the Manufacture lives in the present, its sights firmly fixed on the horizon. This innovative spirit gives rise to new technical and creative partnerships within the LVMH group and forges the brand's chic and accessible vision of Haute Horlogerie.
The icons of its destiny inspire modern and stylish creations with iconic status. Zenith's timeless watches boast the inimitable style of age-old heritage that looks to the future. Incorporating manufacture movements, noble and high- tech materials, and harmonious neo-retro lines, they bring the identity of a traditional brand in line with current times. As lovers of uniquely designed fine mechanics can clearly see, Zenith's watches are the future.
INTRODUCTION < O n c e a n i c o n , f o r e v e r a n i c o n
fter specialising in high - frequency for half a century, Zenith is entering the age of ultra-precision with a new in - house movement that displays the hundredths of a second with a central hand–a unique dynamic signature – and presents an exclusive innovative architecture and patented materials to offer extraordinary performance.
Defy takes Zenith's historical watchmaking expertise to the cutting edge. The new generation defines the contemporary image of an authentic Swiss Manufacture while respecting the codes of the legendary El Primero chronograph as its futuristic descendant. Its powerful lines, inspired by the original early 1970s style, contain the most advanced technologies and the expertise of the Zenith Manufacture, which draws on 150 years of innovation. These retro yet modern aesthetics are as impressive as they are balanced. They embody the innate elegance of the urban gentleman living outside of time, taking tradition into the 21st century and beyond.
A DEFY
> 17 EL PRIMERO 21 - 44 MM 95.9000.9004/78.R582 ≥ 49.9000.9004/78.R582 DEFY
> 21 EL PRIMERO 21 - 44 MM 95.9001.9004/01.R582 DEFY
> 22 CHRONOMASTER A N I C O N W O R N O N T H E W R I S T
> 25 and hands, and a fine star-tipped sweep-seconds hand give it the iconic style that blends power and refinement characteristic of Zenith. Worn by keen aesthetes who love fine mechanisms with a fiery spirit, this sport-chic watch finishes off a masculine outfit with classic, stylish accents.
he Chronomaster is immediately recognisable. Its imposing yet elegant stature, emblematic display design and high-frequency mechanism durably inscribe this piece in the Manufacture's identity. These technical and aesthetic attributes, produced in a number of inimitable variations, come from the legendary El Primero line, the world's most accurate series - made chronograph, designed by Zenith in 1969. Emblematic of high precision, this automatic integrated column-wheel chronograph beats to the furious rhythm of 5 Hz, offering a 1/10 th second display. A generous case, round push-pieces, faceted and luminescent indices T CHRONOMASTER
> 27 EL PRIMERO TOURBILLON GFJ 45 MM - LTD 150 UNITS 18.2520.4805/98.C713 >49.2520.4805/98.R576 CHRONOMASTER
EL PRIMERO TOURBILLON SKELETON 45 MM - LTD 150 UNITS > 18.2281.4035/98.C713 49.2520.4035/98.R576
> 31 EL PRIMERO GRANDE DATE FULL OPEN 45 MM ≥ 51.2530.4047/78.C810 > 03.2530.4047/78.C813 CHRONOMASTER
> 33 EL PRIMERO FULL OPEN 38 - 42 MM 03.2153.400/78.C813 ≥ 03.2081.400/78.C813 CHRONOMASTER
EL PRIMERO FULL OPEN 38 - 42 MM 51.2081.400/78.C810
> 37 EL PRIMERO OPEN - 42 MM 18.2040.4061/69.C494 ≥ 03.2040.4061/69.C496 < 51.2080.4061/69.C494 CHRONOMASTER
> 39 EL PRIMERO OPEN - 42 MM 03.2042.4061/21.C496
> 41 EL PRIMERO OPEN - 42 MM 03.2040.4061/52.C700 > 03.2040.4061/23.C496 CHRONOMASTER
> 43 EL PRIMERO OPEN - 42 MM 03.20416.4061/51.C700 CHRONOMASTER
> 45 EL PRIMERO OPEN - 42 MM 03.2040.4061/01.C494 03.2040.4061/21.C496 CHRONOMASTER
> 47 EL PRIMERO OPEN LADY - 38 MM
> 53 EL PRIMERO CLASSIC CARS 42 MM 03.2046.400/25.C771 CHRONOMASTER
> 55 EL PRIMERO - 38 MM 18.2150.400/69.C713 ≥51.2150.400/69.C713 >03.2150.400/69.C713 CHRONOMASTER
> 57 EL PRIMERO - 38 MM 03.2150.400/26.C714 ≥03.2150.400/53.C700 CHRONOMASTER
CHRONOMASTER < HERITAGE 146 - 38 MM ≤18.2150.4069/91.C812 03.2150.4069/75.C806
> 60 ELITE T I M E L E S S E L E G A N C E B Y Z E N I T H
> 63 efined lines, simplicity and refinement. With its distinctive pebble-shaped ultra-thin case and slightly domed dial with engraved stylised hour- markers or painted numerals crossed by slim leaf-shaped hands, the Elite is as discreet as it is captivating. This is a stylish and timeless urban must-have. Finished with a fluted crown and ergonomic lugs perfectly moulded to the wrist, its slender curves incorporate all of Zenith's watchmaking expertise with manufacture mechanical movements. This classic design pairs modern accents with a streamlined form to produce a timeless look sure to please those who appreciate stylistic minimalism where perfection is in the details.
That is Zenith's signature of contemporary elegance.
R ELITE
> 65 CHRONOGRAPH CLASSIC - 42 MM 18.2270.4069/01.C498 ≥18.2270.4069/18.C498 ELITE
ELITE < > 67 CHRONOGRAPH CLASSIC - 42 MM ≤03.2270.4069/01.C493
> 71 CLASSIC - 39 MM >18.2290.679/18.C498 18.2290.679/01.C498 ELITE
> 73 CLASSIC - 39 MM 03.2290.679/26.C493 03.2290.679/01.C493 03.2290.679/51.C700 ELITE
> 75 CLASSIC - 39 MM 03.2290.679/11.C493 ELITE
> 77 LADY MOONPHASE - 36 MM 22.2320.690/79.C713 ELITE
> 79 LADY MOONPHASE - 36 MM 16.2320.692/80.C714 ELITE
> 81 LADY MOONPHASE - 36 MM 03.2320.692/81.C714 >18.2320.692/80.C713 03.2320.692/80.C714 ELITE
ELITE < LADY MOONPHASE - 33 MM 22.2330.692/01.C713 18.2330.692/01.C713
> 85 LADY MOONPHASE - 33 MM 03.2330.692/01.C714 ≥03.2330.692/02.C714 03.2330.679/11.M2330 LADY MOONPHASE - 33 MM 16.2330.692/01.M2330 16.2330.692/01.C714 ELITE
> 86 PILOT A N A D V E N T U R O U S S T Y L E S TA M P E D W I T H D I S TA N T H O R I Z O N S
> 89 ith an imposing case, a large fluted crown that can be adjustedwhilewearinggloves,oversizedluminescent Arabic numerals crossed by finely worked hands, and a Zenith manufacture mechanism, the Pilot collection possesses an intrepid, adventurous spirit. Unabashedly neo-retro, these spirited timepieces sport the robust features of historical aviators' watches. Their streamlined case middle, covered by a domed sapphire crystal, and grained dial lend themselves to the most stylish variations. In the city or on the open road, their strong character completes the charismatic look of a free-roaming adventurer.
A vintage patina, raw shades and aged leather straps with contrasting stitching reveal an authentic nature and a love for endless horizons. W PILOT
> 91 TYPE 20 CHRONOGRAPH EXTRA SPECIAL - 45 MM 29.2430.4069/21.C800 TYPE 20 CHRONOGRAPH TON-UP - 45 MM >11.2430.4069/21.C773 PILOT
> 93 TYPE 20 EXTRA SPECIAL 45 MM 29.2430.679/21.C753 TYPE 20 EXTRA SPECIAL TON UP 45 MM > 11.2430.679/21.C801 PILOT
> 97 TYPE 20 EXTRA SPECIAL - 40 MM 11.1940.679/91.C807 PILOT
> 99 CRONOMETRO TIPO CP-2 43 MM - LTD 1'000 UNITS 03.2240.4069/21.C803 ≥03.2240.4069/21.C774 PILOT
w w w .
z e n i t h - w a t c h e s . c o m Publisher: Zenith Communication and Marketing Department © Zenith Branch of LVMH Swiss Manufactures SA Printed in Switzerland. Zenith reserves the right to modify at any time and without prior notice the specifications relating to the products shown in this publication.
w w w . z e n i t h - w a t c h e s . c o m