Winter/Spring 2019 (PDF) - Atrium Health Foundation
If your browser does not support JavaScript, please read the page content below:
FullSpeed Ahead SHERRY POLLEX AND NASCAR'S MARTIN TRUEX, JR. ARE TRANSFORMING CANCER CARE momentum Spring 2019 N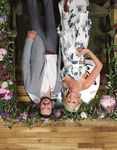 momentum "Momentum is a powerful word, one that signifies the growth and continual progress we strive for within our health system."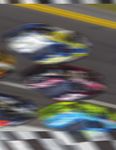 Dear Friends, We are well into 2019 and maintaining a rapid pace as together, we continue to advance our mission of inspiring transformational giving to Atrium Health. As I think of our team at the Foundation, and our many generous supporters, I'm reminded of what is referred to in the racing/NASCAR world as "the draft" (also known as the pack).
These terms are used to describe a large group of cars running together, enabling the entire group of cars to move faster than they might otherwise be able to, individually. Together, we are the draft, and we are moving quickly to transform the healthcare landscape in our community. Thanks to your generosity, we are building world-class programs, improving access to care, broadening our education programs, funding medical research and innovations and so much more.
In this issue of Momentum, I hope you'll enjoy learning more about the impact of philanthropy across Atrium Health – from corporate partners to legacy donors, to those who give quietly and those who inspire and encourage others to give. You'll get a closer look at our planned giving program, as well as a snapshot of some of our NASCAR partners, who continue to amaze us with their loyal commitment to the communities we serve. Our foot is on the accelerator – so let's continue to get caught up in the Momentum!
With gratitude, Armando L. Chardiet President Action Sports Photography / Shutterstock.com
WWW.KEEPPOUNDING5K.ORG PRESENTED BY BENEFITING ADULT AND PEDIATRIC CANCER RESEARCH AND PATIENT PROGRAMS AT LEVINE CANCER INSTITUTE AND LEVINE CHILDREN'S HOSPITAL. ON SATURDAY, JUNE 1, RUN FOR THE ONES YOU LOVE. S UPPO RTI N G: 5K STADIUM RUN
contents 18 27 Momentum is a publication produced by Atrium Health Foundation. For more information, please call 704-355-4048. © Copyright 2019 by Atrium Health Foundation To opt out of future communications from Atrium Health Foundation, please email ahfoptout@atriumhealthfoundation.org, telephone 704-355-4048, or write to: Atrium Health Foundation @ 208 East Boulevard, Charlotte, NC 28203.
ON THE COVER 2 Improving Lives Together Cover photo: (L-R) NASCAR's Martin Truex, Jr. and Sherry Pollex INNOVATORS 12 Morris-Jenkins 18 Dilworth South End Rotary 12 15 25 A DOSE OF HOPE 5 "Chai Hopes" 11 Betty Dillingham 24 Jason Walton PHILANTHROPY IN ACTION 6 Kohl's 7 Cougars 4 a Cure 7 DP World Americas 13 Secret Santa Radiothon 14 Jeremy B. Blevins Oral Cancer Fund 22 Lauren Marie Kimsey Synovial Sarcoma Fund 22 Cupid's Cup 5K 26 Dance Marathons ON THE SCENE 8 Isabella Santos Foundation 25 Charlotte Ballet's Dancing with the Stars UPWARD 20 CMN Champion Hannah COMMUNITY IMPACT 10 Community Town Hall 10 Grants GAME CHANGERS 16 ONE Charlotte Health Alliance 19 Jeans, Genes and Geniuses 23 Charlotte Knights SAVE THE DATE 15 Carolinas 4 A Cure Walk Miles Against Melanoma – NC The HEARTest Yard + Showmars 5K Catwalk for a Cause Speak Pink Levine JCC Kids' Triathlon Thank you for supporting Levine Children's Hospital!
Martin Truex Jr. and his longtime partner, Sherry Pollex, don't slow down – and they don't give up. Since 2007, Sherry and the popular 2017 NASCAR Monster Energy Cup Series champion and newest member of the No. 19 Joe Gibbs Racing team have dedicated their efforts "off the track" to support cancer initiatives specific to ovarian and childhood cancers. Passionate about creating awareness for a disease that has personally impacted their lives (Sherry was diagnosed with ovarian cancer in 2014) – the couple recently made a $750,000 transformational gift to Atrium Health through the Martin Truex Jr.
Foundation. Funds will be used to support integrative medicine initiatives at Levine Cancer Institute and pediatric cancer programs at Levine Children's. IMPROVINGLIVES Together MARTIN TRUEX JR. AND SHERRY POLLEX ARE REVVING UP CANCER SERVICES IN THE CAROLINAS AT LT AT I O N Action Sports Photography / Shutterstock.com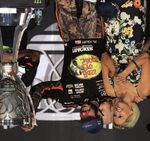 We have created some amazing initiatives for women and children battling ovarian and pediatric cancer. I'm so proud of everything the Martin Truex Jr. Foundation and SherryStrong have been able to provide for this community," said Sherry."Since my own cancer diagnosis, it's been so important for me to teach others battling this disease how integrative medicine complements traditional cancer therapies. I want patients to know how useful integrative practices like yoga, acupuncture, oncology massage, and good nutrition can help support their bodies during cancer as well as helping to make their life better after diagnosis." Thanks to Martin and Sherry's gift, integrative medicine will now be introduced at Levine Children's Hospital under the direction of Dr.
Jen Pope, Director of Supportive Medicine and Cancer and Blood Disorders."It's so exciting to offer new therapies like Reiki and massage therapy, which will help ease the pain and anxiety associated with cancer," said Dr. Pope.
Continued on pg. 4 Together – we have the power to improve lives, inspire smiles, and realize dreams.We will Never Give Up. -MARTIN TRUEX JR. FOUNDATION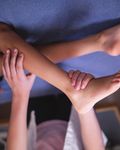 NASCAR Winners Ci NASCAR Winners Ci Felix Sabates Longtime Atrium Health Foundation board member & community champion, Felix was an early supporter of the Dare to Dream capital campaign for Levine Children's and continues as an annual supporter of Giving Tuesday benefiting the hospital. Linda and Rick Hendrick (Hendrick Motorsports) Longtime champions of Levine Children's, Rick Hendrick and his family supported the Dare to Dream Campaign for Levine Children's and were instrumental in forming the Partnership for Pediatric Hearts.
The 6th Floor, referred to as the "heart and soul" of Levine Children's as it houses the region's only pediatric cardiovascular intensive care unit, is named in honor of their son, the late Ricky Hendrick. Aric Almirola Driver of the No. 10 Smithfield Ford Fusion in the Monster Energy NASCAR Cup Series – Aric supports Levine Children's through the Almirola Family Fund, established after he and his wife, Janice, spent time at the hospital with their newborn daughter. The fund provides "comfort kits" for children and families admitted to the hospital. Speedway Children's Charities and Charlotte Motor Speedway From supporting the capital campaign to artwork, to the Dale Earnhardt, Jr.
concussion research fund, Speedway Children's Charities and the Speedway ha demonstrated great loyalty to Levine Children's through their charitable giving. Joey Logano The 2018 NASCAR Monster Energy Cup Series Champion recently funded play therapy equipment for the rehabilitation pavilion at Levine Children's.
JD Gibbs The late J.D. Gibbs, who served as a founding member of the Levine Children's Board of Ambassadors, is also remembered for tirelessly supporting his son Taylor while he underwent treatment for leukemia at Levine Children's. His family hosted Taylor's Finish Line Festival in 2010 to celebrate Taylor's remission and raised funds for pediatric cancer research. AT LT AT 3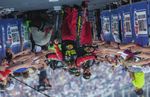 ircle FOR ATRIUM HEALTH ircle FOR ATRIUM HEALTH ave NASCAR Foundation In the race to support sick and injured children, the NASCAR Foundation consistently steps forward to help hospitals like Levine Children's.
Tony Stewart Host of the Prelude to the Dream race at Eldora Speedway, the nowretired Tony Stewart designated Levine Children's Hospital as a beneficiary in 2010 and 2011, raising significant funds and awareness for the hospital. Robert Yates The late NASACAR Hall of Famer Robert Yates, along with his wife, provided generous gifts to pediatric cancer research at Levine Children's through Robert Yates Racing & The Yates Family. Jeff Gordon 2019 NASCAR Hall of Fame inductee and passionate philanthropist, Jeff has been a longtime supporter of pediatric cancer programs in the region. He is benefactor of Levine Children's Jeff Gordon Children's Center at Atrium Health and in 2017 endowed a chair in pediatric cancer and blood disorders at Levine Children's through the Jeff Gordon Children's Foundation.
Kyle Busch & Jimmie Johnson Both fans of supporting local children's hospitals, Jimmie and Kyle represented Team Levine during Tony Stewart's Prelude to the Dream. Johnson is also a member of the Dreamcatcher Society supporting Levine Children's. Dale Earnhardt, Jr.
Retired Hendrick driver Dale Earnhardt Jr. established a fund to provide concussion research through Levine Children's, supported a virtual gaming system at the hospital, and teamed up with the Carolina Panthers' Greg Olsen for the Levine Children's fundraiser, Weekend with the 88s. Action Sports Photography / Shutterstock.com
4 AT LT AT I O N The gift will also provide adult patients at Levine Cancer Institute's Pineville, University, and Northeast locations with access to the region's most innovative and impactful supportive oncology services, such as healing touch therapy, oncology massage therapy, acupuncture, and other supportive services.
We are dedicated to providing world-class programs and services in locations closest to where patients live and work," said Dr. Chasse BaileyDorton, Levine Cancer Institute's Chief, Section of Integrative Oncology. "With Martin and Sherry as our advocates, we are achieving this vision." Together, Sherry and Martin have had a hand in supporting cancer patients and their families served at Atrium Health since 2011, when they established the Martin Truex Jr. Foundation Pediatric Special Needs Fund. Since that time, their gifts have expanded to include the Seacrest Studios at Levine Children's, the Hemby Hematology/Oncology Center, and Levine Cancer Institute's Supportive Oncology program.
Collectively, their commitments have exceeded $1.3 million.
We are fortunate to be in the position to give back," said Martin,"and we are humbled by the support we receive from this community and fans from across the country. These are the things in life that really matter to us and it's amazing that we've been able to raise enough money to make an impact this big. We're extremely grateful." Sherry and Martin have expanded the mission of the Martin Truex Jr. Foundation through their SherryStrong platform and continue to fundraise through events such as exercise "Spin-Alongs " Go-Kart races, and fashion shows – all to support ovarian cancer research, integrative oncology, and pediatric cancer initiatives.
Levine Cancer Institute models itself on a community-based approach to cancer care, ensuring that facilities have programs, such as Integrative Oncology, in place to support cancer care in locations closest to where patients live and work.The support of SherryStrong and the Martin Truex Jr. Foundation are allowing the Institute to achieve this vision. IMPROVING LIVES Continued from pg. 2 LEADERS IN INTEGRATIVE ONCOLOGY Chasse Bailey-Dorton, MD Levine Cancer Institute Jennifer Pope, MD Levine Children's Hospital
AT LT AT FOR LEVINE CHILDREN'S HOSPITAL International group knits its way into hearts of young patients, families Since 2007, Lynn Edelstein and her group of knitters have dedicated countless hours to hand-knitting over 11,300 blankets for patients at Levine Children's Hospital.
A team of more than 450 individuals from three countries have poured their talents, love and care into crafting beautiful blankets for Levine Children's. From Canada to Russia, and from Florida to Kentucky, from a hospital nurse to an art major – their backgrounds are vast. The blankets, which are knitted with soft, colorful yarn, are used to comfort babies or to drape over cribs to provide a cozy space for naps. Other patients in the hospital also love to grab a blanket to snuggle up with and feel a little more at home in their rooms. Each blanket features exquisite designs, showcasing the talent and uniqueness of the artist and knitter who created it.
The group of knitters – comprised mostly of members of the Levine Jewish Community Center in Charlotte – call themselves "Chai Hopes," in reference to the Hebrew word "chai" which means "life." By knitting blankets for patients at Levine Children's Hospital, the group aims to lift the spirits of patients and their families by adding a unique touch of comfort to the hospital environment. In January, Mrs. Edelstein was awarded a plaque at Levine Children's Hospital to commemorate her group's years of dedication to the patients. 1. (L-R) Judy Marco and Lynn Edelstein stand behind a pile of dozens of handknitted blankets before donating them to Levine Children's Hospital.
Judy and Lynn are part of the group Chai Hopes, which knits blankets for use in the Neonatal Intensive Care Nurseries and other areas within the hospital. 2. On Friday, January 18, a group of close friends and family gathered on the third floor of Levine Children's Hospital for a surprise celebration of Lynn and her Chai Hopes group.
3. Originally from Russia, Nora has knitted 328 blankets to donate to LCH. 1 3 2 "Chai" Hopes Since 2007, over 11,300 blankets were knitted by 450 individuals from three countries. CHAI HOPES AT LT AT 5
AtAtrium Health, our mission is to improve health, elevate hope and advance healing — for all. The pursuit of providing worldclass health care for all sometimes requires taking our services outside of the hospital's walls and into the community – especially to communities where healthcare services are not easily accessible. In 2018, in partnership with Kohl's Department Store, Atrium Health launched Atrium Health Community Cares, Powered by Kohl's.
This regional health initiative extends our reach and services within Mecklenburg, Anson, Cabarrus, Gaston, York and Union counties, with a core focus on fragile communities in these areas. Last year, Atrium Health Community Cares, Powered by Kohl's conducted over 600 well-child visits and over 900 mental health screenings in these communities. Well-child visits and mental health screenings are critical health touchpoints that allow patients to stay informed and involved in their healthcare and help providers to meet the evolving needs of patients. For those living in rural communities, accessing this care presents unique challenges.
Atrium Health Community Cares, Powered by Kohl's helps bridge the gap between rural patients and care providers so that everyone,regardless of where they are, can access the best care for their families.
1 2 1.An Atrium Health teammate sets up for"Cooking Camp," part of a YMCA summer program to help promote healthy eating habits. Cooking Camp is just one of the ways that Atrium Health Community Cares, Powered by Kohl's helps rural communities stay active and healthy. 2. Kohl's teammates join the ranks of Atrium Health's growing outreach program – Atrium Health Community Cares – serving rural communities across our region. AT LT AT I O N Hitting the Road for Health KOHL'S, ATRIUM HEALTH EXTEND CARE INTO COMMUNITY
AT LT AT On January 18, Charlotte Catholic High School students raised more than $41,000 as part of the school's annual Cougars 4 a Cure event.
For the past six years, students have sold t-shirts and solicited donations at a school basketball game. Founded by Matthew Salvino in 2013 after his mother was diagnosed with bladder cancer, his younger siblings Mitchell and Morgan – senior and freshman students at Charlotte Catholic High School, respectively – have taken the helm to lead the annual event to even greater success and impact, achieving a new fundraising record in 2019. As in years past, funds raised for the event will fund ground-breaking bladder cancer research at Levine Cancer Institute.
Pictured (L-R): Scott Kerr (SVP,Atrium Health Foundation), Dr. Ed Kim (Director of Solid Tumors Program, Levine Cancer Institute), Coach Andre Speech (CCHS JV and Varsity Basketball) siblings Mitchell and Morgan Salvino (C4C organizers, Charlotte Catholic High School), Dr. Peter Clark (Chair, Department of Urology, Levine Cancer Institute), and Armando Chardiet (President,Atrium Health Foundation). COUGARS ARE BACK ON THE "PROWL" FOR A CURE TO END BLADDER CANCER GLOBAL SUPPORT FOR LOCAL CANCER CARE A leading enabler of global trade, DP World Americas continued its support of Levine Children's Hospital in 2018 with a generous $30,000 donation in support of the new pediatric cancer lab scheduled to open in Spring 2019 at Levine Cancer Institute.The lab will be the only one in the region dedicated solely to advancing translational research and scientific breakthroughs in the fight against pediatric cancer.
(Center) Stacy Nicholson, MD, President of Levine Children's with DP World Americas'Tiemen Meester (L) and Steve Ware (R).
8 AT LT AT I O N A Unique Room ISABELLA'S LEGACY CONTINUES I n 2011, one Charlotte family had to leave the comforts of home to travel outside of Charlotte to receive a specialized cancer therapy for their daughter, Isabella, who was then-battling a rare form of neuroblastoma. The novel therapy, known as MIBG, added 10 precious months to her life. MIBG can only be delivered in a lead-lined hospital room that keeps the therapy's radioactivity contained. Today, eight years after Isabella first received this novel treatment, the Isabella Santos Foundation not only keeps her memory and spirit alive within her hometown, they are creating breakthroughs in the treatment of rare pediatric cancers by bringing this ground-breaking therapy to our own back yard.
Thanks to a gift of $1 million made by the Foundation, the region's first state-of-the-art MIBG therapy suite opened at Levine Children's Hospital on November 20, 2018.
This room "is really going to change the landscape" of local cancer care, says Javier Oesterheld, MD, medical director of the cancer program at Levine Children's. An MIBG room can not only treat children with neuroblastoma – the type of cancer Isabella had – but also be used in advanced clinical trials for different types of cancers. The treatment room at Levine Children's Hospital is one of the safest in the nation with more than 20,000 pounds of lead separating the patient's room from other parts of the MIBG treatment suite and the hospital. Despite the physical barrier, the room will have features that keep patients and their families connected, including lead-lined windows and an advanced audio-visual system.
Isabella's legacy and presence are also felt within the rooms – her artwork graces the walls. "Every time I visit the suite, I can feel Isabella's presence," says her mother, Erin."While I wish Isabella could have received the therapy in Charlotte, it is through her legacy that other families will be able to do so." 1. Erin Santos and Gene Woods at the grand opening celebration of the MIBG suite. 2. Erin's daughter Isabella has created a legacy for generations to come. 2 1
AT LT AT "Every time I visit the suite, I can feel Isabella's presence.While I wish Isabella could have received the therapy in Charlotte, it is through her legacy that other families will be able to do so." — ERIN SANTOS Dr.
Javier Oesterheld in the lead-lined room of the MIBG Suite, which features special distractions for patients, including a magical, starry galaxy on the ceiling.
TOWN HALL SPARKS EXCHANGE OF NEW IDEAS,TIMELY TOPICS In February 2019, Atrium Health Foundation was pleased to unveil Atrium Health Innovates: A Community Town Hall, a series of one-hour virtual broadcasts highlighting areas of leadership and innovation within Atrium Health. Led by keynote speaker Martha Whitecotton, Senior Vice President of Behavioral Health Services, and moderated by Lou Solomon, Founder and CEO of Interact Authentic Communication, the inaugural Town Hall covered a range of timely behavioral health topics including: Healthcare Innovations; Models of Care; Virtual Care; Addiction; Stigma; Community Support; Sustainable Solutions; Access to Care; and more.
This inspiring broadcast engaged Atrium Health Teammates and community partners in an important discussion of Atrium Health's response to the community's mental health needs, including the many healthcare innovations championed by Atrium Health's Behavioral Health facilities.
WHO BETTER TO TALK TO A PATIENT ABOUT THAT ILLNESS AND THE HOPE FOR RECOVERY THAN SOMEONE WHO IS LIVING IN RECOVERY? " — MARTHA WHITECOTTON SENIOR VICE PRESIDENT BEHAVIORAL HEALTH SERVICES, ATRIUM HEALTH 40% 38% 17% 5% GIVING BACK: Where your gifts are supporting Atrium Health Support from individuals, foundations and corporations in 2018 enabled Atrium Health Foundation to grant $30+ million in support across Atrium Health. Funds are supporting new research efforts, enhancing existing programs and adding new programs, creating new specialized facilities; endowing academic medical chair positions, and more.
Giving Back 10 AT LT AT I O N PROGRAMS/ INITIATIVES RESEARCH EDUCATION FACILITIES
AT LT AT 11 Betty Dillingham lives in Cleveland County, NC, a rural area just outside of Charlotte. When Betty was told by her doctor that she needed a colonoscopy, she wondered how she would get the $250 needed to pay upfront for the procedure. Being uninsured and unable to work meant that she did not have the money available to pay for the colonoscopy – a routine screening that can detect colon cancer early and increase patients' chances of survival. Betty was forced to postpone the screening.
Luckily, a family member knew of community health programs at Levine Cancer Institute that could help Betty, and connected her with Tiffany, an outreach staff member, who provided her with educational resources on colon cancer and discussed the opportunity for free colon cancer screening through the grant-funded Get FIT for Life Program. Understanding how important colonoscopy screenings are in detecting colon cancer early, Betty was screened free of charge through the Get FIT for Life Program. In Betty's case, philanthropic support for the Get FIT for Life Program enabled her to access these vital, affordable healthcare services close to home.
The Get FIT for Life Program – originally only available to residents of Lincoln and Cleveland Counties – will soon be available to residents of Anson, Mecklenburg and Stanly Counties thanks to the support of a generous grant awarded by the Colon Cancer Coalition.
Levine Cancer Institute's commitment to personalized care was especially important for Betty. In addition to the colon cancer screening program, she was connected to several other community resources by Levine Cancer Institute to improve her health, including smoking cessation and a complimentary three-month membership at her local YMCA. Today, Betty is well on her way to living a longer, healthier life. Betty Dillingham is grateful for Levine Cancer Institute's Outreach Coordinator,Tiffany Crank.Tiffany helped connect Betty with community programs supported by philanthropy to help her get and stay healthy.
Get FIT for Life Philanthropy Boosts Community Health CANCER PATIENTS GRATEFUL FOR LOCAL ACCESS
T hanks to ongoing support from a local business with a big heart, patients and families at Levine Children's will be mobile and ready to navigate through the hospital. Heating, AC and plumbing company Morris-Jenkins made a generous donation to support a hospital mobile phone app that will more than elevate the patient experience – it will help entertain patients! The app, complete with preparation tips and wayfinding, also includes whimsical games such as Percy's Pounce and Bounce. The game, powered by Morris-Jenkins, challenges players to guide Percy the Duck through a series of pipes while preventing him from falling.
To date, Morris Jenkins has committed nearly $1 million to special programs and resources at Levine Children's, including celebrations (end of chemo/treatment parties), bright murals on the corridors leading to surgery, and the Seacrest Studios.
"We just have a heart for kids – and I know first-hand how important it is to feel 'at home' when you're here at Levine Children's," said Morris-Jenkins chairman Dewey Jenkins, whose own grandchild spent time in the Neonatal Intensive Care Nursery at the hospital. The idea for a mobile app was generated by the hospital's Family Advisory Council, which is comprised of current and former patient families. Using their input, and feedback from hospital colleagues, LCH planned the mobile app with support from Goodwin Design Group. Patients and families are now reaping the benefits. Mobile & Ready 12 AT LT AT I O N Preparation tips: What to expect,
packing lists, and FAQs Navigation/wayfinding: Parking
and local lodging options, Directions app, which provides turn-by-turn directions within Levine Children's Hospital Educational and kid-friendly
activities: Information about on-site events, music and pet therapy, and gift shops; Games for kids Helpful services: Dining options at
the hospital and in the community, interpreters, religious services, access to MyCarolinas, the secure online health connection for patients to review health records, doctor's notes, reports and visit summaries.
What's APP? The new app, powered by MorrisJenkins provides: NEW PHONE APP POWERED BY MORRIS-JENKINS
On December 5, the halls were decked with holiday cheer at Levine Children's Hospital for the seventh annual Secret Santa Radiothon, presented by Morris-Jenkins. Beasley Media Group radio stations The New 103.7, K 104.7, Power 98 and V 101.9 took over the airwaves along with Kiss 95.1's MRL Show, veteran hosts of the radiothon. Each station used its unique voice to encourage listeners to call-in and become Secret Santas to brighten the holidays for patients in the hospital.
Funds raised at the annual Secret Santa Radiothon provide holiday gifts for hospitalized children and contribute to the world-class care patients receive at the children's hospital by supporting medical research, equipment and patient services. Levine Children's Hospital Thanks to the generosity of Secret Santa donors and a generous matching gift by Presenting Sponsor Morris-Jenkins, the Secret Santa Radiothon raised a record-breaking $153,625 to support Levine Children's Hospital.
Secret Santa Radiothon BRINGS HOLIDAY CHEER TO LEVINE CHILDREN'S HOSPITAL AT LT AT 13
AND SUPPORTING RESEARCH FOR ORAL CANCER Each February since 2014, Shelley Blevins spends a cold morning in Fort Mill, South Carolina cheering on runners who come out to "Run for Jerm." Jerm, the nickname given to Shelley's late husband Jeremy Blevins, was an active and healthy family man when he was diagnosed with oral cancer at age 41. Tragically, Jeremy's battle ended seven months after his diagnosis. Wanting to honor her husband and raise awareness about oral cancer in the Charlotte-area, Shelley started the Jeremy B.
Blevins Oral Cancer Fund, which hosts an annual Race for the Cause 5K to raise funds and promote awareness of the devastating disease. Thanks to the generosity of donors and corporate sponsors, this year's Race for the Cause raised $22,000 to benefit oral cancer research and patient care at Levine Cancer Institute. Oral Cancer Screenings Support from the Oral Cancer 5K has enabled the Disparities & Outreach team at Levine Cancer Institute to purchase the necessary clinical equipment to conduct free head & neck screenings for firefighters onsite at individual fire stations.This has been a tremendous gift, especially for those volunteer fire departments where risk is high but insurance coverage for health screenings is often lacking.
Raising Awareness 14 AT LT AT I O N Surrounded by an incredible community of donors and supporters, Shelley Blevins (center) continues to honor the memory of her late husband Jeremy through this important annual fundraising event.
AT LT AT 15 AT LT AT 15 MAY 4 Carolinas 4 A Cure Walk Carolinas4aCure.org Bladder cancer survivors and advocates will gather at Blakeney to raise funds for bladder cancer research and patient programs at Levine Cancer Institute. MAY 11 Miles Against Melanoma – NC MilesAgainstMelanomaCLT.org Join the NC chapter of Miles Against Melanoma for a family-friendly 5K, 1-Mile Fun Run, and Kids' Dash benefiting the Carolinas Melanoma and Immunotherapy Fund at Levine Cancer Institute.
MAY 11 The HEARTest Yard + Showmars 5K Showmars.com/HeartestYard5K Showmars and The HEARTest Yard have joined forces to raise funds for children with congenital heart diseases at Levine Children's Hospital. This event benefits The HEARTest Yard Fund and cardiac neurodevelopmental program at Levine Children's Hospital. MAY 15 Catwalk for a Cause MartinTruexJrFoundation.org Childhood cancer survivors from Levine Children's Hospital will strut their stuff on the runway at the Martin Truex Jr.
Foundation Catwalk for a Cause, raising funds for local childhood cancer research and patient support programs, including those at Levine Children's Hospital. MAY 29 Speak Pink AtriumHealthFoundation.org/SpeakPink Join us at The Westin Charlotte for an inspiring program featuring Amy Robach, breast cancer survivor and co-host of ABC's 20/20. Learn about how she found joy during her breast cancer journey and discover the importance of supporting breast cancer research. JUNE 2 Levine JCC Kids'Triathlon LJCCKidsTri.org The Sandra and Leon Levine Jewish Community Center will host its 8th annual Levine JCC Kids' Triathlon to benefit rehabilitation programs at Levine Children's Hospital and Carolinas Rehabilitation's Adaptive Sports and Adventures Program.
Save the Date
16 AT LT AT I O N ONE Charlotte A Grand ROLLOUT W hen two health systems collaborate and Blue Cross and Blue Shield of North Carolina (Blue Cross NC) steps in to help, the result: one big new initiative rolling out in some of Charlotte's most underserved areas. ONE Charlotte Health Alliance – the partnership between Atrium Health, Novant Health and the Mecklenburg County Health Department –launched two mobile health units into the community on February 11. The units will bring medical, dental and behavioral health services targeted to six zip codes in the Charlotte area defined as Public Health Priority Areas.
Blue Cross NC has committed to provide $750,000 over the next three years to support operations of the mobile health units, helping ONE Charlotte Health Alliance maintain convenient access to advanced primary care services that are essential for the wellbeing of our community. "Our health begins long before we go to the doctor; it begins in our families, workplaces, schools, the water we drink and air we breathe," said Alisahah Cole, MD, chief community impact officer for Atrium Health. "Since 1940, Atrium Health has committed to provide high quality care and improve health for all. Together, we can find solutions that address not only medical care, but also economic and social conditions that can dramatically impact a community's health and well-being." The zip codes, which include 28205, 28206, 28208, 28216 and 28217, will serve as the initial focus of the collaboration and areas the two mobile health units will serve.
Initial services include: wellness education programs, blood pressure checks, cholesterol and glucose tests as well as weight management tools. Following this initial rollout, the mobile units will bring medical, dental and behavioral health services to community members who currently do not have convenient or affordable access to this primary care. ONE Charlotte revealed its new mobile units, made possible with generous support from Blue Cross NC, at a launch celebration at Revolution Park.
A team from Blue Cross NC, including (center) Mike Restaino, Director of Community Relations and Dr.Anuradha Rao-Patel, medical director, Blue Cross NC. "SINCE 1940, ATRIUM HEALTH HAS COMMITTED TO PROVIDE HIGH QUALITY CARE AND IMPROVE HEALTH FOR ALL.TOGETHER,WE CAN FIND SOLUTIONS THAT ADDRESS NOT ONLY MEDICAL CARE, BUT ALSO ECONOMIC AND SOCIAL CONDITIONS THAT CAN DRAMATICALLY IMPACT A COMMUNITY'S HEALTH AND WELL-BEING." — ALISAHAH COLE, MD CHIEF COMMUNITY IMPACT OFFICER ATRIUM HEALTH < AT LT AT 17 "A PERSON'S HEALTH IS NOT ONLY SHAPED BY FACTORS WITHIN THEIR CONTROL, BUT OFTEN, EXTERNAL ENVIRONMENTAL FACTORS PLAY A ROLE, INCLUDING ACCESS TO CARE." — DR.
ANURADHA RAO-PATEL BLUE CROSS NC MEDICAL DIRECTOR AND ACUTE AND CHRONIC PAIN MANAGEMENT SPECIALIST
Dilworth South End Rotary REVS UP THE FUN FOR PATIENTS AT LEVINE CHILDREN'S HOSPITAL Patients can now ride in style to the operating room at Levine Children's Hospital, thanks to a generous gift from the Dilworth South End Rotary: two miniature remote-controlled Mercedes cars, which were unveiled at the children's hospital. Recognizing the need to ease young patients' worries about surgery, the Rotary identified the mini-cars as a fun solution for patients and families, alleviating children's fears as they ride in luxury to the operating room. The two vehicles are child-friendly versions of the popular Mercedes CLA45 AMG and are operated by a hospital staff member..
Levine Children's Hospital is one of only a few children's hospitals in the nation offering this service to its patients. Leighann Mason, a nurse manager on the 9thfloor of the children's hospital, says that patients like to "park" the cars outside their rooms so they can ride them around the halls after treatments, adding that the cars are "a huge win with our unit." Special thanks to Rotarians David Hodgkins and Dewey Jenkins for working closely with Atrium Health Foundation to coordinate the gift. Mr. Hodgkins serves as President of the Purple Promise Foundation and, along with Mr. Jenkins, Chair of the Levine Children's Hospital Board of Ambassadors, has been a loyal supporter and advocate of Atrium Health for many years.
Right: A patient takes the new remote-controlled Mercedes for a test drive through the halls of Levine Children's Hospital. Below: Members of the Dilworth South End Rotary pose behind one of the remotecontrolled cars.The Rotary graciously donated the two vehicles to Levine Children's Hospital after recognizing the need to ease patients'worries ahead of surgery. 18 AT LT AT I O N
Fundraising and philanthropy are truly a family affair for Charlotte natives Jane and Luther Lockwood (a foundation board member) along with their daughter Jane, and her grandparents, Jane and Hugh McColl.
For more than a decade, business leader and philanthropist Hugh McColl and his family have rallied around a cause that has touched their lives deeply: Limb Girdle Muscular Dystrophy, a progressive genetic disease that affects voluntary muscles, range of movement, and mobility over time. Jane Lockwood, now 21 and a senior at Wofford College, was first diagnosed with the disease when she was just five years old. Since that time, her family has worked tirelessly to advance muscular dystrophy research. First organized in 2008, the family's grassroots fundraising initiative – Jeans, Genes and Geniuses—has raised more than $700,000 to benefit the McColl-Lockwood Laboratory for Muscular Dystrophy Research at Carolinas Medical Center, one of the leading facilities in the world dedicated to finding a cure for Limb Girdle Muscular Dystrophy (LGMD).
Gifts made to Jeans, Genes and Geniuses fundraising events chiefly benefit a bi-annual International Limb Girdle Muscular Dystrophy Research Conference, hosted in Charlotte and attended by internationally-renowned scientists and clinicians in muscle disease research in a collaborative effort to define treatment plans, develop strategies, and yield new ideas to help find a cure for LGMD. Co-chaired by Jane and Luther Lockwood, this year's Jeans, Genes and Geniuses event included more than 200 friends and supporters who served as underwriting hosts, signifying an outpouring of community support for this area of research.
SIXTH INTERNATIONAL LIMB GIRDLE MUSCULAR DYSTROPHY CONFERENCE On March 7, researchers and clinicians from around the globe convened in Charlotte for Atrium Health's Sixth International Limb Girdle Muscular Dystrophy Conference. Since its inception, the conference has been the site of vital collaboration among some of the world's top research scientists and clinicians dedicated to finding a cure for Muscular Dystrophy. Positioning Atrium Health at the forefront of this important field of work, researchers from the McColl-Lockwood Laboratory for Muscular Dystrophy Research, led by director Qi Long Lu, M.D., Ph.D., are on the cusp of human drug trials as a treatment option for limb girdle muscular dystrophy 2i, one that has potential to also treat other forms of the disease.
Much of this progress is made possible with the philanthropic support of Jeans, Genes and Geniuses donors and organizers. AT LT AT 19 Event founders Jane Lockwood, Luther Lockwood, Jane B. Lockwood, Hugh McColl,Thomas Lockwood, and Jane McColl with Dr. Qi Long Lu. Jeans, Genes and Geniuses RAISES FUNDS – AND HOPE—FOR A CURE FOR LIMB GIRDLE MUSCULAR DYSTROPHY
Hannah A nnouncing... Hannah Carroll, the 2019 Children's Miracle Network Champion for Levine Children's! On February 6, surrounded by family, friends and Levine Children's teammates, Hannah Carroll was recognized as the local Children's Miracle Network Champion for 2019. This honorary title symbolizes the inspiring journey Hannah has made at Levine Children's. Having survived a rocky beginning in her first few days of life, when a stroke impacted motor function on one side of her body, Hannah has recovered and grown into a healthy and energetic student, star-gymnast, and young ambassador for patients at Levine Children's.
As the CMN Champion for our community, Hannah will share her story and travel to meet Children's Miracle Network corporate partners across the region, inspiring those who give generously on behalf of Levine Children's patients and their families.
Upward "Thank you for donating to The Children's Miracle Network.Your contributions go to funding your local hospital so that they can provide the best care in the world and save the lives of children like me! I'm thrilled to be your 2019 Children's Miracle Network Champion!" — Hannah Thank you for supporting Levine Children's Hospital! 20 AT LT AT I O N
Be a Miracle Maker Throughout the year, Atrium Health Foundation benefits from dozens of local partners who find creative ways to support Levine Children's Hospital, our local Children's Miracle Network Hospital.
When you stop into one of these locations, you have the opportunity to support the world-class care provided to patients across the country who come to Levine Children's for life-saving treatment. Walmart & Sam's Club June 10-July 7 You can find CMN balloons at your nearest Walmart and Sam's Club. Purchase a balloon for a minimum donation of $1 and your gift will directly benefit kids at Levine Children's Hospital. ACE Bucket Challenge August 3-5 Stop by any participating ACE Hardware store and make a $5 donation to receive a limited-edition blue ACE Bucket. You then receive 20% off whatever you can fit in the bucket (some exclusions apply)! Publix June 19-30 Visit your local Publix and purchase a Children's Miracle Network balloon at the register.
All proceeds will benefit your local CMN hospital, Levine Children's. Dairy Queen Miracle Treat Day July 25 There's nothing better than a refreshing DQ blizzard in the middle of summer! Stop by a Dairy Queen location and treat yourself to a blizzard. When you do, you'll also treat a child to life-saving care at Levine Children's Hospital. Costco May 1-31: Purchase a CMN miracle balloon at the register of your local Costco and the proceeds will support the transformative care provided to patients at Levine Children's Hospital. Charlotte Dance Marathon April 7: Students at UNC-Charlotte invite you to boogie all night with them to raise money for patients at Levine Children's Hospital.
Details at CharlotteDM.org. AT LT AT 21
22 AT LT AT I O N LAUREN'S LEGACY Lauren Marie Kimsey was well-known in the Lake Norman community for her infectious smile and her dedication to helping those in need. As the marketing director for Aquesta Bank, she worked with many organizations in both business and philanthropic areas. She had a giving spirit and supported not only charitable organizations, but her friends and family as well. For nearly six years, Lauren fought synovial cancer – one of the rarest forms of soft tissue cancer in the world. She faced her illness with grace and determination. Although she lost her battle in 2016, just shy of her 40th birthday, Lauren's legacy and love continue to shine through the impact of the foundation established in her honor.
Branded with a butterfly, symbolizing Lauren's gentle nature, the Lauren Marie Kimsey Foundation for Synovial Sarcoma is giving back to support patients and families at Levine Cancer Institute. Through its annual Butterfly Run, golf tournament, and a New Year's Eve gala in 2018, the Foundation has raised significant funds to assist patients and families who need financial support for medically necessary services, supplies and special programs. 1.Adam Miller and daughter, Lindsay, were among the Top Finishers on and off the race course.Adam, a former patient of cardiac rehabilitation, also placed as the Top Individual Fundraiser for the event.
2.Atrium's Cardiac Rehab staff members enjoyed crossing the finish line alongside current and former cardiac rehabilitation patients during the Cupid's Cup 5K.
2 1 Lauren Marie Kimsey CUPID'S CUP 5K CELEBRATES 15 YEARS OF SUCCESS Hearts were warmed by the sight of more than 700 runners, patients, volunteers and donors who braved the chilly weather in February for the 15th Annual Cupid's Cup 5K. Supporters of all ages gathered for the annual road race in Charlotte's Dilworth neighborhood, to raise funds for Atrium Health's cardiac rehabilitation programs. Proceeds topping $40,000 will benefit important medical equipment upgrades and patient scholarships for cardiac rehabilitation clinics at Atrium Health Pineville, Atrium Health SouthPark and Atrium Health Union.
1. Honored guests who celebrated the opening of the newlyrenovated playroom included Dan Rajkowski, Charlotte Knights Chief Operating Officer, Homer the Dragon, and members of Charlotte Knights Charities – the philanthropic arm of the team. 2.The new Knights-themed playroom features a baseball diamond, silhouettes of players, an image of the BB&T field, and a lighted baseball on the ceiling.The room is a playful space where pediatric patients get the most out of their rehab experience. I n August, the Charlotte Knights committed $173,000 to Levine Children's Hospital to renovate the hospital's fourth-floor Rehabilitation playroom.
In the months that followed, the Rehabilitation playroom was transformed into a Charlotte Knights-themed space designed to provide an open, engaging and therapeutic rehab space that optimizes comfort and recovery for patients. Bringing new meaning to the phrase 'take me out to the ballgame,' the playroom now features a baseball diamond, the Charlotte skyline as visible from the Knights' BB&T field in Uptown, images of players, and a mini Clubhouse complete with lockers. The baseball-themed playroom that was completed in December and has been a home run for pediatric rehabilitation patients who are advancing their rehab goals.
From Pink Knights ballgames to golf tournaments and other year-round programs, this gift from the Charlotte Knights to Levine Children's Hospital marks the continuation of a remarkable 16+ year partnership between the team and Atrium Health. CHARLOTTE KNIGHTS BRING BASEBALL DIAMOND TO REHABILITATION ROOM AT LEVINE CHILDREN'S HOSPITAL A'Jewel' OF A ROOM 1 2 AT LT AT 23
24 AT LT AT 2005, just as Jason's mother, Megan, was welcoming her son into the world, doctors at Carolinas Medical Center delivered life-changing news: Jason was born with a rare neurological condition known as left side hemiplegic cerebral palsy.
The physical symptoms caused by the condition, such as weakness on one side of his body, were only one complication Jason would face. Children with CP are also susceptible to speech, sensory, behavioral, and cognitive deficiencies. Little did Megan know then what a bright and inspiring miracle her son would become. Over the years, with the help of Carolinas Medical Center and Levine Children's Hospital, Jason has triumphed over his medical challenges. His sixth and final brain surgery was performed by Dr. Scott Wait in June 2016 at Levine Children's Hospital.
More hurdles lay on the horizon, but Jason was ready to tackle them all. Last summer, because of an extreme growth spurt, he had a tendon transfer of his posterior tibialis and lengthening of his Achilles to assist with the proper positioning of his foot. The surgery, performed by Dr. Brian Scannell at Levine Children's, was a great success. Jason continues to defy the odds. Last October, he and his team of "J Walkers" boldly crossed the finish line after completing the Hopebuilders 5K – a signature fundraising event for Levine Children's Hospital. Jason joins the ranks of many grateful patients – of all ages – who are giving back in thanks for the care they've received at Atrium Health.
(Above) Jason's positive outlook serves as an inspiration to all – especially his close friends and family who comprise his "J Walkers"team. (L) When he's not busy fundraising, Jason and his parents and siblings enjoy family time on the porch. GRATEFUL PATIENT Jason Continues to Defy the Odds
AT LT AT 25 The glitz and glamour were in full swing at Charlotte Ballet's Dancing with the Stars of Charlotte in March. The annual event, during which local "stars" dance with ballet professionals to raise funds for local nonprofits and the Ballet, brought together hundreds of people in support of the various organizations represented that night.
Atrium Health's own Dr. Courtney Stephenson, director of the Charlotte Fetal Care Center, laced up her dancing shoes and hit the stage to raise funds for the Neonatal Intensive Care Nursery at Levine Children's Hospital and the Cottie and Cake Fund. Following countless hours of practice, Dr. Stephenson and dancing partner James Kopecky wowed the audience with their Austin Powers inspired number. They tied for Judge's Choice Award and raised over $95,000. These funds will be used to help provide equipment and support for Dr. Stephenson and her colleagues, who work tirelessly to provide lifesaving treatment to infants in utero.
AT CHARLOTTE BALLET'S DANCING WITH THE STARS Surgeon Swaps Scrubs for Dancing Shoes Scott and Chelsea MacMeekin are huge fans of the Charlotte Fetal Care Center and Dr. Courtney Stephenson, who followed Chelsea's pregnancy closely after discovering one of the twins she was carrying had an issue with her intestines. Daughters Elle and Lola were delivered at 36 weeks, and Elle required surgery immediately after birth. Because Dr. Stephenson had identified the baby's intestinal issue while she was in utero, the Levine Children's surgical care team was prepared to care for Elle immediately. She spent 72 days in the neonatal intensive care nursery at LCH and endured a second surgery when she was just two months old.
Thanks to the world-class care she received, Elle is now happy, healthy and living a completely normal childhood with twin sister Lola and big brother Liam.