UNIVERSITY OF OTAGO NEW ZEALAND - 2021 International Prospectus
Page content transcription
If your browser does not render page correctly, please read the page content below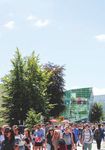 Me he manawa tītī, me he kuaka mārangaranga. Ko te reo rāhiri, ko te           'A Sooty Shearwater with a stout heart, the Godwit flock rises as
reo pōwhiri e karanga atu ana ki a koutou ngā tītī, ngā kuaka, ngā manu        one'. The voice of welcome from the University of Otago calls
tawhiti kia whai wāhi ai koutou ki te whenua haumako, te ākau mātauranga       out to you, to take rest on this rich fertile land, on this coast of
o Aotearoa, a ko te Whare Wānanga o Otāgo. Tēnā, karapinepine mai,             knowledge. As the first university in New Zealand, the University of
whakarauika mai.                                                               Otago welcomes you all.
Ahakoa tō awhero, ahakoa tō wawata he wāhi hāneanea mōu, he ara                Whatever your dreams or aspirations, they can be realised here.
whakamua mōu hei whakatutuki i tēnā tāu e hiahia ai. Mēnā ka whai              Whether you want to pursue Humanities, Law, Science, Medicine
tohu koe ki Te Kete Aronui, ki te Ture, ki te Pūtaiao, ki te Hauora, ki te     or Business, there is a place for you here and a qualification to suit
Tauhokohoko rānei, ahakoa te kaupapa he wāhi mōu, he tohu mōu.                 your specialty.
Ko te ringa āwhina ka toro atu ki a koutou, ko ngā pou taunaki ka              At the University of Otago we have the people to teach, guide and
whakaakoria, ka ārahia, ka tautokona koe ki te rere atu ki ngā karamatamata,   support you to fly to the mountain tops and beyond.
ki ngā kōtihitihi o te ngaru mātauranga nei.
                                                                               Welcome, welcome, welcome.
Nā reira,
Nau mai, haere mai, tauti mai!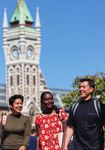 Welcome to the
University of Otago
   Tena koutou, welcome.
   Here at the University of Otago, we look to
   the future. We reflect on our proud history
   and world-class achievements in teaching
   and research, alongside our contribution
                                                    Contents
   to the intellectual, cultural, spiritual and
   economic well-being of the world around          Why Otago?                                      2
   us. We contemplate how we as a university,       Explore Aotearoa New Zealand                    4
   and New Zealand as a country, can best
   contribute to the world.                         Explore Dunedin                                 6
   Choosing Otago for the next step in your
                                                    A national presence: Campuses and facilities    8
   life journey says a great deal about who you     Business                                       10
   are – this is a place for bright, independent,   Health Sciences                                12
   empathetic people. Confident people who
   are not afraid to challenge conventional         Humanities                                     16
   norms and who stand up for what is right         Sciences                                       18
   and good. Compassionate people who               Pathways to study: Language Centre             20
   embrace different ideas, cultures and
   communities. In an ever-changing world,          Pathways to study: Foundation Year             21
   Otago continues to be a place that fosters the   Your bachelor's degree                         22
   resilience needed to achieve your dreams.
                                                    Postgraduate study                             24
   If this sounds like the community for you,
   please join us.
                                                    Your future career                             26
                                                    Accommodation                                  28
   Wherever in the world you call home, we
   welcome you to ours.                             Living costs                                   30
                                                    Make a difference                              31
                                                    Student support                                32
                                                    Otago Global Student Exchange                  34
                                                    Support for parents and families               35
   PROFESSOR HARLENE HAYNE                          Terminology                                    36
   Vice-Chancellor
                                                    Entrance requirements                          37
                                                    How to apply                                   42
                                                    Important application information              44
                                                    Important tuition fees information             45
                                                    Scholarships                                   46
                                                    Essential information                          48
                                                    Programme summary                              49
                                                    Important dates                                80

                                                                                                        1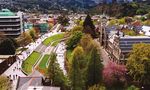 Nau mai, haere mai, tauti mai

        WELCOME
        to New Zealand's oldest
        university and the first                            COLLEGIATE COMMUNITY
        choice for more than                                Our 15 residential colleges and
                                                            shared accommodation offer a
        21,000 students.                                    vibrant and supportive campus
                                                            community like no other
                                                            university in New Zealand.

                                                Otago graduates are
                                                globally employable:

                                                95% OF OUR
                                                GRADUATES
                                                go directly into work
                                                or further study.

FACILITIES
Otago is known for its
STATE-OF-THE-ART
lecture theatres, research
labs and libraries.

    Highest possible     21,000 students, including           More than           Over 150 student
      international     3,000 international students    200 undergraduate and    clubs and societies
     quality rating          from 100 countries        postgraduate programmes

2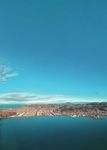 TOP UNIVERSITY IN NEW ZEALAND                                          FLEXIBLE STUDY
                                                                          OPTIONS
   for international student learning.
   TEACHING. STUDIES. FACILITIES.
   (2019 International Student Barometer)

                We encourage, attract and foster
 INDEPENDENCE

                independent people:

                85%
                of our students come from
                outside Dunedin.
                                                                          Many Otago degrees can be
                                                                          tailor-made to suit you, with a
                                                                          mix of subjects that may not
                                                                          usually be put together.

     The University of Otago YOUR DEGREE,
   is ranked in the top 1% of YOUR CHOICE
    universities in the world.
                      (QS World Rankings)

   Unmatched record in            Our Dunedin campus           National presence: we        New Zealand's top university
   the National Teaching      is recognised as one of the     also have campuses and        for educational performance
    Excellence Awards:           world's most beautiful     facilities across the country          (TEC Educational
6 Supreme Award Winners                campuses                                                 Performance Indicators)

                                                                                                                          3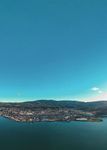 Explore Aotearoa New Zealand
               New Zealand is a safe and          New Zealand is one of the least crowded        SOUTH ISLAND
                                                  countries in the world, with a physical size
               beautiful country with friendly    comparable to Japan or Great Britain and a     Christchurch
               people, easy access to the         population of only five million people.        The South Island's largest city is known
                                                                                                 as the Garden City and is home to the
               outdoors and a rich culture.       According to Māori, Kupe ventured from
                                                  the Polynesian homeland of Hawaiiki to
                                                                                                 University of Otago, Christchurch campus.
               It is the perfect mix of vibrant   New Zealand on a waka hourua (voyaging         Aoraki Mount Cook
               cities, small communities and      canoe) around 1,000 years ago. Several
                                                  waka hourua arrived across the country over
                                                                                                 Aoraki Mount Cook National Park is where
                                                                                                 you'll find New Zealand's highest mountain
               spectacular landscapes. The        hundreds of years, and Māori established       and longest glacier.
               indigenous people of New           themselves as the first inhabitants and
                                                  caretakers of the land.                        Queenstown
               Zealand are the Māori and in       Europeans settled here from the 1640s,
                                                                                                 The adventure capital of the world,
                                                                                                 Queenstown is the perfect year-round
               their language, the name of        and today New Zealand is diverse and
                                                                                                 destination with stunning scenery, adventure
                                                  multicultural, with people from the Pacific,
               New Zealand is Aotearoa – the      Asia and right across the world making their
                                                                                                 tourism, and excellent nightlife.

               land of the long white cloud.      home here.                                     Fiordland
                                                                                                 Fiordland is one of the most dramatic and
                                                  NORTH ISLAND                                   beautiful parts of the country and has three
                                                  Auckland                                       of New Zealand's Great Walks – the Milford,
                                                  New Zealand's City of Sails, the bustling      Kepler and Routeburn Tracks.
                                                  metropolis of Auckland is home to the
                                                                                                 The Catlins
                                                  University of Otago's Auckland Centre.
                                                                                                 The Catlins is one of New Zealand's hidden
                                                  Rotorua                                        gems – a remote and beautiful part of
                                                  Rotorua is famous for its bubbling mud         the country with dramatic scenery and
                                                  pools, spectacular geysers and colourful       abundant wildlife.
                                                  crater lakes.
                                                                                                 Dunedin
                                                  Tongariro National Park                        Dunedin is a compact, student-friendly city,
                                                  Watched over by three mighty volcanoes, the    surrounded by nature and with easy access
                                                  stark landscape of this dual world heritage    to some of the country's top destinations and
                                                  area may be familiar to Lord of the Rings      attractions. The University of Otago's main
                                                  fans – the park was the location for Mordor.   campus lies at the heart of Dunedin.

                                                  Wellington
                                                  New Zealand's political, cultural and
                                                  culinary capital, and home to the University
                                                  of Otago, Wellington campus.
Miles Holden

                                                                                                           Aoraki Mount Cook National Park
               4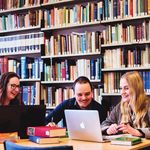 Z
      mN

                                                                                                              lements
Touris

                                                                                                         ser C
                                                                                                      Fra
                                                                                                                               Rotorua
                Auckland
                                 e Murray

                                                                                              NORTH ISLAND
                              aem
                            Gr

                                      Tongariro National Park

                                                                                                                            ford
                                                                                                                          raf
                                                                                                                        nT
      isted

                                                                                                                               Ia
  b Su
Ro

                                                                                                                                    Wellington

                Fiordland                           SOUTH ISLAND

                                            Aoraki Mount Cook

                               Queenstown
                                                                                                      Apse
                                                                                                            lian

                                                          Dunedin
                                                                                                          Ju

                                                          main campus
                   Invercargill
                                                                                                                            Christchurch

                                  Stewart Island
                                                                             rray

              Flight times
                                                                           Mu

              Auckland–Dunedin: 2 hours
                                                                        me

              Christchurch–Dunedin: 1 hour                                       ae
                                                                               Gr
              Drive times
              Christchurch–Dunedin: 5 hours
              Dunedin–Queenstown: 3.5 hours                                           The Catlins

                                                                                                                                                 5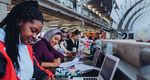 Explore Dunedin
                                No other city in the country offers the same opportunities to get out and explore. Dunedin
                                is surrounded by fantastic beaches, hills and harbour waters that offer opportunities for a
                                range of activities, from surfing and kayaking to mountain biking and paddleboarding.

                                             St Clair Esplanade                                                                       Otago Harbour
                                            10 minutes' drive.                                                                        5 minutes' drive.
                                         Great surf spot with cafés                                                             Enjoy stunning views, nature
                                             and restaurants.                                                                   cruises and a range of water
                                                                                                                              sports e.g. kayaking, rowing and
                                                                                                                                         windsurfing.
                                                                                          Tunnel Beach
                                                                                          20 minutes' drive.
                                                                                 Spectacular rocky coastline with
                                                                                   cliffs, rock arches and caves.
Dunedin images: DunedinNZ

                                                                                                                                                     Dunedin Airport
                                                                                                                                                    30 minutes' drive

                                                                                                   Harbour cycleway

                                                                                                          Otago Peninsula
                                                                                                A wonderland of wildlife and scenery.
                                                                                               At its end, Taiaroa Head (1 hour's drive)
                                                                                               has the only mainland breeding colony
                                                                                               of northern royal albatross in the world.

                            6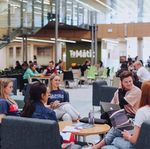 George Street
                                                 Dunedin's main thoroughfare, with
                                                   shops, cafés and restaurants.
                                                                                                  Dunedin Botanic Garden
 Toitū Otago Settlers Museum

                                                                            University of Otago

                                 The Octagon
                                15 minutes' walk.
                          City centre with cafés, bars,
                           restaurants, shopping and                                                               Forsyth Barr Stadium
                                 entertainment.                                                                      5 minutes' walk.
                                                                                                                    New Zealand's only
                                                                                                                   covered sports arena.

                                                      Flagstaff
            Art Gallery

                                     Farmers Market
Chinese Garden

                                                                                          Port Chalmers, Aramoana,
                                                                                           Orokonui Ecosanctuary

                                                                                                                                           7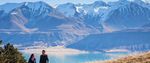 A national presence:
Campuses and facilities
The University of Otago delivers        Dunedin campus
teaching, research and outreach         Our main campus in Dunedin has been
                                        recognised as one of the most beautiful
activities at campuses and facilities   university campuses in the world, with an
extending the length of New             intriguing mixture of historic and state-of-
                                        the-art, purpose-built buildings, beautiful
Zealand, from Auckland in the           green spaces, and the Leith River flowing
north to Invercargill in the south.     through the middle of campus.
                                        The University has an ambitious campus
                                        development plan with several new facilities
                                        recently completed or currently being built.   Wellington

                                        Wellington, Christchurch, Southland,
                                        Auckland
                                        Otago's Wellington and Christchurch
                                        campuses are medical and health science
                                        hubs for postgraduate students. The
                                        Southland campus offers College of
                                        Education programmes and in Auckland,
                                        Otago has dentistry facilities and the
                                        Auckland Centre, which offers a vital
                                        connection to New Zealand's largest city.      Christchurch

                                                                                                      Dunedin campus

8
Music, Theatre, Dance and Performing Arts Centre
Opened in 2020, this purpose-built facility incorporates a
recording studio, performance spaces, recording booths
and practice rooms, all equipped with the latest
cutting-edge technology.

                                                                  New Zealand's only Dental School
                                                                  The Faculty of Dentistry's new Clinical Services Building opened in
                                                                  2019 and is the most technologically advanced facility in Australasia
                                                                  for teaching, patient care and research. In 2020, a new dental teaching
                                                                  facility and patient treatment clinic was opened in Auckland.

Mellor Laboratories
Home to the departments of Human Nutrition, Food
Science, and Chemistry, the Mellor Laboratories offer state-
of-the-art teaching laboratories, a dietetics laboratory, the
bioengineering laboratory and a metal-free Clean Lab.

Unipol Recreation Services                                        Central Library
Located near campus in Dunedin's premier stadium, Unipol          Housed in the award-winning Information Services Building, the
offers weight training and cardio rooms, group fitness classes,   Central Library is a warm and comfortable space to study and offers
outdoor rental and activities, and social sports.                 access to a huge array of resources.

                                                                                                                                    9
Business
The world in which we live and              Graduates from the Otago Business School      Research and teaching excellence
                                            gain a solid understanding of their chosen
conduct business is changing,               business discipline(s), and an appreciation   The School is ranked #1 for research in
                                                                                          New Zealand and a host of leaders in their
and it's changing fast. The                 of the wider business sector. They also
                                            take on the challenge of ensuring our         fields provide high standards of teaching
leaders of tomorrow, our future             communities grow culturally, socially,        and research excellence. Staff maintain
                                                                                          their connections with the real world of
entrepreneurs, and those that               economically and sustainably.
                                                                                          business by delivering research findings
help the wheels of commerce                 You can be assured that your business
                                            qualification from Otago will be
                                                                                          to national and international business
                                                                                          communities. Many sit on the boards
turn will face economic, social             world-class. We hold dual international       of committees and are involved in local
                                            accreditation through AACSB and EQUIS
and environmental issues that,              and are a founding member of the PIM
                                                                                          endeavours such as Startup Dunedin.
                                                                                          otago.ac.nz/business/research
in many cases, we are only just             network of the world's leading business
                                            schools. Your business qualification from
beginning to tackle. The future is          Otago is a passport to travel and work
                                                                                          Postgraduate study
exciting, while also challenging.           anywhere in the world.
                                                                                          Postgraduate study offers you the
We must strive to make business             Undergraduate study                           opportunity to gain advanced
a "force for good".                         Otago's BCom lets you follow your interests   qualifications in your chosen business field.
                                            in business and related subjects. With a      You'll have access to research-informed
                                            flexible course structure, you can combine    teaching and supervision by acknowledged
                                            most subjects, majors and degrees to create   leaders in their fields, vital to ensuring
                                            a path that works for you.                    your qualification will be recognised
                                                                                          internationally as being of the highest
                                            For a BCom degree you must major in at
                                                                                          quality. Our range of postgraduate business
                                            least one of the following subjects:
                                                                                          qualifications includes honours degrees,
                                            •   Accounting                                postgraduate diplomas, coursework
                                            •   Economics                                 masters' degrees, research masters' degrees
                                            •   Finance                                   and PhDs.
                                            •   Human Resource Management
                                                                                          otago.ac.nz/postgrad-business
                                            •   Information Science
                                            •   International Business
                                            •   Management
                                            •   Marketing
                                                                                          Otago MBA (online or on-campus)
                                            •   Philosophy, Politics and Economics        Ranked #1 in New Zealand, the
                                            •   Tourism                                   programme emphasises practical
                                                                                          application of business theories through
                                            You can study a double degree (two degrees
                                                                                          case studies, live cases, and professional
                                            simultaneously), a double major (two majors
                                                                                          consulting engagements. Students enjoy
                                            simultaneously), or include an endorsed
                                                                                          diversity in class and a rigorous curriculum
                                            minor. The School offers specialist minors
                                                                                          with strong elements of international
                                            in Entrepreneurship and Hospitality.
                                                                                          business. Graduates are prepared for
                                            Some disciplines within the Business          careers anywhere in the world. The Otago
                                            School, such as Information Science and       Online MBA is ranked #10 globally (QS
                                            Economics, are offered as a Business degree   Online MBA Rankings 2020).
                                            as well as Science or Humanities degrees.     otago.ac.nz/mba
                                            This provides you with the flexibility to
                                            focus your studies in an area that best
     Dr Nicola Beatson                      matches your long-term career aspirations.
     Senior Lecturer, Department of         Otago also offers a combined Bachelor of
     Accounting and Finance                 Arts and Business (BACom) degree and a
                                            combined Bachelor of Business and Science
                                            (BComSc) degree, which enable you to
     "I love teaching accounting as I get
                                            combine your enthusiasm for Business with
      to share my love of a complex,        Arts and Science subjects in a single
      dynamic discipline and dispel the     four-year degree.
      myth that accounting is boring."      otago.ac.nz/business/undergraduate

10
Buratat Sakultanapanich
Thailand
Bachelor of Commerce (International Business
with a minor in Marketing Management)
Global Corporate Banker,
Local Corporations, JPMorgan Chase
& Co. Beijing

"My degree has given me the ability
 to evaluate financial, managerial,
 economic, organisational and
 marketing issues in a global
 context. Being taught by top-notch
 professors made studying so much
 more gratifying."

                                               Stand out from the crowd                      Practical experience and internships:
                                                                                             Paid fixed-term contracts with businesses.
                                               Otago Business School has a well-deserved
                                                                                             otago.ac.nz/businessinternships
                                               reputation for producing outstanding
                                               graduates in all fields of business, spread   Business Case Competition:
                                               all over the world. Employers tell us they    Put your theory to the test in a team
                                               respect Otago's BCom graduates, but           environment to solve business problems.
                                               also say they love interviewing graduates     otago.ac.nz/businesscase
                                               who have done more than their minimum
                                                                                             Audacious: If you've got an idea for
                                               degree requirements and explored further
                                                                                             a product or service, get involved with
                                               opportunities for personal growth and
                                                                                             Audacious. This entrepreneurial competition
                                               development. These opportunities include:
                                                                                             will introduce you to a variety of mentors,
                                               International student exchange:               experts and startups, and give you access to
                                               This programme allows you to study part of    The Distiller co-working space.
                                               your Otago degree abroad.                     audacious.co.nz
                                               otago.ac.nz/student-exchange

      The School is ranked #1 for                       The Otago MBA is ranked                      Top 1% of business schools
       research in New Zealand                            #1 in New Zealand                                in the world
   (Latest PBRF Quality Evaluation 2018)          (QS Global MBA Rankings 2020 Top NZ MBA)                     (Equis, AAACSB)

                                                                                                                                       11
Health Sciences
The University of Otago has       Otago's expertise in Health Sciences enables
                                                                                        New Zealand's public health experts
                                  us to offer a broad range of programmes
an outstanding history and        with a number of entry pathways and many              The University of Otago's expertise
reputation in the field of        different study pathways as our students'
                                  personal and professional goals evolve.
                                                                                        in public health is nationally and
Health Sciences. Home to New                                                            internationally recognised, and Otago
                                                                                        academics have been at the forefront
                                  UNDERGRADUATE STUDY – DUNEDIN ONLY
Zealand's first Medical School                                                          of New Zealand's response to the
                                  Whether you are planning to use your                  COVID-19 pandemic through advisory
and only Dental School, Otago     degree as a base for a professional career as         roles to the New Zealand government.
is one of only two universities   a researcher or specialist, or in a job related
                                                                                        Study Public Health at Otago:
                                  to the health science field, the University
in the country to offer degrees   of Otago offers a range of courses to suit.           Bachelor of Health Sciences (Public Health)
in Pharmacy, Medicine and                                                               Postgraduate Diploma in Public Health
                                                                                        Master of Public Health
Medical Laboratory Science,       Health Sciences First Year (HSFY)                     Doctor of Philosophy
and the first university in New   HSFY is the first year for Dentistry,
Zealand to offer a graduate-      Medicine, Medical Laboratory Science,
                                  Pharmacy, and Physiotherapy professional
                                                                                    Graduates may find themselves working in a
                                                                                    variety of roles, such as government policy and
entry professional master's       programmes and is only available to students      analysis through to health promotion and case
programme in nursing.             who have not completed any prior tertiary
                                  study. Students will complete the following
                                                                                    management, and making a real difference to
                                                                                    people's health. The BHealSc is an excellent
                                  papers (individual courses), plus an optional     foundation for postgraduate study.
                                  eighth paper:
                                  BIOC 192 Foundations of Biochemistry
                                  CELS 191 Cell and Molecular Biology               Bachelor of Biomedical Science (BBiomedSc)
                                  CHEM 191 The Chemical Basis of 		                 The interdisciplinary BBiomedSc provides
                                           Biology and Human Health                 students with a sound foundation in the
                                  POPH 192 Population Health                        scientific principles underpinning biomedical
                                  HUBS 191 Human Body Systems I                     research and our current understanding of
                                  HUBS 192 Human Body Systems II                    health and disease. A BBiomedSc degree
                                  PHSI 191 Biological Physics                       provides excellent preparation for advanced
                                                                                    study and a diverse range of careers including
                                  Study options after HSFY: HSFY is                 research, health services, and applying for
                                  the main pathway into Otago's Dentistry,          graduate entry to another programme.
                                  Medicine, Medical Laboratory Science,
                                  Pharmacy, and Physiotherapy programmes,           BBiomedSc begins with a common first
                                  but as entry to these programmes is               year taken as Biomedical Science First Year
                                  competitive and many students find their          (BSFY) or HSFY, followed by specialising in
                                  academic and career goals change in their         a major from second year onwards:
                                  first year, HSFY also leads to a broad range      •     Drugs and Human Health
                                  of alternative study options. Popular options     •     Functional Human Biology
                                  include the Bachelor of Health Sciences,          •     Infection and Immunity
                                  the Bachelor of Biomedical Science or the         •     Molecular Basis of Health and Disease
                                  Bachelor of Science. Students can also go on      •     Nutrition and Metabolism in Human Health
                                  to study Business or Humanities.                  •     Reproduction, Genetics and Development

                                  Bachelor of Health Sciences (BHealSc)             Bachelor of Science (BSc)
                                  The BHealSc is a three-year degree with           The Bachelor of Science (BSc) is a three-
                                  a focus on the future. Health systems are         year degree enabling students to develop
                                  constantly evolving to meet the needs of their    interests in a science subject. Students
                                  communities and deliver health in innovative      have the flexibility to combine their major
                                  ways. The BHealSc is for those who want to        subject with other disciplines. Majors
                                  be an integral part of these future healthcare    include Anatomy, Biochemistry, Genetics,
                                  approaches, with the ability to major in          Microbiology, Neuroscience, Pharmacology,
                                  Public Health, Māori Health, Pacific and          and Physiology.
                                  Global Health, or Community Health Care.

12
Professor Michael Baker
   University of Otago, Wellington

   "The University of Otago provides
    a strong base for researching and
    responding to the great questions
    of the age in which we live. From
    managing pandemics, to reducing
    child poverty, and preventing climate
    change, all of these challenges need
    evidence-informed and values-based
    scientific inquiry and leadership."

PROFESSIONAL PROGRAMMES                       Registration: BDS graduates can register        Bachelor of Medicine and Bachelor of
                                              with the Dental Council (New Zealand)           Surgery (MB ChB)
Otago offers a range of Health Sciences       in order to practice in New Zealand. This
professional programmes. Selection is based   registration is also recognised in many         Otago's medical degree requires six years of
on academic merit and, for some programmes,   countries around the world.                     full-time study (including HSFY). There are
an aptitude test and an interview.                                                            designated places for international students.
                                              Career options: BDS graduates can               Students start their studies in Dunedin,
Bachelor of Dentistry (BDS)                   join a general dental practice, become a        but could move to the Christchurch or
Otago is the only university in New           hospital dental house surgeon, or work in       Wellington campuses in their last three
Zealand that offers a degree in Dentistry     the defence force.                              years. International students can also pursue
and Otago BDS graduates have an               Postgraduate study options: BDS                 a Bachelor of Medical Science (Honours) by
excellent reputation internationally. The     graduates can undertake postgraduate study      undertaking an additional year of research.
BDS is a five-year programme (including       and research for an academic career, or         Registration: MB ChB graduates must
HSFY) offered from the Dunedin campus,        complete postgraduate clinical qualifications   work for one year (internship) under
with the chance to complete the final         before entering specialist practice.            probation at an approved hospital in New
year at the faculty's Auckland Dental
                                                                                              Zealand to gain general registration from
Facility. There are designated places for
                                                                                              the Medical Council of New Zealand.
international students.
                                              Bachelor of Dental Technology (BDentTech)       An Otago medical degree is recognised
                                                                                              internationally in many countries. If a
                                              Dental Technology is the practical side
                                                                                              student wishes to gain registration in
                                              of dentistry. Dental technicians use
                                                                                              another country, it is their responsibility to
                                              contemporary technologies to design
                                                                                              confirm that an Otago MB ChB will meet
                                              and manufacture appliances and teeth to
                                                                                              the requirements of that country.
                                              improve a patient's appearance, speech or
                                              ability to chew.                                Career options: Graduates can work in
                                                                                              areas such as clinical medicine, medical
                                              Otago is the only university in New
                                                                                              research, teaching and administration.
                                              Zealand to offer a degree in Dental
       Otago Dentistry is ranked #33          Technology. BDentTech is a three-year           Postgraduate study options: Otago
                                              programme. Applications close on 31             offers postgraduate courses in Dunedin,
               in the world
                                              September each year.                            Christchurch and Wellington. Options
           (QS World Rankings 2020)                                                           include cardiology, general practice,
                                                                                              oncology, paediatrics, pathology,
                                                                                              psychological medicine, and public health.

                                                                                                                                          13
Career options: While most pharmacists
                                                                                                work in community and hospital pharmacies,
                                                                                                many also work in primary health care,
                                                                                                government organisations, industry, medical
                                                                                                writing, and academia. Opportunities for
                                                                                                pharmacists are constantly growing as the
                                                                                                healthcare sectors change to meet the needs
                                                                                                of communities.
                                                                                                Postgraduate study options:
                                                                                                Graduates can enrol into masters' and PhD
                                                                                                programmes.

                                                                                                Bachelor of Physiotherapy (BPhty)
                                                                                                Physiotherapists are health professionals
                                                                                                essential for rehabilitation and the
                                                                                                maintenance of optimal physical ability
                                                                                                and healthy lifestyles. They work with
                                                                                                people of all ages to maintain and promote
                                                                                                health and restore physical function,
                                                                                                independence and well-being, working
                                                                                                in partnership with patients, clients and
                                                                                                their families. The BPhty is a four-year
                                                                                                programme (including HSFY). There are
                                                                                                designated places for international students.
                                                                                                Registration: Graduates are eligible
                                                                                                to register with the Physiotherapy Board
                                                                                                of New Zealand. The qualification is
                                                                                                internationally recognised.
                                                                                                Career options: Graduates could
                                                                                                practice in acute hospitals, rehabilitation
                                                                                                centres, private practice, occupational
Bachelor of Medical Laboratory Science          Bachelor of Oral Health (BOH)                   health, in schools with children with
(BMLSc)                                         An oral health therapist forms an               special needs, with older adults, in sports
                                                important part of the dental team. Oral         clinics, industry, and in research.
Medical laboratory scientists perform
essential tests on patient samples, enabling    health therapists diagnose and treat oral       Postgraduate study options: Otago
doctors to make accurate diagnoses              diseases (such as gum disease and dental        offers two postgraduate study options – the
of a wide range of diseases including           decay), and provide quality care for patients   Master of Physiotherapy (MPhty) and a
COVID-19. The BMLSc is a four-year              of all ages, including restorative care for     postgraduate diploma.
programme (including HSFY). There are           children and adolescents. Preventive care
designated places for international students.   is a key aspect of their work. They educate
                                                patients about their oral health and are
Registration: The BMLSc is an                   skilled at promoting healthy lifestyles to
internationally recognised qualification.       maintain optimum oral health. BOH is a
It is the pathway to registration with          three-year programme. Applications close
the Medical Sciences Council of New             on 31 September each year.
Zealand as a medical laboratory scientist.
Registration is usually granted to BMLSc
graduates following employment in
a hospital or community diagnostic
                                                Bachelor of Pharmacy (BPharm)
laboratory for at least six months. Graduates   Pharmacists are among society's most
can also work in most other countries.          trusted and accessible healthcare
                                                professionals and are often the first point
Career options: In addition to working
                                                of contact for individuals with health
in hospital and community medical
                                                concerns. Pharmacists are medicines
laboratories, medical laboratory scientists
                                                experts who use their knowledge to help
are well trained for careers in medical
                                                people manage their medicines and
research, biotechnology, forensic science,
                                                their health. The BPharm is a four-year
veterinary pathology, diagnostic sales and
                                                programme (including HSFY).
applications, and laboratory management.
                                                Registration: Graduates are required to
Postgraduate study options: Otago's
                                                register with the Pharmacy Council of New
range of postgraduate study options
                                                Zealand and complete a one-year pre-
includes a Postgraduate Diploma in
                                                registration programme. This is undertaken
Medical Laboratory Science, a Master of
                                                as paid employment at an approved site in a
Medical Laboratory Science, and a PhD.
                                                hospital or community pharmacy.
14
POSTGRADUATE STUDY
                                                                                            New Zealand's first medical school
                                         Otago offers postgraduate Health                   (est. 1875)
                                         Sciences students a wealth of world-class
                                         opportunities that are supported by top-class      The Otago Medical School
                                         supervisors and internationally recognised         encompasses the major campuses
                                         research environments. For a full list of          in Dunedin, Christchurch and
                                         qualifications available visit our website.        Wellington, distributed regional
                                                                                            training sites and the Rural Medicine
                                         otago.ac.nz/postgrad-healthsci
                                                                                            Immersion Programme.
                                                                                            otago.ac.nz/medical-school

                                         Research excellence
                                         The Division hosts many significant research     CAMPUSES, FACILITIES AND SUPPORT
Bram Soliman                             collaborations including two government-
Netherlands                              funded projects on ageing and genomics.          Otago's Health Sciences researchers
University of Otago, Christchurch        Neuroscience researchers also contribute to      regularly secure external research funding,
Doctor of Philosophy candidate           Brain Research New Zealand, a nationally         which results in students having access
(Biomedical Engineering)                 recognised Centre of Research Excellence.        to excellent resources and cutting-edge
                                         The Division houses flagship research centres    facilities, equipment and services. Highly-
                                         in oral health, neuroendocrinology, cardiac      trained staff are on hand to assist with
"The campus brings together all          research, public health, cancer research,        all techniques including bioinformatics
 sorts of people: staff and students,    diabetes and obesity, infectious diseases and    and biostatistics, and the ratio of staff
                                                                                          to postgraduate students is high. This
 PhD candidates, undergraduates,         global health.
                                                                                          supportive environment is key to our
 Kiwis and internationals. Everyone is                                                    students' success.
 open and willing to work together.      Master of Nursing Science (MNSc)
 Within our department, surgeons
 and scientists meet and discuss
                                         Nurses provide independent and skilful care      Christchurch campus
                                         to individuals, families and communities,
 health care and research, allowing      and work in interprofessional teams in a         The Christchurch campus is New
                                                                                          Zealand's most research-intensive campus
 us to tackle issues from multiple       variety of settings. The MNSc is a two-year
                                                                                          for medicine and health sciences and
                                         graduate-entry nursing pathway to become
 unique perspectives. Being part of      a registered nurse (RN). It is taught at the     is located right next to the city's largest
 the community is very enjoyable."       Christchurch campus and offers clinical          hospital. Study options include nursing,
                                         placements across the South Island.              biomedical sciences, public health,
                                                                                          mental health, child health, medical
                                         Registration: MNSc graduates are eligible        sciences, medical laboratory sciences,
                                         to sit the regulatory state exam to become       musculoskeletal and pain management,
                                         a RN and New Zealand registration is             and physiotherapy.
                                         acceptable in some parts of Australia.
                                         Career options: RNs practice across the
                                         healthcare system in primary and community       Wellington campus
                                         health care, emergency, acute and hospital
                                                                                          With an international reputation for
                                         care, rehabilitation and disability settings,
                                                                                          research excellence, Otago's Wellington
                                         mental health, public health, school nursing,
                                                                                          campus has close links to those working
                                         and occupational health.
                                                                                          in policy and research across all areas
                                         Postgraduate study options: Otago                of health. Study options include medical
                                         offers postgraduate certificates and diplomas,   technology, child health, rehabilitation,
                                         masters' degrees, and PhDs in nursing that       public health, primary health care,
                                         enable RNs to specialise in diverse areas,       mental health, occupational and aviation
                                         including becoming a Registered Nurse            medicine, and physiotherapy.
                                         Prescriber or a Nurse Practitioner.

                                                                                            Explore Health Sciences study
                                                                                            options
                                                                                            Undergraduate:
                                                                                            otago.ac.nz/undergrad-healthsci

                                                                                            Postgraduate:
                                                                                            otago.ac.nz/postgrad-healthsci

                                                                                            Seek advice prior to applying:
                                                                                            otago.ac.nz/international-enquiries

                                                                                                                                      15
Humanities
Humanities at Otago includes the             Many students come to Otago to study             Bachelor of Theology: Christianity has
                                             Humanities because of their love of a            been a major force in the development of
arts and the social sciences as              subject they have studied at school, such as     western civilization, shaping the world
well as professional programmes              English, Classics, History or a language.
                                             Others want to try something new and find
                                                                                              we live in today. Studying Theology
                                                                                              helps students come to an informed
such as Law, Planning, Teaching,             that they become passionate about subjects       understanding of the Christian faith.
Social Work and Theology.                    like Anthropology, Philosophy or Politics.       The Division also offers the following
                                             Humanities subjects are for students who         separate, recognised and endorsed
                                             are interested in how people think and act,      qualifications:
                                             and why they behave in certain ways.             Diploma in Language: For students who
                                             A Humanities education develops the              wish to study one of the five core languages
                                             essential lifelong learning skills that          taught in the Languages and Cultures
                                             employers seek such as critical thinking,        programme: Chinese, French, German,
                                                                                              Japanese and Spanish.
                                             communication skills, interpersonal
                                             and teamwork skills, and analytical and          Diploma in Global Cultures:
                                             problem-solving skills.                          Offers a wide range of project-focused
                                                                                              interdisciplinary courses that develop
                                             Employers say that Humanities graduates          global perspectives and cross-cultural
                                             are adaptable, flexible and creative –           communication skills.
                                             essential skills in an ever-changing world.
                                                                                              otago.ac.nz/undergrad-humanities

                                             Undergraduate study
                                             The following bachelor's degrees are
                                             available:
                                                                                              Research excellence
                                                                                              The New Zealand Government's 2018
                                             Bachelor of Arts: Otago's most flexible
                                                                                              Performance Based Research Fund (PBRF)
                                             undergraduate degree programme enables           quality evaluation confirmed the research
                                             students to study from more than 40 arts         strengths of the Division of Humanities at
                                             and social science subjects.                     Otago.
                                             Bachelor of Arts and Commerce: This
                                                                                              The following subject areas were ranked
                                             exciting new degree enables students to
                                                                                              either first or second for the highest
                                             major in both Arts and Business.
                                                                                              percentage of A-rated staff in the
                                             Bachelor of Arts and Science: A unique           country: Anthropology and Archaeology;
                                             degree that allows students to combine           Education; History; Classics; Philosophy;
                                             their passion for Arts and Science in one        Sociology, Gender and Social Work; and
                                             qualification.                                   Theology and Religious Studies.
                                             Bachelor of Laws: Provides an excellent          The Division also hosts five of the top
                                             grounding in skills such as analysing,           12 nominated academic units within the
                                             decision making, negotiation, researching        University.
                                             and forming legal arguments.
                                             Bachelor of Music: Covers unique
                                             combinations including classical music,
                                             contemporary rock music, studio
     Professor Robert Patman                 production, composition, music technology
     Politics Programme                      and world music.
                                             Bachelor of Performing Arts: Pursue
                                             a career in a wide range of dance, musical/
     "As a teacher of international          theatrical forms and styles, as well as in
      relations, my job is to shed light     musical and theatrical education, media and
      on a fast-moving and increasingly      other related fields.
      interconnected world so that           Bachelor of Social Work: Based on
                                             principles of human rights and social justice,
      students can view international        this qualification can lead to professional
      developments affecting their           registration as a social worker.
      lives with critical intelligence and   Bachelor of Teaching: Provides the
                                             initial step for teachers on the road of
      intellectual independence."
                                             lifelong professional learning.

16
Romulo Nieva Jr
   Philippines
   Doctor of Philosophy candidate (Sociology)

   "For me, Otago is not just an
    academic institute, it's an enabling
    community where you're able to
    discover yourself, get connected
    to diverse culture and magnificent
    nature, and help fulfil your academic
    and professional goals through its
    resources and support networks."

Research centres and themes                     Postgraduate study                             Library contain more than 2.8 million
                                                                                               items, while the Hocken Collections is one of
Humanities researchers are involved in          The Division offers a comprehensive range of   the foremost historical research libraries in
collaborative, multi-disciplinary research      postgraduate options and, in a typical year,   New Zealand.
with colleagues and institutions within the     has around 500 students enrolled for higher
University, nationally and internationally.     degrees by thesis. There is also a growing     The new Music, Theatre, Dance and
Our range of research centres, themes and       number of students studying towards            Performing Arts Centre was opened
clusters reflects the strength and diversity    specialised masters' degrees by coursework.    in 2020. It incorporates a two-storey
of these collaborations.                        For a full list of qualifications, see pages   recording studio, performance spaces,
                                                49–79 or visit our website.                    recording booths and practice rooms, all
The Centre for Research on Colonial                                                            equipped with cutting-edge technology.
Culture and the Centre for Sustainability       otago.ac.nz/postgrad-humanities
are formally recognised and supported                                                          Dunedin also offers other excellent resources
University "flagship" research centres.                                                        of interest to Humanities students in the Otago
Research themes include Performance of          Facilities and support                         Museum, Toitū Otago Settlers Museum, the
the Real, Poutama Ara Rau, and Global                                                          Dunedin Public Art Gallery and the Dunedin
Migrations. The Centre for Artificial           The library and gallery resources for          office of Archives New Zealand, all a short
Intelligence and Public Policy is a newly       Humanities students are impressive. The        distance from the campus.
created research centre.                        University's Central Library and Robertson

     The Division of Humanities is home           We offer more BA subject choices than             Nine Humanities subject areas are
     to many internationally recognised            any other university in New Zealand             ranked in the top 100 internationally
      researchers and research groups                                                                        (QS World Rankings)

                                                                                                                                           17
Sciences
The Division of Sciences has                        Studying Science at Otago allows you to          including Computational Modelling and
                                                    participate and learn in an environment where    Computer Science.
research and teaching strengths in                  cutting-edge research projects are underway
                                                                                                     Physics-related subjects: Physics is
fundamental and applied sciences,                   all the time. It's an environment that has
                                                    earned us an international reputation.
                                                                                                     the study of the nature and properties
human performance and health,                       We have world-leading researchers and
                                                                                                     of matter and energy. Studying physics
                                                                                                     includes investigating mechanics, heat,
and environmental sciences.                         teachers as well as unique field sites for       light and other radiation, sound, electricity,
                                                    environmental sciences. Our research and         magnetism, and the structure of atoms.
                                                    teaching facilities are state of the art, but    You can choose from 15 different majors
                                                    you can't beat having the deep ocean as          related to physics at undergraduate level.
                                                    your lab, or classes taught under the trees of
                                                                                                     Study our natural environment:
                                                    one of the world's most beautiful campuses.
                                                                                                     Majors in Marine Science, Geology, and
                                                    A sciences education develops the essential      Aquaculture and Fisheries allow you to
                                                    lifelong learning skills that employers seek     explore our natural surroundings.
                                                    such as critical thinking, communication
                                                                                                     Study the human species: Gain an
                                                    and teamwork skills, and analytical and
                                                                                                     in-depth knowlege of how the human body
                                                    problem-solving skills – giving you a solid
                                                                                                     and mind works through majors in Food
                                                    base on which to build your career.
                                                                                                     Science, Human Nutrition, Psychology,
                                                                                                     Physical Education, and Exercise and
                                                    Undergraduate study                              Sport Science.
                                                    The following undergraduate degrees are
                                                                                                     Surveying: The four-year Bachelor of
                                                    available:
                                                                                                     Surveying degree produces graduates
                                                    •    Bachelor of Applied Science (BAppSc)        skilled in the science of measurement,
                                                    •    Bachelor of Arts and Science (BASc)         the practical issues of land planning
                                                    •    Bachelor of Commerce and Science            and development, and the legal issues
                                                         (BComSc)                                    associated with land ownership and
                                                    •    Bachelor of Science (BSc)                   resource management.
                                                    •    Bachelor of Surveying (BSurv)
                                                                                                     Combine your passions: Otago's
                                                    Biology-related subjects: Biology is             flexible course structure means you can
                                                    the science of life. It covers the study of      combine most subjects and majors to create
                                                    living organisms and their morphology,           a path that works for you. The Bachelor of
                                                    physiology, anatomy, behaviour, origin           Arts and Science (BASc) and Bachelor of
                                                    and distribution. At undergraduate               Business and Science (BComSc) degrees
                                                    level, Otago offers 25 different majors in       enable you to combine your enthusiasm for
                                                    biological sciences including Aquaculture        Science with Arts or Business subjects in a
                                                    and Fisheries, Forensic Analytical Science,      single four-year degree.
                                                    Ecology, and Zoology.                            otago.ac.nz/undergrad-sciences
                                                    Chemistry-related subjects:
                                                    Chemistry is the study of matter, its
                                                    properties, how and why substances               Postgraduate study
                                                    combine or separate to form other
                                                                                                     The Division is home to many proven
                                                    substances, and how substances interact
                                                                                                     research leaders who, through their passion
     Associate Professor                            with energy. As an undergraduate, you can
                                                                                                     and capability, have created a thriving
     Anne-Marie Jackson                             choose from 15 majors related to chemistry,
                                                    including Chemistry, and Food Science.
                                                                                                     research environment. This in turn attracts
     Ngāti Whātua, Ngāpuhi, Ngāti Wai, Ngāti Kahu                                                    and inspires postgraduate students drawn
     Māori Physical Education and Health            Mathematics-related subjects:                    to the very best research opportunities.
                                                    Mathematics is the abstract science of
                                                                                                     A wide range of postgraduate qualifications
                                                    number, quantity and space, either as
     "I teach with mana which means                 abstract concepts or as applied to other
                                                                                                     is available. Some are designed as
                                                                                                     professional development for people in the
      to show kindness to the students.             disciplines such as physics and engineering.
                                                                                                     workforce while others offer specialisation
      This provides an environment where            Statistics is the science of collecting
                                                                                                     within a particular discipline. For a full list,
                                                    and analysing numerical data in large
      the strengths and potential of each           quantities. At undergraduate level, the
                                                                                                     see pages 49–79 or visit our website.
      student are recognised and valued."           Division of Sciences offers 19 different         otago.ac.nz/postgrad-sciences
                                                    majors related to mathematics and statistics

18
Gabrielle Keeler-May
USA
Doctor of Philosophy candidate (Marine Science)

"The University of Otago is located
 near a unique cold water coastline,
 rich in nutrients for the kelp forests
 that I study. Being able to easily
 access my primary study system is
 a huge benefit as I don't have to
 travel far to conduct my research. In
 addition to the natural environment,
 I was drawn to Otago because of
 the opportunity to work alongside
 scientists and iwi who are willing to
 collaborate with students and guide
 research in a way that is applicable             World-leading resources                         Cutting-edge research opportunities
 and relevant to the community."                  With Dunedin Harbour, the Southern Ocean        Interdisciplinary research themes and
                                                  and the Southern Alps on our doorstep,          research centres generate novel research
                                                  Otago provides unparalleled natural             topics, recognising the ground-breaking
                                                  laboratories and fieldwork opportunities.       science that happens at the interface
                                                                                                  between disciplines.
                                                  The New Zealand Marine Studies Centre
                                                  is located in Portobello on the beautiful       Centres and themes focus on active earth
                                                  Otago Peninsula and offers easy access to       processes, ecology, lasers and applications,
                                                  the ocean and many different habitats.          memory, polar environments, photonics
                                                                                                  and ultra-cold atoms, ocean and climate
                                                  On campus, the Mellor Laboratories, home
                                                                                                  change, energy, and obesity, with strong
                                                  to the departments of Human Nutrition,
                                                                                                  affiliations to research across other areas of
                                                  Food Science, and Chemistry, offer state-
                                                                                                  the University.
                                                  of-the-art teaching laboratories, a dietetics
                                                  laboratory, the bioengineering laboratory
                                                  and a metal-free Clean Lab.

  The School of Physical Education,                    Two national centres of research                Internationally renowned Dunedin
Sport and Exercise Sciences is ranked               excellence: The Dodd-Walls Centre and             Study awarded New Zealand's most
          #12 in the world                               Brain Research New Zealand                   valuable science honour – the Prime
            (QS World Rankings)
                                                                                                             Minister's Science Prize

                                                                                                                                              19
Pathways to study:
Language Centre (UOLC)
The University of Otago                  UOLC offers English language tuition for                   English for Otago (EFO): Offers a
                                         students and provides the ideal pathways to                pathway for students to meet the English
Language Centre and Foundation           university study. Programmes include:                      language requirements for undergraduate
Year (UOLCFY) offers pathways            General English: Classes are offered
                                                                                                    or postgraduate study at the University
                                                                                                    of Otago. There are two programmes for
for students to meet the entrance        in five levels of English tuition from
                                         elementary to advanced. Class sizes have
                                                                                                    both undergraduate and postgraduate
requirements for undergraduate           an average of 12 students with a maximum
                                                                                                    study starting in February and October
                                                                                                    each year. Students must achieve a
or postgraduate study. It also           of 18 students. There are 23 hours of
                                         tuition each week. IELTS and TOEIC
                                                                                                    minimum of a 'C' grade to pass the English
provides excellent preparation for       preparation classes are offered as part
                                                                                                    for Otago course.
                                                                                                    International English Examinations:
academic study at the University         of the General English programme for
                                         students of an intermediate level or above.                UOLC is a registered test centre for
of Otago.                                English for Academic Purposes
                                                                                                    the International English Language
                                                                                                    Testing System (IELTS), Internet-Based
                                         (EAP): This programme prepares
                                                                                                    Test of English as a Foreign Language
                                         you for study at an English-speaking
                                                                                                    (TOEFL iBT), Test of English for
                                         university. EAP does not offer a pathway
                                                                                                    International Communication (TOEIC)
                                         to Foundation Year or to the University of
                                                                                                    and Occupational English Test (OET)
                                         Otago, but it provides good preparation for
                                                                                                    examinations.
                                         the English for Otago programme.

 English for Otago pathway                 Undergraduate pathway
 This pathway is for students who meet     This pathway is for students who are required to complete:
 the University of Otago academic          One year of successful study at a recognised institution of university standing OR
 entry requirements and are required       The University of Otago Foundation Year programme or equivalent.
 to improve their English. You will
 need to have an offer of place from
 the University. See pages 40–41 for
 country-specific entry requirements.                      GENERAL                                   BRIDGING
                                                           ENGLISH                                  PROGRAMME
                                                       Alternative option                             IELTS 5.0
                                                         to IELTS test                           (no band below 4.0)
                                                    Flexible starting dates                     6 weeks starting Jan,
                                                                                                May and August 2021

                   EFO
             Undergraduate:
                IELTS 5.5
           (no band below 5.0)
         Postgraduate: IELTS 6.0
           (no band below 5.5)
            15 weeks starting
            Oct 2020, Feb and
                Oct 2021
                                                                              FOUNDATION
                                                                                    YEAR
                                                                                  IELTS 5.5
                                                                            (no band below 5.0)
                                                                             26 weeks starting
                                                                                 *Oct 2020,
                                                                          Feb, July and *Oct 2021

                                                        Pathway may be required
                                                        for entry to Foundation
             FIRST YEAR                                 Year.
          UNDERGRADUATE/                                                                                                  FIRST YEAR
           POSTGRADUATE                                                                                                 UNDERGRADUATE
                                                        Pathway may be available,                                           STUDY
               STUDY                                    dependent on academic
                                                        performance.

                                                    *   Except Health Sciences
                                                        stream.

                                           Foundation Year entry requirements:
                                           otago.ac.nz/uolcfy/foundation-year/requirements

20
Pathways to study:
Foundation Year (UOFY)
                                                 This 26-week programme consists of 10              state-of-the-art University Plaza building
                                                 academic papers. Students who successfully         situated on the university campus.
                                                 complete the two 13-week semesters are
                                                                                                    Maximum class size is 18 students. Weekly
                                                 awarded the Foundation Studies Certificate
                                                                                                    one-on-one consultations are an integral
                                                 which guarantees entry to their chosen
                                                                                                    part of the programme. Domestic and
                                                 University of Otago first-year course (except
                                                                                                    international students are integrated in all
                                                 those with limited intakes). The certificate is
                                                                                                    classes and in recent years this has been a
                                                 recognised by all New Zealand universities
                                                                                                    50:50 balance.
                                                 as an entrance qualification.
                                                                                                    Online delivery: If travel restrictions are
                                                 There are three intakes each year: February
                                                                                                    in place, Foundation programmes may be
                                                 to October, June to February and October
                                                                                                    available online via Zoom, Microsoft 365
                                                 to June.
                                                                                                    Teams and Blackboard.
                                                 Students may study any one of the four
                                                 academic streams that align with the four
                                                 University of Otago academic divisions:            Student support
                                                 •   Business/Commerce                              Students in the Foundation and Language
                                                 •   Health Sciences                                programmes are offered full student
                                                 •   Arts/Humanities                                support services, a comprehensive
                                                 •   Science/Applied Science/Life Science.          orientation and a weekly programme of
                                                 Students wishing to study Health Sciences          student activities and events. A student
                                                 must start in either February or June. All other   ID card gives access to all University of
                                                 students may start in any of the three intakes.    Otago resources and provides discounts on
                                                                                                    shopping, entertainment and travel.
                                                                                                    A homestay placement service arranges
Violina Gunawan                                  UOFY entry requirements                            quality homestay accommodation for all
                                                                                                    students. For further information:
Indonesia                                        To be admitted into Foundation Year,
Former Foundation Year student, studying for a   students must meet the English language            otago.ac.nz/uolcfy/support
Bachelor of Dental Surgery                       and academic requirements. If they do
                                                 not meet these requirements they may
                                                 be able to complete a General English or
"UOLCFY provided an excellent                    a Bridging Programme as a pathway to
 transition from high school to                  Foundation Year.
 university. I feel safe and well-               The Bridging Programme is a six-week course
 supported studying here, even                   designed for students who need to improve and
                                                 demonstrate their academic ability.
 though I'm far from home. The
 amount of help that is offered is               Foundation Year streams provide
                                                 outstanding academic preparation for
 unbelievable and makes me feel                  studies in all disciplines offered at the
 that I belong here and deserve the              University of Otago. Data collected over
 chance to be successful."                       recent years shows that students who
                                                 pass the Foundation Studies Certificate
                                                 consistently outperform other students in
                                                 their first year at university. Students are
                                                 issued with comprehensive curriculum
                                                 books for each paper at the beginning of
                                                 the semester.
                                                 Lectures and Science/Health Sciences
                                                 laboratories are held on campus
                                                 in University facilities alongside
                                                 undergraduate classes. Foundation Year
                                                 tutorials are taught in the dedicated,

                                                                                                                                                 21
Your bachelor's degree
Otago believes that everyone                 General degrees                                  Specialised degrees
deserves an education. This                  These degrees are open-entry, normally           These degrees have specific entry
                                             take three years to complete and require         requirements, a restricted choice of papers,
means that most of Otago's                   a major (main subject of study), with some       and their own subjects, structure and
undergraduate degrees are                    allowing two majors (a double major):            admission procedures, including selective
                                                                                              entry into either first or second year.
open-entry: join us, prove                   BAppSc          Bachelor of Applied
                                                             Science                          Selective entry into first year
yourself and leave Otago the                 BA              Bachelor of Arts                 Students who are new to Otago are
very best version of you.                    BBiomedSc       Bachelor of Biomedical
                                                             Sciences
                                                                                              required to apply for entry into the first
                                                                                              year of the following programmes:
Otago is renowned for its                    BCom
                                             BHealSc
                                                             Bachelor of Commerce
                                                             Bachelor of Health Sciences
                                                                                              BOH       Bachelor of Oral Health

independent learning style so                BSc             Bachelor of Science
                                                                                              BDentTech Bachelor of Dental
                                                                                                        Technology
it won't be easy, but put in the             The following degrees are open-entry,
                                                                                              BTchg     Bachelor of Teaching

work and reap the rewards.                   normally take three years to complete, and do    Selective entry into second year
                                             not require a major, but may allow students to
What's more, most Otago                      specialise in an aspect of the discipline:
                                                                                              Current Otago students who have
                                                                                              completed the first-year requirements of
degrees are incredibly flexible.             MusB            Bachelor of Music                the following programmes are required to
Almost every undergraduate                   BPA             Bachelor of Performing           apply for entry into the second year:
                                                             Arts                             LLB               Bachelor of Laws
degree is unique and can be                  BTheol          Bachelor of Theology             BSW               Bachelor of Social Work
tailored specifically to your                Health Sciences First Year (HSFY)
                                                                                              BSurv             Bachelor of Surveying

interests and career goals.                  While not a stand-alone degree, HSFY is          The following professional programmes
                                             an excellent first-year option for students      require the successful completion of the
                                             interested in Health Sciences. Completion        Health Sciences First Year programme.
                                             of HSFY can lead to application for a            Entry is highly competitive:
                                             professional Health Sciences programme,
                                             or progression to any number of other            BDS               Bachelor of Dental Surgery
                                             study options in other degrees.                  BMLSc             Bachelor of Medical
                                                                                                                Laboratory Science
                                                                                              MB ChB            Bachelor of Medicine and
                                                                                                                Bachelor of Surgery
                                                                                              BPharm            Bachelor of Pharmacy
                                                                                              BPhty             Bachelor of Physiotherapy

               A general degree, such as a BA, might look something like this:
     YEAR

     1
                                Arts                               Arts                            Arts                                Arts
                              100-level                          100-level                       100-level                           100-level
                             e.g. HIST 102                       e.g. HIST 107                  e.g. CLAS 109                        e.g. CLAS 105

     YEAR

     2                         Arts
                             200-level
                             e.g. HIST 215
                                                                   Arts
                                                                 200-level
                                                                 e.g. HIST 233
                                                                                                   Arts
                                                                                                 200-level
                                                                                                e.g. HIST 210
                                                                                                                                       Arts
                                                                                                                                     200-level
                                                                                                                                     e.g. CLAS 238

     YEAR

     3                         Arts
                             300-level
                             e.g. HIST 303
                                                                   Arts
                                                                 300-level
                                                                e.g. HIST 306
                                                                                                  Arts
                                                                                                300-level
                                                                                                e.g. HIST 337
                                                                                                                                       Arts
                                                                                                                                     300-level
                                                                                                                                     e.g. HIST 328

22
Combined degrees                            Double degrees                                Changing your study
   To enable our graduates to pursue           It is possible to take two degrees at the     We understand that not all students know
   multiple interests and leave with broad     same time. This doesn't mean you double       exactly what they want to study when they
   career opportunities, Otago offers          your workload. By counting some papers        first enrol with us. We also understand that
   three carefully designed open-entry         towards both degrees (cross crediting),       university is a life-changing experience for
   combined degrees that are an efficient      you can complete two degrees in less time     many students, so we know that your study
   alternative to a double degree. These       than if you had studied them separately. By   and career goals may change.
   degrees normally take four years of         carefully planning your degree, you could
                                                                                             If you decide you want to change direction,
   study and include two major subjects –      save one or two years of study.
                                                                                             you can change your papers, your major or
   one from each broad study area.
                                                                                             your whole degree – and it may not even
   BACom          Bachelor of Arts 		                                                        take any longer than you initially planned.
                  and Commerce
                                                                                             Talk to our course advice experts for help
   BASc           Bachelor of Arts and
                                                                                             as many times as you need throughout your
                  Science
                                                                                             time at Otago.
   BComSc         Bachelor of Commerce
                  and Science                                                                otago.ac.nz/course-advice

   otago.ac.nz/combine

                                   Arts                           Arts
  Arts                           or other                       or other
100-level                       100-level                      100-level
e.g. ANTH 103
                               e.g. BSNS 103                  e.g. MART 112

  Arts                            Arts                           Arts
100-level                       or other                       or other
e.g. ANTH 105                  200-level                      200-level
                               e.g. MART 201                  e.g. MART 212

                                                           Arts major subject
  Arts                            Arts
                                or other                   Arts subjects other
ANY LEVEL                      ANY LEVEL                   than the major
e.g. SPAN 131                  e.g. COMP 112               Subjects either from
                                                           Arts or other degrees

                                                                                                                                       23
Postgraduate study
The University of Otago is                   A research-intensive university
one of New Zealand's leading                 Otago is a research-led university and
                                             researchers continue to win an ever-
postgraduate universities, with              increasing number of research grants in a
world-class researchers and                  highly-competitive environment – in 2019
                                             Otago attracted more than $225 million in
award-winning teachers.                      external research funding.

                                             Multidisciplinary research
                                             Otago is home to 12 flagship
                                                                                            COURSEWORK MASTER'S (1–2 YEARS)
                                             multidisciplinary research centres that        Otago offers a wide range of coursework
                                             operate at the leading edge of their field     masters' programmes where students
                                             within the international research community.   complete advanced coursework and a
                                             The multidisciplinary nature of these          supervised research or applied project.
                                             centres encourages research across a range
                                             of academic fields and provides outstanding    This project enables students to focus on an
                                             opportunities for postgraduate students.       area of their discipline of most interest to
                                                                                            them, to specialise in a specific area, or even
                                                                                            tailor their degree to a chosen career path.

                                             PATHWAY PROGRAMMES
                                             Diploma for Graduates (DipGrad)                Expand your options
                                             Otago's Diploma for Graduates is an            The following programmes are open to
                                             undergraduate study programme following        students with a wide range of academic
                                             the completion of a bachelor's degree. This    backgrounds:
                                             intensive year of study is approximately       Postgraduate Diploma in Public Health (DPH)
                                             equivalent to a new major subject and can      Master of Entrepreneurship (MEntr)
                                             offer a pathway into master's-level study.     Master of Marketing (MMart)
                                             Each programme is carefully designed for       Master of Indigenous Studies (MIndSt)
                                             the student's background and goals.            Master of International Development and

                #1
                                             otago.ac.nz/dipgrad                            Planning (MIDP)
                                                                                            Master of International Studies (MIntSt)
                                                                                            Master of Nursing Science (MNSc)
                                             Postgraduate Diploma (PGDip)                   Master of Peace and Conflict Studies (MPCS)
                                                                                            Master of Professional Accounting
                                             The PGDip is a one-year postgraduate
                                                                                            (MProfAcct)
                                             programme extending the knowledge
                                                                                            Master of Sport Development and
          The Otago MBA is ranked            gained in a bachelor's degree. Successful
                                                                                            Management (MSpDM)
            #1 in New Zealand                completion of PGDip requirements may
                                                                                            Master of Sustainable Business (MSusBus)
                                             enable a student to upgrade to a coursework
                                                                                            Master of Teaching and Learning (MTchgLn)
     (Global MBA Rankings 2020 Top NZ MBA)   or research master's programme.
                                                                                            Master of Tourism (MTour)

                                               Shift to a career in tech
                                               Otago is a founding partner of the
                                               SIGNAL ICT Grad School. SIGNAL
                                               offers a one-year DipGrad programme
                                               designed specifically for graduates from
                                               any discipline interested in a career in
                                               tech. SIGNAL offers the perfect blend
                                               of classroom learning and industry
                                               experience, producing tech-savvy,
                                               job-ready graduates.
                                               signal.ac.nz/shift

24