1740 Cherokee Blvd Memphis, TN 38118 OFFERING MEMORANDUM - LoopNet
Page content transcription
If your browser does not render page correctly, please read the page content below
EXCLUSIVE LISTING AGENT:
             KARTER STONE                      ARON CLINE
              NATIONAL INDUSTRIAL SPECIALIST   SVP & SENIOR DIRECTOR

              DIRECT (949) 432-4519            DIRECT (949) 432-4509
              MOBILE (949) 226-2090            MOBILE (818) 632-0233
              Karter.Stone@matthews.com        Aron.Cline@matthews.com
              LIC # 02010439 (CA)              LIC # 01904371 (CA)

KYLE MATTHEWS
Broker of Record
LIC # 000109289-0 (AL)
INVESTMENT HIGHLIGHTS

  •   Ferguson is the Largest U.S. distributor of plumbing supplies, PVF, waterworks and fire, and fabrication products - With annual
      revenue of $20.75B

  •   Investment Grade Credit - Ferguson has a long-term investment grade credit rating of BBB+ from S&P Global outperforming similar
      industrial tenants - HD Supply, Sunbelt Rentals, Watsco, and MRC Global

  •   Built to Suit - This property was built to suit for Ferguson and has been an anchor location for Ferguson's Tennessee operations

  •   Passive Lease - Minimal landlord responsibilities - Modified NNN

  •   Strategic Logistic Location – Less than five minutes from Memphis International Airport, and the I-240.

  •   Large Parcel - Site is located on 3.18 Acres offering investor upside in building/yard expansion to increase operations and revenue

  •   Industrial Components - Six (6) loading docks, One (1) drive-in, 26' Clear Height

                                                                                           MATTHEWS REAL ESTATE INVESTMENT SERVICES | 5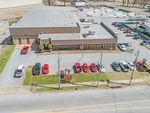 TENANT SUMMARY
       Tenant Name                                   Ferguson Dialysis
       Type of Ownership                                Fee Simple                      Price         $1,720,932
       Lease Type                                            NN
       Original Lease Term                                  3 Years
       Lease Commencement Date                           5/1/2018                      Cap Rate         8.90%
       Lease Expiration Date                            4/30/2021
       Term Remaining                                    ±2 Years
       Increases                                     10% every 5 years
       Options                                        Two (2) Five (5)

RENT ROLL
          Lease Year              Monthly     Base Rent (Per RSF)          Annual        Total NOI          Cap Rate

Current - 4/30/2021              $12,763.58         $5.33                $153,162.96    $153,162.96          8.90%

Fifth Extension :
                                 $12,763.58         $5.33                $153,162.96    $153,163.96          8.90%
5/1/2021 - 4/30/2024

Six Extension :
                                 $12,763.58         $5.33                $153,162.96    $153,163.96          8.90%
5/1/2024 - 4/30/2027

                                                                                                            FERGUSON | 7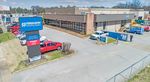 Sales                                Locations                            Employees
                                               ± $20.75 B                           ± 1,500                              ± 24,000

TENANT OVERVIEW
Ferguson raises the bar for industry standards as the top-rated wholesale supplier of commercial and residential plumbing supplies. However, their expertise
goes beyond plumbing. They are a diverse distributor that spans multiple businesses including HVAC/R, waterworks and industrial. In the past 65 years, they've
grown from a local distributor to a $20.75 billion-dollar company with more than 1,500 locations and over 35,000 associates across three regions. Every step of
the way, they serve communities and industries by connecting people with expertise and products to power success. Providing world-class customer service is
a cultural belief that is demonstrated every day through their expansive product selection backed by knowledgeable associates.

      MARKET POSITION:                                                                           DISTRIBUTORS OF:
      •   Largest U.S. distributor of plumbing supplies, PVF, waterworks and fire                •   Commercial and residential plumbing supplies
          and fabrication products
                                                                                                 •   Pipe, valves, and fittings (PVF)
      •   Third largest distributor of industrial and HVAC/R products
                                                                                                 •   Heating and cooling equipment (HVAC)
                                                                                                 •   Waterworks
      COMPANY SIZE:
                                                                                                 •   Industrial and mechanical products
      •   $20.75 billion in sales
                                                                                                 •   Fireplaces and fire protection products
      •   35,000 associates
                                                                                                 •   Kitchen, bath, lighting, and appliances
      •   1,500 locations
      •   10 strategically-located distribution centers throughout the US                        •   Tools and safety equipment

      •   Serves customers in all 50 states, the Caribbean, Puerto Rico, and                     •   Maintenance, repair and operations (MRO) products
          Mexico

                                                                                                                                                  FERGUSON | 9
MEMPHIS, TN
Memphis, Tennessee is the largest city on the Mississippi River. Located within Shelby
County, Memphis is a vibrant and historic city. It is the second largest city within Tennessee
and brings in a large amount of tourist because of its famous, historical landmarks. Being
only 3 miles from Memphis, Arkansas, it is only a hop, skip, and a jump from the Arkansas/
Tennessee border.

Known as the "Birthplace of Rock and Roll," the city holds a significant amount of history
within its borders. The residents of Memphis take pride in their city, and are usually known
as "Memphians." Although this town has a variety of entertainment to offer. The sports fans of
the area love to cheer on the University of Memphis Tigers. As for professional teams, many
cheers on the Memphis Grizzlies. The animal lovers enjoy the Memphis Zoo. Memphis has
been the zoo's home for over 100 years and has over 3,500 animals.

DEMOGRAPHICS:                                       DISTANCE TO MAJOR CITIES:
     Population       1-Mile   3-Mile    5-Mile

2023 Projection       8,749    82,318    211,326

2018 Estimate         8,750    82,022    211,308

2010 Census           9,023    83,862    218,143           NASHVILLE, TN ±196 MILES

     Households       1-Mile   3-Mile    5-Mile

2023 Projection       3,496    31,959    85,869

2018 Estimate         3,466    31,669    85,413

2010 Census           3,490    31,888    86,887           BIRMINGHAM, AL ±215 MILES

         Income       1-Mile   3-Mile    5-Mile

Average Household
                     $42,316   $49,254   $60,668
Income

Median Household                                           SHREVEPORT, LA ±240 MILES
                     $29,209   $31,340   $37,707
Income
ECONOMY
Many of Memphis's residents are blue-collar, hard workers. The most common
industries within this area are Transportation and Warehousing, Construction,
and Manufacturing. Within those, the most common occupations are Material
Moving, Construction, and Extraction. The unemployment rate has started to
decrease with the overall household income increasing since early 2000.

Located on the Mississippi River, Memphis is one of the largest metropolitan
areas in the Southeast, ranking 41st out of the top 75 according to a Department
of Labor Release. Of the 40 metropolitan areas ahead of Memphis, only 12
are in the South. The city has historically been one of the largest shipping
hubs in the Mid-South, dating back to the Civil War. As transportation methods
developed, Memphis has continued to hold significance as a transportation
hub. Now the city is home to the second largest cargo airport in the world,
Memphis International Airport, and the world's busiest domestic airport with
3.9 million metric tonnes. Memphis International Airport and Memphis have
had huge significance in the railroad industry. The city has the 3rd largest rail
center in the U.S. behind Chicago and St. Louis. It is also one of only four U.S.
cities with five Class 1 railroads.

Because Memphis has been such an important city for transportation and
shipping, it is attractive to businesses, especially those producing goods
shipped nationwide. Three Fortune 500 companies, FedEx, AutoZone, and
International Paper Co. call Memphis home. These significant businesses have
brought a large manufacturing industry. Of the 607,900 jobs in Memphis in
July 2014, 209,900 are in the Manufacturing and Transportation industries,
around 34.5 percent.
MUSIC-THEMED ATTRACTIONS
• Memphis, Home of the blues and
  Birthplace of Rock 'n' Roll has many
  must-see music-themed attractions
  including Beale Street Historic District,
  Blues Music hall of Fame, Center for
  Southern Folklore, Graceland (home
  of Elvis Presley and one of the most
  visited homes), Gibson Guitar Factory,
  Memphis Music Hall of Fame, Memphis
  Rock 'n' Soul Museum, St. Blues Guitar
  Workshop, Stax Museum of American
  Soul Music, Sun Studio, and the W.C.
  Handy home and Museum.

RESTAURANTS
 • With approximately 100 barbecue
   restaurants alone, Memphis is also
   home to world-famous fine dining,
   rich soul food, and eclectic dining.

THEATERS AND SMALL THEATERS
 • Memphis offers multiple choices when
   it comes to live entertainment, dance
   classical concerts and performance
   art. Of special note is the Orpheum
   Theatre, Playhouse on the Square,
   Circuit Playhouse, Theatre Memphis,
   Hattiloo Theatre, and FedExForum

ART MUSEUMS
 • Memphis is rich with arts, sculpture
   and painting exhibits offering pieces
   from Rodin to Renoir. Memphis also
   offers the Dixon Gallery and Gardens,
   Memphis Botanic Garden, Memphis
   Brooks Museum of Art, Metal
   Museum, Belz Museum of Asian and
   Judaic Art, and the Cotton Museum at
   the Memphis Cotton Exchange.
CONFIDENTIALITY & DISCLAIMER STATEMENT
This Offering Memorandum contains select information pertaining to the business and affairs of the Ferguson located at 1740 Cherokee Blvd,
Memphis, TN 38118 ("Property"). It has been prepared by Matthews Real Estate Investment Services. This Offering Memorandum may not be
all-inclusive or contain all of the information a prospective purchaser may desire. The information contained in this Offering Memorandum is
confidential and furnished solely for the purpose of a review by a prospective purchaser of the Property. It is not to be used for any other purpose
or made available to any other person without the written consent of Seller or Matthews Real Estate Investment Services. The material is based
in part upon information supplied by the Seller and in part upon financial information obtained from sources it deems reliable. Owner, nor their
officers, employees, or agents makes any representation or warranty, express or implied, as to the accuracy or completeness of this Offering
Memorandum or any of its contents and no legal liability is assumed or shall be implied with respect thereto. Prospective purchasers should make
their own projections and form their own conclusions without reliance upon the material contained herein and conduct their own due diligence.

By acknowledging your receipt of this Offering Memorandum for the Property, you agree:

The Offering Memorandum and its contents are confidential;

You will hold it and treat it in the strictest of confidence; and

You will not, directly or indirectly, disclose or permit anyone else to disclose this Offering Memorandum or its contents in any fashion or manner
detrimental to the interest of the Seller.

Owner and Matthews Real Estate Investment Services expressly reserve the right, at their sole discretion, to reject any and all expressions of
interest or offers to purchase the Property and to terminate discussions with any person or entity reviewing this Offering Memorandum or making
an offer to purchase the Property unless and until a written agreement for the purchase and sale of the Property has been fully executed and
delivered.

If you wish not to pursue negotiations leading to the acquisition of the Property or in the future you discontinue such negotiations, then you agree
to purge all materials relating to this Property including this Offering Memorandum.

A prospective purchaser's sole and exclusive rights with respect to this prospective transaction, the Property, or information provided herein or
in connection with the sale of the Property shall be limited to those expressly provided in an executed Purchase Agreement and shall be subject
to the terms thereof. In no event shall a prospective purchaser have any other claims against Seller or Matthews Real Estate Investment Services
or any of their affiliates or any of their respective officers, Directors, shareholders, owners, employees, or agents for any damages, liability, or
causes of action relating to this solicitation process or the marketing or sale of the Property.

This Offering Memorandum shall not be deemed to represent the state of affairs of the Property or constitute an indication that there has been
no change in the state of affairs of the Property since the date this Offering Memorandum.
EXCLUSIVE LISTING AGENT:
             KARTER STONE                      ARON CLINE
              National Industrial Specialist   SVP & SENIOR DIRECTOR

              DIRECT (949) 432-4519            DIRECT (949) 432-4509
              MOBILE (949) 226-2090            MOBILE (818) 632-0233
              Karter.Stone@matthews.com        Aron.Cline@matthews.com
              LIC # 02010439 (CA)              LIC # 01904371 (CA)

KYLE MATTHEWS
Broker of Record
LIC # 000109289-0 (AL)