2019 Brochure and Fees
If your browser does not support JavaScript, please read the page content below:
2019 Brochure and Fees
3 Studying English language opens up a world of opportunities; from developing proficiency for further education and greater career options to travelling the world and having unforgettable life experiences. At The English Studio our courses support students to achieve their goals. With our Adult, Junior and Teacher Training courses, The English Studio provides opportunities to study with international students from all over the globe in two of the most exciting student travel destinations worldwide — London and Dublin.
Our dynamic group of experienced teachers are waiting to welcome students and support their journey. Together with excellent facilities, the very best learning resources and a communicative approach to language development, they will have all the tools necessary for real-world success.
Our focus on real life experiences outside the classroom further assists students' progression. A dedicated team of support staff are on-hand pre and post arrival to help, and local travel, accommodation and work- placement experts will be available to ensure each student maximises this amazing opportunity. The English Studio 4 Teaching Training Courses 31 Student Experience 10 Junior Courses 34 Accommodation 20 Groups 38 Adult Courses 24 Price Lists 42 www.englishstudio.com |
The English Studio DUBLIN LONDON | londonbookings@englishstudio.com • dublinbookings@englishstudio.com 4 The English Studio language schools are right in the heart of the city.
In either London or Dublin, students will be in the perfect location to see the sights and have a great time while improving their English. Our schools are within walking distance from the cities' main attractions and amenities, and whether night or day there is always something to do in two of the most exciting, most visited and most cosmopolitan cities in the world.
5 London The English Studio in London has two buildings — High Holborn and Catton Street. Both are minutes from the world famous British Museum and Covent Garden Market. Neighbourhood British museum | 2 minutes walk Covent Garden | 5 minutes walk London Eye | 8 minutes walk West End | 15 minutes walk Dublin From our city centre school in Dublin, students can find cafés, bars and shopping centres right next to historic sites such as Dublin Castle and Christ Church Cathedral. Neighbourhood Temple Bar | 4 minutes walk Dublin Castle | 6 minutes walk Trinity College | 10 minutes walk Phoenix Park | 30 minutes walk www.englishstudio.com |
6 | londonbookings@englishstudio.com • dublinbookings@englishstudio.com Manuela | COLOMBIA I really enjoy meeting people from all around the world and learning from their different cultures. I can do that here at The English Studio. The school has a central location in London but the most important thing at The English Studio is the teachers who help me to improve my English. Carlos | BRAZIL This is my second time in London to study English, and I can say that The English Studio goes above my expectations, the teachers are great, but what I like most was the warm welcome on the first day.
At The English Studio we aim to go above and beyond for our students offering academic excellence in our English courses and an exceptional student experience on their learning journey.
But don't just take our word for it, here's what some of our students have to say: Testimonials Baha | TUNISIA I was torn between studying in the USA and Ireland but ultimately, I decided to come to Ireland. I still had reservations but when I arrived I was pleasantly surprised with Dublin. I could not believe how multi-cultural and cosmopolitan the city is. I started in Elementary. I didn't have much English at all but after six months of focus and working hard on my language, I am in upper intermediate. Ruggero | ITALY I first came here two years ago on a summer programme. I am 21 years old now and I wanted to come back so much to enjoy Dublin as an adult especially the pubs, nightlife and Guinness because I couldn't enjoy that before.
7 www.englishstudio.com | Cristina | SPAIN One thing I like about studying at The English Studio is it's great location. It allows me to go anywhere in London within a short time. I also like getting to meet people from different countries while learning English. And finally, the teachers are really helpful and make sure the classes are lots of fun. Muhaned | SAUDI ARABIA This course is great, I really enjoy the time learning more of the English Language with my teachers at The English Studio. Their classes are amazing. They make class fun by giving us one day grammar and the next day listening, so we mix it up and learn a lot in class.
Abdullah | SAUDI ARABIA I have been studying English at The English Studio for the last 9 months. I have become regularly involved in the school's social programme and extra activities. I love my class and my teachers. I have really enjoyed my experience in the college and in Dublin in general and I would recommend it to anyone. It is a great thing to do. Alexandra | RUSSIA It is the third year in a row that I have come to London to study at The English Studio. It gives me a great opportunity not only to study English but meet people from all over the world. The atmosphere in the classrooms is always positive and friendly and the teachers are great and willing to help which makes it impossible to not make progress.
Anna | RUSSIA I am 23 and was working in pharmaceuticals in Moscow. I need English for my job because my company uses English every day. I'm speechless. I had no expectations of Ireland. I didn't think it would be so modern, but it feels like a friendly village.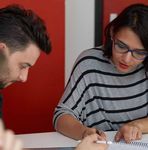 The Student Journey | londonbookings@englishstudio.com • dublinbookings@englishstudio.com 8 THE RIGHT FIT FOR YOUR STUDENTS Whether for adults, juniors or trainee teachers The English Studio can help you find the course that best fits your students' needs. If they are looking for general, academic or business English, or want the perfect summer school for kids, we have you covered.
And booking a course couldn't be simpler. Just send your booking forms by email to our Business Development Team (see page 45). THE RIGHT LEVEL FOR YOUR STUDENTS After booking, students receive a pre-placement test via email to ensure each student is placed on the right path to learn English and progress based on their ability. From beginners to advanced we have classes to suit each level, and with regular progress testing, students are supported and encouraged to reach their goals. ✓ THE RIGHT HOME FOR YOUR STUDENTS We have found accommodation for thousands of students in London and Dublin and are here to help you find the best option for each individual.
Whether they favour the independence of one of our Student Residences or the traditional family experience offered by our Homestay hosts, we'll help find the right home for their studies.
www.englishstudio.com | 9 THE RIGHT EXPERIENCE FOR YOUR STUDENTS Learning English is not just about the classroom. Every opportunity to practice enhances the student experience and helps them gain confidence and improve more quickly. Our social programmes, free clubs and English Studio LIVE are designed to give students more chances to practice their English, learn more about the city's culture, make new friends and, most importantly, have fun! THE RIGHT START FOR YOUR STUDENTS Students will receive a friendly welcome at our schools on their first day from both our experienced support staff and teachers.
They will receive their timetables, course materials and induction, and as they join an international mix of students in the classroom they'll quickly make new friends. THE RIGHT SUPPORT FOR YOUR STUDENTS Our ambitious teachers are here to support your students on the road to success. From the first week, and every 4 weeks thereafter, students receive an individual tutorial with one-to- one lessons available on request. Homework 3 to 4 times per week and periodic testing challenge our students to do their best. THE PERFECT CHOICE FOR YOUR STUDENTS At the end of their course, certificates and academic references are available for students to demonstrate their success in learning English.
9 out of 10 students would recommend The English Studio to a friend and we ask every student to provide feedback during and after their course so we can further improve our services to provide the perfect choice for your students.
Mike Mooney | DEPUTY ACADEMIC DIRECTOR. THE ENGLISH STUDIO LONDON At The English Studio, it's the little things that make all the difference. While the most important part of a student's course is their English classes and learning, we think they deserve even more. That's why we've added a few little add-ons. Available outside timetabled classes, we think these extras add up to make our students' experience extraordinary. At The English Studio, our focus on the culture, experience and student journey helps us stand out from the crowd going further to make sure that our students feel part of our family and experience the best of these incredible cities.
We understand that coming to a new country to learn English is very exciting, but sometimes may seem a little daunting, that's why we're here to help students with everything they may need to settle in.
Whether it's advice on health issues, places of worship, opening a bank account or just the best options for a night out, our staff are extremely knowledgeable and experienced. STUDENT WELFARE Our schools have nominated welfare and safeguarding team members on hand to support every student. We want to ensure students feel at home and comfortable as quickly as possible; that way they can make the most of their experience with us right from day one. Learning support is available as well as multilingual pastoral care for those who need these services. Student wellbeing is vital to each and every member of our team because when you choose The English Studio, you become part of our family.
| londonbookings@englishstudio.com • dublinbookings@englishstudio.com Student Experience 10
11 Interview Masterclass Looking to impress recruiters and secure a job? Focusing on interview techniques the club aims to improve verbal language skills through traditional and situational interview practice. Students learn to explain existing skills, qualities and experiences, and will improve their English fluency and accuracy. Pronunciation Workshop For students looking to grow in confidence, speak more clearly and be easily understood, the Pronunciation Workshop provides specific practice to fine-tune speaking, listening and conversation skills.
CV Clinic Designed to provide writing tools to build confidence in producing and editing a CV, the free clinic looks at which style of CV best fits each student's professional profile as well as how to decode job adverts and match CVs to employer requirements. FREE CLUBS All students are invited to join our free clubs. They are a great way for students to supplement learning in class with practical skills needed in the real world and to build their confidence. Clubs are weekly, for 1 hour and are entirely free.
FREE CAKE FRIDAY At The English Studio we love cake quite simply because cake gets people talking. Whether students are looking to enjoy more cultural traditions, need to feel part of the family at a end of the week or are looking to meet new friends ahead of the weekend, we deliver free cake to each classroom every Friday, to celebrate our students and another great day at school and to get conversations started. www.englishstudio.com |
Paola | COLOMBIA Thank you to The English Studio for this amazing opportunity! The Bruno Mars concert was one of my best experiences that I ever had! My friend and I enjoyed every moment with joy and happiness.
I will never forget this memory, because this singer is one of my favourites and it was powerful to feel each song in my heart and in my soul! Our students tell us that some of their most memorable moments while studying with us come from being immersed into a new culture. For this reason, through The English Studio LIVE we send a student from London and Dublin to experience a live event in the city each month.
Our teachers nominate students they feel are the most hard-working or improved, those that have achieved outstanding results or contributed significantly in the classroom. Nominated students are entered into a prize draw and the lucky winner will get the chance to attend a music concert, world-famous sporting event or box-office hit theatre show. Students in 2018 attended concerts including Beyoncé and Jay-Z, The Rolling Stones, Bruno Mars, The Script and many more. THE ENGLISH STUDIO LIVE 12 | londonbookings@englishstudio.com • dublinbookings@englishstudio.com
Every week, a schedule of sightseeing, cultural and leisure activities is organised so there's something for everyone to take part in and enjoy.
We know that many of our students are managing a tight budget, so our informed and experienced staff will seek out the best activities for day or night that are completely free or suit any pocket. Even though there is so much to do in the city, we recommend that our students, whether in London or Dublin, go further and explore the rest of the country during their stay. We arrange regular day trips led by The English Studio staff or organised through other providers that we work with.
Both England and Ireland can serve as a gateway to the rest of Europe. For students studying with us for longer from other continents, they will find plenty of flights available for city breaks, sporting adventures or a weekend at the beach. Our team will be happy to advise students looking to plan a trip further afield. Kenny Moynihan | HEAD OF STUDENT SERVICES. THE ENGLISH STUDIO DUBLIN We know students want more than an English lesson, they want to have an experience. The focus of our programme is on cultural understanding of the city and country. Each month, we update our programme to include one-off events which you won't find anywhere else in the country.
We also include a mixture of fee-paying and free activities to match our students' budgets.
The Social Programme At the heart of The English Studio's social programme is our desire to give students an opportunity to meet their classmates outside of lessons to practise their English, make friends and most importantly to have fun! 13 www.englishstudio.com |
MONDAY TUESDAY Abbey Road Cambridge University THURSDAY FRIDAY SATURDAY Serpentine Lake, Hyde Park Lincoln's Inn Fields Covent Garden London St Pancras Station Hampstead Heath SUNDAY FREE FREE FREE FREE £39.00 Beatles Walking Tour Visit to Abbey Road Studios, sign the wall with other Beatles super-fans and take a picture on the famous crossing.
FREE University Presentation Join us and learn what life is really like at a UK university and understand more about the application process. Football in Regent's Park Do you consider yourself to be the next David Beckham? Why not take on our teachers for a game in Regent's Park? Treasure of Lincoln's Inn Fields Find out the Charles Dickens connection, see where Harry Potter was filmed and visit John Soane's Museum.
WEDNESDAY Pub Night A great opportunity for networking with other students at our famous Pub Night. Cambridge Trip Take a punt along the river and marvel at the stunning architecture of this historic university city. Columbia Road Flower Market Join us for a trip to Columbia Road when the famous street is transformed into an oasis of foliage and flowers. EXAMPLE LONDON TIMETABLE FREE Regent's Park Punting on the River Camb British Museum
15 MONDAY TUESDAY National Gallery of Ireland THURSDAY FRIDAY SATURDAY Powerscourt St Stephen's Green Park Phoenix Park Cliffs of Moher Wicklow Galway SUNDAY €5.00 FREE FREE FREE €40.00 €30.00 Cinema Club Make yourself comfortable with popcorn, soft drinks, goodies and a movie in our relaxing student lounge.
Language Exchange Social networking hosted by Real Events, Ireland's leading language programme. Walking Tour and Music Night A free walking tour for all new students with Student Support team and the opportunity for everyone to join in our weekly music session.
GAA introduction and training Experience Ireland's favourite sport and become a pro with our very our coach from The English Studio. WEDNESDAY Guinness Storehouse Ireland's number one attraction- can't be missed! On this weekly visit, a pint of Guinness is of course included. Wicklow and Powerscourt The perfect trip to get away from the city and experience Ireland's beautiful countryside. Not to be missed. Cliffs of Moher & Giant's Causeway Journey to the heart of the West to witness epic views over the Atlantic Ocean, and head to the magical city of Galway.
EXAMPLE DUBLIN TIMETABLE €18.50
Student break-out room & study area Interactive flat screen monitors in every classroom SCHOOL FACILITIES AGE RANGE Water coolers throughout FREE High-speed WiFi throughout NATIONALITY MIX In London we welcomed students from 89 countries to study at the school in 2018. Here are the top 10 nationalities: 1. BRAZILIAN 2. ITALIAN 3. SPANISH 4. TURKISH 5. FRENCH 6. ALGERIAN 7. COLOMBIAN 8. MOROCCAN 9. RUSSIAN 10. JAPANESE ESSENTIAL INFORMATION Location: 113 High Holborn, London WC1V 6JQ Closest transport: Holborn Underground (Piccadilly and Central Lines) Minimum entry level A1 Number of classrooms 18 Maximum class size 22 Average students per class 16 Minimum age 16 Jim Birrell | MANAGING DIRECTOR.
THE ENGLISH STUDIO Students often ask me – why London? For me it's easy, London has to be one of the most exciting, fast-paced and vibrant cities in the world. But don't just take my word for it, London frequently appears top in polls as being the most highly rated study and travel destination globally. Whether it's history, culture, markets or music that excite you, London has it all. I've lived here for 5 years and I'm still exploring and meeting new people every day; it really is an inspiring city!
By choosing an English Language School in Holborn, the heart of London, students get the experience of being in one the most exciting cities in the world. Our fantastic location provides instant access to the capital's famous attractions, sights and scenes. With great transport links the school is easy to reach by underground, bus or train whether students choose to stay in our own accommodation or find somewhere themselves. Holborn Underground Station on the Central and Piccadilly lines is right across the street from the school providing great access to all of London has to offer. 16 | londonbookings@englishstudio.com • dublinbookings@englishstudio.com The English Studio London AVERAGE STUDENTS JAN 389 MAY 451 SEP 342 FEB 439 JUN 493 OCT 381 MAR 441 JUL 566 NOV 406 APR 392 AUG 467 DEC 359 100 16-17 | 4% 18-25 | 45% 40+ | 10% 31-39 | 18% 26-30 | 18% 300 400 500 600 200 AVERAGE AGE 26
While London can be an expensive city, there are plenty of amazing things to do for free or on a budget. Most museums are open free to the public and London is home to lots of green spaces for walks and outdoor fun. Further afield, a day trip to the coast is only an hour by train to Brighton and those interested in seeing life at a traditional English university or school can visit Oxford or Cambridge for the day — or even Hogwarts at the Harry Potter Studio Tour just outside London. 17 www.englishstudio.com | Explore on your budget Bike hire £2 per day Science Museum FREE London Eye £25 West End Musical from £25 Row boat in Hyde Park £12 per hour Thames Clipper boat journey £5 Harry Potter Studio Tour £40 Return train ticket to Brighton from £17 Return train ticket to Cambridge from £14 The energy and excitement of London is simply impossible to put into words.
Whatever our students are looking to experience during their studies, they will find it here; from museums and art galleries to music concerts and sports events. And for those after a slower pace of life at the weekend, traditional English villages, historic cities and seaside resorts are just a short journey by train. HOLBORN COVENT GARDEN TEMPLE RIVER THAMES RUSSELL SQUARE TOTTENHAM COURT ROAD LEICESTER SQUARE PICCADILLY SQUARE BLACKFRIARS BRITISH MUSEUM TRAFALGAR SQUARE THEATRE DISTRICT MUSEUM OF LONDON ST PAUL'S CATHEDRAL
SCHOOL FACILITIES Water coolers throughout FREE High-speed WiFi throughout Snack and coffee machines Student break-out room and study area NATIONALITY MIX In Dublin we welcomed students from 77 countries to study at the school in 2018. Here are the top 10 nationalities: 1. BRAZILIAN 2. ITALIAN 3. SPANISH 4. MONGOLIAN 5. RUSSIAN 6. MEXICAN 7. TURKISH 8. S.KOREAN 9. FRENCH 10. ARGENTINIAN AGE RANGE AVERAGE STUDENTS Louise Guyett | HEAD OF SCHOOL. THE ENGLISH STUDIO DUBLIN So, what do I like most about Dublin? The people here are friendly, ready to help and always in the mood for a chat! There's something for everyone here whether you like live music, sport, theatre or art, and we have loads of different festivals throughout the year too.
Dublin is over 1000 years old, so it's steeped in history and there is always something new to discover. What I also love about this city is that on one side there's the sea and on the other side the countryside, so for students who like outdoor activities, there is so much to choose from. Situated in the centre of Ireland's iconic capital city, students who choose to study with us in Dublin will discover a city like no other. Surrounded by cafés, bars and shopping centres, our school is set amongst historic sites showcasing the city's Viking and medieval heritage.
Most of Dublin's renowned sights are just a short walk away, while the school is ideally located for transport links to travel further in the city by bus or the Luas tram. With such a centrally located school, wherever students choose to stay in Dublin their journey to class will never to be too long. 18 | londonbookings@englishstudio.com • dublinbookings@englishstudio.com The English Studio Dublin ESSENTIAL INFORMATION Location: Abbey House, Jervis St., Dublin, North City, Dublin 1 Closest transport: Jervis Shopping Centre Luas (Red Luas Line) Minimum entry level A1 Number of classrooms 23 Maximum class size 15 Average students per class 12 Minimum age 16 16-17 | 2% 18-25 | 36% 40+ | 9% 31-39 | 21% 26-30 | 32% AVERAGE AGE 26 JAN 331 MAY 459 SEP 476 FEB 378 JUN 462 OCT 459 MAR 409 JUL 531 NOV 392 APR 382 AUG 475 DEC 316 100 300 400 500 600 200
19 www.englishstudio.com | Explore on your budget Natural History Museum FREE Collins Barracks FREE Trinity College/Book of Kells €14 Guinness Storehouse from €18.50 Gaelic football at Croke Park from €20 Game of Thrones Tour €36 Return train to Belfast €14 Bus Eireann to Cork €15.50 On our doorstep there is an array of diverse museums, art galleries and theatres as well as a world of delicious cuisine to be explored. With foods that span continents and countries you can choose from eating experiences that range from fine dining to the buzzing atmosphere of tapas. And anyone looking for a traditional experience during their studies can't miss out on a game of Gaelic football at Croke Park.
For the weekend, students will find a variety of historic and beautiful places to visit outside the city such as the Cliffs of Moher, Glendalough, and for TV fans take a trip north and visit the iconic sets of Game of Thrones from the Iron Islands to Winterfell. Dublin offers the culture, cuisine and modern luxuries that our students would expect from a cosmopolitan city whilst retaining the infamous Irish charm. Whilst Ireland has many sights to visit all easily accessible from the city. RIVER LIFFEY LEPRECHAUN MUSEUM FAMINE MEMORIAL NATIONAL WAX MUSEUM O'CONNELL STREET THE SPIRE TEMPLE BAR DUBLIN CASTLE TRINITY COLLEGE
It is important that students feel at home when they come to learn English at The English Studio. We provide a range of high quality accommodation options which are all great places to study and make friends. Our experienced team are ready to help support students in finding the right accommodation for them. All of our accommodation choices are located within easy reach of the schools and you will find that the attractions of London or Dublin are quickly accessible by public transport. Students can choose between our exclusive Student Residences or Homestay options.
Accommodation Sehanur | TURKEY Staying in the Student Residence is the most beautiful adventure in my life.
I had the opportunity to meet a lot of people from different parts of the world which is an amazing experience for me. People who live in the Student Residence are polite, kind and very helpful. Also, the location is quite nice. Kentish Town is really peaceful and touristic place. I enjoyed every minute of it and maybe one day I'll come back here. | londonbookings@englishstudio.com • dublinbookings@englishstudio.com 20
21 We have helped thousands of students find really great places to stay during their course. They can rely on us to find the right option to meet their requirements and budget. Student Residences By far the most popular option for all adult students, our Student Residences offer the perfect choice for those who like a little more independence. Sharing a large house with other students from the school in a central location, students have the freedom to discover not only the English language but the city and culture, local community and nightlife.
Our Student Residences offer fantastic communal areas where students may find themselves cooking cuisines from all over the world, talking about some of their fantastic experiences in the city or making plans for weekend trips away.
With no extra bills, WiFi and bed linen included as well as cleaning of communal areas; this is the smart option for many students. Homestays Living with a host family is a great way for students to practise their English. All our hosts are English speakers, so students can apply what they learn in English lessons by chatting to their host family.
Hosts are recruited, trained and supported by our highly trusted partners to ensure excellent service levels are delivered to each and every student and our staff will be there each step of the way to offer guidance. Students are able to choose the right combination of services to best fit their needs — we offer self-catering through to half-board meal plans and either single or twin rooms. We're here to help If students don't feel that our Student Residence or Homestay is the right option, we are here to help find an accommodation option that works for them.
Whether they are looking for a student house share, studio stay or something more temporary, our team can provide information of the options available.
www.englishstudio.com |
22 Student Residence, Kentish Town (Zone 2) In a British home all the best conversations happen in the kitchen and our Student Residence is no exception. Here our large communal kitchen acts as a great social space. Our students are never disappointed with the great location in Kentish Town, zone 2. Travel to school in around 20 minutes, spend weekends a short walk up the road in Camden Town or grab something to eat from a local deli to take up to Hampstead Heath for a picnic in the summer. Homestay London Working with British Council registered partners we have placed thousands of students with hosts all over the city.
Our portfolio of hosts reflects the rich culture, ethnicity and diversity of this great city. Located in zones 2 to 5 students can choose where they want to be based during their stay in London.
Student Residence Typical homestay Student Residence | londonbookings@englishstudio.com • dublinbookings@englishstudio.com London Accommodation KEY FEATURES Student Residence • Independent living • Global community • All bills included • WiFi • Large communal kitchen Homestay • Family atmosphere • English practise with local families • Various board options • WiFi
23 Student Residence, St. Stephen's Green (Dublin 2) Our student residence options are the perfect fit for students wanting a real Irish experience in Dublin city centre. The central location is just a few minutes' walk from the famous St.
Stephen's Green and a mere 20-minute walk to the school. Living in such a central location allows most attractions, amenities and facilities to be accessed by foot. Offering social living arrangements, students quickly become part of the school community, meeting new friends right from the word go.
Homestay Dublin Working with highly trusted partners, our portfolio of hosts in Dublin offer a home away from home experience. Many of our host families live outside the city centre in houses with gardens in the suburbs of Dublin. Most students travel to school on public transport (bus/ tram). The journey time is approximately 40 to 50 minutes, though this may be longer at peak traffic times. Typical homestay Student Residence Student Residence www.englishstudio.com | Dublin Accommodation KEY FEATURES Student Residence • Independent living • City centre location • All bills included • WiFi • Laundry facilities Homestay • Traditional home • English practise with local families • Breakfast and dinner provided • WiFi
The English Studio provides students with a world-class language exchange experience. We recognise that learning is a life long journey and that each student who studies with us is on their own individual language learning path. Whether taking an Academic, Business or General English course, we want our students to enjoy learning English as much as we enjoy teaching it, feel supported by our passionate, ambitious group of teachers and support staff. The English Studio values real life communication and we use this as our guiding principle in delivering courses and lessons based on useful language relevant to the needs of our students.
We emphasise that learning a language is about what students can do, rather than what they know.
Will Tichener | ACADEMIC DIRECTOR. THE ENGLISH STUDIO LONDON Our friendly and dynamic teachers love teaching and students feel the benefit of our communicative language teaching classes from the very beginning. Classes are high tempo, with lots of energy and lots of opportunities to speak throughout lessons: pairwork, groupwork and repetition drills will all combine to give all students the practice that they need. | londonbookings@englishstudio.com • dublinbookings@englishstudio.com Adult Courses 24
25 www.englishstudio.com | C2 C1 B2 B1 A2 A1 BASIC YOUNG LEARNERS INDEPENDENT PROFICIENT 230 C2 Proficiency C2 Proficiency C1 Advanced C1 Advanced C1 Business Higher B2 First for Schools B2 First B2 Business Vantage B1 Business Preliminary B1 Preliminary for Schools B1 Preliminary A2 Key for Schools A2 Flyers Al Movers A2 Key 220 210 200 190 180 170 160 150 140 130 120 110 100 8.5 7.5 6.5 6.0 5.5 5.0 4.5 4.0 8.0 7.0 Common European Framework of Reference (CEFR) Cambridge English Scale Schools General and higher education CAMBRIDGE ENGLISH QUALIFICATIONS Business IELTS MULTILEVEL TESTS PROGRESSION Our adult courses are aligned to the Common European Framework of Reference (CEFR) and offer testing throughout to ensure student progression.
We offer continuous enrolment on our adult courses throughout the year in London unless otherwise stated. Enrolment on courses in Dublin is also continuous excluding mid-course test weeks as detailed in the Terms and Conditions on our website. General English • Improving your everyday English • Beginner to Advanced levels • Flexible learning with either 15 or 20 hours per week Academic English • Improving key academic skills • Essential for gaining access to international universities • English Exam Preparation for Cambridge IELTS Exam (London and Dublin) or Cambridge CAE (London only) Intensive English • Learning English fast • People with limited time in the UK & Ireland • Choose either 25 (London only) or 30 hours per week English for business • Using English for international business • Upper Intermediate and Advanced levels • Cambridge BEC Exam
At The English Studio we offer Elective classes aimed to improve students' confidence and ability in social and professional contexts to help them achieve success on their English language learning journey. For 2019, both our schools will offer the following electives to students on General, Intensive and Academic English courses: Speaking Our speaking classes aim to improve fluency of English and speed of delivery. Learning how to manage conversations, students will gain confidence to speak in a variety of formal and informal situations. They will have ample opportunity to practise and receive individual feedback from teachers to further progress their spoken English proficiency.
Project Based English New for 2019, our Project Based English classes provide the opportunity for students to take part in a variety of projects to help develop a broad range of skills in English. These may include making a short film or radio programme, writing for a blog or school magazine, or organising a social programme. This course is ideal for students who want to improve their English across all skills. Writing Our writing elective will help students improve their effective and appropriate use of language in writing. Through practice, students will become more assured when writing in different formats and contexts, with emphasis on planning and organising content, managing written interactions and recognising the effects of language choice.
Professional English Ideal for those students who want to make improving their English for working in an international environment a priority during their course our Professional English classes concentrate on improving clarity and focus of communication, recognising the effects of language choice in a professional situation as well as improving confidence in speaking and writing both formally and informally. 26 Electives | londonbookings@englishstudio.com • dublinbookings@englishstudio.com The electives offered may be dependent on the term and individual student's English level.
27 General English General English is always our most popular English course and is available for every level from complete beginner through to advanced. And with our General English 20 option, students benefit from an additional 5 hours each week in our electives classes, perfect to further improve written and spoken skills. KEY FEATURES WEEKLY HOURS 15 or 20 COURSE BOOK REQUIRED The fully accredited courses are suitable for students at any level. With entrance and regular progression testing, students are allocated to the right class for their ability. Our teaching approach aims to develop practical communication skills, with special emphasis on speaking, pronunciation, grammar and listening, further emphasised in our 20-hour course with electives.
This course is fully accredited by the British Council and ACELS ensuring high quality instruction from our supportive and passionate teaching staff. www.englishstudio.com | COURSE TIMETABLE 08:45 - 12:00 12:05 - 13:05 13:10 - 14:10 14:15 - 15:15 15:20 - 18:30 LONDON General English 15 MORNING MIDDAY AFTERNOON General English 20† MORNING + 1 Elective 1 Elective + AFTERNOON 09:00 - 12:15 12:20 - 13:20 13:30 - 16:45 DUBLIN General English 15 MORNING AFTERNOON General English 20 AM MORNING + 1 Elective General English 20 PM AFTERNOON + 1 Elective 1 Elective + AFTERNOON † Example timetable. Please note that daily elective hours are scheduled between 12:05 - 15:15 in London, dependent on term and the student's English level.
28 * London only Designed with our students' personal progress in mind, they will learn at the right level for their ability, with teacher support and regular progression testing throughout the course. Students practise in group activities and will learn how English is used by proficient English speakers every day; ideal for those with limited time or simply wanting to improve their English fast. In our London school, alongside English language classes, students will study a selection of our elective courses dependent on the term and their English level. The Intensive English courses in London are fully accredited by the British Council.
One-to-one Private English lessons provide students with the individual attention they need to learn at their own pace, in their own way and at a time that they choose. Whether students are looking to improve in one particular area of English, work on their pronunciation or prepare for an interview or exam, our teachers can provide a learner plan just for them to fit their schedule. KEY FEATURES WEEKLY HOURS London | 25 or 30 Dublin | 30 COURSE BOOK REQUIRED | londonbookings@englishstudio.com • dublinbookings@englishstudio.com Our Intensive English course fast tracks students to communicate easily and confidently in English.
Whether students are complete beginners, intermediate or even advanced, with either 25* or 30 hours of tuition per week, this is the perfect option to help them learn English quickly.
Intensive English COURSE TIMETABLE 08:45 - 12:00 12:05 - 13:05 13:10 - 14:10 14:15 - 15:15 15:20 - 18:30 LONDON Intensive English 25† MORNING + 2 Electives Intensive English 30 MORNING + 3 Electives Intensive English 30 3 Electives + AFTERNOON 09:00 - 12:15 12:20 - 13:20 13:30 - 16:45 DUBLIN Intensive English 30 FULL DAY LUNCH FULL DAY † Example timetable. Please note that daily elective hours are scheduled between 12:05 - 15:15 in London, dependent on term and the student's English level.
29 KEY FEATURES WEEKLY HOURS London | 15, 20 or 25 Dublin | 15 or 20 COURSE BOOK REQUIRED www.englishstudio.com | English for Business English for Business helps students prepare for the job market and improve their career prospects in English-speaking environments.
By gaining confidence and learning to communicate with ease, this is the ideal course for students looking to practise business skills or preparing for a new career. Our English for Business course also prepares students for the Cambridge Business English Certificate (BEC). This course is the perfect fit for people who need to use English as a foreign language in an international workplace, already working in business or preparing to follow such a career. In class they will practise business skills such as giving presentations, holding meetings and negotiating or even prepare for the future by improving their CV and interview skills.
Aimed at upper intermediate and advanced levels of competence, the Cambridge Business English Certificate examination is a useful qualification for students on this course. The BEC certificate is awarded by Cambridge ESOL and is internationally recognised. Alongside English for Business classes, students studying 20 or 25 hours per week will enjoy a selection of our elective courses to further prepare for the world of business. COURSE TIMETABLE 08:45 - 12:00 12:05 - 13:05 13:10 - 14:10 14:15 - 15:15 15:20 - 18:30 LONDON English for Business 15 MORNING English for Business 20† MORNING + 1 Elective English for Business 25† MORNING + 2 Electives 09:00 - 12:15 12:20 - 13:20 13:30 - 16:45 DUBLIN English for Business 15 MORNING AFTERNOON English for Business 20 (AM) MORNING + 1 Elective English for Business 20 (PM) 1 Elective + AFTERNOON † Example timetable.
Please note that daily elective hours are scheduled between 12:05 - 15:15 in London, dependent on term and the student's English level.
30 Our teachers have a proven track record of successfully preparing students for Cambridge exams. For anyone planning to go to college or university in an English- speaking country, one of our courses that focus on academic English is ideal. These courses are designed to prepare students to take an internationally recognised exam that they will need to enter their desired college or university. Whether needing to study for an IELTS or Cambridge CAE examination our practical and passionate teaching style will ensure that students excel in their exams and walk away with a respected qualification.
Cambridge IELTS Exam The IELTS Exam Preparation course is one of our most popular. Over the years, our teachers have helped hundreds of students achieve the IELTS score they needed. The IELTS exam is the most effective and achievable way to gain access to UK and Irish university courses for second language speakers. Our course helps students develop the academic reading and writing skills, and confidence, for university life — and beyond!
Cambridge CAE Exam London only The prestigious CAE exam is accepted by thousands of universities and employers as evidence of an outstanding achievement in language learning. Our structured course with personalised learning reviews and monitored and assessed progression allows us to know when students are ready to take the exam and succeed. KEY FEATURES WEEKLY HOURS IELTS: London and Dublin | 15 CAE: London | 15 COURSE DURATION 4 and 6 weeks. Set start dates apply, check online for dates. COURSE BOOK REQUIRED | londonbookings@englishstudio.com • dublinbookings@englishstudio.com Academic English COURSE TIMETABLE 08:45 - 12:00 12:05 - 13:05 13:10 - 14:10 14:15 - 15:15 15:20 - 18:30 LONDON IELTS MORNING AFTERNOON CAE MORNING 09:00 - 12:15 12:20 - 13:20 13:30 - 16:45 DUBLIN IELTS MORNING AFTERNOON
Teacher Training courses at The English Studio are specially designed for those who wish to teach English as a second language anywhere in the world! Our range of courses aim to provide solutions for those starting their career in English Language Teaching, looking to gain a qualification, through to experienced teachers wanting to refresh their language skills and teaching methods. Liam Tyrrell | HEAD OF TEACHING AND LEARNING. THE ENGLISH STUDIO DUBLIN At The English Studio we know that great teaching is the best predictor of outstanding student achievement. That's why our training courses for English language teachers focus on maximising the impact educators can have on learning outcomes.
Whether you have zero teaching experience, or you've been practicing for years, we can provide solutions to your development challenges. We offer internationally recognised certification for novices, and in-depth, advanced tuition for experts looking to refresh their methods. Our experienced training team can also deliver bespoke courses tailored to the specific professional needs of groups looking to study together.
www.englishstudio.com | Teacher Training Courses 31
32 The Trinity Cert. TESOL courses are designed for anybody starting out on an English language teaching career looking to gain an internationally recognised certification. Classes give trainees an introduction to the theory and practice of contemporary English teaching and an insight into the challenges facing both learner and teacher. Our course provides six hours of teaching practice following which our experienced tutors will give trainees detailed, constructive feedback. At the end of the course they will graduate with a Trinity Cert.
TESOL Certificate, qualifying them to teach English anywhere in the world. The full-time teacher training course provides a high- quality and affordable intensive 4-week programme with experienced trainers who deliver a 98% pass rate. In our Dublin school we also offer a more flexible study option allowing students to study part-time to better fit their schedule over 12 weeks.
Fully accredited by Trinity College London ensures high quality instruction and a recognised qualification from the course. The Trinity TESOL Certificate (Teaching English to Students of Other Languages), along with CELTA, is one of the most recognised teaching qualifications and can lead to some of the best teaching jobs available. It is accredited at Level 5 on both the UK National Qualifications Framework and The European Qualifications Framework and Level 6 on the QQI National Qualification Framework in Ireland. KEY FEATURES FULL TIME Weekly hours – 30+ Course duration – 4 weeks PART TIME Dublin only Weekly hours – 12 Course duration – 12 weeks CLASS SIZE 10 (maximum 15) All moderation and certification fees included Courses run frequently.
Check online for dates. | londonbookings@englishstudio.com • dublinbookings@englishstudio.com Trinity Cert.TESOL COURSE TIMETABLE Trinity Cert. TESOL MONDAY TUESDAY WEDNESDAY THURSDAY FRIDAY SATURDAY LONDON Full-time 09:30 - 17:00 09:30 - 17:00 09:30 - 17:00 09:30 - 17:00 09:30 - 17:00 Trinity Cert. TESOL DUBLIN Full-time 09:00 - 18:15 09:00 - 18:15 09:00 - 18:15 09:00 - 18:15 09:00 - 18:15 Part-time 18:00 - 21:15 18:00 - 21:15 10:00 - 17:30
33 CLIL Methods of Practice For subject teachers who want to deliver lessons through English, both new to CLIL methodology, or experienced practitioners looking to refresh their knowledge. By the end our CLIL Methods in Practice short course teachers will: • be able to combine subject and language objectives to form specific, measurable outcomes for their lessons • have a sound foundation of the research implications for CLIL in practice • have added significantly to their repertoire of classroom tasks and materials Language Refresher Our Language Refresher short course is ideal for teachers looking to boost their English language practice in a specific area or simply increase their motivation for language learning and teaching.
By the end of the course teachers will: • feel more confident about their abilities in English • have developed a clear set of strategies and behaviours to help you learn more effectively • have received expert support to help identify your key problem areas and start an action plan to help you move past your barriers Modern British Culture London only Aimed at teachers with an interest in integrating modern British culture into their curricula. This course will help increase awareness of aspects of contemporary British life as well as building teachers' confidence in their own English language and teaching skills.
Advanced Methodology and Language London only For teachers of secondary school students and adult learners. The course is designed to refresh and build upon their awareness of the principles and practice of teaching English. They will leave the class prepared with ideas and course materials to be used in their own classroom with plenty of opportunities to practise their teaching skills during the course with us. www.englishstudio.com | Teacher Training Short Courses Available all year round to groups looking for specialist Teacher Training courses our short programmes offer a flexible way for teachers to gain the necessary skills to upgrade their English teaching practice.
Bespoke Packages Are you looking for a solution to suit your group's individual teaching needs? Our experienced team can tailor make the perfect package combining the necessary elements from our teacher training programmes. Many of our groups return to us year after year so you can feel confident that your booking will be in safe hands. Visit our website for a sample timetable or contact us for more information.
We have been running successful young learner summer schools for over 10 years. Our Young English Studio or YES courses help students between the ages of 8* and 17 to improve their English and have a lot of fun along the way.
Specially-designed YES English courses are suited to learners of varying ages and abilities, and packaged together with a packed activity programme, our YES English & Activities course is a favourite option for young students to enjoy the summer in London or Dublin. Our dedicated and energetic teams ensure an excellent experience with high levels of pastoral care. Central locations and an exciting range of cultural and sporting activities mean these courses are the perfect option for ambitious younger learners.
Ray Walker | ACADEMIC MANAGER, THE ENGLISH STUDIO LONDON It's always a delight to have our young students at The English Studio during the summer months. This is the perfect age for them to start learning English or to continue their studies from back home for a few extra weeks. Both in class and out on excursions students always have a huge amount of fun as they quickly make friends with classmates from around the world. I'm sure each student leaves with a group of pen pals to keep in touch with and continue on their English learning journey.
34 | londonbookings@englishstudio.com • dublinbookings@englishstudio.com YES Junior Courses
35 www.englishstudio.com | *We enrol students from 8 years old in London, 12 years old in Dublin. KEY FEATURES WEEKLY HOURS General English | 15 Intensive | 20 (London only) Start Mondays from 17th June to 12th August Fees include course book, learning materials, pens, water bottles, backpacks and lanyards. YES General English Available for every level from complete beginner through to advanced speaker, our YES General English course, with 15 hours tuition a week, gives students the opportunity to improve their English, practicing in a multinational class what they may not learn in school.
For students aged 8* to 17, the course helps develop each child's practical communication skills, with special emphasis on speaking, pronunciation and listening. All students take an English level test before arriving so that they can enjoy their classes from day one, placed according to their age and ability. During class students get plenty of practice of relevant English that's useful outside the classroom and at the end of the course they will receive a YES Certificate and an End of Course Report to show their parents and teachers back home.
YES Intensive English London only For students aged 8* to 17, looking to improve their English fast we offer the YES Intensive English course.
Combined with General English classes students focus on conversation and pronunciation with an hour each day dedicated to practice with their teacher and classmates. Our young students develop their fluency in conversational English, receiving individual feedback and corrections from their teacher: whether it's asking for directions or ordering lunch, our supportive teachers help students become more confident speaking English.
YES General and Intensive English COURSE TIMETABLE 08:45 - 12:00 12:05 - 13:05 13:30 - 17:00 LONDON YES General English MORNING YES Intensive English MORNING 09:00 - 12:15 12:20 - 13:20 13:30 - 17:15 DUBLIN YES General English MORNING