COLORADO 2023 PARTNERSHIP OPPORTUNITIES - AUDL
Page content transcription
If your browser does not render page correctly, please read the page content below
THE LEAGUE
The American Ultimate Disc League (AUDL) was
founded in 2012 and is made up of 24 teams from
the US and Canada, with over 700 players across the
league.

In 2023, the AUDL will play games from May to
August, culminating in a final four-style championship.

In their inaugural season last year, the Colorado
Summit were crowned West Division Champions and
averaged the highest attendance in the league.

Locations
Central Division   East Division      South Division   West Division
Chicago, IL        Boston, MA         Austin, TX       Denver, CO
Detroit, MI        D.C.               Atlanta, GA      Los Angeles, CA
Indianapolis, IN   Montreal, QC       Dallas, TX       Portland, OR
Madison, WI        New York, NY       Houston, TX      Salt Lake City, UT
Pittsburgh, PA     Philadelphia, PA   Raleigh, NC      San Diego, CA
Saint Paul, MN     Toronto, ON                         San Jose, CA
                                                       Seattle, WA

         24 teams
across north america
THE                                                                                                                                                     MONTREAL
                                                                                                                                                         ROYAL
                                                                                                                                                             est. 2014

                               SEATTLE                                                                                TORONTO
                              CASCADES                                                                                  RUSH
                                                                      MINNESOTA                                                                          NEW YORK
                                 est. 2014                                                                              est. 2013
                                                                      WIND CHILL                                                                          EMPIRE
                                                                              est. 2013                                                                          est. 2013
                        PORTLAND
                          NITRO                                                                                        DETROIT
                                                                                                                      MECHANIX                                        BOSTON
                              est. 2022
                                                                                                                                                                       GLORY
                                                                                                                       est. 2012
                                                                        MADISON                                                                                         est. 2020

                                                                        RADICALS
        SALT LAKE                              COLORADO
                                                                              est. 2013
         SHRED                                  SUMMIT                                                                                                  PHILADELPHIA
                                                      est. 2022                                                                                           PHOENIX
          est. 2022                                                                        CHICAGO
                                                                                            UNION                                                                  est. 2012

                                                                                              est. 2013
                                                                                                                                     PITTSBURGH
               OAKLAND                                                                                                              THUNDERBIRDS
               SPIDERS                                                                                                                  est. 2015
                                                                                                                                                          DC
                  est. 2014
                                                                                                                                                        BREEZE
                                                                                    INDIANAPOLIS                                                          est. 2013
                                                                                      ALLEYCATS
                                                                                          est. 2012

                          LOS ANGELES
                            AVIATORS                                                                                                                CAROLINA
                                                                                                          ATLANTA                                    FLYERS
                                  est. 2015                       DALLAS                                  HUSTLE                                     est. 2015
                                                                  LEGION
                                                                                                           est. 2015

                                  SAN DIEGO                       est. 2016

                                  GROWLERS
                                          est. 2015

                                                                                                          AUSTIN
                                                                                                           SOL
                                                                                                          est. 2016
EAST                                                                                                                                 HOUSTON
                                                                                                                              HOU
CENTRAL                                                                                                                                est. 2023

                      24 TEAMS IN 4 DIVISIONS ACROSS NORTH AMERICA
SOUTH

WEST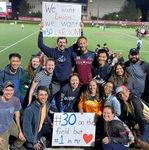 The AUDL is the only
         sport that has an
                                THE SPORT
                                Founded in 1968, ultimate is an exciting and engaging sport for players
"Integrity Rule"                and spectators of all ages that is a combination of soccer, football and
                                basketball. It is distinguished by its sportsmanship, which was originally
    that allows players to      codified into the sport via "Spirit of the Game" where players expect
   correct a referee's call     fiercely competitive play, but never at the expense of mutual respect
     if the call was made in    among competitors.

        error and benefited     Today ultimate is one of the fastest-growing sports in the world with
                  their team.   over 5 million people playing in North America. The sport is played in
                                over 80 countries. "Spirit" is still a big part of the professional game.

                                /////////////////////////////////////
                                COLORADO SUMMIT
                                MEDIA COVERAGE
                                Summit and league highlights have been featured on SportsCenter,
                                The Buzzer, Fox Sports 1, SportsNation, Sports Jeopardy, CBS Sports,
                                and local nightly sports newscasts across North America, as well as on
                                nearly every major sports website.

                                Beyond highlights, Fox Sports 2 broadcasts the AUDL Game of the
                                Week on Saturday and Wednesday nights throughout the season. Two
                                of the Summit's six 2022 home games were nationally televised on
                                FS2. The Summit also have a strong local media presence, including
                                being profiled on 9 News, Colorado Public Radio, the Westword,
                                Denver Post, and elsewhere.

                                                                               FULL PAGE ARTICLE
                                                                  Where Disc Meets Globe: An International Exhibition
                                                                                of Ultimate Frisbee
THE
PLAYERS
The Colorado Summit are made up of passionate players, mostly from
the Mountain West. These players love the sport and team, and they
work on their game all year round. Unlike sports like soccer, football
and basketball that are learned in driveaways at age five, ultimate has
historically been learned in college which means that our players and
playing community have higher income levels. This also means that
our community is more excited and loyal to brands that take the time to
recognize and get involved with our growing sport.

They value team sponsors and will
work hard as brand ambassadors.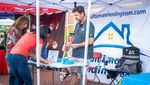 COMMUNITY
IMPACT
The Colorado Summit's mission is to invest in a lasting community of athletes and
fans of all ages; defined by our competitive excellence and commitment to inclusion,
diversity, and respect.

The Summit engage in community outreach throughout the year. In 2022, the Summit
ran multiple successful youth camps and clinics in a variety of locations across
the state, including a clinic led at Colorado's Youthful Offender System in Pueblo.
Most recently the team participated in Colorado Gives Day and made over $500 in
nonprofit contributions to 15 different organizations, dedicating 10 percent of all player-
driven ticket sales to each player's nonprofit of choice.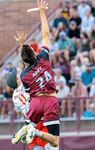 THE FANS                                                Social                     AUDL COMBINED STATS

Fans are consuming sports and media in non-                                           450,000+ Facebook Fans
                                                        Summit fans are highly
traditional ways. Many of them are looking for
                                                        engaged and love to           92,000+ Twitter Followers
alternatives to the historically dominant sports. The
                                                        consume and share
Summit offers them an authentic experience where
                                                        content across a variety      392,000+ Instagram Followers
they can have fun with their friends and family while
interacting with the athletes in a more intimate        of social platforms.
environment. In addition to home games, the Summit                                    300,000+ TikTok Followers
host watch parties at local bars for select away
games throughout the season.

Compared to the average American, AUDL fans are
more likely to be discretionary spenders, outdoor
enthusiasts, and live a "do-it-yourself" lifestyle.
AUDL.TV PEAK SUBSCRIBERS

                                                           //////////////////////////////////////////////////
                                                                                                                          BY YEAR (2019-2022)*
                                                                                                                                                    4,059

                                                                                                                                   3,444

AUDL.TV
                                                                                                                  1,650
In 2019, the AUDL introduced AUDL.tv, a proprietary
streaming platform allowing fans to watch every game
live for the duration of the season. The Summit produce
a minimum of six home game broadcasts each year,
available live to AUDL.tv subscribers. All team partners
are recognized through televised game productions,
including through commercial inventory. AUDL.tv can
                                                                                                                  2019             2021             2022
be streamed from any device and is also offered on the
Roku app store.                                                                                                   *2020 season was canceled due to COVID-19

                                                                                                                                                              Integrated partner
                                                                                                                                                              promotional video
                                                                                                                                                              to drive awareness
                                                                                                                                                              and sales

                                                                                                                AUDL.TV ANNUAL VIEWERSHIP

                                                                                                                200,000 Views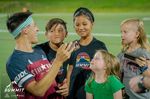 AUDL
FAN PROFILE
DEMOGRAPHICS
§ 26% more likely than the average American to fall between 18-29; 16%
 more likely to fall between 45-59
§ 64% of the AUDL fanbase has an average household income above
 $100,000
§ 66% more likely to have a graduate degree

LIFESTYLE
§ 2.1x more likely to be interested in golfing, skiing, boating equipment,
 travel, luxury automobiles and jewelry
§ 2.3x more likely to make meal purchases using restaurant delivery apps
§ 50% more likely to have interests and purchases toward outdoor gear
 and products, trucks, camping, fishing and gaming supplies, and outdoor
 apparel
§ 51% more likely to be looking for help in financial planning and
 investments

ONLINE BEHAVIORS AND SOCIAL CAUSES
§ 3x more likely to participate in photo sharing
§ 81% more likely to do social networking online
§ 51% more likely to support Environmental social causes
§ 51% more likely to support Health & Well Being social causes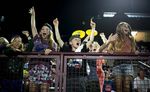 CURRENT
SPONSORS
The Summit partners with brands that align with
our values: Integrity, Innovation, Community.

LEAGUE SPONSORS

TEAM SPONSORS
THE OPPORTUNITY
SPONSORSHIP
The Summit provide a unique opportunity to engage the non-traditional sports audience. There are many different levels of sponsorship that feature a wide
variety of different kinds of exposure. We will work with you to professionally tailor a package that meets your sponsorship goals and budget.

                                                  Summit        Summit               Summit                     Summit                  Summit
                     Benefit
                                                  Grade 1       Grade 2              Grade 3                    Grade 4                 Grade 5
Newsletter Inclusion                                 3             3                    3                          3                        3
Program Listing                                      3             3                    3                          3                        3
Program Ad                                                                         Quarter Page               Quarter Page              Half Page
Web Link - Partner                                   3             3                    3                          3                        3
Web Home Page Link                                                                      3                          3                        3
Team Poster Listing                                                                     3                          3                        3
Social Post                                     1 Per Month   1 Per Month           1 Per Month               2 Per Month              2 Per Month
Tickets/Game                                         2              2                    4                          4                       8
PA Announcement                                                1 Per Game           1 Per Game                2 Per Game               2 Per Game
Promo Booth                                                        3                    3                          3                        3
Field Banner                                                       3                    3                          3                        3
Gameday Giveaway Option                                            3                    3                          3                        3
Gameday Video Board Ad                                                                  3                          3                        3
Email Get To Know Promo                                                                 3                          3                        3
A-Frame Display                                                                                                    3                  3 (Centered)
Quarter Fan Promo                                                                                                  3                      3
Promo Handout                                                                                                      3                      3
CORPORATE
            § Large Group Outings
            § Food/Drink/Merchandise Vouchers
            § Special Gear/Discs with Company Logo to

   EVENTS     Commemorate Event
            § Company PA Shoutouts and Banners
            § Employees on Field for Fun Events
            § Group Photo with the Summit
            § Players come train the company on the sport
Contact Us
                       ADAM LEVY
  Director of Partnerships & Activations
Partnerships@TheColoradoSummit.com