FROM PRIMARY HEALTH CARE TO UNIVERSAL HEALTH COVERAGE - BARBARA MCPAKE INSTITUTE FOR INTERNATIONAL HEALTH AND DEVELOPMENT, QUEEN MARGARET ...
Page content transcription
If your browser does not render page correctly, please read the page content below
From Primary Health care to
 Universal Health Coverage
           Barbara McPake
Institute for International Health and
            Development,
Queen Margaret University, Edinburgh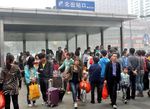 Julius Nyerere                Philosophy to focus on
Arusha declaration 1967:      'villagisation'; community
                              participation, bringing health care
Ujamaa, socialism and self-   to rural populations, 'appropriate
reliance                      technology' for health care

                'We must not again be
                temped by offers of big new
                hospitals with all the costs
                involved until at least every
                one of our citizens has a
                basic medical service readily
                available to him.' (Nyerere
                quoted in Morley and Lovel,
                1986)
Primary health care in China
• Roots back to 1930s pre-communist era
• Post 1948 rural China organised on basis of co-operatives:
   each paid a levy to fund basic health care for its members
• Early model of primary health care delivered through
   'barefoot doctor' system
• Barefoot doctors were
  secondary school
  graduates, given 6
  months training at a
  local hospital
• Promoted basic hygiene,
  preventive health care,
  family planning and
  treated common
  illnesses                 www.qmu.ac.uk/iihd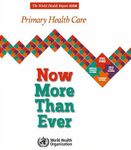 Primary Health Care Alma Ata 1978

134 nations
represented. Virtually
all signed up to:
'Health for All by the
Year 2000'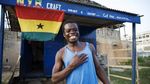 7 elements of PHC: 'PHC includes at
                  least…'
• Health education
• Promotion of food supply and nutrition
• Promotion of safe water and basic sanitation
• Maternal and child health care including family
  planning
• Immunisation
• Prevention and control of infectious and common
  diseases and injuries
• Essential drugs

                     wwwm.qmu.ac.uk/iihd
'Selective' versus 'Comprehensive' PHC
  • After Alma Ata, Walsh and Warren (1979)1
    immediately respond to Alma Ata – a heated
    debate about how to do PHC and what it
    really means:
         – A selected list of cost-effective interventions
         – Or a revolutionary new approach to locating
           authority over health in communities and
           households based on community participation,
           appropriate technology and democratisation
1Walsh  J A & Warren K S. Selective primary health
care: an interim strategy for disease control in
developing countries. N. Engl. J. Med. 301.967-74.
• Explicit consensus in 1978 on the primary
  health care approach
• Ideological warfare on what it really means
• Implicit consensus on a public health system
  to deliver it
• Not much discussion until 1987 on the public-
  private mix of financing and provision
Health expenditure per capita: $PPP, 2008 (WHOSIS)
                USA
              Malta
             France
            Iceland
            Greece
          Portugal
              Qatar
         Lithuania
         Botswana
           Bulgaria
             Turkey
          Maldives
         Mauritius
          Grenada
              Libya
           Ecuador
           Georgia
               Peru
          Moldova
             Tuvalu
         Viet Nam
          Vanuatu
        Uzbekistan
               Syria
             Ghana
      Sierra Leone
               Chad
Papua New Guinea
              Benin
            Malawi
     Mozambique
             Eritrea
                       0   1000   2000   3000   4000   5000   6000   7000   8000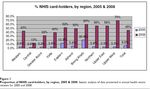 Health expenditure (as previous slide) compared to GDP per capita
(IMF, 2010; international $)
                USA
              Malta
             France
            Iceland
            Greece
          Portugal
              Qatar
         Lithuania
         Botswana
           Bulgaria
             Turkey
          Maldives
         Mauritius
          Grenada
              Libya
           Ecuador
           Georgia
               Peru                                Global GDP 2010 = US$51,067,937,268,701.1
          Moldova                                  Global population 2010 = 6,885,217,727
             Tuvalu                                Average GDP/capita = $7,417
         Viet Nam                                  US health expend/capita = $8,233
          Vanuatu                                  (World Development Indicator data)
        Uzbekistan
               Syria
             Ghana
      Sierra Leone
               Chad
Papua New Guinea
              Benin
            Malawi
     Mozambique
             Eritrea
                       0   10000   20000   30000       40000     50000     60000    70000      80000   90000   100000
Universal health coverage: From
Agenda for Reform to WHR 2010
Agenda for Reform
• Advocated for greater roles for out-of-pocket
  payments (user charges) and private sector
  provision and insurance
• This advocated in part as a strategy to support
  primary health care
"Reallocating resources away from hospital care is not
easy. It is physically impossible to turn a few large and
costly hospitals into many small primary-level health care
units or to turn a nation's highly trained doctors and
nurses into less trained and less expensive primary health
care workers. . . .

It is the financing of expensive hospital care that needs
change, not the existence of the care as such.
Governments must find ways to charge those who are
able to pay for the benefits of public provided curative
care." (p18)
• But – interpreted as generalised prescription
  of privatisation and user fee introduction
• Waves of countries introduced and increased
  fees in late 1980s and 1990s
• Experience:
  – negative demand effects measured in multiple
    contexts;
  – argument that fees required to improve quality
    sustained in only a few projects
  – Little revenue raised in relation to global funding
    level
  – Revenues raised could be important at local level
The Bamako Initiative 1987-
• A plan for self-sustained primary health care in African
  villages
• Communities share in the financing of local health
  services by buying drugs above the wholesale purchase
  price and using the proceeds to maintain drug supplies
  and subsidize services
• This core element known as a 'revolving drug fund'
• Benin, Rwanda, Guinea and Mali scaled up this initiative
  as the basis of their national rural primary health care
  strategy
• In other countries, it remained a project operating in a
  few localities
• Main critique has been affordability of charges for poor
  families
Experience of out of pocket payments

Source: Poullier et al. (2002) Patterns of global health expenditures: results for 191 countries, EIP/HFS/FAR
Discussion Paper No. 51, Geneva, World Health Organisation.
Source: Xu et al. (2007) Household catastrophic health
expenditure: a multi-country analysis, Lancet, 362, 111-
117
• On the basis of mounting evidence of:
  – Significant negative demand side effects of user
    charges
  – Limited contribution to overall financing
  – Limited success with 'scaling up' community financing
    to support a national PHC system
  – Associations of out of pocket payments with
    catastrophic health expenditure
• Wave of reforms from late 1990s that removed
  user fees and supported 'free health care'
• Has support for 'demand side' (fee removal) been
  matched by support for 'supply side'?
5 country case study of fee removal: Ghana, Nepal, Sierra
                  Leone, Zambia, Zimbabwe
• User fee removal will probably:
   – Increase use of health services
   – Remove staff bonuses that have been paid from revenues
   – Reduce ability of facilities to restock basic medicines with their
     own resources
• So needs to:
   – Be offset by budget increases that can fill these gaps
   – Be accompanied by human resource policies that ensure there
     is capacity to meet increased demand
   – Find ways of mimicking the incentives to encourage more
     demand that user fees present
• Case studies
   – Demonstrated importance of the supply side balance
   – Showed that attempts to enact supporting supply side measures
     were variable across the countries and had mixed success
                                                 Source: McPake et al., 2011
World Health Report, 2010

www.qmu.ac.uk/iihd
Health system post-1981
• The commune system, rural co-operative medical system and
  barefoot doctor programme all ended in 1981
• Coverage of RCMS dropped from 90% to 5% in 1984
• In the economy, shift towards individual production in family
  units
• In the health system, there was an effective privatisation
• In public health units, health workers incomes were dependent
  on sale of services under system of regulated prices
• Strong perverse incentives – health workers recommended
  lucrative interventions and failed to offer access to cheaper
  ones

                          www.qmu.ac.uk/iihd
Current reforms
• 850 bn. Yuan (US$124bn) to public funding of a
  'basic health system'
• Diversified systems of insurance differentiate
  entitlements of urban employees, other urban
  residents and rural residents
• Direct investment in expanded public services –
  managed directly within government
• Strengthening referral and supervision systems
• Major programme of experimentation in delivery
  systems and payment mechanisms to inform further
  reform
                     www.qmu.ac.uk/iihd
Chinese health insurance schemes in 2010
                              Urban Employee Urban Resident                     New Cooperative
                              Basic Medical  Basic Medical                      Medical Scheme
                              Insurance      Insurance
Target population             Formal sector       Children, students, Rural residents
                              urban workers       elderly, unemployed
                                                  and migrants
Financing
Premium (Y)                   1559                138                           157
Govt. subsidy                 0                   120                           120
Benefits
Inpatient reimbursement (%)   68                48                   44
Total reimbursement ceiling   Six times average Six times disposable Six times income
                              wage              income of local      of local farmers
                                                residents

                                          Source: Yip et al. (2010) Early appraisal of China's huge and
                                          complex health-care reforms, Lancet, 379, 833-42
Early evaluation of the reforms
• Successful in achieving high levels of coverage
  through diversified systems of insurance: 835m
  enrollees; 90% population has coverage
• But – premised on a narrow 'package of care' –
  limited coverage of inpatient care and significant
  copayments
• Major inefficiencies remain – difficulties enforcing
  essential drugs list; hospitals remain dominant in the
  system
• Considerable problems of quality, and human
  resource shortages to be tackled in second wave of
  reform – have to start with primary care
                       www.qmu.ac.uk/iihd
World Health Report, 2010

www.qmu.ac.uk/iihd
Background to health financing and social health
             insurance in Ghana
• User fees abolished at independence, reintroduced in 1969
  and increased in 1985 and again under 'cash and carry' in
  1992; by mid-1990s fees accounted for 70-80% of non-salary
  operating budgets
• Delivery exemption policy piloted 2003; extended nationwide
  2004 in response to persisting high MMR and inequities in
  access to ANC and SBA
• 1990s: Mutual health organisations established: external
  funding; covered mainly high cost inpatient care
• NHIS promised by successful New Patriotic Party in 2000
  elections – objective of removing financial barriers to access
• Passed into law 2003; implementation began 2005
Main features of NHIS in Ghana (Witter and Garshong, 2009)
• Sources of funding: NHIL=2.5% VAT; payroll deductions (2.5%)
  formal sector employees; public subsidies; mandatory income
  based premia for informal workers
• District-based mutual health insurance schemes (DMHIS)
  developed out of MHOs – each district to have one; manage
  informal sector involvement
• Membership mandatory; risk pooling across district schemes
• Exempt groups, but tightly defined
• Broad minimum package of care
• Accreditation of providers
• Reimbursement on a modified 'diagnosis related group'b basis
Source: Witter and Garshong, 2009
Composition of enrolment
• Largest share of enrollees (about two thirds) are exempted
  from making contribution (pregnant women exempted in
  2008, children of members are main groups; also indigent,
  elderly)
• Registrations among informal sector workers are quite low
  (16% of the eligible population in 2008)
• In 2009 30% of households were currently enrolled in the
  NHIS, 14% had previously been enrolled and 56% had never
  enrolled. Richer households were significantly more likely to
  enrol than poorer households,
• There was higher enrolment in rural (19%) than urban (11%)
  areas (may relate to history of MHOs), but urban members
  more likely to renew.
  Sources: Jehu-Appiah et al., 2011; Witter and Garshong, 2009
Evaluation in 2008
• Increase in access and decrease in out-of-pocket
  expenditure for members – but no improvement in use of
  maternal care
• Financial sustainability has been major issue – end of 2008
  about $34m owing to health facilities – in part because new
  members are not paying premia and funding increases have
  not been commensurate
• Money follows infrastructure? A hospital with a laboratory
  can bill for more services than a health centre without one
  – hence resources are skewed towards better endowed
  areas
• Reports of informal payments being levied – perhaps
  because staff have experienced growth in workload without
  compensation

                    Source: Witter and Garshong, 2009
?

                World Health Report, 2010

www.qmu.ac.uk/iihd
Health insurance system in Thailand
• 3 systems of health insurance
  – Civil service medical benefit scheme (est. 1980)
  – Social Security scheme (est. 1990)
  – Universal coverage scheme (completed 2002)
     • Succeeded the Medical Welfare Scheme (1975-)
     • Voluntary health card scheme (1983-)
     • 30 baht scheme
=5% of population
(20% population
uninsured 1998):
Antos, 2007
Efficiency measures incorporated into
             UC scheme
• Capitation payment method
• Primary care gatekeepers
• HiTAP evaluates components of the package
  of care on cost-effectiveness criteria
• Separation of purchaser and provider
Equity features of Thai system
• UC has increased progressivity of health
  financing system
• Fewer Thai households faced with
  catastrophic health expenditure
Percent distribution of net government health subsidies among
          different income quintiles in 2001 and 2003
                    A comparison of percent distribution of net government health subsidies among different
                                           income quintiles in 2001 and 2003

            35
                            31
            30        28

            25                              22
                                       20
      percent

            20                                                         17              18
                                                       17                   16                        2001
                                                             15                             15
            15                                                                                        2003

            10

                5

                0
                           Q1            Q2                 Q3           Q4              Q5

                                                    Income quintile

Note: The concentration index of government health subsidies in 2001 was -0.044 and in 2003 was -0.123

                                                        Source: International Health Policy Programme,
                                                        Thailand, 2007)
Concerns about the Thai system
• Significant gaps in benefit coverage under UC
• Capitation rate paid may be too low and
  providers may under-provide care
• Some hospitals are accruing significant levels
  of debt
• BUT – the total cost of the system is currently
  3.5% of GDP – might be considered space to
  resolve these problems
World Health Report, 2010

www.qmu.ac.uk/iihd
Conclusions
• Reaching universal coverage is an ever more difficult task –
  challenges world's richest economies; most difficult for
  LICs; case studies have been MICs (but look at Rwanda for a
  good LIC case study, though heavily donor subsidised)
• Universal coverage is not only about financial accessibility –
  cannot be achieved without attending to the efficiency of
  the health system
   – Focus on a cost-effective package of care
   – Use payment mechanisms that structure incentives towards
     efficiency for both providers and users
   – Concentrate on strengthening primary health care system
• Thai model accepts heterogenous system albeit with
  universal access to the basics – may be needed response to
  highly heterogenous population
• No quick fixes