Ideas. Opportunities. Diversity. Dallas. A City of Influence.
→
If your browser does not support JavaScript, please read the page content below:
Ideas. Opportunities. Diversity. Dallas. A City of Influence.
→
CONTENTS TABLE OF CONTENTS welcome 4 what is big influence 5 gerald britt 7 sara madsen miller 8 natalie jenkins sorrell 9 baylor barbee 10 jackson 11 james faust 12 diamond mahone 13 byron sanders 14 kristi nelson 15 kauwuane burton 16 patrick ware 17 about creative team 18 LOCATION NYLO HOTELS Dallas South Side CREATIVE CONCEPT Brandpointe | Jasmin Brand GRAPHIC DESIGN Lobotrain Creative | Danny Villalobos PHOTOGRAPHY Jeremy Biggers VIDEOGRAPHY 1820 Productions #DallasBigInfluence
#DallasBigInfluence Dallas is known as a city with BIG ideas. Big ideas that inject excitement in the lives of every individual born and raised here, as well as adventurous transplants looking for great opportunities and promising futures. BIG INFLUENCE was created to recognize the innovative and influential Dallasites that are up and coming leaders in the community, in their businesses and in their field; people who make Big Things Happen Here! For our inaugural launch, we are acknowledging some of Dallas' best and brightest African - American influencers. We are excited about the optimism, hope and ambition that this special group of men and women represent. Whether it's in business, arts and culture or deep in the heart of the community, our inaugural honorees give a voice to authentic influence. They truly are making an impact.
But we're not just stopping there. We want to recognize many more of Dallas' top influencers that embody the culture and soul that makes Dallas not only the best place to call home but also a great place to visit for work and play. I look forward to connecting with you! -Noelle Noelle LeVeaux Chief Marketing Officer Dallas Convention & Visitors Bureau
#DallasBigInfluence What is BIG INFLUENCE? BIG INFLUENCE is about celebrating those big ideas but most importantly, the diverse people behind them. It is the people of Dallas that are responsible for the energy that resides in every building, every park, every fabulous restaurant and every zip code in between. BIG INFLUENCE will feature digital publications highlighting our influencers as well as a series of curated events designed to educate, engage and entertain both Dallas residents and visitors alike. The influencers will serve as ambassadors, giving a voice to the city of success – Dallas. BIG INFLUENCE is an important initiative of the Dallas Convention and Visitors Bureau focused on recognizing and highlighting the contributions of Dallas' diverse residents.
For additional information visit www.dallasbiginfluence.com
#DallasBigInfluence PIONEER REV. GERALD BRITT JR. | CITYSQUARE BORN & RAISED | NEIGHBORHOOD: Oak Cliff Dallas is a city that in so many respects is still being built. Professionals who live, work and even play here have the opportunity to pioneer our city in a new, vibrant direction. Whether it's arts and culture, civic engagement, philanthropy, religious life or education, we have the opportunity to transform Dallas into a city that benefits everyone!
#DallasBigInfluence EVOLUTION SARA MADSEN MILLER | 1820 PRODUCTIONS TRANSPLANT: Stillwater, Minnesota | NEIGHBORHOOD: Las Colinas Of course there are plenty of amazing restaurants, bars and fantastic shopping here in Dallas but the hottest thing about our city is the current arts evolution taking place. Dallas has one of the largest contiguous arts centers in the country and the city is making concerted efforts for continued expansion.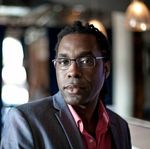 NATALIE JENKINS SORRELL | The Employees' Retirement Fund, City of Dallas TRANSPLANT: New Jersey | NEIGHBORHOOD: Oak Cliff Being an African-American influencer is first and foremost a responsibility. We are a few of many but what's exciting is that our community is growing exponentially due to the robust social networks and career opportunities Dallas provides for us all. PASSION #DallasBigInfluence
BAYLOR BARBEE | Rehab Time Organization TRANSPLANT: Abilene | NEIGHBORHOOD: Uptown Being an African-American influencer affords me the opportunity to serve as a positive example in the community but also cast an inspiring light and direction on moving our city forward...for everyone. #DallasBigInfluence
AMBITION #DallasBigInfluence JACKSON | FLUENT TRANSPLANT: New Jersey | NEIGHBORHOOD: Lakewood The hottest thing in Dallas is the opportunity. If you have an ounce of creativity, drive, and ambition the opportunities in Dallas are limitless.
JAMES FAUST | DALLAS FILM SOCIETY TRANSPLANT: Los Angeles,CA NEIGHBORHOOD: Lakewood Dallas is one of the five fastest growing cities in America. Why? Low cost of living, affordable housing, museums, and a restaurant or movie theater on every corner makes for a great living experience. It's not as if thousands of one type of person are flooding into the city. People from all walks of life are bringing their experiences and their cultures to Dallas. Something new, diverse and interesting is being created under the warm Texas sun. It is a good time in the city…exciting times. #DallasBigInfluence
DIAMOND MAHONE | TENOVERSIX TRANSPLANT: San Antonio | NEIGHBORHOOD: The Cedars I'm humbled to be able to inspire people through my passion and it inspires me to keep doing things that are different and not the status quo. I love that I can be influential in Dallas, but I try not to limit myself to just one thing or place. It is a good thing to keep going and expand beyond your own beliefs. #DallasBigInfluence
IMPACT BYRON SANDERS | Dallas Education Foundation BORN AND RAISED | NEIGHBORDHOOD: Addison The hottest thing in Dallas is collaboration. The name of the game is working together; how we can leverage partnerships to increase our overall impact for the good of all Dallasites. We are just getting smarter and smarter about forging game changing partnerships to help uplift the folks who live here. #DallasBigInfluence
KRISTI NELSON | KXAS-TV/NBC 5 BORN & RAISED | NEIGHBORHOOD: Oak Cliff I was born in Dallas, raised in a working class Dallas neighborhood and educated in the Dallas public schools. I take great pride in being able to work here in a visible profession which allows me to influence the next generation of Dallas leaders. It's a role I take very seriously. VISIBLE #DallasBigInfluence
KAUWUANE BURTON | Kauwuane Burton Photography TRANSPLANT: Wichita Falls, TX | NEIGHBORHOOD: South Dallas Being an African-American influencer in Dallas means that I have the ability to positively impact someone's desire to achieve their artistic identity which is a true honor! #DallasBigInfluence
PATRICK B. WARE | Warehaus Dallas TRANSPLANT: Victoria, TX | NEIGHBORHOOD: Uptown I always have a good attitude and keep a positive outlook on life. Good things can happen if you are good to others. That's true influence! INFLUENCE #DallasBigInfluence
Founded in 2007, Brandpointe is a full-service strategic branding and communications solutions firm. Their dynamic approach to branding and marketing includes strategic planning, innovative branding concepts, and building continuous online and offline engagement utilizing creative content, digital media and strategic events. Jeremy Biggers has been involved with image making his entire life. He attended an art high school where he primarily focused on graphite and charcoal drawings. Upon entering college, he cultivated his love for painting and photography which have become the foundation for his business today. His work is a mix between realism and simplicity.
1820 Productions is a full service tele- vision production company formed in 2001 and is the vision of award winning Director/Producer and content creator Korey Miller. 1820's precise balance of business savvy and creative zest has yielded the company over fifty presti- gious awards and has garnered the team an Emmy for its recent documentary entitled "The Offenders". About The Creative Team #DallasBigInfluence