January 2023 - American Institute of Steel Construction
Page content transcription
If your browser does not render page correctly, please read the page content below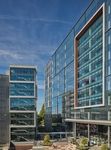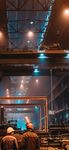 Steel Fans, Start Your Engines...

CHARLOTTE CONVENTION CENTER | APRIL 12–14, 2023
                              incorporating
World Steel Bridge Symposium | QualityCon | Architecture in Steel | SafetyCon
  SSRC Annual Stability Conference | NISD Conference on Steel Detailing

                      Registration            Earn              Nearly
      250               opens                 up to
                                                                 200
   exhibitors          January                17               sessions
                           23                PDHs
Mark your calendars for The Steel Conference: THE premier event for everyone
involved in the design and construction of steel-framed buildings and bridges.

                          aisc.org/nascc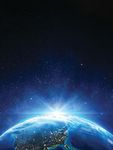 January 2023

                                                                                                                                     features
                                                                                                                                     32     Forging a New Steel Story
                                                                                                                                            BY BRIAN SHERMAN, PE, AND SEAN POUSLEY
                                                                                                                                            A recently completed multi-use complex
                                                                                                                                            helps lift an old steel town to new heights.

                                                                                                                                     38     Vital Link
                                                                                                                                            BY NICK STAROSKI, SE, PE

                                                                                 in every issue                                             The rebuilt Merchants Bridge over the
                                                                                                                                            Mississippi River in St. Louis is a vital link
                                                                                  departments                                               in creating the international supply chain
                                                                                   6 EDITOR'S NOTE                                          of the future.
                                                                                   8 STEEL INTERCHANGE
                                                                                  10 STEEL QUIZ                                      46     Going Big with Castellated
                                                                                  61 NEW PRODUCTS                                           Beams
                                                                                  62 NEWS & EVENTS                                          BY JULIE LOW
                                                                                  66 STRUCTURALLY SOUND                                     Thanks to schedule and supply chain
                                                                                                                                            challenges, a new distribution facility in
                                                                                                                                            Georgia becomes the country's largest
                                                                                  resources
                                                                                                                                            known castellated beam project.
                                                                                  65 ADVERTISER INDEX
                                                                                  65 MARKETPLACE &
                                                                                      EMPLOYMENT                                     52     All Hands on (Steel) Deck
  38                                                                                                                                        BY GEOFF WEISENBERGER
                                                                                                                                            Hands-on events at ironworker training
                                                                                                                                            facilities across the country were the name
                                                                                                                                            of the game for AISC's 2022 SteelDay.
 columns
                                                                                                                                       conference previews
 steelwise                                                 data driven
  14     Advances in Composite                              26     New Year, New Outlook                                             55     Connection Design:
         Construction                                               BY JEFF CARLSON                                                         Do the Dos, Avoid the Don'ts
          BY CHRISTINA HARBER, SE, PE,                             While bridge construction costs rose significantly                       BY MARA BRASELTON, PE
            JEROME F. HAJJAR, PE, PhD, AND                         over the past couple of years, things appear to be                       There are plenty of connection design
            W. SAMUEL EASTERLING, PE, PhD                          leveling off, and steel bridges are positioned for a                     pitfalls out there. Recognizing them will
         Chapter I of the upcoming 2022                            strong 2023.                                                             help you avoid them.
         AISC Specification includes expanded
                                                           field notes
         options and upgrades related to
                                                                                                                                     57     Double-Wide
         composite construction.
                                                            28     Lifelong Learner and Teacher
                                                                    INTERVIEW BY GEOFF WEISENBERGER
                                                                                                                                            BY FRANK ARTMONT, PE, PhD
                                                                                                                                            A bridge team looks to a concrete-filled
 steelwise                                                         Chris Raebel's life thus far has been a fruitful and                     steel tube solution to expand the width
  18     Talking through the Code
          BY BABETTE FREUND, BILL ANDREWS,
                                                                   varied journey, all without having to stray from                         and extend the life of a river crossing in
                                                                   the city he loves—Milwaukee—for too long.                                Tennessee.
             PHILIP TORCHIO, AND
            JONATHAN TAVAREZ                               business issues
         A "conversation" between an                                                                                                 59     Reliable Rigging
         engineer, a fabricator, and an erector             31     Focusing Outward
                                                                    BY DAN COUGHLIN
                                                                                                                                            BY SCOTT SEPPERS
                                                                                                                                            Understanding the basics of rigging
         provides a look into the latest version
                                                                   Inner focus is essential, but so is focusing on the                      is crucial to safe, efficient lifts on steel
         of the AISC Code of Standard Practice.
                                                                   needs of others. If you provide value to others,                         construction sites.
                                                                   everyone eventually wins.

ON THE COVER: A new steel office tower and surrounding development look to revitalize an old steel mill town near Philadelphia, p. 32.
(Photo: © Connor Mayer)
MODERN STEEL CONSTRUCTION (Volume 63, Number 1) ISSN (print) 0026-8445: ISSN (online) 1945-0737. Published monthly by the American Institute of Steel
Construction (AISC), 130 E Randolph Street, Suite 2000, Chicago, IL 60601. Single issues $8.00; 1 year, $60. Periodicals postage paid at Chicago, IL and at additional
mailing offices. Postmaster: Please send address changes to MODERN STEEL CONSTRUCTION, 130 E Randolph Street, Suite 2000, Chicago, IL 60601.
DISCLAIMER: AISC does not approve, disapprove, or guarantee the validity or accuracy of any data, claim, or opinion appearing under a byline or obtained or quoted
from an acknowledged source. Opinions are those of the writers and AISC is not responsible for any statement made or opinions expressed in MODERN STEEL
                                                                                                                                                                              Printed on paper made
CONSTRUCTION. All rights reserved. Materials may not be reproduced without written permission, except for noncommercial educational purposes where fewer than 25                from a minimum of
photocopies are being reproduced. The AISC and Modern Steel logos are registered trademarks of AISC.                                                                          10% recycled content.

4 | JANUARY 2023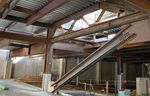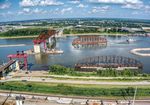 editor's note

                                                                                                    Editorial Offices
                                                                                                    130 E Randolph St, Ste 2000
                                                   Happy new year!                                  Chicago, IL 60601
                                                                                                    312.670.2400
                                                                                                    Editorial Contacts
                                                   Pretty cool speaker wall                         CHIEF EDITOR
                                                                                                    Geoff Weisenberger
                                                   I'm standing in front of, right?                 312.493.7694
                                                                                                    weisenberger@aisc.org
                                                   Right? I feel like a rock star!                  PUBLISHER
                                                                                                    Keith A. Grubb, SE, PE
                                                                                                    312.804.0813
                                                                                                    grubb@aisc.org
                                                                                                    GRAPHIC DESIGN MANAGER
                                                                                                    Kristin Hall
   Ha, ha, just kidding. Those aren't             Steel Conference is the premier educational       773.636.8543
                                                                                                    hall@aisc.org
speakers. What you're seeing is a large           and networking event for the structural
                                                                                                    EDITORIAL DIRECTOR
weld fume control system, which collects          steel industry, bringing together structural      Scott Melnick
particulates from indoor welding operations.      engineers, structural steel fabricators,          312.804.1535
The "speakers" are actually filters that can be                                                     melnick@aisc.org
                                                  erectors, detailers, and architects.
removed and emptied.                                 In addition to nearly 200 practical            AISC Officers
                                                                                                    CHAIR
   Many of you have probably seen such a          seminars on the latest design concepts,           Stephen H. Knitter
machine. I hadn't—or at least I hadn't noticed    construction techniques, and cutting-edge         Geiger & Peters, Inc.
them in previous shop visits. This one was at     research, the conference also features 250+       VICE CHAIR
the Ironworkers Local 5 training facility just    exhibitors showcasing products ranging from       Hugh J. McCaffrey
                                                                                                    Southern New Jersey Steel Co.
east of Washington, D.C., a stone's throw         structural design software to machinery for
                                                                                                    SECRETARY/LEGAL COUNSEL
from FedEx Field, where the Washington            cutting steel beams. One low registration         Edward Seglias, Cohen Seglias
Commanders play. The facility hosted 20           fee gains you access to all of the technical      Pallas Greenhall & Furman, PC
Howard University students for AISC's 2022        sessions, the keynote addresses, the T.R.         PRESIDENT
SteelDay celebration this past October and        Higgins Lecture, and the exhibitor showcase.      Charles J. Carter, SE, PE, PhD
was one of a dozen IMPACT (Ironworker             This year's conference takes place in             SENIOR VICE PRESIDENTS
                                                                                                    Scott Melnick
Management Progressive Action Cooperative         Charlotte, April 12–14, and will incorporate      Mark W. Trimble, PE
Trust) SteelDay events that took place across     the World Steel Bridge Symposium,                 VICE PRESIDENTS
the country (you can read more about these        QualityCon, Architecture in Steel, SafetyCon,     Todd Alwood
and other SteelDay events on page 52).            the SSRC Annual Stability Conference, and         Carly Hurd
                                                                                                    Lawrence F. Kruth, PE
   Finding out what a weld fume control           the NISC Conference on Steel Detailing.
                                                                                                    Mike Mospan
system is and does was just one thing I              Registration opens on January 23, when         Christopher H. Raebel, SE, PE, PhD
learned at the event. SteelDay is all about       the fee for AISC members is $405 (with            Brian Raff
providing awareness of the domestic               discounts available for additional registrants    Editorial Advisory Panel
structural steel industry and educating           from the same firm). The fee increases by         Brandon Chavel, PE, PhD
                                                                                                    Michael Baker International
attendees on how the various components           $15 each week, so be sure to register early!
                                                                                                    Nat Killpatrick
of the steel supply chain work, from early        Attendees can receive up to 17 PDHs.              Basden Steel
design to final construction. Every year, it      Full registration also includes lunch on          Christina McCoy, SE
offers hands-on opportunities like the            Wednesday and Thursday, the Welcome               Oklahoma State University
                                                                                                    School of Architecture
IMPACT events (where attendees were able          Reception on Wednesday evening, and the
                                                                                                    Allison Shenberger, PE
to try tasks like climbing a column, rigging      conference dinner on Thursday.                    ruby+associates
and bolting beams, welding, and cutting              You can learn more about the conference        Justin Smith, PE
steel with a torch), fabrication shop visits,     at aisc.org/nascc (and also in the conference     Walter P Moore
construction site tours, and presentations        program packaged with this issue). We hope        Advertising Sales
and webinars.                                     you'll join us in Charlotte this spring!          M.J. Mrvica Associates, Inc.
                                                                                                    2 W Taunton Avenue
   Another educational opportunity, one that                                                        Berlin, NJ 08009
packs presentations, an exhibit hall full of                                                        856.768.9360
                                                                                                    mjmrvica@mrvica.com
product and service providers, and plenty
                                                                                                    Address Changes and
of networking opportunities all under one                                Geoff Weisenberger         Subscription Concerns
roof, is NASCC: The Steel Conference. The                                            Chief Editor   312.670.2401
                                                                                                    subscriptions@aisc.org
                                                                                                    Reprints
                                                                                                    Kristin Hall
                                                                                                    hall@aisc.org

6 | JANUARY 2023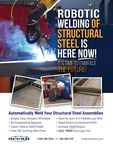 BETTER FABRICATION
STARTS WITH SDS2
Drive efficiency and profitability for your
projects with SDS2 by ALLPLAN, the only
steel detailing software with all-in-one
intelligent connection design.

                                                      Deloitte Summit Tower, Vancouver
                                              Detailed in SDS2 by Supermétal Structures
                                                            Photo courtesy of Westbank

          REQUEST A DEMO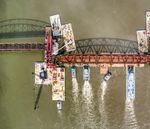 steel interchange
If you've ever asked yourself "Why?" about something related to structural steel
design or construction, Modern Steel's monthly Steel Interchange is for you!
Send your questions or comments to solutions@aisc.org.

F3148 Fasteners
We traditionally use A325/A490 bolts              standard that incorporates Grades A325,                      installation tools. Both the 2020 RCSC
for the connection design. However,               A325M, A490, A490M, F1852, and F2280,                        Specification for Structural Joints Using
we have received a request from our               which were previously separate standards."                   High-Strength Bolts and the upcoming
construction group to consider using                  For background, when tension-                            2022 AISC Specification recognize ASTM
bolting assemblies manufactured to the            control (TC) bolts were introduced into                      F3148 bolts for use. As pointed out in the
ASTM F3148 standard. Do you have any              the structural steel industry, they did                      article, F3148 bolts are produced from 144
information you can share about this              not have an ASTM standard number.                            ksi material, which is stronger than F3125
new bolt standard?                                They needed to be approved on each                           Grade F325 and F1852 bolts produced
                                                  project as an alternative design fastener.                   with 120-ksi material and only slightly less
An additional bolt standard, ASTM F3148,          Over time, more manufacturers began                          strong than F3125 Grade A490 and F2280
was added to the 2022 AISC Specification,         producing their version of TC bolts with                     bolts produced with 150-ksi material.
which will be released in early 2023. ASTM        some variations. Each manufacturer also                      The advantage of F3148 bolts over F3125
F3148 has a tensile strength of 144 ksi and       began either producing or marketing their                    Grade A490 and F2280 bolts is that they
is an applicable material for spline drive        installation tools. As time progressed, TC                   can be mechanically galvanized. You will
bolts where the spline is used to pretension      bolts obtained ASTM standard numbers                         find many references to F3148 in the 2020
the bolt but does not twist off. (More details    F1852 and F2280 (now F3125 Grade                             RCSC Specification. There are a few things
are available in the June 2022 Modern             F1852 and F2280). With ASTM issuing                          to consider when using a manufactured
Steel Steelwise article: "Are You Properly        an ASTM standard for TC bolts, they are                      matching bolt/nut assembly. More
Specifying Materials," which can be read at       now in common use and produced by many                       information on topics such as ordering
modernsteel.com/archives.)                        manufacturers with proprietary tools for                     bolts or handling and storage that pertain
    The AISC Specification for Structural Steel   installation.                                                to F3148 can be found in FAQ 6.2.3 and
Buildings (ANSI/AISC 360) lists materials             ASTM F3148 bolts are in a similar                        FAQ 6.4.1 at aisc.org/steel-solutions-
that are approved for use in Section A3,          state that TC bolts were when they                           center/engineering-faqs.
including A307, A353, A449, F3043, F3111,         obtained their ASTM standard number.                                                Yasmin Chaudhry, PE
and F3125. The User Note in this section          They are presently only produced by one
states: "ASTM F3125 is an umbrella                manufacturer and require proprietary

Yasmin Chaudhry (chaudhry@aisc.org)
is a staff engineer in AISC's Steel Solutions                                                                  The opinions expressed in Steel Interchange do not
Center. Larry Muir is a consultant to AISC.                                                                    necessarily represent an official position of the American
                                                                                                               Institute of Steel Construction and have not been reviewed.
                                                                                                               It is recognized that the design of structures is within the
All mentioned AISC publications, unless
                                                                                                               scope and expertise of a competent licensed structural
noted otherwise, refer to the current version     Steel Interchange is a forum to exchange useful and
                                                                                                               engineer, architect or other licensed professional for the
                                                  practical professional ideas and information on all phases
and are available at aisc.org/publications.       of steel building and bridge construction. Contact Steel
                                                                                                               application of principles to a particular structure.
Modern Steel articles can be found at             Interchange with questions or responses via AISC's Steel     The complete collection of Steel Interchange questions and
www.modernsteel.com.                              Solutions Center: 866.ASK.AISC | solutions@aisc.org          answers is available online at www.modernsteel.com.

8 | JANUARY 2023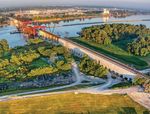 steel interchange

HSS Corner Radius
I have an ASTM A500 HSS6×6×5∕16, and I
want to make sure that I miss the corner
radius with a drill penetration for a self-
drilling/self-tapping screw. Can you tell
me the outside radius dimension for the
corner?

The corner radius of a hollow structural
section (HSS) can vary. Per ASTM A500,
the corner radius cannot exceed three times
the specified (nominal) wall thickness. You
could conservatively use this value. You
could also measure the actual dimension of         the AISC Steel Construction Manual. This          of material for use in making connections
an existing piece.                                 value, while likely closer to what you may        to HSS. The workable flat dimension is
    If you need to miss the corner radius          actually get, is not guaranteed. As discussed     provided as a reflection of current industry
with a drill penetration for a self-drilling/      in the Manual on p. 1-6: "In the tabulated        practice, although the tolerances of ASTM
self-tapping screw, then you need to stay in       workable flat dimensions of rectangular           A500 allow a greater maximum corner
the middle 41∕8 in. of the face.                   (and square) HSS, the outside corner radii        radius of 3tnom." (See Figure 1.)
    The workable flat is somewhat                  are taken as 2.25tnom. The term workable                                       Larry Muir, PE
larger—45∕8 in., as shown in Table 1-12 of         flat refers to a reasonable flat width or depth

Single-Plate Beam-to-Girder Connection
If you have a beam-to-girder-web
connection on only one side of the
girder, is there a requirement to use a
full-height stiffener instead of a single-
plate connection at this location?

There is no requirement for a full-height
stiffener to be used in this scenario. That
said, a full-height stiffener instead of a
single-plate connection (see Figure 2) at
beam-to-girder-web connections on only
one side of the girder is fairly common. In
my experience, it is specified somewhat less
than 50% of the time, though it is probably
used even less often in construction
because fabricators often suggest the use
of a single-plate connection instead of
full-height stiffeners. This request is often
accepted by the engineer of record (EOR).
    When engineers are asked why they
specify full-height stiffeners in lieu of single
plates, responses vary—e.g., a common
explanation is that the end of the supported
beam wants to rotate, and providing a              of a spandrel beam and does little to             twist in the spandrel, the arrangement
full-depth shear stiffener helps to prevent        resist end rotation of the supported beam         seems more likely to exacerbate twist in
the spandrel from twisting. However, this          under gravity loads. It seems that the full-      the spandrel—and speaking to erectors and
explanation is inconsistent with both the          depth stiffener ensures compatible (rigid         fabricator field representatives, this seems
theoretical model and observed behavior.           body) movement between the end of the             to be the effect in practice.
    A full-depth stiffener does little to          supported beam, the stiffener, and the                                          Larry Muir, PE
increase the torsional strength and stiffness      spandrel beam. Rather than preventing

                                                                                                                       Modern Steel Construction | 9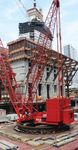 steel quiz

Happy New Year! We are excited about                  and resistance factors, Φ, to account                         strength, based on the 2016 AISC
many things as we look forward to the                 for unavoidable variations in:                                Specification?
year ahead—including the release of                   a. materials                                                  a. multiply by 1.7
the 2022 Specification for Structural                 b. design equations                                           b. divide by 1.7
Steel Buildings (AISC 360-22)!                        c. fabrication                                                c. multiply by 1.5
   AISC has dedicated the 2022                        d. erection                                                   d. divide by 1.5
Specification to longtime volunteer and               e. all of the above
                                                                                                                6 True or False: Given a specific dead
structural behavior research pioneer
                                                  3 True or False: Allowable strength                               load and live load on a beam, that
Theodore (Ted) V. Galambos (see more
                                                      design (ASD) is an elastic design                             beam designed using LRFD load
in the News section on page 64). In
                                                      method based entirely on a stress                             combinations will have greater
honor of Galambos, often known as the
                                                      format without limit states, and LRFD                         nominal strength, and thus greater
"father of load and resistance factor
                                                      is an inelastic design method based                           capacity, than if the ASD load
design (LRFD)," this month's steel quiz
                                                      entirely on a strength format with                            combinations had been used.
tests your knowledge of LRFD.
                                                      limit states.                                             7 True or False: A fundamental
1 What year was load and resistance
                                                  4 True or False: A high resistance                                difference between LRFD and ASD is
   factor design (LRFD) introduced into
                                                      factor, Φ, indicates a larger variability                     that ASD employs one factor (i.e., the
   the AISC Specification?
                                                      in test data for a given nominal                              factor of safety), while LRFD uses one
   a. 1978                 b. 1986
                                                      strength.                                                     factor with the resistance and one
   c. 1989                 d. 1993
                                                                                                                    factor each for different load effect
2 In LRFD, the margin of safety for the           5 How can LRFD design strength be                                 types.
   loads is contained in load factors                 quickly converted to ASD allowable
                                                                                                                       TURN TO PAGE 12 FOR ANSWERS

                                                                   PANEL POINT BRIDGE
                                                                   Safely Suspend HVAC Equipment, Conveyors or
                                                                   Other Ceiling Fixtures without Welding or Drilling
                                                                   Often, specifiers instruct steel joist manufacturers to design their joists
                                                                   for uniform roof loads applied to the joist top chord, which often includes
                                                                   extra uniform loading to account for anticipated utility point loads that
                                                                   may hang from the joist. Since it is often unknown where these loads will
                                                                   occur during design, building contractors are limited to where they can
     Suspension Clamp System &
     Panel Point Bridge                                            apply these loads.

                                                                   The Chicago Clamp Company Panel Point Bridge was designed to
                                                                   correctly transfer midspan lower chord loads to the lower chord panel
                                                                   points, the most common acceptable point of load application.

                                                                   Time and money can be saved by using the Chicago Clamp Company
                                                                   Panel Point Bridge to load-share with the bottom chord and quickly
                                                                   transfer the many sprinkler and piping loads to their acceptable locations.

                                                                        No Welding or Drilling                       Flexibly Hang Loads where Needed
                                                                        System Bolts into Place                      Adaptable for Relocation if Necessary
                                                                        Easily Suspend up to 2,000 lbs

                                                                   Always check with the project's engineer of record (EOR) to verify the joist capacities and loading
                                                                   points have been accounted for in the loads specified for the joist manufacturer.

       Plan your next project using Chicago Clamp Systems™

       708.343.8311
10 | JANUARY 2023
Everyone is welcome to submit questions and answers for the Steel Quiz.
                                                      If you are interested in submitting one question or an entire quiz, contact
steel quiz              ANSWERS                           AISC's Steel Solutions Center at 866.ASK.AISC or solutions@aisc.org.

Clues can be found in the 2016 Speci-        factors, and available strengths in           variability in the test data for a given
fication for Structural Steel Buildings      Part 2 of the AISC Manual.                    nominal strength, the lower the Φ
(AISC 360-16) or the AISC Steel Con-                                                       factor will be. For example, Φ = 0.9
                                           3 False. It is commonly believed that           for limit states involving yielding, and
struction Manual, both available at          ASD is an elastic design method
aisc.org/publications.                                                                     Φ = 0.75 for limit states involving
                                             based entirely on a stress format with-
                                                                                           rupture. Learn more about resistance
1 b. 1986. Ted Galambos is often             out limit states, and LRFD is an inelas-
                                                                                           factors in the Commentary to Chap-
   referred to as the "father of load        tic design method based entirely on
                                                                                           ter B of the AISC Specification.
   and resistance factor design (LRFD)"      a strength format with limit states.
   thanks to his pioneering research         This is false for several reasons. Tradi-   5 d. Divide by 1.5. The ASD method
   that led to the introduction of LRFD      tional ASD was based on limit-states          provided in the Specification recog-
   in the 1986 AISC Specification            principles too. Either method can be          nizes that the controlling modes of
   (take a walk down memory lane             formulated on a stress or strength            failure are the same for structures
   and download the historic 1986            basis, and both take advantage of             designed by ASD or LRFD. In devel-
   Load and Resistance Factor Design         inelastic behavior. Design, according         oping appropriate values of Ω for
   Specification for Structural Steel        to the AISC Specification, whether it         use in the Specification, the aim
   Buildings at aisc.org/publications/       is according to LRFD or ASD, is based         was to ensure similar levels of safety
   historic-standards).                      on limit states design principles,            and reliability for the two methods.
                                             which define the boundaries of struc-         The general relationship between
2 e. all of the above. In LRFD, the          tural usefulness. Learn more about the        the safety factor, Ω, and the resis-
   margin of safety for the loads is         design fundamentals of LRFD in Part 2         tance factor, Φ, is Ω = 1.5/Φ (this
   contained in the load factors and         of the AISC Manual.                           relationship is described further in
   resistance factors, Φ, to account for                                                   the Commentary to Chapter B of
   unavoidable variations in materials,    4 False. The resistance factors, Φ, in          the Specification). Thus, a design
   design equations, fabrication, and        the AISC Specification are based
                                                                                           strength ΦR n can be quickly con-
   erection. Learn more about nominal        upon research and the experience
                                                                                           verted to an allowable strength Rn/Ω
   strengths, resistance factors, safety     and judgment of the AISC Commit-
                                                                                           simply by dividing by 1.5.
                                             tee on Specifications. The higher the
                                                                                         6 False. The nominal strength of the
                                                                                           beam is not dependent on the load
                                                                                           approach used in the design. Only
                                                                                           the resistance factor applied for
                                                                                           LRFD and the safety factor applied
                                                                                           for ASD differ. Depending on the rel-
                                                                                           ative intensities of the dead and live
                                                                                           loads, the LRFD or ASD approach
                                                                                           may produce a more efficient design.
                                                                                           They are essentially equivalent at a
                                                                                           live-to-dead-load ratio of 3 for the
                                                                                           load combination that considers
                                                                                           dead plus live loading.
                                                                                         7 True. Ted Galambos stated the follow-
                                                                                           ing in the Engineering Journal article
                                                                                           "Load and Resistance Factor Design,"
                                                                                           which appeared in 1981: "The funda-
                                                                                           mental difference between LRFD and
                                                                                           the allowable stress design method
                                                                                           is, then, that the latter employs one
                                                                                           factor (i.e., the Factor of Safety), while
                                                                                           the former uses one factor with the
                                                                                           resistance and one factor each for
                                                                                           the different load effect types. LRFD,
                                                                                           by employing more factors, recog-
                                                                                           nizes the fact that, for example, beam
                                                                                           theory is more accurate than column
                                                                                           theory…, or that the uncertainties of
                                                                                           the dead load are smaller than those
                                                                                           of the live load…. LRFD thus has the
                                                                                           potential of providing more consis-
                                                                                           tency, simply because it uses more
                                                                                           than one factor."
12 | JANUARY 2023
Quality Management
Company, LLC (QMC)
is seeking qualified
INDEPENDENT
CONTRACT
AUDITORS
to conduct site audits for
the American Institute of
Steel Construction (AISC)
Certified Fabricators and
Certified Erector Programs.

This contract requires travel
throughout North America and
limited International travel.
This is not a regionally based
contract and a minimum of 75%
travel should be expected.
Contract auditors must have
knowledge of quality management
systems, audit principles and
techniques. Knowledge of the
structural steel construction industry
quality management systems is
preferred but not required as is
certifications for CWI, CQA, or
NDT. Prior or current auditing
experience or auditing certifications
are preferred but not required.

Interested contractors
should submit a statement
of interest and resume to
contractor@qmcauditing.com.
steelwise

Advances in Composite Construction
BY CHRISTINA HARBER, SE, PE, JEROME F. HAJJAR, PE , PHD, AND W. SAMUEL EASTERLING, PE, PHD

Chapter I of the upcoming 2022 AISC Specification includes expanded options and
upgrades related to composite construction.

THE INTEGRATION of steel and con- SpeedCore                                                                            for Steel Structures, which is now avail-
crete in composite construction continues                                After a rigorous research and approval        able. (You can also learn more about the
to increase in use in the U.S. and around                            process, provisions for SpeedCore, the            system at aisc.org/speedcore and in the
the world.                                                           nickname for the revolutionary concrete-          December 2022 articles "Unconventional
    New structural systems, higher-strength                          filled composite steel plate shear wall sys-      Wisdom" and "Increasing Speed through
materials, and advanced design procedures                            tem, have finally made it to the Specification.   Research," both available in the Archives
that bring increased efficiencies are all                            This wall system consists of structural steel     section at www.modernsteel.com. And
driving innovation and popularity in the                             plates connected with tie bars and (option-       you can access all AISC Design Guides
use of composite steel-concrete construc-                            ally) with steel-headed stud anchors on           at aisc.org/dg.) With successful projects
tion. As a result, some of the steel indus-                          the interior surfaces to develop composite        such as Rainier Square Tower in Seattle
try's most anticipated additions to the 2022                         action between the steel plates and con-          and 200 Park in San Jose already con-
set of AISC standards are in the realm of                            crete infill (see Figure 1). Chapter I of the     structed using the SpeedCore system, a
composite construction, and designers will                           Specification contains provisions for stiff-      surge in future projects using this highly
appreciate expanded options and upgrades                             ness calculations, requirements for mini-         efficient and rapid-to-construct structural
in Chapter I of the AISC Specification for                           mum steel, slenderness of plates, and tie bar     system can be expected.
Structural Steel Buildings (ANSI/AISC 360-                           detailing as well as determination of axial,
22). Two new design options include a new                            flexural, and shear strength.                     Performance-based Shear
composite wall system and a performance-                                                                               Connection Design
based alternative for shear connections for                                                                       In the 2022 version of the Specification,
use in composite beams. Other areas of                                                                        designers may now determine the flexural
improvement include a new shear strength                                                                      strength of composite beams with shear
equation for filled composite members and                                                                     connection configurations outside of the
more direction on reinforcing steel detail-                                                                   standard range of steel deck, concrete slab,
ing for composite members.                                                                                    and shear connector geometries and mate-
                                                                                                              rial properties. This can be done following
                                                                                                              the new provisions in Section I8.4, which
                                                                                                              outline the performance-based alternative
                                                                                                              for designing shear connections.
       ANSI/AISC 360-22
                                                                                                                  Strength, reliability, ductility, and stiff-
       An American National Standard
                                                                                                              ness criteria are determined for the assem-
       Specification for                                                                                      bly that comprises the shear connection
       Structural                                                                                             through physical testing. If threshold cri-
                                                                                                              teria are met, the shear connection can be
       Steel Buildings                                                                                        used in design and is deemed equivalent
                                                                     Fig. 1. A typical SpeedCore wall.
       August 1, 2022
       Supersedes the Specification for Structural Steel Buildings
                                                                                                              in performance to the conventional shear
       dated June 7, 2016, and all previous versions
                                                                                                              connection methods provided in Section
       Approved by the Committee on Specifications

                                                                                                              I8.2. This makes it feasible to analyze a
                                                                        There are additional system require- composite beam with non-standard as-
                                                                     ments that appear in Chapter H of the built conditions or to adopt a new inno-
                                                                     Seismic Provisions for Structural Steel vative deep deck system for design. (See
                                                                     Buildings (AISC 341-22). Engineers will "Composite Beam Possibilities" in the
                                                                     be able to find more information on the August 2022 issue for details on how to use
                                                                     system, including design examples, in these new provisions.)
                                                                     AISC Design Guide 38: SpeedCore Systems

14 | JANUARY 2023
steelwise
Detailing Concrete and Steel                    combined in practice for applications in
Reinforcement                                   columns and beams where the resulting
   Structural steel, concrete, and rein-        member does not strictly qualify as a com-
forcing steel can be combined in a variety      posite member according to the provisions."
of applications for structural members in            Examples of structural members included
new and existing construction. Structural       in the three groups are shown in the follow-
members, including concrete-encased and         ing figures: Figure 2 shows composite mem-
concrete-filled columns, beams, and beam-       bers in Group 1, where an encased composite
columns can be classified into three broad      column or a filled composite column is often
groups according to how the load is resisted:   used in mid-rise and high-rise composite
   • Group 1: Load is shared between            frame construction. Note that using internal
      steel, concrete, and reinforcing steel    reinforcement in the concrete-filled com-
      as a composite member                     posite column is optional for the designer.
   • Group 2: All load is carried by the        Figure 3 shows a common application of an
      steel member                              encased steel floor beam in Group 2, where
   • Group 3: All load is carried by            the concrete encasement is provided for
      concrete and reinforcing steel            architectural cover, steel fireproofing, and/
                                                or corrosion protection. Figure 4 shows a
    The 2016 Specification focused on the       filled composite column in Group 3, where
strength design of members in Group 1           the steel shell serves as a form only, with all
as indicated in Commentary Section I1.          the load carried by the internal concrete and
General Provisions: "The provisions of          steel reinforcement. The concrete and rein-
Chapter I address strength design of the        forcing steel are designed according to ACI
composite sections only." Only the limita-      318 requirements. The new Specification now
                                                                                                   Fig. 2. Group 1 example: encased
tions and general detailing requirements        addresses member detailing requirements            and filled composite column in
of these composite members were speci-          for concrete and steel reinforcement for all       composite frame construction.
fied. Any limitations and detailing require-    three groups used in practice. In all cases,
ments for Group 2 and Group 3 members           ACI 318 is required to be referenced for con-
were not specified and left to the judg-        crete and steel reinforcement detailing not
ment of the designer. It was stated that        specifically addressed in the new Specification.
for Group 1 members, ACI 318: Building              The provisions in Chapter I are orga-
Code Requirements for Structural Concrete       nized into sections classified by loading type,
should be referenced for member detail-         either axial (Section I2), flexure (Section
ing requirements, such as maximum and           I3), shear (Section I4), or combined flexure
minimum longitudinal steel limits, trans-       and axial force (Section I5). The limitations
verse steel reinforcement (stirrups, ties,      and detailing requirements for concrete-
spirals, etc.), spacing, and concrete cover     encased and concrete-filled members are
for steel reinforcement and for anchor-         now addressed in each of these sections in
age and splice lengths of reinforcing steel.    the new Specification. Refer to Chapter I for
Most designers also referred to ACI 318         specific requirements applicable to each
for detailing requirements for Group 2          member type in each of the three groups
and Group 3 members, as was implied in          and for each type of load. The common              Fig. 3. Group 2 example: steel floor
                                                                                                   beam wrapped in concrete.
the Specification.                              application of composite beams and girders
    The new 2022 Specification broadened        with steel-headed stud anchors used with
the application to include specific member      metal deck or solid slab construction is cov-
limitations and general detailing require-      ered in the 2022 version (Section I3), just as
ments for all three groups. This was based      it was in the 2016 version.
on many questions coming into the AISC
Steel Solution Center for guidance on           Shear Strength of Filled Composite
requirements for Group 2 and Group 3 and        Members
because the AISC Specification has become          Nominal shear strength of filled
the single source standard for composite        composite members gets a boost in the
design in the United States. The broader        new Specification. Section I4.2 has been
application was acknowledged in the new         updated based on research showing
Commentary Section I1.1 General Pro-            how the steel section and concrete infill
                                                                                                   Fig. 4. Group 3 example: encased
visions, which states: "Structural steel        jointly contribute to the shear strength of        reinforced concrete column.
and reinforced concrete are sometimes           the member.

                                                                                                             Modern Steel Construction | 15
steelwise

                                                                                                    The 2016 version permitted three options to calculate
                                                                                                shear strength. This included the available shear strength of
                                                                                                the steel section alone, the available shear strength of the
                                                                                                reinforced concrete portion as defined by ACI 318, or the
                                                                                                nominal shear strength of the steel section plus reinforcing
                                                                                                steel. In many cases, these three options produced overly
                                                                                                conservative nominal shear strengths.
                                                                                                    The new Equation I4-1 in the 2022 Specification (see Fig-
                                                                                                ure 5) takes into account both the plastic shear strength of
                                                                                                the steel tube and the contribution of the concrete infill fac-
                                                                                                tored by Kc , which depends on shear span-to-depth ratio,
                                                                                                cross-section shape (rectangular or round), and compos-
                                                                                                ite compactness. Reinforcing steel was not found to have
                                                                                                a significant contribution to the strength and is therefore
                                                                                                neglected for simplicity. The bottom line is that designers
                                                                                                will be able to get substantially more shear strength out of
                                                                                                filled composite members.
                                                                                                    Composite construction offers cost-effective design
                                                                                                approaches that provide the opportunity to harness the most
                                                                                                valuable characteristics of steel and concrete for structural
                                                                                                systems. The integration of expanded provisions on com-
                                                                                                posite construction in the AISC Specification and the AISC
Fig. 5. The new Equation I4-1 in the 2022 Specification.                                        Seismic Provisions opens up new opportunities related to

           VOORTMAN MSI
           FULLY AUTOMATED INTEGRATED PRODUCTION LINE

             FULLY AUTOMATED               BUFFER                     SMART                   DATA DRIVEN               HIGH         CONNECTED BY
               PRODUCTION                MANAGEMENT                 UNLOADING                  APPROACH              FLEXIBILITY    VACAM-SOFTWARE

          With a Voortman beam processing line packed with high-quality
          hardware and intelligent software, a door opens to fully automated
          production and intra-logistic processes. We call it MSI: Multi System           AUTOMATIC WELDING AND ASSEMBLING
          Integration. All machines are seamlessly connected via our VACAM-
          software, cross transports, roller conveyors, product buffers and                •   Automatic fitting and welding of
          material sensors. Thanks to our intelligent buffer management, the                   long and heavy beams;
          system is able to work autonomously for long periods of time with               •   Capable of the most common
          maximum throughput.                                                                 connection types;
                                                                                          •   Simultaneous loading and
          DESIGNING A PERFECT FIT!                                                            unloading of the machine with an
          To get to such an optimal lay-out with maximum efficiency, we use a                   automatic magnetic crane.
          data-driven approach combining your input and requirements with                 •   The Fabricator can be integrated
          real data while keeping future expectations into account. Curious                   with other Voortman machines in
          what your optimal lay-out with maximum processing efficiency looks                    a complete production line.
          like? Then challenge us!

          Voortman USA LLC / 26200 S. Whiting Way / Monee, IL 60449 - USA / +1 708 885 4900 / WWW.VOORTMANCORP.COM

16 | JANUARY 2023
steelwise

composite design. Through ongoing work,
it is anticipated that new provisions in the
next cycle of these documents will con-
tinue to expand the scope of opportunity
to design using composite steel-concrete
structural systems.                        ■

You can find the AISC Specification and Seis-
mic Provisions at aisc.org/specifications.

The authors would like to thank the mem-
bers of AISC Task Committee 5 on Compos-
ite Design for their contributions to the new
provisions on composite construction in the
2022 versions of the AISC Specification and
Seismic Provisions.

                                                ThE PRovEn
                                                STEEL BRIDgE
                                                DESIgn SoLuTIon

                                                                                            FREE
                                                                                           15-DAY
                                                                                            TRIAL*
                                                                                                *see website
    Christina Harber (harber@aisc.org) is                                                         for details

    AISC's senior director of education and
    the secretary of AISC Task Committee 5                                The leading software package
    (TC 5) – Composite Design. Jerry Hajjar
                                                                          for designing and rating curved
    is the CDM Smith Professor and chair of
    the Department of Civil and Environmen-
                                                                          and straight steel girder bridges.
    tal Engineering at Northeastern Univer-
    sity and the chair of TC 5. Sam East-         Used by Many State DOTs and Top Design Firms
    erling is the James L. and Katherine S.
    Melsa Dean of Engineering at Iowa State     (573) 446-3221 n www.mdxsoftware.com n info@mdxsoftware.com
    University and the vice-chair of TC 5.
                                                                                            Modern Steel Construction | 17
steelwise

Talking through the Code
BY BABETTE FREUND, BILL ANDREWS, PHILIP TORCHIO, AND JONATHAN TAVAREZ

A "conversation" between an engineer, a fabricator, and an erector provides a look
into the latest version of the AISC Code of Standard Practice.

LONG GONE ARE THE days when                     fabricator, and the erector. Let's listen in on to the contrary shall not violate any provi-
the AISC Code of Standard Practice for Steel this hypothetical interview as these three sions of the building code, and the contract
Buildings and Bridges (ANSI/AISC 303) was parties share their thoughts on the major with the fabricator or erector shall iden-
considered the "fabricator's handbook."         revisions incorporated in the latest version. tify by Code section number any specific
   As the construction industry has evolved,                                                    instructions to the contrary not contained
so too has the Code into a framework for        Section    1.1                                  in the design documents or specifications.
the entire project team: the owner, struc-          Section 1.1 provisions were revised If specific instructions to the contrary have
tural engineer, fabricator, and erector to to strengthen the Code and provide clear not been provided as required, the provi-
successfully deliver structural steel projects. requirements when specific instructions sions of the Code shall apply.
It can be said that the Code serves as the to the contrary are included in contract                This revision provides a greater level
structural steel Rules of Engagement. As documents.                                             of understanding among all parties as to
business management author Patrick Len-             ENGINEER: Understand that the what the project and scope expectations
cioni once penned, "If you could get all the provisions of the Code will govern unless are and how those expectations shall be
people in an organization rowing in the the owner's designated representative for achieved. This benefits not only fabricators
same direction, you could dominate any design (ODRD) provides alternate instruc- but rather all parties involved in the project.
industry, in any market."                       tions for the design and structural engineer A common understanding of the responsi-
   The new 2022 Code addresses several of record (SEOR) in the contract docu- bilities and expectations of each party is the
areas of concern in the industry while also ments. When the ODRD/SEOR provides first and most important step in delivering
providing clearer harmonization with the "instructions to the contrary" in the con- a project on time and within the specifica-
AISC Specification for Structural Steel Build- tract documents, they must 1) be specific tion requirements. Time spent previously
ings (ANSI/AISC 360). There are three as to what is in variance (a tolerance on debating the scope of work and assigning
important perspectives from which the fabrication or erection, submittal require- responsibility can now be spent fulfilling
Code can be considered: the engineer, the ments, QA/QC requirements, etc.), 2) not project requirements.
                                                violate the International Building Code (IBC)      ERECTOR: A major change in the
                                                by modifying provisions of the Code, which Code is the requirement for any instruc-
                                                are incorporated by reference into the IBC, tions to the contrary to reference the Code
                                                either directly or indirectly through the section that is to be excluded. If not, the
                                                Specification, and 3) maintain consistency Code stands as written for any project that
                                                with the other provisions of the Code.          involves fabricated structural steel regard-
      ANSI/AISC 303-22
      An American National Standard
                                                    FABRICATOR: One of the many chal- less of delivery method. The Commen-
     Code of                                    lenges that the Code in general, and more tary then suggests, regardless of delivery
                                                specifically, Fabricators, have faced is a lack method, that the parties discuss the scope
     Standard Practice                          of compliance among trades with the provi- prior to document release for construction
       Steel Buildings
      for                                       sions contained in the Code, especially when to ensure an understanding of the respon-
     and Bridges                                specific instructions to the contrary are sibilities of the parties and any instructions
                                                cited in a scope of work discrepancy, and to the contrary.
     May 9, 2022
                                                those specific instructions have not been
                                                                                                The Commentary to Section 1.1
     Supersedes the Code of Standard Practice for Steel Buildings and Bridges,
                                                clearly noted and/or easily identifiable.
     dated June 15, 2016, and all previous versions

                                                    Section 1.1 has been revised to specifi-       The Commentary to Section 1.1 was
     Approved by the Committee on the Code of Standard Practice

                                                cally address this challenge. The 2022 Code expanded and clarified to achieve a com-
                                                now clearly states, as part of the Code lan- mon understanding of the responsibilities
                                                guage (not Commentary), that the Code and expectations of each party.
                                                shall apply to all projects that involve fab-      ENGINEER: The Commentary has
                                                ricated structural steel. Further, unless spe- been expanded to emphasize the value of
                                                cifically noted in the contract documents, communication and collaboration between
                                                all provisions apply. Specific instructions all project stakeholders prior to the design

18 | JANUARY 2023
steelwise

documents being released for construction.      the timeframe of preceding trades to Section 2.2
There is a recommendation to conduct            understand the schedule goals.                   Steel used as piling or other piling
a preconstruction meeting with the key              Changes to Section 1.7 now address accessories was added to Section 2.2 as
stakeholders in the structural steel deliv-     that challenge. The change requires the "other steel, iron, or metal items."
ery—the owner's designated representative       ODRC to provide a construction sched-            ENGINEER: The SEOR shows all the
for construction (ODRC), ODRD, fab-             ule in the bid documents. Further, the structural elements in their design docu-
ricator, erector, and detailer. View it as an   performance period by the steel fabricator ments according to their contract with
opportunity to create clarity in the project    and erector shall be mutually agreed upon their client, including steel items that the
requirements while reducing risk. A sample      before awarding the contract.                Code may classify as "other steel." Suppose
meeting agenda could discuss some or all           This section is extremely helpful to fab- the SEOR intends that these items, such as
of the following:                               ricators. Many fabricators have multiple steel piling, be treated as structural steel.
    • Project schedule                          projects running through their shops at In that case, these items need to be speci-
    • Material availability                     once. As a result, the ability to accurately fied explicitly in the contract documents as
    • Substitutions                             schedule and shop load while implement- structural steel. This is an opportunity to
    • Submittal process                         ing timely updates is critical. Scheduling exercise the "instructions to the contrary"
    • Variances from Code provisions            and shop loading as soon as a bid is com- provision of Section 1.1. The ODRC must
    • Delegated connection design               mitted are extremely important in planning discuss with their trade partners who will
    • Use of the ODRD's 3D model                for labor and materials and ensuring timely provide the "other steel" and according to
    • Special erection procedures               ordering, fabrication, and delivery.         which standard, if not specified in the con-
    • Testing and inspection                        ENGINEER: The ODRD should tract documents.
    • AESS and painting                         request a copy of the ODRC's construc-           FABRICATOR: Fabricators are often
    • Value engineering opportunities           tion schedule to inform their work plan- asked to provide material for a project that
    • Timing of SEOR site visits                ning for submittal reviews and the timing does not fall within the scope of structural
                                                of site visits.                              steel. One such material often in question
New: Section 1.7                                    ERECTOR: A construction schedule is steel used as piling or piling accessories.
    A new Section 1.7 was added with provi-     has been added as a requirement for the         The 2022 Code has been updated to
sions on construction scheduling.               ODRC to include in the bid documents. clearly note that steel used as piling or
    FABRICATOR: What's a fabricator's           Further, the agreement of the fabricator piling accessories does not fall within the
first question (beyond "how many tons")?        and erector to the proposed schedule is category of structural steel, and is not the
   "When do you need steel"?                    required before the contract award. The responsibility of the fabricator, unless
    Typically, the answer is verbal and is      mutual agreement is crucial as we have all specifically addressed and agreed upon
seldom accompanied by a project schedule        seen schedules change with every activity contractually.
that enables the fabricator to understand       except the end date!

                                                                                                              Modern Steel Construction | 19
steelwise
Section 3.0 and its Commentary                       ENGINEER: Section 3.1 defines the              FABRICATOR: Section 3.1 now
     Section 3.0 and its Commentary were         requirements of structural design docu-        refers to the Specification for the require-
 revised to coordinate with the Specification.   ments "issued for construction," a new         ments of what should be included in the
     ENGINEER: In probably the most              term defined in the glossary. The detailed     design documents. Since the Specification
 significant Code update in recent editions,     requirements and the associated Com-           is fully incorporated into the IBC, there is
 Section 3 has been significantly revised,       mentary have been moved to Section A4          now no question as to what is required to
 introducing new terminology of "issu-           of the Specification and are incorporated      be shown for trades to accurately provide
 ing" design documents by the ODRD and           here by reference. This list in Section        bids without assumptions.
"releasing" design documents by the ODRC         A4 will look familiar to the SEOR, as it           Further, Section 3.1 now clearly
 along with the purposes of these actions.       was found in prior editions of the Code in     requires that when painting is required, the
 This parallels the revisions in Section A4.2    Section 3.1. New to the list of require-       following must be provided:
 of the Specification, which are referenced in   ments for structural design documents is           • Specific members identified
 the Commentary of Section 3. See Table 1        (c) Shop Painting and Surface Preparation          • Surface prep clearly noted
 for a summary of these terms.                   Requirements. The SEOR's designation               • Paint specifications and
     FABRICATOR: The 2022 Code clearly           of structural design documents as "issued             manufacturer product identification,
 addresses the difference between issuing        for construction" indicates they are autho-           including color
 design documents and releasing design           rized to be used to construct the steel            • Minimum dry film shop coat
 documents (and specifications), as well as      structure. It follows the SEOR's tradi-               thickness
 who is responsible for each. This will serve    tional use of this term on their documents         • Shop- and field-applied paint system
 to help eliminate the question of what          that the design is complete, approved by              compatibility
 should be done with design documents            the government AHJ (authority having               • Party responsible for touch-up,
 when received and whether the design doc-       jurisdiction) with a building permit, and             including repair of shipping and
 uments were received based on issuance or       the documents possess a PE seal from the              handling damage after shop
 a release.                                      engineer-of-record. The fabricator can                application
     Great care has been taken to coordinate     then use these documents for ordering              If this information is not available at the
 the 2022 Code with the 2022 Specification.      steel and detailing.                           time of the bid, the fabricator is entitled to
 Terminology has been harmonized, and                ERECTOR: In Section 3.1(c)(6), the         an equitable contract price and schedule
 redundancy between publications has been        party responsible for field touch-up and       adjustment.
 eliminated. It is important to remember         repair of shipping and handling damage             The clarity provided concerning coat-
 that the Specification is incorporated in the   must be specified in the structural design     ings in this section will further strengthen
 IBC, and, therefore, the 2022 Code is now       documents and specifications issued for        the understanding of all contracting par-
 incorporated by reference.                      construction. The sentence following           ties as to which parties are responsible for
                                                 directs the erector/fabricator to omit this    what scope of work items. Field touch-up
Section 3.1                                      scope from the bid if not specified, and       has always been a contentious issue and
   A new Section 3.1 was added with provi-       when the requirements are furnished, the       has often resulted in costly back-charges
sions on structural design documents and         contract price and schedule shall be equita-   as a result of a lack of clarity in the con-
specifications issued for construction. This     bly adjusted. Section 3.1(d) requires mem-     tracting process.
section also contains updated requirements       bers to be handled as AESS and be desig-
and guidance on painting responsibilities.       nated in the construction documents.

Table 1: Structural Design Documents and Specifications
                                                                                                                                  2022
                                      Issuing                                                                                     AISC-
  Term                                Entity     Receiver     Purpose                                 Design Complete?            303 Ref.
  Released for Construction           ODRC                    To Establish a Steel Contract;                                      Glossary;
  > no change from the 2016           (Owner,    Fabricator   Ordering steel, detailing, and          Yes                         303-4.1;
  edition                             CM, GC)                 fabrication                                                         303-5.1
  Released for (any other purpose) Owner,        GC, CM,      As stated in the Structural Documents   No—Qualified by             Glossary;
  > new in 2022 edition            CM, GC        Cost Est.,   (Cost Estimate; Bidding; GMP;           "Purpose of Drawings"       303-3.2.2;
                                                 Peer Rev.    Peer Review; Constructability Review)   Statement                   360-A4.2
  Issued for Construction             ODRD       Owner                                                Yes; PE Seal, AHJ           Glossary;
  > new in 2022 edition               (SEOR)     and GC       Construction                            approval with building      303-3.1;
                                                                                                      permit                      360-A4.1
  Issued for (any other purpose)      ODRD       GC, CM,      As stated in the Structural Documents   No (unless issued for       Glossary;
  > new in 2022 edition               (SEOR)     Cost Est.,   (Bidding; Cost Estimate; GMP; Owner     Permit Review by AHJ)—      303-3.2;
                                                 Peer Rev.,   or Peer Review; AE Coordination;        Qualified by "Purpose of    360-A4.2
                                                 AHJ          Constructability Review, AHJ Permit)    Drawings" statement

20 | JANUARY 2023
steelwise
Section 3.2
    A new (Section 3.2) was added with pro-
visions for structural design documents and
specifications issued as contract documents.
    ENGINEER: Section 3.2 introduces
new provisions for design documents
issued by the ODRD as contract docu-
ments. These new provisions differenti-
ate between issuing design documents
as a basis for contract documents under
the traditional design-bid-build delivery
method and issuing drawings as the basis
for a contract under an alternate project
delivery method. These alternate delivery
methods may include design-build (stipu-
lated sum or progressive), integrated proj-
ect delivery (IPD), construction-manager-
at-risk, P3, lease-leaseback, negotiated
GMP, and others. Section 3.2.2 further
states that when an alternative project
delivery method is used, the release of
the structural design documents is for the
expressed purpose stated on the drawings
issued by the SEOR, as stated in Section 3.
The benefit to the SEOR is that for many
years, structural design documents have
been issued for some purpose other than
for construction—for pricing, bidding,
owner review, GMP, etc. The Code now
explicitly acknowledges these alternative
project delivery methods where the SEOR
defines the purpose for which documents
are being issued and the responsibility of
the owner and ODRC to release them only
for that stated purpose. A good, descrip-
tive "purpose of documents" statement is
essential for design documents issued for
any purpose other than for construction.
    Section 3.2 further states that when
structural design documents are issued as
contract documents and do not include all
the information required for a complete
design as defined in Section 3.1, allowances
for items not defined in partially complete
design documents are to be provided in the
contract with the fabricator. Nonetheless,
the structural design documents must con-
vey the "character, quantity, and complex-
ity of the structural steel to be fabricated
and erected" so that the Fabricators have a
rational basis for developing bid prices.
    The revised Section 3.2.2 provides
enhanced guidance to the entire project
team on effectively using allowances and
the subsequent equitable adjustments to
contract price and schedule.

                                               Modern Steel Construction | 21
steelwise

                        Revisions in Section 3.2.3: Require-
                    ments for Connections – Option 3 clarified
                    that the SEOR is required to show project-
                    specific connection detail concepts and not
                    just "typical" details, which may not be
                    directly applicable. The robust Commen-
                    tary to Section 3.2.3 now includes a dis-
                    cussion of transfer forces and the SEOR's
                    responsibility to specify them.
                        ERECTOR: Section 3.2.2: The major
                    changes in this edition of the Code focus
                    on alternative delivery methods for con-
                    struction. This method now comprises
                    most of the structural work and provides
                    the greatest opportunity for a highly effi-
                    cient project or, if not implemented cor-
                    rectly, problems for all the parties involved.
                    The erector being the tail that wags the
                    dog, often has the least contract protection
                    being a third-tier subcontractor subject to
                    the pass-through contract requirements
                    of the owner to the ODRC to the fabri-
                    cator, often with no bond protection, and
                    being the last entity to touch the structure
                    is often looked at as the proximate cause
                    of late delivery or quality issues. The new
                    changes in the Code provide the best frame-
                    work of Code and Commentary to level
                    the field and ensure a chance for success.
                    It focuses on communication between the
                    parties and mutual agreement on what is
                    shown and what is not. Section 3.2.1 lists
                    the information critical for preparing a
                    complete bid for the work. Then when any
                    of the information is not specified, the fab-
                    ricator and erector shall provide allowances
                    per section 9.1.5, which says, "When an
                    allowance for work is called for in the con-
                    tract documents, and the associated work
                    is subsequently defined as to the quantity,
                    complexity, and timing of that work after
                    the contract is executed, the contract price
                    for this work shall be adjusted by change
                    order." This clearly means that when the
                    work to be done is defined, the allowance
                    will be adjusted to reflect the work required.
                        The Commentary further urges the
                    parties to work together to identify work
                    not shown in the released contract docu-
                    ments, mutually agree, and document this
                    work so it can be priced as the design is
                    completed. The Commentary also reminds
                    the owner that alternative delivery meth-
                    ods may speed the process, but this benefit
                    may be offset by cost and schedule impacts
                    as the unknown requirements are revealed.

22 | JANUARY 2023
steelwise

    FABRICATOR: For alternative deliv-
ery methods, the 2022 Code requires that
the contract documents convey the charac-
ter, quantity, and complexity of the struc-
tural steel to be fabricated and erectors.
This allows the fabricator and erector to
provide bids that are accurate and com-
plete, without assumption. It is essential
for everyone to understand the list of the
minimum requirements, (a) through (g),
that must be included in the design docu-
ments and specifications. This creates an
even playing field for all involved in the
bidding process.

Section 4.5
    In Section 4.5, requirements were
added for the review of fabrication and           Section 6.1                                     where the paint is exposed to atmospheric
erection documents, including additional              In Section 6.1, preferred material speci-   conditions or corrosive conditions that are
commentary guidance.                              fications were updated to parallel the 16th     more severe than the intended use of the
    FABRICATOR: Many fabricators con-             Edition AISC Steel Construction Manual.         paint. Further, the fabricator is not respon-
tract to fabricate structural steel from fabri-       ENGINEER: The revisions to "shop            sible for deterioration when painted mem-
cation documents that are not furnished by        standard material" in Section 6.1.1 are         bers are stored for unanticipated durations
the fabricator. When the fabrication docu-        coordinated with similar revisions to Table     due to project delays not caused by the
ments are furnished by others, changes to         2-4 in the 16th Edition Manual. Updates         fabricator.
the 2022 Code require that these documents        to the shop-standard material for channels,         Handling damage or damage during
be reviewed and approved by the ODRD.             angles, plates, and other shapes are based      transportation is not the responsibility of
As a result, the fabricator is not responsible    on an extensive survey by AISC of fabrica-      the fabricator unless the painted material is
for the coordination or accuracy of the fab-      tors and mills of steel materials in produc-    under the direct control of the fabricator or
rication and erection documents that were         tion and readily available. Material avail-     a subcontractor of the fabricator.
furnished, nor is the fabricator responsible      ability can always be verified through the          Unless specifically provided for in the
for the general fit-up of the members that        AISC website at aisc.org/steelavailability.     contract documents, the properties of the
are fabricated, as long as fabrication is in          FABRICATOR: This section has been           optional shop coat are at the discretion of
accordance with the documents provided.           updated to coordinate with the 16th Edi-        the fabricator. Touch-ups and abrasions
   This section now also requires that            tion Manual to eliminate any confusion or       caused by shipping and handling after
these documents be delivered to the fabri-        discrepancy when specifying and ordering        painting shall be the responsibility of the
cator in a timely manner.                         materials.                                      contractor that performs the touch in the
    ERECTOR: Section 4.5: Fabrication                                                             field or field painting.
and/or Erection Documents not Furnished           Section 6.4
by the Fabricator provides cautionary lan-           In Section 6.4 the paint and steel clean-    Section 7.10
guage regarding the preparation of fabrica-       ing provisions were expanded.                       In Section 7.10, there is added Com-
tion and erection drawings by a party other          FABRICATOR: Field touch-up and               mentary to clarify shoring requirements.
than the fabricator. If the owner or ODRC         handling damage has been an area of con-            ERECTOR:         These       requirements
does direct another party to prepare fabri-       tention over the course of many projects        would not be apparent to the erector and
cation documents, the Code now requires           and can result in extensive cost. Disputes      must be provided by the ODRD, and ref-
the ODRD to review and approve the sub-           may arise when responsibilities are not         erence to Section A4 of the Specification for
mitted documents. Further, the fabricator         clearly defined in the contract documents.      cantilever conditions is provided. Section
and erector shall not be responsible for          Additions and changes to Section 6.4 of the     7.10.3 expands the requirements for the
any failure of the material fabricated and        2022 Code have been made to help mini-          erector to determine the need and to pro-
erected in accordance with the furnished          mize or eliminate the dispute.                  vide all temporary structures, shoring, fram-
documents.                                           Additional clarification regarding paint     ing, and cabling to facilitate the erection of
   The Commentary then lists in 14 bullet         and steel cleaning has been added to the        the structure. This will include the design
points, enumerating most of the potential         2022 Code. Section 6.4.4 specifically notes     of these items. This design shall adequately
issues with using this method.                    that the fabricator is not responsible for      support the structure for erection forces and
                                                  the deterioration of the shop-applied paint     environment, including wind.

                                                                                                                   Modern Steel Construction | 23