RAMBLINGS REPORTS 2019-20 - Football Grounds In Focus
Page content transcription
If your browser does not render page correctly, please read the page content below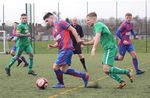 RAMBLINGS REPORTS 2019-20
                                    updated on 15/03/20

                To view the Ramblings Stats Index for 2019-20 click here

    14/03/20 – Action from Hykeham Town (red & blue) v Wyberton (Lincs League SC S-F) 6-1

R No.38: WebEd - Saturday 14th March 2020; Hykeham Town v Wyberton;
Lincolnshire League Supplementary Cup Semi-Final; Kick-Off: 3pm; Venue: Priory
Academy; Skellingthorpe Road; Lincoln; Lincs; LN60EP; Result: 6-1; Admission: £2;
Programme: No; Attendance: 34 – REPORT TO FOLLOW
R No.37: WebEd - Saturday 7th March 2020; Briston v Hopton; Norfolk FA Junior
Cup Quarter-Final; Kick-Off: 2pm; Venue: Briston Pavilion; Stone Beck Lane;
Briston; Fakenham; Norfolk; NR242PS; Result: 0-2; Admission: Free; Programme:
No; Attendance: 77
Whilst spending the weekend down in Suffolk to visit my sister-in-law Jane, who
lives in Exning, I am taking the opportunity to travel to north Norfolk for my footy
fix this afternoon. During my formative hopping career covering many games down
in this neck of the woods, I still love watching the local county cup competitions.
To be honest nothing really beats attending those Norfolk and Suffolk FA junior and
primary cup ties, involving teams from different leagues competing against each
other. I still get the same buzz tracking down those quirky little grounds found at
some remote and unknown outpost, usually hidden off the beaten track. Today is
no exception either as I grab my camera bag and tap a new code into the Garmin
Sat Nav before setting off along some old familiar roads on my way to the outskirts
of Fakenham.
Unlike the poor weather we've experienced in recent weeks, it's a beautiful sunny
afternoon which makes a welcome change for the football traveller. The cross-
country journey from Newmarket which really isn't that far distance-wise but still
takes a good ninety minutes to cover on what are essentially narrow winding
country roads, seems to take a bit longer due to some very slow-moving traffic.
The village of Briston (located some 10 miles to the east of Fakenham) can easily
be accessed from the A148 (main Kings Lynn to Cromer link road) by taking a more
scenic route through neighbouring Melton Constable. The final half-mile or so along
the narrow, muddy Stone Beck Lane looks better suited to tractors but I get to the
lovely tree-lined recreation ground with plenty of time to spare before the kick-
off. A short driveway in one corner of the site leads to the car park where the
Briston Pavilion, a long red-bricked building made up of several adjoining function
rooms, stands in front of you. This also doubles as the local village community (and
recycling) centre, as well as providing changing rooms for both football teams and
officials. There's no mistaking where you are with the name proudly displayed in
large white lettering attached to the end wall facing you. It also has a section of
modern solar panels fitted part-way along the top of the roof facing the playing
fields.
The main football pitch marked out parallel to the club buildings is found on the
far side of the field. Pride of place goes to the bijou main (well, only) stand,
positioned slightly off-set behind the goal line and in front of a neatly cut hedge
(at the end where some new residential housing overlooks the field). It certainly
adds to the attraction and makes for an interesting feature as FGIF stalwart and
hopping guru Brian Buck commented on his visit here for a Pre-Season Friendly a
couple of seasons ago (see TT No.9 for 2017-18 uploaded in the main TT Archive
section). This standing cover with its plain fascia and sloping roof has been erected
straight on top of the grass (without any underfoot material to stand on) and
provides cover for probably twenty or so spectators making it ideal for any fans
attending a normal league game here in bad weather, I would think. There are no
dug-outs or perimeter barrier by the by the side of the pitch which incidentally
drops dramatically down towards a new modern skate park with its striking blue
coloured ramped track, situated at the bottom of the slope. There are some fine
views from the field where many new bespoke (and very expensive) properties can
be seen dotted over the landscape on the adjoining fields.
A little bit of club history for you now. After a period of five season's absence, a
newly reformed Briston Football Club returned to the North East Norfolk League,
finishing as the Division Two runners-up in 2016-17. However rather than take
promotion they decided that a new challenge was needed and instead applied
successfully to join the recently expanded Crown Fire Central & South Norfolk
League. With it came immediate honours as the club took the second division title
at the first time of asking and then went on to win the first (top) division last
season. So far, under the guidance of young enthusiastic manager Brandon Hudson,
they have continued to dominate proceedings this campaign currently remaining
unbeaten in the league with twelve wins out of fourteen games played to date.
Today sees the visit of high-flying Hopton who, like Briston, are having a cracking
season themselves, sitting proudly in joint top place of the Great Yarmouth &
District League Division One (along with Celt Rangers who co-incidently have
already booked a semi-final place in this year's junior cup competition). With both
sides in such terrific form an intriguing cup-tie is in prospect. To get to this stage
the hosts had beaten fellow C&SNL side Dussindale Rovers Reserves 4-2 here in the
previous round played back in January, with the visitors winning by the only goal of
the game at Anglian Combination outfit Freethorpe FC.
As expected, today's game, re-arranged after a postponement here seven days ago
(due to a waterlogged pitch), was an absolute belter and lived up to all the pre-
match hype on social media. After a goal-less first half the game came to life just
two minutes after the break when the hosts missed a penalty kick after the ball
was struck straight at the keeper. Almost on the hour mark the visitors took the
league following a neat counter attack down the left when x scored from a
ridiculously tight angle slotting the ball somehow between the keeper and post.
Briston thought they had equalised ten minutes later but their goal was adjudged
to have come from an offside position and was rightly ruled out by the man with
the whistle. Within five minutes Hopton scored their second and defining goal
when an unmarked x placed the ball neatly past the stranded keeper to increase
their lead. Despite creating chances to get back into the game the hosts couldn't
convert any and so it was Hopton who held on to win the tie deservedly by 0-2.
The match, a feisty affair at times, was expertly refereed by Robert Bunting who
adopted a firm but fair approach from the start. I'm sure that any lesser official
would have wilted under the pressure especially from a spirited Hopton side who
challenged many key decisions particularly in the opening twenty minutes. It was
also a notable game for young home keeper Jonny Brown who was making his 100th
appearance for the Bulls (club's nickname – check out the badge logo). For the
record, Hopton will now travel to face ACL-side Heacham FC (who beat Dersingham
Rovers 4-0 in one of the day's other ties at this stage). They will meet in one of
the forthcoming Norfolk Junior Cup Semi-Final to be played next month.
The game played in mostly sunny conditions on a soft but playable surface
attracted a superb, much larger than average crowd, with nearly eighty spectators
in attendance. This included several travelling fans who had made the hour long
drive up from the outskirts of Lowestoft. One face though stood out in the crowd
amongst all others, that belonging to a twelve-week-old terrier pup who was firmly
tethered throughout to his owner's lead. I'm sure if they had such things, he would
certainly take the winning prize for 'Briston's Cutest Pet' competition – take a
look in the gallery, if you get chance. No doubt you will agree. Neither a
programme or refreshments were made available.
During the half-time break helpful club secretary and part time-lino, Tom Stewart
told me that the club have ambitions to move up the pyramid in the near future
which I take it to mean the Anglian Combination League. Indeed, several teams
from the C&SNL have made the step up already including former sides Hingham
Athletic FC and Castle Acre Swifts FC who have successfully climbed to Divisions
Two and Three of the ACL respectively. Any application would involve meeting
some ground grading requirements and with it a possible two-year ground share
away from the Briston Recreation Ground in order to complete the improvements
at the leafy Stone Beck Lane ground. Please keep this classified information under
your hopping woolly hat though as it is only speculation at the moment.
So, another terrific afternoon's entertainment, in one of my favourite all-time
competition's. My chosen Match of The Day was a splendid advert not only for the
county cup competitions but also for both the Central & South Norfolk League and
Great Yarmouth League too. A visit to Briston Football Club is certainly one you
should consider if you find yourself in the area – info about the club can be found
on the generic FA Full-Time site covering the C&SNL as well as the pro-active
twitter account which is regularly updated. You won't be disappointed by what
you'll find at this friendly, well-run club. The joys of hopping in remotest Norfolk
continues. Have fun whenever you venture off the beaten track.
R No.36: WebEd – Saturday 29th February 2020; Briggensians v Ashby Bowl;
Scunthorpe & District League Division Two; Kick-Off: 2pm; Venue: Brigg Recreation
Centre; Wrawby Road; Brigg; Scunthorpe; North Lincs; DN20 8DS; Result: 1-4;
Admission: Free; Programme: No; Attendance: 15
I doubt many of you can remember where you went for your footy fix twenty-eight
years ago on this very day. It's an impossible ask really and the answer is, of
course, a resounding: 'I've got no idea!'. Well why would you? it's hard enough for
some of us to remember what we were doing twenty- eight minutes ago, let alone
nearly thirty years back. Well, the reason I pose this question is that this was the
last time when a Leap Year (yes, it's the 29th February, today) actually fell on a
Saturday. What an incredible thought. After ticking off the Ninety-Two and joining
that select band of completists, it was around this time that I was serving my
apprenticeship as a non-league hopper. I had racked up just over one hundred and
fifty grounds over the space of three years – small fry compared to some elite
hoppers I know, most of whom easily surpass this figure (and the rest) in just one
season. Little did I realise at the time that I would be still football travelling and
ground collecting all these years later.
In fact, like you, the only way I can be exact about this date myself is by looking
through my archived record of games. Mine were, and still are, listed in a certain
little blue hardback Cambridge Ruled book A-6 size pages courtesy of WH Smith's
in Newmarket. And, as I flick my way through the now well-thumbed and yellowing
pages containing many fading entries (why did I ever use pencil to record some of
the details?), I can tell you that on this day – Saturday 29/02/1992, I attended the
King George V Playing Field to watch Haughley United take on Walsham-le-Willows
in a Suffolk and Ipswich League Premier or Senior fixture which ended in a 2-2
draw. It's all there, written about half-way down the double page spread layout.
For some reason it's written in red ink - maybe I was marking some of my student's
work at the time. However, unlike Prince Andrew who can remember the precise
day and time he ate a deep pan pizza on a family visit to a certain establishment
in Woking seemingly off the top of his head, I'm afraid I cannot tell you anything
else about my trip to Stowmarket on this particular day, other than what's written
down in front of me. It's now over to you, to work out where you went on this
particular day.
Fast forward twenty-eight years and back to today. My quest in trying to find a
game that is still going to be being played on grass pays off following a positive
reply to text I had sent earlier to Craig Benson, the most helpful secretary of
Scunthorpe & District League side, Briggensians FC. As I opened the small yellow
Envelope App on my smartphone the words in the latest new message read:
'Martin, the game is still on'. This was music to my ears (or should that be eyes)
and instead of heading to another 3/4G pitch at either of my planned/intended
matches: Sculcoates FC or Hessle Sporting Club FC (both Humber Premier League
sides), it was in fact my back-up game on grass (it's not often you can say that, is
it?) that dictated where I was going today. So after pressing the red 'record'
button on the live televised Sky Sports 1 Soccer channel I temporarily suspended
the desperate midday action from Hull City v Leeds United at the KCOM with the
half-time score standing only at 0-1, grabbed my gear (including a breaded ham
roll – the corned beef had run out) and headed over 'the bridge' to Brigg.
The journey was easily covered in about twenty minutes as I arrived at a windy
Brigg Recreation Ground off Wrawby Road (A18) with plenty of time to spare ahead
of kick-off. The entrance (on the right) which is marked 'Football Ground' comes
up about 200 yards after passing the main 'Welcome to Brigg' town information
sign post. The facilities, dominated by a large modern changing pavilion which
spans almost the entire width of the car park here, are excellent. It is a real
sporting hub with plenty of signage on the side of the main building. To the left is
the (self-contained) Hawthorns home of Brigg Town FC (you can pick out parts of
the stands and floodlights appearing over the top of the perimeter fence); behind
is a superb new floodlit full-size multi-use 4G cage with its shocking electric blue
pitch (used for hockey today) and an adjacent field over to the right is the one
where Briggensians FC play. The pitch, marked beyond a smaller junior version,
runs parallel to the synthetic playing area. It's a pretty basic set-up bordered by a
belt of extremely tall and imposing plane trees on the right with open countryside
beyond and some local residential housing behind the goal at the far end. As
expected, there's no cover, dug-outs or even perimeter rope in use on what is a
public recreation space. Given the exposed location here the strong winds actually
helped to dry and drain the pitch which although soft in places looked perfectly
playable unlike their neighbours Brigg Town whose NCEL1 game against
Worsborough Bridge Athletic had been postponed due to waterlogging earlier in
the morning.
Today's game saw the visit of the current league leaders Ashby Bowl FC to the
Brigg Recreation Ground. The Scunthorpe-based side representing the family-run
bowling alley and complex in Ashby have had a cracking season and remain
unbeaten so far this campaign. They appear likely favourites to win the match over
a mid-table home side who have won and lost the same number of games since
September. It's fairly tight at the top though with plenty still left to play for as
only seven points separate the top five teams (out of nine in the division).
Despite scoring the opening goal through Callum Gilbert (27) Briggensians go into
the break 2-1 down as a wiry, bald-headed figure in the shape of Steve 'Spud'
Broughton, is on hand (not literally) to score twice (both tap ins from inside the
six-yard box) in close succession (40 & 42) to give the visitors the lead. Broughton
(48) then scores again with a bullet header just after the break to claim an
impressive hat-trick (all in the space of just eight minutes) to make it 1-3. Henry
Tindall adds a fourth rifling the ball home from an acute angle shortly after the
hour mark. This seems to take deflate the home players who defend well for most
of the second half keeping the final score down to 1-4.
During the afternoon I also get into conversation with the ever-enthusiastic Craig
who was playing in goal for Briggensians today at the ripe old age of fifty-four (yes,
fifty-four!). What a legend. Apart from his other job as first team coach, he is also
carries out the duties of club secretary having been a stalwart at the club over
many years. He told me that the side was established back in 1984 by a former
schoolteacher Adrian Gibbons who was also deputy head at the old Brigg Grammar
School before it merged with the Girls High School to become the Sir John
Nelthorpe School in 1976. The site is a stone's throw away from here. He was
passionate about sport and started to run a wide range of extra-curricular
activities including a football team for some of the former pupils or old boys as
they are known. He explained that as one of the alumnae of the Briggensians
Association himself (he has the tie to prove it), the restriction on allowing only
former pupils to represent the club has since been waived in more recent times.
Although links to the old grammar school and the BA are still very strong with an
active diary of events for its members throughout the year (check out the website
here for more), players representing the club don't need to have that allegiance
nowadays.
Craig reminded me that too that anyone promoting the grassroots game should be
applauded and they will always be made most welcome if they attend a game
here. Hoppers should note that this is a good place to come for a game even when
its wet and windy. Considering the dreadful weather, we have endured during the
last few months, Briggensians have not had one single game called off both home
and away all season – that really is some achievement. Indeed, as a result of this
they only have three home games left (all league) to play which occur on three of
the next four Saturdays in March: 07/03 v Santon; 14/03 v Scotter United Reserves
and 28/03 v Crosby Colts Reserves (all scheduled for 3pm kick-offs according to the
generic FA Full Time site).
Yet another cracking hop made even better by actually watching a game on grass
again. That's twice in two weeks now. Whatever next? I really enjoyed my trip to
the Brigg Recreation Ground and a visit here to this friendly, welcoming club, is a
must for all collectors of playing fields. If you're looking for a game in bad weather
a trip to watch Briggensians should be included on your football and global
warming radar. What's not to like. Well, Hull City losing 4-0 to Leeds, that
certainly isn't! But that's another story…best consigned to the Sky Q box in my
opinion. The joy of watching real grassroots football being played on real grass!
Have fun wherever you go.
R No.35: WebEd – Saturday 22nd February 2020; Pelican Rangers v South Park
Rangers; East Riding County League Division Two; Kick-Off: 2pm; Venue: Pelican
Park Playing Fields; Lambwath Road off Summergangs Road; Hull; East Yorkshire;
HU8 0EE; Result: 5-1; Admission: Free; Programme: No; Attendance: 11
You really do have to feel some sympathy for all those non-league clubs who are
desperately trying to fulfil fixtures in a season ravaged by the dreadful weather
conditions. Take my visit to East Riding County League Division Two side, Pelican
Rangers, who are today playing only their eighth game of the season so far. The
seemingly never-ending rain has battered their pitch at the Pelican Park playing
field so much that this is not only their third home game since October but also
their first of the new year. To be honest they are looking at a really busy end of
season if they are going to get in those fixtures postponed over the last four
months. It's been just as bad trying to play matches away from home too. They
saw a call-off at Hornsea Town Reserves – when this happened for the third time,
the ERCL fixtures committee finally stepped in to award Pelican an 'away
walkover' and all three points. To make matters worse their away league fixture at
AFC Gulls was cancelled when their opponents resigned from the league just days
before the match was due to be played – and that's nothing to do with the
elements! in a nutshell the lack of games has left the club in eighth place out of
the ten that now make up the division.
After the club's home game against Souths FC was called off here last week,
thanks to the menace that was Storm Dennis, I am happy to see the players of both
teams already out on the pitch going through their warm up routines upon my
arrival. In fact, there's also couple of mixed junior coaching sessions taking place
on mini pitches at the side too – an encouraging sign - if under tens can play, then
I'm the sure the men's first team can cope! Mind you it's a bit of a battle to get
out of the car with a real gale force wind whipping over the playing field. After
chasing after my waterproof trousers that have taken flight from the car boot,
across the full length of the car park, I eventually manage to get wrapped up,
compose myself and walk across the field ready for the game to start. Phew!!
The ground is based in the Sutton Ings area of Hull which is about three miles to
the north east of the city. After coming off Clive Sullivan Way (A63 ring road) at
the junction with Hedon Road (Siemans PLC is on your right) follow Mount Pleasant
(A1033) for about half a mile or so before taking the third exit at the second main
roundabout (next to A1 Tyre Services) to join James Reckitt Avenue. Continue for
another half-mile until reaching the mini-roundabout turning briefly into
Summergangs Road, then almost immediately right into Lambwath Road where the
park becomes visible on your right (unsurprisingly) just after the Pelican pub. A
narrow-gated entrance and driveways bending to the left leads into the large
enclosed site with the car park, playing fields, tennis courts and a modern
community centre/pavilion with changing facilities and function room with a
kitchen area in front of you.
Some readers may be interested to learn that the playing field actually has its
roots in a Hull-based cement manufacturing company called Earle's Cement who
purchased the recreation ground known as Pelican Park (after the Pelican Brand
Cement) in 1925 - it subsequently became the Blue Circle Group in 1966. It was
originally 15-acres in size including a cricket pitch, tennis courts and football
pitches. There was an area for allotments which was used by employees and their
families to produce home grown vegetables and fruit (which is now housing off
Cherry Lane). Two years later in 1927 a new pavilion was opened providing
changing rooms (including toilets with showers); storage rooms; kitchen area and
community room for all members of the company to use. In the 1950's, a covered
veranda was also built, providing a shelter for cricket on match days.
On 1st November 1985 an announcement was made that Blue Circle in Portland
Street, would close, thus ending the association with Hull of G&T Earle and its
successors after 157 years. The land was eventually sold to Hull City Council (for a
£1) who continued to maintain the site until August 2015, when Pelican Park
Community Trust gained a 25-year lease for 12.9 acres of green space took over.
The Charity is now fully responsible for maintaining and improving much needed
sport and recreational facilities in the East of the City of Hull. The aim is to
increase community participation, creating a safer playing environment for
everyone accessing the many activities on offer at Pelican Park. Qualified members
of staff provide educational courses and sports coaching for all ages (with Club 55
aimed at the older age group) and abilities covering cricket, tennis, table tennis
and of course football with fifteen teams currently represented from under sevens
(boys and girls) right up to veterans. It really is a superb facility and well-
respected organisation that does such a lot for the community.
When you arrive here, you will notice immediately that football shares the field
and its facilities with local cricket. There's a a roped off square in the middle and
several portable blue covers placed at various points around its perimeter. The
football pitch is marked out over on the far side of the field running parallel to
residential housing that backs onto it and bordered by trees and hedges. As
expected, there are no dug-outs, spectator cover or even rope at pitch-side. If you
look back across the field towards the community centre you will notice a very tall
thin brick chimney in the distance, Hull's tallest landmark (141m) which, now
derelict, belongs to Reckitt & Sons based half a mile away at neighbouring
Bankside. Apparently, it has recently gained greater notoriety after being daubed
with some large graffiti resembling a man's private parts which (I'm told) becomes
clearer when you drive past (for the record and in the words of one Jose Mourinho,
I didn't see it!).
Moving on swiftly back to the football. Today Pelican Rangers entertain Old Goole-
based side South Park Rangers in a league fixture. With the visitors only one place
above them in the table a tight game is in prospect. I'm glad I got here in good
time as the visitors open the scoring inside the first five minutes through Shane
Williams (4) who stabs the ball home from close range following a cross from the
right. The hosts soon level though in somewhat bizarre fashion as Dale Bennett's
(12) miscued clearance sends the ball up into the air only to be blown back again
beyond him into his own net! As Pelican start to dominate proceedings it's nippy
Alex Dickinson who gets a clever brace with a tight angled shot beating the
stranded keeper (38) before adding his second (43) at the back post five minutes
later to give his side a 3-1 lead going into half-time. After the re-start defender
Aaron Blagg (57) beats the off-side trap to add a fourth almost on the hour mark
before Dickinson (68) claims his hat-trick with a superb lob over the keeper from
distance ten minutes later. It really is a peach of a goal. Despite further chances
Pelican happily settle for the 5-1 victory as the game deteriorates as an
increasingly strong wind takes hold in the last fifteen minutes. Despite the difficult
conditions, it is a superb advert for county league football.
Most of the game, played down one-side of the pitch (due to the gale), attracted a
crowd that grew into double figures by the half-time break. With must braving the
elements that's how it stayed until the bitterly cold end. It was certainly a
challenge not just for those competing but for those taking an interest (and
photos) pitch-side! Thankfully the wind dried the playing surface which although
soft in places was perfectly playable. The field also attracted dozens of black-
headed gulls which constantly flew overhead throughout the game. 'Twitchers'
should take note. Neither matchday programmes nor refreshments are available
but my tasty Sainsburys meal deal certainly went down a treat at half-time. Credit
to young Geordie referee Matthew Teasdale who kept his cool (not literally despite
the wind-chill) in what was at times a feisty affair - his use of the sin-bin worked
well on a couple of occasions particularly when a mass-brawl broke out in the
second-half. In the matches I've attended so far this season it seems to be
working, what do you think?
During the game I got into conversation with Chris Smith, the super-friendly team
manager who told me how the club had been established only three years ago
drawing all his players from local Sunday League sides. He went on to explain how
most of his squad had grown up in the same area and knew each other very well
from their school days which helped has him and them to gel as a unit. As far as
playing catch up with the fixtures is concerned, Chris smiles knowing that the end
of season will be manic squeezing all the games into just a few weeks in April and
May. On days like this he'll just be happy to get in a game. The rest can wait. A bit
like hopping, then? It goes without saying that a visit to this lovely friendly club in
East Hull comes highly recommended to all hoppers. Have fun wherever you go.
Even in weather best suited for ducks.
R No.34: WebEd – Saturday 15th February 2020; Reckitts AFC v Walkington;
Humber Premier League Premier Division; Kick-Off: 2pm; Venue: Hull University 3G
pitch; Inglemire Lane; Hull; East Yorkshire; HU6 7TS; Result: 2-4; Admission: Free;
Programme: No; Attendance: 35
With news that Storm Dennis was waiting to make a menace of itself on Saturday
afternoon, I thought it was best to start planning my weekend footy fix a bit
earlier than normal. By Wednesday I had made a list of local of 'hoppertunities, all
new grounds, which reached double figures - just to be on the safe side. These
included five games in the East Riding County League; two in the Humber Premier
League; two in the York League and one in the Northern Counties East League. Fast
forward seventy-two hours and as forecast the rain is lashing against our living
room window. The Met Office has issuing an Amber warning for both heavy rain
and strong gale force winds for the afternoon. It's caused havoc in many places up
north and I have no reason to complain when I see the flooding and high-water
levels that have already taken over some towns and villages judging by the midday
Sky News bulletin. It's not surprising when I find my hopping fixture list has been
decimated big time with just one game (from my selection) still on, with Reckitts
AFC taking on Walkington in the HPL Premier Division league game on one of the
4G pitches at the Hull University Sports Centre. So that's where I'm heading.
Reckitts AFC has its origins in the world-famous Reckitt and Sons Ltd, an
internationally renowned company famed for its quality production in household
cleaners and pharmaceuticals. A family run business founded by Sir Isaac Reckitt
(b.1792) who moved from Boston to Hull where in 1840 he began renting the starch
works of Charles Middleton, in Dansom Lane. It took ten years before the company
showed any real signs of viability, but it proved immensely successful, and
products branched out from starch to laundry blue and blacking. By the mid-1850s
Reckitts employed 51 workers, over half of which were women, starting a tradition
of large-scale female employment in Hull. The early success of the company can
be attributed largely to the work of Isaac's two elder sons, George and Francis,
who acted as travelling sales representatives out on the road, advertising the
family brand. The company expanded through the late nineteenth and early
twentieth centuries, merging with a major competitor in the starch market, J & J
Colman in 1938, to form Reckitt & Colman. It has provided local employment for
over 160 years, and is responsible for the manufacture of many famous and
familiar household brands including Dettol, Harpic and Lemsip. Now trading as
Reckitt Benckiser following a merger in 1999 it operates on a global scale but has
never forgotten its hometown roots in Hull where the Reckitts UK pharmaceutical
department still stands on its original location down Dansom Lane.
After World War II the company established a sports section for its workforce and
with it an organised football team was formed. It competed in the East Riding
Amateur League gaining major success in the early 1990's winning the Premier
Division title on three consecutive occasions in 1993;1994 and 1995 before leaving
to join the newly formed Humber Premier League just after the turn of the
millennium in 2000-01. The club was a true force to be reckoned with and made an
immediate impact winning the Premier Division title on no fewer than five times in
the first six seasons (Hutton Cranswick won it in 2003-04). Since then the club has
only taken the title twice up to the present day – in seasons 2008-09 and 2010-11.
Although the links to the Reckitts company and brand are still strong in these
parts, it is now recognised that the football club no longer operates as a 'works'
side these days but like all other teams draws its players from areas in and around
the city.
A quick look at the league table before today's game revealed that the visitors (in
sixth) were the in-form side having only lost one of their last seven games (5-0 vs
current leaders South Cave United on the South Hunsley School 4G a couple of
weeks ago) with the hosts down in fourteenth (out of sixteen teams) having
experienced a torrid time of late losing five games during the same period. The
Wraybet odds were clearly in favour of an away win. And that's exactly how it
panned out!
Although the visitors took the lead twice, they were pegged back by a young
resilient home side with the score standing at 2-2 on the hour mark. It was exciting
end to end stuff with plenty of chances created at both penalty areas. Walkington
re-took the lead with just over ten minutes remaining, but were still under
pressure as Reckitts continued to press but couldn't find an equaliser. The game
was eventually sewn up as the men from Broadgates added another goal deep into
stoppage time making it 2-4 to seal the victory and gain three more valuable points
to consolidate their sixth place in the table. Reckitts, on the other hand, remain
only four points above the relegation zone after both bottom-placed sides, Barton
Town Reserves and North Ferriby Reserves also suffered defeats this afternoon. No
doubt they will have a nervous run-in to the end of the season if they are to
maintain their Premier Division status.
After all the pre-match concern and hype over Storm Dennis, most of us standing
pitch-side agreed that we got off rather lightly under the circumstances. Apart
from some squally showers at the start of the game and increasing gusts of wind in
the last ten minutes, the weather never really played a significant part in deciding
the outcome of the game. Young referee William Dodds and his two linos Dom
Hawkins and Fares Alharbi worked hard, allowing play to flow at all times despite
the sporadic stiff breeze. About forty spectators were in attendance, the majority
choosing to stand on the dug-out side of the ground with their backs to the
adjoining 4G hockey pitch where matches were also taking place throughout the
afternoon. On several occasions it was quite difficult for players and onlookers to
judge which game or pitch the referee's (or umpire's) whistling was actually
coming from!! Although Reckitts, like all the other clubs in the league, doesn't
issue programmes, refreshments such as hot drinks and snacks are available from a
couple of vending machines placed at the end of the corridor inside the adjoining
pavilion.
I was also joined pitch-side by a couple of local hoppers Stephen and Paul whom I
found to be excellent company as we exchanged news about our adventures in the
local leagues. Stephen runs a video blog covering his matches and Paul also follows
rugby and speedway as well as football. In fact, they told me that they were in
two minds about coming here this afternoon when they discovered East Riding
Rangers FC had switched their HPL Division One game with Hessle Sporting Club
from their normal venue at the Cottingham Pavilion to the 4G pitch at Bishop
Burton College on the outskirts of Beverley. This was something I was unaware of
and apparently, they did a similar thing back in November when the weather was
equally as bad, so it's one worth looking out for in the future. Hoppers may also be
interested to learn that another game was taking place immediately after this one
between AFC North and Gilberdyke Phoenix in the East Riding County League
Division Three. This had been hastily rearranged when the pitch at the RWB playing
field in Bransholme was deemed unplayable – readers might recognise this ground
after my visit there only couple of weeks back (see R No.32 below for more).
Travellers intending to take in a game at the Hull University Sports Grounds will be
impressed by the facilities here. Located off Inglemire Lane about three miles to
the west of the city, the ground can be approached from Willerby, Cottingham and
Beverley. It was a familiar route having watched a game here last year when I
attended Chalk Lane v East Riding Rangers on 16/03/19 – 3-0. I parked up at the
Sports Centre (free on a Saturday) which incorporates a superb sports hall, squash
courts (a regular venue for the World Squash Championships - sponsored by the
Allam family owners of Hull City FC) and a magnificent first floor fitness studio and
weights room. As Hull University offered its site as a training partner for the 2012
Olympic Games, many athletes from all over the world used the facilities as part of
their build up to the London Olympics. All the football pitches are found almost
side by side on the opposite side of Inglemire Lane (a two-minute walk away, if
that). It's a veritable hoppers's paradise.
Reckitts FC play on one of two floodlit pitches found behind the main pavilion
(signposted) which provides a central multi changing room block and conference
suite. The main central 4G pitch is also used by Chalk Lane FC fellow members of
the HPL and on the rare occasion when the two clubs are at scheduled to play at
home Reckitts also use the adjoining multi-use pitch (marked out for Rugby League
as well as football) over to the left. You can't miss it as its covered in so many
colourful lines you have to squint to work it all out. There's also a third 3G pitch
over to the right which is predominantly used by both men's and women's hockey
clubs playing in local league competitions. Completing the full set is the East
Riding County FA HQ ground, which hosts county cup games and finals on a grass
pitch which is a found next door (on the right further along Inglemire Lane) – you
can easily see it from the changing pavilion. The central pitch has a user-friendly
low perimeter fence around it with a dedicated walkway behind that for spectators
who can watch the game from all sides of the playing area. Today the players had
to use a second entrance gate on the side of the pitch next to the dug-outs (the
only cover on site) as the main one next to the changing rooms was still locked.
Luckily, I was given access into the cage in order to take photos. Phew.
So, on a day when I didn't really expect to get to a game, I got lucky at the Hull
University Sports Ground. In fact, seven games including this one took place this
afternoon in the HPL Premier (with Beverley Town and Pocklington both on grass
and Hull United; Hessle Rangers; Hedon Rangers and South Cave United, all 3/4G).
To be honest as there are very few call-offs here I would recommend a visit even
in the worst weather to all hoppers. Furthermore, you'll find that Reckitts Football
Club is a lovely well-run club and if you take in one of their games you will
definitely be given a warm welcome here. It's also great to see one of the city's
oldest non-league football clubs still going strong after all these years. Long may it
continue.
R No.33: WebEd – Saturday 8th February 2020; Consett AFC v Deal Town; FA Vase
Round 5; Kick-Off: 3pm; Venue: Belle View Stadium; Delves Lane; Consett;
Durham; DH87BF; Result: 2-0; Admission: £7; Programme: Yes, 32pp, £1.50;
Attendance: 866
A bit of background to begin with. If you prefer to skip this section start at
paragraph seven (which begins: The magic of the Vase...) instead. The club was
established on 1 July 1899 as Consett Celtic Football Club. They joined the
Northern Alliance in 1919, and were renamed Consett in 1922. They finished
bottom of the league in 1922–23, but were runners-up in 1925–26. At the end of
the season all the clubs in the league joined the North Eastern League as members
of the new Division Two. They were the first Division Two champions in 1926–27,
earning promotion to Division One. However, after finishing second-from-bottom of
Division One in 1930–31, they were relegated back to Division Two.
After finishing second-from-bottom of Division One in 1934–35, they left to return
the Northern Alliance, which had been re-established. However, after two seasons
in the Northern Alliance, they re-joined the North Easter League, which was now
running with a single division. When the league was suspended in 1939 following
the outbreak of World War II, a competition was run with ten clubs, which Consett
won. In 1946–47 they finished seventh in the league and subsequently applied for
election to the Football League. However, no vote took place and the four clubs up
for re-election retained their places in the Football League. The club went on to
win the League Cup in 1950–51 and 1953–54.
When the North Eastern League was disbanded in 1958, Consett spent the 1958–59
and 1959–60 seasons in the Midland League, also reaching the first round of the FA
Cup for the first time in 1958–59, losing 5–0 at Doncaster Rovers. In 1960 they were
founder members of the Northern Counties League; the club were champions in
1961–62, and the league was renamed the North Eastern League in 1962. They
finished bottom of the league in 1963–64, with the league disbanded at the end of
the season. The club subsequently joined the Wearside League. They were
runners-up in 1968–69 and 1969–70, after which the club joined the Northern
League. In 1976–77 they finished joint top of the table with Spennymoor United,
but lost the championship play-off 3–0 in a match played at Willington. They were
later relegated to Division Two after finishing bottom of Division One in 1987–88.
The 1988–89 season saw Consett win Division Two at the first attempt, earning an
immediate return to Division One. They won the League Cup in 1994–95 with a 2–0
win over Whitby Town in the final, and in 1996–97 the club reached the first round
of the FA Cup for a second time, losing 4–0 at Mansfield Town. The early 2000s saw
the club yo-yo between the divisions, as they were relegated in 2002–03, promoted
in 2003–04, relegated again in 2004–05 and promoted again in 2005–06 after
winning Division Two. They went on to finish as Division One runners-up in 2007–08,
2008–09 and again in 2010–11.
The club originally played at Vicarage Field, which was owned by the Consett Iron
Company. Spectator facilities were restricted to a small stand, with an army hut
used for changing rooms. However, in 1948 the site was needed for expansion of
the steelworks. They spent two seasons at Eden Colliery Welfare's Leadgate ground
before returning to Consett to play at the new Belle Vue Park ground on Ashdale
Road. Built largely by volunteers, the new ground had banking around the pitch
made from mine workings, with two stands erected, one of which was paid for by
the £1,150 transfer fee received from Charlton Athletic for Tommy Lumley. The
first match at Belle Vue Park was played in August 1950, attracting a record
attendance of 7,000 to see a game against Sunderland reserves. One of the stands
was later closed, although the steel structure was left in place. The remaining
stand consisted of covered bench seating and a small terraced area in front.
The club played at Belle Vue Park until 2013, when they moved to a new ground on
Delves Lane, named Belle View Stadium. The new ground only a mile away
included an artificial pitch after the 2012–13 season had seen 18 matches at Belle
Vue Park postponed due to the weather. The first match was played on 22
November, with Newcastle United the visitors; a crowd of 3,054 saw Newcastle win
2–1.
The magic of the Vase. Today were heading towards Durham for the much-awaited
FA Vase tie between Consett AFC and opponents Deal Town. With a couple of
comfort stops along the route to break up the journey we arrive at Consett town
centre with plenty of time to spare ahead of kick-off. Fran and Steph are well
placed for some retail therapy as I drop them off before making my way half-a-
mile back down the road to watch the football.
The ground entrance (signposted) is easy to spot and all the main club buildings
are found at the end of a narrow driveway over on the far side of a large
landscaped car park. Two visiting supporters club coaches were already in place
having made the long journey from deepest Kent. There's plenty of signage on the
outer perimeter wooden panelled fencing which soon comes into view. A rush of
excitement takes hold as you spot the top of a floodlight pylon behind the tiled
roof. There's no mistaking where you are with the club name and impressive
colourful logo proudly displayed on the outer red-brick walls of the pavilion, next
to the payment turnstile at the end. Access through the modern bar (packed
already on my arrival) with neatly labelled doors leads to the playing area as you
come out midway between the half-way line and the edge of the eighteen-yard
box through the back door. You will notice immediately that the playing area is
not set inside a cage (like most 3G multi-use facilities these days) but is
surrounded by a regular metal fence you would expect to find at any ground.
There are two seated covered areas at Belle View with one just beyond half-way
on the nearside and another on the opposite side close to half-way. Both ends are
open standing with large string netting sheets supported on tall green posts
immediately behind both goals stretching from corner to corner. This doesn't
affect viewing the game in any way as the mesh is wide enough to see through
when you stand behind it – it's all to do with perspective I believe. My wife nods in
agreement and being an Art teacher, I can't really argue with that. Two very
modern dug outs each displaying the club name on the back are positioned level
with the half-way line on the nearside. From here you can easily spot the tall TV
mast (149m) from the Pontop Pike transmitting station situated on a 312-metre
(1,024-ft) high hill of the same name between Stanley and Consett. Look out too
for the vast array of home flags and banners attached to the outer perimeter
fencing – I think there was one which read: Consett Seasiders – BFC!
To reach this stage of the competition (last sixteen) Consett had beaten
Lutterworth (UCL) 2-1 in the last round in a game that kicked off an hour late due
to strong winds whilst Deal were forced into a marathon-long tie against Binfield
following a 1-1 draw (after extra-time) at The Charles Ground and then beating
them a week later in a replay at Stubb's Lane which finished 2-2 at full-time; 3-3
after extra-time and 7-6 on penalties! Phew! Although today's game was made
more challenging by the stiff breeze it looked at one stage as if it was heading into
a stalemate and possibly extra time before finally coming to life in the last twenty
minutes. Following increasing pressure in the second half Consett made the
breakthrough when Luke Carr (75) turned in Ali Ashabeeb's cross from close range.
The result was put beyond doubt when captain Arjun Purewal (85) met Jake
Orrell's corner and headed past the stranded keeper James Tonkin. Dale Pearson
thought he had given Consett their third when he slotted home at the back post
only for it to be ruled out by the eagle-eyed lino for offside. Deal Town accepted
defeat graciously with boss Derek Hayes admitting: 'In the first half particularly
we had to do a lot of defending but it's what we were expecting. The first goal
was always going to be crucial they got it and, in the end, they deserved to win'.
The match played in mostly dull, windy and by the end very cold conditions on
what appeared to be a rather fading 3G pitch, attracted a superb crowd of 866
(the second highest attendance after 1041 attended Wroxham v Stowmarket) in
this round of the eight Vase games played today. Incredibly over a hundred fans
had made the long 356-mile journey from Deal, setting off from Kent at 6am from
the football club car park. What time must their alarms have gone off at? As I
made my way around the ground, I managed to have a chat with quite a few of the
travelling supporters who made it clear just how much this cup run meant since
their heroics twenty years ago winning the final 1-0 against Chippenham Town in
2000 at the old Wembley Stadium. One very vocal character called Harry proved
very popular watching the game from the far stand with his small band of fellow
fans dressed in their black and white scarves – what set him apart though was the
fact he was wearing shorts even though the temperature was dipping below zero.
Believe me it was bitterly cold. I had several layers on and it still wasn't enough –
what a wimp! But not to be outdone one of the home fans could be heard making
his way around the ground ringing a large bell town crier style! After ten minutes
the novelty starting to wear off amongst those standing next to him.
The club issued a cracking 32-page programme (available at the turnstile) entitled
the Steelman with plenty of stuff to read inside including excellent coverage of
this week's opponents and their FA Vase results so far in the competition. The tea
bar was also doing a roaring trade dispensing a range of hot drinks and food as well
as the usual snacks from the hatch next to the main bar. On a day like this it was
worth the extra effort, I'm sure.
Travellers intending to make a visit to Belle View should find it an easy ground to
reach using the A691 from Durham. As you approach the outskirts of the town take
a left turn down Stockerley Lane and continue along this road for about a mile
before it becomes Delves Lane. The ground is found on the right-hand side of the
road just before you get to the crossroads with the A692 on the edge of town. It is
in quite an elevated spot so bring plenty of warm layers when you come to watch a
game!
This had been another superb afternoon's entertainment that will no doubt stick in
the memory for some time. A trip to this lovely part of the world with its well-
appointed ground and really friendly club comes with my highest recommendation.
The long drive home suddenly didn't seem so bad after all paticularly when you
consider that the majority of those loyal visiting fans were travelling back down to
Kent soon after the final whistle, with only a six-hour journey ahead of them.
Ouch! Now, isn't that what makes non-league football so enjoyable? The magic of
the FA Vase continues – especially for those eight clubs left in the competition. I
wonder who'll be lucky in Monday's draw for the sixth round? Have fun wherever
you go, be it near or far…
R No.32: WebEd – Saturday 1st February 2020; AFC North v St George AFC; East
Riding County FA Intermediate Cup Quarter-Final; Kick-Off: 2pm; Venue: RWB
Playing Field; Lothian Way; Bransholme; Hull; East Yorkshire; HU75BN; Result: 3-3
(4-1pens); Admission: Free; Programme: No; Attendance: 16
It was exactly four years ago today that young Bransholme mum of two Rebecca
Waller-Beecham passed away after a short battle with stomach cancer. Aged only
twenty-five at the time of her death on the 1st February 2016 Becky had been a
popular and loving character amongst her peers living on the North Hull estate
where she had grown up from being a small toddler. During her short life she was
also a keen fan of the local football club AFC North.
Some eighteen months since her passing the club felt that it would be appropriate
to remember her in some tangible way. Her touching story was covered at the time
by Helen Whitehouse reporter for the Hull Live website who wrote: 'Tragic
Bransholme mum, 25, will be remembered on the estate forever as football team
names ground after her'. The article written on 23/08/17 continued: 'Her dad,
Colin Beecham, 51, said: 'We thought naming the ground after her would be a
fitting tribute for her because she always supported us when we played there.
Various members of the family have played there over the years and she always
came down when she could, when she wasn't working. It used to be a playing field
and Becky played on there when she was a child too. It's something that that will
be there long after I've gone and a good way to remember her. She was diagnosed
with the devasting disease in December 2015 and died in February 2016. As a
family we are so proud of Becky and the way she dealt with her cancer'.
Today I'm attending the RWB Playing Fields for the East Riding County FA
Intermediate Cup tie between AFC North and St George AFC which has reached the
quarter-final (last eight) stage of the competition. It's an intriguing fixture as both
sides are having a decent season in their respective divisions of the East Riding
County League. Although it looks a bit like a David v Goliath affair on paper, AFC
North, who currently sit at the top of Division Three having lost only once all
season (at home 1-3 v Malt Shovel) must fancy their chances this afternoon against
their mid-table Premier Division opponents who have only won one of their last
five games. There's also plenty of local rivalry to add into the mix with the visitors
making the short trip from the neighbouring Kingswood estate which is literally
just up the road.
The game which turned out to be a real belter went right down to the hopping
wire. Despite going a goal down just after the half-hour mark, when the visitors'
Luke Martin (34) followed up a blocked shot from close range, the hosts were soon
level through Harry Bennett (42) who turned quickly in the six-yard box to steer
the ball home. In the space of just two minutes AFC North then took the lead
through Josh Thompson (44) who tapped the ball in at the back post following a
deep cross from the left, moments before half-time. Shortly after the break it was
Thompson (52) again who then added a third to put his side firmly in control of the
game and a possible place in the semi-final. Their lead was reduced on the half-
hour though as the visitors pulled one back through a calamitous header made by
Ellis Edmonds (61) who put the ball through his own goal to make it 3-2. AFC
North's hearts were broken with only seconds of the match remaining as St George
snatched a late equaliser from the penalty spot, calmly taken by Liam Acton (89),
after a foul was committed just inside the box. In order to decide the winner, the
referee indicated that the game would go straight to penalties (rather than play
extra-time): with AFC North scoring all four of their spot kicks and St George
missing two of theirs, it was the hosts who were declared the winner by 4-1 to
progress into the last four of the competition. It had been a terrific game of cup
football and a great advert for the ERCFL.
The match played in mainly bright but very windy conditions on a very bumpy,
unmown pitch, attracted a dozen or more spectators many of whom gathered to
enjoy their cans of Carlsberg Special Brew in the stand. As expected, neither
paper nor refreshments featured on the hopper's radar for this game. A word must
go to affable match referee Dave Lawley from Anlaby who controlled the game
expertly having a great rapport with all the players of both teams - even when he
had to stop the game on no less than three occasions shortly after the start to
request the removal of dog poo from the pitch!!
Colin, co-founder (along with his nephew) who adopted the name AFC North (after
its location in North Bransholme, in case you were still wondering), told me just
how far the club has come in the last few years. The club was established back in
2011 (as shown on the embroidered shirt badge) when a group of local youngsters
were invited for a kick-about on their recreation ground. It was seen not only as a
way to develop their sporting and social skills, but also a chance to promote a
positive culture on the estate rather the norm of 'hanging about on street
corners'. So, from humble beginnings the group of young footballers that had
numbered just a handful at the start soon grew big enough to play competitively.
Within months AFC North entered a couple of teams in the ERCL. He also
explained, with a slight break in his voice, how the club now creates its own funds,
by organising an annual Summer Fun Day (see the club's dedicated Facebook
page). Held on the playing fields each year it has helped to raise enough money to
build a new stand which now sits proudly behind the near-side touchline close to
the half-way. His wife Lesley re-iterated the fact that they are definitely a
proactive family-run club with everyone on the North Bransholme estate helping
out in some way or another to make improvements both on and off the field.
The name Bransholme is derived from an old Scandinavian word meaning Brand's
water meadow - brand or brandt meant 'wild boar'. Its history goes at least as far
back as the Domesday Book of 1086 where Bransholme is marked as a little hill
surrounded by water. At this time the settlement known as Sudtone (now Sutton)
occupied a strip of high ground forming a connecting link between Wagene (later
becoming Wawne village). Built back in the 1950's and 1960's, the council aimed
to create more housing for young families living in Hull. The overspill from the city
has made this into one of Britain's largest such developments of pre-fabricated
houses to form a vast sprawling council estate. A growing number of the houses are
now boarded up, in particular many of the bungalows which were intended for
occupation by the estate's older residents. The quality of the houses on the estate
has been in question ever since their construction. Many of the houses have only
small windows on the front, being small horizontal slits and, although these have
proved efficient in maintaining security, many residents have complained their
houses lack light and are unpleasant to live in. The houses have had condensation
problems and the heating systems have often been described as being inadequate.
Despite its labyrinth-style appearance and layout, the ground itself is quite easy to
find off Cumbrian Way (rather than Lothian Way as suggested on the FA Full-Time
site) with plenty of parking along this outer ring-road which runs alongside the
pitch. You could say you are almost in the sticks here as this is the most northerly
road in Hull with mile upon mile of open fields and countryside continuing beyond
this. The field is visible after passing the adjoining Highlands School (also) on the
left hand-side of the road. The RWB Playing field previously known as the Lemon
Tree Sports Field (after the local adjoining day nursery) is bordered on the road
side by a long brown three barred wooden fence (coming up to waist height)
running along the near side, a couple of industrial units at one end and (mostly) by
local housing which makes for a terrific back-drop to the action behind the right-
hand side (furthest) touchline. There's certainly an enclosed feel about the place.
Access to the field is gained through a narrow pedestrian entrance close to the
corner flag where a neat welcome sign with a cream background displaying the
name of the club and (more poignantly) carrying a small photo of Becky printed on
the top left-hand corner is positioned in the ground just behind the fence. The
main (albeit fairly modest at present) facilities are found along this side of the
field where there is a new small covered breeze-block stand with sloping roof,
central dividing wall and bench seating at the back, enough to provide shelter for
up to twenty fans. In the corner beyond is a long blue painted shipping storage
container (set at an angle to the pitch) used by both teams for changing purposes
(via two separate doors built into it). On the far side there is an angular Perspex
covered stand positioned close to half-way. Sadly, this was lying flat on its front on
the grass when I got there – possibly as a safety precaution fearing it might not be
secure enough to withstand strong winds (especially on a blustery day like this). At
the moment there are no permanent pitch side dug outs.
So, at the end of what was quite an emotional day, this had been a special ground
tick. I can strongly recommend a visit to AFC North at the RWB playing fields in
North Bransholme to all football travellers. Next up for the lads will be the small
matter of travelling into West Hull next Saturday for the ERCL Division Three
league game against Malt Shovel (to be played on the Sirius Academy 3G) – it's an
important game as they are still the only team to have beaten the league leaders
so far this season. Wraybet HQ wouldn't like to call the odds on this one. Like all
non-league football trips, you never quite know what you're going to get until you
arrive – just like today. It will certainly be one to live in the memory. RIP Becky.
R No.31: WebEd – Saturday 25th January 2020; Hull City v Chelsea; FA Cup Fourth
Round; Kick-Off: 5.30pm; Venue: KCOM Stadium; West Park; Hull; East Yorkshire;
HU36HU; Result: 1-2; Admission: £18; Programme: Yes, 68pp, £3; Attendance:
24109