SIMS FOUNDATION 2018
If your browser does not support JavaScript, please read the page content below:
SIMS FOUNDATION 2018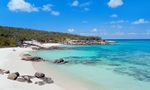 3 L I V E A U C T I O N LUXURY THREE NIGHT HOLIDAY FOR TWO AT LIZARD ISLAND RESORT Lizard Island would like to welcome you to the magical Great Barrier Reef and to the luxurious facilities of the resort. Lizard Island is an indulgent retreat offering sensational diving, snorkelling right off the beach and superb dining set amongst pristine white sands and clear blue waters. This incredible prize includes three nights accommodation in an Oceanview Villa, gourmet meals, non-alcoholic beverages, a fine selection of wine, beer, basic spirits and Champagne, in-room mini bar as well as deluxe picnic hampers for private beach outings.
Enjoy the use of motorised dinghies, stand-up paddle boards and clearview kayaks. Plus return scheduled East Air flights between Cairns and Lizard Island. Valid until 30 June 2019.
Full terms and conditions page 22. Kindly donated by Delaware North Companies Parks & Resorts. Valued at $9000. LOT 1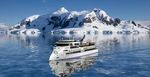 4 L I V E A U C T I O N 'PORTRAIT OF A WOMAN XVII', 1920 BY HENRI MATISSE Black and white etching from Matisse's 'Cinquante Dessins' portfolio. Signed in the plate, from a limited edition of 1,000. This piece is almost a century old, and in pristine condition. The portfolio, containing 50 portraits of women was a study of the female form and spirit. Henri Matisse was a French artist, known for both his use of colour and his fluid and original draughtsmanship.
Kindly donated by Chase Gallery.
Valued at $6000. LOT 2 PREMIUM ANNUAL GOLF MEMBERSHIP AT CYPRESS LAKES GOLF & COUNTRY CLUB, PLUS A CALLAWAY ROGUE DRIVER Here's to the Good Life! Play unlimited rounds, 7 days a week. Bring a friend anytime after 2pm and they can play for free in the same cart. Membership includes $350 free credit on food and beverage; golf club storage and cleaning of member's clubs; 7 day access to Club facilities (lounge, pool, gym, and tennis courts); exclusive invitations to social and member's only special events; 50% concession for applicant U18, spouse or immediate family member (in addition to at least one full membership per family).
The 18 hole championship golf course is ranked among the top 100 in Australia and the best in the Hunter Valley. It offers stunning views of vineyards and Brokenback mountain. The layout boasts dramatic fairway shapes, elevation changes and superb greens. Valid until 30 July 2019. Kindly donated by Cypress Lakes Golf & Country Club, Hunter Valley. Valued at $3500.
Total prize value for Membership and Driver of $4250. LOT 3 Be a winner and celebrate your new Membership with a new Callaway Rogue Driver! Kindly donated by Power Golf, premium retailer of top golf equipment, and leading American global sporting goods company, Callaway. Valued at $720.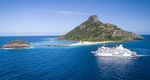 5 L I V E A U C T I O N EXPERIENCE A ONCE-IN-A-LIFETIME VOYAGE WITH AURORA EXPEDITIONS This fabulous prize is a once-in-a-lifetime experience for two people with Aurora Expeditions on their new state-of-the-art purpose-built expedition vessel, the Greg Mortimer. Aurora Expeditions is offering a choice between three voyages, each of them valued at $20,000.
The winning bidder will choose between experiencing the northern realms on an Arctic voyage where polar bear sightings will quicken your pulse; discovering the wonders of the Antarctica Peninsula and its bustling wildlife, on an Antarctic expedition; or joining one of Aurora Expeditions' new Americas Voyage with itineraries from the majestic beauty of Torres del Paine National Park to the music filled streets of Cuba. This is an enviable opportunity to tailor your experience and see the world the Aurora way! The MV Greg Mortimer launches in October 2019. Bookings are required prior to Friday 29 March 2019.
Full terms and conditions page 22. Kindly donated by Aurora Expeditions. Valued at $20,000.
LOT 4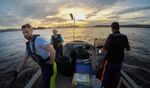 6 L I V E A U C T I O N VOYAGE OF DISCOVERY – 4 NIGHT NORTHERN YASAWA ISLANDS CRUISE LOT 5 Join Captain Cook Cruises for voyages of discovery across turquoise waters to unspoilt islands where the cool shade of swaying palms fan over white sand. Meet Fijians in traditional villages, explore their culture and swim in warm crystal clear water over coral reefs teaming with life all from your floating resort, MV Reef Endeavour. We offer day cruises aboard sailing ships to our coral atoll, Tivua, daily and extraordinary 3, 4 or 7 night voyages aboard our mini cruise ship Reef Endeavour, cruising Tuesdays and Saturdays to the Mamanuca, Yasawa and remote northern Fiji Islands.
Cruising over a sparkling sea through the dramatic archipelago of the Yasawas, you'll discover a new island, village and coral reef daily. The 4 night cruise for two adults in a B Ocean stateroom visits Naviti and the Northern Yasawa including the famous Sawa-i-lau 'Blue Lagoon' limestone lagoon and caves. Valid for travel until 31 December 2019, cruise departs Tuesday 1pm and returns Saturday 9am. Full terms and conditions page 22. Kindly donated by Captain Cook Cruises. Valued at $5580.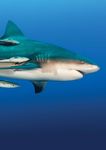 7 L I V E A U C T I O N SIMS GOES BIG AND THE WORLD IS GETTING HOT! As the marine world changes, SIMS capacity and facilities need to change with it. The coast of NSW is a hotspot for ocean warming, and as our coasts warm they are getting 'tropicalised'. This means that organisms, such as corals, kelp and fishes, are moving south. It is critical for SIMS to have the facilities that allow us to understand (for example) these changes in distribution and their consequences. This means increasing the size of our indoor and outdoor 'mesocosms' (a technical term for 'big tanks') and our ability to control the environment parameters – such as water temperature – in those tanks.
SIMS at present has first-class aquatic research systems, but only at the scale of tanks that were designed to study smaller organisms. But now we need to scale up and go big. It is increasingly important to understand how the foundational species of our ecosystems – large habitat forming organisms such as corals or kelp, or larger fish (including sharks) – react to ongoing environmental change. We have the capability to pump water up to 1.3 million litres a day, about an Olympic swimming pool worth, so now it is time for that water to have a place to go.
To do that we will buy and install larger tanks and the environmental control systems that will go with them. We ask you to contribute to the building of that facility. Moreover, there are government grants that are targeted to directly support this kind of infrastructure development, and the funds raised tonight will also be used as matching funds towards a grant to make the facilities truly big! 'OFFSHORE AERIAL VIEW – BLUE' BY RALPH KERLE Signed original print 3/50 on Canson Edition Etching Rag 310gsm, mounted and framed. Internationally award-winning Ralph Kerle's Art is centred on Sydney's middle harbour.
His work is a series of original photographic prints that capture moments in time when nature coalesces into visual abstraction on the surface of the water. The images are not photo-shopped or artificially created. They are images that nature has created and exist in reality. They are designed as peaceful meditations on the way we engage with the environment in which we live and how we think, see and communicate our sense of 'being' in it. Kindly donated by Ralph Kerle.
Valued at $3000. LOT 6 Size 97.3 x 120cm, including white border. Mounted and framed using 30cm white Italianate polished wood.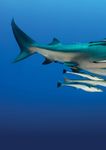 8 S I L E N T A U C T I O N LOT 1 LOT 2 LOT 3 Celebrate Australia's rich cultural heritage, amazing landscapes and unique wildlife. The pack includes three stunning Australian Geographic books. Australia in 100 places – This 432 page book explores Australia's sunburnt heart to its battered shorelines, and loftiest peaks to its deepest gorges and life-giving rivers. A Portrait of Australia – A special anniversary book, which collates remarkable stories and paints an authentic portrait of Australia over a generation.
Australia Gone Wild – This 224 page, richly illustrated volume, presents the very best wildlife and nature stories from 30 years of Australian Geographic. Kindly donated by Australian Geographic.
Valued at $180. Opening bid $120. Enjoy a Wayward Brewery Tour for six people plus receive a growler hat and glasses! Learn how beer is made on a guided tour of the Wayward production brewery. See, touch and taste the grain and hops that go into the entire brewing process. The tour will be accompanied by a guided tasting. It's your chance to learn about our local craft while you enjoy the delicious result! Kindly donated by Wayward Brewery. Valued at $245. Opening bid $130. Multi-award winning 5-star Hunter Valley winery and Australia's largest producer of organic wines.
A 6-pack of 2002 reds from Tamburlaine Winemaker's 'Private Cellar' stock.
Includes two bottles of 2002 Orange Reserve Merlot, 2002 Orange Reserve Syrah and 2002 Orange Reserve Cabernet Sauvignon presented in a bespoke wooden display box carrying the Tamburlaine logo with tasting and decanting notes. Kindly donated by Tamburlaine Wines. Valued at $480. Opening bid $250. AUSTRALIAN GEOGRAPHIC PRIZE PACK WAYWARD BREWERY TOUR FOR SIX PEOPLE, HAT & GLASSES TAMBURLAINE 'PRIVATE CELLAR' WINE PACK
9 S I L E N T A U C T I O N LOT 4 LOT 5 LOT 6 The Local Drop will send their wine team to check the health of wine in your cellar. Our sommelier will spend time understanding what type of collection you are trying to build and make recommendations – what to drink now, and what wines are going to improve. Plus receive a $250 voucher from The Local Drop. Don't have a cellar but looking to start one? Based on what you love to drink we will write a personal wine list that will start building an incredible collection. The Local Drop was built to provide an exclusive wine service to people that trusted us.
Kindly donated by The Local Drop. Valued at $750. Opening bid $300. Colour lithograph from Dali's 'Les Chevaux de Dali' portfolio. Dali returned time and again to the horse theme throughout his long career. It's beauty of line and form, and its natural symbolism of raw animal power and elegance were natural attractions for him. Fully aware of the symbiotic relationship of the horse to man and its enormous contribution to human culture in terms of mobility and productivity, Dali considered this unique animal a perfect launching point for his prodigious imagination.
Kindly provided by Chase Gallery.
Valued at $4800. Opening bid $2400. Colour pochoir from Picasso's 'Venti Pochoirs Originali' series. Picasso personally oversaw the publication of this very rare portfolio of pochoirs after some of his most famous paintings. A retrospective of sorts, spanning the length of Picasso's varied and illustrious career, each of the styles Picasso either mastered or popularised is represented in this compilation and there are excellent examples of works from his 'Blue', 'Rose', 'Cubist' and 'Surrealism' Periods. Fine detailing and strong primary colours are the common stylistic traits prevalent in each of the works in this series.
Kindly provided by Chase Gallery.
Valued at $6000. Opening bid $3000. A PERSONAL CELLAR AUDIT PLUS A $250 VOUCHER SALVADOR DALI 'PEGASUS', 1983 PABLO PICASSO 'MATERNITY IN ORANGE', 1955
10 S I L E N T A U C T I O N LOT 7 LOT 8 LOT 9 Colour lithograph from Chagall's 'Drawings for the Bible' portfolio. The portfolio takes inspiration from the twelve books of the Bible – beginning with the Creation, continuing with Abraham and his descendants and concluding with images depicting the later prophets. Chagall was renowned for his artistic celebration of romance and depictions of mystical worlds of lovers, musicians and artists.
Strong and often bright colours portray the world with a dreamlike, non-realistic simplicity.
Kindly provided by Chase Gallery. Valued at $5000. Opening bid $2400. Colour lithograph from Miro's 'Lithographe II' portfolio. Regarded as one of the most influential 20th century artists, Miro's work continues to be among the more desirable with fine art collectors. Each piece in this portfolio maintains Miro's tradition of visual symbolic language; conjuring primary colours and form transformations that stir each viewer differently. Kindly provided by Chase Gallery. Valued at $2500. Opening bid $1300. Colour lithograph from Picasso's 'Human Comedy' series. In the 'Human Comedy', Picasso depicts himself as the circus leader, the king, the painter and the adored clown.
The series was an exploration of the dichotomies of man/ woman, self/other, and vitality/mortality. What unfolds is the artist's struggle not only with the impossibility of representing the model on canvas, but also with the inevitability of his own death. Dated in the plate. Kindly provided by Chase Gallery.
Valued at $4000. Opening bid $2000. MARC CHAGALL 'NAOMI', 1960 JOAN MIRO 'LITHOGRAPHE II (PLATE II)', 1975 PABLO PICASSO 'CIRCUS COURT', 1954
11 S I L E N T A U C T I O N LOT 10 LOT 11 LOT 12 Colour woodblock engraving from Dali's 'Divine Comedy' suite. The suite contains incredible imagery ranging from the grotesque to the sublime as our artist follows Dante from the deepest circles of Hell, up the mountain of Purgatory, and into heavenly Paradise. Dali himself thought this suite to be one of the most important of his career and it is considered by many today to be his most incredible and notable work.
Kindly provided by Chase Gallery.
Valued at $3800. Opening bid $1900. What roars when it snores? A dinosaur of course! Experience a night to remember surrounded by our prehistoric friends at the Australian Museum, including dinner, activities, a sleepover in the Dinosaurs gallery and then stay for a breakfast of dino bones. Valid for 1 adult and 2 children (over 5 years) until 31 December 2019. Kindly donated by the Australian Museum. Valued at $450. Opening bid $350. Curious about marine science? Why not get a group together and go behind the scenes at SIMS. A SIMS marine scientist will provide a glimpse into our incredible marine world; the challenges it faces, and how our researchers are working to improve the health of our iconic waterways.
Tour the facilities and observe marine research in action; visit our new SIMS Discovery Centre, experience a 'virtual' dive through a magnificent kelp forest. Enjoy light refreshments on our balcony. Duration 2-2.5 hours.
Kindly donated by SIMS. Value priceless. Opening bid $400. SALVADOR DALI 'THE BLACK CHERUB', 1963 DINOSNORE MUSEUM SLEEPOVER BEHIND-THE-SCENES TOUR OF SIMS FOR 10-12 PEOPLE
12 S I L E N T A U C T I O N LOT 13 LOT 14 LOT 15 The package includes a personal photographic consultation and a photo shoot in studio for 30 minutes to 2 hours depending on your needs. Plus 8 x 12" retouched enlargements and editing of images prior to your viewing. Valid for 6 months after 18 October 2018. Kindly donated by Naomi Hamilton Photography. Valued at $320. Opening bid $90.
The package includes a personal photographic consultation and a photo shoot in studio for 30 minutes to 2 hours depending on your needs. Plus 8 x 12" retouched enlargements and editing of images prior to your viewing. Valid for 6 months after 18 October 2018. Kindly donated by Naomi Hamilton Photography. Valued at $350. Opening bid $100. The package includes a personal photographic consultation and a photo shoot in studio for 30 minutes to 2 hours depending on your needs. Plus 8 x 12" retouched enlargements and editing of images prior to your viewing. Valid for 6 months after 18 October 2018.
Kindly donated by Naomi Hamilton Photography. Valued at $380. Opening bid $120. NAOMI HAMILTON, 2 HOUR FAMILY STUDIO PHOTO PACKAGE NAOMI HAMILTON, FAMILY WITH PETS STUDIO PHOTO PACKAGE NAOMIHAMILTON,3GENERATIONS STUDIO PHOTO PACKAGE
13 S I L E N T A U C T I O N LOT 16 LOT 17 LOT 18 This unique opportunity is for two to three people. Helen Wellings, Senior Reporter, Seven National News, will take you on an exclusive tour of the Martin Place studios, control room, editing booths, and News programs. Watch Sunrise and The Morning Show being broadcast live from the studio with special guests, music segments, cooking demonstrations, news updates and interview link-ups. Observe how it all works and meet the TV stars and experts who put the programs together. Valid until 28 February 2019. Kindly donated by Helen Wellings and Channel 7.
Valued at $2500. Opening bid $700. This prize includes two double Magnum's of La Bohème Cabernet and Friend 2016. A blend of Cabernet Sauvignon 87%, Sangiovese 13% from the Yarra Valley region in Victoria. A potent and complex on the nose with spicy notes that mingle with aromas of blackcurrant and balsamic nuances. The palate tastes of cherries, plums, liquorice and rosemary. Mouth filling and elegant with lots of plumpness and texture. The oak perfectly fused in leaf, wild herbs and ripe fruit. Kindly donated by Winestar.
Valued at $400. Opening bid $250. Join the Sydney Harbour Research Program team investigating remnant Sydney Rock oyster reefs in the beautiful Towra Point in Botany Bay. Visit the diverse wetland complex of Towra Point Aquatic Reserve, including mangrove forests, shallow subtidal seagrass beds, mudflats and remnant oyster reeds that are teaming with migratory birds such as the royal spoonbill or a Pacific golden plover. Snorkel to assist researchers with their surveys. Help measure oyster growth or collect sediments for chemical analysis. Stop at the St George Sailing Club for lunch before heading for home.
Full terms and conditions page 22. Kindly donated by the University of Sydney and SIMS. Value priceless. Opening bid $350.
BEHIND-THE-SCENES TOUR OF CHANNEL 7 LA BOHÈME CABERNET AND FRIEND – 2 DOUBLE MAGNUMS SCIENTIST FOR A DAY – OYSTER ADVENTURE IN TOWRA POINT
14 S I L E N T A U C T I O N LOT 19 LOT 20 LOT 21 In Sydney Harbour, over 50% of the shoreline has been modified by artificial structures. The Living Seawalls team at SIMS are exploring opportunities for ecological improvement of seawalls by retrofitting them with tiles that enhance native biodiversity. The tiles, which are produced from 3D-printed molds, mimic natural habitat features and have been specially engineered to withstand local wave climates.
Help us assess the biodiversity benefits of this work, conduct fieldwork, scale a seawall with SIMS scientists, assist with species counts, and snorkel with the fish assemblages. Full terms and conditions page 22. Kindly donated by SIMS.
Value priceless. Opening bid $350. This is a unique opportunity for your next conference or offsite meeting. Enjoy a state of the art conference facility for up to 30 people for a day with modern facilities and audio visual equipment. Conference facility is subject to availability at time of booking and is available between 9am-5pm. Facility is unavailable between Christmas and New Year or at any other time when SIMS is closed. Valid until September 2019. Kindly donated by SIMS. Valued at $1500. Opening bid $500. This awesome prize includes a VIP Sumatran Tiger Jeep Feed Experience at Taronga Zoo for 8 people.
There are only 400 Sumatran Tigers left in the wild, and this is a once in a lifetime chance to get up close and personal to these amazing animals. You will enjoy access to Tiger Trek before the Zoo opens to see our Tigers at feeding time and learn about life as a Tiger. After the experience is complete, you will have the opportunity to explore the rest of the Zoo at your leisure. Valid until 1 November 2019. Full terms and conditions page 22. Kindly donated by Taronga Conservation Society. Valued at over $800. Opening bid $500. SCIENTIST FOR A DAY – LIVING SEAWALLS STUNNING CONFERENCEFACILITY OVERLOOKING SYDNEY HARBOUR VIP SUMATRAN TIGER JEEP FEED EXPERIENCE FOR 8 PEOPLE