The Messenger Monroe Township Public Schools
Page content transcription
If your browser does not render page correctly, please read the page content below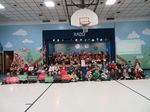 The Messenger  Monroe Township Public Schools
                                                 Williamstown, New Jersey

       January              Visit our web site: www.monroetwp.k12.nj.us                               2019

  The Monroe Township Public School District, an education team, is dedicated to the development of
 the potential and uniqueness of the individual student to become effective participants in an evolving,
   global society, while providing a safe educational environment for students to attain the skills and
              knowledge specified in the New Jersey Core Curriculum Content Standards.

                   Williamstown High School
                   would like to applaud our
  Chamber Choir for making the Final Round in
  the B101.1 Christmas Choir Competition! They
  brought home a $1000 prize that will help grow the program! They have done
  some great things this year and we look forward to seeing and hearing even more!

            WHITEHALL SCHOOL RECEIVED MINI-GRANT FROM ALA

        Whitehall Elementary is a recipient of the 2018 Hour of Code Mini-Grant, awarded from the American
Library Association. The grant, which is $500, is to help facilitate a Google CS First Hour of Code activity during
Computer Science Education Week. Whitehall plans to host an Hour of Code family event, allowing families to
learn code together, during that week.
        The grant, sponsored by the ALA and Google, is part of a program by libraries to incorporate existing
resources as well as adapting for specific school community and library needs. It is also designed to introduce
young students to computer science and coding, elements used in the creation of video games and electronics
students use so frequently.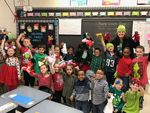 SAVING CHRISTMAS
   The best way to spread Christmas cheer, is by working together! Second graders at
Radix saved Christmas as they completed several STEM projects. The students in
Mrs. Holman & Miss Behrns' class had to work in teams to create a parachute to help
Santa land safely, a tall shelf for an Elf, and construct the tallest Christmas tree with the
most decorations. Students had to plan the best way to execute all of these tasks
using materials such as coffee filters, string, play-doh, popsicle sticks, and
cups. Teamwork was the key to saving Christmas!

                                        U-G-L-Y
                                      YOU AIN'T GOT
                                        NO ALIBI
                                       YOUR UGLY!
                                    Ugly Sweater Day is always
                                 fun especially at WMS when staff
                                 and students join in the fun. All
                                 staff and 2000 students were
eager to participate in the holiday fun including "The UGLY
Sweater" contest. Fifth graders enjoyed voting for the ugliest
sweater and then watched the movie, "Home Alone" The students had so much fun. This year's sweaters were
amazing with tinsel, lights, presents and lots of colors. Sixth graders enjoyed seeing Mr. Rojas and Mr. Dougherty
dressed in their ugly suits for the event. Seventh graders dressed up and enjoyed a breakfast of bagels, cereal, donuts,
and cookies.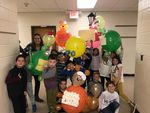 Oak Knoll Elementary participated in an assembly for Steered Straight. The team presented skits with the focus of
"We Are Worth It" emphasizing positive character traits and positive decision making – celebrates each students'
uniqueness and getting along with others!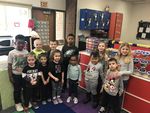 CREATING THEIR OWN GINGERBREAD HOUSES
                              Third grade students at Oak Knoll
                           School, in Mrs. Hackney's class were
                           provided materials to work with their
                           teammate in order to construct a stur-
                           dy Gingerbread house. Most teams
                           were able to successfully create their
                           house using a bit of trial and error.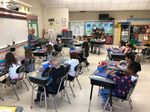 SIGHTSEEIING IN THE U.S.A.
   Students in Mrs. Jones' third grade class at Whitehall School went on virtual field trips to visit many United States
landmarks. They answered questions about the landmarks and used QR codes with iPads to visit each landmark.

                                                                             IT WAS A BLAST!
                                                                           Radix first grade students in Mrs. Jones'
                                                                        class recently celebrated the 50th day of
                                                                        school. Students dressed like boys and girls in
                                                                        the 1950's and spent the day taking part in '50'
                                                                        themed activities. In Math, students created a
                                                                        graph to show how many of them had ever
                                                                        tasted a root beer float. They completed the
                                                                        lesson by making their own root beer floats to
                                                                        enjoy!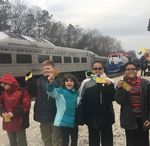 MAKING THE SEASON COME ALIVE
     December was an exciting time for all Holly Glen first graders. Throughout the month, the students learned about
holiday traditions from around the world. In addition, the students participated in a wide variety of literacy and math
activities centered around Grinch Day, Ugly Sweater Day, and Reindeer Day. However, the most exciting event was
Gingerbread Day. On Thursday, December 21, 2018 after reading stories and completing writing activities involving
Gingerbread boys and girls, the students created their own gingerbread houses. Parents and community members
were invited to assist the students with their gingerbread houses. Students were able to take their houses home to
share with family and friends. This was a fun and exciting day for everyone.

                                                               Third graders in Mrs. Hackney's class at Oak Knoll
                                                           participated in an Hour of Code. Every December millions
                                                           of students around the world celebrate Computer Science
                                                           Education Week by spending sixty minutes participating
                                                           in coding activities. The hour of coding began as an
                                                           introduction to computer science and was meant to shed
                                                           some clarity on the topic of coding. These activities show
                                                           students that everybody can learn the basics and hopefully
                                                           encourage them to participate in the field of computer
                                                           science. Students enjoyed their time coding and were
                                                           excited to know they joined 714, 788, 963 other people
                                                           around the world in their Hour of Code!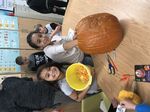 NEW SIGN OF RESPECT AT WMS                                               AND A COOL
                                                                           SURPRISE FOR THE
                                                                        RISE WINNERS AT WMS

                                                                   It was a RISE surprise for students who won the
                                                                PBIS sponsored door decorating contest earlier this
                                                                year. These students were treated to an afternoon of
                                                                ice cream and popsicle treats! What a cool way to
                                                                end the day!

   WMS has a new sign in the hallways. The sign helps
to reinforce the various RISE traits that are so popular
with its RISE program: RISE, Respect, Integrity, Self-
Control, and Empathy. These are the traits that WMS
stuffily hopes to see demonstrated in the students.

                                                                                                           A

                                                                                                      LITTLE

                                                                                                       HELP
                                                                                                       FROM

                                                                                                        THE

                                                                                                       BOOK

                                                                                                     ANGELS

    Mrs. Holman and Miss Behrn's class at Radix Elementary is loved by many people, including the friends and family
of their teachers. Over the summer, each student in the class received sponsorship from a friend or family member of
Mrs. Holman. The sponsorship has made it possible for each child to receive one or two brand new Scholastic books
each month. They are allowed to keep them, read them, love them, and share them. All of the boys and girls in the class
are so grateful for the gift of books each month!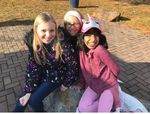 WHS' WINTER SHOWCASE
    The Visual and Performing Arts Department put on
a spectacular winter showcase titled "Some of Our
Favorite Things." It featured talented dancers, actors,
singers, and musicians who all entertained with festive
performances. The showcase also exhibited works of
art from the various classes available at the high school.

                                                 HOLIDAY
                                                SHOPPING

   Mrs. Hackney's third grade class at Oak Knoll, was assisted by Fourth Grade Caring Kids Club Members in making
holiday selections to share with their family and friends. Courtesy of the Oak Knoll PTO, lead by Barb Russell, the
students were supplied with reasonably priced keepsakes and gifts to purchase for their loved ones.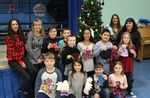 SHARING THE DIFFERENT TRADITIONS AROUND THE WORLD
    The third grade students at Holly Glen have been studying how holidays are celebrated around the world during
this time of year. Along with reading about different countries and their traditions, students performed a play 'Holidays
and Celebrations Around the World'. Students shared with the audience information about the different traditions
celebrated in the United States, including Hanukkah and Kwanzaa, and in other countries. They also sang holiday
songs. It was a wonderful holiday experience for all students!

                                             GRINCH DAY AT OAK KNOLL
                                 Oak Knoll Elementary was transitioned into
                             the wonderful world of Dr. Seuss' Whoville over
                             night. Students were elated to see all of the
                             glorious characters come to life. They were
                             even visited by The Grinch himself and felt like
                             they stepped right into the movie as they
                             traveled the main hallway. Students were
                             treated to an extra grinchy viewing of the movie
                             in the auditorium with their classmates with a
                             small post-movie, in person skit, by our very
                             own Cindy Lou Hoo and The Grinch!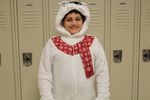 OAK KNOLL
 CELEBRATES
RESPECT AND
  SPIRIT WEEK

    Across the elementary schools we celebrated Respect
Week and School Violence and Awareness Week combined
into SPIRIT WEEK to promote safe schools and a sense
of community! Oak Knoll students and staff enjoyed each
and every day. On Monday, "We Rocked," and dressed
like rock stars. Tuesday we "Teamed up for Safe Schools,"
and wore our favorite team apparel. Wednesday we
were "Resting Easy," because we were safe, in our
pajamas. Thursday we were taking our "Hats Off to Safe
Schools," during Hat Day. Finally, on Friday we all showed
our school spirit by wearing blue and white, our school
colors! Go Braves!
                           See next page for more pictures
OAK KNOLL
                                                     CELEBRATES
                                                      RESPECT
                                                     AND SPIRIT
                                                        WEEK
                                                    See previous page

                                   WMS SHOW EAGLES PRIDE
WMS hosts weekly spirit days wearing WMS attire and Eagles clothing. Spirit days help bring together the students and
staff with a common cause. Teachers incorporate football skills and team sports objectives to have fun with the topic.

          Holly Glen Autism Program enjoyed their Halloween parade. Go Noodle was a big hit at Oak Knoll.
DECK THE DOORS WITH HOLIDAY CHEER
   The halls at Oak Knoll Elementary were
bustling with holiday cheer. Everywhere you
looked there was some sort of happiness
being spread. From elves on shelves, to the
Grinch trying to steal Christmas and
students catching snowflakes, each door
was decorated with festive images and
students gleamed with pride as they exited
each and every door.

                                                    WHAT HAPPENED WHEN THE
                                                      VOLCANOE ERUPTED?
                                                  Students in Mrs. Goffredi and Mrs. Shannon's second grade
                                              class at Whitehall Elementary School were learning about Earth's
                                              surfaces and how earthquakes and volcanoes can change
                                              the land. The students traveled back in time and acted out how
                                              villagers lives were changed by an erupting volcano. One student
                                              was a reporter and asked questions of the "villagers."
                                              The students had a lot of fun while learning!
LEAF HUNTING
                                                                            Students in Ms. Wetzel's class at Holly Glen
                                                                        enjoyed the beautiful fall weather while going
                                                                        on an Autumn Leaf Hunt to search for different
                                                                        looking leaves. They were able to discover the
                                                                        names of the trees the leaves fell from by using
                                                                        a diagram to match. The students then created
                                                                        a short poem using adjectives and verbs to
                                                                        describe the leaves and showcased their typing
                                                                        skills. Their teacher is so proud of their
                                                                        unbelievable writing!

   WMS' fifth graders enjoyed a Thanksgiving feast on Wednesday,
November 21st. Mrs. Kimberly Morris coordinated the annual event
with the help of many dedicated parents, who cooked and served a
traditional Thanksgiving meal to the teachers and students. The fifth
graders in Ms. Brody's class declared the mashed potatoes as the
best dish, but it all looked delicious. Mrs. Mericle and Mr. Whirlow
stopped by to dine with the children and wish them a happy holiday.
The students were stuffed as turkeys by the end of the day.
Gobble, gobble!

                                                                              WILLIAMSTOWN
                                                                                 PROJECT
                                                                        Second graders at Radix have been studying
                                                                    different types of communities in Social Studies. In
                                                                    order to better understand a suburb, Mrs. Holman
                                                                    and Miss Behrns' class created replica dioramas
                                                                    of popular Williamstown landmarks, including the
                                                                    library, police and fire departments, Ireland Hoffer
                                                                    House, Shop Rite, and the Amish market - just to
                                                                    name a few. Students then were able to place their
                                                                    landmark on a large-scale map of Williamstown. It
                                                                    was a fun way to see that Williamstown is, indeed,
                                                                    a suburb!
Oak Knoll held a Fun Family Night at Texas Roadhouse. The money
raised will go towards a Pavilion for their playground. There was much
excitement in the air as Oak Knoll students and staff galloped around the
restaurant in support of their school!

                                                                                                    HOWDY
                                                                                                 HAPPENDINGS
                                                              NOVEMBER IS "THANKFUL FOR
                                                             FAMILES" MONTH @ HOLLY GLEN
                                                          Third graders were very fortunate to have family members
                                                       come into their classrooms to share a favorite book. Everyone
                                                       thoroughly enjoyed this activity. Reading together is an excellent
                                                       way to connect with your child and it also improves reading
                                                       comprehension, vocabulary, and writing skills. Holly Glen
                                                       students are truly thankful for their families.
HOW MANY SEEDS IN A
                             PUMPKIN?
                           AND WHAT DO YOU
                            DO WITH THEM?

   Do you know how to carve a jack o' lantern? It has been a favorite Halloween tradition for many years. This October
Mrs. Greener's and Mr. Snape's third graders at Holly Glen did exactly that! Students gathered to complete various
pumpkin activities. They made predictions as to the height, stem length, diameter, circumference, and weight of the
pumpkin and then found the actual measurements. They even estimated the number of seeds inside the pumpkin and
then found the actual number. There were in 1,605 in all! The seeds were later roasted and enjoyed by all. Finally, the
students chose a scary design and Mr. Snape carved the pumpkin for all to enjoy!

                                                                                   ESCAPE RADIX

                                                                  Second grade students at Radix had to beat the clock
                                                              to "Unlock Thanksgiving". Mrs. Holman and Miss Behrns'
                                                              classroom was transformed to a large escape challenge,
            AND THE BEAT GOES                                 which required students to work in groups to solve
          Mrs. D'Angelo's first grade class at Whitehall      many higher-order mathematical problems. Once they
       Elementary practices "The Pumpkin Patch."              "unlocked" one challenge, they moved along to the next,
  Students discussed minor tonality and boom-wackers          more difficult, challenge. The groups of second graders
  created the accompaniment.                                  put their brains together and were able to unlock all of the
                                                              challenges!
THE PUMPKIN WHO?
                                         Gianna Visceglia, a current Rowan University
                                      student & Williamstown HS Graduate, visited
                                      Mrs. Mossbrucker's third/fourth grade class
                                      at Oak Knoll. Miss Visceglia, President of the
                                      Applied Behavior Analysis Club at Rowan
                                      University gave each student a booklet entitled
                                      "The Pumpkin Who?" that was created by
                                      Rowan University students that are members of
                                      the ABA Club at Rowan. The students in Mrs.
                                      Mossbrucker's class enjoyed Miss Visceglia's
                                      visit and look forward to future activities with
                                      Miss Visceglia and members of the ABA Club
                                      from Rowan University.

   KaHoot
       Mrs. Jones's third grade
class at Whitehall Elementary
practices rhythms on KaHoot!
       KaHoot is a game where
students are scored on the
correct answer as well as time.
It is a fun, competitive game to
play with the class!

                                   FOLLOWING THE LIGHT
                     Mrs. Morris and Ms. Fimiani's first grade class at Whitehall
                 Elementary shines a light on science! Students investigated how
                 light travels and what happens when objects get in the path of a
                 beam of light. The students loved learning about light!
HONORING OUR VETERANS

                                  On November 13th, Whitehall's Student Council
                              hosted a breakfast in honor of Veteran's Day. Nearly
                              40 veterans joined their Whitehall family members to
                              enjoy a delicious breakfast prepared by volunteers
                              from Whitehall's family and staff. Afterwards, Student
                              Council members hosted an informational assembly in
 honor of our veterans. Students had the opportunity to sing patriotic songs and learn about Monroe Township's brave
 men and women who served in the armed forces. A special thanks goes to everyone who helped serve breakfast,
 and to our honored veterans. Thank you for your service- we will never forget!

                                                                                                 WHERE DID
                                                                                                  HE HIDE
                                                                                                  THEM?

    The Turkey Gobbler paid a visit to Mrs. Holman & Miss Behrns' second grade class at Radix! He stole all of the
punctuation from the classroom and challenged the boys and girls to several tasks to get them back. Students worked
in groups to complete a series of activities to earn their punctuation back from the naughty Turkey Gobbler!
BUILDERS' CLUB
                  BUILDS BASKETS
      On Friday, November 16th, student members of the WMS Builders' Club stayed after school with advisors,
Mrs. Krystal Kuni, and Mrs. Katie Preto, to help make Thanksgiving baskets for Monroe Township community members
in need. Many staff members stayed after to help as well, some bringing along family members. The group was able to
help 70 families. Each family will receive a basket of Thanksgiving goodies such as stuffing, corn, potatoes, and a turkey,
along with a bag of general dry goods. They could not have done it without the generous spirit of the students and staff
members within the school who donated the food items.

                                                          ENJOYING A MEAL TOGETHER
                                                      Whitehall Elementary held their Annual Thanksgiving Day
                                                   Feast. The Chartwell Staff served a beautiful buffet lunch to the
                                                   students, staff, and their families. Everyone appreciated and
                                                   enjoyed the time they spent together during the much anticipated
                                                   school-wide tradition!
50th
                                                                                                              DAY
                                                                                                           PARTY

                                                                  Radix first grade students celebrated the 50th Day
                                                             of School in a big way. Students dressed up just like boys
                                                             and girls in the 1950's.
                                                             They even took part in a
                                                             'sock hop'. They twisted
                                                             to Chubby Checker,
                                                             danced to the 'Hand Jive'
                                                             and hoola hooped their
                                                             little hearts out. The boys
                                                             and girls loved going
                                                             back in time!

                                     SHARING CULTURALS
   The students in Mrs. Wristbridge's class at Holly Glen learned that even though we have many differences, we are
very similar, too. Earlier in the month students had discussed their different cultures and were presented with a family
project of creating a cultural
box. On Friday November 16th,
students brought in their boxes to
share. These boxes were full of
creative ways to describe the
students' backgrounds from real
objects to magazine pictures. Two
students even brought in outfits
they wear to their religious ser-
vices and pictures of celebrations
from their parents' homeland. The
students even ended the day with
a special treat from India. Many
were surprised how tasty the treat
was and were so excited to see
how much they had in common.
As a wrap up to the learning,
parents were invited to attend our
Thanksgiving feast and to bring in
treats that are family favorites.
Students tried new foods and
enjoyed the extra guests that helped out. Mrs. Wristbridge is truly thankful for her students and their families this year!
FIFTH GRADE RISE REWARD DAY
                                                           WMS fifth grade students enjoyed a beautiful day at Owens
                                                        Park on November 20th. Students who earned at least 30 RISE
                                                        points during the 1st marking period were eligible to attend this
                                                        special trip. Classes were escorted by their teachers to Owens
                                                        Park, where they spent the afternoon playing on playground
                                                        equipment, taking walks, or playing with sports equipment that
                                                        they brought over. The weather was just perfect for a day to
                                                        spend outside to celebrate success with friends. Fifth graders
                                                        RISE to the occasion!

 GETTING INTO THE SPIRIT
     OF THE SEASON

         German Gingerbread
   The WMS German Honor classes worked with
special needs classes to create beautiful ginger-
bread houses. This activity helped students get into
a holiday spirit. Hopefully, Hansel and Gretl weren't
nearby to sneak a little nibble!

  COUNTING
     CUBES

                                                 Third grade students are beginning to venture into the area
                                              of Operations & Algebraic Thinking. Pictured here are students from
                                              Mrs. Hackney's class at Oak Knoll Elementary delving into the concept
                                              of equal groups. Students are partitioning their cubes into equal groups
                                              to represent their factors and assist them in finding the product. Stu-
                                              dents excitement is multiplying as they become more and more fluent
                                              with their facts.
TURKEY
                                        TROT
                                         TIME

   Third grade students at Oak Knoll Elementary participated in a Turkey Trot between classroom. Each homeroom
class discussed and learned about cultural and historical facts about events leading up to the First Thanksgiving. They
also conversed about the types of activities and games Native American and Pilgrim children, according to historians,
may have engaged in during this time era. Pictured here are students participating in a game of Naughts and Crosses,
which is very similar to the well known game of Tic-Tac-Toe, except we no longer draw in the sand with sticks. Both
forms of the game provide entertainment for the children.

                                 SCARECROW FESTIVAL
   The first graders at Holly Glen and Whitehall were surprised to walk outside to a field filled with pumpkins and
scarecrows. The best surprise was when the children discovered that the scarecrows were actually their parents. Each
student was allowed to pick a pumpkin and take it to their classroom to decorate it. This is an annual tradition where
both schools were able to celebrate together.
VROLIJK
                                     KERSTFEEST!
                           Second grader's in Mrs. Goneau and
                        Mrs. Finn's class were visited by Sinterklaas
                        as a part of their Christmas Around the World
                        Study. The jolly fellow visited Radix because
                        students left their shoes outside with carrots in
                        them for his horse. He left them treats in their
                        shoes, and even came into the classroom to
                        pay them a merry visit.

          LET IT SNOW, LET IT SNOW,
                 LET IT SNOW!
   Whitehall School's fourth grade chorus performed the musical "Snow
Biz." The musical is about fun winter activities such as: making snow
angels, snowboarding, ice fishing, building snowmen, and snowball
fighting!
BALLOONS
                                                          OVER
                                                         RADIX

   It's a bird.... It's a plane.... It's GARFIELD! Students in Mrs. Symonds' second grade class at Radix, did a STEM
study of the Thanksgiving Day parade. Students explored the world of balloon making and even took their own hand at
designing a larger-than-life balloon for a parade. Gaining inspiration from the story "Balloons Over Broadway", students
learned about the hard work that goes into being a puppeteer for the Macy's Thanksgiving Day parade. In groups,
students had to design and build a balloon that was in the likeness of a popular character. They then paraded down the
hallway with their balloons. Some balloon characters included Fly Guy, Minnie Mouse The Grinch, and the Phillies
Phanatic.
WHAT'S FOR LUNCH?
   The Radix Elementary Student Council took part in a Youth Advisory Committee (YAC) Meeting. This meeting was
held with the head of our cafeteria, Mrs. Iannetta and Chef Blake . The purpose of the meeting was to get the
students' input on the food that is currently served and to solicit any new ideas the students may have for the
cafeteria. The children were also treated to a demonstration on how to make some notorious and delicious home-
made hummus. Students were also able to sample this, and other offerings from the cafeteria. Bon Appetite!

      WILL IT SINK
           OR
     WILL IT FLOAT?

   Mrs. Hood and Mrs. Steinke's
fourth grade class at Whitehall
brainstormed, constructed, and then
built "Mayflower" boats in class.
They then put them to the test to
see if they could float in water and
could withstand the weight of five
pennies. Four out of five groups
were successful with their first build
and they discussed several ways to
improve the boats, what methods
worked well and what methods did
not.
HOLLY GLEN'S
      "THANKFUL
      FOR FAMILY"
          MONTH

                                                    Mr. Czbas' Second Grade class at Holly Glen enjoyed a month
                                                full of special guest classroom readers. Parents were invited to
                                                come into the classroom to read a special book with their child
                                                helping along the way. The students enjoyed great read aloud
                                                books like "A Big Guy Took My Ball" by Mo Willems and "The
                                                Book with No Pictures" by BJ Novak. The parents were thrilled
                                                reading to the class and the students were thankful for their
                                                parents showing them the love of reading.

             A MUSICAL CELEBRATION FOR THE HOLIDAY SEASON
   WMS hosted its annual holiday concert
at the WHS auditorium. Ms. Karyn Park's
several levels of band students played
selections of instrumental songs, alternating
with Mrs. Gerelli and Mr. Dougherty's choirs.
Ms. Test's jazz band also featured a song.
The audience was packed. At the end of the
evening, all of the musical groups combined
to perform a grand finale. It was a wonderful
way to get everyone into the holiday spirit.
Let it Snow! Students in Mrs. Kalabic
and Mrs. Pitts' second grade class at
Radix celebrated winter with a special
Snowman Day. Students dressed as
                                           ALL READY AND WAITING FOR THE SNOW!
snowmen to get into the spirit of
winter. Each child had a chance to
create a minty, sparkly snowman out of
playdoh- some special designs included
a snowman pizza delivery guy and a
snowball throwing snowman! Students
then participated in some fun teamwork
games. A favorite activity required
students to work together to transform a
classmate into a snowman using toilet
paper and various props. What a fun
way to welcome the winter season!

                                                    THINKING OF OTHERS IN NEED
                                       After reading the novel, The Glass Castle, Mrs. Grillo's classes at Williamstown
                                       High School were inspired to help those in need and made over 400 Peanut
                                       Butter & Jelly sandwiches for Cathedral Soup Kitchen! Cathedral Soup Kitchen
                                       serves dinner Monday through Friday and also provides meals for local after
                                       school programs, groceries for low-income senior centers, and sends donated
                                       food to local pantries, churches and soup kitchens that also serve their client
                                       population.
SNOW BETTER
                                                                                               TIME TO READ
                                                                                                  @WMS

    The 5/6 and 7/8 libraries at WMS hosted a two week long book fair. Students and teachers were able to purchase
 books for themselves, and as presents. Seventh grade students helped make decorations for the library. It was a huge
 success!

                                                                  WHERE IS THE GINGERBREAD MAN?

                                                                 Second grade students at Oak Knoll were
      HONORING THOSE WHO SERVED                               disguising their Gingerbread Men. With a quick glance
            IN THE MILITARY                                   and you would see Jojo Siwa, Edward Scissor Hands,
                                                              cats, Santa Claus and a cheerleader. However, after
    Williamstown High School's NJ-20003rd AFJROTC             closer inspection you would see, it was really just
cadets took part in the annual Wreaths of Remembrance         a gingerbread man in disguise. All of the second
ceremony in December. It was a moving service to honor        graders were so creative and did such a great job
all those who proudly served our country.                     describing their character in their writing.
WE LOVE OUR BUDDIES!
                                                                         Ms. Gallagher's Holly Glen second grade
                                                                  class and the preschool classes of Ms. Grayson,
                                                                  Mrs. Barrett, Mrs. Phomsavath and Mrs. O'Meara
                                                                  are promoting positive social behavior. The second
                                                                  graders visit these classes once a week to help
                                                                  model good behavior for the preschool classes. The
                                                                  children enjoy playing kitchen, using playdough,
                                                                  building with Legos and many other activities.
                                                                  Pictured here is Ms. Grayson's class along with
                                                                  some of Ms. Gallagher's students after enjoying
                                                                  some active time of Go Noodle, a popular brain
                                                                  break video.

          ST. NICHOLAS DAY
    Mrs. Webb's German students at WMS celebrated the
holiday of St. Nicholas Day last week. Students left their
shoes in the hallway outside their classroom, hoping that
he would visit and leave them treats. While they waited,
the students sang a song about his generous spirit. What
a fun way to learn about world cultures.

                             WHAT A THANKSGIVING FEAST!
   Wow- a Thanksgiving Feast before Thanksgiving? With the help of the parents and teachers, students in
Mr. Czbas' Second Grade class at Holly Glen enjoyed a plate full of delicious food during their classroom feast. With
the crockpots all in row and parents at the ready, the students enjoyed some turkey, stuffing, mashed potatoes, you
name it! Of course we finished with pumpkin pie, but Mr. C did forget one thing… whipped cream. The classroom
feast was a success and a day to enjoy some great food and friendship.
HOW DO EVEGREENS GROW?
                 Students in Mrs. Giagunto & Mrs. Steets' Radix fourth
              grade co-teach engaged in different science learning stations
              to observe & investigate more about evergreen "Christmas"
              trees. Students learned how to classify evergreen trees based
              on length and color of needles and color and texture of bark.
              Finally, students examined evergreen clippings to learn more
              about native evergreens to New Jersey and those harvested
              on nearby Christmas tree farms.

             WMS' PRINCIPAL'S BREAKFAST
   The WMS Fifth Grade Principal's Breakfast was held on Friday, 12/17 in
Cafeteria A. Almost 100 students were honored. The program included music
from Mr. Dougherty's 5th grade choir, speeches from elementary principals,
and a keynote from Mrs. Mericle. Students and their families enjoyed bagels
and pastries while listening to the speeches, hearing all about the students'
great progress during the 1st marking period. WMS is proud to have so many
wonderful students to honor.
CONGRATULATIONS TO AIDEN

                               Aiden Ehrke, a fourth grade student at Whitehall, sure loves
                               science and engineering. He enthusiastically works through
                               science experiments and engineering challenges in his TAG class. So, it only made
                               sense that he would work on earning as many STEM badges he could as a cub
                               scout. The Boy Scouts of America offers 9 STEM badges. Aiden earned the first
                               seven and only has two left to complete...simply because they were newly added
                               to the program. He already has his sights set on those. Last week he earned the
                               Dr. Luis Alvarez Supernova Award by incorporating experiments and lessons he had
                               done in his TAG class, as well as research and projects that he did at home. Aiden's
                               interest and excitement for STEM and his initiative to take on such a big project made
                               both his family and his teachers so proud. Keep up the great work, Aiden!

                                                                           WHERE IS
                                                                            THE ELF?
                                                                     Dr. DelConte visited Mrs. Wallace's
                                                                 second grade class at Radix to kick
                                                                 start the Holiday season. She read the story "How
                                                                 to Catch an Elf" to the class and helped them come
                                                                 up with some unique and creative ways to catch an
                                                                 Elf. Students wrote their ideas down to share with
                                                                 the rest of the school!
                                                                         Happy Elf Hunting, Mrs. Wallace's class!

PERFORMING WORD SURGERY
Paging Doctor Zale! Students in Mrs. Zale's first grade class at Radix Elementary performed word surgery to create
contractions. After they washed and suited up, students used their scissors to cut apart words and to carefully suture
them together with apostrophes to make contractions. These little surgeons are contraction experts!
RESEARCHING MAJOR WATER
                                                                  The third grade TAG students at both Whitehall and
     SOURCES AROUND THE WORLD                                 Radix in Monroe Township are doing a major STEM unit
                                                              on water. The Grand Challenge of Engineering #5 states
                                                              the need to "provide access to clean water" to everyone.
                                                              This is a very serious issue, and one that is not prevalent
                                                              here in Williamstown. Understanding the enormity of the
                                                              situation is not easy for a 9 year old. While 75% of the
                                                              earth is covered in water, 97% is salt water. 70% of the
                                                              remaining water is frozen in glaciers and 96% of what's
                                                              left is underground! Of the remaining water, only 20% is
                                                              potentially drinkable in lakes and rivers. The students
                                                              picked one of the major lakes or rivers of the world and
                                                              researched it to find out it's physical features, uses
                                                              and water quality. Then they made large postcards
                                                              to send to other teachers to share. They added maps
                                                              and even designed their own stamps!

       CREATING CONSCIOUS CONSUMERS

   The fourth grade TAG students at Whitehall and Radix Schools are
deep into an economics unit. Their culminating goal is to create a
business plan in order to demonstrate how an economy works. Along
the way they have assumed the roles of both a producer and a
consumer. As a producer, they simulated a business to demonstrate
how specialization and division of labor can increase production. As a
consumer, they completed product comparison testing. The students
tested six paper towel brands for cost efficiency, absorption and
strength. They learned that the most expensive brand isn't always the
best and that products have a variety of features that make
them desirable to consumers. Those features are important to families in deciding which brand to chose. When
it comes to paper towel, Bounty remains the best overall buy. While it's the most expensive, it is by far the most
absorbent and strongest of the brands they tested. Surprisingly, Scott, a popular brand in toilet paper, scored low and
both categories. It was also the only brand that was one-ply. There sure is a lot to think about when making purchases
as a consumer. Next up...advertising!
TIS THE SEASON
                                                                                  FOR GIVING!

                                                                              With the help of the Holly Glen and
                                                                             Radix staff, the Holly Glen third grade
                                                                             Student Council members were able to
                                                                             donate hats, gloves, mittens, and
                                                                             scarves to the community for the quickly
                                                                             approaching winter season.
                                                                             This annual giving is always appreciated
                                                                             by Mrs. Eileen Simpler who makes sure
                                                                             they are given to families who need
                                                                             them the most in Monroe Township.

                                    TIS THE
                                    SEASON
                                 FOR EATING
                                      TOO!

    WMS 5th Grade teachers celebrated the winter season with their annual holidip party. Mrs. Ashley Nottis and
Ms. Lauren Murphy hosted the annual event, with this year's theme being a "Flamingle and Jingle" vacation paradise.
Teachers each brought in a favorite dip to share with one another. Some favorites included a taco dip, hamburger dip,
raspberry dip, and a cheesesteak dip. The teachers enjoyed spending time with one another before teaching the rest
of the day.

                                                                                ALL ABOARD
                                                                             THE SANTA EXPRESS

                                                                 Holly Glen students in Ms. Wetzel's class, along with
                                                             Ms. Goodz, Ms. Zavis, Mrs. Stavola, and Ms. Crossley's
                                                             classes, boarded The Santa Express with the Cape May
                                                             Seashore Lines. They practiced their community skills,
                                                             while enjoying a beautiful train ride through South
                                                             Jersey. Students received a special visit from Santa
                                                             Claus and one of his elves. They also received a special
                                                             ticket and a magical Christmas bell to help keep the
                                                             Holiday Spirit alive!
Mrs. Temple's class is spreading warmth and kindness this Christmas season. The first grade students at Radix
spent December collecting 100 pairs of gloves and mittens to be donated to a local homeless shelter. The students'
wrote a letter to the Radix community and posted it outside of their classroom door. The boys and girls are so proud of
their collection and have learned a valuable lesson about the true meaning of the Holiday hustle and bustle!

           REACHING OUT TO THE CHILDREN AT CHOP

                                                                                                    'Tis the season of
                                                                                               giving at Williamstown
                                                                                                High School as DECA
                                                                                               successfully conducted
                                                                                                   their 13th Annual
                                                                                                  Toy Drive for the
                                                                                                Children's Hospital of
                                                                                                Philadelphia. All toys
                                                                                               were dropped off to the
                                                                                                Child Life Department
                                                                                                for distribution during
                                                                                                 the holiday season
                                                                                                  and all year long!
A SPECIAL
                                                                                                 VETERANS
                                                                                                DAY VISITER
                                                                                                 COMES TO
                                                                                                   RADIX

                                                                  Mrs. Zale and
                                                                Miss Tarsatana's
                                                                first grade class
                                                                at Radix wrote
 letters to soldiers for Veterans Day. One student in the class was especially
 proud to write letters to veterans. Eric's dad is First Sergeant Easter, and
 he presented the class with a certificate of appreciation from his unit! The men
 and women also wrote some notes back to the children. It was an amazing
 experience, and the children were so excited!

                                           SAVING
                                            THE
                                        GINGERBREAD
                                            MAN

   Run, run, run, as fast as you can! Mrs. Gabbianelli's class helped the Gingerbread Man escape across the river
during a STEM project. The Radix third graders had to work together to design a raft that would allow a gingerbread
man float in water without sinking.
LEARNING ALL ABOUT OUR TOWN
   Mrs. Holman & Miss Behrns' class received some attention from the Office of Community Development here in
Monroe Township. They created replicas of different landmarks and businesses around Williamstown as a part of their
study of Communities. The Director of Community Development came to visit the students and explain how towns
expand, build, and become stronger communities. They then brought several of the students' projects to the municipal
building to be proudly displayed for all of the town to see. Thank you, Tara Park, for visiting our students and giving
them even more Williamstown Pride!

  FAREWELL, MRS. SLEMMER

                                                                              HOLIDAY TRIP
                                                                     7th and 8th grade WMS POR teachers took their
                                                             students on an annual field trip to see Philadelphia
                                                             holiday traditions. The teachers and students enjoyed a
      Williamstown High School is sad to bid                 visit to the Macy's building to see the famous light show.
  Mrs. Pat Slemmer a happy retirement. After 36              They then visited the German themed Christmas village
  years as the media center specialist, she is               shop for some light shopping and snacks. The last stop
  taking some well-deserved time to herself! We              was the Comcast building to see their light show. Every-
  will miss you.                                             one enjoyed one another's company and the cheer of
                                                             the holiday season.