2019-2020 Student Guide to Osteopathic Medical Colleges - CHOOSEDO.ORG - AACOM
Page content transcription
If your browser does not render page correctly, please read the page content below
2019-2020 Student Guide to Osteopathic Medical Colleges

                                                                      2019-2020 STUDENT GUIDE TO OSTEOPATHIC MEDICAL COLLEGES

CHOOSEDO.ORG
Facebook "f " Logo   CMYK / .eps   Facebook "f " Logo   CMYK / .eps
Visit ChooseDO.org to access the online version, download a free PDF
copy, and order additional hard copies.

                                                                         Special Note
                                                                         The 2019-2020 Student Guide to
About the manufacture of this publication:                               Osteopathic Medical Colleges is
                                                                         published annually by AACOM. The
• Environmentally friendly vegetable-based inks were used throughout     Student Guide is a collaboration
  the print process.
                                                                         between AACOM and the colleges
• All printing papers used were certified to follow the                  of osteopathic medicine. AACOM
  "Going Green" world environmental initiative.                          would like to thank everyone who
                                                                         provided and/or reviewed content.
                                                                         Although AACOM has attempted
     10% Post-Consumer Waste
                                                                         to verify the accuracy of the data
                                                                         submitted by the colleges, AACOM
                                                                         cannot, as such, guarantee the
Copyright ©2019 American Association of Colleges of Osteopathic          accuracy of the data and as such the
                                                                         information in this book is provided
Medicine. All Rights Reserved.
                                                                         to you "as is." AACOM assumes no
                                                                         responsibility and shall not be liable
                                                                         for damages of any kind whatsoever
                                                                         based upon your use or reliance
                                                                         on the information provided in this
No part of this publication may be reproduced or transmitted in any      book. The AACOM Application
form or by any means electronic or mechanical, including photocopying,   Service (AACOMAS) and the
recording, or by any information storage and retrieval system, without   individual colleges are subject to
written permission from the American Association of Colleges of          applicable federal, state, and local
Osteopathic Medicine.                                                    laws prohibiting discrimination.

Cover photos courtesy of A.T. Still University School of Osteopathic
Medicine in Arizona (ATSU-SOMA), Des Moines University College
of Osteopathic Medicine (DMU-COM), Liberty University College of
Osteopathic Medicine (LUCOM), Marian University College of Osteopathic
Medicine (MU-COM), New York Institute of Technology College of
Osteopathic Medicine, Philadelphia College of Osteopathic Medicine
(PCOM), Western University of Health Sciences/College of Osteopathic
Medicine of the Pacific (Western U/COMP).
2019-2020 Student Guide to Osteopathic Medical Colleges

         Choose DO is an effort by the American Association of Colleges of Osteopathic Medicine, a
         national organization representing osteopathic medical education in the United States.

         The information contained in this publication is subject to change throughout the application
         cycle. To view the most up-to-date version of this publication, visit ChooseDO.org.

                                       CHOOSEDO.ORG
                                        Facebook "f " Logo   CMYK / .eps   Facebook "f " Logo   CMYK / .eps
Photo courtesy of University of New England
                                             College of Osteopathic Medicine (UNE COM)
ii   CHOOSE DO A NEW GENERATION OF DOCTORS
Photo courtesy of New York Institute of Technology
                                                                                                                                                                                            College of Osteopathic Medicine (NYITCOM)

                                                     TABLE OF CONTENTS
Welcome Letter from AACOM's President ............................................................. 3                                  • United States Medical Licensure Examination (USMLE)
Colleges of Osteopathic Medicine – Admissions Offices and Locations.. 4-5                                                              General Admission Requirements...................................................................... 16-17
Timeline for Premedical Students Applying to Osteopathic Medical                                                                       • Mean Grade Point Averages for Entering Students
Colleges ........................................................................................................................6-9   • Mean Medical College Admission Test (MCAT) Scores for Entering Students
Overview of Osteopathic Medicine ...................................................................10-11                              • Letters of Recommendation
• Osteopathic Medicine                                                                                                                 • Criminal Background Checks and Drug Testing
  is a Distinctive Form of Medicine                                                                                                    Financial Aid.................................................................................................................... 18
• DOs Work in Partnership with Their Patients and Are Trained to Look                                                                  Application Deadlines.................................................................................................. 19
  at the Whole Person                                                                                                                  Diversity in Osteopathic Medical Education........................................................ 20
• Fifty-Six Percent of All DOs Choose to Practice in the Primary Care                                                                  About the AACOM Application Service (AACOMAS).................................21-23
  Disciplines of Family Practice, General Internal Medicine, and Pediatrics                                                            • Accessing the Application
• Osteopathic Medical Students Learn that Structure Influences Function                                                                • Official MCAT Scores
• DOs Conduct Clinical and Basic Science Research to Help Advance                                                                      • Academic History and Transcripts
  the Frontiers of Medicine                                                                                                            • SPAM Blocking and Technical Compatibility
• Tenets of Osteopathic Medicine                                                                                                       • Application Fees
• What Does a DO Do?                                                                                                                   • Early Decision Program
• Consider a Career in Osteopathic Medicine                                                                                            • Application Traffic Guidelines
• Osteopathic Medicine in an International Context                                                                                     • Applicant Protocol
• Learning About the Practice of Osteopathic Medicine and Shadowing a DO                                                               • AACOMAS Certification and Release Statements
Overview of Osteopathic Medical Education and Accreditation ............ 12-13                                                         • Note to Applicants
• Accreditation                                                                                                                        The Admissions Interview.................................................................................... 24-25
• Osteopathic Medicine Four-Year Curriculum                                                                                            • Interview Suggestions
Graduate Medical Education..................................................................................... 14                     • Interview Resources
• GME                                                                                                                                  Suggested Sources for More Information...................................................... 26-27
• Osteopathic Recognition                                                                                                              Individual College Descriptions (see list of colleges on page 29)........... 30-69
• Residency Match
Board Examinations and Licensure......................................................................... 15
• Comprehensive Osteopathic Medical Licensure Exam (COMLEX-USA)

                                                                                                                                 2019-2020 STUDENT GUIDE TO OSTEOPATHIC MEDICAL COLLEGES                                                                                 1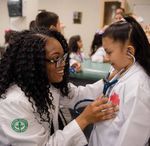 Photo courtesy of A.T. Still University School of
                                            Osteopathic Medicine in Arizona (ATSU-SOMA)
2   CHOOSE DO A NEW GENERATION OF DOCTORS
AACOM
                                                   Leading Osteopathic Medical Education

                                                                              Congratulations on your
                                                                            decision to pursue a career
                                                                               in medicine! I wish you
                                                                            the very best in your pursuit
                                                                                 of a fulfilling career.

PRESIDENT'S LETTER                                                                                      Mission
                                                                                                        The American Association of Colleges
Dear Future Physician:                                                                                  of Osteopathic Medicine (AACOM)
                                                                                                        leads and advocates for the osteopathic
CONGRATULATIONS on your decision to pursue a career in medicine! This resource is designed              medical education community to improve
to provide aspiring physicians with information about osteopathic medicine, the nation's                the health of the public.
osteopathic medical colleges, applying to osteopathic medical school, and other resources               AACOM represents and advances the
you may find helpful as you go through this process.                                                    continuum of medical education by
                                                                                                        supporting our member institutions as they
Recently, osteopathic medicine's traditional principles and practices (particularly those focused       educate the future physician workforce;
on patient-centered, preventive care) have been recognized as central to the kind of health care        increasing awareness of osteopathic
system this country needs. Osteopathic medical schools are educating the very physicians                medical education and osteopathic
needed to deliver this kind of care, and enjoy recognition for their excellence and contributions       medicine; promoting excellence in medical
to the medical profession. In fact, over the past 10 years the number of students applying to           education, policy, research, and service;
osteopathic medical schools has nearly doubled. For the incoming class of 2019, more than               and fostering innovation and quality
21,000 aspiring physicians applied to become osteopathic medical students (compared to                  throughout medical education.
more than 11,000 in 2007-08).

The education received by osteopathic medical (DO) students is rigorous and thorough.                   About AACOM
Incoming DO students are required to have strong undergraduate science backgrounds,                     Founded in 1898 to support and assist
excellent Medical College Admission Test (MCAT) scores, and must meet stringent admissions              the nation's osteopathic medical schools,
criteria. DO students participate in years of classroom, clinical, internship, and residency training   AACOM represents all 35 accredited
before they become board-certified physicians, who are able to choose among the full range              colleges of osteopathic medicine—
of medical specialties and are licensed to practice medicine in every state in the country and in       educating nearly 31,000 future
more than 65 countries abroad.                                                                          physicians, 25 percent of all U.S. medical
                                                                                                        students—at 55 teaching locations in
I hope you will take time to carefully review the resources available for you in this book and on       32 U.S. states, as well as osteopathic
our website as you consider your options for medical education. I wish you the very best in your        graduate medical education professionals
pursuit of a fulfilling career in medicine.                                                             and trainees at U.S. medical centers,
                                                                                                        hospitals, clinics, and health systems.

                                                                                                        www.aacom.org

Stephen C. Shannon, DO, MPH
President and CEO
American Association of Colleges of Osteopathic Medicine

                                                                       2019-2020 STUDENT GUIDE TO OSTEOPATHIC MEDICAL COLLEGES                       3
COLLEGES
                                         Colleges of Osteopathic Medicine – Admissions Offices
                  The American Osteopathic Association's Commission on Osteopathic College Accreditation (COCA)
                     accredits 35 colleges of osteopathic medicine offering instruction at 55 locations in 32 states.

Alabama College of Osteopathic                                                                  Idaho College of Osteopathic Medicine
                                                Burrell College of Osteopathic Medicine
Medicine (ACOM)                                                                                 (ICOM)
                                                (BCOM)
445 Health Sciences Blvd.                                                                       1404 E. Central Dr.
                                                3501 Arrowhead Dr.
Dothan, AL 36303                                                                                Meridian, ID 83642
                                                Las Cruces, NM 88001
Toll Free: (855) 364-ACOM (2266)                                                                (208) 696-ICOM (4266)
                                                (575) 674-2210
(334) 699-2266                                                                                  www.idahocom.org
                                                http://bcomnm.org
www.acom.edu
                                                                                                Kansas City University of Medicine and
                                                California Health Sciences University College
Arizona College of Osteopathic Medicine of                                                      Biosciences College of Osteopathic
                                                of Osteopathic Medicine (CHSU-COM)
Midwestern University (AZCOM)                                                                   Medicine (KCU-COM)
                                                65 N. Clovis Ave.
19555 North 59th Ave.                                                                           Locations: Kansas City and Joplin, MO
                                                Clovis, CA 93612
Glendale, AZ 85308                                                                              1750 Independence Ave.
                                                (559) 712-4200
Toll Free: (888) 247-9277                                                                       Kansas City, MO 64106-1453
                                                https://osteopathic.chsu.edu
(623) 572-3229                                                                                  Toll Free: (877) 425-0247
www.midwestern.edu                              Campbell University-Jerry M. Wallace            (816) 654-7160
                                                School of Osteopathic Medicine (CUSOM)          www.kcumb.edu
Arkansas College of Osteopathic Medicine
                                                4350 US Hwy 421
(ARCOM)                                                                                         Lake Erie College of Osteopathic Medicine
                                                Lillington, NC 27546
7000 Chad Colley Blvd.                                                                          (LECOM)
                                                Toll Free: (855) 287-6613
Fort Smith, AR 72916                                                                            Locations: Erie and Seton Hill, PA; Elmira, NY
                                                (910) 893-1770
(479) 308-2200                                                                                  1858 West Grandview Blvd.
                                                https://medicine.campbell.edu
www.acheedu.org/arcom/                                                                          Erie, PA 16509
                                                Chicago College of Osteopathic Medicine of      (814) 866-6641
A.T. Still University Kirksville College of
                                                Midwestern University (CCOM)                    www.lecom.edu
Osteopathic Medicine (ATSU-KCOM)
                                                55 31st St.
800 West Jefferson St.                                                                          Lake Erie College of Osteopathic Medicine
                                                Downers Grove, IL 60515
Kirksville, MO 63501                                                                            Bradenton Campus (LECOM Bradenton)
                                                Toll Free: (800) 458-6253
Toll Free: (866) 626-2878 x2237                                                                 5000 Lakewood Ranch Blvd.
                                                (630) 515-7200
(660) 626-2237                                                                                  Bradenton, FL 34211-4909
                                                www.midwestern.edu
www.atsu.edu/kcom/                                                                              (941) 756-0690
                                                Des Moines University College of                www.lecom.edu
A.T. Still University School of Osteopathic
                                                Osteopathic Medicine (DMU-COM)
Medicine in Arizona (ATSU-SOMA)                                                                 Liberty University College of Osteopathic
                                                3200 Grand Ave.
5850 East Still Circle                                                                          Medicine (LUCOM)
                                                Des Moines, IA 50312
Mesa, AZ 85206                                                                                  306 Liberty View Lane, CMHS 1007
                                                (515) 271-1499
Toll Free: (866) 626-2878 x2237                                                                 Lynchburg, VA 24502
                                                www.dmu.edu/do
www.atsu.edu/                                                                                   (434) 592-7444
school-of-osteopathic-medicine-arizona                                                          www.liberty.edu/lucom

4               CHOOSE DO A NEW GENERATION OF DOCTORS
Lincoln Memorial University–DeBusk              Toll Free: (866) 329-0521                       University of New England College of
College of Osteopathic Medicine                 (509) 249-7888                                  Osteopathic Medicine (UNE COM)
(LMU-DCOM)                                      www.pnwu.edu                                    11 Hills Beach Rd.
Locations: Harrogate and Knoxville, TN                                                          Biddeford, ME 04005
                                                Philadelphia College of Osteopathic
6965 Cumberland Gap Pkwy.                                                                       (207) 602-2212
                                                Medicine (PCOM)
Harrogate, TN 37752                                                                             www.une.edu/com/admissions
                                                4170 City Ave.
Toll Free: (800) 325-0900 ext. 7090
                                                Philadelphia, PA 19131                          University of North Texas Health Science
(423) 869-7090
                                                Toll Free: (800) 999-6998                       Center at Fort Worth/Texas College of
www.lmunet.edu/academics/schools/
                                                (215) 871-6700                                  Osteopathic Medicine (UNTHSC/TCOM)
debusk-college-of-osteopathic-medicine/
                                                www.pcom.edu                                    3500 Camp Bowie Blvd.
Marian University College of Osteopathic                                                        Ft. Worth, TX 76107-2699
                                                PCOM Georgia
Medicine (MU-COM)                                                                               Toll Free: (800) 535-TCOM (8266)
                                                625 Old Peachtree Rd., NW.
3200 Cold Spring Rd.                                                                            (817) 735-2204
                                                Suwanee, GA 30024
Indianapolis, IN 46222                                                                          www.unthsc.edu/
                                                Toll Free: (866) 282-4544
(317) 955-6297
                                                (678) 225-7500                                  University of Pikeville–Kentucky College of
www.marian.edu/osteopathic-medical-school/
                                                www.pcom.edu/campuses/georgia-campus            Osteopathic Medicine (UP-KYCOM)
Michigan State University College of                                                            147 Sycamore St.
                                                PCOM South Georgia
Osteopathic Medicine (MSUCOM)                                                                   Pikeville, KY 41501
                                                2050 Tallokas Rd.
Locations: East Lansing, Detroit, and                                                           (606) 218-5406
                                                Moultrie, GA 31768
Clinton Township, MI                                                                            www.upike.edu/KYCOM
                                                (229) 798-4710
965 Fee Rd.
                                                www.pcom.edu/campuses/georgia-campus/           Edward Via College of Osteopathic
A136 East Fee Hall
                                                                                                Medicine–Auburn Campus (VCOM-Auburn)
East Lansing, MI 48824                          Rocky Vista University College of
                                                                                                910 South Donahue Dr.
(517) 353-7740                                  Osteopathic Medicine (RVUCOM)
                                                                                                Auburn, AL 36832
www.com.msu.edu                                 Locations: Parker, CO and Ivins, UT
                                                                                                (334) 442-4050
                                                8401 S. Chambers Rd.
New York Institute of Technology College of                                                     www.vcom.edu/auburn
                                                Parker, CO 80134
Osteopathic Medicine (NYITCOM)
                                                (303) 373-2008                                  Edward Via College of Osteopathic
Locations: Old Westbury, NY and Jonesboro, AR
                                                www.rvu.edu                                     Medicine–Carolinas Campus
Northern Boulevard, P.O. Box 8000
                                                                                                (VCOM-Carolinas)
Old Westbury, NY 11568-8000
                                                Rowan University School of Osteopathic          350 Howard St.
(516) 686-3997
                                                Medicine (RowanSOM)                             Spartanburg, SC 29303
http://nyit.edu/medicine
                                                42 E. Laurel Rd., Academic Center               (864) 327-9906
Nova Southeastern University Dr. Kiran          Stratford, NJ 08084-1501                        www.vcom.edu/carolinas
C. Patel College of Osteopathic Medicine        (856) 566-7050
                                                                                                Edward Via College of Osteopathic
(NSU-KPCOM)                                     www.rowan.edu/som
                                                                                                Medicine–Virginia Campus (VCOM-Virginia)
Locations: Fort Lauderdale and Clearwater, FL
                                                Touro College of Osteopathic Medicine           2265 Kraft Dr.
3200 S. University Dr.
                                                (TouroCOM)                                      Blacksburg, VA 24060
Fort Lauderdale, FL 33328
                                                Locations: New York City and Middletown, NY     (540) 231-6138
Toll Free: (866) 817-4068
                                                2090 Adam Clayton Powell Jr. Blvd., Suite 519   www.vcom.edu/virginia
osteopathic.nova.edu/index.html
                                                New York City, NY 10027
                                                                                                West Virginia School of Osteopathic
Ohio University Heritage College of             (212) 851-1199, x. 242588
                                                                                                Medicine (WVSOM)
Osteopathic Medicine (OU-HCOM)                  https://tourocom.touro.edu/
                                                                                                400 North Lee St.
Locations: Athens, Cleveland, Dublin, OH
                                                Touro University College of Osteopathic         Lewisburg, WV 24901
102 Grosvenor Hall
                                                Medicine–California (TUCOM-CA)                  Toll Free: (800) 356-7836 or (888) 276-7836
1 Ohio University
                                                1310 Club Dr.                                   www.wvsom.edu
Athens, OH 45701
                                                Vallejo, CA 94592
Toll Free: (800) 345-1560                                                                       Western University of Health Sciences/
                                                CA Toll Free: (888) 880-7336
www.ohio.edu/medicine                                                                           College of Osteopathic Medicine of the
                                                Outside CA: (888) 887-7336
                                                                                                Pacific (Western U/COMP)
Oklahoma State University Center for Health     www.tu.edu
                                                                                                Locations: Pomona, CA and Lebanon, OR
Sciences College of Osteopathic Medicine
                                                Touro University Nevada College of              309 East Second St.
(OSU-COM)
                                                Osteopathic Medicine (TUNCOM)                   Pomona, CA 91766-1854
Locations: Tulsa, and Tahlequah, OK
                                                874 American Pacific Dr.                        (909) 469-5335
1111 West 17th St.
                                                Henderson, NV 89014                             Lebanon: (541) 259-0200
Tulsa, OK 74107
                                                (702) 777-1750                                  www.westernu.edu
(918) 561-8324
                                                www.tun.touro.edu
https://health.okstate.edu                                                                      William Carey University College of
                                                University of the Incarnate Word School of      Osteopathic Medicine (WCUCOM)
Pacific Northwest University of Health
                                                Osteopathic Medicine (UIWSOM)                   710 William Carey Pkwy.
Sciences College of Osteopathic Medicine
                                                7615 Kennedy Hill, Building 2                   WCU Box 207
(PNWU-COM)
                                                San Antonio, TX 78235                           Hattiesburg, MS 39401
111 University Pkwy, Suite 202
                                                (210) 283-6998                                  (601) 318-6316
Yakima, WA 98901
                                                www.uiw.edu/som/                                www.wmcarey.edu/college/osteopathic-medicine

                                                                    2019-2020 STUDENT GUIDE TO OSTEOPATHIC MEDICAL COLLEGES                    5
TIMELINE

 Timeline for Premedical Students Applying to Osteopathic Medical Colleges
       This timeline assumes you plan to start medical school in the summer/fall following your college graduation and that you will complete your
    undergraduate education in four years. Recommendations for post-college, however, are included at the bottom of this timeline if you wish to take
      a gap year or different undergraduate path. Please consult with your health professions advisor to establish your own personalized schedule.

                                                    Premedical Student Checklist

                          Year One                         Year Two                   Year Three                      Year Four

                            Pre-College                                       • Review the 2019-2020 Student Guide to Osteopathic Medical
                                                                                Colleges (https://choosedo.org) to assist with your medical school
• Meet with your high school counselor to discuss pursuing a health
                                                                                research.
  professions career and create an academic plan.
                                                                              • Begin researching medical schools online. Focus on admissions
• If your high school offers a pre-health track, work with your counselor
                                                                                requirements and average entering student statistics (average GPA,
  to enroll in the courses.
                                                                                MCAT, etc.).
• Take Advanced Placement (AP) math and science classes to
                                                                              • Attend recruitment events (https://choosedo.org/events/) and visit
  prepare for more difficult college level coursework.
                                                                                medical school campuses.
• Take elective classes that help develop a background in the health
                                                                              • Join online mailing lists of programs of interest and start following
  professions and strong communication skills.
                                                                                them on social media.
• Maintain a competitive GPA.
                                                                              • Get involved in pre-health organizations and extracurricular activities
• Develop strong time-management and study skills.
                                                                                on campus. Keep records of your experiences.
• Volunteer with health-related organizations (hospitals, the American
                                                                              • Join or start a Pre-Student Osteopathic Medical Association
  Red Cross, nursing homes, hospices, etc.).
                                                                                (Pre-SOMA) (https://studentdo.org/pre-soma/) chapter at your college.
• Request assistance from your high school counselor, family
                                                                              • Work to develop a relationship with your science faculty members by
  members, or family physicians to schedule job shadowing
                                                                                visiting during office hours, participating in extracurricular activities, etc.
  opportunities.
                                                                              • Begin to gain clinical experience in health care fields through
• Research health professions career-opportunities through
                                                                                shadowing, volunteering, employment (CNA, EMT, etc.), and
  explorehealthcareers.org (https://explorehealthcareers.org).
                                                                                internship opportunities. Keep records of your experiences.
• Research and attend summer health programs offered by colleges.
                                                                              • Look for opportunities to shadow physicians in clinical settings and
• Join or develop a student organization that is geared toward a health
                                                                                keep records of your experiences. Request assistance through a
  professions career.
                                                                                health professions advisor. Find DOs specifically at doctorsthatdo.org.
• Join or start a local chapter of HOSA (http://www.hosa.org).
                                                                              • Talk with upperclassmen about how they gained experiences in the
                                                                                health professions or about their medical school application process.
                              Year One
• Meet with your university's health professions advisor to discuss
  overall premedical curriculum. If your college does not have a health
                                                                                                             Year Two
                                                                              • Meet with your health professions advisor to discuss current course-
  professions advisor, view resources at the National Association of
                                                                                work and activities, and to begin thinking about preparation for the
  Advisors for the Health Professions
                                                                                Medical College Admission Test (MCAT).
  (https://www.naahp.org/student-resources/find-an-advisor).
                                                                              • Maintain a competitive GPA and reach out to on-campus academic
• Start taking prerequisite coursework, which typically begins with the
                                                                                resources, such as the tutoring center, for assistance.
  Biology and/or the Inorganic Chemistry sequence.
                                                                                (See General Admissions Requirements
• Maintain a competitive GPA and reach out to on-campus academic
                                                                                (https://choosedo.org/general-admission-requirements/) for the
  resources, such as the tutoring center, for assistance.
                                                                                average GPA for entering students).
  (See General Admissions Requirements
                                                                              • Begin researching the cost of applying to medical school. Keep in
  https://choosedo.org/general-admission-requirements/ for the
                                                                                mind that the average applicant to medical school applies to nine
  average GPA for entering students.)
                                                                                colleges.
• Develop strong study skills by forming study groups and using
                                                                              • Attend recruitment events (https://choosedo.org/events/) and visit
  on-campus academic resources.
                                                                                medical school campuses.
• Learn more about the osteopathic medical profession and philosophy
                                                                              • Attend health professions fairs in your area to learn more about
  by reading books, researching online, etc. Sign up to receive The DO
                                                                                schools of interest.
  (https://thedo.osteopathic.org ) and other health related resources.

6                CHOOSE DO A NEW GENERATION OF DOCTORS
Photo courtesy of Western University of Health
                                                                                                          Sciences/ College of Osteopathic
                                                                                                          Medicine of the Pacific (Western U/COMP)

• Stay involved in pre-health organizations and get involved in             • Continue to gain clinical experiences through shadowing,
  community service—look for leadership opportunities.                        volunteering, employment (CNA, EMT, etc.), and internship
• Join or start a Pre-SOMA (https://studentdo.org/pre-soma/)                  opportunities.
  chapter at your college.                                                  • Continue to keep records of extracurricular and clinical experiences.
• Determine requirements of evaluations/letters of recommendations
  for each program of interest and build relationships with professors,
  advisors, and medical professionals. They are future resources for                             Year Three – Fall
  evaluations/letters of recommendation.
                                                                            • Meet with your health professions advisor about evaluations/letters of
• Work on your communications skills through public speaking courses
                                                                              recommendation. Inquire about the availability of a pre-health
  and leadership opportunities.
                                                                              committee.
• Look for opportunities to shadow physicians in clinical settings.
                                                                            • Begin serious preparation for the MCAT exam, which is offered
• Investigate participating in undergraduate research. This can take
                                                                              between January and September each year. Utilize the Association of
  several months to coordinate.
                                                                              American Medical College (AAMC)'s MCAT prep resources
• Research summer health care opportunities (work, education abroad,
                                                                              (https://students-residents.aamc.org/applying-medical-school/taking-
  internship, etc.).
                                                                              mcat-exam/prepare-mcat-exam/) for official guidance.
• Continue prerequisite coursework.
• Continue researching medical schools online by reviewing admissions
  requirements and average entering student statistics (GPA, MCAT, etc.).

                                                                    2019-2020 STUDENT GUIDE TO OSTEOPATHIC MEDICAL COLLEGES                                7
TIMELINE

                                              Photo courtesy of Marian University College
                                              of Osteopathic Medicine (MU-COM)
8     CHOOSE DO A NEW GENERATION OF DOCTORS
• Attend recruitment events (https://choosedo.org/events/) and visit               or classes may be filled if you apply close to the deadlines. Submitting
  medical school campuses to meet with admissions counselors or                    materials early and accurately will support timely processing and help
  attend an open house.                                                            avoid delays. In the 2018 – 2019 cycle the average AACOMAS applicant
• Stay involved in pre-health organizations, volunteer experiences,                applied to nine colleges.
  and extracurricular activities, especially those that focus on helping       •   Work with evaluators to submit evaluations/letters of
  underserved populations.                                                         recommendation.
• Keep in touch with individuals who might write an evaluation/letter of       •   Order all official transcripts and have them submitted to AACOMAS.
  recommendation.                                                              •   Release MCAT scores to AACOMAS electronically using the AAMC's
• Pursue and complete research opportunities.                                      MCAT Score Reporting System.
• Set aside time to work on your personal statement. Revisit and rework        •   Submit secondary application materials upon receipt.
  the statement over an extended period. It is highly recommended that         •   Use the Check Status tab in AACOMAS to monitor your application.
  you work with your university's writing center for assistance.                   Periodically contact each school to verify your application status.
• Research and plan how you will pay the application fees to apply to          •   Meet with your health professions advisor or career center to work on
  medical school. Keep in mind that the average applicant applies to               interview skills. If possible, complete a mock interview.
  nine colleges of medicine.
• Continue prerequisite coursework.
• Continue maintaining a competitive GPA and reach out to on-campus                                          Year Four
  academic resources, like the tutoring center, for assistance.                • If invited, participate in interviews at medical schools.
  (See General Admissions Requirements                                         • Complete prerequisite coursework. Continue to include upper-level
  (https://choosedo.org/general-admission-requirements/) for the                 science courses.
  average GPA for entering students.)                                          • Maintain a competitive GPA. (See General Admissions Requirements
• Continue researching medical schools online by reviewing                       (https://choosedo.org/general-admission-requirements/) for the
  admissions requirements, average entering student statistics (i.e.,            average GPA for entering students.)
  GPA, MCAT, ideal applicant), and mission and vision statements.              • Continue to gain additional clinical and/or research experience.
• Continue to gain clinical experiences through shadowing,                     • Stay involved in pre-health organizations and volunteer activities.
  volunteering, employment (CNA, EMT, scribe, etc.), and internship            • Use the Check Status tab in AACOMAS to monitor your application.
  opportunities.                                                                 Periodically contact each school to verify your application status.
                    Year Three – Spring                                        • Share news of upcoming interviews and acceptances and thank
                                                                                 those who helped along the way—health professions advisors,
• Meet with your health professions advisor to review the details of your        professors, physicians, family, and friends.
  application.                                                                 • Complete the AACOMAS Academic Update in early December to
• Take the MCAT exam.                                                            submit fall coursework.
• Stay involved in pre-health extracurricular activities.                      • Consider post-application plans, whether you are accepted or not.
• Contact the individuals who will be writing evaluations/letters of             Think about what you will do between the time you are accepted and
  recommendation for you. Give them plenty of time (at least four to six         begin school, or the steps you will take should you need to reapply.
  weeks) to write a quality evaluation/letter of recommendation.               • Complete the FAFSA application for financial aid when it becomes
• Research medical schools that interest you. Contact each school to             available in the fall.
  inquire about their specific admissions criteria and schedule a time         • If you are not accepted or invited to an interview, contact the schools
  to visit their campus. (See a schedule of College Recruiting Events            where you applied to request formal feedback on how to be more
  https://choosedo.org/events/).                                                 competitive should you reapply.
• Review the 2019-2020 Student Guide to Osteopathic Medical                    • Explore next steps to increase your competitiveness. These steps
  Colleges (https://choosedo.org) to assist with your medical school             may include gaining additional clinical experience, retaking the MCAT
  research.                                                                      exam, enrolling in a master's program or postbaccalaureate certificate
• Make a list of the medical schools to which you plan to apply.                 program, taking additional upper-level science courses, and reapply-
• Start the AACOMAS (https://aacomas.liaisoncas.com) application                 ing for admission.
  process in May.
• Submit your application when you are ready; early is better but
  complete/accurate is best.                                                               Post-College (Gap Year or
• Continue prerequisite coursework. If possible, enroll in upper-level
  sciences courses, such as Biochemistry and Gross Anatomy.
                                                                                        Non-Traditional Career Changer)
• Continue to gain clinical experiences by shadowing or volunteering,          • Speak with programs of interest for guidance on the best path to
  employment (EMT, scribe, etc.).                                                strengthen your application.
                                                                               • Meet with a health professions advisor to gain insight into your
                                                                                 competitiveness for medical school or your career goals.
                  Year Three – Summer                                          • Take additional courses if prerequisite courses are more than five
• Apply to AACOMAS (https://aacomas.liaisoncas.com). Apply early                 years old or to strengthen your background in science.
  and read all application directions carefully to avoid delays. Application   • Gain additional clinical experience to strengthen your background in the
  processing begins in June. Colleges of osteopathic medicine make               health professions and to confirm your desire to go to medical school.
  admissions decisions on a rolling basis, so they review applications,        • Retake the MCAT exam if your scores are older than three years or
  conduct interviews, and make admissions decisions throughout the               older than allowed by programs of interest.
  admissions cycle. Keep in mind that interview slots may be awarded and/

                                                                       2019-2020 STUDENT GUIDE TO OSTEOPATHIC MEDICAL COLLEGES                           9
OVERVIEW
 OVERVIEW

                                                Overview of Osteopathic Medicine
 z Osteopathic Medicine is a                             There are more than 114,000 DOs in                 clinical outcomes of OMM. The center serves
 Distinctive Form of Medicine.                           the United States.2 DOs boast a strong             as a catalyst for developing and conducting
                                                         history of serving rural and underserved           multicenter, collaborative clinical research
 Osteopathic medicine is a distinct pathway              areas, often providing their distinctive           studies. Initial studies have focused on
 to medical practice in the United States.               brand of compassionate, patient-centered           demonstrating the effectiveness of OMM as it
 Osteopathic medicine provides all of the                care to some of the most economically              applies to many facets of patient care.
 benefits of modern medicine, including                  disadvantaged members of our society.
 prescription drugs, surgery, and the use of                                                                See more information about osteopathic
 technology to diagnose disease and evaluate                                                                medicine
 injury. It also offers the added benefit of             z Osteopathic Medical Students                     (https://choosedo.org/learn-about-
 hands-on diagnosis and treatment through a              Learn that Structure Influences                    osteopathic-medicine/).
 system known as osteopathic manipulative                Function.
 medicine. Osteopathic medicine emphasizes
                                                         In addition to studying all the typical subjects   z Tenets of Osteopathic Medicine
 helping each person achieve a high level of
                                                         you would expect student physicians to             The American Osteopathic Association's
 wellness by focusing on health promotion and
                                                         master, osteopathic medical students               House of Delegates approved the "Tenets
 disease prevention.
                                                         complete approximately 200 hours of training       of Osteopathic Medicine" as policy which
                                                         in Osteopathic Manipulative Medicine               follows the underlying philosophy of
 z DOs Work in Partnership With                          (OMM). This system of hands-on diagnosis           osteopathic medicine.3 The tenets are:
 Their Patients and are Trained to                       and treatment helps alleviate pain, restore
 Look at the Whole Person.                               motion, and support the body's natural             1. The body is a unit; the person is a unit of
                                                         structure to help it function more efficiently.       body, mind, and spirit.
 They consider the impact that lifestyle and
 community have on the health of each                    One key concept osteopathic medical                2. The body is capable of self-regulation, self-
 individual, and they work to erase barriers to          students learn is that structure influences           healing, and health maintenance.
 good health. DOs are licensed to practice the           function. Thus, if there is a problem in one       3. Structure and function are reciprocally
 full scope of medicine in all 50 states, the District   part of the body's structure, function in that        interrelated.
 of Columbia, Puerto Rico, and other territories         area and in other areas may be affected. For       4. Rational treatment is based upon an
 of the United States, as well as in more than 65        example, restriction of motion in the lower           understanding of the basic principles
 countries abroad.1 They practice in all types of        ankle can restrict motion in the knee, hip, and       of body unity, self-regulation, and the
 environments, including the military, and in all        lumbar spine, causing symptoms throughout.            interrelationship of structure and function.
 specialties, from family medicine and obstetrics        By using OMM techniques, DOs can help
 to surgery and cardiology.                              restore motion to these areas and eliminate
                                                         pain.
                                                                                                            z What Does a DO Do?
 From their first day of medical school, DOs                                                                • Throughout the country, DOs practice the
 are trained to look at the whole person,                Another integral tenet of osteopathic                full scope of medicine in all specialties of the
 which means they see each person as more                medicine is that the body has an innate ability      medical field, from pediatrics and geriatrics to
 than just a collection of body parts that may           to heal itself. Many OMM techniques are              sports medicine and trauma surgery.
 become injured or diseased. DOs are taught              aimed at reducing or eliminating impediments
 that the whole person is greater than the sum                                                              • DOs receive the same medical training as
                                                         to proper structure and function so that this
 of his or her parts, and that patients should be                                                             other physicians, as well as 200 additional
                                                         self-healing mechanism can assume its role in
 treated as partners in the health care process.                                                              hours of OMM training. OMM is a hands-on
                                                         restoring a patient's health.
 They are trained to communicate with people                                                                  approach to diagnose and treat illness and
 from diverse backgrounds, and they are given                                                                 injury.
 the opportunity to practice these skills in the         z DOs Conduct Clinical and Basic                   • OMM has been proven to be effective in
 classroom and a variety of other settings.              Science Research to Help Advance                     treating a variety of injuries and illnesses.
                                                         the Frontiers of Medicine.                           For example, the use of OMM in treating
                                                         In addition to their strong history of providing     patients with pneumonia has been found
 z 56 Percent of all DOs Choose
                                                         high-quality patient care, DOs conduct clinical      to shorten the length of hospital stays and
 to Practice in the Primary Care                                                                              complications associated with pneumonia.
                                                         and basic science research to help advance
 Disciplines of Family Practice,
                                                         the frontiers of medicine and to demonstrate       • DOs are trained to focus on the whole
 General Internal Medicine, and                          the effectiveness of the osteopathic
 Pediatrics.                                                                                                  person, working with patients to achieve
                                                         approach to patient care. Founded in 2002,           high levels of wellness and disease
 Because of their whole-person approach                  the Osteopathic Research Center (ORC)                prevention.
 to medicine, 56 percent of all DOs choose               (https://www.unthsc.edu/texas-college-
 to practice in the primary care disciplines of          of-osteopathic-medicine/tcom-research/
 family practice, general internal medicine, and         the-osteopathic-research-center/) in Fort
 pediatrics. The remaining 44 percent go on to           Worth, TX conducts and promotes research
 specialize in any number of practice areas.2            on the pathophysiological mechanisms and

 10               CHOOSE DO A NEW GENERATION OF DOCTORS
z Consider a Career in Osteopathic                  Specific information about Canadian                   • Osteopathic college admissions and alumni
Medicine                                            osteopathic medical practice is available               offices. Admissions and alumni officials
                                                    from the Canadian Osteopathic Association               at schools have many contacts in the
Do you want to be the type of physician who         (https://www.osteopathic.ca).                           osteopathic profession. Contact them, and
sees the patient as more than a symptom or                                                                  let them know that you are looking to shadow
disease? Do you want to be the kind of physician    DOCARE International (https://docareintl.org)           and learn more about becoming a DO.
who gets involved in his or her community and       is a medical outreach organization that provides
who spends time getting to know his or her          care in underserved areas throughout the world.       • The American Osteopathic Association
patients as people? Are you the kind of person                                                              (AOA) membership office. The AOA
who is compassionate and enjoys meeting and         Admissions policies at U.S. osteopathic medical         maintains an online national directory of
getting to know a diverse range of people from      colleges vary with regard to applicants who are         practicing DOs. A locality search will give
many different backgrounds and socioeconomic        neither U.S. citizens nor hold permanent resident       you contact information and in many cases
groups? Are you the kind of person who has solid    status in the United States. The International          will link you to your state's osteopathic
communication skills and a healing touch? If you    Students page lists schools that will consider          association website.
answered "yes" to some or all of these questions,   applicants who are not U.S. citizens.                 • State osteopathic associations. Many of
osteopathic medicine may be a good career           (https://choosedo.org/international-students/)          the state associations compile lists of their
option for you.                                                                                             members who have indicated an interest
                                                    Prospective applicants to osteopathic medical
                                                                                                            in having prospective osteopathic medical
Generally, osteopathic medical schools are          colleges should consider that in the typically
                                                                                                            students shadow them.
looking for a variety of personal qualities in      seven-plus years between entering medical
the applicants they admit to their schools          school and going into practice, the conditions        • Your college's health professions advisor.
and, ultimately, to the osteopathic profession.     and regulations on practice outside the United        • Your college's Pre-Student Osteopathic
Osteopathic medical schools admit many              States may change significantly.                        Medical Association Pre-SOMA) chapter
students from nontraditional backgrounds.                                                                   (https://studentdo.org/pre-soma/).
Many of these students come to osteopathic          Prospective osteopathic physicians can
                                                    participate in overseas medical missions and          Once you have found a doctor near you,
medicine as a second career and have a divers
                                                    volunteer work. Participation in such programs        call or send the doctor a letter. (Remember,
set of experiences.
                                                    is generally arranged by the sponsoring               most doctors are very busy, so please be
Osteopathic medical schools have admitted           organization, and U.S. physicians—both DOs            understanding if you cannot speak directly to
students who have been administrators,              and MDs— have practice rights extended to             the DO.) If you explain your interest and share
managers, or executives in business; attorneys;     them while participating in these programs.           your enthusiasm for the profession, many DOs
professional musicians; newspaper reporters;        Many osteopathic colleges sponsor such                will be delighted to host you for a day or two.
allied health care providers; and many others.      programs, which may be open to participation          They will be able to show you what they do
Many of these students have families, and           by their students, faculty, and alumni.               so that you can decide if you want to study
some are single parents.                                                                                  osteopathic medicine.

Admission to osteopathic medical school is          z Learning About the Practice                         Current osteopathic medical students are
competitive and selective. A person who is          of Osteopathic Medicine and                           another good source of information about
well-rounded, has a broad background with the       Shadowing a DO                                        osteopathic medical education, as are the Pre-
qualities listed above, and has demonstrated                                                              SOMA chapters on undergraduate campuses.
                                                    Colleges of osteopathic medicine (COMs)
academic excellence has the best chance for                                                               The colleges have student ambassador
                                                    encourage applicants to learn more about
admission to osteopathic medical school.                                                                  programs, alumni, student government leaders,
                                                    the profession by identifying an osteopathic
                                                                                                          and members of the Student Osteopathic
                                                    physician to shadow. Many of the colleges
                                                                                                          Medicine Association (SOMA), all of whom
z Osteopathic Medicine in an                        require applicants to get to know a DO and
                                                                                                          are eager to talk about their schools with
International Context                               request a letter of recommendation as part of
                                                                                                          prospective medical students. For further
                                                    the application process. Applicants should meet
The practice of osteopathic medicine outside        with and spend time shadowing the physician.
of the United States varies. In more than 65        This provides the applicant with exposure to the      1
                                                                                                           Source: American Osteopathic Association
countries, DOs have full practice rights as they    osteopathic profession and enhances awareness         (https://osteopathic.org)
do in the United States. However, only U.S.         of osteopathic medical philosophy. Working with
DOs are trained as fully licensed physicians. In    a physician will prepare the applicant for the
                                                                                                          2
                                                                                                           Source: American Osteopathic Association;
some countries, DO training is concentrated         application interview. Completing this crucial step   2018 Osteopathic Medical Profession Report
on OMM, and practice rights are typically           also demonstrates the applicant's commitment to       (https://osteopathic.org/about/aoa-statistics/)
limited to manipulation. The most up-to-date        the osteopathic profession.
information on this topic is available from the
                                                                                                          3
                                                                                                           Source: The Journal of the American Osteo-
Osteopathic International Alliance                  Students should contact a DO before applying          pathic Association (JAOA), February 2002,
(https://oialliance.org) and the American           for admission, beginning as early as possible         Vol. 102, 63-65 (https://jaoa.org/article.
Osteopathic Association                             while in undergraduate education. The best            aspx?articleid=2092562)
(https://osteopathic.org).                          ways for finding DOs are:

                                                                      2019-2020 STUDENT GUIDE TO OSTEOPATHIC MEDICAL COLLEGES                               11
OVERVIEW

               Overview of Osteopathic Medical Education and Accreditation
Overview
Osteopathic medicine is a science-based
discipline with a strong philosophical grounding
that focuses on the whole person. It follows the
French and Italian model of medical education,
emphasizing examination and understanding of
the people being cared for.

This is in contrast to MD-granting (allopathic)
medical schools, which are rooted in the
German model of education, emphasizing
laboratory-based evaluation of patients.
Nevertheless, osteopathic medical school
curricula are very similar to those used at U.S.
allopathic medical schools, although the exact
program varies by college.

Osteopathic medical school accreditation
standards require training in internal medicine,
obstetrics/gynecology, pediatrics, family                                                                          Photo courtesy of Marian University College
practice, surgery, psychiatry, radiology,                                                                          of Osteopathic Medicine (MU-COM)
preventive medicine, and public health.
Osteopathic medical schools emphasize early           and treat people in a primary or adjunctive        instruction. During the year preceding the
clinical contact. While the first two years focus     way, enhancing overall health and the holistic     graduation of its first class, a provisionally
on the biomedical and clinical sciences, the          functioning of the human body. OMM                 accredited COM will conduct various activities
second two years delve deeper into patient-           education usually occurs through year-long         that will allow it to attain fully-accredited status.
oriented clinical training. Most schools include      first- and second-year theoretical and skills      New term will be pre-accrediation, there will no
time for elective courses as well.                    courses and through subsequent clinical            longer be provisional accreditation.
                                                      experiences. OMM education is in addition to,
DO clinical education follows a distributive model,
wherein students are exposed to practicing in
                                                      and integrated with, medical training on current   Osteopathic Medicine
diverse health care settings. Although in-hospital
                                                      and emerging theories and methods                  Four-Year Curriculum
                                                      of medical diagnosis and treatment.
experiences are an important aspect of clinical                                                          Each osteopathic medical school has its
education, osteopathic medical students receive       For more information on osteopathic medicine,      own curriculum. Some are discipline-based,
significant training in community hospitals as well   see the overview                                   focusing on each science separately. Others
as out-of-hospital ambulatory settings. In many       (https://choosedo.org/learn-about-                 allow students to learn through patient-based,
schools, a community-based primary care rotation      osteopathic-medicine/).                            or problem-based, learning. Many use a mix of
in a rural or underserved area is a required aspect                                                      methods. Osteopathic medical school starts
of fourth-year training. For information on each      Accreditation                                      with a foundation in the basic sciences of
school's curriculum, see the individual college                                                          medicine. In addition, students learn a core
pages.                                                Osteopathic medical schools are accredited
                                                                                                         set of clinical examination skills and gain an
                                                      by the American Osteopathic Association
                                                                                                         understanding of the various systems of the
Although osteopathic medical education has            Commission on Osteopathic College
                                                                                                         body. Lectures, laboratories, and other learning
changed dramatically since its beginnings in          Accreditation (COCA), recognized to accredit
                                                                                                         experiences are designed to prepare students
1874, osteopathic medical schools maintain            osteopathic medical education by the U.S.
                                                                                                         for the clinical portion of medical school—the
the core values advanced by the profession's          Department of Education. Learn more here
                                                                                                         clinical clerkship years.
early proponents. These values are held as            (https://osteopathic.org/accreditation/).
central distinguishing tenets of osteopathic                                                             Integration of the basic and clinical sciences
philosophy and practice: providing care               Many osteopathic medical schools are
                                                                                                         through early clinical exposure is an important
that is holistic, patient-centered, preventive,       also accredited by a regional educational
                                                                                                         part of the curriculum. While specific learning
and focused on health rather than disease,            accrediting organization.
                                                                                                         methods and curricular offerings vary from
delivered within a primary care context.              New colleges of osteopathic medicine (COMs)        college to college, the chart at right provides
                                                      hold provisional accreditation status during       a general guide to the material covered in
The osteopathic medical school curriculum is                                                             the osteopathic medical school curriculum.
perhaps most distinguished by the inclusion           their first four years of student enrollment.
                                                      A college holding provisional accreditation        Please check with the college to which you are
of osteopathic manipulative medicine (OMM),                                                              applying.
a hands-on approach that is used to diagnose          status may admit students and offer medical

12              CHOOSE DO A NEW GENERATION OF DOCTORS
Core Clinical              Other Clinical
       Year 1            Year 2               Clerkships                 Clerkships
                                            (Years 3 and 4)            (Years 3 and 4)
Anatomy           Gerontology               Emergency Medicine      Anesthesiology
Physiology        Cardiology                Family Medicine         Cardiology
Clinical Skills   Gastrointestinal          Internal Medicine       Dermatology
Radiology         System                    Obstetrics &            Gastroenterology
Osteopathic       Hematopoietic System      Gynecology              Laboratory Medicine
Principles &      Osteopathic Principles    Osteopathic             Nephrology
Practices         & Practices               Principles &
                                            Practices               Neurology
Microbiology &    Pharmacology
Immunology                                  Pediatrics              Oncology & Hematology
                  Endocrinology
Neuroscience                                Psychiatry &            Orthopedics
                  Psychiatry
Histology                                   Behavioral Science      Otorhinolaryngology
                  Respiratory
Biochemistry                                Surgery                 Pediatric Subspecialties
                  Ethics & Jurisprudence
Pathology                                                           Public Health
                  Family Medicine
Doctor/Patient                                                      Pulmonary Medicine
                  Genitourinary System
Communication                                                       Radiology
                  Reproductive System
                                                                    Rural Medicine
                  Pediatrics/Growth &
                  Development                                       Surgical Subspecialties
                                                                    Urology

                                                                      Photo courtesy of A.T. Still University School of
                                                                      Osteopathic Medicine in Arizona (ATSU-SOMA)
                                     2019-2020 STUDENT GUIDE TO OSTEOPATHIC MEDICAL COLLEGES                       13
GRADUATE
EDUCATION

                                                   Graduate Medical Education
An Overview of Graduate                                         Osteopathic Physician (DO) Medical Education Timeline
Medical Education (GME)
                                                      Academic Degrees
The education students receive in an
osteopathic medical school is undergraduate           • 4 years undergraduate study (Bachelor's degree)
medical education, and the subsequent                 • 4 years osteopathic medical (DO) degree
training provided in a residency and fellowship
                                                      Graduate Medical Education
program is graduate medical education (GME).
                                                      • Complete training to become a physician includes supervised postdoctoral graduate
After graduating from an osteopathic medical            medical education (GME)
school, students seeking licensure continue
                                                      Board Certification / Licensure
training in graduate training programs called
"residency," the first year of which may be           • 3 – 7 years internship / residency
called an "internship" or a "transitional year."      • 1 – 3 years specialty fellowship
Successful completion of a residency program
is required for specialty board certification.
                                                    Learn more and keep up with changes on the          DO students typically enjoy a high rate of
GME typically focuses on one field of practice.     transition to the single accreditation system at    placement into GME programs. Current match
Examples include family medicine, pediatrics,       www.aacom.org/singlegme.                            data reflect the existing match processes—
emergency medicine, surgery, preventive                                                                 National Resident Matching Program (NRMP)
                                                    In pursuing GME, osteopathic medical school         and AOA National Matching Service (NMS)
medicine, dermatology, radiology, and others.
                                                    graduates can choose the following options:         systems—in a given year. The 2020 match will
Two organizations currently accredit GME                                                                be the first single match system administered
                                                    1. Residency (Categorical): A graduate
programs: the Accreditation Council for                                                                 by the NRMP. This single system will simplify
                                                       of a college of osteopathic medicine can
Graduate Medical Education (ACGME)                                                                      the matching process for osteopathic
                                                       match directly into a residency program
and the American Osteopathic Association                                                                medical school students. A result of the new
                                                       and start specialty training. A "categorical"
(AOA), which accredits osteopathic                                                                      process will be a shift in the way the match
                                                       position is one which offers full residency
residency programs only. As of July 1, 2015,                                                            rate percentage is reported, and AACOM will
                                                       training required for board certification in
implementation of a single GME accreditation                                                            continue to provide details on these changes.
                                                       that specialty.
system (SAS) is underway under the umbrella
                                                    2. Preliminary: The doctor of osteopathic           Each osteopathic medical school has its
of the ACGME. The new system is slated to be
                                                       medicine chooses to go into a specialty          own curriculum. Some are discipline-based,
in place by June 30, 2020. By the end of the
                                                       and will be in a first-year program that         focusing on each science separately. Others
transition period for the single accreditation
                                                       may be separate or linked to the specialty       allow students to learn through patient-based,
system (June 30, 2020) the AOA will no longer
                                                       training they will pursue. Some specialties      or problem-based, learning. Many use a mix of
accredit residency programs. As a result
                                                       will require a preliminary year.                 methods. Osteopathic medical school starts
of this new system, there will be significant
                                                    3. Transitional Year: A one-year training           with a foundation in the basic sciences of
changes to GME that will ease the application
                                                       program in multiple clinical disciplines         medicine. In addition, students learn a core
and participation process, as well as broaden
                                                       is designed to facilitate choice of and          set of clinical examination skills and gain an
opportunities to participate in GME programs.
                                                       preparation for a specific specialty.            understanding of the various systems of the
                                                    4. Military GME
Osteopathic Recognition                             5. Fellowship: A graduate of a residency
                                                                                                        body. Lectures, laboratories, and other learning
                                                                                                        experiences are designed to prepare students
In the new GME accreditation system,                   training program may choose to pursue            for the clinical portion of medical school—the
osteopathic medical school graduates have              further training in a particular subspecialty.   clinical clerkship years.
the option to pursue ACGME programs with
an osteopathic emphasis or programs with            Residency Match                                     Integration of the basic and clinical sciences
"Osteopathic Recognition" designation. Any                                                              through early clinical exposure is an important
                                                    Graduating osteopathic medical students
ACGME-accredited program can apply to                                                                   part of the curriculum. While specific learning
                                                    apply to hospitals and programs that offer
receive Osteopathic Recognition, which                                                                  methods and curricular offerings vary from
                                                    their preferred GME programs. Applications
indicates that osteopathic principles and                                                               college to college, the chart on page 13
                                                    to GME programs are administered through
practices are integrated within the training                                                            provides a general guide to the material
                                                    the Electronic Residency Application Service
program. Osteopathic medical students                                                                   covered in the osteopathic medical school
                                                    (ERAS). Following interviews that provide
can pursue programs with Osteopathic                                                                    curriculum. Please check the college to which
                                                    students and programs with information about
Recognition in all the options below. Students                                                          you are applying for.
                                                    each other, students submit their choices,
can view an up-to-date list of programs with the
                                                    ranked from their first to last choice. Programs
ACGME Osteopathic Recognition designation
                                                    also rank the applicants they would like to have
on the ACGME's website at https://apps.
                                                    working in their programs.
acgme.org/ads/Public/Reports/Report/17.

14             CHOOSE DO A NEW GENERATION OF DOCTORS
EXAMS

                                            Board Examinations and Licensure
Osteopathic physicians are licensed in all 50         Many foreign countries recognize the                    clerkship training. Level 2-CE is taken during the
states, the District of Columbia, other territories   U.S. DO degree and grant full licensure to              clinical clerkship years prior to graduating from
and areas of the United States, and many foreign      American-trained DOs who wish to practice               osteopathic medical school. COMLEX-USA
countries. Licensure is determined by each state      internationally. The scope of licensure is              Level 2-PE is an examination developed to test
through the appropriate licensing board.              determined by each country. For more                    physical examination skills and is also taken prior
                                                      information, visit the International Osteopathic        to graduation. Level 3 is taken during GME.
To be licensed as an osteopathic physician,           Medicine page on the AOA website
one must:                                             (https://osteopathic.org).                              The COMLEX-USA Level 1 and 2 (CE and
                                                                                                              PE) are required for graduation from an
• Graduate from an accredited U.S. college of
  osteopathic medicine (COM).
                                                      Comprehensive                                           osteopathic medical college. Each of the
                                                      Osteopathic Medical                                     osteopathic colleges has its own requirements
                                                                                                              for progression through the stages of the
• Successfully complete a licensure exam
  sequence accepted by a state's licensing
                                                      Licensure Exam                                          COMLEX-USA before graduation.
  board (COMLEX-USA or USMLE).                        (COMLEX-USA)
                                                                                                              All 50 states in the United States accept
• Successfully complete more than one year            The Comprehensive Osteopathic Medical
                                                                                                              COMLEX-USA as a licensure exam for
  of graduate medical education (GME),                Licensure Exam (COMLEX-USA) is a
                                                                                                              the practice of medicine by osteopathic
  depending on state licensure requirements.          standardized test of medical knowledge. The
                                                                                                              physicians. To learn more about the COMLEX-
                                                      goal of the exam is to assess competency in
• Osteopathic physicians stay abreast of the                                                                  USA exam, please visit www.nbome.org.
                                                      the areas of knowledge related to practicing
  latest medical developments related to              medicine. It tests the medical knowledge and
  their specialty training through continuing         clinical skills that are considered essential
                                                                                                              United States Medical
  medical education (CME) programs. CME               for an osteopathic physician to practice                Licensure Examination
  requirements are determined by each state's         medicine without supervision. The COMLEX-               (USMLE)
  licensure board. The American Osteopathic           USA includes standardized test questions
  Association (AOA) also requires its members                                                                 The United States Medical Licensure Examination
                                                      and a pass/fail observed clinical examination           (USMLE) is the standard examination for
  to complete a certain number of CME credits         performed by the student.
  to maintain board certification.                                                                            graduates of U.S. MD-granting medical schools
                                                                                                              and graduates of international medical schools
For state-specific licensure information, please      The COMLEX-USA comprises Level 1, Level 2 CE
                                                                                                              seeking to practice in the United States.
visit                                                 and PE (Cognitive Evaluation and Performance
                                                                                                              Osteopathic medical students and residents also
http://www.fsmb.org/fcvs/state-requirements/.         Evaluation), and Level 3. It is administered by the
                                                                                                              are eligible to take the USMLE.
                                                      National Board of Osteopathic Medical Examiners
Learn more about CME through the AOA                  (NBOME). The NBOME is independent from the              The USMLE consists of Step 1, Step 2 CK and
(https://osteopathic.org/cme/).                       colleges of osteopathic medicine and has as its         CS (Clinical Knowledge and Clinical Skills), and
                                                      role the protection of the public.                      Step 3.
Find information on osteopathic specialties
and subspecialties (https://osteopathic.org).         Level I of the exam is taken by the end of the          To learn more about the USMLE exam, please
                                                      second year of medical school prior to the              visit www.usmle.org.

                                                                                       Photo courtesy of Liberty University College of Osteopathic Medicine (LUCOM)

                                                                        2019-2020 STUDENT GUIDE TO OSTEOPATHIC MEDICAL COLLEGES                                       15