The Design Edge Catalogue 2017-18 Australia and New Zealand
If your browser does not support JavaScript, please read the page content below:
The Design Edge Catalogue 2017-18 Australia and New Zealand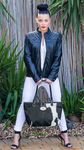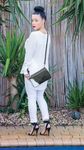 B70061 Foldover Bag Dimensions: 25L 1.5W 20H Sweden Jersey Hairon and Tan Leather * Available in all Colours 1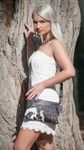 69992D BC Clutch Bag (2 Straps) Dimensions: 24L 20H TorontoD BC Multi Foil Hairon and Navy Leather * Available in all Colours 2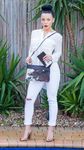 69992D BC Clutch Bag (2 Straps) Dimensions: 24L 20H TorontoD BC Gold Black Hairon and Gold Foil Leather * Available in all Colours 3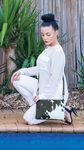 B70083 Small Flap Bag Dimensions: 21L 4.5W 13H Italy Jersey Hairon and Tan Leather * Available in all Colours 4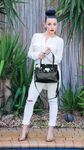 B70070 Crossbody Tassle Bag Dimensions: 25L 19H Berlin Jersey Hairon and Tan Leather * Available in all Colours 5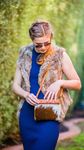 B70030 Double Zippered Bag Dimensions: 29L 2.5W 20H London Jersey Hairon and Black Leather * Available in all Colours 6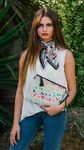 B70030 Double Zippered Bag Dimensions: 29L 2.5W 20H London Gold Black Hairon and Black Leather * Available in all Colours 7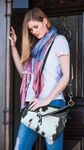 B70000 Small Sling Bag Dimensions: 26L 16H Germany Jersey Hairon and Black Leather * Available in all Colours 8
B70069 Zipper Bag Dimensions: 25L 9.5W 21H Finland Jersey Hairon and Black Leather * Available in all Colours 9
B70080 Open Pocket Sling Bag Dimensions: 21.5L 8W 15.5H Ireland Jersey Hairon and Super Brown Leather * Available in all Colours 10
B70025 Small Double Zippered Sling Bag Dimensions: 22L 13H Barcelona Jersey Hairon and Black Leather * Available in all Colours 11
B70007 Three way Sling Bag Dimensions: 31L 6W 38H (open) Paris Jersey Hairon and Black Leather * Available in all Colours 12
B70007 Three way Sling Bag Dimensions: 31L 6W 38H (open) Paris Jersey Hairon and Black Leather * Available in all Colours 13
B69993 Sling Bag with Front Pocket Dimensions: 25L 28H Ibiza Jersey Hairon and Tan Leather * Available in all Colours 14
B69953 Large Boat Bag Dimensions: 47.5L 14W 32H Spain Jersey Hairon and Tan Leather * Available in all Colours 15
B69954 Boat Bag Dimensions: 44L 13.5W 27.5H Rome Jersey Hairon and Black Leather * Available in all Colours 16
B69959 Large Bag Dimensions: 41L 13W 33H Amsterdam Jersey Hairon and Black Leather * Available in all Colours 17
CA Mate Front Open Pocket Bag Dimensions: 27L 31H Florence Jersey Hairon and Black Leather * Available in all Colours 18
CA Wave Wave Flap Bag Dimensions: 31L 33H Prague Jersey Hairon and Super Brown Leather * Available in all Colours 19
B70068 Square Ladies Bag Dimensions: 27L 13W 23H Greece Jersey Hairon and Grey Leather * Available in all Colours 20
B69902L Rectangular Tote Bag Dimensions: 30L 9W 35H Milan Jersey Hairon and Black Leather * Available in all Colours 21
B70067 Partition Bag Dimensions: 31.5L 4W 35.5H Belgium Jersey Hairon and Super Brown Leather * Available in all colours 22
B70084 Open Shopping Bag Dimensions: 48L 10W 32H Portugal Jersey Hairon and Black Leather * Available in all Colours 23
B70004 Small Messenger Bag Dimensions: 27L 5W 27H Madrid Jersey Hairon and Black Leather * Available in all Colours B70077 Double Pocket Organiser Bag Dimensions: 33L 7W 25H Austria Jersey Hairon and Black Leather * Available in all Colours 24
B69907L Medium Sling Bag Dimensions: 24L 30H Oxford Black Hairon and Black Leather * Available in all Colours 25
B70059 Office Bag Dimensions: 27.5L 15W 20H Poland Jersey Hairon and Black Leather * Available in all Colours 26
B70038 Foldover Bag Dimensions: 28L 9W 38H Munich Jersey Hairon and Black Leather * Available in all Colours 27
B70019 Stud Sling Bag Dimensions: 26L 16H Frankfurt Jersey Hairon and Black Leather * Available in all Colours 28
B70050 Medium Sling Bag Dimensions: 29L 19.5H Geneva Jersey Hairon and Super Brown Leather * Available in all Colours L69881 Slim Wallet Dimensions: 18L 10H Buffalo Jersey Hairon and Super Brown Leather * Available in all Colours 29
B70060 Organiser Sling Bag Dimensions: 20L 2W 18H Venice Jersey Hairon and Tan Leather * Available in all Colours 30
B69956 Large Ladies Bag Dimensions: 29L 14W 33H Brussels Jersey Hairon and Brown Leather * Available in all Colours Env01 Envelope Clutch Dimensions: 28L 19.5H Vienna Jersey Hairon and Tan Leather * Available in all Colours 31
B70066 Handcrafted Boho Bag Dimensions: 35L 31.5H Hungary Tan with Jersey and Navy handwork * Available in all Colours 32
B70064 Handcrafted Big Boho Bag Dimensions: 41L (top) X 13W X 33H Moravia Black with Jersey and Tan handwork * Available in all Colours B70065 Handcrafted Boho Sling Dimensions: 28L X 19.5H Vienna Boho Navy with Jersey and Super Brown handwork * Available in all Colours 33
B70008S Hand Made Cutwork Strap Bag Dimensions: 24L 7W 26.5H Cannes Jersey Hairon and Super Brown Leather * Available in all Colours 34
B70025 Small Double Zippered Sling Bag Dimensions: 22L 13H Barcelona Zebra Hairon and Black Leather * Available in all Colours B70000 Small Sling Bag Dimensions: 26L 16H Germany Tan Croco and Tan Leather * Available in all Colours 35
69992 Handy Clutch Dimensions: 20L 13H Toronto Jersey Hairon and Black Leather * Available in all Colours 36
69992 Handy Clutch Dimensions: 20L 13H Toronto Gold Foil Leather and Black Leather Available in all Colours 37
70071 Small Clutch Dimensions: 23L 16H Detroit Gold Black Hairon and Gold Foil Leather * Available in all colours 38
L70082 Front Zipper Wallet Dimensions: 20L 2W 10.5H Austin Jersey Hairon and Grey Leather * Available in all Colours 39
L70014 Large Ladies Wallet Dimensions: 20.5L 13H Los Angeles Jersey Hairon and Black Leather * Available in all Colours L70014 Large Ladies Wallet Dimensions: 20.5L 13H Los Angeles Gold Foil Leather and Black Leather * Available in all Colours 40
L69933 Ladies Trifold Wallet Dimensions: 20L 11.5H Vegas Jersey Hairon and Black Leather * Available in all Colours 41
L77902 Ladies Wallet Dimensions: 20L 2W 11H New York Jersey Hairon and Black Leather * Available in all Colours L77902 Ladies Wallet Dimensions: 20L 2W 11H New York Leopard Hairon and Black Leather * Available in all Colours 42
L70079 Clutch Wallet Dimensions: 21.5L 1.5W 12.5H Dallas Jersey Hairon and Tan Leather * Available in all Colours 43
L69985 Boho Handcrafted Boho Wallet Dimensions: 20.5L 1.5W 10H Ottawa Boho Tan with Jersey and Navy handwork * Available in all Colours L69933 Boho Handcrafted Boho Wallet Dimensions: 20L X 1.5W X 11.5H Vegas Boho Black with Jersey and Tan handwork * Available in all Colours 44
L70054 Wristlet Dimensions: 20.5L 10H Seattle Jersey Hairon and Black Leather * Available in all Colours 45
L70058 Travel Wristlet Dimensions: 20.5L 12H Texas Jersey Hairon and Black Leather * Available in all Colours 46
BC6 Double Zipper Clutch Dimensions: 15.5L 10.5H Alaska Jersey Hairon and Black Leather * Available in all Colours B70034 Large Ladies Wallet Dimensions: 24L 2W 12H Washington Black Croco and Black Leather * Available in all Colours 47
L69960 Ladies Wallet Dimensions: 20L 2W 10.5H Mexico Jersey Hairon and Black Leather * Available in all Colours 48
69936 Travel Clutch Wallet Dimensions: 25.5L 13.5H Rochester Jersey Hairon and Black Leather * Available in all Colours L70072 Large Wristlet Wallet Dimensions: 22L 3.5W 10.5H Chicago Jersey Hairon and Grey Leather * Available in all Colours 49
T69845 Zipped Travel Wallet Dimensions: 13L 25.5H Hamilton Jersey Hairon and Brown Leather * Available in all Colours 50
B70056 Triple Zipper Wallet Dimensions: 22L 15H Virginia Leopard Hairon and Black Leather * Available in all Colours B70055 Wristlet Dimensions: 22.5L 17H San Diego Jersey Hairon and Super Brown Leather * Available in all Colours 51
L69979 Zippered Wallet Dimensions: 19.5L 2W 9.5H Montreal Jersey Hairon and Tan Leather * Available in all Colours L70081 Small Clutch Dimensions: 17L 12H Ontario Jersey Hairon and Tan Leather * Available in all Colours 52
L70073 Small zippered Wallet Dimensions: 15.5L 1.5W 10H Charlotte Jersey Hairon and Black Leather * Available in all colours 53
Belt02 4 Cms Belt Dimensions: 90L (small), 100L (medium), 115L (large) Thick Belt Zebra Hairon and Black Leather * Available in all Colours(S,M,L) Belt02 4 Cms Belt Dimensions: 90L (small), 100L (medium), 115L (large) Thick Belt Assorted Jersey and Leather * Available in all Colours(S,M,L) 54
Belt02 4 Cms Belt Dimensions: 90L (small), 100L (medium), 115L (large) Thick Belt Assorted * Available in all Colours Belt01 2 Cms Belt Dimensions: 90L (small), 100L (medium), 115L (large) Thin Belt Leopard Hairon and Black Leather * Available in all Colours(S,M,L) Belt04 4 Cms Handwoven Belt Dimensions: 90L (small), 100L (medium), 115L (large) Woven Belt Jersey Hairon and Tan Leather * Available in all Colours(S,M,L) 55
Duffle Large Travel Bag Dimensions: 76L 30.5W 30.5H America Jersey Hairon and Black Leather * Available in all Colours 56
Weekender Medium Travel Bag Dimensions: 52L 24W 24H Australia Jersey Hairon and Super Brown Leather * Available in all Colours 57
B69816 Cabin Bag Dimensions: 44L 21.5W 24H Europe Jersey Hairon and Brown Leather * Available in all Colours 58
CA Messenger Soft Messenger Bag Dimensions: 33.5L 2.5W 31.5H Asia Jersey Hairon and Black Leather * Available in all Colours 59
Cushion Single Panel Black and White Jersey Dimensions: 45L 45H Lounge Cushions * Available in Black and White Jersey, Brown and White Jersey, Black Hairon Cowhide Rugs Dimensions: Large Sizes Cowhide Rug Dark Brown Jersey * Available in many variations. Ask us for the latest pdf catalogue, of individually pictured hides 60
Cushion Single Panel - (front) Cushion Chevron - (middle) Cushion 4 Panel - (back) Dimensions: 45L 45H Lounge Cushions Black and White Jersey * Available in Black and White Jersey, Brown and White Jersey, Black Hairon Cowhide Rugs Ask us for a catalogue, of exact hides Dimensions: Large Sizes Cowhide Rugs Assorted Jersey * Available in many variations. 61
K69833 Card and Change Purse Dimensions: 11.5L 2W 7.5H Florida Assorted Hairon and Leathers * Available in all Colours 69983 Big Change Purse with Keyring Dimensions: 13.5L 9H Brazil Assorted Hairon and Leathers * Available in all Colours 62
70075 iPhone Wallet Dimensions: As per phone model Broome Jersey Hairon and Black Leather * Available in all Colours Tassel Keyring Keyring with Doghook Dimensions: 27H (Tassel only) Bali Assorted Hairon * Available in all Colours 63
69972 iPhone Wallet Dimensions: As per phone model Gibson Jersey Hairon and Tan Leather * Available in all Colours 69974 iPhone Case Dimensions: As per phone model Albany Assorted Hairon * Available in all Colours 69997 iPhone Wallet Dimensions: As per phone model Perth Jersey Hairon * Available in all Colours 64
Cowhide & Leather Genuine leather, cowhide and suede are all natural products making each of our items have a unique appearance in colour, feel, markings and texture.
There are co- lour variations in different lots of leather and no two pieces can look the same, also please be aware that with continuous use some abrasion may occur and this unique- ness creates a distinct appearance - Making your item special! To prolong the life of your cowhide or leather product, please treat your item very delicately by avoiding: Excessive rubbing- Rough surfaces- Areas containing high moisture - direct sunlight. In cowhide products- hair fall is natural and may occur. Who We Are For more than 7 years The Design Edge has offered best Quality premi- um cowhide bags and accessories.
A family run business that started 25 years ago, supplying premium quality leather bags and accessories all across the globe.
We Follow Strict Ethical Standards We often get asked about the morality of selling fur and hides. All our Hides are simply a Bi Product of this indus- try. We have guarantees from all of our suppliers that the hides we sell come from ethically sourced high quality certificated farms. All the animals live good lives and have plenty of space to live organically. The Design Edge would never knowingly sell a product that had been miss-treated in any way. We Use 100% Genuine Leather Every product we bring to our customers is unique and one of kind. Made of top quality leather which is strong and has a soft, natural look and feel.
We call it "leather that cares," given the fact that it cares for itself by becoming more textured and richer with age.
manufacturer australian brand custom made 100% premium leather natural cowhide made to order australian and new zealand owned The Design Edge Pty Ltd Warehouse & Deliveries:16 Hartley Crescent, Greenvale VIC 3059 Australia Head Office: Level 18, 1808/135 City Rd Southbank VIC 3006 THE EDGE DESIGN Leather is Elegance - Bags and Accessories p # +61 3 9645 7593, +61 430 783 762 e : info@thedesignedge.com.au w: www.thedesignedge.com.au