ARTECTA Product Catalogue 2018
If your browser does not support JavaScript, please read the page content below:
ARTECTA Product Catalogue 2018
Artecta Introduction Productcatalogue Artecta Introduction 2 Artecta: Colorful moodmakers You are holding the 2018 edition of the Artecta product catalogue and we hope that browsing it will be as inspiring to you as compiling the new and updated Artecta product portfolio was to us. There is a great demand for energy efficient and elegant quality lighting solutions. Artecta has firmly embraced the crossover principle of combining entertainment LED techniques with architectural lighting.By combining extensive knowledge of common control protocols like DMX and LED technology with modern design lighting applications, a unique portfolio of RGB/W/A luminaires and accessories has been developed.
Whether you want to create that special atmosphere in your restaurant, highlight the latest fashion collection in a shop window or create a colorful light design for a fountain in the park, Artecta has the right solution in store for you; colorful, durable and cost-effective. In addition to these stylish and modern fixtures, Artecta also offers a complete list of power supplies and drivers from well-known brands such as TCI, Meanwell and Eldoled, which are required for the installation of LED lights or LED strips. LED strips are an integrated part of our portfolio and we invite you to discover the possibilities of these incredible lighting solutions.
We offer complete end- to-end LED strip-solutions (up to 20 meters in length!) with matching profiles and power supplies. Also, a new series of wall luminaires and RGB/W/A products, especially for outdoor use, is definitely worth looking into. And in case you are still not sure which solution suits your needs best, the Artecta team can also provide specific advice for any application. Enjoy the discovery!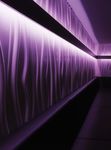 Maingroup Subgroup Maingroup Subgroup Productcatalogue Productcatalogue 3 2 RALPH WALDO EMERSON, "Nature", Essays and Lectures Table of Content Productcatalogue Table of Content Productcatalogue Table of contents Artecta is a registered trademark, all rights reserved ®. This is a Highlite International B.V. publication. Design, concept, artwork, text and pictures* are copyright protected and may not be reproduced in any form without prior approval of Highlite International B.V. in the Netherlands. Information in this catalogue is subject to change. Highlite International B.V. has the right to refuse claims based on misprints or typesetting-errors.
(*with exception of the unlabled moodimages). Moodimages do not represent the actual lightcharacteristics produced by Artecta products and are intended for decorative visual purposes only. Rights by Shutterstock ©. Concept, art & design: Graphic Design department. Highlite International B.V. All rights reserved © 2018.
Down Lights Recessed 4 Led-Panels 34 Down-lights Accessories 37 Track Lights 1-Phase tracks 42 1-Phase spots 43 3-Phase tracks 44 3-Phase spots 45 Track-lights Accessories 46 Inground Spots Low Voltage 48 High Voltage 51 Wall Lights Recessed 64 Surface 70 Garden and Streetlights 24V 80 230V 86 Underwater Lights IP-68 98 Moodlights Strip light Flex 108 Strip light Rigid 128 Strip Light Strings 128 Profile compatibility list 130 Profiles 132 Moodlights Accessories 146 Accessories LED Drivers 148 Powersupplies 12V 168 Powersupplies 24V 169 Controllers 171 Cables & Splitters 189 IP Rating 192
Downlights Recessed Downlights Recessed Downlights - Recessed Downlights - Recessed 5 4 Aveiro-R A0130406 MR16 • Input voltage: GU10 – 230VAC, GU5.3 – 12VDC • Power consumption: 50 W • Rotation: vertical • Dimensions: Ø98x80 mm • Mounting depth: 80 mm • Mounting size: Ø79 mm • Product weight: 0.15 Kg • IP rating: IP20 • Driver included/excluded: excluded • Light source included/excluded: excluded • Lamp socket: GU10, GU5.3 Frankfurt-R A0130700 MR16 • Input voltage: GU10 – 230VAC, GU5.3 – 12VDC • Power consumption: 50 W • Dimensions: 111x111x100 mm • Mounting depth: 100 mm • Mounting size: Ø95 mm • Product weight: 0.23 Kg • IP rating: IP20 • Driver included/excluded: excluded • Light source included/excluded: excluded • Lamp socket: GU10, GU5.3
Downlights Recessed Downlights Recessed Downlights - Recessed Downlights - Recessed 7 6 Manchester-R Aluminum Manchester-1 Aluminum Manchester-2 Aluminum • Input voltage: GU10 – 230VAC, GU5.3 – 12VDC • Power consumption: 50 W • Rotation: vertical • Dimensions: Ø82x30 mm • Mounting depth: 30 mm • Mounting size: Ø78 mm • Product weight: 0.19 Kg • IP rating: IP20 • Driver included/excluded: excluded • Light source included/excluded: excluded • Lamp socket: GU10, GU5.3 Manchester-R Aluminum MR16 A0130600 White MR16 A0130610 Black MR16 A0130620 • Input voltage: GU10 – 230VAC, GU5.3 – 12VDC • Power consumption: 50 W • Rotation: horizontal/vertical • Dimensions: 86.5x86.5x65 mm • Mounting depth: 65 mm • Mounting size: 76x76 mm • Product weight: 0.19 Kg • IP rating: IP20 • Driver included/excluded: excluded • Light source included/excluded: excluded • Lamp socket: GU10, GU5.3 Manchester-1 Aluminum MR16 A0130601 White MR16 A0130611 Black MR16 A0130621 • Input voltage: 12VDC • Power consumption: 2x50 W • Rotation: horizontal/vertical • Dimensions: 173x86.5x70 mm • Mounting depth: 70 mm • Mounting size: 164x76 mm • Product weight: 0.36 Kg • IP rating: IP20 • Driver included/excluded: excluded • Light source included/excluded: excluded • Lamp socket: GU5.3 Manchester-2 Aluminum MR16 A0130602 White MR16 A0130612 Black MR16 A0130622
Downlights Recessed Downlights Recessed Downlights - Recessed Downlights - Recessed 9 8 Almeria-R A0130950 AR111 • Input voltage: 12VDC • Power consumption: 50 W • Rotation: horizontal/vertical • Dimensions: Ø175x36 mm • Mounting depth: 36 mm • Mounting size: Ø160 mm • Product weight: 0.5 Kg • IP rating: IP20 • Driver included/excluded: excluded • Light source included/excluded: excluded Almeria-SQ A0130951 AR111 • Input voltage: 12VDC • Power consumption: 50 W • Rotation: horizontal/vertical • Dimensions: 160x160x60 mm • Mounting depth: 60 mm • Mounting size: 153x153 mm • Product weight: 0.55 Kg • IP rating: IP20 • Driver included/excluded: excluded • Light source included/excluded: excluded Iowa-2R 3000 K A0139795 1x3 W LED • Input voltage: CC – 700 mA • Power consumption: 3 W • Color temperature: 3000 K • Light output: 167 Lm • CRI: 80 • Beam angle: 25° • Dimensions: Ø37x35 mm • Mounting depth: 40 mm • Mounting size: Ø32 mm • Product weight: 0.1 Kg • IP rating: IP65 front, IP44 back • Driver included/excluded: excluded Iowa-3R 3000 K A0139797 1x3 W LED • Input voltage: CC – 700 mA • Power consumption: 3 W • Color temperature: 3000 K • Light output: 171 Lm • CRI: 80 • Beam angle: 45° • Dimensions: Ø37x37 mm • Mounting depth: 37 mm • Mounting size: Ø32 mm • Product weight: 0.1 Kg • IP rating: IP65 front, IP44 back • Driver included/excluded: excluded
Downlights Recessed Downlights Recessed Downlights - Recessed Downlights - Recessed 11 10 Chios-2R Aluminum 3000 K A0139817 1x1 W LED • Input voltage: CC – 350 mA • Power consumption: 1 W • Color temperature: 3000 K • Light output: 95 Lm • CRI: 80 • Beam angle: 15° • Dimensions: Ø27x44 mm • Mounting depth: 44 mm • Mounting size: Ø23 mm • Product weight: 0.05 Kg • IP rating: IP65 front, IP40 back • Driver included/excluded: excluded Chios-2SQ White 3000 K A0139815 1x1 W LED • Input voltage: CC – 350 mA • Power consumption: 1 W • Color temperature: 3000 K • Light output: 95 Lm • CRI: 80 • Beam angle: 15° • Dimensions: 27x27x44 mm • Mounting depth: 44 mm • Mounting size: Ø23 mm • Product weight: 0.05 Kg • IP rating: IP65 front, IP40 back • Driver included/excluded: excluded Chios-2R White 3000 K A0139814 1x1 W LED • Input voltage: CC – 350 mA • Power consumption: 1 W • Color temperature: 3000 K • Light output: 95 Lm • CRI: 80 • Beam angle: 15° • Dimensions: Ø27x44 mm • Mounting depth: 44 mm • Mounting size: Ø23 mm • Product weight: 0.05 Kg • IP rating: IP65 front, IP40 back • Driver included/excluded: excluded Chios-2SQ Aluminum 3000 K A0139818 1x1 W LED • Input voltage: CC – 350 mA • Power consumption: 1 W • Color temperature: 3000 K • Light output: 95 Lm • CRI: 80 • Beam angle: 15° • Dimensions: 27x27x44 mm • Mounting depth: 44 mm • Mounting size: Ø23 mm • Product weight: 0.05 Kg • IP rating: IP65 front, IP40 back • Driver included/excluded: excluded
Downlights Recessed Downlights Recessed Downlights - Recessed Downlights - Recessed 13 12 Halifax-90 4000 K A0139994 1x6 W LED • Input voltage: CC – 350 mA • Power consumption: 7 W • Color temperature: 4000 K • Light output: 575 Lm • CRI: 80 • Beam angle: 38° • Dimensions: Ø90x55 mm • Mounting depth: 55 mm • Mounting size: Ø75 mm • Product weight: 0.24 Kg • IP rating: IP20 • Driver included/excluded: excluded Halifax-40 3000 K A0139940 1x1 W LED •Input voltage: CC – 350 mA •Power consumption: 1.2 W •Color temperature: 3000 K •Light output: 80 Lm •CRI: 80 •Beam angle: 15° •Dimensions: Ø40x25 mm •Mounting depth: 25 mm •Mounting size: Ø33 mm •Product weight: 0.03 Kg •IP rating: IP20 •Driver included/excluded: excluded Halifax-90 3000 K A0139993 1x6 W LED •Input voltage: CC – 350 mA •Power consumption: 7 W •Color temperature: 3000 K •Light output: 474 Lm •CRI: 80 •Beam angle: 38° •Dimensions: Ø90x55 mm •Mounting depth: 55 mm •Mounting size: Ø75 mm •Product weight: 0.24 Kg •IP rating: IP20 •Driver included/excluded: excluded Montreal-56 3000 K A0139856 1x1 W LED • Input voltage: CC – 350 mA • Power consumption: 1.2 W • Color temperature: 3000 K • Light output: 80 Lm • CRI: 80 • Beam angle: 15° • Rotation: horizontal/vertical • Dimensions: Ø56x29 mm • Mounting depth: 29 mm • Mounting size: Ø48 mm • Product weight: 0.06 Kg • IP rating: IP20 • Driver included/excluded: excluded
Downlights Recessed Downlights Recessed Downlights - Recessed Downlights - Recessed 15 14 Tours-12W 3000 K A0139617 2x6 W COB LED •Input voltage: CC – 350 mA •Power consumption: 14 W •Color temperature: 3000 K •Light output: 900 Lm •CRI: 80 •Beam angle: 40° •Rotation: horizontal/vertical •Dimensions: 160x80x70 mm •Mounting depth: 70 mm •Mounting size: 150x72 mm •Product weight: 0.50 Kg •IP rating: IP20 •Driver included/excluded: excluded Tours-6W 3000 K A0139616 1x6 W COB LED • Input voltage: CC – 350 mA • Power consumption: 7 W • Color temperature: 3000 K • Light output: 450 Lm • CRI: 80 • Beam angle: 40° • Rotation: horizontal/vertical • Dimensions: 80x80x70 mm • Mounting depth: 70 mm • Mounting size: Ø72 mm • Product weight: 0.25 Kg • IP rating: IP20 • Driver included/excluded: excluded
Downlights Recessed Downlights Recessed Downlights - Recessed Downlights - Recessed 17 16 Vigo Spot 4 RGB A0139508 4x3 W 3-in-1 LED AR111 •Input voltage: CC - 350 mA •Power consumption: 13.5 W •LED color: RGB •Light output: R – 185 Lm, G – 300 Lm, B – 101 Lm, RGB – 510 Lm •Beam angle: 16° •Dimensions: Ø110.5x66 mm •Mounting depth: 66 mm •Mounting sizes: Defined by mounting frame AR111 •Product weight: 0.65 Kg •IP rating: IP20 •Driver included/excluded: excluded,Vigo Drive Vigo Spot 3/1 RGB A0139503 1x3 W 3-in-1 LED MR-16 •Input voltage: CC - 350 mA •Power consumption: 3.2 W •LED color: RGB •Light output: R – 55 Lm, G – 99 Lm, B – 38 Lm, RGB – 166 Lm •Beam angle: 16° •Dimensions: Ø50x70 mm •Mounting depth: 82 mm •Mounting sizes: Defined by mounting frame MR16 •Product weight: 0.17 Kg •IP rating: IP20 •Driver included/excluded: excluded,Vigo drive
Downlights Recessed Downlights Recessed Downlights - Recessed Downlights - Recessed 19 18 Jales-SQ 1 A0139580 Square frame Single Jales-R A0139525 •Dimensions: 105x105x4 mm •Product weight: 0.06 Kg Jales-SQ 2 A0139585 Square Frame Double Jales-R A0139525 • Dimensions: 200x105x4 mm • Product weight: 0.1 Kg Jales-R 3000 K A0139525 1x15 W COB LED • Input voltage: CC – 700 mA • Power consumption: 15 W • Color temperature: 3000 K • Light output: 1200 Lm • CRI: 80 • Beam angle: 32° • Dimensions: Ø90x68 mm • Mounting depth: 68 mm • Mounting size: Ø70 mm • Product weight: 0.26 Kg • IP rating: IP20 • Driver included/excluded: excluded
Downlights Recessed Downlights Recessed Downlights - Recessed Downlights - Recessed 21 20 • Input voltage: CC-350 mA • Power consumption: 4.5 W • Dimmable: By LED driver • Color temperature: 3000 K • Light output: 400 Lm • CRI: 80 • Beam angle: 45° • Dimensions: Ø42x48 mm • Mounting depth: >80 mm • Mounting size: Ø35 mm • Product weight: 0.13 Kg • IP rating: IP44 • Driver included/excluded: Excluded • Input voltage: CC-350 mA • Power consumption: 4.5 W • Dimmable: By LED driver • Color temperature: 3000 K • Light output: 400 Lm • CRI: 80 • Beam angle: 45° • Dimensions: Ø55x50 mm • Mounting depth: >80 mm • Mounting size: Ø50 mm • Product weight: 0.13 Kg • IP rating: IP44 • Driver included/excluded: Excluded • Input voltage: CC-350 mA • Power consumption: 4.5 W • Dimmable: By LED driver • Color temperature: 3000 K • Light output: 400 Lm • CRI: 80 • Beam angle: 45° • Dimensions: 42x42x48 mm • Mounting depth: >80 mm • Mounting size: 35x35 mm • Product weight: 0.13 Kg • IP rating: IP44 • Driver included/excluded: Excluded Hoorn LV-35 Round 3.000 K Hoorn LV-50 Round 3.000 K Adjustable Hoorn LV-35 Square 3.000 K White 350mA 4.5W 45° 400Lm A0135005 Silver 350mA 4.5W 45° 400Lm A0135006 Black 350mA 4.5W 45° 400Lm A0135007 White 350mA 4.5W 45° 400Lm A0135013 Silver 350mA 4.5W 45° 400Lm A0135014 Black 350mA 4.5W 45° 400Lm A0135015 White 350mA 4.5W 45° 400Lm A0135008 Silver 350mA 4.5W 45° 400Lm A0135009 Black 350mA 4.5W 45° 400Lm A0135010
Downlights Recessed Downlights Recessed Downlights - Recessed Downlights - Recessed 23 22 • Input voltage: 230V • Power consumption: 8.2 W • Dimmable: Leading edge, trailing edge • Color temperature: 2700 K • Light output: 600 Lm • CRI: 83 • Beam angle: 60° • Dimensions: Ø90x60 mm • Mounting depth: >65 mm • Mounting size: Ø75 mm • Product weight: 0.32 Kg • IP rating: IP44 • Driver included/excluded: Included Hoorn 75 Round 2700 K White 230V 8.2W 60° 600Lm A0135024 Silver 230V 8.2W 60° 600Lm A0135025 Black 230V 8.2W 60° 600Lm A0135026 • Input voltage: 230V • Power consumption: 8.2 W • Dimmable: Leading edge, trailing edge • Color temperature: 2700 K • Light output: 600 Lm • CRI: 83 • Beam angle: 60° • Dimensions: 90x90x60 mm • Mounting depth: >65 mm • Mounting size: Ø75 mm • Product weight: 0.32 Kg • IP rating: IP44 • Driver included/excluded: Included Hoorn 75 Square 2700 K White 230V 8.2W 60° 600Lm A0135027 Silver 230V 8.2W 60° 600Lm A0135028 Black 230V 8.2W 60° 600Lm A0135029