ENGLAND - MONTENEGRO VS
If your browser does not support JavaScript, please read the page content below:
ENGLAND - MONTENEGRO VS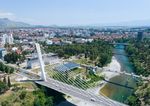 1 EUROPEAN QUALIFIER FOR UEFA EURO 2020 Monday 25 March 2019 Stadion Pod Goricom, Podgorica 8.45pm K.O. (Local time) ENGLAND MONTENEGROVS
2 The FA continues to work hard to ensure a safe and enjoyable atmosphere for all supporters. If you witness any xenophobic, racist, homophobic or anti-social behaviour before, during or after the match, you can report it in confidence by emailing englandsupportersclub@TheFA.com or by calling or texting us on +44 7970 146 250 (this number is also printed on the back of your membership card). Please be aware that The FA will always investigate reports of inappropriate behaviour at an England game.
For more information regarding fan behaviour, please refer to the 'Rules of Membership' at: England Supporters Travel Club.
MEMBERINFORMATION We ask that members continue to uphold the values of the England Supporters Travel Club (ESTC) by treating the locals and opposing fans in the same way that they would want to be treated. Members behaving in an unacceptable manner whilst following England can result in: • Removal from the stadium. • Suspension from the ESTC membership. • Withdrawal of future match tickets. • The issue of a Football Banning Order. • Report to the police and possible criminal proceedings. After a successful 2018 for the Three Lions, we're pleased to welcome 650 Travel Club members to England's first away match of 2019, against Montenegro.
We hope everyone enjoys visiting Podgorica and the Stadion Pod Goricom.
3 PassportsandVisas You don't need a visa to travel to Montenegro but you must have a passport that is valid for the duration of your stay. We strongly advise that you obtain a free European Health Insurance Card (EHIC) before leaving the UK – this will cover you for any necessary treatment you receive at a public healthcare centre or hospital during your trip. The EHIC is not a substitute for medical and travel insurance and does not cover private healthcare; travel insurance can provide protection against cancellation of your trip or the theft of any personal belongings.
Currency Montenegro has no currency of its own.
From 1999 the Deutsche Mark was formally adopted as Montenegro's currency, but was replaced by the euro in 2002. MedicalAssistance,SafetyandSecurity If you need emergency assistance whilst out in Montenegro you can call 112 from your mobile phone. Take sensible precautions to protect yourself and your belongings from street crime, particularly in larger towns. Don't leave valuables unattended and watch out for pick pockets in public places like tourist hot spots, airports and on public transport. Use a hotel safe if possible. Report all incidents of crime to the local police and get a police report.
If you lose your passport you should contact the British Embassy.
Incidents of violent crime between organised criminal groups can occur. You should exercise caution, remain vigilant and be aware of your surroundings. In the event of any incidents, you should follow the advice of local authorities. The main emergency numbers are: 112 (general emergencies), 122 (police), 123 (fire department) and 124 (ambulance service). Taking photographs of military and police installations, personnel or vehicles is forbidden and may lead to arrest and prosecution by the local authorities. For further information visit: Gov.uk/Foreign-Travel-Advice/Montenegro
4 Podgorica Montenegro's capital city, Podgorica is one of the oldest settlements in this part of the Balkans.
The city's turbulant history is portrayed through a large number of war memorials. In the postwar communist period the city was known as Titograd in honour of Yugoslav leader Josip Broz Tito. After the collapse of communism, the city revived its old name, Podgorica, in 1992. In terms of football, Podgorica is the home for Montenegro's national team hosting national stars such as Dejan Savićević, Predrag Mijatović and Mirko Vučinić. The Montenegrin national team, founded in 2006, reached the playoffs for UEFA Euro 2012, the furthest they have progressed to in the history of the national team.
5 Bus Ticket price is around €0.40 per single ride, and can be purchased on board, usually directly from the driver. Taxi Taxis in Podgorica are cheap and reliable, although they can be in short supply late at night. There are over 20 taxicab companies with stands virtually everywhere in the city. GettingaroundPODGORICA Railway Montenegro has a railway line connecting Bar and Belgrade. As it belongs to European railway network, it is possible to arrive in Montenegro by train. The terminal stop is Bar and the cities the train goes through are Podgorica, Kolasin, Mojkovac and Bijelo Polje.
The other railway line is connecting Podgorica and Montenegro's second largest city Nikšić.
You can find up to date railway timetable on Montenegro Railway website http://www.zcg-prevoz.me Podgorica is a medium-sized city of about 140,000 people. Podgorica has recently been developed with a pedestrian walkway that snakes 12km through the city, beginning at the entrance of the Park Forest in the city centre.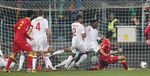 6 OutandaboutinPODGORICA There are an large number of royal sculptures dotted around its many parks. The most imposing is the huge bronze statue of Petar I Petrović Njegoš, standing on a black marble plinth on the Cetinje edge of town. A large equestrian statue of Nikola I struts grandly at the head of a park. There's also a sculpture of Russian singer-songwriter Vladimir Visotsky near the Millennium Bridge, pictured shirtless with a guitar and a skull at his feet. Tito the former Yugoslav leader is due to make a comeback: in 2018 the city council voted to reerect a statue of the Yugoslav leader in the city which once bore his name.
Eating: Restaurants in Podgorica can be similar in their offering but there are some traditional Montenegrin places where you can get huge plates of Balkan grill served up in a homey atmosphere. Nightlife: Podgorica's nightlife is centred on Nova Varoš, particularly in the blocks west of Ulica Slobode. Shopping: The pedestrian-only sections of Hercegovačka and ul Slobode are Podgorica's best window-shopping strips. There are various large malls on Podgorica's outskirts. There are three shopping centers in Podgorica: Delta City Mall of Montenegro Capital Plaza Image to change ©Dmitrii Iarusov
7 TICKETCOLLECTIONPOINT At the stadium There will be no facility to collect tickets at the stadium.
The Hilton Podgorica Crna Gora is only a 10 minute walk from the stadium If you are experiencing any issues you can call us on +447970146250. Travel Club members will be able to collect their tickets at the following location during the stated opening hours: Hilton Podgorica Crna Gora Hilton.com/Hilton-Podgorica Address:2BulevarSvetogPetraCetinjskog Podgorica81000 Opening time Monday 25 March: 11am to 7:45pm Entrance to the ticket collection point is located between the hotel entrance and the casino.
All tickets are to be collected in Podgorica on match day. Please bring either your current 2018-2020 Travel Club membership card or any up to date photo identification to collect your ticket. If you are part of a group, each member must collect their ticket in person. Please be aware that all members of the group do not have to collect at the same time but it will not be possible for another member (or non-member) to collect a ticket on another members behalf. To help save time when collecting tickets, we advise members to know the name of the person in their group who booked their tickets.
8 StadionPodGoricom Stadion Pod Goricom is the host stadium for the Montenegro national football team and was built in 1945, following World War II.
Before the war, FK Budućnost Podgorica played their matches in a field near this location before moving into the 5,000 capacity stadium. After the stadium burned down in 1952 it was rebuilt, with a new capacity of 11,568 seats. The current stadium has four stands—west, east, south and north. Stadium access: Entrance to England's section is Jug/ South Sector A of the stadium. All tickets will be printed with members names on for enhanced security purposes.
Members will be required to bring their passports to the stadium for verification purposes. Members will also be issued with a wristband in order to gain entry into the stadium. We do not anticipate a hold-back for England supporters after the game but please listen to stadium announcements. Gettingtothestadium Stadion Pod Goricom sits 1.9 km north of the city centre within the downtown area, on the eastern bank of the River Morača. It is walk-able from most places in the city such as the old town and train station, within 25 minutes or so.
9 Stadiumregulations The Football Association of Montenegro have instructed that all ticket holders have the following when entering the stadium; A valid match ticket with your name on.
Your wristband (which will provided to you at the Ticket Collection Point by FA Staff). Your passport (which will be used to verify your ticket). Please note the following stadium regulations: • Smoking is not permitted anywhere in the stadium. • Pyrotechnic devices including flares and fireworks are not permitted. • Supporters caught tailgating will be ejected from the stadium and will not be permitted re-entry.
• Supporters must be able to show a valid ticket and passport when requested to so by stewards, security staff or police. • The Stadion Pod Goricom has the right to refuse entry to any individual who is believed to be under the influence of alcohol or drugs and has the right to remove them at any time. • Bottles, glasses, cans, sticks and any other blunt or pointed weapons are not permitted into the stadium. • Flags or banners displaying discriminative or provocative text or images will not be permitted into the stadium.
• Small bags (no bigger than an A4 piece of paper) are allowed in the stadium but will be subject to security checks.
• There will be no early entry to hang flags. Flags must be no larger than 2.5 meters by 1 meter. The full UEFA Stadium and security regulations can be found here.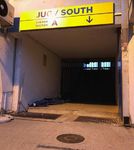 10 Montenegro 1 – 1 England FIFA World Cup Qualifier, Group H Stadion Pod Goricom, Podgorica Attendance: 11,300 "England's path to World Cup qualification remains far from guaranteed as Montenegro battled back to earn a deserved draw in Podgorica" Wayne Rooney gave England a dream start, banishing the ghosts of his red card from his last visit as he headed home Steven Gerrard's corner with just six minutes on the clock and Roy Hodgson's side dominated the opening 45 minutes. But the second half of the Group H contest was a completely different affair, with the hosts in the ascendency and they grabbed a fully deserved leveller in the 77th minute when half-time substitute Dejan Damjanovic forced home at the third attempt.
PREVIOUSMEETING–26MARCH2013