Family Cookie Guide 2019 Cookie Program
If your browser does not support JavaScript, please read the page content below:
Family Cookie Guide 2019 Cookie Program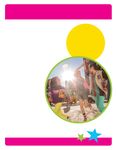 2 Cookie Flavors and Information GSSNV Service Unit Map 2018-2019 Girl Scout Cookie Program Cookie Program Resources GSSNV Cookie Calendar Your Cookie Team Your Role Care to Share Participation and Troop Proceeds Girl Rewards Council Procedures Begin on
Booths
Returns
Money Handling
Delinquency
GSSNV Adult Code of Conduct
GSSNV Girl Code of Conduct
2018-2019 Cookie Pro Contest Information Page 3 Page 4 Page 5 Page 7 Page 8 Page 9 Page 10 Page 11 Page 12-13 Page 14-15 Page 16 Page 16 Page 18 Page 18 Page 18 Page 19 Page 20 Page 21 TABLE OF CONTENTS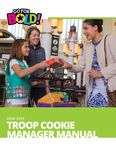 4 Girl Scouts of Southern Nevada inspires girls to stand up and make a difference. By nurturing innovation and developing leadership skills, we prepare girls to overcome challenges and advocate for their ideas now and later. With an emphasis on selfdiscovery, character building and community impact, Girl Scouts helps girls become a powerful force for good in the world. OUR MISSION Girl Scouting builds girls of courage, confidence, and character, who make the word a better place.
5 THE GIRL SCOUT COOKIE PROGRAM® HELPS EMBOLDEN GIRL SCOUTS® BY BUILDING THESE FIVE ESSENTIAL SKILLS.
GOAL SETTING—as she sets cookie sale goals and makes a plan to reach them. DECISION-MAKING—as she and her troop decides how they will spend the cookie money. MONEY MANAGEMENT—as she makes a budget, takes orders and handles customers' money. PEOPLE SKILLS—as she learns to talk and listen to all kinds of people while selling cookies. BUSINESS ETHICS—as she is honest and responsible every step of the way. The time, talent, and support you give your girl(s) and all Girl Scouts by participating in the Girl Scout Cookie Program® are extremely. Thank you for helping them learn, grow and make a lasting impact on the world.
GIRL SCOUT COOKIE PROGRAM ® 2018-2019
6 Be sure to take advantage of all the resources available online to guide you through a fun and successful Girl Scout Cookie Program®. Girl Scouts of the USA: Locate info on the Girl Scout Cookie Program and national cookie badges and pins. GirlScoutCookies.org Baker Website: The website of our official Girl Scout Cookie baker. Find girl activities, marketing ideas, Girl Scout Cookie facts, cookie sale resources and clip art to help girls prepare for the cookie sale. LittleBrownie.com Council Website: www.girlscoutsnv.org Visit our site to find procedures, forms, manuals and other helpful information.
eBudde™: Your Command Center for managing the cookie sale. Order cookies, track girl activity and order girl rewards. ebudde.LittleBrownie.com eBudde Troop App Plus™: Place orders on your mobile devices. Video training and eBudde help are built right in. Learn more and download the app at LittleBrownie.com.
eBudde™ Booth Sale Recorder: Record products in real time at booths, making record-keeping a snap. Download this free app in iPhone App Store or through Google Play. Girl Scouts® Cookie VIP eTraining™: Get step-by-step Girl Scout Cookie Program® training whenever you'd like it! VIPeTraining.LittleBrownie.com (Or visit LittleBrownie.com for a link) Girl Scouts® Built by Me™ Cookie Planner: An online tool to help plan a custom cookie season. CookiePlanner.LittleBrownieBakers.com Digital Cookie®: Girl Scouts can set up their own personalized website, take credit card payments and ship cookies directly to their customers.
LittleBrownie.com Girl Scouts® Cookie Club™: Girls set goals, email customers to place online orders and track progress. CookieClub.LittleBrownie.com Girl Scouts® Cookie Locator™ by Little Brownie Bakers®: Help friends locate the closest cookie booth with this app. CookieLocator.LittleBrownie.com (Girl Scouts® Cookie Finder on girlscouts.org can also be used to locate cookies.) GIRL SCOUT COOKIE RESOURCES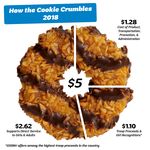 7 HELP HER SELL ONLINE Cookie enables girls to set up their own personalized sales pages, take credit card payments and ship cookies directly to their customers. Girls can set goals and track their progress, too. ENCOURAGE GOAL SETTING Goal setting is an important life skill. She'll go far if she knows how to set a high goal and reach it.
Ask about her group's goals and help her set personal goals.
Help her complete the order card section that explains her group's goal.
Encourage her to share her goal with customers. Customers want to help girls succeed.
Guide her to set practical and useful goals about what she wants to learn and earn. SUPPORT HER SALES She needs you to be on her side as she develops the confidence to ask people for orders.
Ask her questions and help her practice her talking to customers
Help her take orders or arrange booth sites
Go with her to sell and deliver cookies
Help her network with family and friends but allow her to "ask" so she can learn important business skills.
VOLUNTEER Her group or troop need help chaperoning booths, picking up cookies, and more. Ask your Troop Cookie Manager how you can help support the team. PRACTICE SAFETY Help your girl(s) understand the Girl Scout safety rules, found at girlscouts.org/cookies 5 STEPS TO GIRL SCOUT COOKIE SUCCESS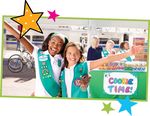 8 Website for registration: Troop Cookie Manager Information Troop# Name: Phone: Email Address: Best Way to Communicate with my Troop Cookie Manager: Service Unit Product Manager Information Service Unit Name: Service Unit# Got a question? If you need help, contact your troop cookie manager.
If you need further assistance; contact your service unit product manager, or customerservice@girlcoutsnv.org Checklist of Important Dates Activity Date Initial order taking begins January 18 Troop Opt-Out Form Due January 25 (by Close of Business) GSSNV Cookie Rally January 26 Initial order taking ends February 03 Parent Cookie order due to Troop Cookie Manager February 04 Mega Drop: Initial-order cookies available February 23 Cookie booths begin March 01 GSSNV COOKIE PROGRAM CALENDAR Important Times/Dates Set by Troop Cookie Manager How Often do I give money for Troop Deposits: Where can I drop off Troop Deposits: Notes: Service Unit Product Manager Name Email Address
9 Service Unit Product Manager (SUPM)
Verifies Girl Scouts membership for all participants in the Cookie Program.
Ensures Cookie Agreement forms have been completed.
Reviews and submits the initial cookie and girl rewards order for the entire ServiceUnit.
Reviews data in eBudde for the entire Service Unit and submits final girl rewardsorder.
Receives girl rewards from Little Brownie Bakers and distributes to troops in a timely manner.
Supports GSSNV and the Troop Cookie Managers as needed. Troop Leader (TL)
Works with Troop Cookie Manager to schedule, plan and lead the family meeting.
Works with the troop to set goals and plan cookie learning activities. (Visit LittleBrownie.com for ideas)
Works with Troop Cookie Manager to plan for troop's participation in booth sales.
Assists with cookie pick-up, storage and distribution (if needed).
Supports girls throughout the program to review goals and progress.
Supports Troop Cookie Manager with money collection and deposits as needed. GSSNV Council Information Email: customerservice@girlscoutsnv.org Phone: 702-385-3677 Hours: MondayFriday: 9:00am- 5:00pm Troop Cookie Manager (TCM)
Verifies Girl Scouts membership for all Troop/participants in the Cookie Program.
Ensures Family Cookie Agreement forms have been completed by all girls in the troop.
Reviews and submits the initial cookie and girl rewards order for the troop.
Schedules and Coordinates Booths
Reviews data in eBudde for the entire the troop and submits final girl rewardsorder.
Receives girl rewards from SUPM
Collects and deposits money
Supports parents and the Troop Cookie Managers as needed. Your GIRL SCOUT COOKIE TEAM
10 The main job of the Girl Scout Parent is to:
Make sure your Girl Scout has a current membership
Complete Caregiver Permission & Financial Responsibility Agreement Form
Honor and live by the Girl Scout Promise and Law.
Follow all policies and meet all deadlines.
Attend Cookie Training(s) and/or Troop Cookie Meeting (ask your Troop Cookie Manager when)
Communicate and answer emails from your Troop Cookie Manager Permission Slips The Permission Slip will be provided by your Troop Cookie Manager or Council. The form MUST be signed by the you PRIOR to your Girl Scout participating in the cookie program in ANY way. This covers both the participation in the program and the selling of cookies (door-to-door and at cookie booths). The Troop Cookie Manager will keep the signed Permission Slip in their troop files. The permission slips do not get turned into Council unless submitting a bad debt YOUR IMPORTANT ROLE Girls succeed when families get involved. You can support your girl by giving her love, guidance, and inspiration. There are also some specific responsibilities you'll need to assume to ensure your girl achieves her goals:
Help your Girl Scout set goals and coach her on how to sell.
Make sure your Girl Scout does not take orders prior to program start date.
Collect payment upon delivery, not before except for Care to Share. Be sure to turn over all funds to the troop cookie manager as soon as possible.
Remember that cookies cannot be returned to the troop or Council once signed for.
Accept financial responsibility for all cookies and money received
The cookie program helps Girl Scouts learn honesty and fairness. Failure to account for money and products received will be considered misappropriation of funds.
11 The CARE TO SHARE program is designed for customers to purchase cookies to be sent to military and their families, food banks, homeless shelters, etc.
Troops can choose to donate to select organizations in their immediate Service Units. The girls accept payment for the cookies at the time of delivery or Booth Sale. This money can be used to purchase CARE TO SHARE cookies. If it's not in $5.00 or $6.00 increments, then the money can be combined with other customer's donations until they have enough for a box. Every box counts! Troops will be given CARE TO SHARE customer receipts to use, should a customer request one. Receipts can be duplicated as necessary. These receipts are for the customer's records only, and do not need to be turned in at the end of the sale.
The Military is our default for all CARE TO SHARE donations but GSSNV donates to multiple sources. Care to Share boxes can be added to the girls through eBudde. To Earn the Care to Share Patch each Girl must sale 15+ packages CARE TO SHARE
12 Selling practices vary from council to council. In our area, girls sell cookies through these channels: Order Card taking Girls ask neighbors, friends and family members to place orders for cookies. They write their orders on the paper order card, which is turned in to the cookie volunteer. The volunteer enters these orders in eBudde™. Payment is collected when girls deliver cookies a few weeks later. Booth sales/direct sales Troops buy cookies and resell them directly to customers, often at booths in high-traffic areas such as grocery stores, malls or sporting events. Booth sale times and locations are organized by our council, and troops can only sell at approved locations.
Digital Cookie® Girls create customized websites and send emails to family and friends, asking them to buy cookies. Customers purchase cookies online and have the option for the cookies to be shipped directly to their homes. Orders appear automatically in eBudde. Find out more at girlscoutcookies.org. HOW GIRLS SELL GIRL SCOUT COOKIESâ
13 How the cookie crumbles Troop proceeds and reward opportunities for girls Troops will earn $1.00 dollar per package sold. Opting Out: Troops can earn an addition $0.10 per box if they Choose to "Opt Out" of the rewards program.
Only troops made up of Juniors, Cadettes, Seniors, and Ambassadors can "Opt Out" of the recognitions program. Girls who opt out will still earn the Theme Patch and Achievement Number Bars only. Girls that sell 1000+ boxes will NOT qualify For the Grand Cookie Club.
To qualify, all girls and parents must sign the Opt-Out form. This form is due by Friday, January 25th to customerservice@girlscoutsnv.org by Close of Business (COB).
Late forms CAN NOT be accepted. GIRL SCOUT COOKIE PROCEEDS We have the cookies customers look forward to every year! Girl Scout Cookies are $5.00 per box for traditional varieties. Specialty cookies are $6.00 per box. Please Note: Money earned during Girl Scout Product Cookie Program belongs to the troop as troop proceeds
14 Girl Scouts can earn a wide variety of rewards for their achievements in the Girl Scout Cookie Program®:
Official Girl Scout badges.
Symbols of accomplishment in the form of patches and other reward items promoted on the order card.
Recognitions are mailed directly to your Service Unit Product Manager (SUPM) in late April. Your SUPM will contact you for a pick-up date/time. If recognitions are not picked up in a timely manner, they will be brought to the Council office for pick up. Council will hold on to recognitions until August 01, 2019.
Recognition items are nontransferrable and not redeemable for cash.
GSSNV reserves the right to substitute recognition items/events of equal or greater value without notice.
Any Girl Scout found to be selling before the official start dates or through prohibited methods will not receive recognition items or credit for those orders.
If rewards are not collected by August 01, 2019 GSSNV does not guarantee the rewards will be available or in stock.
New This Year: Volunteer Initial Order Recognition! o Volunteer Initial Reward Order Recognition o Volunteer Patch The Girl Scout Cookie Activity Pin All girls who participate in the Girl Scout Cookie Program are eligible to earn the annual Cookie Activity Pin, which recognizes the 5 Skills learned and practiced during the sale. Girls can collect a different color of pin every year. Get details at girlscoutcookie.org. Please note this pin can be purchased in the store or online (Council does not provide this pin to girls/troops). GIRL REWARDS
15 The Girl Scout Promise On my honor, I will try: To serve Godandmycountry, Tohelp people at all times, And to live by the Girl Scout Law. TheGirlScoutLaw I will do my best to be honest and fair, friendly and helpful, considerate and caring, courageousandstrong,and responsible forwhat I say and do, and to respect myself and others, respect authority, use resources wisely, make the world a better place, and beasistertoeveryGirlScout.
16 Questions About Booths If you have any questions or concerns before, during or after your booth, be sure to contact your Troop Cookie Manager, then your Service Unit Product Manager, and/or the Council Office. Please Do NOT ask the store manager. Booth Hours Booths will be scheduled as follows (dependent on store restrictions):
Monday through Friday: 1:00pm through 8:00pm
Saturday and Sunday: 8:00am through 8:00pm *please let your SUPM know if you will be at booths outside these hours Booth Staffing A minimum of two adults and two Girl Scouts must be present at all times during troop booth sales, (unless you are a Cadette, Senior, or Ambassador Girl Scout you have permission to do 1 to 1 booth.). One adult must be registered, and cookie trained or on-line cookie booth trained with clear background check. The second adult can be a mom, dad, grandparent, or any responsible adult over the age of eighteen. 1 to 1 Cookie Booths for Cadettes, Seniors and Ambassadors ONLY This program ONLY applies to girls who are Cadettes, Seniors, and Ambassadors and their cookie booth trained adult. For safety purposes this program option is only available for older girls. This includes our GSSNV Juliettes.
Older girls, Cadettes, Seniors and Ambassadors ONLY, may work 1 to 1 booths. They should have identifying Girl Scout attire on so Girl Scouts are not mistaken for adults. Multi-level troops may participate in 1 to 1 Cookie Booths but can only have the girls in grades 6th through 12th participate in their 1 to 1 booths.
Cookie Booths at Your Own Business NOTE: This ONLY applies to Troop Leaders, Troop Cookie Managers, and parents that OWN their own business. It does NOT apply to a parent or Troop Cookie Manager (TCM) who works at the business but doesn't own it. If a TCM or parent (ONLY, not a relative or friend) owns a business and wishes to have their Troop sell cookies there, they can do so under the following guidelines:
Booth coordination and scheduling will be handled through the Service Unit Product Manager. Owning a business does not allow you to create your own booth sale hours or dates. All Council booth guidelines must be followed regardless of ownership.
A "Booth Sale Authorization Form" must be submitted and approved.
All Cookie Booth Guidelines and limits apply.
The location CAN be used exclusively by the troop but MUST be shared with all girls in the troop.
Girl and adult ratios apply; minimum of two girls and two adults must be present at each booth. GSSNV BOOTH INFORMATION
17 Per GSUSA 2019 Cookie Booth Policy o Certain locations may be inappropriate for young girls based on the standards of your local community, may negatively impact the cookie program experience for girls, and/or may negatively impact our brand in your community.
o For additional clarity, girls should not sell in or in front of establishments that they themselves cannot legally patronize. o Additionally, with respect to marijuana dispensaries, we have been steadfastly combating the unauthorized uses of the Girl Scout trademark by the cannabis community, which has been marketing—without our authorization—certain cannabis products under our youth-appealing brand. We are continuing to aggressively fight these unauthorized uses of the Girl Scout brand and hope that our councils and volunteers will join Girl Scouts of the USA's efforts by discouraging cookie booth locations at such locations.
Setting-Up and Closing Down Your Booth Begin and end on time. If you arrive early: be respectful of the troop scheduled before you so that you don't interfere with their sales. Likewise, be prepared to depart when your scheduled time is up. When arriving for your shift, sales PRIOR to your scheduled starting time are THEIRS; sales AFTER your scheduled starting time are YOURS! When ending your shift: sales PRIOR to your ending time are YOURS; sales AFTER your ending time are THEIRS. You can finish the sale that you are working on, but all additional sales belong to the next troop. If a customer promises to buy cookies on their way out but doesn't leave prior to your ending time, then you forfeit the sales to the next troop.
We are sisters in Girl Scouting at all times. Although it may take you time to pack up your booth, the area must be cleared so that the next troop can begin selling immediately when their time begins.
During Your Booth
Bring your own equipment and supplies. Use a covered table to display your cookies, and use publicity posters, troop banners, etc., for your display.
Always keep boxes/cases off the ground, even when setting up or breaking down your booth. Utilize wagons, milk crates or other platforms. Empty cases are NOT allowed to be used for this purpose, as it cannot be verified that they are empty. DO NOT use the location's shopping carts to store inventory or booth items during the booth.
NEVER GIVE COOKIE SAMPLES to customers as it is against Health Department regulations and possibly store regulations.
Girls AND adults should wear Girl Scout appropriate attire (Uniform vest or sash/Troop t-shirt preferable). Girl Scout membership pins should always be worn. ALL, please be conservative; no shortshorts or low cut shirts.
Siblings and pets MUST be left at home. Tag-a-longs (non-registered Girl Scouts) are not allowed at a booth sale.
Girls should take their breaks away from the booth and NEVER eat at a booth.
Do NOT allow girls to block store entrances or exits. Customers should be approached only upon exiting the store. Abide by store rules!
Leave your area clean by taking trash bags and taking your empty cardboard cases with you. Do not leave them at the store or in the store's trash cans. Remember, Girl Scouts Leave No Trace!
GSSNV BOOTH INFORMATION
18 RETURNS NO Returns to Council Once troops receive their cookies, they are NOT able to return them to Council. MONEY HANDLING
Payment is collected when girls deliver cookies. Payments are NOT accepted during the initial order, nor should cookies be delivered without receiving payment in full. ONLY EXCEPTION IS Gift of Caring orders, payments should be accepted immediately.
Always count and then fill out a receipt for any money collected. This must be signed by the Troop Cookie Manager and you
TCM will not accept money from a girl. If a girl in the troop brings money to him/her, he or she will give back the money with a note to the parent/guardian saying they need to come in and count the money with him/her, and sign a receipt.
Girls may accept cash or checks payable to "Girl Scouts of Southern Nevada troop #XXXX" as payment for cookies. Checks cannot be for more than $144.00 (the cost of two specialty cases). Do not accept checks from a customer for more than this amount or accept multiple checks from any individual. If the caregiver does not follow these procedures and the check isn't honored, the troop and parent will accept financial responsibility.
Girls can only accept pre-printed checks with the issuer's address listed. Council cautions against taking outofstate checks. DO not take "starter" checks or checks that are damaged.
The following information MUST be filled out on the check:
Driver's License #
Driver's License Expiration Date
Telephone Number
Cookie funds should be collected from girls and safeguarded by parents immediately.
Cookie funds should be submitted to the Troop Cookie Manager in their original form (e.g. cash and checks from customers), promptly and frequently. Talk to your TCM about dates/times for receiving girl payments. Parents are not allowed to deposit cookie funds into their own personal accounts. Your TCM will receipt every transaction (e.g. cookies given to girls, money received from girls) for clarity and reconciliation.
DELIQUINCY Any monies not turned into the TCM on time are considered delinquent. Your TCM will turn your information into Council. This can affect scholarship applications and participation in future product programs.
19 No Troop Divorces during the Sale Regrettably, the Cookie Sale often brings out both the best and the worst in adults. The end result often means troops wanting to split. This is often because of differences of opinions regarding how the leader is running the sale, especially in the way cookies are being credited and how the proceeds will be spent.
However, this discord within the ranks can be emotional to the girls and detrimental to the troop. For these reasons, Troops MAY NOT divorce, separate, or split-up during the sale. Troops experiencing problems should contact their Membership/Troop Support Team immediately. The Team will help to resolve the situation until permanent solutions can be agreed upon after the sale.
Whistle Blowers In an attempt to be sure that all complaints during the Cookie Program are legitimate and in the Girl Scout spirit of honesty and fairness, the following guidelines have been implemented:
Third-party complaints will not be accepted. The person with the complaint must be the person who saw it, heard it, read it, or was directly involved in it.
You must be willing to put your complaint in writing and sign your name.
You must be willing to back up your complaints with examples. Random, vague complaints will not be accepted.
If you are going to lodge a complaint, you must be willing to face your accused.
Accusers will no longer be kept confidential. ADULT Code of Conduct Unacceptable behavior by a volunteer, adult chaperone, parent or guardian as listed below, may result in immediate suspension or termination of any involvement in Girl Scouts: a) Willful violation of Council or National Girl Scout Policies. b) Willful creation of discord. c) Willful damage and/or misuse of property. d) Violence of any kind to include behavior at Council Office and w/Council staff and or volunteers. e) Child Abuse – Neglect, physical injury, emotional maltreatment to include verbal and/or sexual abuse. f) Illegal Drugs – Use, sale, possession or being under the influence of illegal drugs at a Girl Scout sponsored event.
g) Improper conduct while under the influence of prescription drugs, including but not limited to transportation of girls while on a controlled substance. h) Alcohol – Use or being under the influence of alcohol is prohibited at all girl programs, activities, and events. i) Smoking – Smoking in non-designated areas or in the presence of girls is prohibited. j) Inappropriate, abusive, profane or offensive language to include behavior when calling Council Office, w/Council staff and or volunteers. k) Any inappropriate conduct, behavior or acts during Girl Scout Activities.
l) Willful misuse of Council and/or troop/group funds.
m) Refusal to submit an accurate and timely Financial Report. n) Failure to fulfill the conditions of the volunteer agreement and/or the volunteer position description. o) Falsification or significant omissions of any information on the Volunteer Application form and/or council records. p) Harassment or intimidation, including sexual harassment or abusive behavior that creates a hostile environment. q) Failure to maintain a positive representation of Girl Scouts of Southern Nevada and GSUSA at all Girl Scout related activities and events can result in dismissal of volunteer GSSNV ADULT CODE OF CONDUCT Any volunteer will be automatically discharged if a registered sex offender becomes part of their household.
20 GIRL Code of Conduct Girl Scouts are held to the highest standards in the community. Girls are highly visible to the public while wearing their Girl Scout uniforms and selling cookies. Therefore, their behavior is very important to the Girl Scout movement. Girls are representing a world-wide organization and must act accordingly. Poor behavior can jeopardize the potential to conduct cookie booths at that location in the future. a) Girls should greet their customers in a friendly manner. b) Girls should always be polite. c) Girls should always say "Thank you," after the sale.
d) Girls should be gracious when someone isn't interested in buying cookies.
e) When helping a customer, girls should not argue about who gets to show them the cookies or collects the money. f) Girls should not eat or drink in front of customers. g) Girls should not text or use the internet while working at a cookie booth. h) Girls should help to set-up, restock, and tear-down the booth. i) Girls should not block doorways; always stand off to the side. j) If chairs are provided, girls should stand up when talking to customers.
k) Girls should never be yelling, screaming, running, climbing on rides, sitting on store displays, or being a nuisance to customers. l) Girls should ALWAYS follow the Girl Scout Promise and Law. Per GSUSA – 2019 Online Selling Policy Girls are only to use the Internet to market the Girl Scout Cookie Program and Fall Product Program to friends and family (for clarity, "friends and family" are people whom the girl or her family personally know).
The Girl Scout Cookie Program is a girl-led program and online marketing and sales efforts should always be led by a girl while also being supervised by her parents or caretakers.
Friends and family of a girl participating in the cookie program must not market or share a girl's contact information, sales links, or sales information on public-facing online sites. They also should not share their sales link with any news outlets (this includes online and traditional news media, such as radio, television, or magazines).
For safety purposes and other reasons, online marketing activities, especially those conducted through social media platforms, should always be done through accounts set to "private." GSSNV GIRL CODE OF CONDUCT
21 Girl Scouts of the USA's Cookie Pro™ Contest for 2019 is an exciting opportunity to highlight the amazing skills and experiences that girls gain through participating in the Girl Scout Cookie Program. Join us in celebrating the cookie entrepreneurial skills of Girl Scouts nationwide—and unlock an awesome, limited-edition Cookie Pro 2019 patch while earning a chance to When can girls participate? January 2–April 30, 2019 (GSSNV will have supplies available following our Cookie Rally, January 26) How can girls participate? By submitting a complete Cookie Pro contest entry, which includes answering a set of questions, uploading a mini-graphic novel and uploading a photo of themselves in uniform. Ask Council for more details. What can girls win? Twenty-four girls nationwide—four per Girl Scout grade level—will be selected to get the epic chance to:
Travel to sunny southern California for an all-expenses paid Cookie Entrepreneur Experience
Go on an incredible behind-thescenes VIP adventure at Warner Bros. Studios
Take part in super-cool activities featuring the DC Super Hero Girls™
Meet prominent entrepreneurs and share in their secrets of success Cookie Pro Contest 2019
22 eBudde is a cookie volunteer's best friend. Here's where you'll order cookies, track deliveries and more. You will receive eBudde training that will make the season a snap. Here are some quick reference facts on how to use the eBudde system. GETTING STARTED All Users 1. Go to ebudde.LittleBrownie.com 2. Enter your email address and password (this may be the council specific default password). Click LOGIN. 3. As a new user, change your password, enter/review contact information, then click SUBMIT. eBudde tools are collected in tabs you'll see at top of page. Click each tab to execute various tasks.
Contacts Tab 1. Review information; click EDIT to make any necessary changes.
Settings Tab 1. Select the specific troop whose information you want to edit from the list to the left of your screen. (if applicable) 2. Enter number of girls selling and registered (if applicable); goal in packages. 3. Mark Opt-out rewards for additional profits. (if applicable) 4. Enter banking information. (if applicable) 5. Click UPDATE to accept all changes. Girls Tab 1. Enter girls' names, GSUSA ID and grade. Click the check box for registered girls, enter t-shirt size and sales goal in packages.
2. Click UPDATE to accept all changes. EBUDDEä FINGERTIP FACTS
23 Share these awesome tips from real Girl Scouts. Door-to-door sales Encourage girls to canvass their communities with buddies and adult partners, leaving no doorbell unrung!
Girls can take orders door-to-door at the beginning of the cookie sale with their order cards.
Girls can sell door-to-door with cookies in hand. After cookies are delivered, load up a wagon with cookies, make signs and you are ready for a neighborhood walkabout. Online sales Customers buy more cookies when girls sell online by using the Digital Cookie Platform. Girls can send friends and family to their website to order and pay for their cookies online.
Social networking Online social networking sites are a great place for teens (13 and older with parental permission) to ask for cookie orders. Be sure girls follow the GSUSA safety guidelines for online marketing. Telephone sales It's fast and easy to sell Girl Scout Cookies® by phone.
Girls can review order cards from previous years and contact these customers again.
Once cookies have been delivered, girls may want to call customers, thank them for their orders and ask if they need additional cookies.
Try a text-a-thon. Girls may want to text their friends and family to let them know it's cookie time and to ask for orders.
Workplace sales
Girls can contact business owners or managers to request permission to sell Girl Scout Cookies at a workplace.
Girls can either make a quick "sales pitch" at a staff meeting or make sales calls around the office, depending on the wishes of the business.
Once employee sales are completed, the business may allow girls to leave an order card in a visible spot. Leave a note from your team outlining their goals and plans for the cookie proceeds. (Remember not to list the girls' last names or phone numbers on the order card or note). An adult at work may oversee the card, but it is the girl's responsibility to fill all orders, write thank-you notes and oversee delivery.
Girls should establish a date and time to pick up the order card and deliver the cookies.
Booth sales help girls reach more customers Booth sales are a great way to increase your team's success. Remember, you must have the appropriate permission from authorities and your council before the booth sale. Possible high-traffic locations include:
Grocery stores
Sporting events
Parks
Banks
Malls
Universities TOP SELLING TIPS
24 Offer a Girl Scouts® Gift of Caring™ option During booth sales, ask customers to donate cookies to a worthy program. Promote the option with posters and a special box (or wagon) for donated cookies.
Share goals with customers They love to hear how girls are making a difference, so encourage girls to make posters, banners or tshirts to get the word out. Make cookie bundles Attach a ribbon and a handmade card for maximum impact. Give away recipes Encourage customers to try something new by offering a recipe card with every purchase of multiple boxes.
BOOTH SELLING TIPS
25 Be sure girls understand and follow these safety rules:
Show you're a Girl Scout—Wear the Girl Scout membership pin and/or Girl Scout clothing to identify yourself as a Girl Scout.
Buddy up—Always use the buddy system. It's not just safe, it's more fun.
Be streetwise—Become familiar with the areas and neighborhoods where you will be selling Girl Scout Cookies®.
Partner with adults—If you are a Girl Scout Daisy, Brownie or Junior you must be accompanied by an adult when taking orders or selling/delivering product. If you are a Girl Scout Cadette, Senior or Ambassador you must "buddy up" when selling door-to-door. Adults must be present at all times during cookie booth sales.
Plan ahead—Always have a plan for safeguarding money. Avoid walking around with large amounts of it or keeping it at home or school. Give proceeds to supervising adults who should deposit it as directed by your Girl Scout council as soon as possible.
Do not enter—Never enter the home or vehicle of a person when you are selling or making deliveries. Avoid selling to people in vehicles or going into alleys.
Sell in the daytime—Sell only during daylight hours, unless accompanied by an adult.
Protect privacy—Girls' names, addresses and email addresses should never be given out to customers. Use a group contact number or address overseen by an adult for customers to request information, reorder or give comments. Protect customer privacy by not sharing their information except for the product sale. Girls should never take credit card numbers.
Be safe on the road—Always follow safe pedestrian practices, especially when crossing at intersections or walking along roadways. Be aware of traffic when unloading product and passengers from vehicles.
Be net wise—Take the Girl Scout Internet Safety Pledge before going online and follow the specific guidelines related to marketing online. http://girlscouts.org/help/internet_safety_pledge.asp Visit girlscoutcookies.org for even more safety tips. Source: Girl Scouts of the USA SAFETY TIPS
26 Define your brand Choose a name, tagline and logo that highlights what makes you unique—whether it's a personality trait or special talent—so you can shine through in your cookie business. For inspiration, look to your favorite brands and think about all the things that make them stand out.
Craft your marketing message People love a good story. One way to tell the story of your business and brand is to come up with an elevator pitch, which is a quick and persuasive sales speech. The elevator pitch has four parts: 1. Introduce yourself.
2. Introduce your product. 3. Tell customers why they should buy from you (versus a grocery store or baker). 4. Ask customers to buy. Sample elevator pitch: Hi, my name is ( first name), and I'm selling these delicious Girl Scout Cookies, available for a limited time. Our troop's goal is to . Would you buy _ boxes of Girl Scout Cookies to help me reach my goal? My elevator pitch Set your goals What do you want to do with your cookie money _ _ _ _ Cookie calculations: 1. How much cookie money do you need to reach your goal? _ Proceeds needed (estimate) 2. Ask a volunteer or council member the dollar amount your troop receives from each box of Girl Scout Cookies.
Proceeds from each box 3. Divide the answer for problem 1 by the answer for problem 2 to calculate the number of boxes you or your group needs to sell to reach your goal. Proceeds needed (answer 1) ÷ Proceeds from each box (answer 2) = Boxes sold to reach goal _ _ 4. If your Girl Scout group has a group goal, divide the answer for problem 3 by the number of girls in your group. Boxes sold to reach goal ÷ Girls in group = Boxes each girl needs to sell _ _ 5. How many boxes of cookies would you like to sell _ Use the answer from problem 3, if it's a personal goal. Use the answer from problem 4, if it's a group goal.
Or, make up your goal! COOKIE BUSINESS PLAN Cookie Business Plan Get set for success by creating a You're the (girl) boss! How many Girl Scout Cookies® will you sell this year? Who are your customers? How will you market to them? As the owner of your Girl Scout cookie business, you decide. To grow your business and reach your goals, the first thing you need is a plan. 1 2 3 NAME:
27 TM & © Girl Scouts of the USA. ®, TM, © 2017 Kellogg NA Co. Develop a sales and marketing strategy Here's where you get tactical. Decide how you plan to find customers and achieve your sales goals. Tap into online tools: A great strategy for success is to sell cookies online. Remember to always work online with an adult.
Take orders online using Cookie Club by visiting https://cookieclub.littlebrownie.com/. OR
Sell your cookies online with Digital Cookie. ™ Innovate for success: Time to get creative! Brainstorm ways that you can market and sell more Girl Scout Cookies. Need ideas? Find helpful tips and tools at LittleBrownieBakers.com.
_ Look at finances What are your expenses? Write down anything you will need to purchase to put your marketing and sales plan into practice. See if you can reuse materials you have or get materials donated. If you incur expenses, you'll need to subtract that cost from your proceeds. Items I need to purchase: Estimated Cost: Total Cost: Put your plan into action You've developed your message, set goals, mapped out tactics and looked at finances. You're in business! Potential next steps include:
Send a reminder to your top customers that cookie season is coming soon.
Get buy-in from your Girl Scout group by suggesting ideas and sharing goals.
Ask adults and volunteers if they would be willing to help with rides and other needs. My next steps: 6
Going to next pages ...
Cancel