Faraday News 24th October 2014
Page content transcription
If your browser does not render page correctly, please read the page content below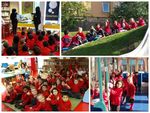 Faraday News
            th
         24 October
              2014
It seems incredible to be penning the half term edition of the newsletter as it only seems a short
time ago that we were welcoming the children back to school after the summer term and welcoming
our new pupils.

It is unbelievable that the children in Miss Ramage's class have only been in school for six weeks. It is
always culture shock when the youngest children start school at the start of the September term.
The previous year group seem so grown up and organised and the new intake so little and in need of
assistance in everything they do. This year's intake were a lively bunch from day one and they
certainly made their presence felt – they have, however, settled in magnificently and work happily
and quietly during the day, but retain their zest for enjoyment when they are out at play or
participating in music, PE and drama. Well done Miss Ramage, Miss Finn and the Reception Class.

Progress has been made too in each of the classrooms. It is always encouraging to hear from
teachers how well the children are working and hear about the individual achievements. It is a joy
each week to hand out the Star of the Week certificates to those children who have made progress
or had a breakthrough in their learning. Well done to all of those pupils who have been Star Pupils
over the past six weeks. I look forward to all the pupils, at some point during the academic year
being the star pupil at least once.

The building has also made significant progress over the past few weeks as we have learnt how we
can use it to best effect. The hot lunch was much enjoyed by the children yesterday and we are now
seriously looking at whether or not we can offer parents the option of hot dinners on a regular basis.
There will be more news about this after the half term.

The second half of the Autumn Term is generally one of the busiest times of the year in a school and
this November/December is going to be no different. We are including dates for your diaries in this
newsletter so that you can make the necessary arrangements in good time. The final club will be held
on Friday 12th December this year. There will, however, be after school care available on Monday 15th
December but school will finish for the term at 3.30pm on Tuesday 16th December. We will contact
you nearer the time to let you have the details of the final days of term.

We will also be starting our rehearsals for the two Christmas productions when we return after half
term. This year we are going to hold an afternoon performance for the Reception and Year 1 class.
This will be held at 2pm on Tuesday 9th December. The pupils in Years 2 – 6 will take place the
following day at 6pm. Last year we found that holding a whole school production in the evening was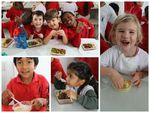 just a little too much for our youngest children and made the evening very long. This way will give
our youngest children the opportunity to shine at a time of day when they are still full of beans.

We are planning to hold the performances in the new school hall which will provide us with another
set of challenges. If any parent knows of a local company which hires out staging at reasonable cost
please could they let me know so that I can start getting this organised.

After half term collection of pupils, certainly those in clubs will take place in the dark. We now have
good lighting in the new school yard. On evenings when there is no club taking place in the hall
parents are welcome to wait there until their children are delivered by the club leader. On other
evenings we will open the side door and parents are welcome to wait in the library. All pupils who
are being collected should have their belongings all together in one place in the hall to save parents
from having to go chase around the school looking for their children's belongings. This should make
the collection of your child at school a much less fraught experience and put an end to one of the
less well organised times of day at Faraday.

Please can parents collecting their children in the evenings both at 3.30 and 4.45pm always come
into school through the back yard rather than through the front door. We are working on the best
way of making entrance to the yard secure and will let you know what the arrangements will be in
due course.

To assist in getting children into and out of school each day I think that it may be beneficial, if your
child already has one, for children to come to school with a back pack containing PE bag, lunch box
and water bottle. Some children are coming into school, and leaving, loaded up with more than they
can safely carry – particularly if their classroom is on the first floor.

I do hope that you all have a very restful half term and I look forward to seeing everyone again on
Monday 3rd November.

                                                                                             Susan Stark
Trip to the IdeaStore

This week Year 1 & 3 buddied up for a trip to the IdeaStore. The children sat and listened to some
amazing stories. They then trailed through all of the books and we're able to find a book to their
liking.

Afterwards the children ate their lunch and enjoyed some playtime at the pirate park.

They are a lucky bunch!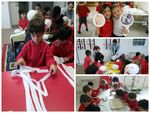 Year 2 and 4-6 visit to the Ideastore Library
This morning we had a lovely time listening to a story, singing, browsing the shelves and issuing our own books at the
Ideastore. Our friend Florence, the librarian was so happy to see us and couldn't believe how much everyone had
grown!
Please return books to school by Wednesday 12th November if the children have brought them home and we will take
them back for you. If your child hasn't brought a book home it is in their tray at school for safe keeping.
Miss Gimblett and Mr Cobb
Science Club!

                                              This week in science club our young scientists made
                                              these fantastic cube bubbles!

                                              The group talked about the air inside a bubble pushing
                                              on all the edges making spheres. The scientists then
                                              took on the challenge of changing the shape. They
                                              used a bubble solution made of water, washing up
                                              liquid and sugar to thicken the liquid and allow the
                                              liquid films to stay strong.

                                               Each child made their very own cube frame with pipe
                                               cleaners and straws. It was very tricky but they were
                                               determined and worked really hard to make excellent
                                               cube frames. When the frames were dunked into the
                                               bubble solution each face of the cube created a
                                               bubble which joined in the middle to create edges.
                                               The next step was to blow a new bubble and drop it
                                               into the square space that our cube structures had
                                               formed. The edges created by the faces of the cube
                                               held the bubble in the middle of the frame and
                                               pushed on it to form the shape of a cube. When the
children blew into the bubble it grew into a cube! It took a lot of patience and a steady hand.
Fantastic job. Well done!
Faraday pupils exhibiting on Trinity Buoy Wharf

THURSDAY 30TH OCTOBER. Changing Spaces – Photomonth 2012
exhibition in the Electricians' Shop The show is from Saturday 1st to
Sunday 2nd November from 12 to 5 pm. Exhibiting photographers:
Peter Mackertich has photographed creative folk at Trinity Buoy Wharf.
Anna Sherbany has worked with schoolchildren in the E14 area of
Poplar and Leamouth, including pupils in Miss Gimblett's class. Fenris
Oswin's 'Colourfields London' is inspired by the Colorfield paintings of
Barnett Newman and Mark Rothko.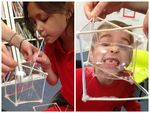 School Lunch
The school lunch was a success as all the children
couldn't get enough of the delicious food Sisserou
provided. And we have photos to prove it!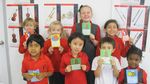 Trick or treat?
Today Reception, Year 1 and Year 3
joined forces to become the ultimate
buddy group. Each class had a chance
to work together on three different
tasks.

Year 1 and Year 3 made mummy hot
dogs and ghost mallows with Miss
Stapleton, spiderwebs with Miss
Newman and balloon ghosts with
Miss Allgrove and Mr Webb.
Reception made their ghost balloons
with Miss Ramage and Mr Caunt. The
children really enjoyed these
activities and were delighted to be
able to take something home.

It was fantastic to see three different age groups working together at the same time.

All children's dietary requirements were met during today's cooking class.

Have a lovely half term.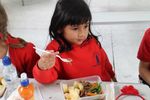 Stars of the week.

         Congratulations to Hexell, Aniket, Samantha, Chloe, Erin, Aaron, Zaina & Corie.

                                    Friends of Faraday

Dear Parents,

We have organised an exciting Design a Christmas Card project for this
Autumn term to raise funds for Friends of Faraday.

Your child has been creating his/her own design for a Christmas Card that will
be professionally printed to produce a pack of 12 cards with envelopes or a pack
of 16 gift tags.

Not only would it be very exciting for your child to see his/her work as a
finished printed product, the cards themselves are great for sending a more
personal greeting to friends and family at Christmas. Plus each pack raises a
£1.00 for Friends of Faraday.!

Card packs can be ordered by completing the order form attached to your
child's artwork. You can choose your own greeting and your child's name will be
on the back. Cheques should be made out to Friends of Faraday.

Artwork and payment must be returned by Friday 7th November.                           .
The cards can be purchased at £5.50 for a pack of 12 cards and any additional
packs can be purchased for £4.50. (Samples are available for you to view.)
Every pack ordered raises £1.00 for the school. Gift tags are available at £2.50
for a pack of 16.

Please keep designs flat and damage free, as marks will show on the final
print.

Cards will be delivered by the beginning of December.

Many thanks

Friends of Faraday

                                       Dates for your diary

Friends of Faraday Thursday 13th November at 4.30pm

3rd November – Year 1 Trip to HMS Belfast

!2th November Year 3 Trip to St John Sloane's Museum

Monday 17th November Anti- Bullying week

26th November Years 3 – 6 Science Museum

Friday 5th December House event

Tuesday 9th December Years Reception and 1 Christmas production 2pm

Wednesday 10th December Years 2 – 6 Christmas production 6pm

Friday 12th December – Last club

Monday 16th December Christmas holidays start at 3.30pm.