STENCIL HY-TECH 2018/2019 CLOTHING PRODUCTS
→
If your browser does not support JavaScript, please read the page content below:
STENCIL HY-TECH 2018/2019 CLOTHING PRODUCTS
→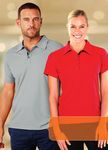 WELCOMETO STENCIL ® With a range of classic, smart and elegant mens and ladies wear, Stencil® creates clothes suitable for every season. For the past 23 years, Stencil® has developed new materials and styles exclusively for the Australian market, and remains dedicated to creating high-quality garments for Australian Corporate, Promotional, Uniform and Sportswear customers. What sets Stencil® apart from their competitors is a focus on the development of innovative new fabrics. Stencil® fiercely controls the quality of their products by controlling every step of the manufacturing process – from textile research and manufacturing through to design and production of the finished garments. FORPEOPLEWHOWON'T COMPROMISEONQUALITY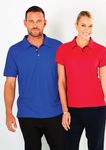 CONTENTS POLOS 2–45 WOVENSHIRTS 46–66 T-SHIRTSANDSINGLETS 67–76 VESTSANDJACKETS 77–93 CUSTOM,SIZINGANDFABRICS 94–99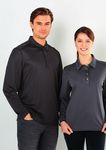 NEW UNMATCHED COMFORT, UNBEATEN QUALITY • 160g 100% DryMax® Polyester ultra-high performance fabric • Super quick moisture wicking • Keeps the body fresh, clean and cool all day long • Attractive pinhead-weave fabric • 3-button placket on mens and 4-button placket on ladies styles • Striking colours • Contrast trim inside collar, placket and side splits 1062MENSSHORTSLEEVE 1162LADIESSHORTSLEEVE Weights and measurements are approximate and for guidance only. Mens Sizes S M L XL 2XL 3XL 5XL Half Chest (cm): 51 53.5 56 58.5 61 63.5 68.5 Modern fit Ladies Sizes 8 10 12 14 16 18 20 22 Half Chest (cm): 44 46.5 49 51.5 54 56.5 59 61.5 Modern fit SUPERDRYPOLO 1 white/navy 2 green/navy 3 mid blue/navy 4 navy/silver 5 charcoal/black 6 black/charcoal 7 platinum/charcoal 8 royal/navy 9 red/navy highUV resistance quickdry deodorised treatment staticfree yarntreated moisture wicking ironfree breathable 1 2 3 4 5 6 7 8 9 NEW COLOURS Keeps skin dry all day long Natural airflow Sweat Manages heat and moisture 5
Contrast mesh panel 1 2 3 4 5 6 7 1061MENSSHORTSLEEVE 1161LADIESSHORTSLEEVE Weights and measurements are approximate and for guidance only. Mens Sizes S M L XL 2XL 3XL 5XL Half Chest (cm): 51 53.5 56 58.5 61 63.5 68.5 Modern fit Ladies Sizes 8 10 12 14 16 18 20 22 Half Chest (cm): 44 46.5 49 51.5 54 56.5 59 61.5 Modern fit FRESHENPOLO 1 white/red 2 white/navy 3 red/white 4 royal/navy 5 navy/white 6 charcoal/black 7 black/charcoal UPF50+ quickdry deodorised treatment staticfree yarntreated moisture wicking ironfree breathable STAY FRESH AND DRY ALL DAY • 145g 100% DryMax® Polyester ultra-high performance fabric • Super quick moisture wicking • Keeps the body fresh, clean and cool all day long • Silken-soft finish for unmatched comfort • 3-button placket on both mens and ladies styles • Great for uniforms, perfect for sport • Contrast mesh on side and underarm for enhanced ventilation • UPF 50+ • Coordinates with Freshen Polo L/S (page 9) Keeps skin dry all day long Natural airflow Sweat Manages heat and moisture 7 UPF 50+
1 white 2 navy 3 charcoal 4 black 1 2 3 4 Tonal mesh panel AUST/NZ standard4399 Weights and measurements are approximate and for guidance only. Mens Sizes XS S M L XL 2XL 3XL 5XL Half Chest (cm): 50 52 54.5 57 59.5 62 65 71 Modern fit Ladies Sizes 6 8 10 12 14 16 18 20 22 24 26 Half Chest (cm): 42 44 46 48.5 51 53.5 56 59 62 65 68 Modern fit STAY FRESH AND DRY ALL DAY • 145g 100% DryMax® Polyester ultra-high performance fabric • Super quick moisture wicking • Keeps the body fresh, clean and cool all day long • Silken-soft finish for unmatched comfort • 3-button placket on mens and 4-button placket on ladies style • Great for uniforms, perfect for sport • Tonal mesh on side and underarm for enhanced ventilation • UPF 50+ • Loose pocket (mens only) • Coordinates with Freshen Polo S/S (page 7) FRESHENPOLO 1043 MENSLONGSLEEVE 1143 LADIESLONGSLEEVE UPF50+ quickdry deodorised treatment staticfree yarntreated moisture wicking ironfree breathable Keeps skin dry all day long Natural airflow Sweat Manages heat and moisture UPF 50+ 9 STYLE NEW
SILVERTECH RANGE SILVERTECH ® TOP PAGE 11 SILVERTECH ® POLO PAGE 13 SILVERTECH ® SHIRT PAGE 53 ARGENT POLO PAGE 15 ARGENT TOP PAGE 16
1 red/silver 2 ocean blue/silver 3 navy/silver 4 black/silver Weights and measurements are approximate and for guidance only. Ladies Sizes 8 10 12 14 16 18 20 22 24 26 Half Chest (cm): 44 46.5 49 51.5 54 56.5 59 61.5 66.5 69 Semi-fitted MAXIMUM COMFORT, MINIMUM ODOUR • 130g 85% SilverTech/CoolDry, 8% Rayon and 7% Spandex high performance fabric • Yarn-treated with both Cool Dry® and Nano-Scale Silver Technology • Permanent natural anti-bacterial and de-odorised finish • Keeps the body fresh, clean and cool all day long • Features horizontal silver stripes on the body • Scoop collar with top-closing split at top • Perfect for both inside and outside of the office • Antibacterial rating 99.99% • Coordinates with SilverTech Polo (page 13) SILVERTECH ® TOP 1258SLADIESSHORTSLEEVE 1258QLADIES3/4SLEEVE highUV resistance quickdry permanent natural deodorised treatment staticfree yarntreated moisture wicking anti-bacterial protection ironfree breathable Airflow Moisture Bacteria Odour Fabric releases anti-bacterial silver ions which bind to moisture 1 2 3 4 11
SILVERTECH ® POLO MAXIMUM COMFORT, MINIMUM ODOUR • 130g 85% SilverTech®/Cool Dry®, 8% Rayon and 7% Spandex high performance fabric • Yarn-treated with both Cool Dry® and Nano-Scale Silver Technology • Permanent natural anti-bacterial and de-odorised finish • Keeps the body fresh, clean and cool all day long • Features horizontal silver stripes on the body • 3-button placket on both mens and ladies polos • Ideal for sports or uniform wear • Antibacterial rating 99.99% • Coordinates with Ladies Silvertech Top (page 11) 1058MENSSHORTSLEEVE 1158LADIESSHORTSLEEVE 1 white/silver 2 grey/silver 3 red/silver 4 ocean blue/silver 5 navy/silver 6 black/silver 7 charcoal/silver 8 teal/silver Weights and measurements are approximate and for guidance only. Mens Sizes S M L XL 2XL 3XL 5XL Half Chest (cm): 51 53.5 56 58.5 61 63.5 68.5 Modern fit Ladies Sizes 8 10 12 14 16 18 20 22 24 26 Half Chest (cm): 44 46.5 49 51.5 54 56.5 59 61.5 66.5 69 Semi-fitted Airflow Moisture Bacteria Odour Fabric releases anti-bacterial silver ions which bind to moisture highUV resistance quickdry staticfree yarntreated moisture wicking anti-bacterial protection ironfree breathable 1 2 3 4 5 6 7 8 permanent natural deodorised treatment NEW 13 COLOURS NEW
MAXIMUM COMFORT, MINIMUM ODOUR 14
MAXIMUM COMFORT, MINIMUM ODOUR • 155g 90% SilverTech®/Cool Dry®, 10% Spandex • Yarn-treated with both Cool Dry® and Nano-Scale Silver Technology • Permanent natural anti-bacterial and de-odorised finish • Distinctive striped contrast collar trim and underplacket • Mens style features 3-button placket, ladies style features 4-button placket • Ideal for sports or uniform wear • UPF rating 50+ • Antibacterial rating 99.99% • Loose pocket • Coordinates with Ladies Argent Top (page 16) 1059MENSSHORTSLEEVE 1159LADIESSHORTSLEEVE 1 white 2 sandstone 3 royal blue 4 navy 5 charcoal 6 red 7 black Weights and measurements are approximate and for guidance only. Mens Sizes XS S M L XL 2XL 3XL 5XL Half Chest (cm): 48 50 52.5 55 57.5 60 62.5 67.5 Modern fita Ladies Sizes 6 8 10 12 14 16 18 20 22 24 26 Half Chest (cm): 41.5 43.5 46 48.5 51 53.5 56 58.5 61 66.5 69 Semi-fitted ARGENTPOLO Airflow Moisture Bacteria Odour Fabric releases anti-bacterial silver ions which bind to moisture UPF50+ quickdry staticfree yarntreated moisture wicking anti-bacterial protection ironfree breathable 1 2 3 4 5 6 7 permanent natural deodorised treatment 15 UPF 50+
Airflow Moisture Bacteria Odour Fabric releases anti-bacterial silver ions which bind to moisture 1 2 3 4 5 NEW 4 teal 5 charcoal 1 red 2 navy 3 black Weights and measurements are approximate and for guidance only. Ladies Sizes 8 10 12 14 16 18 20 22 24 26 Half Chest (cm): 43.5 46 48.5 51 53.5 56 58.5 61 66.5 69 Semi-fitted MAXIMUM COMFORT, MINIMUM ODOUR • 155g 90% SilverTech/Cool Dry®, 10% Spandex • Yarn-treated with both Cool Dry® and Nano-Scale Silver Technology • Permanent natural anti-bacterial and de-odorised finish • Boat neckline with distinctive striped contrast trim and sleeve band • Perfect for both inside and outside of the office • Follows the shape of the body with a comfortable drape • UPF rating 50+ • Antibacterial rating 99.99% • Coordinates with Argent Polo (page 15) UPF50+ quickdry staticfree yarntreated moisture wicking anti-bacterial protection ironfree breathable permanent natural deodorised treatment AUST/NZ standard4399 NEW COLOURS ARGENTLADIESTOP 1259QLADIES 3/4SLEEVE UPF 50+ 16
ICE COOL STORY GLACIER POLO PAGE 19 ICE COOL POLO PAGE 21 ARCTIC POLO PAGE 23
BODY COOLING TECHNOLOGY 18
Weights and measurements are approximate and for guidance only. Mens Sizes S M L XL 2XL 3XL 5XL Half Chest (cm): 50 52.5 55 57.5 60 62.5 67.5 Modern fit Ladies Sizes 8 10 12 14 16 18 20 22 Half Chest (cm): 43.5 46 48.5 51 53.5 56 58.5 61 Modern fit 1 white 2 sandstone 3 red 4 dusty blue 5 charcoal 6 navy 7 black 8 ocean blue 9 purple GLACIERPOLO 1054MENSSHORTSLEEVE 1154LADIESSHORTSLEEVE BODY COOLING TECHNOLOGY • 170g 100% Polyester Ice-Cool high performance fabric • Next-generation Cool Dry® Yarn Treated fabric • Draws heat away from the wearer • Back yoke and side splits • Self-fabric collar • Stitching detail on front shoulder and back yoke • 3-button placket on both mens and ladies styles • Loose pocket (mens only) quickdry staticfree yarntreated moisture wicking ironfree breathable NEW Active Cooling 2°C – 3°C Quick Drying Breathable Fabric 1 2 3 4 5 6 7 8 9 highUV resistance 19 COLOURS NEW
BODY COOLING TECHNOLOGY 20
Weights and measurements are approximate and for guidance only. Mens Sizes S M L XL 2XL 3XL 5XL Half Chest (cm): 51 53.5 56 58 61 63.5 68.5 Easy fit Ladies Sizes 8 10 12 14 16 18 20 22 Half Chest (cm): 44 46.5 49 51.5 54 56.5 59 61.5 Modern fit 1 white 2 navy 3 black 4 ocean blue 5 pewter 6 charcoal 7 red ICECOOLPOLO 1053MENSSHORTSLEEVE 1153LADIESSHORTSLEEVE BODY COOLING TECHNOLOGY • 195g 100% Polyester Ice-Cool high performance fabric • Next-generation Cool Dry® Yarn Treated fabric • Draws heat away from the wearer • Horizontal self-stripe • Back yoke and side splits • Self-fabric collar • Mens shirt has 3-button placket • Ladies shirt has matching tape v-neck quickdry staticfree yarntreated moisture wicking ironfree breathable Active Cooling 2°C – 3°C Quick Drying Breathable Fabric 1 2 3 4 5 6 7 21
BODY COOLING TECHNOLOGY 22
Weights and measurements are approximate and for guidance only. Mens Sizes S M L XL 2XL 3XL 5XL Half Chest (cm): 51 53.5 56 58.5 61 63.5 68.5 Easy fit Ladies Sizes 8 10 12 14 16 18 20 22 Half Chest (cm): 44 46.5 49 51.5 54 56.5 59 61.5 Modern fit 1 white + navy 2 sandstone + navy 3 red + white 4 dusty blue + navy 5 navy + white 6 black + sandstone ARCTICPOLO 1057MENSSHORTSLEEVE 1157LADIESSHORTSLEEVE BODY COOLING TECHNOLOGY • 170g 100% Polyester Ice-Cool high performance fabric • Next-generation Cool Dry® Yarn Treated fabric • Draws heat away from the wearer • Contrast inside collar and side panel • Ideal for uniforms and sports wear • Features raglan sleeves and a back yoke with stitching detail • Side panels at the waist, self-fabric collar • 3-button placket on both mens and ladies styles quickdry staticfree yarntreated moisture wicking ironfree breathable Active Cooling 2°C – 3°C Quick Drying Breathable Fabric 1 2 3 4 5 6 highUV resistance 23
1 white 2 aqua 3 mid blue 4 navy 5 charcoal 6 black 7 orange 8 purple 9 red Weights and measurements are approximate and for guidance only. Mens Sizes XS S M L XL 2XL 3XL 5XL Half Chest (cm): 49.5 52 54.5 57 59.5 62 64.5 69.5 Modern fit Ladies Sizes 6 8 10 12 14 16 18 20 22 Half Chest (cm): 41 43.5 46 48.5 51 53.5 56 58.5 61 Modern fit TRAVERSEPOLO 7015MENSSHORTSLEEVE 7115LADIESSHORTSLEEVE 100% COMBED COTTON • 210g 100% pre-shrunk Combed Cotton • Pique fabric with silicone finish • Mens shirt features 3-button placket • Ladies shirt features 2-button placket • Jacquard detailing on knitted collar and cuff • Half moon back yoke and side splits easycare breathable durable wearing 100% cotton 1 2 3 4 5 6 7 8 9 25
1 white + navy 2 silver + navy 3 red + silver 4 royal blue + white 5 navy + white 6 black + silver Weights and measurements are approximate and for guidance only. Mens Sizes S M L XL 2XL 3XL 5XL Half Chest (cm): 51 53.5 56 58 61 63.5 68.5 Easy fit Ladies Sizes 8 10 12 14 16 18 20 22 Half Chest (cm): 44 46.5 49 51.5 54 56.5 59 61.5 Modern fit HIGH-PERFORMANCE COOL DRY® • 140g 85% PolyesterYarn Treated Cool Dry®, 10% Spandex and 5% Nylon high performance blend • Contrast insert panel at base of the side seam • Contrast stripes on sleeves and placket • Natural stretch and great versatility • Easy-wearing qualities of Cool Dry® • UPF Rating 50+ • Coordinates with Polo L/S (page 29) and Team Singlet (page 74) TEAMPOLO 1050MENSSHORTSLEEVE 1150LADIESSHORTSLEEVE UPF50+ quickdry deodorised treatment staticfree yarntreated moisture wicking anti-bacterial protection ironfree breathable Sweat Air Skin Fabric 1 2 3 4 5 6 27 UPF 50+
1 white + navy 2 silver + navy 3 navy + white 4 black + silver Weights and measurements are approximate and for guidance only. Mens Sizes S M L XL 2XL 3XL Half Chest (cm): 53 56 59 62 65 68 Easy fit Ladies Sizes 8 10 12 14 16 18 Half Chest (cm): 45 47.5 50 52.5 55 57.5 Modern fit HIGH-PERFORMANCE COOL DRY® • 140g 85% Polyester Yarn Treated Cool Dry®, 10% Spandex and 5% Nylon high performance stretchable blend • Contrast insert panel at base of the side seam • Contrast stripes on the placket • Natural stretch and great versatility • Easy-wearing qualities of Cool Dry® • UPF Rating 50+ • Loose pocket (mens) • Coordinates with Team Polo S/S (page 27) and Team Singlet (page 74) TEAMPOLO 1042MENSLONGSLEEVE 1142LADIESLONGSLEEVE Sweat Air Skin Fabric 1 2 3 4 UPF50+ quickdry deodorised treatment staticfree AUST/NZ standard4399 yarntreated moisture wicking anti-bacterial protection ironfree breathable 29 UPF 50+
Weights and measurements are approximate and for guidance only. Mens Sizes S M L XL 2XL 3XL 5XL Half Chest (cm): 51 53.5 56 58.5 61 63.5 68.5 Easy fit Ladies Sizes 8 10 12 14 16 18 20 22 24 26 Half Chest (cm): 44 46.5 49 51.5 54 56.5 58.5 60 62.5 65 Modern fit Note: Colour 2, 6, 9, 11 & 14 are also available in ladies sizes 24 & 26 1 white + red 2 white + navy 3 silver + navy 4 beige + navy 5 sage green + navy 6 red + white 7 bimini blue + navy 8 royal blue + white 9 navy + white !0 navy + red !1 black + white !2 black + gold !3 black + red !4 charcoal + orange !5 navy + lime green !6 navy + bimini blue !7 charcoal + lime PURE COOL DRY® COMFORT • 185g 100% Polyester Yarn Treated Cool Dry® • Self-fabric collar and side splits • Contrast trim on sleeves, edge of placket and hem • Mens polo has 3-button placket • Ladies polo has v-neck • Coordinates with CoolDry Polo L/S (page 33) and Ladies with Original Cool Dry® Polo (page 40) COOLDRY ® POLO 1010BMENSSHORTSLEEVE 1110BLADIESSHORTSLEEVE Sweat Air Skin Fabric 1 2 3 4 5 6 7 8 9 !0 !1 !2 !3 !4 !5 !6 !7 1 2 4 6 7 9 !0 !1 !2 !3 !4 !5 !6 !7 highUV resistance quickdry deodorised treatment staticfree yarntreated moisture wicking anti-bacterial protection ironfree breathable 31
PURE COOL DRY® COMFORT • 185g 100% Polyester Yarn Treated Cool Dry® • Soft silky finish • Knit collar with contrast trim and side splits • Mens double knit cuff with contracst trim, ladies 3/4 sleeve with open cuff • Raglan sleeve with contrast trim • Coordinates with Cool Dry® Polo S/S (page 31) and Ladies with Original Cool Dry® Polo (page 40) COOLDRY ® POLO 1040MENSLONGSLEEVE 1140LADIES3/4 SLEEVE Sweat Air Skin Fabric highUV resistance quickdry deodorised treatment staticfree AUST/NZ standard4399 yarntreated moisture wicking anti-bacterial protection ironfree breathable 1 white + navy/red 2 beige + navy/white 3 silver + navy/white 4 bimini blue + navy/white 5 navy + beige/white Weights and measurements are approximate and for guidance only. Mens Sizes S M L XL 2XL 3XL Half Chest (cm): 54 57 60 62.5 65 67.5 Easy fit Ladies Sizes 8 10 12 14 16 18 Half Chest (cm): 44 46.5 49 51.5 54 56.5 Modern fit 1 2 3 4 5 33
PURE COOL DRY® COMFORT • 185g 100% Polyester Yarn Treated Cool Dry® fabric • Soft and silky finish • Contrast panels on the shoulders and under placket • Knit collar and cuff with matching contrast rim • Loose pocket (mens only) Weights and measurements are approximate and for guidance only. Mens Sizes S M L XL 2XL 3XL 5XL Half Chest (cm): 51 53.5 56 58.5 61 63.5 68.5 Easy fit Ladies Sizes 8 10 12 14 16 18 20 22 Half Chest (cm): 44 46.5 49 51.5 54 56.5 59 61.5 Modern fit 1 white + red 2 white + navy 3 silver + black 4 sage green + navy 5 beige + navy 6 red + white 7 bimini blue+ navy 8 royal blue + white 9 navy + white !0 black + white CLUBPOLO 1022MENSSHORTSLEEVE 1023LADIESSHORTSLEEVE highUV resistance quickdry deodorised treatment staticfree yarntreated moisture wicking anti-bacterial protection ironfree breathable Sweat Air Skin Fabric 1 2 3 4 5 6 7 8 9 !0 Limited stock !1 bottle green + gold 35
1 white 2 jade green 3 light blue 4 navy 5 charcoal 6 black ECO-EFFICIENT PERFORMANCE FIBRE • 190g 55% Polyester Clime-Dri, 25% Cotton and 20% Polyester Yarn Treated Cool Dry® • A unique blend of Cotton and Polyester, incorporating ecologically responsible corn-origin fibre with advanced technological characteristics • Self fabric collar with open sleeves, back yoke and side splits • Mens has a tonal trim inside 3–button placket • Ladies has attractive v-neck placket • Loose pocket (mens only) SOLAR-LITE ® POLO 1030MENSSHORTSLEEVE 1130LADIESSHORTSLEEVE stainresistant natural stretch UPF rating50+ yarntreated moisture wicking easycare breathable Limited stock/indent colours 7chocolate (ladies)* 8 mid green 9 red (mens) !0 powder yellow !1 watermelon(mens) !2 light pink (ladies) eco friendly Weights and measurements are approximate and for guidance only. Mens Sizes S M L XL 2XL 3XL 5XL Half Chest (cm): 51 53.5 56 58 61 63.5 68.5 Modern fit Ladies Sizes 8 10 12 14 16 18 20 22 Half Chest (cm): 44 46.5 49 51.5 54 56.5 59 61.5 Modern fit 1 2 3 4 5 6 7 !0 8 !1 9 !2 37 UPF 50+
1 white + navy 2 pumpkin + navy 3 cherry + pale blue 4 pale blue + navy 5 ocean blue + navy 6 navy + pale blue 7 charcoal + pale blue Weights and measurements are approximate and for guidance only. Mens Sizes S M L XL 2XL 3XL 5XL Half Chest (cm): 51 53.5 56 58.5 61 63.5 68.5 Easy fit Ladies Sizes 8 10 12 14 16 18 20 22 Half Chest (cm): 44 46.5 49 51.5 54 56.5 58.5 60.5 Modern fit NATURAL STYLE AND COMFORT • 210g 45% Polyester Yarn Treated Cool Dry®, 30% Cotton, 25% Polynosic (natural fibre) • A natural eco friendly fabric with highly durable qualities and soft feel • Moisture-wicking, easy care and static-free • Self fabric collar, side splits, contrast piping on sleeves and edge of placket • Maximum comfort, kind to sensitive skin • Mens shirt features 3-button placket • Ladies shirt features stylish Y-neck 3-button placket BIO-WEAVE ® POLO 1033MENSSHORTSLEEVE 1034LADIESSHORTSLEEVE eco friendly staticfree yarntreated moisture wicking ironfree breathable UPF50+ 1 2 3 4 5 6 7 39
1 white + navy/red 2 silver grey + navy/white 3 beige + navy/white 4 sage green + navy/white 5 royal blue + white/white 6 navy + beige/white Weights and measurements are approximate and for guidance only. Mens Sizes XS S M L XL 2XL 3XL 4XL Half Chest (cm): 51 54 57 60 62.5 65 67.5 70 Easy fit ORIGINALCOOL DRY ® ® POLO 1010MENSSHORTSLEEVE 1 2 3 4 5 6 Sweat Air Skin Fabric highUV resistance quickdry deodorised treatment staticfree AUST/NZ standard4399 yarntreated moisture wicking anti-bacterial protection ironfree breathable ORIGINAL COOLDRY CONFIDENCE • 185g 100% Polyester Yarn Treated Cool Dry® • Raglan sleeves • Side splits • Contrast stripes on the collar, cuffs and sleeve • Contrast dotted line on the collar and cuffs • Coordinates with CoolDry Polo L/S (page 33) and Ladies S/S (page 31) 40
1 black/silver 2 black/mid blue 3 navy/white 4 mid blue/navy 5 white/navy 6 white/red Weights and measurements are approximate and for guidance only. Mens Sizes S M L XL 2XL 3XL 5XL Half Chest (cm): 51 53.5 56 58.5 61 63.5 68.5 Easy fit Ladies Sizes 8 10 12 14 16 18 20 22 Half Chest (cm): 44 46.5 49 51.5 54 56.5 59 61.5 Modern fit quickdry staticfree yarntreated moisture wicking ironfree breathable PURE COOLDRY COMFORT • 145g 100% Polyester Yarn Treated Cool Dry® jersey fabric • Curved contrast panels from underarm to end of front body seam • Contrast stripes on the shoulders and back • High UV protection with UPF rating 50+ • Coordinates with Player T-Shirt (page 69) PLAYERPOLO 7011MENSSHORTSLEEVE 7111LADIESSHORTSLEEVE Sweat Air Skin Fabric 1 2 3 4 5 6 UPF50+ 41 UPF 50+
PURE COOLDRY COMFORT • 160g 100% Polyester Yarn Treated Cool Dry® • Lightweight, soft finish fabric • Basic cool dry function • 3-button placket on mens style, 2 button placket on ladies style • Two fine stripes on collar and cuffs COOLDRY ® POLO 1010DMENSSHORTSLEEVE 1110DLADIESSHORTSLEEVE 1 2 3 4 5 6 Sweat Air Skin Fabric 1 white + navy/beige 2 beige + navy/white 3 red + white/black 4 royal blue + white/navy 5 navy + white/beige 6 black + white/beige Weights and measurements are approximate and for guidance only. Mens Sizes S M L XL 2XL 3XL 5XL Half Chest (cm): 51 53.5 56 58.5 61 63.5 68.5 Easy fit Ladies Sizes 8 10 12 14 16 18 20 22 Half Chest (cm): 44 46.5 49 51.5 54 56.5 59 61.5 Modern fit LIGHTWEIGHT quickdry yarntreated moisture wicking ironfree breathable 42
PURE COOLDRY COMFORT • 160g 100% Polyester Yarn Treated Cool Dry® • Soft finish • Open sleeves • Fine stripe on the collar • Contrast collar, left underplacket and side panels • 3-button knitted placket on mens style, 2-button placket on ladies style ACTIVEPOLO 1031MENSSHORTSLEEVE 1032LADIESSHORTSLEEVE Sweat Air Skin Fabric 1 2 3 4 5 6 7 8 1 white + red 2 white + royal blue 3 white + navy 4 beige + navy 5 bimini blue + navy 6 navy + white 7 navy + red 8 black + white Weights and measurements are approximate and for guidance only. Mens Sizes S M L XL 2XL 3XL 5XL Half Chest (cm): 51 53.5 56 58.5 61 63.5 68.5 Easy fit Ladies Sizes 8 10 12 14 16 18 20 22 Half Chest (cm): 44 46.5 49 51.5 54 56.5 58.5 60.5 Modern fit quickdry yarntreated moisture wicking ironfree breathable 43
Weights and measurements are approximate and for guidance only. Mens Sizes S M L XL 2XL 3XL 5XL Half Chest (cm): 53.5 56 58.5 61 63.5 66 70 Easy fit Ladies Sizes 8 10 12 14 16 18 20 22 Half Chest (cm): 44 46.5 49 51.5 54 56.5 58.5 60.5 Modern fit PURE COOLDRY COMFORT • 210g 75% Polyester Yarn Treated Cool Dry®, 25% Cotton pique fabric • High quality feel • Back yoke and side splits • Mens style features 3-button placket • Ladies style features stylish v-neck • Coloured double stripe on knitted collar and cuffs STANDARDPLUS 1010IMENSSHORTSLEEVE 1110ILADIESSHORTSLEEVE 1 2 7 !2 6 !1 5 !0 4 9 3 8 Sweat Air Skin Fabric Limited stock/indent colours 3 white + navy/red 4 beige + navy/white 5 red + white/navy 6 burgundy + navy/white 7 bottle green + gold/white 8 pale blue + choc/choc 9 steel blue + navy/white !0 royal blue + navy/white !1 navy + white/red !2 black + white/grey UPF50+ quickdry yarntreated moisture wicking easycare breathable durable wearing 1 white+ navy/navy 2 navy + white/white 44 UPF 50+
Stock Colours 1 white + navy 2 navy + white 3 black + silver Limited Stock/Indent Colours 4 moss + sky blue 5 sky blue + navy 6 red + white Weights and measurements are approximate and for guidance only. Mens Sizes S M L XL 2XL 3XL 5XL Half Chest (cm): 51 53.5 56 58 61 63.5 68.5 Easy fit Ladies Sizes 8 10 12 14 16 18 20 22 Half Chest (cm): 44 46.5 49 51.5 54 56.5 59 61.5 Modern fit 100% HEAVY WEIGHT COTTON • 230g 100% pique Combed Cotton • Pre-shrunk Cotton • Side splits • Contrast trim on placket, collar and sleeves CENTENNIALPOLO 1052MENSSHORTSLEEVE 1152LADIESSHORTSLEEVE 1 2 3 4 5 6 100% cotton breathable durable wearing 45
EMPIRESHIRT COMFORT COTTON BLEND • 50% Combed Cotton, 50% Polyester Tarn–Treated Cool Dry® mini-stripe fabric • Contrast stitching on buttons, collar, yoke and pocket • UPF Rating 50 • Easy care • Ideal for workwear, corporate and promotional use all year round 2031MENSLONGSLEEVE 2033MENSSHORTSLEEVE 2131LADIESLONGSLEEVE 2133LADIESSHORTSLEEVE 2132LADIES3/4SLEEVE 1 white/white 2 charcoal/grey 3 grey/charcoal 4 navy/sky 5 sky/navy 6 mauve/mauve Weights and measurements are approximate and for guidance only. Mens Sizes S M L XL 2XL 3XL 5XL Half Chest (cm): 54 57 60 64 68 72 80 Modern fit Ladies Sizes 8 10 12 14 16 18 20 22 24 26 Half Chest (cm): 48 50 52 54 57 60 63 66 69 72 Tailored fit UPF50 quickdry yarntreated moisture wicking easycare breathable 1 2 3 4 5 1 2 3 4 5 6 1 2 3 4 5 1 2 3 4 5 49 UPF 50
CANDIDATESHIRT IRON FREE CONVENIENCE • Lightweight 98% Yarn-Treated Polyester Cool Dry®, 2% Spandex • Shirt styled without pocket for a clean and simple look • Iron free • Mens style gently tapers into the waist for a closer fit • Ladies style features waist and bust darts to provide a smart streamlined shape • Certified UPF 50+ 1 white 2 navy 3 charcoal 4 black Weights and measurements are approximate and for guidance only. Mens Sizes S M L XL 2XL 3XL 5XL Half Chest (cm): 53 56 59 63 67 71 79 Modern fit Ladies Sizes 8 10 12 14 16 18 20 22 24 26 Half Chest (cm): 47 49 51 53 56 59 62 65 68 71 Tailored fit natural stretch UPF50+ quickdry AUST/NZ standard4399 yarntreated moisture wicking ironfree breathable 2035LMENSLONGSLEEVE 2035SMENSSHORTSLEEVE 2135QLADIES3/4SLEEVE Sweat Air Skin Fabric 1 2 3 4 1 2 3 4 51 UPF 50+
MAXIMUM COMFORT, MINIMUM ODOUR 52
SILVERTECH ® SHIRT MAXIMUM COMFORT, MINIMUM ODOUR • A rich blend of 65% Cotton/35% SilverTech®+Cool Dry® • Yarn-treated with both Cool Dry® and Nano-Scale Silver Technology • Easy care finish with a Modern fit cut for mens and tailored fit for ladies • Keeps the body fresh, clean and cool all day long • Stylish silver pinstripe • Ideal for corporate antd uniform wear • Ladies style features 'magic buttons' for perfect fit • Coordinates with Silvetech range – Silvertech Polo (page 13), Silvertech Top (page 11), Argent Polo (page 15) and Argent Top (page 16) 2036LMENSLONGSLEEVE 2136QLADIES3/4SLEEVE 1 white/white 2 charcoal/silver 3 navy/silver Weights and measurements are approximate and for guidance only. Mens Sizes S M L XL 2XL 3XL 5XL Half Chest (cm): 54 57 60 64 68 72 80 Modern fit Ladies Sizes 8 10 12 14 16 18 20 22 24 26 Half Chest (cm): 47 49 51 53 56 59 62 65 68 71 Tailored fit Split yoke to provide better fit highUV resistance quickdry permanent natural deodorised treatment staticfree AUST/NZ standard4399 yarntreated moisture wicking anti-bacterial protection easycare breathable 1 2 3 53
1 grey 2 sky blue 3 mid blue 4 brick red 5 charcoal Weights and measurements are approximate and for guidance only. Mens Sizes S M L XL 2XL 3XL 5XL Half Chest (cm): 54 57 60 64 68 72 80 Modern fit Ladies Sizes 8 10 12 14 16 18 20 22 24 26 Half Chest (cm): 48 50 52 54 57 60 63 66 69 72 Tailored fit COTTON COMFORT BLEND • 50% Cotton/50% Polyester Yarn Treated Cool Dry® • Easy care finish • The shirt has a mini stripe pattern body with mini check pattern inside cuffs, collar and yoke • Keeps you feeling fresh, clean and cool all day long • Ladies styles feature curved hem with mock cuffs on short sleeve INSPIRESHIRT 2051MENSLONGSLEEVERED 2053MENSSHORTSLEEVE 2151LADIESLONGSLEEVE 2153LADIESSHORTSLEEVE yarntreated moisture wicking breathable quickdry easycare 1 2 3 4 5 1 2 3 4 5 highUV resistance Mini pinstripe 55
Weights and measurements are approximate and for guidance only. Mens Sizes S M L XL 2XL 3XL 5XL Half Chest (cm): 54 57 60 64 68 72 80 Modern fit Ladies Sizes 8 10 12 14 16 18 20 22 24 26 Half Chest (cm): 47 49 51 53 56 59 62 65 68 71 Tailored fit CLASSIC GINGHAM CHECK • Light-weight blend of 65% Cotton/35% Polyester Yarn Treated Cool Dry® • Easy care finish • The shirt has a mini check pattern body with contrast stripe pattern inside cuffs, collar and yoke • Keeps you feeling fresh, clean and cool all day long • Shirt styled without pocket for a clean, sleek look 1 black 2 chamoisee 3 mid blue DOMINIONSHIRT 2041MENSLONGSLEEVE 2043MENSSHORTSLEEVE 2142LADIES3/4SLEEVE Gingham check fabric 1 2 3 1 2 3 yarntreated moisture wicking breathable quickdry easycare 57
HOSPITALITY NANOSHIRT 1 white/white 2 slate blue/pale blue 3 navy/pale blue 4 black/black Weights and measurements are approximate and for guidance only. Mens Sizes S M L XL 2XL 3XL 5XL Half Chest (cm): 54 57 60 64 68 72 80 Modern fit Ladies Sizes 8 10 12 14 16 18 20 22 24 26 Half Chest (cm): 48 50 52 54 57 60 63 66 69 72 Tailored fit STAIN REPELLENT • Breathable 55% Cotton 45% Polyester Nano-Gear® fabric • Stain repellent • Easy care • Extremely comfortable even at the end of a long day • Twin chest flap pockets on mens style • Roll-up sleeve with button and inside tab • Navy and slate blue shirts feature contrast inside collar and cuff • Ladies style features waist and bust darts 2034LMENSLONGSLEEVE 2034SMENSSHORTSLEEVE 2134LLADIESLONGSLEEVE 2134SLADIESSHORTSLEEVE 1 2 3 4 1 2 3 4 minimises stains liquid repellant breathable easycare highUV resistance 59
Weights and measurements are approximate and for guidance only. Mens Sizes S M L XL 2XL 3XL 5XL Half Chest (cm): 55 58 60 64 68 72 80 Modern fit Ladies Sizes 8 10 12 14 16 18 20 22 24 26 Half Chest (cm): 48 50 52 54 57 60 63 66 69 72 Tailored fit 1 white 2 putty 3 beige 4 pale blue 5 slate blue 6 navy 7 black STAIN REPELLENT • Breathable 55% Cotton 45% Polyester Nano-Gear® fabric • Stain repellent • Easy care • Suitable for uniform, workwear, corporate or promotional use • Extremely comfortable even at the end of a long day • Button-down collar on mens long and short sleeve • Ladies features flattering Y neckline NANOSHIRT 2026MENSLONGSLEEVE 2016MENSSHORTSLEEVE 2126LADIES3/4SLEEVE 1 2 3 4 5 6 7 liquid repellant minimises stains breathable easycare AUST/NZ standard4399 highUV resistance 61
1 white + charcoal 2 cherry + silver 3 pearl blue + navy 4 mid blue + white 5 navy + beige 6 black + white Weights and measurements are approximate and for guidance only. Mens Sizes S M L XL 2XL 3XL 5XL Half Chest (cm): 55 58 60 64 68 72 80 Classic fit Ladies Sizes 8 10 12 14 16 18 20 22 Half Chest (cm): 48 50 52 54 56 58 60 62 Classic fit COTTON RICH • 70% premium Combed Cotton, 30% Polyester Yarn Treated Cool Dry®, yarn dyed stripe herringbone fabric • Classic fit, suitable for all occasions • Mens style has a pocket on the left chest PINPOINTSHIRT 2025MENSLONGSLEEVE 2125LADIES3/4 SLEEVE 1 2 3 4 5 6 Yarn-dyed herringbone fabric highUV resistance quickdry yarntreated moisture wicking easycare breathable 62
1 white 2 beige Limited stock 3 navy 4 black Weights and measurements are approximate and for guidance only. Mens Sizes S M L XL 2XL 3XL 5XL Half Chest (cm): 55 58 60 64 68 72 80 Classic fit Ladies Sizes 8 10 12 14 16 18 20 22 Half Chest (cm): 48 50 52 54 56 58 60 62 Classic fit LEMANS MEDIANSHIRT 2027MENSLONGSLEEVE 2127LADIES3/4 SLEEVE 100% COTTON • High quality 100% breathable Cotton • Classic fit and easy care • Ideal for uniform, workwear, corporate and promotional use all year round minimises stains easycare breathable liquidrepellant 1 2 3 4 63
1 kiwi green 2 french blue Limited stock 3 white 4 navy 5 black Weights and measurements are approximate and for guidance only. Mens Sizes S M L XL 2XL 3XL 5XL Half Chest (cm): 53 56 58 62 66 70 78 Modern fit Ladies Sizes 8 10 12 14 16 18 20 22 Half Chest (cm): 48 50 52 54 56 58 60 62 Tailored fit breathable natural stretch durable wearing COTTON STRETCH • Supple 97% Fine Cotton/3% Spandex blend • Modern fit cut for mens, Tailored fit for ladies • Men's shirt has removable collar stays • Ladies shirts feature relaxed v-neck buttoning • Ladies short-sleeved has mock cuffs and darted sleeve caps STRATAGEMSHIRT 2029MENSLONGSLEEVE 2019MENSSHORTSLEEVE 2129LADIES3/4SLEEVE 2119LADIESSHORTSLEEVE 1 2 3 4 5 64
1 beige 2 cherry Weights and measurements are approximate and for guidance only. Mens Sizes (2022 L/S) S M L XL 2XL 3XL 5XL Half Chest (cm): 55 58 60 64 68 72 80 Classic fit Mens Sizes (2012 S/S) S M L XL XXL 3XL 5XL Half Chest (cm): 59 61 63 65 67 69 73 Classic fit Ladies Sizes 8 10 12 14 16 18 20 22 Half Chest (cm): 48 50 52 54 56 58 60 62 Semi-fitted quickdry yarntreated moisture wicking easycare breathable EASY CARE • Lightweight woven 100% Polyester Yarn Treated Cool Dry® • Mens long sleeve features a button-down collar and chest pocket • Short sleeve shirt has matched invisible-zip chest pocket WOVENSHIRT 2022MENSLONGSLEEVE 2012MENSSHORTSLEEVE 2122LADIES3/4SLEEVE 1 2 3 4 5 6 Limited stock 3 black 4 white 5 petrol blue 6 navy 65
Limited stock 5 navy 1 white 2 sand 3 dusty blue 4 olive Weights and measurements are approximate and for guidance only. Mens Sizes S M L XL 2XL 3XL 5XL Half Chest (cm): 55 58 60 64 68 72 80 Classic fit Ladies Sizes 8 10 12 14 16 18 20 22 Half Chest (cm): 48 50 52 54 56 58 60 62 Classic fit breathable durable wearing 1 2 3 4 5 AUST/NZ standard4399 COTTON DRILL • Sand washed 100% Combed Cotton drill • Peach-like finish • Great for either business or casual wear • Mens shirts feature a pocket FIRENZESHIRT 2030MENSLONGSLEEVE 2130LADIESLONGSLEEVE 66
1 white 2 red (mens only) 3 mid blue 4 royal blue 5 navy 6 black Weights and measurements are approximate and for guidance only. Mens Sizes S M L XL 2XL 3XL 5XL Half Chest (cm): 51 53.5 56 58.5 61 63.5 68.5 Ladies Sizes 8 10 12 14 16 18 20 22 Half Chest (cm): 44 46.5 49 51.5 54 56.5 59 61.5 COMPETITOR T-SHIRT 7013MENSSHORTSLEEVE 7113LADIESSHORTSLEEVE quickdry yarntreated moisture wicking easycare breathable staticfree • 135g 100% Polyester Yarn Treated Cool Dry® jersey fabric • Aesthetic design – seamless sleeves offer incomparable comfort • Solid colour finish • Rated at UPF 50+ • Coordinates with Competitor Singlet (page 73) 1 3 4 5 6 1 2 3 4 5 6 UPF50+ 68 UPF 50+
1 black/silver 2 black/mid blue 3 navy/white 4 mid blue/navy 5 white/navy 6 white/red Weights and measurements are approximate and for guidance only. Mens Sizes S M L XL 2XL 3XL 5XL Half Chest (cm): 51 53.5 56 58.5 61 63.5 68.5 Ladies Sizes 8 10 12 14 16 18 20 22 Half Chest (cm): 44 46.5 49 51.5 54 56.5 59 61.5 quickdry easycare breathable staticfree CoolDry • 145g 100% Polyester Yarn Treated Cool Dry® jersey fabric • Contrast panels on front • Contrast stripes on the shoulders and back • Rated at UPF 50+ • Coordinates with the Player Polo (page 41) PLAYERT-SHIRT 7012MENSSHORTSLEEVE 7112LADIESSHORTSLEEVE 1 2 3 4 5 6 UPF50+ 69 UPF 50+
1 white + red 2 white + royal blue 3 white + navy 4 beige + navy 5 bimini blue + navy 6 navy + white 7 navy + red 8 black + white Weights and measurements are approximate and for guidance only. Mens Sizes S M L XL 2XL 3XL Half Chest (cm): 51 53.5 56 58.5 61 63.5 Ladies Sizes 8 10 12 14 16 18 Half Chest (cm): 44 46.5 49 51.5 54 56.5 COOLDRY ® T-SHIRT 1010EMENSSHORTSLEEVE 1110ELADIESSHORTSLEEVE • 185g 100% Polyester Yarn Treated Cool Dry® • Flattering design • Ideal sportswear • Curved hem • Contrast panels on the sides, collar and inside back yoke 1 2 3 4 5 6 7 8 anti-bacterial protection highUV resistance quickdry deodorised treatment staticfree yarntreated moisture wicking ironfree breathable 70
1 white + red 2 white + navy 3 bimini blue + navy 4 navy + white Weights and measurements are approximate and for guidance only. Mens Sizes S M L XL 2XL 3XL Half Chest (cm): 51 53.5 56 58.5 61 63.5 Ladies Sizes 8 10 12 14 16 18 Half Chest (cm): 44 46.5 49 51.5 54 56.5 • 185g 100% Polyester Yarn Treated Cool Dry® fabric • Soft, silky finish • Flattering semi-fitted cut • Contrast panels on the shoulders • Coordinates with Club Polo (page 35) CLUBT-SHIRT 1055MENSSHORTSLEEVE 1155LADIESSHORTSLEEVE 1 2 3 4 highUV resistance quickdry deodorised treatment staticfree yarntreated moisture wicking ironfree breathable anti-bacterial protection 71
1 jade green 2 light blue Ladies sizes only 3 white 4 light pink 5 navy 6 charcoal Weights and measurements are approximate and for guidance only. Mens Sizes S M L XL 2XL 3XL Half Chest (cm): 51 53.5 56 58.5 61 63.5 Ladies Sizes 8 10 12 14 16 18 Half Chest (cm): 44 46.5 49 51.5 54 56.5 SOLAR-LITE ® T-SHIRT 1037 MENSSHORTSLEEVE 1038 LADIESSHORTSLEEVE LIMITEDSTOCK • 190g 55% Polyester Clime-Dri, 25% Cotton and 20% Polyester Yarn Treated Cool Dry® • Fabric developed by Stencil with DuPont™ Sorona® • Comfortable in even the hottest weather • Features double stitching on collar, sleeves and hem stainresistant natural stretch UPF rating50+ yarntreated moisture wicking easycare breathable eco friendly 1 2 3 4 5 6 72
1 white 2 red 3 mid blue 4 royal blue 5 navy 6 black Weights and measurements are approximate and for guidance only. Mens Sizes S M L XL 2XL 3XL 5XL Half Chest (cm): 46.5 49 51.5 54 56.5 59 64 Ladies Sizes 8 10 12 14 16 18 20 22 Half Chest (cm): 39 41 43 45 47 49 51 53 7014MENSSLEEVELESS 7114LADIESSLEEVELESS • 135g 100% Polyester Yarn Treated Cool Dry® jersey fabric • Aesthetic design – seamless arm tape for incomparable comfort • Action back design in ladies style - suitable for people who like light clothing that doesn't restrict movement • Solid colour finish • Rated at UPF 50+ • Matches Competitor T-Shirt (page 68) 1 2 3 4 5 6 quickdry staticfree yarntreated moisture wicking easycare breathable COMPETITOR SINGLET 73 73 UPF 50+
TEAMSINGLET 1056MENSSLEEVELESS 1156LADIESSLEEVELESS • 140g 85% Polyester Yarn Treated Cool Dry®, 10% Spandex and 5% Nylon high performance fabric • Contrast insert panel at base of side seam • Contrast stripes on shoulders • Great versatility, easy-wearing • Action back design in ladies style - suitable for people who like light clothing that doesn't restrict movement • Coordinates with Team polo (S/S page 27, L/S page 29) 1 white + navy 2 silver + navy 3 red + silver 4 navy + white 5 black + silver UPF50+ quickdry deodorised treatment staticfree yarntreated moisture wicking ironfree breathable anti-bacterial protection Weights and measurements are approximate and for guidance only. Mens Sizes S M L XL 2XL 3XL Half Chest (cm): 48.5 51 53.5 56 58.5 61 Ladies Sizes 8 10 12 14 16 18 Half Chest (cm): 39 41 43 45 47 49 UPF50+ ironfree Mens Sizes S M L XL 2XL 3XL Half Chest (cm): 48.5 51 53.5 56 58.5 61 Ladies Sizes 8 10 12 14 16 18 Half Chest (cm): 39 41 43 45 47 49 1 2 3 4 5 74 UPF 50+
• 185g 100% Polyester Yarn Treated Cool Dry® • Styled to fit, easy to wear • Curved hem • Contrast panels on both sides • Action back design in ladies' style - doesn't restrict movement • Ladies' singlet has contrast trim on arms and neckline COOLDRY ® SINGLET 1010FMENSSLEEVELESS 1110FLADIESSLEEVELESS 1 white + navy 2 bimini blue + navy 3 navy + red 4 black + white Weights and measurements are approximate and for guidance only. Mens Sizes S M L XL 2XL 3XL Half Chest (cm): 49.5 52 54.5 57 59.5 62 Ladies Sizes 8 10 12 14 16 18 Half Chest (cm): 38 40 42 44 46.5 49 highUV resistance quickdry deodorised treatment staticfree yarntreated moisture wicking ironfree breathable anti-bacterial protection 1 2 3 4 75
highUV resistance quickdry deodorised treatment staticfree yarntreated moisture wicking ironfree breathable ASPECTCOOL DRY ® SINGLET 1039MENSSLEEVELESS 1041LADIESSLEEVELESS • 185g 100% Polyester Yarn Treated Cool Dry® • Styled to fit, easy to wear • Flat hem • Contrast stripes on arms and neckline 1 white + red 2 white + navy 3 red + silver 4 silver + black 5 navy + white Weights and measurements are approximate and for guidance only. Mens Sizes S M L XL 2XL 3XL Half Chest (cm): 49.5 52 54.5 57 59.5 62 Ladies Sizes 8 10 12 14 16 18 Half Chest (cm): 39.5 42 44.5 47 49.5 52 1 2 3 4 5 anti-bacterial protection 76
Inner layer Breathable laminate Outer layer 1 navy 2 black • 3-layer breathable fabric bonded with contrast textured fleece and film laminate to keep warm and dry • Softshell stretch fabric for comfort and full range of movement • Reverse coil full centre front zip with storm flap • Two side zipper pockets with inside smart phone pocket • Rounded, drop tail design • Coordinates with Bonded Softshell Jacket (page 81) BONDED SOFT-SHELLVEST 3047MENSSLEEVELESS 3147LADIESSLEEVELESS Weights and measurements are approximate and for guidance only. Mens Sizes S M L XL 2XL 3XL 5XL Half Chest (cm): 54 56.5 59 61.5 64 66.5 71.5 Ladies Sizes 8 10 12 14 16 18 20 22 Half Chest (cm): 47.5 50 52.5 55 57.5 60 62.5 65 1 2 super soft natural stretch windand coldproof staticfree breathable showerproof STYLE NEW 79
super soft natural stretch windand coldproof staticfree breathable showerproof Inner layer Breathable laminate Outer layer • 3-layer breathable fabric bonded with contrast textured fleece and film laminate to keep warm and dry • Softshell stretch fabric for comfort and full range of movement • Reverse coil full centre front zip with storm flap • Two side zipper pockets with inside smart phone pocket • Adjustable velcro rubber cuff closure • Rounded, drop tail design • Coordinates with Bonded Softshell Vest (page 79) 3041MENSLONGSLEEVE 3141LADIESLONGSLEEVE 1 mid blue/black 2 navy/charcoal 3 black/charcoal Weights and measurements are approximate and for guidance only. Mens Sizes S M L XL 2XL 3XL 5XL Half Chest (cm): 54 56.5 59 61.5 64 66.5 71.5 Ladies Sizes 8 10 12 14 16 18 20 22 Half Chest (cm): 47.5 50 52.5 55 57.5 60 62.5 65 BONDEDSOFT- SHELLJACKET 1 2 3 81
Weights and measurements are approximate and for guidance only. Unisex Sizes 2XS XS S M L XL 2XL 3XL 5XL Half Chest (cm): 50 52.5 55 57.5 60 62.5 65 67.5 72.5 • Durable ripstop fabric with showerproof construction • Extremely lightweight • Stand up collar with soft chin guard • Storable hood with fastening • High loft for excellent insulation • Side pocket with zipper closure • Drop tail design for comfortable fit • Coordinates with Packlite Vest (page 84) PACKLITEJACKET 3045UNISEXLONGSLEEVE windand coldproof showerproof stays warm Stowable in pocket 1 navy 2 black 2 1 83
windand coldproof showerproof stays warm PACKLITEVEST 3043UNISEXSLEEVELESS • Durable ripstop fabric with showerproof construction • Extremely lightweight • Stand up collar with soft chin guard • Storable hood with fastening • High loft for excellent insulation • Side pocket with zipper closure • Drop tail design for comfortable fit • Coordinates with Packlite Jacket (page 83) 1 navy 2 black Weights and measurements are approximate and for guidance only. Unisex Sizes 2XS XS S M L XL 2XL 3XL 5XL Half Chest (cm): 50 52.5 55 57.5 60 62.5 65 67.5 72.5 2 2 84
showerproof stays warm windand coldproof staticfree breathable • Durable, breathable and static-free finish • Reversible insulated brushed fleece lining • Mobile phone pocket with matching zipper on left arm • Hand warmer pocket • Side toggle to customise fit • Rib knit storm cuffs • Shower and wind proof • Embroidery access zip SWITCHERJACKET 3042UNISEXLONGSLEEVE Weights and measurements are approximate and for guidance only. Unisex Sizes XS S M L XL 2XL 3XL 5XL Half Chest (cm): 57 59.5 62 64.5 67 69.5 72 77 Windproof Breathable Water Repellent High Density Weave 1 2 1 silver/black 2 navy/navy 3 black/black 3 85
stays warm Detachable zipped hood showerproof windand coldproof staticfree breathable Windproof Breathable Water Repellent High Density Weave TOPLINEJACKET • Durable, lightweight, breathable and static-free finish • Stylish, modern cut • Detachable zipped hood with mesh lining • Hand warmer pocket • Side toggle to customise fit • Rib knit storm cuffs • Shower and wind proof • Embroidery access zip 3046MENSLONGSLEEVE 3146LADIESLONGSLEEVE 1 silver/black 2 navy/navy 3 black/black Weights and measurements are approximate and for guidance only. Mens Sizes S M L XL 2XL 3XL 5XL Half Chest (cm): 54 56.5 59 61.5 64 66.5 71.5 Ladies Sizes 8 10 12 14 16 18 20 22 Half Chest (cm): 47.5 50 52.5 55 57.5 60 62.5 65 1 2 3 87
1 navy + sky 2 navy + navy Limited stock 3 black + charcoal 4 silver + black Weights and measurements are approximate and for guidance only. Mens Sizes S M L XL 2XL 3XL Half Chest (cm): 57 59 61 63 65 67 Ladies Sizes 8 10 12 14 16 18 Half Chest (cm): 49 51 53 55 57 59 Inner layer Breathable laminate Outer layer 1 2 3 4 super soft natural stretch windand coldproof staticfree breathable SOFTSHELL LITEJACKET 3030MENSLONGSLEEVE 3031LADIESLONGSLEEVE • Hi-tech breathable 2-tone laminated fabric • Ideal for cold and windy weather • Storm flap and side toggles • Adjustable velcro straps on the sleeves • Contrast piping on front and back shoulder • Full zip at the front, zippered side pockets • Coordinates with Softshell Lite Vest (page ) 88
Limited stock 4 black + charcoal 1 navy + sky 2 navy + navy 3 silver + black Weights and measurements are approximate and for guidance only. Mens Sizes S M L XL 2XL 3XL Half Chest (cm): 57 59 61 63 65 67 Ladies Sizes 8 10 12 14 16 18 Half Chest (cm): 49 51 53 55 57 59 Inner layer Breathable laminate Outer layer 1 2 3 4 super soft natural stretch windand coldproof staticfree breathable 3032MENSSLEEVELESS 3033LADIESSLEEVELESS • Hi-tech breathable 2-tone laminated fabric • Ideal for cold, windy weather • Storm flap and side toggles on the hem • Contrast piping on front and back shoulder • Full zip at the front and zippered side pockets • Coordinates with Softshell Lite Jacket (page 88) SOFTSHELL LITEVEST 89
windand coldproof • High-density microfibre with soft finish • Employs the latest Japanese technology • Maximum comfort and style – fully lined, full front zip • Suitable for casual and office wear • Two side pockets plus internal pocket • Decorative zips on both seams MICROFITJACKET 3028 MENSLONGSLEEVE 3029 LADIESLONGSLEEVE LIMITEDSTOCK water repellant 1 silver 2 slate Limited stock 3 black 4 navy breathable Weights and measurements are approximate and for guidance only. Mens Sizes S M L XL 2XL 3XL Half Chest (cm): 57 59 61 63 65 67 Ladies Sizes 8 10 12 14 16 18 Half Chest (cm): 49 51 53 55 57 59 1 2 3 4 Windproof Breathable Water Repellent High Density Weave 90
stays warm Super fine polar fleece Windshield Imitation sheep skin 1 beige + black 2 navy + beige 3 black + red Weights and measurements are approximate and for guidance only. Unisex Sizes S M L XL 2XL 3XL Half Chest (cm): 55.5 58 60.5 63 65.5 68 WINDSHIELD JACKET 4026 UNISEXLONGSLEEVE(REMOVABLE) LIMITEDSTOCK • 340g 100% Polyester windshield polar fleece • Zippered side pockets • Removable sleeves • Toggle at the hem • Contrast colour on the back of the neck and yoke • Contrast binding and semi-elasticated trim on cuff 1 2 3 windand coldproof breathable 91
stays warm windand coldproof breathable Super fine polar fleece Windshield Imitation sheep skin 1 beige + camel 2 navy + navy 3 black + black Weights and measurements are approximate and for guidance only. Mens Sizes S M L XL 2XL 3XL 5XL Half Chest (cm): 55.5 58 60.5 63 65.5 68 73 Ladies Sizes 8 10 12 14 16 18 20 22 Half Chest (cm): 52 54 56 58 60 62 64 66 4028 MENSLONGSLEEVE 4029 LADIESLONGSLEEVE LIMITEDSTOCK • 340g 100% Polyester windshield vpolar fleece fabric • Back yoke and toggle at the hem • Suede panels on the shoulders and inside collar • Full front zip and zippered side pockets • Binding and semi-elasticated trim on cuff WINDGUARD JACKET 1 2 3 92
THESWITCHERJACKET(SEEPAGE85FORDETAILS) 93
Indent is a term used for Custom Factory Orders, developed and manufactured to your company's requirements in our overseas facilities. Because your order is being custom-made, indent ordering gives you access to decoration features and techniques that aren't available with the usual stock items. We can even create custom fabrics, special colours and garment designs on request – you're limited by your imagination, not our catalogue. If you need a logo or other detail on your new garments, Stencil can help with that as well. We provide printing, embroidery and sublimation services undertaken by the original supplier during manufacture – giving you more options for placement, size and colour than with pre-assembled clothing.
With a near-limitless combination of fabric, design and decoration options, indent is ideal for companies who are willing to plan ahead to get the right result. Speak to one of our sales representatives to learn how indent ordering can fulfil your company's specific needs. The minimum order quantity for indent orders varies from product to product, but can be as low as 400 units of the same colour (e.g. 400 mens, 400 womens, or 200 mens + 200 womens) from any one range in this catalogue. The lead time for an indent order can be as little as four weeks by air freight, or approximately 10 weeks by sea.
PACKAGEDTOYOURSPECIFICATIONS YOUROWNBRAND/LABEL THEFEATURESYOUWANT CUTANDFITTOYOURREQUIREMENTS STENCIL ® INDENTORDERING PLACKETS,POCKETS,CUFFS,ZIPS &PANELSOFYOURCHOICE 94
IMPORTANT: half-chest measurements throughout this catalogue reflect finished garment dimensions, not 'to fit' sizing. Please take this into consideration when ordering. CHEST Measure your chest from right under your armpits. Make sure that the highest point of your chest and your shoulder blades are included in the measurement. SLEEVES&BACKLENGTH With your arm hanging slightly bent & relaxed, measure from the point of your shoulder down to your wrist. For the length of the garment, measure from neck seam to hem.
NECK Measure the base of your neck, or take a measurement from a collared shirt that fits well. Pressing the collar flat, take your measurement from the centre of the button to the end of the button hole. GARMENTSTYLES&SIZING Different garments are designed to offer different fits. Some have a loose profile, while others are trimmed in around the waist and have structured shoulders. Garment sizing varies between brands and styles. The best way to ensure a good fit is to go by your physical measurements - not your current shirt size. To get the perfect size, lay your favourite shirt flat on a table and measure the chest. By selecting a size that is close to your favorite shirt's measurements, you will ensure a good fit. All measurements are within a tolerance of 1 – 1.5 cm.
WASHING Remember that Cotton garments can shrink as much as five percent! This is especially important for sleeve lengths and neck fittings. For the best results, always follow the care instructions sewn inside your garment. CHEST at armpits SHOULDER SHOULDER CHEST 2cm down from armpits BACK from neck seam to hem BACK from neck seam to hem S L E E V E S L E E V E MEASURINGTIPSFORSTENCIL ® GARMENTS 95
Semi-Fitted Gently shaped through the torso. Follows the contours of the body for ease of movement. Go one size up for an easier fit. Tailored Fit With carefully placed darts and seams, our tailored fit garments will accentuate your figure to create an elegant silhouette. Easy Fit A slightly relaxed fit with generous measurements and ample room to move. Modern Fit A contemporary fit designed to flatter the wearer, with slight tapering through the waist. POLO AND SHIRTING In addition to half-chest measurements, our Polo and Woven shirts now also list a 'fit' style to help you choose elements that better suit your organisation's uniform requirements. There are four main styles of fit, as shown below.
FITSTYLESFORSTENCILGARMENTS TOP AND SHIRTING 96
The very latest in active comfort technology, DryMax® performs like no fabric before. With high-throughput active wicking to pull heat and sweat away from the skin for rapid evaporation out of the fabric, DryMax® garments are ideal for sports and high-pressure work environments alike. DRYMAX® RANGE deodorised treatment staticfree yarntreated moisture wicking ironfree breathable highUV resistance quickdry The next generation of Cool Dry®, Ice-Cool takes comfort to a new level. Specifically designed to draw heat away from the wearer, Ice-Cool's unmatched moisture wicking and anti-bacterial qualities mean your polo will stay fresher longer, no matter what you're doing. ICE-COOLRANGE staticfree yarntreated moisture wicking ironfree breathable quickdry A blend of Cool Dry® and nano-scale silver yarn-treated thread, SilverTech® takes feeling fresh to a new level. One of the oldest anti-bacterials known to man, silver fights odour from inside each thread of the fabric. And because it's nano-scale yarn treatment, it won't wash out – keeping you fresher for the life of the garment.
SILVERTECH® RANGE permanent natural deodorised treatment staticfree yarntreated moisture wicking easycare breathable highUV resistance highUV resistance quickdry anti-bacterial protection Stencil Cool Dry® products are yarn treated to provide a long-lasting cool dry effect. introduced into the Australian market in 2002, Stencil Cool Dry® has a very soft and silky texture and is manufactured using high quality yarn and the latest technology. Cool Dry® is a registered trade mark. COOLDRY® RANGE deodorised treatment staticfree yarntreated moisture wicking ironfree breathable quickdry anti-bacterial protection 97
Maximum comfort, soft on your skin. A silky blend of plant cellulose, Stencil Bio-Weave® is a natural fabric with highly durable qualities. Produced using an eco-friendly manufacturing process, it is easy care and static-free. Bio- Weave® is kind to sensitive skin. BIO-WEAVE® COLLECTION yarntreated moisture wicking eco friendly kindto sensitive skin easycare breathable quickdry durable wearing breathable ironfree A collection of premium classic Cottons in a variety of weights and styles. FRESHCOLLECTION staticfree breathable kindto sensitive skin eco friendly super soft Produced using an eco-friendly manufacturing process, the Eco-Thread® Collection blends plant cellulose with classic natural fabrics. Super soft and kind to sensitive skin.
ECO-THREAD® COLLECTION Stain resistant with a 50+ UPF rating, Clime-Dri® shirts offer the same cool wearing as Cool Dry® garments. A soft, silky touch and completely comfortable. Created with DuPont Sorona®. CLIME-DRI® RANGE yarntreated moisture wicking UPF50+ natural stretch easycare breathable stain resistant With plenty of 'puff' to protect you from cold winter winds, the UltraLight range combines weatherproofing and comfort in an extremely lightweight material that packs down to a fraction of its size. . ULTRALIGHTRANGE windand coldproof showerproof stays warm 98
Comfortable to wear and made of rich Cotton Nano-Gear® offers the benefit of being totally stain repellant – even red wine slides right off! Easy care and breathable, Nano-Gear® is ideal for corporate uniforms. NANO-GEAR® RANGE easycare breathable minimises stains liquid repellant The Stencil Basics® range has been designed with an eye for style and economy. Featuring simple, classic cuts and basic Cool Dry® functions, these garments have a soft silky texture and are comfortable to wear year-round. BASICS® RANGE yarntreated moisture wicking AUST/NZ standard4399 ironfree breathable quickdry windand coldproof showerproof breathable Designed using the latest Japanese technology, Stencil MicroFit® is a high density fabric ideal for Australian conditions. Windproof and warm with a soft finish, it breathes freely to keep you comfortable while keeping water and wind on the outside.
MICROFIT® RANGE Static free, stretchable and easy to wear, Shell-Tec traps your body warmth with a high-tech, breathable design ideal for Australian conditions. Using multiple layers of fabric to form a compact skin, Shell-Tec provides warmth without the bulk of traditional cold-weather wear. SHELL-TEC® RANGE super soft natural stretch windproof staticfree easycare breathable Sleek and comfortable, these garments are made with a reversible brushed fleece construction for extra versatility. Lightweight, warm and windproof with a soft finish, they breathe freely to keep you comfortable with the rain. REVERSIBLERANGE showerproof windand coldproof stays warm staticfree breathable 99
SUPERDRY POLO 5 1062 mens short sleeve 1162 ladies short sleeve FRESHEN POLO 7 1061 mens short sleeve 1161 ladies short sleeve FRESHEN POLO 9 1043 mens long sleeve 1143 ladies long sleeve SILVERTECH® TOP 11 1258S ladies short sleeve 1258Q ladies 3/4 sleeve SILVERTECH® POLO 13 1058 mens short sleeve 1158 ladies short sleeve ARGENT POLO 15 1059 mens short sleeve 1159 ladies short sleeve ARGENT LADIES TOP 16 1259Q ladies 3/4 sleeve GLACIER POLO 19 1054 mens short sleeve 1154 ladies short sleeve ICE COOL POLO 21 1053 mens short sleeve 1153 ladies short sleeve ARCTIC POLO 23 1057 mens short sleeve 1157 ladies short sleeve TRAVERSE POLO 25 7015 mens short sleeve 7115 ladies short sleeve TEAM POLO 27 1050 mens short sleeve 1150 ladies short sleeve TEAM POLO 29 1042 mens long sleeve 1142 ladies long sleeve COOL DRY® POLO 31 1010B mens short sleeve 1110B ladies short sleeve COOL DRY® POLO 33 1040 mens long sleeve 1140 ladies 3/4 sleeve CLUB POLO 35 1022 mens short sleeve 1023 ladies short sleeve SOLAR-LITE® POLO 37 1030 mens short sleeve 1130 ladies short sleeve BIO-WEAVE® POLO 39 1033 mens short sleeve 1034 ladies short sleeve ORIGINAL COOL DRY® POLO 40 1010 mens short sleeve PLAYER POLO 41 7011 mens short sleeve 7111 ladies short sleeve LIGHTWEIGHT COOL DRY® POLO 42 1010D mens short sleeve 1110D ladies short sleeve ACTIVE POLO 43 1031 mens short sleeve 1032 ladies short sleeve STANDARD PLUS POLO 44 1010I mens short sleeve 1110I ladies short sleeve CENTENNIAL POLO 45 1052 mens short sleeve 1152 ladies short sleeve EMPIRE SHIRT 49 2031 mens long sleeve 2033 mens short sleeve 2131 ladies long sleeve 2133 ladies short sleeve 2132 ladies 3/4 sleeve CANDIDATE SHIRT 51 2035L mens long sleeve 2035S mens short sleeve 2135Q ladies 3/4 sleeve SILVERTECH® SHIRT 53 2036L mens long sleeve 2136Q ladies 3/4 sleeve INSPIRE SHIRT 55 2051 mens long sleeve 2053 mens short sleeve 2151 ladies long sleeve 2153 ladies short sleeve DOMINION SHIRT 57 2041 mens long sleeve 2043 mens short sleeve 2142 ladies 3/4 sleeve HOSPITALITY NANO SHIRT 59 2034L mens long sleeve 2034S mens short sleeve 2134L ladies long sleeve 2134S ladies short sleeve NANO SHIRT 61 2026 mens long sleeve 2016 mens short sleeve 2126 ladies 3/4 sleeve PINPOINT SHIRT 62 2025 mens long sleeve 2125 ladies 3/4 sleeve LE MANS MEDIAN SHIRT 63 2027 mens long sleeve 2127 ladies 3/4 sleeve STRATAGEM SHIRT 64 2029 mens long sleeve 2019 mens short sleeve 2129 ladies 3/4 sleeve 2119 ladies short sleeve WOVEN SHIRT 65 2022 mens long sleeve 2012 mens short sleeve 2122 ladies 3/4 sleeve FIRENZE SHIRT 66 2030 mens long sleeve 2130 ladies long sleeve POLOSANDLADIESTOPS PAGES2–45 WOVENSHIRTS PAGES46–66
T-SHIRTSANDSINGLETS PAGES67–76 VESTSANDJACKETS PAGES77–93 CUSTOM,SIZINGANDFABRICS PAGES94–99 COMPETITOR T-SHIRT 68 7013 mens short sleeve 7113 ladies short sleeve PLAYER T-SHIRT 69 7012 mens short sleeve 7112 ladies short sleeve COOL DRY® T-SHIRT 70 1010E mens short sleeve 1110E ladies short sleeve CLUB T-SHIRT 71 1055 mens short sleeve 1155 ladies short sleeve SOLAR-LITE® T-SHIRT 72 1037 mens short sleeve 1038 ladies short sleeve COMPETITOR SINGLET 73 7014 mens sleeveless 7114 ladies sleeveless TEAM SINGLET 74 1056 mens sleeveless 1156 ladies sleeveless COOL DRY® SINGLET 75 1010F mens sleeveless 1110F ladies sleeveless ASPECT COOL DRY® SINGLET 76 1039 mens sleeveless 1041 ladies sleeveless BONDED SOFT-SHELL VEST 79 3047 mens sleeveless 3147 ladies sleeveless BONDED SOFT-SHELL JACKET 81 3041 mens long sleeve 3141 ladies long sleeve PACKLITE JACKET 83 3045 unisex long sleeve PACKLITE VEST 84 3043 unisex sleeveless SWITCHER JACKET 85 3042 unisex long sleeve TOPLINE JACKET 87 3046 mens long sleeve 3146 ladies long sleeve SOFTSHELL LITE JACKET 88 3030 mens long sleeve 3031 ladies long sleeve SOFTSHELL LITE VEST 89 3032 mens sleeveless 3033 ladies sleeveless MICROFIT JACKET 90 3028 mens long sleeve 3029 ladies long sleeve WINDSHIELD JACKET 91 4026 unisex long sleeve (removable) WINDGUARD JACKET 92 4028 mens long sleeve 4029 ladies long sleeve STENCIL® INDENT ORDERING 94 MEASURING TIPS FOR STENCIL® GARMENTS 95 STENCIL® FIT GUIDE 96 STENCIL® FABRICS GUIDE 97 UPF RATING AS USED BY ARPANSA UPF Rating Protection Category %UV Radiation Blocked 15-20 Good 93.3-95.9 25-35 Very Good 96.0-97.4 40-50+ Excellent 97.5 or more