King's and the Dickson Poon School of Law. Employer Brochure.
→
If your browser does not support JavaScript, please read the page content below:
King's and the Dickson Poon School of Law. Employer Brochure.
→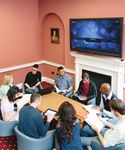 ABOUT KING'S AND THE DICKSON POON SCHOOL OF LAW 3 PROMOTION 4 • Law careers fair • Bespoke promotions • Employer presentations • Appointment with... You! • Practice interviews EMPLOYABILITY 6 • Legal week • Law at work • King's leadership & professional skills award • Group exercises and case studies • Internships & placements Contents SUPPORT 8 • King's connect • Sponsorship opportunities • Student societies REMOTE 10 • Remote engagement CONTACT 11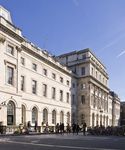 www.kcl.ac.uk/recruitonline • 3 About KING'S AND THE DICKSON POON SCHOOL OF LAW The Dickson Poon School of Law at King's College London is one of the oldest law schools in England and recognised globally as one of the best law schools in the world – ranking in the top 10 in the UK and top 16th worldwide. • Guardian University Guide 2015: Law – 2013 • QS World University Rankings by Subject • The Complete University Guide 2014 – Law. The School was established in 1831, and has played an integral role in the life of King's since the College was formed almost 200 years ago. The School was renamed after the £20m donation from Mr Dickson Poon CBE, the Hong Kong based British philanthropist, and is based in Somerset House East Wing, which was opened by her Majesty the Queen in February 2012.
Heart of Legal London When you join us at King's, you will find yourself at the centre of the British and international legal profession. Our enviable location on the banks of the River Thames is within minutes' walk of the Houses of Parliament, the Royal Courts of Justice and the offices of major global law firms. FARRINGDON HOXTON THE CITY BLOOMSBURY SHOREDITCH HOLBORN BANK ALDGATE BOW BRICK LANE ELEPHANT & CASTLE ISLINGTON WHITECHAPEL STRAND ANGEL SOUTHWARK BOROUGH LONDON BRIDGE KING'S CROSS ST PANCRAS MILLENNIUM BRIDGE BLACKFRIARS BRIDGE SOUTHWARK BRIDGE LONDON BRIDGE TATE MODERN GLOBE THEATRE BARBICAN FRANCISCRICK INSTITUTE CANADA WATER SOUTHWARK PARK MILE END PARK GMP K3 K1 K2 SADLER'S WELLS BOROUGH FOOD MARKET GRAY'S INN BRITISH LIBRARY SENATE HOUSE LIBRARY THE OLD BAILEY FLEET STREET LAW SOCIETY THE ROYAL COURTS OF JUSTICE LAMBETH COVENT GARDEN ALDWYCH CHANCERYLANE TOTTENHAM COURT ROAD MILLBANK WHITEHALL TRAFALGAR SQUARE LEICESTER SQUARE CHARING CROSS EUSTON WATERLOO V A U X H A L L B R ID G E LAMBETH BRIDGE WESTMINSTER BRIDGE H U N G E R F O R D B R I D G E W A T E R L O O B R ID G E SOUTHBANK CENTRE BFI NATIONAL THEATRE NATIONAL GALLERY ROYAL OPERA HOUSE ROYAL SOCIETY OF ARTS THE OVAL K4 K1 O 2 BRIXTON ACADEMY TATE BRITAIN IMPERIAL WAR MUSEUM IMAX ROYAL FESTIVAL HALL LYCEUM THEATRE MAUGHAN LIBRARY HOUSES OF PARLIAMENT WESTMINSTER UOL INSTITUTE OF ADVANCED LEGAL STUDIES SUPREME COURT LINCOLN'S INN INNS OF COURT TEMPLE KEY TO KING'S CAMPUS K1 Strand Campus K2 Waterloo Campus K3 Guy's Campus K4 St Thomas' Campus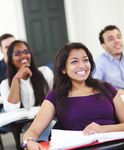 4 • Promotion LAW CAREERS FAIR Our Law Fair is focussed on recruitment into the legal profession and is open to all students, both Law (LLB & LLM) and non-law, looking to launch their career or further their education in Law. • Over 1300 King's students attended our 2013 Fair, approximately 435 on each day •Price includes stand space with table, chairs, power and entry into the Law Fair brochure • Lunch and light refreshments provided for exhibitors BESPOKE PROMOTIONS King's is an excellent venue for holding on-campus promotions with great spaces available in high-footfall areas. We can cater for all kinds of engagement ranging from stands in the Great Hall foyer area to more bespoke displays.
Benefits of bespoke promotional activities: • Promotion of your brand to hundreds of students • The freedom to wander around campus and chat to students • Costs tailored to your event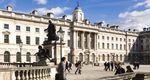 www.kcl.ac.uk/recruitonline • 5 EMPLOYER PRESENTATIONS Promote your company and its graduate opportunities to our students on a date of your choice. • Raise awareness of your company's profile and opportunities • Meet and greet services from our Careers Events team • Assistance with audio visual set-up • We'll provide you with water and any other assistance you may require for the duration of the event • We can organise the student sign-up procedure if requested • Catering can be booked in advance via King's Venues Employer presentations are widely promoted around King's via: • Facebook • Twitter • Posters around campus • Online web calendar and careers events listing • TV screens in Reception and the careers library • King's student societies • E-mails to all relevant students who have registered with 'King's Alert' APPOINTMENT WITH... YOU! Your chance to meet and talk to King's students on a one-to-one basis. Students pre-book an individual appointment to talk with you. 20-minute appointments are the norm, but can be arranged otherwise to suit. Popular topics include recruitment procedures, CVs, interview advice or general queries about your firm. • Half day or full day (3 hours per half day) bookings available • We handle the student bookings • Meeting room in the Careers Library provided PRACTICE INTERVIEWS Firms and our students value the opportunity to take part in practice interviews.
There are two options: • Face to face • Telephone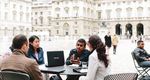 6 • Employability LEGAL WEEK Legal week is our biggest law careers event of the year. Hundreds of law and non-law students attend daily events with employers, alumni, law schools, and Bar and SRA representatives who come to talk about opportunities in the legal profession. Held each year in the early autumn, the week's events are designed to outline the wide array of employment opportunities and support available to students who are interested in a career in Law. In Legal Week you will work closely with out Law Careers Consultants to deliver sessions around hot topics within the legal field such as globalisation, specialisation, and commercial awareness. Some are panel events, others informal networking and drinks occasions. Opportunities during the week include: • Participating in a skills workshop, information session, or panel discussions • Sponsorship of the Networking event
www.kcl.ac.uk/recruitonline • 7 LAW AT WORK Law At Work is a pilot scheme consisting of a huge network of events and advice here at King's, which are designed to enrich Law students outside of their academic study. Career Development Programme The scheme includes a career development programme with workshops which are tailored to address students' employability concerns in a timely and relevant manner. For example, sessions in the autumn term are focussed on topics such as researching law firms and writing quality applications, whereas the spring programme turns its attention to interview skills. Many of these sessions are hosted by employers, or co-hosted by employers and our own Careers Consultants. All sessions are open to any Law student, however some are aimed at undergraduate, whilst others are aimed at PGT students.
KING'S LEADERSHIP & PROFESSIONAL SKILLS AWARD In addition to these law-specific sessions, we also run the King's Leadership & Professional Skills Award (KLPSA). This employability programme is open to all students regardless of their degree programme and can help you engage with our non-law students. The KLPSA aims to give students an edge for when they graduate, so that they may stand out in the crowded talent pool. GROUP EXERCISES AND CASE STUDIES These are a great way to engage with our students and help raise their awareness of life in the legal industry, along with the profile of your firm and the work you do.
INTERNSHIPS & PLACEMENTS King's Internships: Building on the success of the established Step internship scheme we have created an internship programme where employers pay an intern allowance. The intern will be on our payroll and we will manage the whole recruitment process from advertising, sifting, and pre-screening to arranging interviews and creating contracts. Internship Programme: We have developed an accredited internship module for the MA Global Ethics & Human Values programme. This enables students to undertake an assessed internship placement for academic credit as part of their degree.
8 • Support KING'S CONNECT The Alumni Mentoring Programme here at King's uses a cutting edge online system, King's Connect, to match current King's students who aspire to have a career in the legal world with alumni employed in the sector. The programme runs from October to April each year and currently attracts around 100 students - and this number is growing. The programme is open to both undergraduate and postgraduate students. There are also opportunities to host events as part of the programme – the launch event takes place during Legal Week and there are mid-way and final events organised by the Alumni Office. These are usually hosted by a law firm or chambers and all students on the programme are invited to attend.
SPONSORSHIP OPPORTUNITIES Scholarships: Scholarships enable the brightest students to attend King's, regardless of financial means, and can provide a cost effective way for employers to recruit highly employable students with niche skill sets into their businesses. As an example this might be attracting Mandarin speaking LLM graduates or students with science or finance qualifications.
www.kcl.ac.uk/recruitonline • 9 Prizes: Prizes reward outstanding performance across programmes of study or for specific pieces of research. By supporting either of these areas, you will encourage aspiring lawyers to excel, not only throughout their degree but throughout their professional careers. Mooting: Our students participate in national and international mooting competitions each year and King's has performed exceptionally well against other leading Law Schools worldwide. Sponsoring the King's team will enable you to support the highest calibre students, giving career enhancing opportunities, and will directly associate your firm with King's global reputation.
Career development: Sponsorship of our Law At Work skills programmes, Legal Week or Assessment Centre Series events allows you to increase your company visibility with our students and shows you care about their development. STUDENT SOCIETIES We work collaboratively with law-related student societies here at King's. There are law and bar societies for both undergraduate and postgraduate students as well as a range of specialist societies. We can signpost you to relevant societies you may wish to work with, or work together with you and the society on collaborative projects. King's legal societies: • Mooting Society • Bar Society • Law Society • Pro Bono Society • Postgraduate Law Society • Legal Research Society • Association des Juristes de Paris de Panthéon-Sorbonne et de King's College London (AJPK) • The Anglo-German Law Society
10 • Remote REMOTE ENGAGEMENT Promoting your off-campus events We can promote your off-campus careers events via Facebook, Twitter, a dedicated display screen in the Careers Library, our online Careers Events calendar and King's student societies' social networking pages. Promote your vacancies and events: • Advertise your jobs, work placements, internship schemes and events • Send a targeted email to current students and recent graduates of King's • Choose your target group (from over 23,000 registered students and graduates) by course, year of graduation, employment areas of interest or languages spoken Advertise vacancies Use JobOnline, the College's online Jobs Board, to advertise your vacancies to our students.
Contact BOOK A PLACE To book a place at most of our events, visit us online at kcl.ac.uk/recruitonline and click 'On Campus Activity' EMAIL To get involved, email the Employer Liaison and Events team directly at careers-events@kcl.ac.uk To contact The Dickson Poon School of Law, email Professor Eva Lomnicka (Director of Professional and Alumni Relations) at eva.lomnicka@kcl.ac.uk TELEPHONE Call the King's Careers & Employability Employer Liaison team on: 020 7848 7131 The Internships team can be reached on: 020 7848 7131 SOCIAL MEDIA Join our LinkedIn group, 'King's Careers and Employability Employers Group' to keep up to date with the latest news from the team. @kingscareers facebook.com/kingscareers Employers' Newsletter: King's Careers & Employability send out a termly employers' newsletter. The newsletter includes event reviews, commentary articles, news from across King's and information on upcoming events. Do let us know if you aren't currently receiving this but would like to. The Dickson Poon School of Law @kcl_law Events Newsletter The Dickson Poon School of Law sends out a weekly events newsletter. The newsletter includes news from the School and information on upcoming events including lectures, seminars and conferences. If you would like to receive this please contact Miss Gemma Noyce (gemma.noyce@kcl.ac.uk).
Recruiters' Club We are excited to launch our new Recruiters' Club for the 2015/2016 academic year. As well as strengthening relationships with our partner employers, this club will also be a great opportunity to share knowledge, generate useful and practical ideas to engage more students with employers, and provide a chance for valuable feedback on both sides. www.kcl.ac.uk/recruitonline • 11
King's Careers & Employability King's College London The Bridge, Level 1, Macadam Building Strand London WC2R 2LS www.kcl.ac.uk/recruitonline