LIVES OF THE LINERS: CRUISING & CRUISE SHIPS - From Bill Miller Update: August 2021
Page content transcription
If your browser does not render page correctly, please read the page content below
LIVES OF THE LINERS:
     CRUISING & CRUISE SHIPS

Above: Arriving in New York onboard the Vistafjord, June 1973

                  From Bill Miller
             Update: August 2021
Mon Jul 26th: Azamara Cruises today announced that the Azamara
Quest was the first of its ships to depart from Glasgow's Peel Port (King
George V Dock), on the afternoon of Jul 26th (seen above), following
thirteen months docked in the Scottish city. The Quest had been in
Glasgow with the Journey and Pursuit for the last year during their
layup. The ship is now heading for a drydock in Spain before cruising
again in late August.
Wed Jul 28th Carnival is set to start its weekly Alaska cruises from
Seattle today and the company held a "Back to Fun" ribbon-cutting
ceremony officially welcoming guests back onboard. The Carnival
Miracle set sail this afternoon at 4:00pm from the Port of Seattle for a
weeklong cruise with stops in Ketchikan, Juneau and Skagway, as well
as a full day cruising Tracy Arm Fjord.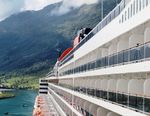 Cunard:       The Queen Mary 2 is soon to head to the big Damen
shipyard at Brest in France for a full refit & refreshing. The Cunard
flagship returns to service in mid-Nov.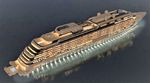 England: Our loyal agent Nick Braddock just reported: "England just
announced foreign cruises can start from 0400 am Monday. Hooray!"
More News from England: International cruises will be able to start
again from England from Mon Aug 2nd after a 16-month break. People
arriving at UK ports who have been fully vaccinated in the US and the
EU will also not have to quarantine, the UK government said. It's part of
a plan to relax isolation rules for US and EU arrivals in the UK. An
industry body said travel agencies, hotels, tour guides, port operators
and other firms would benefit from cruises restarting.
Domestic cruises have been allowed to run from May but international
cruises have been prohibited. The government said that international
cruise travel advice "will be amended to encourage travellers to
understand the risks associated with cruise travel and take personal
responsibility for their own safety abroad".
And travellers from France are not exempt. Arrivals will also still need to
complete a Passenger Locator Form. Under-18s will be exempt from
isolation, and some will not have to test, depending on their age. The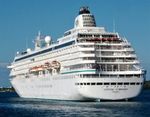 UK government said the rule changes would help to reunite family and
friends whose loved ones live abroad. Transport secretary Grant
Shapps said the reopening of travel was "progress we can all enjoy".
On its website, P&O Cruises said following their UK summer
staycations, its Britannia will begin planned western Mediterranean
itineraries on Sep 25th, while its Iona will launch on the same date.
However, it said due to the current traffic light system, a "number of
itineraries have had to be cancelled".
Cruises on the Ventura have been paused until Oct 3rd, while cruises
on the Azura have been halted up until Dec 10th. Some others have
been delayed until 2022.
Cunard's first UK cruise will sail on Aug 13th with international cruises
beginning in October. Both firms are part of US giant Carnival cruises,
which is one of the world's biggest cruise companies. The hugely
profitable business was brought to its knees by Covid after regulators
around the world stopped ships from sailing to try and limit outbreaks.
There were outbreaks on various cruise liners, including some owned
by Carnival.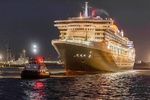 Above: The MSC Virtuosa was the first cruise ship to take passengers in UK
                       waters in more than a year

The global cruise line industry has been one of the hardest hit by the
coronavirus pandemic. In 2019, it contributed more than $154 billion to
the global economy, according to the trade body Cruise Lines
International Association, before the ships were all anchored due to the
lockdown. Carnival, which made a profit of $3 billion in 2019, reported a
loss of $10 billion in 2020 after its revenues plunged 73%.

   Below: Seen from the Queen Mary 2, P&O Cruises' Ventura sailed from
                         Southampton (Jul 2019)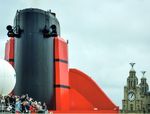 Yet More from the UK:           Our good friend Dave Townson reports:
"Liverpool is losing its UNESCO World Heritage status because of the
architectural aberrations that for years have been foisted on the city."
          Below: The Queen Mary 2 & Liverpool's Royal Liver Bldg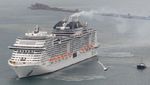 Thu Jul 29th Update from Cruise Critic: With the fast-spreading Delta
variant causing COVID-19 cases to spike around the world, even
vaccinated passengers wonder: Will it affect my cruise? The short
answer is, perhaps, depending on where you're sailing. As has been
the case with most cruises that have resumed sailing, the biggest
changes could be with your ports and destinations.
There have been spikes in Covid-19 cases in a number of popular
destinations from Sitka, Alaska to Mykonos, Greece, though these have
so far not impacted cruise ship arrivals. Meanwhile, the rise in cases
has caused some islands in the Caribbean to continue to keep their
ports closed.
In any case, cruisers should be prepared for possible itinerary changes,
as well as protocols that could vary from port to port, such as mask
requirements. Despite the rise, some travel agents have not seen a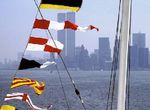 drop in bookings; Cruise Planners said that cruise bookings were up 27
percent week over week, with prices increasing on some itineraries.
Slightly more than 30 percent of new cruise purchases had a 2021
departure date.

Fri Jul 30th Germany: Ocean Residences has announced that it has
signed a ship construction contract with the famed Meyer Werft
shipyard to build the Njord (below) with target delivery in 2025. It will
be the first newly built residential cruise ship in some twenty years,
since The World in 2001.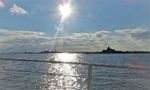 The 948-ft long private residential "yacht" features 117 residences. "It
is a home to a community of individuals and families, sharing a passion
for travel, adventure and discovery – across oceans, beneath the seas,
in the air and on land," Ocean Residences wrote, adding that the Njord
will have a philanthropic purpose.
"She is equipped to undertake scientific and oceanographic research
everywhere she travels, in supporting charities, missions and pressing
causes. In co-operation with oceanographic research organizations and
scientific groups, M/Y Njord will encourage research projects that work
to advance scientific frontiers and global marine research that will
assist in a greater understanding of the complex systems that support
our earth," it added.
Ocean Residences said that the Njord has been very well received and
is experiencing high demand for reservations.
Hong Kong: Dream Cruises has officially restarted its cruise service in
Hong Kong today with the Genting Dream's maiden voyage of her first
"Super Seacation" high seas itinerary. According to a press release,
more than 1,000 guests took part in the historic inaugural voyage on
Genting Dream.
Holland America: Holland America Line's Rotterdam was delivered
today at Fincantieri's Marghera shipyard. It is the seventh Holland
America ship to bear the Rotterdam name.

Crystal Cruises: Beginning as 7-day Bahamas cruises from Nassau
& from Bimini, these cruises will now include Miami as an embark &
depart port. These voyages are aboard the Crystal Serenity while an
added series of 7-night Bermuda cruises are to begin in late Aug, first
from Boston and then New York (below) and aboard the Crystal
Symphony (above).
Out of the old shoebox:
Below: A Sat afternoon in 1982 & dual sailings of the Atlantic (right) and
                     Oceanic of the Home Lines
Thank you to all our readers, correspondents, those "agents" in
                        faraway places!