Memphis - Penn State Alumni Association
Page content transcription
If your browser does not render page correctly, please read the page content below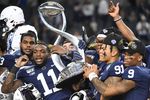 Memphis
                                                                              Penn State 53 – Memphis 39
                                                                                   Volume 82, Issue 13
                                                                                      Dec. 31, 2019

                                                   Penn State has played 50 times in 15 different bowls since
                                                   1923. But the longest hiatus since the Nittany Lions' last
                                                   appearance in any of those 15 bowls was the 45 years
                                                   since State last competed in the popular Cotton Bowl.
                                                   When the Lions last played in the Cotton Bowl Classic,
                                                   Ridge Riley was still writing this Football Letter, Joe Paterno
                                                   was in his ninth year as head coach, and Ed Czekaj was
                                                   the Athletic Director.
                                                   They all loved the Cotton Bowl because Penn State was
                                                   treated well and never lost there.
                                                Ed Czekaj was a member of Penn State's undefeated 1947
                                                team and played in Penn State's first appearance in the
Cotton Bowl on Jan. 1, 1948 against undefeated Southern Methodist University—led by Heisman Trophy
winner Doak Walker.
Texans were very hospitable to the Nittany Lions but didn't think they stood a chance against the Southwest
Conference champions because Penn State had only ever played in one bowl game—the 1923 Rose Bowl,
where they lost to Southern Cal, 14-3.
Nittany Lion tailback Wally Triplett and end Dennie Hoggard were the first two African-Americans ever to play
in the Cotton Bowl.
Because all hotels in Dallas were segregated at that time, Penn State's white players refused to abandon their
teammates, and they all stayed together on a military base 14 miles outside of town. This was one of the early
instances that led to State's now famous "We Are" cheer.
The Nittany Lions surprised the southerners by tying No. 3-ranked SMU, 13–13, as Triplett on offense scored
one of the Lions' touchdowns and on defense prevented at least three by SMU, according to Riley. But poor Ed
Czekaj was haunted by the fact that he missed his second extra point attempt that could have won the game
for Penn State. (However, Walker also missed the one that could have won for SMU.)
Penn State's second appearance in the Cotton Bowl was Jan. 1, 1972, following State's 10-1 record in the
1971 regular season. That year former President Lyndon Baines Johnson was the No. 1 supporter of the
Texas Longhorns, who were looking forward to feasting on some Eastern Lion meat.
But after halftime the Nittany Lions turned the tables and feasted on enough beef steaks to get the energy to
score 27 unanswered points and Hook the 'Horns for a runaway 30–6 victory.
Just three years later, Joe had the Lions back in the Cotton Classic to face a fired-up Baylor team that had just
won its first Southwest Conference championship in 50 years. This time the internationally known evangelist
Billy Graham came to town and joined the Baylor Baptist Bandwagon behind the very likable Coach of the Year
award-winner Grant Teaff, who was also a Baptist lay preacher. (The same one who offered an invocation
before Saturday's game with Memphis.)
Rebounding from a 7–3 halftime deficit, the Lions charged to 38 second half points and ate the Bears, 41–20,
while setting a record for most points scored by any team in the then 39-year old Classic.
So Penn State always had success in the Cotton Bowl played in the original stadium on the Texas State
Fairgrounds in Dallas.
And Saturday's game—now played in AT&T Stadium, one of newest and largest domed facilities in the world—
against the AAC champion and highest-ranked opponent from the Group of Five conferences was no
exception.
In a contest that proved highly exciting to fans of each team, No. 10 Penn State emerged victorious against the
17th-ranked Memphis Tigers, 53–39, in a contest that set a Classic record for combined points by both
teams—92.
The crowd-pleasing contest matched Memphis' explosive passing attack against State's explosive rushing
attack.
Just as in each previous Classic, the Lions' opponent scored first and clung to an early lead, until the Nittany
Lions' offense got untracked and their defense took control.
Ultimately, Penn State ground out a school bowl record 396 yards for a Cotton Bowl record-tying five rushing
touchdowns— two each by Journey Brown and Noah Cain and one by Devyn Ford.
The Lions tallied one passing TD on Sean Clifford's four-yard toss to Jahan Dotson, and safety Garrett Taylor
grabbed a pick-six interception, when Micah Parsons hurried Tiger quarterback Brady White into attempting an
ill-advised shovel pass. State got a 45-yard field goal from Jake Pinegar, and Clifford completed a two-point
conversion toss to tight end Pat Freiermuth after Cain's second TD for the final points.
While QB Brady White passed for a record 454 yards, Memphis could score no touchdowns through the air
and had to rely heavily on an all-time bowl record of six field goals by Riley Patterson, who was honored as the
best place-kicker in the American Athletic Conference this fall. Patterson was perfect on boots of 48, 37, 44,
51, 41 and 42 yards.
The Tigers could muster only three touchdowns on short plunges by running backs Patrick Taylor and
conference Rookie of the Year Kenneth Gainwell plus signal-caller White.
Memphis, which posted its first-ever 12–1 season this fall to earn its first appearance in a New Year's Six Bowl,
got the first score on its first possession.
White ignited an 11-play 58-yard drive with a 40-yard pass to All-AAC wide receiver Damonte Coxie on the
Tigers' second offensive play. Patterson capped the drive by booting a 48-yard field goal for a 3–0 lead.
Penn State quickly responded with a 3-play 75-yard scoring drive in just 56 seconds to take a 7–3 lead, after
Sean Clifford passed 12 yards to Jahan Dotson and 31 yards to KJ Hamler, before running back Journey
Brown broke four tackles on a determined 32-yard gallop to the end zone.
But Memphis scored on each of its three possessions in the first quarter.
On the Tigers' second possession, White uncorked a 56-yard pass to Kendarian Jones on a third-and-eight
situation. And three plays later Patrick Taylor rushed three yards into the end zone to cap a six-play, 75-yard
march.
On their third possession, Patterson booted his second field goal – this time for 37 yards—to cap a 10-play 40-
yard drive. And the Tigers delighted their fans with a 13–7 lead after the first 15 minutes of play.
But State quickly silenced the Memphis fans by outscoring the Tigers 28 to 10 in the second quarter to take a
35–23 lead into the locker room, before the Texas Rangerettes and each school's marching band put on a
sparkling halftime show.
Memphis showed new life early in the second half to cut Penn State's lead to 35-33, but from there the Nittany
Lions pulled away to the final 14-point margin of victory.
The high-flying Tigers racked up 479 yards through the air but produced only 18 points from Patterson's six
field goals. The ground-pounding Lions gained only 133 yards passing but garnered eight points through the
air on one TD and a two-point conversion.
But those hard-charging Lion runners covered 396 yards to set up 35 points on touchdowns and three points
on Pinegar's field goal.
Journey Brown set a Penn State bowl record of 202 rushing yards on just 16 lugs of the pigskin for a 12.6
yards-per-carry average and earned the Most Outstanding Offensive Player Award.
Noah Cain followed the blocks of his offensive line 15 times and barreled through the Tiger defense for a
career-high 92 yards in his first game action since being injured two months ago.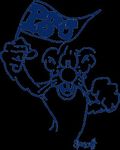 Ricky Slade carried only five times, but his first run of 44 yards propelled him to a 58-yard total for an 11.6 ypc
average. And quarterback Sean Clifford netted 28 yards rushing.
Meanwhile, Penn State's offensive line won most of the battles in the trenches, while the Lion defense held the
Tigers at bay and also scored a touchdown on Taylor's 15-yard interception return.
Neither team gained much yardage on kickoff or punt returns.
Sophomore All-American linebacker Micah Parsons led all defenders with 14 tackles, including two QB sacks
for 17 yards in losses and another tackle for a loss of 10 yards, plus two forced fumbles and two pass
breakups.
Seven Lion defenders collaborated on nine tackles for 58 yards in losses, including six QB sacks for 44 yards
in losses. Safety Garrett Taylor and cornerback Marquis Wilson each got interceptions and gained 28 yards on
returns. State's defense also broke up six Tiger pass attempts and added four QB hurries.
The Memphis defense got only six tackles for 16 yards in losses, two pass breakups and two QB hurries.
Coach James Franklin said Penn State won the explosive play, field position, turnover, and penalty battles that
were keys to the outcome of the game. He said the whole week at the Goodyear Cotton Bowl was "an
unbelievable experience."
Franklin also noted that the 11–2 Nittany Lions posted their 24th season with at least 10 wins and their fifth in
the last 12 years. He pointed out that State is 42-11 over the last four seasons for its best four-year total since
the 1993-96 teams had a composite mark of 42-7.
Penn State's 35 points in the first half Saturday set a Cotton Bowl record, breaking the mark of 34 by USC
against Texas Tech in 1995. The Lions 28 points in the second quarter are also a Cotton Bowl record,
surpassing the 21 tallied by Rice in 1938, Notre Dame in 1978 and LSU in 2011.
State's five rushing touchdowns tie the Cotton Bowl record set by Oklahoma A&M against TCU in 1945. Noah
Cain's two TDs Saturday gave him eight for the season to set a Penn State record for freshman, topping the
seven scored by D.J. Dozier in 1983 and Saquon Barkley in 2015.
When the bowl season ends Penn State should move up a few notches in the polls. And with underclassmen
dominating the depth chart the prospects look bright for the 2020 season.
For the Glory,

                                        Notes from the Cuff
P he Nittany Lions all-time record is 898–393–42 (.690) and they rank
eighth in the FBS in overall victories…
Penn State is 30–18–2 (.620) in bowl games, with a 23–16–1 (.588) mark in
traditional New Year's Day bowls…
In the last 100 years Bowl games have grown from one (Rose) to the Big
Four (Rose, Cotton, Sugar and Orange) to 40 for the sake of television.
More than half of the 132 teams in the FBS now play in post-season bowls
each year…
Penn State has extended its consecutive bowl streak to six games and
played in 13 in the last 15 years…
Memphis and Penn State met on the gridiron for the first time Saturday, and
the Lions now have a 75–23–3 (.757) record against current members of
the American Athletic Conference
Coach James Franklin has a 56–23 (.709) record in six seasons at Penn State and an 80–38 (.678) mark in
nine years as a college head coach…
The Penn State players wore a special decal on their helmets honoring Nittany Lion tailback Wally Triplett who,
along with end Dennie Hoggard, broke the color barrier in the Cotton Bowl in 1948. One fan in the stands
waved a Do It 4 Wally sign throughout the game Saturday…
Journey Brown's 202 rushing yards in the Cotton Bowl Saturday broke Saquon Barkley's previous Penn State
record of 194 set in the 2017 Rose Bowl. Brown's 56-yard touchdown run was the sixth- longest in the Lions'
bowl history…
Brown's 12.6 yards per carry average shattered the previous Penn State bowl record of 8.6 set by Curt Warner
in the 1980 Fiesta Bowl against Ohio State. He recorded his first 200-yard game and fifth 100-yard game of his
career and has scored at least one touchdown in five consecutive games…
Journey finished the season as the Lions' leading rusher with 890 yards on 129 carries—a 6.98 average per
carry and 12 touchdowns. Noah Cain was second this year with 443 yards on 84 carries for a 5.27 average
and eight TDs. Sean Clifford was third with 402 yards on 116 carries with five TDs…
Slot receiver KJ Hamler finished his sophomore season as State's leading pass catcher with 56 receptions for
904 yards (16.1 ypc) and eight touchdowns. Tight end Pat Freiermuth concluded his sophomore season
second on the list with 43 catches for 507 yards (11.8) and seven TDs…
Hamler has made at least one catch in all 26 games of his career. Freiermuth extended his consecutive games
with at least one catch to 25…
Sophomore linebacker Micah Parsons led his team in tackles for the second straight year with 109 to become
the first Nittany Lion to pass the century mark since Marcus Allen had 110 in 2016…
Kirk Ciarrocca was announced as Penn State's new offensive coordinator and quarterback coach last
Thursday and attended the Goodyear Cotton Bowl to get to know his new team. A native of Lewisberry, PA,
Ciarrocca, played defensive back at Juniata College in Huntingdon, before transferring to Temple, where he
graduated in 1990. He then coached at several schools in the East for more than a decade, before becoming
offensive coordinator and QB coach at Western Michigan University for four years. He then followed WMU
head coach PJ Fleck to Minnesota, where he has been the OC/QB coach for the last three years…
Ciarrocca coached the Gopher offense to a performance that ended Penn State's undefeated season in early
November, and he was a semifinalist for the 2019 Broyles Award as the nation's top assistant coach. He
replaced Ricky Rahne, who accepted the head coaching job at Old Dominion University in early December
Tight ends coach Tyler Bowen called the plays from the booth in the Cotton Bowl, after the departure of
Rahne, and Coach Franklin lauded Bowen's work…
The Penn State Blue Band had a chance to entertain Penn State fans at Texas Live next to AT&T Stadium in
Arlington on Friday afternoon at a Battle of the Bands. The University of Memphis Band and the Blue Band
took turns playing their favorite numbers with their band fronts and cheer teams performing in the restaurant
and entertainment district within sight of the huge domed stadium.

                  For additional game day photos, visit us at: http://alumni.psu.edu/fbl
                                    (Login required to access Football Letter content)
 Want to receive your Football Letter faster?
 The Football Letter can be delivered to your inbox every Monday during the season! To update your email
 preferences, contact us by phone at 800-548-LION (5466) option 2 or by email at FootballLetter@psu.edu.