Mission Statement
If your browser does not support JavaScript, please read the page content below:
Newsletter of the Theriogenology Foundation Vol. 7, Summer 2019 www.theriofoundation.org Mission Statement The Theriogenology Foundation is a global resource that supports education and research in reproductive medicine; ensuring that future generations of animals continue to enrich our lives through service, companionship, and food for a growing human population while conserving our natural resources. The Theriogenology Foundation: Celebrating a Decade of Dedication to the Future of Animal Reproduction Ten years ago, in Albuquerque, New Mexico, newly minted SFT President Dr. Tom Riddle announced that the combined boards of the SFT and ACT were successful in jointly completing the formation of the Theriogenology Foundation.
Following the Therio Awards ceremony, Tom spearheaded the First Annual Theriogenology Foundation Auction which surpassed all expectations by bringing in nearly $13,000 for the brand-new 501c3.
I revisited the Albuquerque International Airport this winter, and was drawn to the same Lincoln Fox sculpture that attracted me in 2009, accompanied by a plaque with his words: The dream of flight is born within the heart of man, embracing the desire to be free from the confines of the earth's surface. Hopefully the dream includes the possibility of freedom from limiting thought and action. As our imagination is freed to receive greater truths, then fear, closed thinking, and poverty of spirit will be left behind . far below. When I took the reins from Dr. Riddle as TF President, I inherited a TF Board that opened their minds, used their imagination, never stopped dreaming of what we could achieve and always desired to do just a bit more.
Over 10 years, forty-three TF Board members have brought a wealth of knowledge, spirit and resources that has lifted students up, pushed research forward and promoted our specialty. They are the advocates for the pets in our lives, supporters of military and assistance dog teams, educators of the next generation of specialists and ambassadors for how the reproductive health of all animals impacts human health.
The great news is that the Foundation has helped many. The challenge is that many still do not know who we are and what we do. If you've taken the time to read the last 10 issues of our biannual publication, THERiver, you already know the numbers which justify our tremendous pride in accomplishment. We are poised to further scale up our program goals, collaborations and research initiatives when additional funding is secured. In 2009, no one would have predicted that generous giving at the 2018 Annual Conference would yield an unprecedented $78,000. For our 10-year anniversary, we believe that we can reach the magical goal of $100,000.
Through your giving, you have the power to promote lasting, positive change for generations to come. Because it all started in the Land of Enchantment. Feel the magic.
Anita M Migday DVM MS From the pen of the president
www.theriofoundation.org 2 Theriogenology Foundation 2018-2019 Board of Directors President Dr. Anita Migday Framingham, MA Vice President Dr. Dwight Wolfe Auburn, AL Secretary/Treasurer Dr. Mike Thompson Holly Springs, MS Directors Dr. Steven Brinsko College Station, TX Dr. Jim Floyd Auburn, AL Mr. Rod Haneline Rochester Hills, MI Ms. Lowry Huessler Cambridge, MA Mr. Alan Kalter Ann Arbor, MI Dr. Sara Lyle Raleigh, NC Dr. David Matsas Woodstock, CT Dr. Joann Randall Woodstock, IL Dr. Maria Schnobrich Lexington, KY Dr.
William Schultz Okemos, MI Dr. Walter Zent Lexington, KY Executive Director Dr. Charles Franz Charles@franzmgt.com Ahmed Tibary Dr. Ahmed Tibary is Professor of Theriogenology at the College of Veterinary Medicine, Washington State University, Pullman, WA, USA. Dr. Tibary graduated in 1980 with a Doctorate in Veterinary Medicine from the Institut Agronomique et Vétérinaire Hassan II (IAVHasson II), Morocco. He earned an MS (1984), Doctorat es Science (1988) from IAV Hassan II and a PhD (1989) in Theriogenology from the University of Minnesota. He was certified as a Diplomate of the American College of Theriogenologists in 1991.
Dr. Tibary started his career in Morocco doing clinical practice research on equine and ruminant Theriogenology. He worked as a Clinical Assistant Professor of Equine Theriogenology at the University of Minnesota from 1990- 1992. He then accepted a position as the Scientific Director of the Veterinary Research Center in Abu Dhabi in the United Arab Emirates where he helped develop a referral center for infertility and artificial breeding in Arabian horses and camels. In 1998, he joined the College of Veterinary Medicine at Washington State where he is now a professor of the Comparative Theriogenology service providing clinical service and conducting research in equine, ruminant, and camelid reproductive medicine and surgery.
Dr. Tibary devoted most of his career to teaching and conducting applied research on equine, ruminants and camelid theriogenology. He served as veterinary consultant to the Royal stables and the National Stud Farms in Morocco and the Amiri stable in Abu Dhabi (UAE). He received several awards recognizing his excellence in teaching and clinical practice including the Norden Distinguished Teacher Award (2001 and 2005), the faculty member award by the Washington State Veterinary Medical Association (2003), the WSU Veterinary Continuing Education Award (2002) and the Veterinary Achievement Award by the Alpaca Research Foundation (2007).
He was named the 2011"Theriogenologist of the Year"by the American College of Theriogenologists. Dr. Tibary provided large animal reproductive medicine and surgery continuing education programs for veterinarians around the world. He is the author of several scientific publications, 6 books and over 130 book chapters on camelid, equine and ruminant reproduction. Dr. Tibary served in several capacities in the ACT and SFT leadership.
Dr. David E. Bartlett Award for Lifetime Achievement in Theriogenology Chair: Dr. Sherrie Clark Board Liaison: Dr. Dwight Wolfe MEMBERS: Dr. Claire Card Saskatoon, Saskatchewan Dr. Carla Carleton East Lansing, MI Dr. Sherrie Clark Blacksburg, VA Mr. Edmond Dziuk Columbia, MO Dr. Richard Hopper Auburn, AL Dr. Ira Kaplan Framingham, MA Dr. Carol McLeod Versailles, KY Dr. Paul Mennick Los Molinos, CA Dr. Stephen Purdy Belchertown, MA Dr. Tom Riddle Lexington, KY Dr. Don Sanders Urbana, OH Dr. Lew Strickland Maryville, TN Dr. Wendy Vaala Alma, WI MANAGEMENT OFFICE Dr. Charles Franz Executive Director Theriogenology Foundation Advisory Council
www.theriofoundation.org 3 TF Grants at Work Oklahoma State University – ACT Student Outreach Grant The SFT student members at Oklahoma State University Center for Veterinary Health Sciences would like to extend our gratitude for the financial assistance provided by the Theriogenology Foundation Board of Directors via an ACT Student Outreach Grant. With the financial assistance we were able to provide housing for our guest speaker from Cornell University, Dr. Soon Hon Cheong, DACT. Dr. Cheong visited Oklahoma State University's Center for Veterinary Health Sciences campus and spoke to our student SFT club at 12pm on September 20th, 2018, in the main lecture hall auditorium in McElroy Hall.
About 60 bodies in total, including students and faculty, were in attendance to the presentation. During his presentation Dr. Cheong presented the SFT student members with information pertaining to two unique cases: a preputial swelling in a 10-month-old Brown Swiss bull and a granulosa cell tumor in a 2-monthold Arabian filly. After the presentation Dr. Cheong was also escorted out to the OSU CVHS Ranch where he was able to have further interaction with some sophomore students, about half of which were SFT club members, during their Equine Palpation elective course. Thank you again for assisting our student chapter with this opportunity, we are grateful! University of Illinois – ACT Student Outreach Grant The first weekend of March Dr.
Ana Adams came to the University of Illinois College of Veterinary Medicine. On Friday, Dr. Adams spoke to students over lunch about some of the aspects of canine reproduction in a private practice and some of the business aspects. Saturday morning, Dr. Adams gave further details on canine reproduction techniques to a group of ten students. After the lecture and lunch, Dr. Adams demonstrated to students how to manually collect stud dogs. Once the studs had been collected, Dr. Adams discussed evaluation of canine semen with the students as well as the freezing process. Students were able to assist in semen evaluation and were able to observe the extending and freezing process.
Dr. Adams'teachings were great experiences for the students involved. Several of the students are now considering including canine theriogenology as something they would like to do in practice. While students are able to learn a lot from lectures, there is something much more insightful when it comes to hands on experience.
The Illinois Student Chapter of the Society for Theriogenology would like to thank the Theriogenology Foundation for funding that allowed us to implement this lab and we would like to thank Dr. Ana Adams for her wisdom and bright attitude. University of Florida – Student Chapter Grant On January 14, 2019, Dr. Thomas Riddle from Rood & Riddle Equine Hospital in Lexington, Kentucky, traveled to Gainesville, Florida to speak to students at the University of Florida College of Veterinary Medicine about the procedures he routinely performs as a thoroughbred breeding farm practitioner. Dr. Riddle discussed the veterinarian's role in equine reproduction and provided information to students about topics such as breeding soundness considerations, twin management, and postpartum care.
A highlight of the lecture was Dr. Riddle's instruction on fetal gender determination. He discussed the importance of accurate"fetal sexing"and showed a variety of ultrasonographic images to"train your eye."After walking students through these examples, he displayed new images to quiz students so that they could test their newfound skill. At the end of the meeting, Dr. Riddle provided advice on how to maximize the veterinary student experience, discussed potential externship and internship opportunities, and answered questions about the future job market for equine veterinarians. The UFCVM student chapter of the Society for Theriogenology would like to thank the Theriogenology Foundation for their generous funding, which allowed Dr.
Riddle to travel to Florida and played an instrumental role in ensuring the success of the meeting. This gathering was a great opportunity for students to enhance their education in theriogenology and to learn from Dr. Riddle's years of experience in the field.
University of Illinois – Student Chapter Grant Mid-March Dr. Kurt Sladky came to speak to students from the University of Illinois College of Veterinary Medicine. He spoke to a joint group of students from the Theriogenology club and the Non-Traditional Species club. Dr. Sladky spoke on small mammal, reptile, and avian reproduction. He covered what was considered normal for several of the more popular species as well as covering common pathologies in these species. Exotic animal reproduction of this flavor is not a topic that is covered in depth in many places and his lecture was very insightful to the students present.
The Illinois Student Chapter of the Society for Theriogenology would like to thank the Theriogenology Foundation for the funds to bring Dr. Sladky to UIUC and we would like to thank Dr. Sladky for sharing his expertise with our students.
www.theriofoundation.org 4 Theriogenology Foundation Committees and Task Forces The TF Finance Committee Dr. Mike Thompson (Chair) Dr. Anita Migday Mr. Alan Kalter Dr. Walter Zent The Bartlett Award Committee Dr. Ram Kasimanickam Dr. John Kastelic Dr. Pete Sheerin Dr. Isaac Bott Dr. Tom Riddle The TF Fundraising Committee Dr. Jim Floyd and Ms. Lowry Heussler (Co-Chairs) Dr. Joann Randall Dr. Maria Schnobrich Dr. Will Schultz Dr. Carol McLeod Dr. Mike Thompson The TF Planned Giving Committee Dr. Dwight Wolfe (Chair) Dr. Mike Thompson Dr. Walter Zent The TF Public Awareness/ Education Initiatives Dr.
David Matsas (Chair) Dr. Jim Floyd Mr. Alan Kalter Dr. Will Schultz The TF Granting Committee: Research & Student/Resident/New faculty Opportunities Dr. Steven Brinsko (Chair) Dr. Sara Lyle Dr. Jim Floyd (ad hoc) The TF Strategic Planning Committee Dr. Mike Thompson (Chair) Mr. Alan Kalter Dr. Will Schultz Planned Giving Donors Thank you to the following supporters for their generous designated gifts to support theriogenology and the Theriogenology Foundation. Have you been thinking about this but just not finished setting it up? Please give us a call for more information or to let us know when you have included TF in your will.
Your planning now will support theriogenology in the future and insure that your wishes are fulfilled.
1954 Society Russell Crisman Lowry Heussler Ira Kaplan Michelle LeBlanc Carol McLeod Anita Migday Tom Riddle Mike Thompson Warren Wilson Dwight Wolfe Congratulations to the AKC, AKC-CHF, TF Companion Animal Residents Beginning Their Programs in 2019 Jamie M. Douglas, DVM Auburn University College of Veterinary Medicine Dr. Jamie M. Douglas received her DVM from Michigan State University College of Veterinary Medicine in 2014 and her master's degree in animal science (focus: reproduction) from Southern Illinois University Carbondale's College of Agricultural Sciences in 2015. She returned to Michigan State University to complete a veterinary anesthesia internship in 2015.
Dr. Douglas went on to hold a post-doctoral position with the Richard M. Schubot Parrot Wellness and Welfare program housed at the University of California, Davis'School of Veterinary Medicine studying avian welfare and analgesics. Her future goals include holding a teaching position in a veterinary program, continuing to improve animal health through veterinary research, and providing services in the field of theriogenology to aid and improve reproductive performance in companion animals. She is the proud owner of three dogs, two Boston Terriers and what can only be described as a yeti (note: the yeti is a familial term and not in any way a breed recognized by the AKC).
Thoughts regarding the AKC/AKC CHF/TF Theriogenology Residency Program: I am so very grateful to have been selected for this training opportunity in the fields of canine health, canine futures, and research. Besides specializing in a field that I have always respected, I am afforded the opportunity to work alongside exceptional mentors at Auburn University thanks to the generosity of the AKC. An added bonus: I get to provide service, support, and give back to dogs, their owners, the Canine Performance athletes, and students each and every day. Craft Beer Tasting Fundraiser for the Theriogenology Foundation During the Opening Session Reception Wednesday evening, July 24 or the Awards Dinner and Story Night Reception, July 26, attendees will have the chance to experience some locally brewed craft beer and help the Theriogenology Foundation at the same time.
For $40 you will receive four samples of beer. Once you have sampled and chosen your favorite, you will get a full serving of that beer. Proceeds will benefit the Theriogenology Foundation. Tickets may be used at the event of your choice.
www.theriofoundation.org 5 You Choose How to Give TF Donor Recognition Planned Giving Planned Giving provides the opportunity to donate to the Foundation through your trust, will, and other assets as you choose, to leave a legacy for a cause you are passionate about. The"Plan-a Gift"section on the TF website is particularly helpful for guidance on gift options. There are giving options for all levels and numerous tools for choosing the gift that best suites your needs. An attorney's counsel is also recommended. Annual Giving Your yearly contribution can be used to sustain existing projects or spearhead new research to advance the science and practice of animal reproductive medicine.
You determine your level of giving and direct your contribution towards education, research or achievement recognition. Every donation counts! Honor Gifts Honor gifts serve as a meaningful way to recognize someone special while supporting the important work of the TF. Acknowledge the accomplishment of a friend or family member with an honor gift. Celebrate a special event, birthday or anniversary in the life of someone important to you. Make a tribute to an animal which has made an impact in the life of someone you know. A letter acknowledging your gift will be sent to the recipient.
Memorial Gifts A memorial gift can be made to recognize the loss of a beloved family member, friend or colleague. Memorial gifts pay tribute to the individual by affirming their passion for science, education and the continued advancement of knowledge in our specialty. The Foundation will notify a designated contact in writing to both acknowledge your donation and convey sympathy for their loss. Corporate/Club Gifts Corporations and organizations may contribute to the Foundation's general fund or may restrict their donation to champion a specific project or species.
Creative giving Use your creativity, motivation and commitment to launch a TF fundraising event through your hobby club, book club, sports team, office or service group.
Share your personal achievements and passions for running, swimming, baking or biking by making it a fundraising event that includes friends and family. Therio Auction Support Annually, the Foundation conducts a silent and live auction during the Therio Conference. This event has become a great fundraiser for the foundation. If you cannot attend, you can submit a sealed bid form on any item you choose. Visit www.theriofoundation.org to view items and submit your sealed bid form. Contributions to the Theriogenology Foundation increase educational opportunities, support research and enhance the field of theriogenology.
Rocky Mountain Society This Society recognizes donors who have made an annual commitment to giving at the Supporter Level or higher for five or more consecutive years. The milestone years for recognition in the Society are 5, 10, 15 , 20 and 25 consecutive years. The 10 year level is known as the Dr. S. J. Roberts Circle of the Rocky Mountain Society. The 20 year level is known as the Dr. David Bartlett Circle of the Rocky Mountain Society. First-time Rocky Mountain Society members, or those reaching new milestones, will receive by mail a RMS welcome letter and lapel pin denoting the milestone period of consecutive year giving.
1954 Society This Society recognizes donors whose legacy gifts play a key role in securing the future of the Theriogenology Foundation. These donors have remembered the TF with a lifetime income gift or as a beneficiary of a will, trust, retirement plan, or life insurance policy. The 1954 Society is named for the year in which the Rocky Mountain Society for the Study of Breeding Soundness in Bulls (now the Society for Theriogenology) was organized. Circles within the 1954 Society provide for additional recognition opportunities: The Legacy Circle honors donors whose cumulative lifetime giving totals between $60,000 and $100,000.
The Founders Circle honors cumulative lifetime giving that totals between $100,000 and $150,000.
The Inventors Circle honors cumulative lifetime giving that totals between $150,000 and $200,000. The Fertile Circle honors cumulative lifetime giving exceeding $200,000. An appropriate plaque and lapel pin will be presented for each level of recognition. Members of the 1954 Society will be invited to attend a private stakeholders reception at the Annual Conference and will receive updates on Foundation giving news. Supporting our Future: Levels of Annual Individual Giving Genesis Society: $5,000 or more Visionary: $1,000-$4,999 Pathfinder: $100-$999 Supporter: $25-$99 Donors will be recognized in the Foundation publication THERiver.
www.theriofoundation.org 6 2018 Assets ACT Student Outreach $5,415 Bartlett Fund $25,821 Zemjanis Fund $6,993 SACO $5,600 Externships $22,708 Scholarship Fund $1,300 Research $100 Unrestricted $361,976 TOTAL $429,913 2018 Financial Summary Financial breakdown from January 1, 2018 through December 31, 2018 2018 Income Breeder's Education $10,885 Externships $10,000 Media & Design $10,000 Dues check off $12,665 Research Genomics $253,853 Amazon Smile $98 Therio Conference Events $37,687 General Donations $5,698 TOTAL $340,886 The Theriogenology Foundation is very grateful for the $340,886 of funding you have provided during this 12 month period.
The majority of operating costs were covered by the generous support of the Society for Theriogenology and the American College of Theriogenologists so that more than 89 percent of funds expended went to directly support programs. Administrative costs (office supplies, accounting and board meetings) totaled 6 percent and fundraising expenses (brochures, planned giving, postage, credit card, website fees on donations) were an additional 4 percent. These contributions keep the Foundation on track towards reaching our goals of expanding research and knowledge in the field of theriogenology. Your continued contributions will enable the Foundation to move forward with this work in future years.
Your tax deductible support and philanthropic investment brings us ever closer to the goals we have set for theriogenology and our Foundation. There is no gift too great or too small, and the Foundation is continually adding new programs to offer you ways to donate that meet your specific needs, such as our Planned Giving options. Visit www.theriofoundation.org or contact the Foundation office for more information. 2018 Expenses Fundraising Administrative Programs Save the Date now to join us at the following locations for the Annual Therio Conference: 2020 July 22 – July 25 | Pittsburgh, Pennsylvania 2021 July 21 – July 24 | Omaha, Nebraska 2022 July 20 – July 23 | Bellevue, Washington
www.theriofoundation.org 7 y 24-27 Thank you to all of the individuals, companies, and organizations that supported the Theriogenology Foundation by donating to the 2018 Live and Silent Auctions Individuals Dr. Jane Barber Dr. Gail Colbern Dr. Jill Colloton Dr. Marty Greer Dr. Babiche Heil Ms. Lowry Heussler Dr. Ira Kaplan Mr. John Lichty Dr. Carol McLeod Dr. Anita Migday Dr. Willis Parker Dr. Jan Ramer Dr. Jason & Joann Randall Dr. and Mrs. Tom Riddle Dr. Maria Schnobrich Dr. Will Schultz Dr. and Mrs. Mike Thompson Dr. Robyn Wilborn Dr. Jeannine Woods Companies and Organizations Auburn University Student Chapter Auburn University Theriogenology Department Hagyard Equine Medical Institute Lane Manufacturing Inc.
Minitube USA MOFA Global Ohio State University Theriogenology Department Purdue College of Veterinary Medicine Rood & Riddle Equine Hospital The Wilds 2018 Auction Donors The Theriogenology Foundation Honor a Mentor Program Have you had mentors in your early years as a part of the veterinary profession and throughout your career who have influenced your theriogenology interest? Would you like to honor them with the recognition they deserve? You can nominate these mentors for recognition through the Theriogenology Foundation.
Once donations reach $1000 (you and your colleagues can pool donations to reach this level) your mentor's name will be listed as a nominee for recognition. When donations total $5000, your mentor, along with a brief biography, photograph and select comments from nominators, will be highlighted on the website, in THERiver, at the Therio Conference and in other ways. https://www.theriofoundation.org/page/HonoraMentorProgram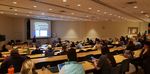 www.theriofoundation.org 8 Thank You for Your Generosity Donations received from January 1, 2018 through December 31, 2018 Genesis ($5,000 or more) Auburn University Foundation James Floyd Alan Kalter Lakeside Foundation Manton Foundation Don Sanders Visionary ($1,000-$4,999) Anonymous Donors Isaac Bott Steven Brinsko Marco da Silva Steven Escobar Charles Franz Karen Houle Kit Kampschmidt Ira Kaplan Ira C.
Kaplan and Anita Migday Foundation John Kastelic Carol McLeod Anita Migday Hernan Montilla Joann Randall Thomas Riddle Will Schultz Michael Thompson Warren Wilson Dwight Wolfe Pathfinder ($100-$999) Gary Althouse Brooke Bennett Jessica Bradford Ralph Brinster Claire Card Carla Carleton Charles River Dog Training Club Gail Cobern Jill Colloton Wendy Ernst Natalie Fraser The Greater Lowell Kennel Club Inc Bob Green Patrick Hearn Clinton Hilt Ann Huntington Walter Johnson Ram Kasimanickam Jennifer Koziol Bruce Lee Candace Lyman Stuart Mason Massachusetts Federation of Dog Clubs and Responsible Dog Owners Paul Mennick The Merck Foundation Kenton Morgan Ray Nebel Network for Good Nathaniel Newton Ober Family Charitable Trust The People's Bank Community Gurpreet Puri Donna Raines Chester Rawson Carlos Risco Debra Sauberli Peter Sheerin Craig Smith John Spitzer Dirk Vanderwal Supporter ($25-$99) Duncan Abbey Mary Adams Ana Adams Michelle Ahmann Rick Allison Helene Alm Amber Andelt Arn Anderson Doug Anez Tye Ardrey Paul Armbrecht Leea Arnold Jeremiah Atha Keelan Axson-Lewis Kevin Ballard Orsolya Balogh Robert Bamberg Jane Barber Judy Baxter Shannon Bayliff Bryan Beason Roger Bechtel Robert Beer R.
Behm Mason Bell Heather Berry William Berry Todd Bickett Lonnie Blum John Bolinger Mark Borah Roger Borgmeyer Guy Bouchard Janet Bowen Ben Braat Loren Brandt John Brannan Clay Breiner E. Bridges John Brix Benjamin Brown Peter Brunelli Sam Bryant Heidi Buehner Keith Burgett Theresa Burns Seth Bynum Maria Cadario John Calhoun Elizabeth Callahan Christine Camann B.J. Campbell Gregory Carlson Ryan Carpenter Christy Carson Young William Carter Robert Causey Peter Chenoweth Michelle Chiunti David Christiansen Sherrie Clark-Deener Samuel Cofield James Cole Jack Coleman Trevor Collins Jeffrey Comstock Patrick Comyn H.
Conboy Sheri Cone Stephen Constant Renee Coyer J.R. Crum Kenneth Currie Chuck Dake Jake David Leland Davis Bek Day H. Clay Dean Brittany Denker Maxime Dessureault Philip Deville Wynne DiGrassie Carolyn Dobrovolny C. Shane Donley Lee Duckworth Harrison Dudley Scott Dunaway Amanda Durand Tim Eberhart John Egloff Adam Eichelberger Scott Elliott John Erfle Kirk Esmond Benjamin Espy Ivan Esse Charles Estill Jennifer Evans John Flinchum Veronica Flores Carrie Foltyn David Ford Bryan Fraley Scott Fray Virgil Frei Reto Fritsche Beverly Fritzler David Fuller James Furman David Fuston Melissa Galluch Katherine Gardner Leo Gayheart Lonna Gerstner Roger Gibson Edward Gilsleider Roland Good Melissa Goodman Walter Goodwin Scott Gordon Rory Gormley David Gourley Dennis Gourley Paul Graham Claudia Gray Brian Greenfield Lester Griel Jenni Grimmett Dale Grotelueschen Robert Gukich Byoung Hah Marvin Hamann John Hamil Megan Hardy Alfred Harper Ted Harpold Mark Harris David Hartman Max Hartman Charles Hartzell Justin Hayna Amber Heidlage-Cole Loyal Henderson Jerry Henke David Hermann Chris Herring David Hidalgo Elizabeth Hill Susie Hirsch Fiona Hollinshead Sara Holloway James Holt Timothy Holt G.
Holyoak Hannah Homer Richard Hopper Mike Howell Scott Hoyle Harold Hudson Jay Hudson Robert Hudson Thomas Hulsey Ann Huntington Raymond Huston Edith Johnson
www.theriofoundation.org 9 Thank You for Your Generosity Donations received from January 1, 2018 through December 31, 2018 William Johnson Anne Johnson Wendy Jolley Russell Jonas Lauren Jones Kathleen Jost Angela Jugan C. Kaiser Michael Katsampes Susan Keller Rebecca Kestle Charles Key Firdous Khan William Kimbrell Alana King Darrell Kininard Phillip Kinslow Amy Klauer Lloyd Kloppe Jeanne Klynsma Kara Kolster Darrel Kraayenbrink Jeffrey Krasnoff Thomas Kuhn Michelle Kutzler Lawrence Lanzon Robert Lastovica Kent Law Patricia Lechten Dustin Leck Kiho Lee Chad Lehenbauer Jose Augusto Len Robert Leonard Rasa Levstein-Volanski Rebecca Lillard Jenny Lindquist Brittany Lister C.F.
Locklar Paul Loomis J. Loughridge Charles Love R.B. Lowe Brent Lower Steve Lucas Charles Luke Steve Lynn James Lytle Chelsea Makloski Chelsea Lynn Makloski-Cohorn Jakob Malmo Beckey Malphus Dale Mantell John Marcotte Matthew Marcum Carol Margolis Albert Markway Nancy Martin Paul Marx Dwight Maseberg David Matsas Gregory Matthews Matt Matthews Lyle Mattson Mark May Gary McArthur Melinda McCall Mary McDaniel J. McLeod Ken McMillan Renato Mendez Rory Meyer Ira Mickelsen John Migliore Stetson Miller Michael Mimms Sandra Moore James Morehead Monica Morganti Paul Motter Gilbert Mouser Bruce Mueller Erin Murphy John Myers Carla Narducci Katherine Naughton Ronny Naylor Curt Nelson Margret Nichols Jacqueline Nicholson Helen Noble Michael Norris Cynthia O'Connor Jesse Olsen Walter Olson Sandra Orben Richard Park Bert Parker Vlad Pawlyshyn Keith Payton Theresa Peace Rebecca Pentecost Jodie Pettit Scott Pfizenmaier Helen Philips Sharon Pindar Hernando Plata-Madrid Tracy Plough Stacy Potter Tracy Powell Malgorzata Pozor Cindy Pratt Beverly Purswell Alexandra Rauch Thomas Reece J.
Reed Koby Reitz Brannon Rickman Teresa Rigau iMas Lowell Rogers Clay Rollins Juan Romano Jessi Ross Kimi Ross William Routen Joan Rowe Robert Rushing Mark Rusley Andrea Russell Peter Ryan Shanna Sallee William Sauls Randall Schawang Connie Schmidt Scott Schmidt Butch Schroyer Brandon Schulte Stephen Schultz David Scofield George Seier Andrew Seiter Julie Shacoski William Shain Chad Shaw Arch Sheets Jeremy Shirel John Shull Aubrey Sloan Steven Slusher Frances Smith J. Smylie Kathryn Sneider Bruce Sorensen Tyler Sorensen Phillip Sponenberg Logan Spoonamore Darin Stanfield Mary Stankovics Mary Stanton Christian Steenholdt Michael Stiefvater Devon Strickland Olivia Stricklin Scott Sturgeon Benjamin Suchsland R Sullivan Robert Syfrett Shane Sykes Lindsay Syler Hunt Tainter Michael Tanner James Taylor Larry Taylor Cory Tebay James Temple Noel Thomas Timothy Thompson R.M.
Thornsberry G. Thouvenelle Walter Threlfall Stephanie Todd William Totten Chad Towns Dan Tracy Scott Tritsch Dawn True William Truesdale Marcia Van Brunt Brent Van Patten Robert Van Saun R. Vance Dickson Varner Patricia Varner Brent Varriale Gregg Veneklasen Gary Visintainer Dietrich Volkmann Dorraine Waldow Jim Wasson Steve Webb Michael Wedam Anthony Weirather Myrthe Wessel Jason Westcott J. Whalley Spencer White Robert White Bill Whitler Jeremy Whitman Altina Wickstrom Joel Wilson John Wilson Dallas Wilson Vincil Wilt James Winsor Ulrich Witschi Danelle Woehl Jeanine Woods Ross Young Jean Zech-Manhart
www.theriofoundation.org 10 Vas Deferens Ale Basket Vas Deferens Ale Basket with a snip of this and a snip of that. 2 x 22oz bottles Vas Deferens Belgian Ale, 2 Belgian Ale style glasses, Vas Deferens Ale T shirt (XL), Caldera Brewing cap, stickers and swag. Auburn Hat Auburn hat personally signed by the living legend Dr. Herris Maxwell. The hat will be signed by Dr. Shipley and should be donated to TF and signed by winning bidder in subsequent years. In a hundred years there won't be any place left to sign! Pulsator V Donated by Lane Manufacturing, Inc. Pulsator V has the same high-quality manufacturing and use you have come to expect with the Pulsator IV, but has many new features.
New Features include: *State of the art electronics *Improved battery and battery charging technology *Smoother signal to the bull *Loop button to repeat the last stimulus used *Stimuli counter *Auto Adjust, enables interaction within the program *Multiple, pre-programmed programs designed for specific breeds. 2019 Breeders Cup Package Donated by Dr. and Mrs. Tom Riddle Two tickets to the 2019 Breeders Cup at Santa Anita, California with prime sponsor seating, access to the Trophy Lounge for Friday and Saturday with trackside dining and drinks. Three nights hotel stay at a Breeders Cup hotel and $1000 towards transportation.
November 1 - 2, 2019 One week stay at Seabrook house Donated by Dr. and Mrs. Tom Riddle One week stay at a Private island community featuring two championship golf courses, tennis center, horseback riding, new beach club, fitness & aquatic center. Amenity passes for 4. Classic Southern beach house with 4 bedrooms, 3.5 baths. Near historic Charleston, SC named #1 tourist destination in US by Conde Nast. Green Bay Packers v. Chicago Bears tickets Donated by Dr. Anita Migday 2 Tickets to the Green Bay Packers v. Chicago Bears on Sunday, December 15 at Lambeau Field. Includes two nights hotel at the Radisson Hotel and Conference Center.
Veterinary Books 2018 Veterinary Clinics/Small Animal Practice edition on Small Animal Theriogenology, edited by Bruce Christensen. Signed by many of the contributors. "Testing Milk and It's Products" by Edward Holyoak Farrington and Fritz Wihelm Woll "Veterinary Obstetrics and Genital Disease" by Stephen J. Roberts Robert's time on "Theriogenology". Classic book no longer in print. Collector's item. "Canine and Feline Theriogenology"by Johnston, Kustritz, and Olson 2019 Therio Conference Silent and Live Auction Items
www.theriofoundation.org 11 Our goal is to find the genetic loci associated with key behavioral traits of military and service dogs.
While decades of selective breeding practices have shaped the canine genome, we now look to genetics to guide our selection of dogs for specific training and career paths. THE BROAD INSTITUTE The Broad Institute of MIT and Harvard was launched in 2004 to use genomics to advance science and human health. In 2005, Broad scientists led an international team to decode the DNA of Tasha, the first dog ever sequenced. Since then, scientists have compared the DNA of hundreds of dogs and found millions of differences. Hidden in this complexity are the genetic variants shaping each dog's behavior.
INVEST IN IN-GENE-UITY! We have a unique opportunity today to apply cutting edge technology to identify the genes driving dog behavior. This is a critical first step. With the key genetic factors found, we can strategically select better working dogs, saving time, energy and dollars. Rarely do we have the opportunity to make such an impact for our national security and our disabled Americans. Please consider supporting the effort. For the Working Dog Project, it is critically important that we include both successful and unsuccessful dogs. We are interested in: Dogs who about to enter a training program Dogs who are currently enrolled in training Successful working dogs Dogs who were unable to complete their training program for behavioral reasons We will compare the behavioral and genetic profiles of successful and unsuccessful dogs to identify genes associated with working dog performance.
By setting concrete and measurable goals with the two year Working Dog Project, we expect to powerfully advance any future phases, which may take years to explore. Our long term goal is to provide our partners with practical guidance, based on our research, that will increase the number of dogs succeeding in our program. To donate to the Working Dog Project or learn more, please visit: www.workingdogproject.org Working Together to Secure Our Present While Engineering the Future TheWorking DogProject AKC Reunite, formerly AKC Companion Animal Recovery (AKC CAR), founded in 1995, is North America's largest not for profit pet ID and recovery service.
Microchips and Pet ID AKC Reunite is committed to Pet Identification, specifically ensuring pets have two forms of ID, a collar or pet id tag and a microchip (or tattoo), to aid in their quick identification and return home if they get lost. Recovery With your help, AKC Reunite will maintain its position as the national recovery database of choice in the companion animal community. AKC Reunite offers an incredible value for its microchip and ID service, with proceeds supporting the needs of the animals that inhabit and enrich our lives. Giving Back Our reach goes beyond identifying and reuniting pets, one-at-a-time.
It is our hope to remain a pipeline of support through microchip and scanner donations, the AKC Pet Disaster Relief program, and our many other charitable programs.
Thank you to AKC Reunite for their continued support! AKC Reunite Mission Statement The Working Dog Project The Theriogenology Foundation thanks AKC Reunite for their tremendous support for the Working Dog Project
Non-profit U.S.Postage PAID Permit No. 991 Montgomery, AL Theriogenology Foundation 761 Tiger Oak Drive Pike Road, AL 36064-3063 www.theriofoundation.org Be part of the future of theriogenology! Gifts That Pay You Income Which Life-income Gift Best Fits Your Needs? Charitable Gift Annuity Deferred Gift Annuity Charitable Remainder Unitrust Charitable Remainder Annuity Trust Gifts Anyone Can Make Popular Giving Arrangements Gifts from Your Will or Trust Gifts from a Retirement Plan Gifts from Your Donor-Advised Funds Gifts of Stock and Appreciated Assets Gifts of Life Insurance Gifts of Real Estate Gifts of Personal Property Gifts That Protect Your Assets Popular Giving Arrangements Retained Life Estate Charitable Lead Trust Donating to the Theriogenology Foundation Did you know that there are several ways that you can make a donation to the Theriogenology Foundation that will not affect your current lifestyle, or will even pay you an income? You can leave benefits from a Retirement Account, Life Insurance policy, real estate or personal property (collectibles, art, books).
Take advantage of the many creative ways to benefit yourself, your beneficiaries and the Theriogenology Foundation while saving tax dollars in the process. Please take a moment to explore the Planned Giving page on the Theriogenology Foundation's website, http://therio.plannedgiving.org. There are worksheets available and additional information to help you consider all of the options.
theriogenology foundation The Future of Animal Reproduction