IN THIS ISSUE DMT TRIPS
If your browser does not support JavaScript, please read the page content below:
IN THIS ISSUE DMT TRIPS
M Quarterly Newsletter for Museum Members Vol. XII No. 2
Spring 2019 2 & 3
EVENTS 6 & 7
SPECIAL EXHIBITIONS 8 & 9
DMT TRIPS On the cover | Kailua Afternoon, Paul Fortis, 30" x 20," 2015, 29th Annual Pastel USA entry IN THIS ISSUE
MUSEUM EVENTS June 10 − 21, 2019, Monday through Friday | 1 - 4 pm This fun summer workshop features a range of art projects for ages 6-12. Check out our website hagginmuseum.org for a registration form, or pick one up at the museum. Classes will be filled on a first-come, first-served basis.
Questions? Call the Education Department at (209) 940-6315 or email education@hagginmuseum.org. Regular session fee: Members $150/Non-members $180 Early-bird registration before May 3: Members $125/Non-members $150 10% discount for siblings. SUMMER ART WORKSHOP HAGGIN MUSEUM BULLETIN APRIL | MAY | JUNE 2019 | HAGGINMUSEUM.ORG 2 Get creative at the Haggin! 2nd Saturday events are designed for children ages 5-12, and feature hands-on events for families. Activities include art projects, interactive programs and museum-wide events. Reservations are not required, but seating is available on a first come, first served basis.
Materials and activities are included with regular admission. YARN-TASTIC BASKETS SAT, APRIL 13 | 1:30 - 3PM The Miwok and the Yokut used weaving and coiling to create intricate baskets for thousands of years. Try your hand at weaving and design your own colorful basket to store trinkets at home. BLOWING IN THE BREEZE SAT, MAY 11 | 1:30 - 3PM Celebrate the Japanese holiday, Children's Day, by creating your own Koinobori – or windsock carp – and watch their colors dance in the breeze!
PICTURESQUE POSTCARDS SAT, JUNE 8 | 1:30 - 3PM Become inspired by the Pastels USA exhibition and create your own landscape using pastels. Instructors will teach you a variety of techniques to help make your picture pop! 2nd Saturdays for Families programming is generously underwritten by Joan W. Diehl For more information, contact the Education Department at 209.940.6315 or education@hagginmuseum.org
Complimentary wine from Weibel Family Vineyards & Winery and snacks courtesy of the Junior Women's Group will be available beginning at 6:30 pm every 1st & 3rd Thursday evening, when the museum is open until 9 pm.
HAGGINMUSEUM.ORG | HAGGIN MUSEUM BULLETIN APRIL | MAY | JUNE 2019 3 Enjoy a special evening at the Haggin Museum. Events vary each month with special guests, live music, wine and more! Grab your friends or make it a date! THURSDAY, APRIL 18 | 7 PM Art Night | Be inspired by the Haggin Museum's collection, and let the great works of the past spark your own creative expression! Enjoy a glass of wine and have fun as you create art in guided activities throughout the museum's galleries. This event is designed for grownups, so leave the kiddos at home and enjoy a night out with friends! THURSDAY, MAY 16 | 7 PM Pastels USA Opening Reception | Join us for a special evening honoring the Pastels USA exhibition.
Explore the exhibit as you enjoy snacks and a glass of wine.
The Pastel Society of the West Coast (PSWC) was organized in 1984 to promote pastel artists and the soft pastel medium. Today, it is one of the most recognized of pastel societies. This show, in it's 33rd year, is a premiere event, and includes some of the most elite pastel painters in the country. THURSDAY, JUNE 6 | 7 PM Summer Family Fun | Bringing the family together for activities and games can have a positive affect on the whole tribe! Benefits of family gettogethers include stress reduction, problem solving, and relationship building. We can't think of a better place to have an evening of family fun than the Haggin! So gather your clan and celebrate summer with an evening of entertaining games and crafts.
THURSDAY, MAY 2 | 7 PM Fun Fact Trivia Night! | Do you think you have what it takes to win? Show us your trivia skills at Fun Fact Trivia Night at the Haggin! Assemble your finest team of know-it-alls and put your minds to the test for a chance to win prizes. Come prepared to answer general knowledge questions covering a variety of topics. Trivia night is a perfect evening with friends and family! THURSDAY, APRIL 4 | 7 PM Misner & Smith | Soaring vocal harmonies and story-filled, poetic songwriting—Misner & Smith's sound harkens back to the bedrock of modern American rock & folk. Paying tribute to strong influences like Simon & Garfunkel, The Band, and Buffalo Springfield, they invent a sound all their own, seducing listeners with music that captures longing and belonging in the same moment.
THURSDAY, JUNE 20 | 7 PM Hot Club Faux Gitane | This acoustic swing band is like no other you've ever heard! They draw inspiration from the Gypsy jazz tradition pioneered by Django Reinhardt and his Quintette du Hot Club de France, with acoustic guitars and double bass providing a rhythmic core. Hot Club Faux Gitane sets themselves apart with unique instruments and arrangements. The upbeat, toe-tapping music will have you at least bopping in your seat, if not dancing in the aisles!
MUSEUM NEWS HAGGIN SHARES ITS APPRECIATION FOR VOLUNTEERS DOCENT NEWS NEW BOARD OF TRUSTEES MEMBER This year National Volunteer Week is April 7 - 13, and the Haggin would like to share our appreciation for all of our wonderful volunteers. This well-deserved recognition week has the museum staff once again reflecting on how very fortunate we are to have so many dedicated volunteers who generously spend their time supporting the museum and its mission. The museum has approximately 200 volunteers that account for almost 7,500 hours of service per year.
From our longest serving volunteer group—Ladies Auxiliary to California Pioneers—to the Museum Store Auxiliary Members offering personal service for your shopping pleasure in the Museum Store to the experienced travel chaperons on our Department of The Haggin Museum's Board of Trustees has appointed Dianne Barth-Feist as the newest member of the Board.
Dianne began her term on the Board January of this year. Dianne was a reporter with USA Today and The Record for most of her career. She covered education and immigration and spent the last part of her career in Sacramento as the Capitol Bureau Chief covering statehouse politics. Her work received a number of citations, including the National Pacesetter Award for Outstanding Journalists and the National Headliner Award. She left journalism to launch a communications division at Stockton Unified School District and headed communications at the San Joaquin Council of Governments, advocating for federal programs for San Joaquin County.
She has served with numerous community groups, including the University of the Pacific Beyond Our Gates, the Children's Museum Board of Directors, among other affiliations. Dianne received her Bachelors Degree in Journalism from the University of California, Berkeley and graduated from St. Mary's High School in Stockton. She is married to Paul Wilson Feist, Vice-Chancellor of the California Community Colleges. The couple has a son, Blake, 23, studying architecture at the University of Oregon. Haggin Museum docents provide a valuable service on behalf of the museum by leading tours, guiding visitors on the weekends, leading programs in school classrooms, helping with special events, and much more.
History training has just ended and we're happy to introduce you to three of our newest Docents: Patsy Itaya, Abie Otero, and Jenny Van De Pol (pictured below from left to right with Tod Ruhstaller, CEO & Curator of History). This recent group of docent graduates met for six months to learn about the history of Stockton and the San Joaquin Valley. We're excited for them to begin their adventure at the Haggin!
Are you looking for a great volunteer opportunity? Become a docent at the Haggin! Art training will begin January 2020 and will cover the Haggin Museum's collection of American and European art from the 19th and 20th centuries. More information will be available on-line at www.hagginmuseum.org/VolunteerOpportunities. Museum Travel trips, the museum would not be the same without our volunteers. Our volunteer Board of Trustees provides vision and leadership for the museum and our Junior Women's Group Volunteers host many of our popular events with every detail in place. For those who have grown-up locally, you probably fondly remember your school field trips to the Haggin when you received a tour led by one of our Docent Council Members.
We are honored to work with volunteers, humbled by their generosity and thrilled to call them friends. Your tireless dedication is appreciated and a tremendous asset to our community. No act of kindness, no matter how small, is ever wasted. – Aesop HAGGIN MUSEUM BULLETIN APRIL | MAY | JUNE 2019 | HAGGINMUSEUM.ORG 4
MUSEUM NEWS MUSEUM PASSPORTS ARE BACK! GETTING OUT IN THE COMMUNITY Event marketing and community outreach are an integral part of reaching potential visitors, raising brand awareness and increasing community engagement. Whether it is rekindling someone's memory of visiting the Haggin on a school tour or opening their eyes to a new arts & culture experience in their city, outreach can create lasting impressions.
Depending on the event, the Museum's outreach strategy includes fun educational programming and activities, event-specific marketing collateral, and exciting museum-themed giveaways.
So far in 2019, Haggin Museum has hosted booths at two Stockton events and plans to attend more throughout the year. The two events included the Winter StocktonCon on January 20th and the Stockton Kings' Education Day on February 13th. Museum staff was excited to spend the day sharing all of the wonderful things the museum has to offer to the attendees! Pictured to the right is the Kings' mascot Dunkson and Amanda Zimmerman (Publicity & Marketing Coordinator) at the Kings' Education Day event, and below is Education Director Lindsey Munzel assisting in mask making at the 2018 Summer StocktonCon.
We hope to see you out and about in Stockton—if you see us, stop by and say, "Hi!" HAGGINMUSEUM.ORG | HAGGIN MUSEUM BULLETIN APRIL | MAY | JUNE 2019 5 Now available at the museum's Visitor Services Desk is the 2019 Exhibitions Passport, featuring a selection of the temporary exhibitions being held at the museum throughout the year. Any time you visit the museum, present our passport for a stamp. Onceyou've collected five stamps, you'll receive a commemorative museum gift, two free museum passes and be entered in a drawing to win a $50 Museum Store gift certificate. Start collecting today! Members are encouraged to hand out the new passports to nonmembers to help spread the word about the museum's exciting 2019 exhibitions schedule! If you own a business and would like to support the museum by displaying a box of passports at your location, please contact Amanda Zimmerman at (209) 940-6312.
1 Bring this passport on all your trips to the HAGGIN MUSEUM and receive a stamp in the spaces below for each visit.
When you fill up all the spaces, you'll receive a commemorative gift, two museum passes and be entered in a drawing to win a $50 museum store gift certificate! This passport expires on Feb. 29, 2020, and cannot be stamped or redeemed after that date. DATE REDEEMED For a schedule of exhibitions & events, visit our website: www.hagginmuseum.org EXHIBITIONS PASSPORT Name Address City Zip Phone E-mail Address 2 3 4 5 2019 EXHIBITIONS PASSPORT N am e 2019
SPECIAL EXHIBITIONS HAGGIN MUSEUM BULLETIN APRIL | MAY | JUNE 2019 | HAGGINMUSEUM.ORG 6 J. C. Leyendecker was America's most popular illustrator during the early decades of the 20th century.
His artwork graced the covers of a host of national magazines, brought books and short stories to life, and helped sell a plethora of products from men's clothing and underwear to motor oil and automobiles to coffee and breakfast cereal. In the early 1950s, Haggin Museum began acquiring works by Leyendecker. Today, the museum houses the largest public collection of his original art. In 2017 the Haggin created a permanent installation on the third floor showcasing much of the collection. However, even with the new Leyendecker Gallery, some of the Haggin's collection remained in fine art storage.
With this special exhibition, we are pleased to offer "a little more Leyendecker" from the Haggin Museum's collection so that you may enjoy the works of one of the most talented artists of the Golden Age of American Illustration.
A Little More Leyendecker On view through June 16, 2019 88th Annual McKee Student Art Contest & Exhibition On view through April 28, 2019 Image Captions: (left to right) Bobbing for Apples, Saturday Evening Post cover, November 1, 1913, Oil on canvas; The Recitation, Saturday Evening Post cover, September 18, 1909, oil on canvas; Kelloggs Kid, 1915-1917, oil on canvas; People's Bible History, Rebekah at the Well, ink wash Image Caption: Drawing by Margarita Prishlyak, 2018 award winner of the Palomino Blackwing Award Lower Division Comecelebratetheartsineducationduringthe88th AnnualMcKee StudentArt Contest & Exhibition—the longest running student art exhibition in the country! This show, on view through April 28, features the work of student artists from kindergarten through grade 12.
All schools in San Joaquin County— public, private, charter, parochial and homes invitations to submit their work. The McKee Student Art Exhibition is a snapshot of arts education in our area and underscores the importance of creative activity in the classroom. This exhibition was first envisioned by founding patron Robert T. McKee, whose goal was to encourage students by providing a public venue for their artwork. Since the first show in 1931, the Haggin has been honored to collaborate with the schools of San Joaquin County resulting in eighty-eight years of celebrating the efforts of its teachers and expression of its young artists.
This year the Museum hosted a welcome reception for students, their families, and teachers on March 16th. This event was sponsored by the Junior Women's Group of the Haggin Museum who provided punch and cookies for the guests.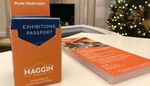 SPECIAL EXHIBITIONS HAGGINMUSEUM.ORG | HAGGIN MUSEUM BULLETIN APRIL | MAY | JUNE 2019 7 33rd Annual International Open Exhibition T he Pastel Society of the West Coast brings its Pastels USA: 33rd Annual International Open Exhibition back to the Haggin Museum beginning Thursday, May 16th through July 14th. The Pastel Society of the West Coast (PSWC) was founded by a handful of dedicated artists from Northern California.
Some of the most elite pastel painters in the country enter the annual exhibition. Since only about 100 paintings are placed in the show, acceptance is considered a worthy accomplishment. This year's exhibition attracted hundreds of entries from many artists. Artists are allowed five entries, two of which may be selected for the show. Three nationally prominent artists were chosen as this year's Jury of Selection, which reviews all submitted images. Debora Steward of Clinton, Iowa, is primarily an abstract painter in pastel; W. Truman Hosner, Ferndale, Michigan, who paints both landscape and figure/portrait subjects in oil and pastel; and Gary Huber, Buffalo, Wyoming, who paints traditional landscapes primarily southwest subjects in pastel and oil.
The Juror of Awards reviews the actual paintings at the museum and selects the award winners. This year's Juror of Awards is pastelist Dawn Emerson who lives in Terrebonne, Oregon. Dawn's technique merges abstraction with realism to create mood and movement in her paintings. Dawn has won awards for her pastels, taught workshops, and written articles for numerous publications.
Join us for an opening reception on Thursday, May 16 beginning at 7 pm. Enjoy a glass of wine while you take in the beauty of this spectacular show! Refreshments will be provided by Junior Women's Group. May 16 − July 14, 2019 Image Captions: (Top right) "Murphy," 24" x 18," Tina Moore, PSWC-DP, PSA, 29th Annual Pastel USA entry ('15); (middle left) "Lady in Blue," 30" x 22" Jane Radstrom, 25th Annual Pastel USA entry ('15); (bottom image) "Wave Inside the Curl," 8" x 29" Melody Allen, 25th Annual Pastel USA entry ('15).
AUXILIARIES & DONORS HAGGIN MUSEUM BULLETIN APRIL | MAY | JUNE 2019 | HAGGINMUSEUM.ORG 8 LADIES AUXILIARY TO CALIFORNIA PIONEERS DEPARMENT OF MUSEUM TRAVEL The Ladies Auxiliary to California Pioneers (LACP) will celebrate Hat Day on May 1st in honor of long-time LACP member Constance Miller (pictured below) who was known for always wearing a hat.
All members and guests are encouraged to wear a hat to the meeting at 1 pm. Also at the May meeting, we are looking forward to a "Behind the Scenes" tour of the museum.
On June 5th we will enjoy our "Hello Summer" potluck at noon. All members are encouraged to wear red, white and blue. This meeting will close our season until we resume in October. GOLD COUNTRY HAGGIN MUSEUM BLOOMS AGAIN Join the Department of Museum Travel for a trip to Gold Country! On this trip, guests will head by coach east on Highway 120 from Manteca along one of San Joaquin Valley's most bountiful farm trails and learn about historic Oakdale, Lover's Leap and Knight's Ferry along the way.
You'll experience Columbia State Historic Park on a docent-led tour, exploring the largest collection of existing gold rush era structures and learn the stories of the early gold seekers that lived in the area.
Next, you will visit Sonora's renowned Sierra Repertory Theater to see the matinée showing of "Guess Who's Coming to Dinner." On the return home, the group will stop at Oakdale Cheese & Specialties for a short cheese-making demonstration. For more information & reservations: Tour Escort: Jackie Sinigaglia at jackie_sinigaglia@yahoo.com Tour Assistant: Cheryl Kilsdonk *To secure a reservation, book soon. Reservations must be received by April 15, 2019; no refunds will be given after this date. Tour of Columbia SHP & Sierra Repertory Theater "Guess Who's Coming to Dinner" Wednesday, May 15, 2019 | 8 am - 6:15 pm $95 for members* | $130 for non-members OLLI and SICL members are invited to travel at the same cost as museum members.
With a membership to the Haggin Museum you will receive all of our trips at the lower price. For more information about museum membership, visit www.hagginmuseum.org/JoinGive or contact Celia Castro at ccastro@hagginmuseum.org. JUNIOR WOMEN'S GROUP This year Junior Women's Group (JWG) hosted Haggin In Bloom for a second time. The event was a celebration of spring, featuring over 20 floral exhibits complementing theMuseum's19thand20th century art collection. On March 20th & 21st, Museum Members were invited to view these spectacular floral arrangements along with informative lectures & demonstrations from world-renowned, awardwinning ambassador of the floral industry, Rene van Rems and owner of Huckleberry Blooms Anna Sinclair.
Guests were in awe of the beautiful arrangements designed by regional florists. JWG would like to thank the speakers, florists, and everyone who participated in this fabulous event!
ANNUAL APPEALS November 9, 2019 - January 23, 2019 Anonymous Coastal Barrier Island Foundation Dolores L. Adams Darlene Jo Allen Philip & Kathleen Asborno Joe Avagliano Sheila Beauchamp Robert & Susan Benedetti Gail Brodie & Jack Cope Genevieve Burlando Janet Carothers & George Tolang Dr. Edward Caul & Frances Bryne Caul Susan J. Caulfield Dr. Roy Childs Tom & Sue Chinchiolo Robert & Judith Clemons Corie V. Coleman Alan Cooper & Julie Kelly Gary & Kala Cummings Roy Damilano Dolores De Carli Daniel & Ewa Dozier In Memory of Barbara Edwards by David F. Edwards The Ernst Family Joy Fagler Paula Frago Richard & Janet Ghio Mr.
Mrs. Jeffrey Greenberg Lani & Fred Hanker Dr. Kathy Hart Don & Baita Harvie Nancy Heinz Mrs. Marge Hellwig Hon. Lesley D. Holland & Mrs. Susan M. Holland Marcela Hutak John & Jeannette Jenkins Johnson Family Fund Doray & Reid Johnson Alicia Negrete Kenter David & Marilyn Lagier Roger & Lois Lang Carolyn & Richard Turpin Russ & Maggie Lawson Irene Lerma Rudi Paul Lindner & Molly Lindner Patty Partch Lovato & Roberto Lovato Jo Anne Lynch In Memory of George & Marian Malloy by Ed Malloy & Lori Pyle Carolyn Mallett Ms. Jean McGurk Tom & Jayne McHugh Ms. Karen L. McKee Greg & Ellen McKeegan Mrs.
Mary P. Millar Richard W. & Margaret Mills Ken & Peggy Monroe Ronald E. Monroe Dr. Bonnie Morehead & Mr. John James Mr. & Mrs. David Mott Bette Outlaw & Charles R. Boyd Evelyn Pankow Gary & Virginia Poggi Frank & Marilyn Rauzi Joe & Connie Rishwain Lynne N. Roberts Trig & Nancy Rosenblatt Frank & Ann Rossi Ron & Karen Saito Mr. and Mrs. Frank Salady Nancy & Mike Sharp Anne B. Sheldon & Fred Nishi Stacey Shurson Linda Smith Jack & Mary Stirton Louise Talley Cheryl Taylor Jan Thanas Jenny & Tom Van De Pol Donovan & Diane Vigil Mrs. Eleanor Vogel Patricia R. Voss Walt & Nora Wager Dave & Jo Wagner Dr.
Mrs. Paul Waters Rick & Judy Wentworth Mary & George Westin Linda & Don Wiley David & Becky Wooten Jerry & Norma Workman Yi-Po Anthony Wu & Teresa M. Chen MEMBERSHIP & GIFTS LACP Elaine Dixon Ugarkovich HAGGIN SOCIAL CLUB Catey Campora DOCENT COUNCIL Renata Bricka DEPT OF MUSEUM TRAVEL Beverly Fitch McCarthy JUNIOR WOMEN'S GROUP Belinda Squires, Filomena Snyder, & Becky Carlson MUSEUM STORE AUXILIARY Amanda Cottrell 2019 AUXILIARY PRESIDENTS HAGGINMUSEUM.ORG | HAGGIN MUSEUM BULLETIN APRIL | MAY | JUNE 2019 9 UPCOMING DMT TRIPS Reserve your spot today! May 1, 2019 Elkhorn Slough Safari Nature Boat Tour & Elkhorn Slough National Estuarine Reserve Visitor Center Reservations: Joan Mifsud (209) 403-5438 Save the date! Sept 14, 2019 Early Rubens at the Legion of Honor, San Francisco More information available soon.
MEMBERSHIP & GIFTS GIFT MEMBERSHIPS November 9, 2019 - January 23, 2019 Membership Given To Membership Given By SUPPORTING John Herold & Cynthia Louie Rose & Kenneth Herold Kappa Epsilon Master, Beta Sigma Phi Ms. Karen L. McKee Jana & Kyle Packham Velma Packham Theo Papathanasis Katherine M. Papathanasis Gary & Stephanie Phillips Sharon Brown Roland & Kristin Winter Cindy Ketcherside & Kevin Sanguinetti FAMILY Mary Jane Beckham William & Wendi Maxwell Scooter Bloom Molly Bloom Robert Carr Joanna Pellegri The Collins Family Scott & Penelope Heaton Gary & Kala Cummings Anne B. Sheldon & Fred Nishi Zachary Drivon & Family David & Katherine Vizcarra Gerrit & Kristen Dyke James R.
Dyke Melody Hill Linda Mireles Melissa Myrsten Linda Mireles Suzy & Shawn Sage Jeff Stroh Brian & Nicole Shepherd Jeri & Al Fields Brad & Anna Sinclair Mark & Nancy Adams INDIVIDUAL Gwen Bender Arlene A. Lawry Katharine Boyd Sharie Goodfellow Pamela Forbus Al & Lorrie Hoslett Graham S. Heaton Scott & Penelope Heaton Karen Hendrix Kathryn M. Fong Sarah Munoz Dolores Snyder Catherine Poterack Alex Poterack Linda Wheeler Christopher & Tola Eley NEW AND UPGRADED* MEMBERSHIPS November 9, 2019 - January 23, 2019 CORNERSTONE Philanthropist Mr. & Mrs. John Armanino* CORNERSTONE Benefactor Bill Jeffery & Pamela Eibeck* Doug Ptacek & Leslie Sullivan* CORNERSTONE Friendship Caroline Gwerder* Hon.
Lesley & Mrs. Susan Holland* Edward & Nancy Schneider* SUPPORTING Steve & Barri Altimari Karen & Anne Ayotte Dmitry & Maite Chatskis Nora Dale* Marjorie Dunn* Karen Ferguson Michael Fitzgerald & Joy Leek* Timothy & Maurine French* Patricia Kennedy* John & Elaine Kluve* Carol J. Migliore* Lori & Bob Pfaff* Michael & Maria Rigdon* Gina & David Rishwain* Frank & Diana Sandoval Tracey Schaaf Joshua & Heidi Schipper Alex K. & Barbara G. Suyehiro Frank & Jean Roberts-Tomek Stan & Kellie Unciano Donald & Allison Vail David & Katherine Vizcarra* Mr. & Mrs. Anthony Vranicar* Craig & Suzan Wedegaertner* FAMILY Carol Bailey Bambi & Belinda Bryant Shawn Bennett* Robert & Judith Clemons* Judith & Robert Cossey* Javier & Irene Dias Lynn & Diana Felber Eva Giordano Arturo & Susan Giraldez Travis & Leah Holmes Kevin & Denise Jones Frederick & Juanita Diaz Medina Claudia & Frank Prather Allen & Sylvia Rambach George & Becky Reeder Joan Simpson INDIVIDUAL Hag Gin Chin Robert Church Glenn Cockerham Kathy Comden Eric Dahl Tasha Ginter Darlene Griffin Ruth Howell Isabel Hubbard Pauline Leinfelder* Donna McCowan Sandra McCoy Andrea Ross Rita Sepulveda Susan Worden HAGGIN MUSEUM BULLETIN APRIL | MAY | JUNE 2019 | HAGGINMUSEUM.ORG 10
MEMBERSHIP & GIFTS MEMORIAL GIFTS November 9, 2019 - January 23, 2019 In memory of Louise Bartholomew Susan Krietemeyer & Dena Mason In memory of John Bevanda Alice G. Lenz In memory of Douglass M. Eberhardt The Alex G. Spanos Family The Burraco Ladies Annunciation School George & Sharon Bensch Charles & Ginger Berolzheimer Dorothy Bramwell Mrs. Mary Phelan Brierly Carol Burke Jerry & Jane Butterfield Bernard & Diana Caldwell Calone & Harrel Law Group, LLP Jeff Canepa Mrs. Richard Chinchiolo Corie V. Coleman John & Sylvia Connelly Barbara Cook Rudy & Stephene Croce Dougherty CPAs, Inc. Kevin & Julie Dougherty family Exchange Bank Phoebe D.
Farnam Lynn Fearn Allan R. Fetters Ms. Dee Filippone Loren Flemmer Barbara Foy Jack & Bette Gianelli Stella Graham Mr. & Mrs. Jeffrey Greenberg Tim & Judy Hachman Mr. & Mrs. Michael Heffernan Mrs. Marge Hellwig Mr. & Mrs. Keith D. Hilken Hisaka & Fujii, O.D.'s, Optometrist Patrick Hobin and Judith McGrew Mim Hodge Doray & Reid Johnson Mr. & Mrs. Robert C. Keeney Komure Farms, Inc.
Donald & Susan Lenz Mrs. LaVerne Mazzilli Ms. Karen L. McKee MHD Group, Inc. Marcia Herrmann Design Mitch & Terri Miladinovich Dante J. Nomellini Chris & Denise Ost Frank & Lisa Passadore Charles & Cheryl Patmon Kevin & Brenda Reilly Kay & Donald Ruhstaller Sandi & Tod Ruhstaller Elaine Saculla San Joaquin Partnership, Inc. Cathi & Tom Sawyer Roger & Delsie Schrimp Mrs. Geo. F. Schuler David & Barbara Silva Nancy Spiekerman Diane D. Stauffer Barbara and Tom Tippett William R. Trezza Mr. & Mrs. William Urbani Ms. Bonnie Vistica Wilbur-Ellis Company LLC Bob & Lynda Winter Art & Camille Wyatt In memory of Wendy Eberhardt Harvey Mrs.
Mary Phelan Brierly Rudy & Stephene Croce Phoebe D. Farnam Ms. Karen L. McKee Cathi & Tom Sawyer Mrs. Geo. F. Schuler In memory of George & Marian Malloy Ed Malloy & Lori Pyle In memory of Bonnie Elliot Alice G. Lenz In memory of Joe Garcia Floyd & Carolyn Hall In memory of Richard A. Maragliano Anne B. Sheldon & Fred Nishi In celebration of the birthday of Ryan Martin Aurora Nava-Coulter In memory of Patricia J. Meyer Kevin & Sandy Huber In celebration of the 80th Birthday of Connie Rishwain Lex & Joyce Corrales In memory of Walter C. Tim, M.D. Rudy & Stephene Croce In memory of Mildred Tucker Sylvia Minnick & Wellman Chin In memory of Joan Waugh Mrs.
Geo. F. Schuler SPECIAL GIFTS November 9, 2019 - January 23, 2019 21st Century Society Planned Giving Robert Seitz Estate Helen Harney Crittenden Estate Jean Rossi Estate Grants Park Bixby Tower, Inc. Ross & Marilyn Bewley Estate Cortopassi Family Foundation Unrestricted Gifts Robert Church Valerie Hogan & Rob Hammon P.E.O. Sisterhood-KW Chapter Katherine Papathanasis St. Luke's School Ito Chiropractic Kurt & Kaye Blakely Patmon Company, Inc. For more information about memberships contact: Celia Castro at 209.940.6316 or ccastro@hagginmuseum.org Donations and memberships at all levels make your museum greater.
It allows the Haggin to provide access to art & history for all. We greatly appreciate all of your support!
A memorial gift is a meaningful way to pay tribute to the life of a friend or relative. Honorarium gifts provide the opportunity to make a donation to celebrate a friend or loved one's special occasion—a birthday, an anniversary, a wedding, or simply to celebrate that special person. THANK YOU! HAGGINMUSEUM.ORG | HAGGIN MUSEUM BULLETIN APRIL | MAY | JUNE 2019 11
Articles in this quarterly newsletter may be reproduced without permission from the Haggin Museum. BOARD OF TRUSTEES MUSEUM STAFF HOURS WEDNESDAYS — FRIDAYS 1:30 - 5 PM SATURDAYS — SUNDAYS 12 - 5 PM 1st & 3rd THURSDAY 1:30 - 9 PM Tod Ruhstaller
Chief Executive Officer, Curator of History Susan Obert
Deputy Director, Director of Development Shelley Castillo
Accountant Andrea Dompe
Collections Manager Jacquelyn George
Collections Assistant Lindsey Munzel
Director of Education Aly Kowalski
Education Assistant Celia Castro
Visitor Services, Membership Coordinator Amanda Zimmerman
Publicity & Marketing Coordinator Sherry McGee
Administrative Assistant Lisa Falls
Museum Store Manager Barbara Avey
Museum Store Assistant Cheryl Taylor
Museum Store Assistant Ryan Martin
Front Desk Receptionist Joshua Niemeyer
Facilities Superintendent Eli Medriano
Head Guard Aaron McDowell
Guard Travis Jackson
Guard Philip Ruiz
Guard Chris McCaffrey, Chair John McKinley , Vice Chair Mike Klocke, Secretary Kevin Soulsby, Treasurer Angela Brusa Tim Grunsky James Hanley Kathleen A. Hart Dianne Barth Feist Bill Jeffery Kerry L. Krueger Dick McClure Becky Moffitt Carol J. Ornelas Gina Brown Rishwain Leticia Robles Sharon K. Schenone Monica J. Streeter Gregory J. Tudor Ed Zuckerman ADMISSION $8 Adults
$7 for Seniors (65 $ 5 for Students, Youth (10 - 17) FREE for Haggin Museum Members and children under 10 with an adult FREE General Admission on the 1st Saturday of each month SAN JOAQUIN PIONEER & HISTORICAL SOCIETY 1201 N. Pershing Ave
Stockton, CA 95203 209.940.6300 hagginmuseum.org