NANTWICH TOWN STAFFORD RANGERS - vs
Page content transcription
If your browser does not render page correctly, please read the page content below
CLUB DETAILS & HONOURS

 Nantwich Town Football Club Limited              CLUB HONOURS
  Company Limited by Guarantee
      Company No: 0732 8670
       The Swansway Stadium,
                                               LEAGUE COMPETITION:
   Waterlode, Nantwich, CW5 5BS                 Cheshire County League:
      Telephone: 01270 621771                    Champions – 1980/81
   County Affiliation: Cheshire FA
         Year Formed: 1884                       Mid-Cheshire League:
                                                 Champions – 1963/64
               At the Top                Runners-Up – 1950/51, 1961/62, 1964/65
       President: Frank Blunstone
          Chairman: Jon Gold             Crewe Amateur Combination League:
    Vice-Chairman: John Dunning                 Champions – 1946/47
Directors: Mark Hawkins, John Dunning,
   Clive Jackson, Dave Clapp, Dan                   Cheshire League:
   Dunning-Cole, Tim Crighton, Keith       Division One Runners Up – 1900/01
                 Knight
                                              Shropshire & District League:
 Company Secretary: John Dunning                 Runners-Up – 1891/92

           Football Officials                     Manchester League:
        Manager: Paul Carden                      Runners-Up – 1966/67
  Assistant Manager: James Speare
 Coaches: Paul Ball & Adam Carden               Northern Premier League:
     Head Physio: Callum Carey           Div 1 South – Play-Off Winners – 2007/08
      Kit Manager: Jason Clarke          Premier Division Play-Off Final – 2008/09

           Behind the Scenes                     CUP COMPETITION:
   Club Secretary: Gary Richardson       Cheshire Senior Cup Winners – 1932/33,
  General Manager: Gary Richardson        1975/76, 2007/08, 2011/12, 2017/18,
  Press Officers: Jack Beresford, Liam                   2018/19
        Price, Adam Bateman
    Programme Editor: Carl Thorpe              FA Vase Winners – 2005/06
 Club Photographer: Jonathan White
     Groundsman: Matt McAuley               FA Trophy Semi Finalist – 2015/16
 Stadium & Safety Officer: Bob Melling
                                         FA Cup First Round – 2011/12, 2017/18,
           Social Networks:                             2019/20
         Twitter: @TheDabbers
     Facebook: /nantwichtownfc              North West Counties League Cup
     YouTube: Nantwich Town FC                     Winners – 1994/95
  Instagram: officialnantwichtownfc
                                          Mid Cheshire League Cup Winners –
                                                  1961/62, 1963/64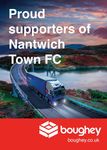 STAFFORD RANGERS - MATCH PREVIEW
    A very warm welcome to everyone to The Swansway Stadium this afternoon,
including the supporters, players, management and Directors of our visitors, Stafford
                                     Rangers.

The second of the Dabbers' Easter double-header comes around on Monday as we host
               Stafford Rangers at the Swansway Stadium (3pm kick-off).

Staff-urday Night Takeaway

Stafford's Saturday test was at home to Whitby, and they came out 1-0 winners thanks
to an early goal from Kaiman Anderson. That was their first win since the end of
February, although they'd only lost 1 in that time too as 4 of their last 5 before Whitby
had been draws. They have now kept 3 clean sheets on the bounce, but have still
conceded a goal more than the Dabbers over the course of the season.

On 50 points they are now surely safe of any lingering relegation worries, but the local
derby element means they should be anything but 'on the beach'.

Last Time Out

The Dabbers took a Boxing Day beating at Marston Road, well defeated 3-0 to kick off the
run that may or may not come to define the season. Instead, let's focus on the last home
fixture, a 2-1 win courtesy of a Sean Cooke penalty and Kole Hall last April.

Players to Watch

That Anderson goal on Saturday took him to the top of their goal scorer charts on 11. He
netted 2 of those in the reverse fixture against the Dabbers in December. Tom Tonks is also
on double figures with 10, but worth noting that 8 of those have been from the penalty spot.
And a quick mention for Cameron Belford in goal, who has started every one of Stafford's 44
competitive games so far this season.

Match Information

Tickets are available online or on the gate.

The club are also giving away 150 Easter eggs FREE to under 16s on a first come, first served
basis. You need to be with a paying adult and can claim yours from 1.45pm.

Additionally, a collection will be taking place via volunteers around the ground for the
Miscarriage Association, who support families who have been through pregnancy loss. Any
donations would be greatly appreciated.
GENERAL NEWS
The NTISA are running coach travel for supporters for our game at Marske United on
                               Saturday 15th April.

             Tickets are free for NTISA members or £10 for non-members.

 The 49-seater coach will be leaving the Swansway Stadium at 9am on the day of the
                                        game.

 About 25 seats have been taken so far, and the remaining ones will be sold on a first
                             come first served basis.

 If you want to claim your seat, please email ntisa@hotmail.com or contact
                        Ian Garnett on 0772597329.

The Nantwich Town Awards 2023 – An Evening of Celebration and Recognition are
going to be held in the Atherton and Associates Suite at the Swansway Stadium on
                        Friday 28th April, starting at 7.30pm.

   It's an evening to look back and look forward, with awards to both the men's and
                          women's teams, among many others.

Some of the men's team awards will be decided by you the fans, so keep an eye out for
                   voting at the last 2 home matches of the season.

Tickets are now on sale for what should be a great night, priced at £10 each. Numbers
               are limited due to space requirements so don't miss out!

                 You can by your tickets via the club website
  https://nantwichtownfc.ktckts.com/event/awards23/ntfc-awards-evening-2023
EASTER DONATION
                  Dabbers donate Easter eggs to Springfield School

  Nantwich Town visited Springfield School in Crewe to bring a bit of Easter cheer and
                          celebration to the pupils and staff.

Troy Bourne, Dan Cockerline and Byron Harrison were on hand to hand out goody-bags
and Easter eggs, which were all very kindly donated by Adept Industrial Supplies Ltd for
              the goody-bags, Sales Geek for the pens, mugs and books.

A very big thank you must also go to all of the Nantwich Town players, Callum Carey the
   team physio, Steve Griffiths, the Tea Lounge Nantwich, Paul Ball coach, and Jason
                   Clarke Team Kit man, for the donation of the eggs.

Pockets clothing store and Cat FM who have been promoting this all week on their radio
                                       station.

     Also thanks to Tim Crighton for enrolling the help of the sponsors for this event.

 A huge thank you to Pam Thomas and Arnie Laing who are both Co-op Pioneers from
the Haslington and Sandbach branches, who dressed up as an Easter Bunny and Easter
                           Duck to entertain the pupils.

Nantwich Town wanted to give back to the community by providing an egg or an Easter
                  gift to special needs children in the local area.

 It was an event that the pupils and staff thoroughly enjoyed as evidenced by all of the
                                     smiles on show!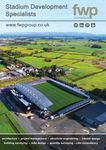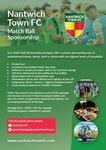 BAMBER BRIDGE – MATCH REPORT
 Bamber Bridge went up to second in the Northern Premier League after a 1-0 win
                over Nantwich Town at the Swansway Stadium.

The Dabbers made 3 changes from the win over Gainsborough, with Joel Connolly
making his first start; Sean Cooke started his 4th spell at the club on the bench.

In front of a season-high crowd of 741 on Non-League Day, Paul Carden spoke
afterwards of a first half where 'we were a little bit apprehensive' and a second
where 'we were on the front foot and aggressive without really creating too much.'

After just one minute, the visitors came close to taking the lead as Rowan Roache
found himself in behind but his effort was saved down low by Tom Booth.

Tom Scully and Dan Cockerline had half chances that went begging, then in the
18th minute Stevie Hewitt fired a free kick towards goal but his effort was saved well
by Felix Goddard.

On the half hour mark Cockerline found himself in behind but Goddard was once
again on hand to save comfortably.

Six minutes later the only goal of the game came when Fin Sinclair-Smith took
matters into his own hands and volleyed into the far corner from 25 yards. It was a
wonderful goal from a player who has been excellent for Brig this season.

Cockerline had another half chance that was straight at Goddard in what was a
frustrating half for the striker.

A late challenge from Connolly saw him booked 4 minutes before half time, with
Paul Carden admitting after the game that he'd have had no complaints if a red
was given there.

At half time, The Dabbers were very much in the game but had a lot of work to do
in the second half.

Sean Cooke, on his return to the club came close on the hour mark but he volleyed
over the bar. He was then denied what on replay looked a stonewall penalty as his
defender kicked through Sean's leg when looking to go for the ball. Nothing at all
was given by referee Alan Bennett, who given the way Cooke fell surely had to
book him for simulation if he thought it wasn't a foul.

Cockerline had an effort headed away as he tried to loop the ball in following a
misjudged punch from Goddard.
BAMBER BRIDGE – MATCH REPORT
Then the match began to be defined by the Brig's 'game management'. At every
opportunity players were going down injured and taking every second on getting
the ball back into play.

You would think that any referee worth his salt would look to clamp down on this.
But not one card was given to a Bamber Bridge player; in fact the only cards in the
second half were to Scully and Troy Bourne for dissent.

Fin Cross-Adair came close to sealing the win late on but his effort was dragged
wide.

The Dabbers huffed and puffed in the final few minutes, Roxburgh and Cockerline
came close but neither could find the net.

Another blatant foul on Cooke, this time just outside the box, was missed in
stoppage time to top off a bad day for Mr Bennett.

The Dabbers are next in action away at Marine on Saturday 1st April.

Nantwich Town: Tom Booth, Aidy Roxburgh, Joel Connolly (Caspar Hughes, 61),
Nathan Okome, Jon Moran, Troy Bourne, Ivan Urvantev (Sean Cooke, 51), Tom
Scully (Mo Malumo, 89), Dan Cockerline, Steven Hewitt, Byron Harrison

Subs not used: Liam Humbles, Connor Evans

Bamber Bridge: Felix Goddard, Matthew Thomson, Aaron Skinner, Luke Mariette,
Macauley Wilson, Sky Sinclair (Chris Churchman, 76), Rowan Roache (Donovan
Lescott, 71), Isaac Sinclair, Fin Cross-Adair, Paul Dawson (Joe Robbins, 45), Fin
Sinclair-Smith

Subs not used: Danny Forbes, Connor Stanley

Goal: Sinclair-Smith (36)

Attendance: 741
STAFFORD – BRIEF HISTORY IN TIME

          CLUB INFO
          Club Name:                   Stafford Rangers FC
          Year Founded:                1876
          Club Nickname:               Boro' or Rangers
          Current Ground:              Marston Road
          Current Manager:             Matt Hill

          CUP HISTORY
          Walsall Senior Cup:          Winners – 2013/14
          Staffordshire Senior Cup:    Winners – 13 times
          Conference League Cup:       Winners – 1985/86
          FA Cup:                      4th Round – 1974/75
          FA Trophy:                   Winners – 1971/72, 1978/79

          LEAGUE HISTORY
          Birmingham Combination:      Champions – 1912/13
          Birmingham League:           Champions – 1926/27
          Southern League West Div:    Champions – 1999/00
          NPL Division One South:      Champions – 2015/16
          Northern Premier League:     Champions – 1971/72, 1984/85

LAST 5 LEAGUE SEASONS:

Season       League      POS      PL   W     D     L     GF    GA     Pts

2017-18       NPL P     14/24     46   16    13   17     54    58     61

2018-19       NPL P     14/21     40   11    14   15     62    70     47

2019-20       NPL P     ABAN      33    4    11   18     29    53     23 *

2020-21       NPL P     ABAN      8     0    1     7     3     15     1*

2021-22       NPL P      8/22     42   15    16   11     53    39     61

* 2019-20 & 2020-21 Season both curtailed due to COVID-19
STAFFORD RANGERS - HISTORY
In 1979, Rangers won the FA Trophy for the second time beating Kettering 2-0, the
match setting a record gate for the final (32,000).

Rangers struggled in the newly formed Alliance Premier League and were relegated to
the NPL in 1983. In 1985, Manager Ron Reid led the club to a record 20 games unbeaten
and the NPL title and followed this with the Bob Lord Trophy the following season.

Rangers went on to record their best ever Conference finish (6th) in 1988 but life was
largely a fight against relegation. This, despite the likes of future internationals Stan
Collymore (England) and Paul Devlin (Scotland) making their names at Rangers.

Dennis Booth matched the 6th place finish in 1993 and also took the club to the 2nd
Round of the FA Cup with victory over Lincoln City before leaving for Bristol Rovers.

Rangers were relegated from the Conference in 1995, and then suffered a second
consecutive relegation after picking up just two points from their opening 19 games in
the Southern Premier League.

Rangers bounced back in 1999/2000 as Ian Painter led the club to the Dr Marten's
League Western Division title, setting a new club record with a 23 game unbeaten run.

2001/02 saw another club record broken as Rangers beat Kidsgrove Athletic 5-0 in the
Staffs Senior Cup in 2001/02 Phil Robinson replaced Painter as manager and the club
finished Southern Premier runners up in his first year (2002/03) as well as winning the
Staffs Senior Cup and taking the club to the 1st Round of the FA Cup for the first time in a
decade. The following season, Rangers finished 3rd and qualified for the newly formed
Conference North. After topping the table for much of the 2005/06 season, Rangers
eventually finished runners up but won promotion back to the non-league top flight
after a play-off victory over Droylsden.

Rangers' stay In the Conference Premier lasted just two seasons before they were
relegated back to Conference North, but the cost of those two years lingered and once
more the future of the club was in doubt.

The appointment of big name managers such as Steve Bull, Tim Flowers and Matt Elliott
failed to improve fortunes and Rangers dropped to the third tier of the pyramid, returning
to the NPL for 2011/12.

Greg Clowes then took charge, but two more disappointing years followed before a
disastrous start to the 2013/14 season ended Clowes' reign. Another big name
appointment, Andy Mutch, was another failure and his replacement, Graham
Heathcote, couldn't turn results around either. Neil Kitching took the managerial reins for
the start of the 2014/15 season following his move from Rushall Olympic and major
changes were also made at Boardroom level. However the season started badly with
the untimely death of Secretary and Director Mike Hughes who had guided the club
through difficult times.

Rangers narrowly missed out on the play-offs on goal difference but did win the
Staffordshire Senior Cup beating Leek Town in the final at Vale Park and on a positive
note gates were up by 25%.
STAFFORD RANGERS - HISTORY
The club was now moving forward with new Chairman John Bromley leading the way as
he set about renovating the Social Club, which for many years has provided funding for
the football section.

In 2015/16, Neil Kitching and his management staff Nick Amos and Martin Prentice led
the Boro' to the Evo-Stik First Division South title, which went right to the wire with a draw
away to Coalville Town. Gates were again up, and the club had turned the corner both
on and off the field of play.

In 2016/17, Rangers consolidated their position in the Evo-Stik Norther Premier League
finishing a creditable 13th The season was marred by passing of the club's patron Roly
Tonge, who for many years had been instrumental in keeping the club afloat. A mention
here also of the demise of President Leon Douglas and Director Cliff Went. These
gentlemen were for many years the backbone of Stafford Rangers Football Club

Rangers fared a little better in 2017/18 finishing just one place above that of the previous
season. A win against local rivals Hednesford Town in the Staffs Senior Cup final brought
the season to an end. Off the field the excellent work continued both in the Social Club
and in the stadium.

The start of the 2018/19 brought about another managerial change as long time
Rangers favourite Steve Burr moved into the hot seat. The FA's re-structuring of the non-
league pyramid also brought many changes in the playing squad. Rangers struggled
however in the lower end of the table and at the start of 2019, Burr resigned and was
replaced by his two assistants Alex Meechan and Andy Fearn as joint managers. The
pair worked wonders and the team moved away from the relegation positions.

On 14 December 2018 a fan based project to build a stand at the Town End of the
stadium came to fruition. The Shed End opening was celebrated with a 4-1 win over
Hednesford Town. Meechan and Fearn were retained as joint Managers for the 2019/20
season and built what was on paper a strong squad. However as the season progressed
an unprecedented succession of injuries hampered Rangers progress. In March 2020
football was halted by the Corona Virus Pandemic. At this time Rangers were at the foot
of the table and looked odds on for relegation.

However, the Northern Premier League, with a resumption looking very unlikely,
decided to make the league null and void with no promotions or relegation. A decision
which certainly came to Rangers rescue. The Managerial duo of Meechan and Fearn
were relieved of their duties

The following season 2020/21 the league season was again declared null and void with
Rangers again at the foot of the table. New Manager Jody Banim's reign was short lived,
and he left the club. Former assistant Manager Andy Fearn joined the Board of Directors.

Last season, 2021/22, former player, Matty Hill, took over as Manager with Dale Belford
as his assistant. The duo built a very competitive side which finishing in 8th place in the
Northern Premier League and again won the Staffs FA Senior Cup Final.

The 2022/23 season brings new challenges, but with 12 of last year's squad re-signing
and new talent arriving, hopes for a successful season are high.
STAFFORD RANGERS – SQUAD
KAIMAN ANDERSON - Forward
Kaiman joined Rangers at a latter half of the 2021-22 season. Can play in midfield or as a
forward. Kaiman joined Boro from Leamington FC having started out at Shrewsbury Town FC.
Has also played at Stourbridge, Oxford City, AFC Telford and Halesowen Town where he
scored 26 goals in 56 appearances. He joined National League South club, Leamington Town
in the Summer of 2019 and made 58 appearances, scoring 5 goals.

JACK BAXTER – Midfield
Jack signed in July 2022 after being released by Preston North End where he had been a
regular in their Under 19s team. A central midfielder, Jack has had loan spells at Clitheroe,
Chorley and Cork City. He spent much of last season on loan at Radcliffe.

CAMERON BELFORD – Goalkeeper
Cameron joined Rangers in June 2022. He spent the last two seasons at Radcliffe. Cam is the
son of Assistant Manager Dale and bother of Ty. He began his footballing career at Coventry
City before joining Bury, making 78 appearances in both League 1 and 2 between 2007 and
2013. He has also played at Southend United and Mansfield Town in League 2 and for
Stranraer in Scottish League 1. Also has experience at Conference, Conference North and
NPL levels with Tamworth, Rushall and Nuneaton.

TYRELL BELFORD – Goalkeeper
Ty, son of Rangers assistant manager Dale, signed for Rangers last season and provided
back up for the position. He has now committed to the 2022-23 season. A vastly experienced
keeper, Ty started his career at Coventry City before moving on in 2009 to the Liverpool
Youth set up. Previous clubs include Swindon Town, Southport, Oxford City and Nuneaton. He
represented England at Under 16s and Under 17s level.

ANDREW BURNS - Defender
Andy Burns is defender who can play as a full back or central defender. He joined Boro at
the start of the 2021-22 season and impressed throughout the season. Started out at Bolton
Wanderers before moves to Bradford City and Dagenham and Redbridge and Barrow where
he played in the Conference North winning side. Andy spent three years at Tamworth before
moving to Bala in the Welsh League. Andy was the Managers and Players Player of the
Season last season.

JOE DUNNE - Centre Half/Full Back
Rangers signed Stafford born Joe Dunne last season on loan from Championship One club
Rochdale AFC, where he made his first team debut in November 2019. Following his release
from Rochdale on 1st July this year Joe has signed for the Boro for the coming season.

ALEX KIWOMYA - Striker
Another pre-season signing is that of 26 year old striker Alex, most recently at Macclesfield
FC. Alex started his career at Chelsea with loan moves to Barnsley, Fleetwood and Crewe.
He moved on to Doncaster Rovers and Chesterfield and has also played at Chorley and
Kings Lynn at National League level.
STAFFORD RANGERS – SQUAD
AKEEM HINDS – Full back
The 23 year old left sided full back joined Rangers in late December 2022, making his debut
on Boxing Day. He started his career at Rotherham United and started the season with
Matlock Town. where he was in the first team squad. He moved on to Lincoln City and had
loan spells at Bradford Park Avenue and Brackley Town. He was part of the Buxton NPL
Championship side last season making 22 appearances.

ALEX-RAY HARVEY – Midfield
Alex is a very experienced midfielder who joined Rangers in May 2019 having ended the
previous campaign with Hednesford Town having joined from Guiseley in January that year.

He had had previous spells with Guiseley and Barrow. He spent his early years with Burnley
having joined the Clarets Centre of Excellence as a youngster. He earned his first
professional contract in the summer of 2009. He was loaned out to Fleetwood Town in March
2011 and again in August 2011. A further loan spell with Barrow followed, and after his release
from Burnley in May 2012 joined them on a permanent deal.

JOSEPH KENTON - Winger
Joe arrived at Marston Road from Welsh League side Newtown in July 2020 and is now
starting his second season with the Boro. A pacey and direct winger who can also play as a
wing back. He began his career with Wolves where he played for 7 years as a youngster
then moved to Shrewsbury Town on a 2 year scholarship and was a regular member of their
youth team squad. A move to Tividale followed before his moved to Newtown where he
made 34 appearances scoring six goals.

LUIS MORRISON-DAVIDSON – Central defender
Initially joined the Boro from Radcliffe in August 2021. He moved to his home town club
Macclesfield FC in October 2022 and returned to Boro on loan towards the end of last
season. Following his release by Macclesfield he has signed for Boro for the coming season.
A tall strong 27 year old centre half who has had spells with Nuneaton, Altrincham and
Alfreton.

ETHAN MORGAN – Defence/Attack
The versatile Ethan Morgan moved to Stafford in November 2022 after being released by Port
Vale. He made his debut for the Boro on 12th November as a striker but has played at Centre
back and full back whilst with the Valiants.

JAMES O'NEILL – Centre back
James is now in his second spell with the club. He was a regular last season making over 40
appearances. A change of work location took Jimmy to Stratford Town, but he has now
returned to the Telford area and re-signed in December 20222. A tough tackling centre half
who is dominant in the air. He has had previous spells at AFC Telford, Rushall Olympic and
Chasetown.
STAFFORD RANGERS – SQUAD
CALLUM SAUNDERS – Striker / Winger
A proven goalscorer, Callum joined the ranks in December 2022, making an impressive
debut on Boxing Day. Callum is the son of former Welsh International, Dean Saunders. He
started his career with Crewe Alexandra and had a loan spell at Notts County before moving
on to Nantwich, Curzon Ashton and Ashton United. A Welsh Under 21 international.

DARIUS SMITH – Full back/midfield
Darius joined the club in September 2022 from NPL rivals Gainsborough Trinity. The versatile
Darius signed for Gainsborough having impressed with his attitude and flexibility during pre-
season. A pacy player, he has made the step up from lower leagues. He made 4 substitute
appearances with Gainsborough before moving to Stafford. Previously with Mickleover Sports
and Brighouse.

ETHAN STEWART – Centre back
Ethan signed for Rangers in October 2021 from Alfreton Town and is now starting his second
season for the Boro. He originally joined Alfreton on loan from Nottingham Forest where he
made 4 appearances before the 2019-20 season was curtailed by COVID. Following his
release by Forest he moved to Nuneaton Borough and then Alfreton Town where he made
the matchday squad on two occasions. Made an immediate impact with Rangers taking the
Man of the Match award on his first appearance.

TOM TONKS – Midfield
Rangers bolstered their squad last season with the addition of this tough tackling midfielder.

He has one of the longest throws in non league football and is a freekick specialist. Tom was
a key member of the Stourbridge team who progressed to the FA Cup 3rd round in 2016-17.
He joined Boro from Tamworth having also had spells at Alvechurch, Solihull Moors, AFC
Telford and Halesowen Town. Supporters Player of the Season in 2021-22.

JOE WILLIS – Midfield
20 year old Joe signed for the Boro in July after being released by Walsall FC. Joe made 3
appearances for the first team and had loan spells at Salisbury, Leamington and more
recently Bromsgrove Sporting where he made 26 appearances

MATTHEW HILL - MANAGER
Matty was a vastly experienced player before turning his hand to management. He joined
the club in January 2019. Matt started his career at Bristol City and went on to make over 200
appearances for the Robins. He then spent 3 and half years at Preston before brief spells at
Wolves, QPR, Barnsley and Blackpool. Following this he then had a couple of years at each
of Sheffield United and Tranmere Rovers. After a spell with Bradford PA, he joined Ashton
United before making the move to the Boro. At the start of last season Matt stepped up to the
Managers role and led the club to 8th place in the NPL and the Staffs Senior Cup.
PLAYER SPONSORSHIP

          Jon Moran – Councillor Arthur Moran

Troy Bourne – Stephen Morris, Dave Walker, Andrew Wisely

                 Dan Cockerline – NTISA

                Perry Bircumshaw – NTISA

                Joel Grant – Rupert Dyke

                Matt Bell – Grant Richards

    Jack Sherratt – Boughey Distributions (Neil Trotter)

             Jacob Edwards – Peter Boulton

  Ritchie Sutton – Pete Murphy (Nebula Global Services)

             Caspar Hughes – Matt Dighton
MARINE – MATCH REPORT
    Dabbers moved out of the bottom four with an emphatic win at Marine AFC

After a very spirited performance last time out against Bamber Bridge, but which
ultimately led to defeat, manager Paul Carden was looking to change that against
tough opponents Marine.

Carden decided to change his starting line up as Sean Cooke, Caspar Hughes,
Perry Bircumshaw, Dylan Thompson and Connor Evans all made their way into the
side.

There was bright sunshine to start the game, in what was very good conditions, with
a packed Rossett Park to get the game underway.

If the Dabbers manager thought that this would make a change for the better,
early on, then he was in for a bit of a shock, as it was the home side that started
very much on the front foot.

With barely over two minutes on the clock, Sol Solomon was on hand to almost
score from a Ben Hodkinson cross, but Tom Booth parried the shot, and Nathan
Okome was there to clear away the danger.

Just a minute later, Booth was on hand yet again, to prevent what almost looked
like a certain Marine goal to produce an unbelievable one handed save from a
corner, and before Jonathan Spittle could tap the rebound in, the ball was
cleared.

At this early stage, it looked like it was a matter of time before the hosts would open
the scoring, however, there was one glimmer of hope, Connor Evans, as he ran
almost the length of the pitch, to have a shot, that just went wide of Bayleigh
Passant's far post.

Another wonderful chance presented itself not too long after as Aidy Roxburgh ran
down the wing, and his wonderful cross was met by Perry Bircumshow at the far
post, and Passant was there to make the save.

The Dabbers manager was forced to make an early change as Jon Moran
replaced Dylan Thompson. That change seemed to work to good effect, as the
chances for Marine soon started to not be as plentiful.

The match was turning the visitors way, and Steven Hewitt was next to set up a
chance as his ball into the box was met by Jon Moran, only for his close range
header to just go over the bar.
MARINE – MATCH REPORT
With the clock just turning to the half hour mark, it was the Dabbers who struck first,
as Aidy Roxburgh broke down the right hand side, before cutting the ball back to
Sean Cooke, who took his time, steadied himself, before firing into the back of the
net, to the delight of the travelling support.

That seemed to firmly put the game in the away side's hands, as from another
Roxburgh cross, Bircumshaw had yet another chance, but he saw his shot go just
wide of the far post.

With Nantwich on top, and the home side looking a bit frustrated with how little
they were creating, this allowed for the away side to play the game how they
wanted it to be played.

This paid dividends as the ever willing, and ever fresh Connor Evans was hauled
down in the box, with just five minutes remaining of the half, and this allowed for
Byron Harrison to step up, and to smash the ball high into the top right hand corner.

That is how the half finished, with Nantwich two goals to the good.

Just as in the first half, Marine looked to come out of the traps fast, and to try to
halve the deficit, and they very almost did so, as the ball found its way into the net,
but thankfully for Nantwich the flag had been raised for offside. As the clock turned
to show sixty minutes, Marine found themselves with another chance, as substitute
Louis Britton managed to head the ball towards goal, but Booth was there to deny
him, with a save low down to his left.

The hosts were looking to turn the screw, to try to find a way back into the game,
and ex-Dabber Akiel Raffie almost did just that with a fantastic shot from the edge
of the area, after he made room for a rocket of shot, but again, Booth was equal to
it, and produced yet another fantastic save.

This seemed to totally deflate the hosts, as not too long after that, on seventy six
minutes, from a wonderful through ball by Tom Scully, which released Connor
Evans, he bamboozled the defender in front of him, and then very calmly slotted
the ball under Passant to put the Dabbers three goals to the good.

This produced scenes of wild delight in the away support, and saw a lot of the
home fans filing out of the stadium.

From there, and with some very good game management by the Dabbers, that is
how the game finished, with a very good away win.

This was a game where all of the players played their part, where there were no
weak links, everyone can come away with the head held very high indeed.
MARINE – MATCH REPORT
Marine: Bayleigh Passant, William Johnson, Joseph Bunney (Louis Britton, 56), Mark
Howarth (Akiel Raffie, 46), Josh Wardle (c), Jonathan Spittle, Ben Hodkinson (Kyle
Hayde, 46), Charley Doyle, Jordan Lussey, Sol Solomon, Lucas Weir.

Subs not used: Luke Clark, Sean Smith

Nantwich Town: Tom Booth, Aidy Roxburgh, Perry Bircumshaw, Nathan Okome, Troy
Bourne (c), Dylan Thompson (Jon Moran, 14), Stevie Hewitt, Caspar Hughes (Tom
Scully, 63), Sean Cooke, Connor Evans (Dan Cockerline, 82), Byron Harrison.

Subs not used: Joel Connelly, Liam Humbles

Goals: Cooke (30), Harrison (43 pen), Evans (77)

Attendance: 1,561
NANTWICH TOWN – PLAYER PROFILES
TOM BOOTH                                          (LOAN FROM CREWE ALEXANDRA)
Goalkeeper                                         02 AUGUST 2004

The 18-year-old signed his first professional contract with the Alex last summer after joining
the club at the age of 8, making the matchday squad in some first team games at the start
of the season. He previously spent a spell on loan at Kidsgrove, and has been touted by
Crewe's under 18s manager as a future number 1 for the Alex.

OLLIE HAWKINS
Goalkeeper                                         28 JULY 2002

Ollie is a product of the Dabbers Youth set-up and he played a pivotal role in the clubs
2019/20 FA Youth Cup run where the got into first round proper. Since then Ollie has been
on-loan to Crewe FC and Stone Old Alleynians where he gained some valuable first team
experience.

TROY BOURNE
Defender                                           13 JANUARY 1998

Troy is a graduate from the Dabbers' youth team, having impressed former manager Phil
Parkinson in 2015/16 pre-season training. He spent much of the 16/17 campaign on a dual
registration at Alsager Town but did make a couple of first-team appearances for the
Dabbers. Troy is currently a regular at centre back position or at right back when required.
He won the Manager's Player of the Season in 2017-18 and has excelled since Dave Cooke's
has been manager.

PERRY BIRCUMSHAW
Defender

Equally capable at centre back or full back, Perry joined the Dabbers early on in the 22/23
season, initially on dual registration terms from Winsford United.

But such was the manner he impressed the staff at Nantwich with his performances, he was
quickly signed up permanently in September 2022 and has become a fixture in defence
since.

JON MORAN
Defender                                           20 JUNE 1997

Jon first joined The Dabbers in 2015 and enjoyed a successful period with the club which
eventually saw him sign for Forest Green Rovers in 2016. Since then, Jon has had spells at
Weston Super-Mare, Chester and Stafford Rangers before re-joining the Dabbers in March
2022.

AIDAN ROXBURGH
Defender                                           27 MARCH 1999

Known as Aidy, he can play on either side but was signed from Trafford in the summer of last
year as an attack-minded right back described by Alty manager Phil Parkinson as 'a little
diamond'. The 23-year-old recently returned from a loan at Ashton United where he played
8 times, including in those 2 back-to-back games against the Dabbers.
NANTWICH TOWN – PLAYER PROFILES
CASPAR HUGHES
Midfielder                                          09 JUNE 1993

Caspar re-joined the Dabbers from AFC Fylde at the start of the 2017-18 season, before
being named captain in January 2018 after the departure of Sam Hall. While Caspar is an
excellent ball-winner in midfield, and can also play at full-back. The midfielder was a highly
rated prospect in the famed Crewe Alexandra youth academy before joining Nantwich,
where he spent two solid seasons before moving on to Fylde. The midfielder helped Fylde
gain promotion from both the Northern Premier League and the National League North and
is regarded one of the better midfielders in the league.

JACK SHERRATT
Midfielder                                          29 JULY 1993

Jack began his career at Kidsgrove before winning Samsung's "Win a Pro Contract"
competition which saw him join Leyton Orient. Since then he played for Northwich Vics,
Stafford Rangers and Hyde United, before joining The Dabbers in 2022

TOM SCULLY
Midfield                                            01 OCTOBER 1999

he 22 year old all action midfielder began his footballing career at Everton before moving to
Norwich City in the summer of 2018.

After spending two years in Norfolk, he made the move back to the North West as he signed
for League One side Accrington Stanley where he made his first team debut in a Papa Johns
Trophy victory over Leeds United U23's. In the 2020-21 Season he made six first team
appearances for Stanley before he moved out on loan to Northern Irish Premiership side,
Carrick Rangers in January 2022 where he made nine appearances before his loan was cut
short due to injury.

IVAN URVANTEV
Forward                                             02 MAY 1997

Ivan, a 25-year-old attacking midfielder and former Moldovan under-21 international, joins
the club on dual registration terms from Whitchurch Alport, where the supporters dubbed
him the 'Moldovan Messi'. Before that, he had spells at several Moldovan Premier League
clubs, including Sheriff Tiraspol who were in the Champions League last season and are in
the Europa League this season.

DAN COCKERLINE
Forward                                             15 NOVEMBER 1996

Dan is a signing from AFC Liverpool. At 6 foot 4 there will be few players that are taller than
him in the game. Dan brings a big threat in the air, but is a solid footballer too. Dan has
played at this level and higher before previously playing for the likes of Barrow, Southport
and FC United of Manchester.
NANTWICH TOWN – PLAYER PROFILES
BYRON HARRISON
Forward                                            15 JUNE 1987

The 6ft3, vastly experienced striker has nearly 150 Football League appearances, the majority
of which were during a successful spell at Cheltenham Town where he scored 20 goals in 94
games between 2012 and 2015.

In more recent years, he also performed strongly for Barrow in the National League, scoring
32 times in 67 appearances in 2 seasons that ended in 2018, before he returned in 2019/20 to
help them gain promotion to the EFL.

Starting his career in non-league with clubs like Havant and Waterlooville and Boreham
Wood, he earned a move to League 2 Stevenage in 2010, before spending time at AFC
Wimbledon and Chesterfield as well as that run with Cheltenham.

In 2018, he returned to non-league, and has played for teams such as Sutton, Barnet and
most recently Altrincham.

MWIYA MALUMO
Forward                                           26 OCTOBER 1999

The 23-year-old forward has played 4 times in National League North in 2022/23 for Farsley
Celtic and was previously on a dual registration at FC United of Manchester earlier in 2022.

An English-Zambian dual national, Mwiya has represented Zambia internationally at under 20
and under 23 levels. He started out in Wigan Athletic's youth academy and has also played
for Irlam, Ramsbottom, Radcliffe and Ashton Town.

STEVEN HEWITT
Midfielder                                        05 DECEMBER 1993

Starting out at Burnley as a youth player, he made a few league appearances for the
Clarets before moving on to Chester and Southport.

A spell at Accrington followed, before some time in Wales with both Bangor City and
Aberystwyth either side of Hume City in Melbourne, Australia. Most recently, the 29-year-old
has been at Wythenshawe Town, where this season he's scored 3 times in 23 appearances in
all competitions.

SEAN COOKE
Midfielder                                        03 SEPTEMBER 1992

A productive attacking midfielder, A danger from set-pieces – especially free-kicks – Sean
has a keen eye for goal and has proved that not only with Nantwich but at other clubs
higher up the non-league pyramid. Sean, along with Caspar Hughes, was part of the AFC
Fylde side that won promotion from the Northern Premier Division and has also played for FC
United of Manchester. Cooke broke through into the Nantwich side at a young age and is
the only player to start in all 3 Dabbers' FA Cup First Round appearances. He has also won
the Northern Premier League's Young Player of the Season as well as making three Team of
the Season appearances.
NANTWICH TOWN – PLAYER PROFILES
DYLAN THOMPSON
Defender                                          25 OCTOBER 2002

A former Blackpool and Everton youth player who also had trials at Newcastle United, in 2021
he left for the US and joined the San Diego Toreros, the soccer team of the University of San
Diego in the extremely competitive world of the US collegiate sporting system, while also
studying for a Business Management degree. The 20-year-old, 6ft 3 left footed centre-back
also spent some time at Asheville City in North Carolina, who play in the 4th tier of American
soccer, before then playing for UNC Asheville Bulldogs, the college team of the University of
North Carolina at Asheville.

JOEL CONNOLLY
Defender                                          19 NOVEMBER 2002

The 20-year-old right-back is a product of the Burnley youth academy, making it to their
under 21s before being released last summer.

In October, he joined Prescot and made 14 appearances for them before joining Paul
Carden here at the Dabbers for the run-in to the end of the season.

NATHAN OKOME
Midfielder                                        11 MAY 2001

The versatile midfielder started his career at Macclesfield Town, and has also played for
other Cheshire clubs Sandbach, Knutsford, 1874 Northwich and Witton. The 21-year-old has
made 6 appearances for Chorley this season, as well as having a loan spell at Glossop North
End, where he made 12 appearances in all competitions up to the end of February.

LIAM HUMBLES                                      (ON LOAN FROM SALFORD CITY)
Midfielder                                        05 DECEMBER 2003

The young midfielder is part of Salford's academy and has represented them in the FA Youth
Cup, as well as making matchday squads in League Two and EFL Trophy games this season.
He was previously at AFC Wimbledon.

LEVI CHIDUKU
Midfielder

Levi, a pacy 21-year-old winger, has most recently been at Ellesmere Port Town and has also
been at Kendal Town and Runcorn Town. He started out in Morecambe's development
squad.
SOUTH SHIELDS – MATCH REPORT
South Shields moved to the cusp of the Northern Premier League title after a 3-2 win
                  over Nantwich Town at the 1st Cloud Arena.

Paul Carden talked after of how the Dabbers were below the standards set in
recent games, saying "when we put it (pressure) on them we caused them
problems but we didn't do it enough." Shields nearly took the lead inside 2 minutes,
a Robert Briggs shot forcing Tom Booth into early action to parry it away.

Jon Moran, in for the injured Dylan Thompson in the Dabbers' only change from
Marine, was then caught by a flailing arm with no proper punishment for the
offender. Amazingly, the referee who missed this was the same referee who missed
a red card elbow that left Moran with a concussion in January's game away at
Guiseley.

Briggs passed up another chance after only 8 minutes. Lewis Alessandra won a
50/50 in the box and squared to Briggs who had hung back cleverly but managed
to curl it wide with the goal gaping. The Dabbers' tough start continued as Booth
did well to deny Alessandra 1v1 with a good save with his legs.

Briggs finally got his goal, which could quite easily have capped a hat trick, just
before the half hour. A fine cross in from the right was met with a glancing header
that Booth could only stand and watch fly into the far corner. A brilliant interception
by Steven Hewitt stopped Shields from more than likely doubling their lead, great
tracking back from the midfielder.

Nantwich's best moment came 3 minutes before the break. The ever-willing Connor
Evans chased a lost cause and got to the ball before Shields keeper Myles Boney,
forced wide he could only cross to Byron Harrison who was waiting but had the ball
nicked off his foot. Boney was left flat on his face in a brief worrying moment, but
luckily after some head injury checks he was fine to continue.

The break gave Carden and his players a chance to reset and try to wrestle some
control of proceedings back in their favour. Unfortunately any plans they put in
place were dealt a heavy blow just 4 minutes into the second half.

The in-form Dylan Mottley-Henry was on hand to poke in the ball just ahead of
Booth after a corner was not dealt with by the Dabbers backline. After that, the
pace of the game slowed down somewhat, which was only benefitting the home
side. And they struck once more on 70 minutes.

In what was a patient, well-worked team move worthy of champions-elect, the ball
was played from left to right, and an overload led by Jordan Hunter created the
space for him to cross low into the box, where Booth got down to push away but
only into the path of Alessandra who slammed in the rebound. All 3 of their front 3
had now scored.
SOUTH SHIELDS – MATCH REPORT
Just 3 minutes later, Nantwich earned themselves a route onto the scoresheet. Troy
Bourne, up for a set-piece, smartly cut inside and was tripped in the box. Byron
Harrison calmly slotted it away to reduce the deficit.

It was then that just a few jitters started to appear in Shields' play and Nantwich
started to push on a bit more with little to lose. A freakish moment nearly made the
game very interesting. Joel Connelly, on as a sub for the booked Aidy Roxburgh,
sent in a cross that caught the wind and caught out Boney as it bounced off the
crossbar and away.

On 87 minutes, in a moment reminiscent of Harrison's contribution to the winner at
Gainsborough, Bourne rose highest and won a header in front of the keeper, only a
fine clearance off the line from Tom Broadbent stopped it being 3-2. Sean Cooke
fired in a shot on the second phase but Boney was back to save it.

In the 4th minute of stoppage time, Nantwich did get what was a deserved second
goal. And it was another from the spot, this time via a trip on Cooke.

Once more, Harrison stepped up and put it away comfortably, in what was literally
the final kick of the game. So defeat away at the best side in the league but as
Carden rightly pointed out afterwards, no time to dwell on it with Stafford at home
46 hours after full time in this one.

South Shields: Myles Boney, Jordan Hunter, Blair Adams (Josh Doherty, 83), Gary
Liddle, Tom Broadbent, Martin Smith, Mackenzie Heaney, Ade Shokubi (Conor
Newton, 23), Lewis Alessandra (Darius Osei, 74), Robert Briggs, Dylan Mottley-Henry

Subs not used: Jordy Mongoy, Dillon Morse

Goals: Briggs (28), Mottley-Henry (49), Alessandra (70)

Nantwich Town: Tom Booth, Aidy Roxburgh (Joel Connelly, 71), Perry Bircumshaw,
Nathan Okome, Jon Moran, Troy Bourne, Steven Hewitt, Caspar Hughes (Tom
Scully, 27), Connor Evans (Dan Cockerline, 65), Sean Cooke, Byron Harrison

Subs not used: Ivan Urvantev, Liam Humbles

Goals: Harrison (73, pen; 90+5, pen)

Attendance: 2,764
PITCHING IN NPL RESULTS & FIXTURES
PITCHING IN NPL STANDINGS
NANTWICH TOWN             STAFFORD RANGERS
          MANAGER                     MANAGER
         PAUL CARDEN                   MATT HILL

1            TOM BOOTH         1     CAMERON BELFORD

2         AIDAN ROXBURGH       2        ANDY BURNS

3         PERRY BIRCUMSHAW     3         JOE DUNNE

4          NATHAN OKOME        4     ALEX-RAY HARVEY (C)

5            JON MORAN         5       ETHAN STEWART

6          TROY BOURNE (C)     6         DEREK UBAH

7            TOM SCULLY        7       ETHAN MORGAN

8           STEVEN HEWITT      8         TOM TONKS

9         DAN COCKERLINE       9      KIERAN ANDERSON

10          SEAN COOKE        10      CALLUM SAUNDERS

11         BYRON HARRISON     11        JACK BAXTER

12         CONNOR EVANS       12       NATHAN BLISSETT

14         JOEL CONNELLY      13      KIERAN BOUCHER

15         MWIYA MALUMO       14         JOE WILLIS

16         IVAN URVANTEV      16      TYREECE ONYAKA

17          LIAM HUMBLES

                REFEREE: Richard Abson
     ASSISTANT REFEREES: Adrian Duicu, Ewan Patrick

          MAN OF THE MATCH SPONSORED BY:
          NANTWICH REFRIGERATION SERVICES